Blackberry Lime Margaritas
What does your next BBQ need? Blackberry lime margaritas! Mix fresh berries and juice, add a little tequila and Cointreau, and you'll be enjoying life immensely in no time.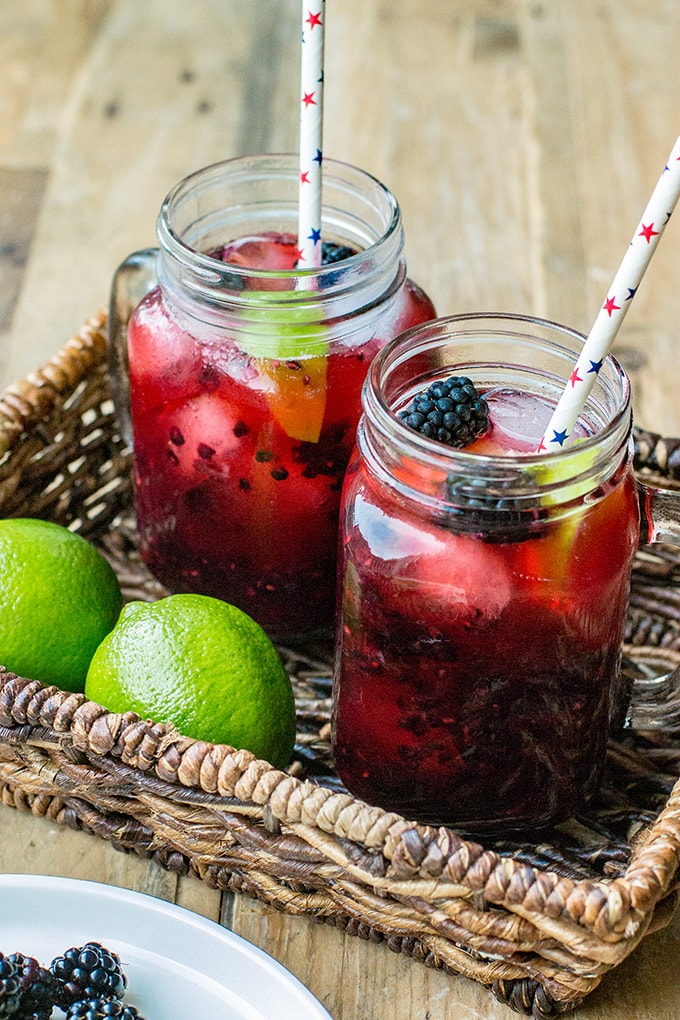 I guess I have a thing with berries. Hard not to, though, when we have the good fortune to see fresh, plump ones practically falling out of the stalls at farmers markets all summer long. I've already shown love to strawberries (muffins and ice cream and crumbly oat bars), raspberries (sparkling lemonade), and blueberries (this gorgeous puff pastry tart). It's high time for blackberries to get in on the action.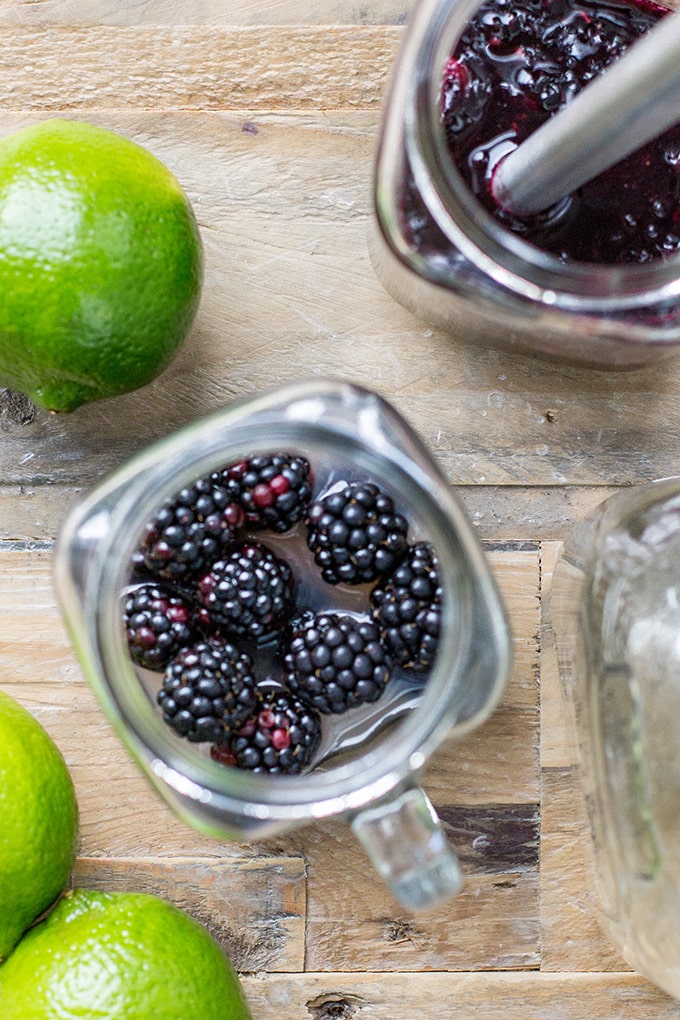 The picture above is actually from my first effort to make these margaritas, when I began by dividing the blackberries into each serving glass, added the lime juice, and muddled them in the glasses by hand. It made for a cute picture, but it turns out there's a simpler way. When it comes to margaritas, practice makes perfect, I guess. 🙂
Much easier to puree or muddle the blackberries in a separate vessel by themselves,  add the lime juice and the rest of the ingredients – tequila and Cointreau key among them – then pour over ice into the serving glasses. It's the little things.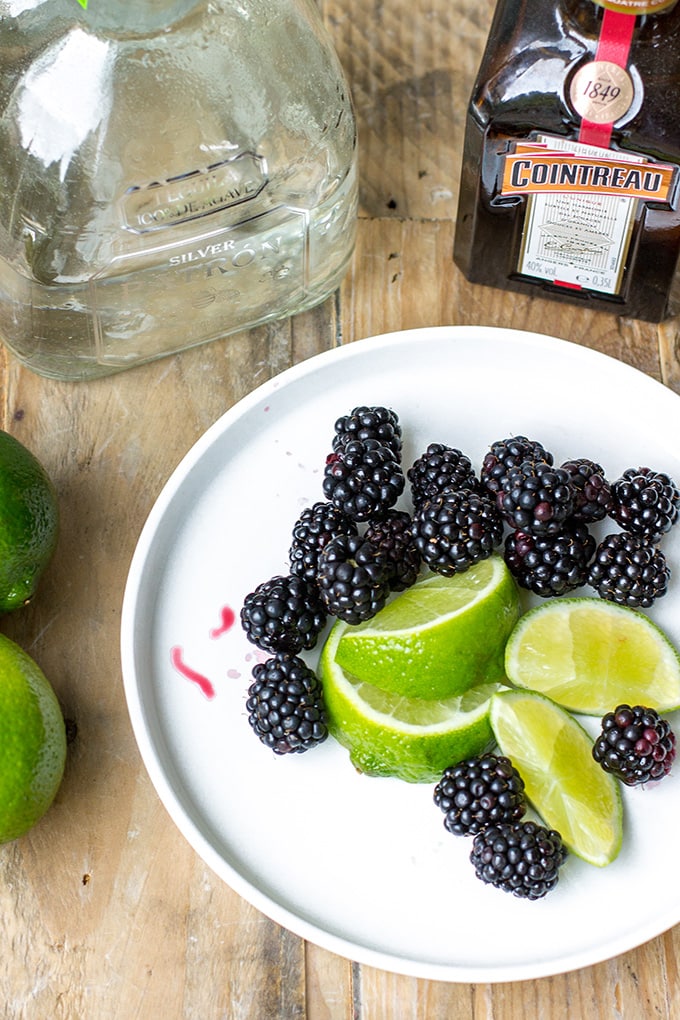 Depending on your personal preference, I'd also recommend straining the blackberry puree to remove the seeds and some of the pulp. Personally, I don't mind having that extra texture in my drink, but I suspect most people would prefer their beverage more smooth. Straining is an extra step, yes, but a very simple one. Plus, it will make it easier to sip your margarita through a straw, and that's always a good thing, right?
[clickToTweet tweet="Your next BBQ needs these blackberry lime margaritas! Tequila, Cointreau… life is good." quote="Your next BBQ needs these blackberry lime margaritas! Tequila, Cointreau… life is good."]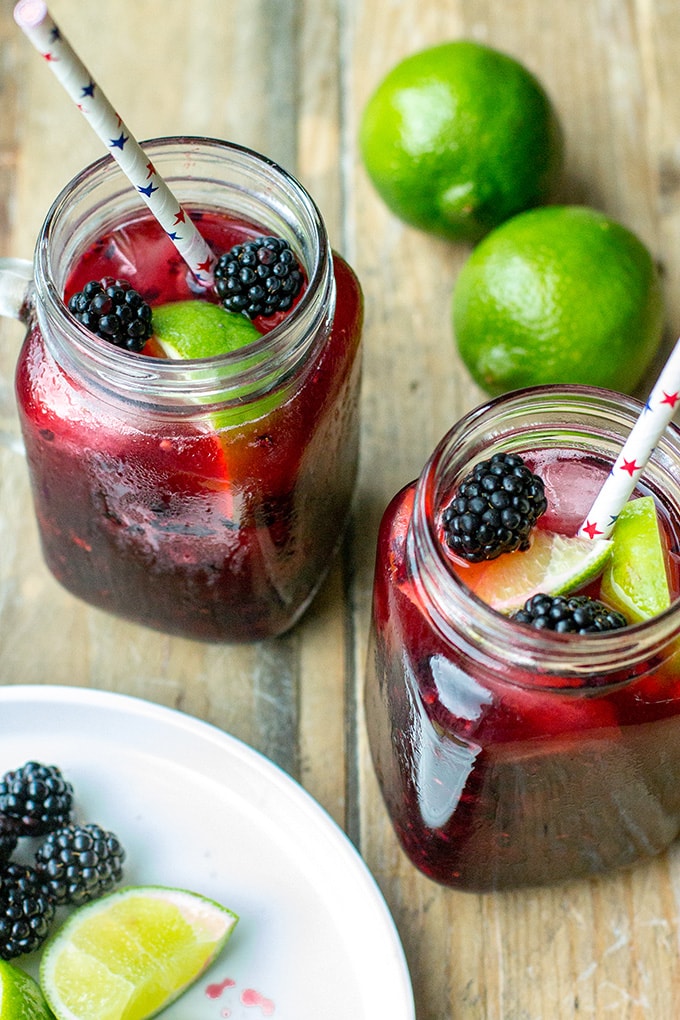 Whether your weekend plans include a blowout BBQ with the whole neighborhood, chasing kids around the pool, or enjoying some well-deserved relaxation at home, a good cocktail will set the tone in a very positive way. Enjoy!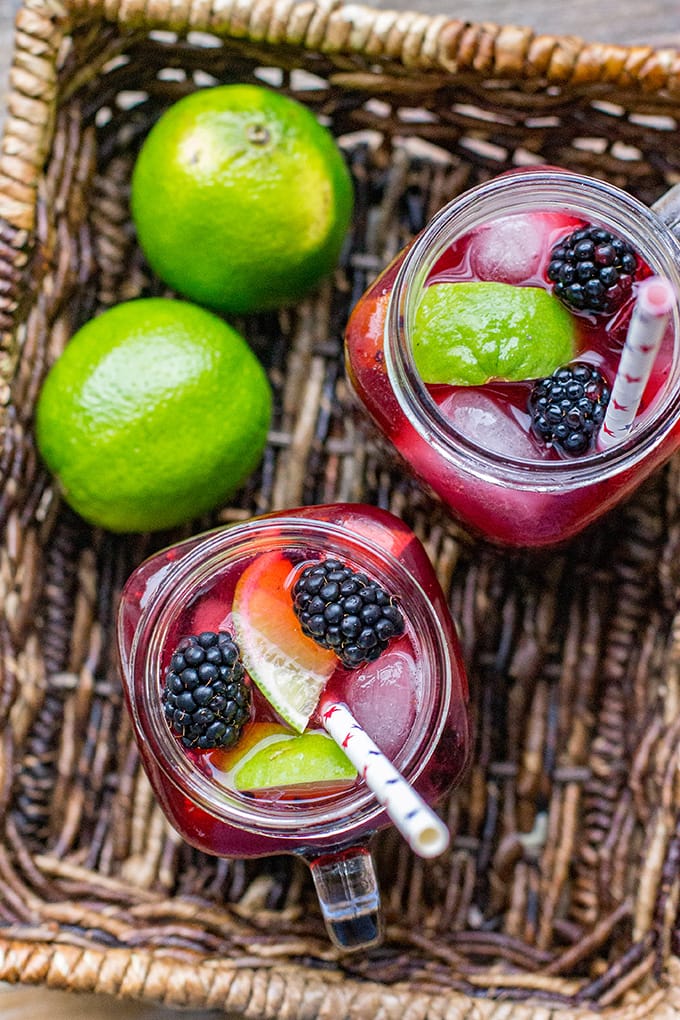 Blackberry Lime Margaritas
Blackberry lime margaritas are a great summer cocktail, perfect for a BBQ, cookout, or just sipping on the porch!
Ingredients
6 oz. (1 heaping cup) blackberries
1/3 cup fresh lime juice from about 2 limes
2 tablespoons simple syrup or agave syrup
1/4 cup tequila
2 tablespoons Cointreau or Grand Marnier
sparkling water optional
ice and lime slices to garnish
Instructions
Add the blackberries to the bowl of a food processor and puree until smooth, or crush them by hand in a small pitcher or bowl with a muddler or the back of a spoon.

Prepare a small pitcher or bowl with a fine mesh strainer set over top. Press the blackberry puree through the strainer to remove most of the seeds and pulp. (This is optional, if you aren't bothered by having the seeds and more texture in your drink.)

Add lime juice, syrup, tequila, and Cointreau or Grand Marnier to the strained blackberry puree. Stir well.

Fill two serving glasses with ice, and pour over the drinks. Add a splash of sparkling water, if desired. Garnish with lime slices and additional blackberries, and serve.
Nutrition Estimate
Calories: 227 kcal, Carbohydrates: 32 g, Protein: 1 g, Sodium: 3 mg, Potassium: 184 mg, Fiber: 4 g, Sugar: 23 g, Vitamin A: 180 IU, Vitamin C: 29.9 mg, Calcium: 30 mg, Iron: 0.5 mg
Did you make this recipe?
Leave a review below, then snap a quick picture and tag @nourishandfete on Instagram so I can see it!