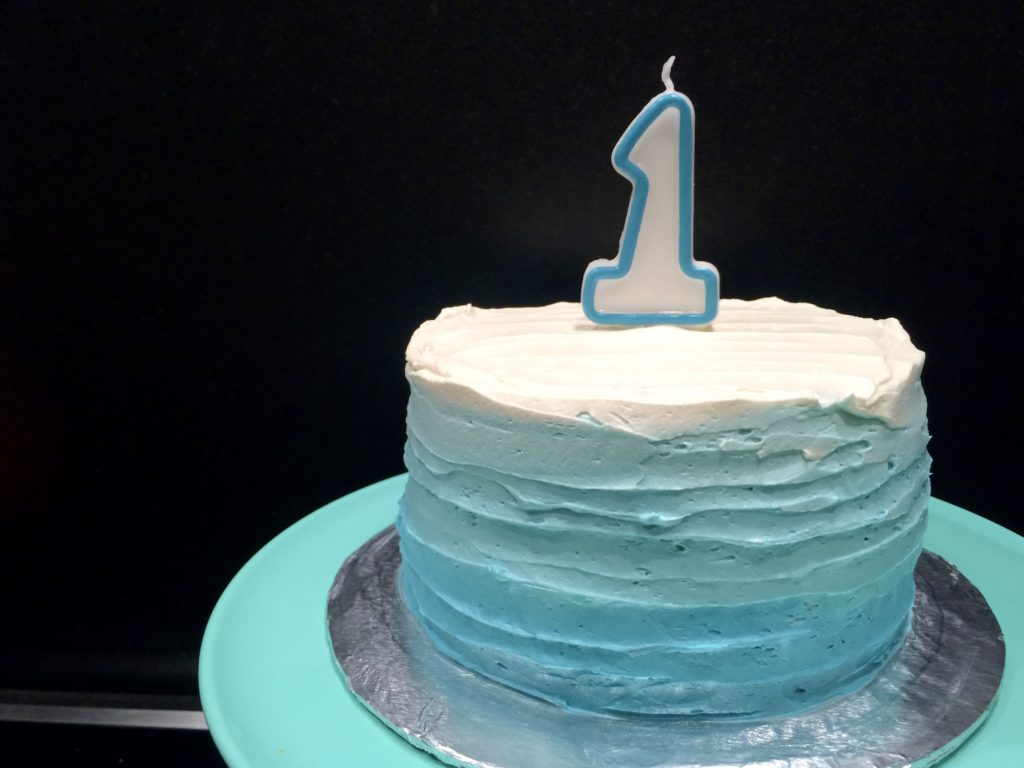 At the risk of dissolving into one giant cliche, I am baffled by the fact that we just celebrated my baby's first birthday. It seems like yesterday and also a million years ago that we brought a helpless newborn home from the hospital. I blinked, and here he is, cruising around the house, climbing on everything, chattering up a storm, and eating anything within reach.
He loves to examine, sort, build, and try to stack objects; music of all kinds; to be outside; to watch mama cook and papa do just about anything. And eating.. gouda, manchego, peanut butter, all kinds of berries, bananas, scrambled eggs, meatballs, squash, sweet potato, chicken, green beans, applesauce.. did I mention he loves to eat!?
We'll have a little party for Henry in a couple of weeks, which is delightful because it means we get to celebrate twice! For his actual birthday, we enjoyed a nice, relaxed day with a picnic at the playground, balloons, lots of reading and playtime, and of course, a smash cake!
I used this recipe for carrot cake, and baked a small amount in two 6″ cake pans for the smash cake, then used the rest of the batter to make cupcakes for the rest of us to enjoy. Normally I love cream cheese frosting with carrot cake, but I wasn't sure how well it would hold up for decorating, or whether it might be too rich for Henry, so in this instance I frosted both the cake and cupcakes with this simple whipped vanilla buttercream. It went beautifully.. further proof that vanilla buttercream never disappoints.
Finally, I followed this tutorial for the ombre decorating effect, and actually found it considerably easier than I anticipated! The tutorial has very helpful step-by-step instructions and pictures that kept my confidence up throughout the process. 🙂 For any budding cake decorators out there questioning the value of a crumb coat.. just do it! It really doesn't take that long, and it is so incredibly worth it for a much smoother finished product.
Henry was a little unsure what to do with the cake at first, but after a little prodding and a tiny taste, he dove right in like a pro. Then, my heart nearly exploded when, after awhile, he switched gears and started trying to feed bits of the cake back to me. I couldn't be more grateful to be this little guy's mama and have the privilege of making him birthday treats for years to come!