Hooray, Friday! We're almost there! To start the festivities on a fun note, I'm sharing links and loves today in the form of a "weekend mix." Enjoy!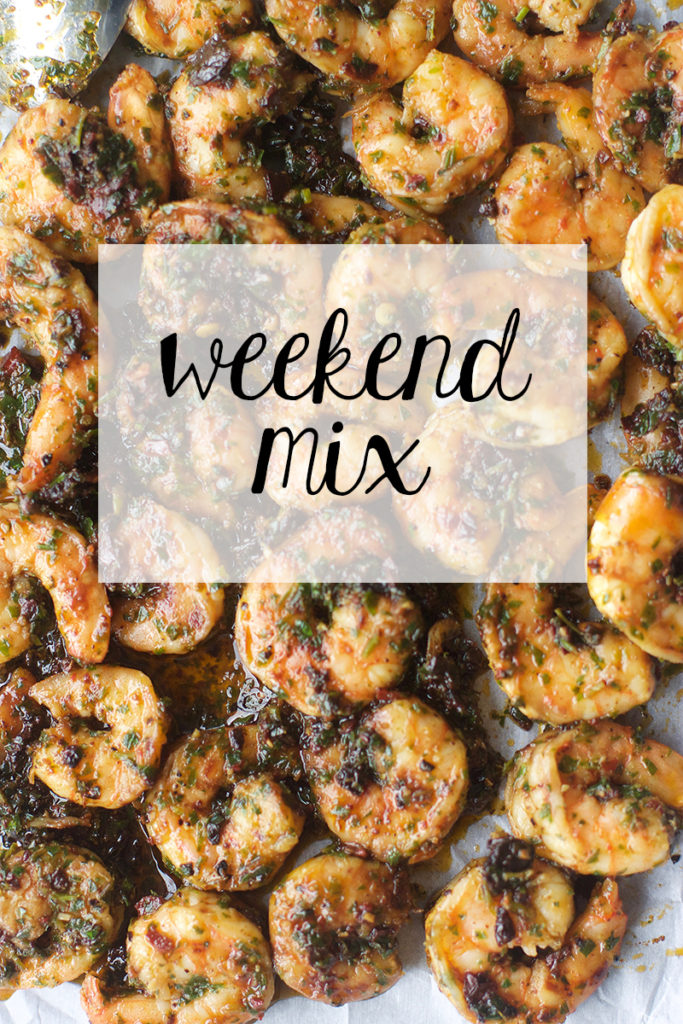 1.) This fabulous shrimp with green chile sauce was a highlight on our menu this week (and is pictured above). To die for, especially stuffed into fresh tortillas.
2.) I'm on the hunt for healthy/delicious muffin recipes to try. So far these are leading the pack. Any recommendations?
3.) This Sunday is my husband's birthday! We're creatures of habit, so I'll be making his favorite chocolate buttermilk cake. Still need to nail down dinner plans, though!
4.) Speaking of birthdays, I need to start planning for Henry's 2nd birthday! *sob* Kiddo is obsessed with cars so I've been having fun, possibly too much, collecting ideas along those lines.
5.) I scooped up these beauties (the teal earrings) on flash sale, which I think was a steal. Can't wait for them to arrive!
6.) What are your plans for St. Patrick's Day? Because I lead a very edgy life, I hope to recreate this and bake some sugar cookies. Maybe while sipping some Baileys.
7.) If you're looking for some Irish action in the kitchen, how about a savory soda bread or chocolate stout cupcakes with Irish cream frosting? Yum! And if you need a quick dinner option, check out yesterday's post, a quick and easy sheet pan salmon seasoned with rosemary and garlic.
Happy weekend, everyone! I'll be back next week to share a killer recipe for chocolate sugar cookies, derby pie, and some lighter fare perfect for spring. What's on your menu for the weekend? Tell me in the comments below!