Gift Ideas for Cooks and Bakers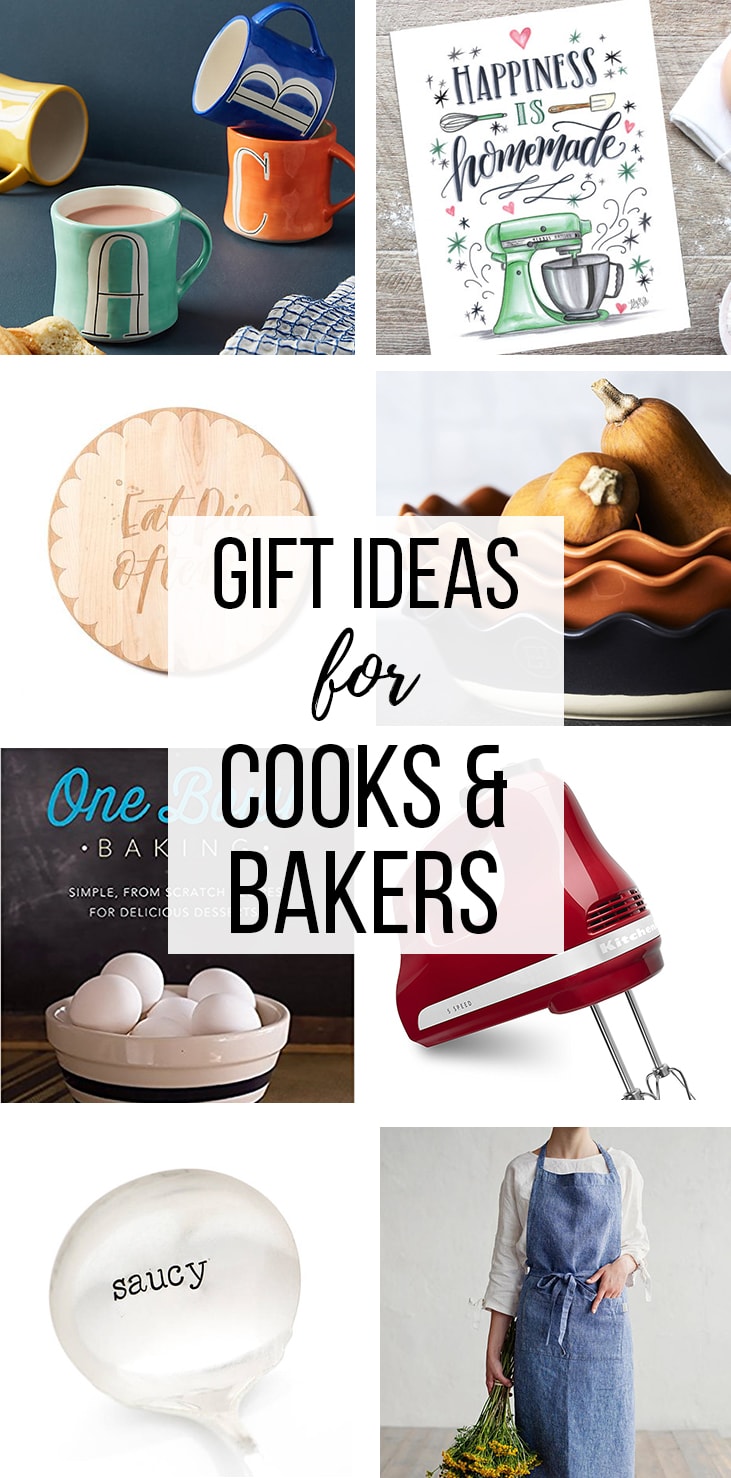 Are you finished with your holiday shopping? I always tell myself, literally every year, that THIS will be the year I have everything purchased by the weekend after Thanksgiving. Needless to say, that never happens! 
So if you, like me, still have a few gifts to buy, here are some ideas for the home cooks and bakers in your life! Some are practical, some are indulgent, some are just for fun. And really, shouldn't we all seek a balance of those three things? 🙂
(Amazon links are affiliate.)
Digital Kitchen Scale – This is a small gift that can change lives, at least, lives in the kitchen! A simple scale is less than $10 and makes it SO easy and fast to accurately measure ingredients.
"Saucy" Ladle – A hand-stamped serving ladle with a little side of playful attitude? I want!
Thermapen – I've been wanting to invest in one of these for SUCH a long time! I keep breaking other kitchen thermometers, and everyone says this one is best of the best. I really believe this is an instance where you get what you pay for. 
Colorway Monogram Mug – This is such a steal (on sale for $5.60!) for a cute, personalized gift. Love Anthropologie!
Five-Speed Hand Mixer – Nothing beats (haha..) the simplicity of a good old-fashioned hand mixer for making dough, batter, whipping egg whites, etc. Plus, they come in every color imaginable. Makes me a little sniffly that mine is basic black!
Rainbow Whisks – So cheerful, so functional! I ordered these a few months back and it's a good thing they come in a set, so that my mixing-obsessed toddler and I don't have to share!
Smitten Kitchen Every Day – This is another item on my personal wish-list. Deb is of course the mother of all food bloggers, and her first cookbook contained so many gems, I can only imagine how many new family favorites are tucked away in the pages of this one.  
One-Bowl Baking – I've written several times about my adoration for this cookbook by Yvonne Ruperti. It's seriously the perfect gift for anyone who enjoys baking but is short on time or just likes to keep it simple. Simplified, delicious versions of so many favorites!
Cravings – I ordered Chrissy Teigen's cookbook earlier this year, more or less on a whim, and was blown away by how much I love it. First of all, the writing is hilarious, and even more importantly, it is full of killer recipes for "all the food you WANT to eat." This book made me think of Chrissy Teigen in a whole new light.
The Complete Mediterranean Cookbook – Every cookbook America's Test Kitchen churns out is full of reliable, amazing recipes, and who doesn't love Mediterranean food!? A no-brainer.
Pastry Mat – This is one of those things that many home cooks/bakers wouldn't buy for themselves, but will wind up using all. the. time. I seriously use mine at least once a week; it makes rolling out any type of dough way easier! Plus it feels very fancy to use. 🙂
Colorful Ceramic Knives – Do you use ceramic knives? They are so convenient and such a nice supplement to a traditional knife block. This set is fun, cheerful, affordable, and gets great reviews!
Happiness is Homemade Art Print – Such a cute print with a beautiful sentiment. I'd love to hang this up in my own kitchen!
Sprinkles Starter Kit – How sweet would this little gift box be for someone who loves to bake? You're gifting batches and batches of beautifully-decorated cakes and cupcakes, which basically equates to true love.
Tablet Holder and Cookbook Stand – I cook a lot from my iPad and laptop, which is convenient but leads to many splatters and crumbs where they don't belong – ie., on the screens! This would be a big help if someone you know does the same.
Immersion Blender – Seriously the easiest way to puree homemade soup, make whipped cream, and more. Best part of all? When you're done, you literally just pop the business end in the dishwasher, and that's IT! Nothing more to wash. This little thing has dramatically improved my cooking life.
Fluted Mini Tart Pan – This sweet little tart pan can be used to dress up so many things in the kitchen. I used it for these mini frittatas, and received SO many compliments/questions about the pan – everyone loves it!
Colorful Pie Plates – The only thing better than homemade pie is homemade pie in a bright, cheerful serving dish! I have a similar set that I got from Joss & Main several years ago, one of which you can see in action here, and have gotten an unbelievable number of compliments on them.
"Eat Pie Often" Cutting Board – Speaking of pie, this cutting board would bring a smile to nearly anyone's face. Eat pie often? Don't mind if I do!
Pan Scrapers – Seriously the best stocking stuffer I can think of for the home cook – or whoever usually does the dishes, ha! I mean, don't you just love a super simple object that makes a "blech" task easier and faster?
Cookie Scoops – I've been wanting to get a set of high-quality cookie scoops for the longest time. I might need to prime these to myself before Christmas! 🙂
Linen Apron – How gorgeous is this soft blue linen apron? They have several other gorgeous patterns, AND they are available in kids' sizes, too, for your pint-sized chef. Adorable!
Happy shopping, friends! ♥