Elevate your next Mexican meal with these incredible flour tortillas from scratch. The perfect vehicle for tacos, burritos, enchiladas, and more, these tortillas manage to be soft, pliable, and sturdy all at once. Plus they're amazingly easy to make – five ingredients and mixed either in the stand mixer or by hand.
After falling hard for homemade corn tortillas, it was only a matter of time until we went all the way and started experimenting with homemade flour tortillas, as well. And, well, what can I say? It's worth every roll and spatula flip.
To be honest, the process is kind of the fun part. Other than, you know, eating them all!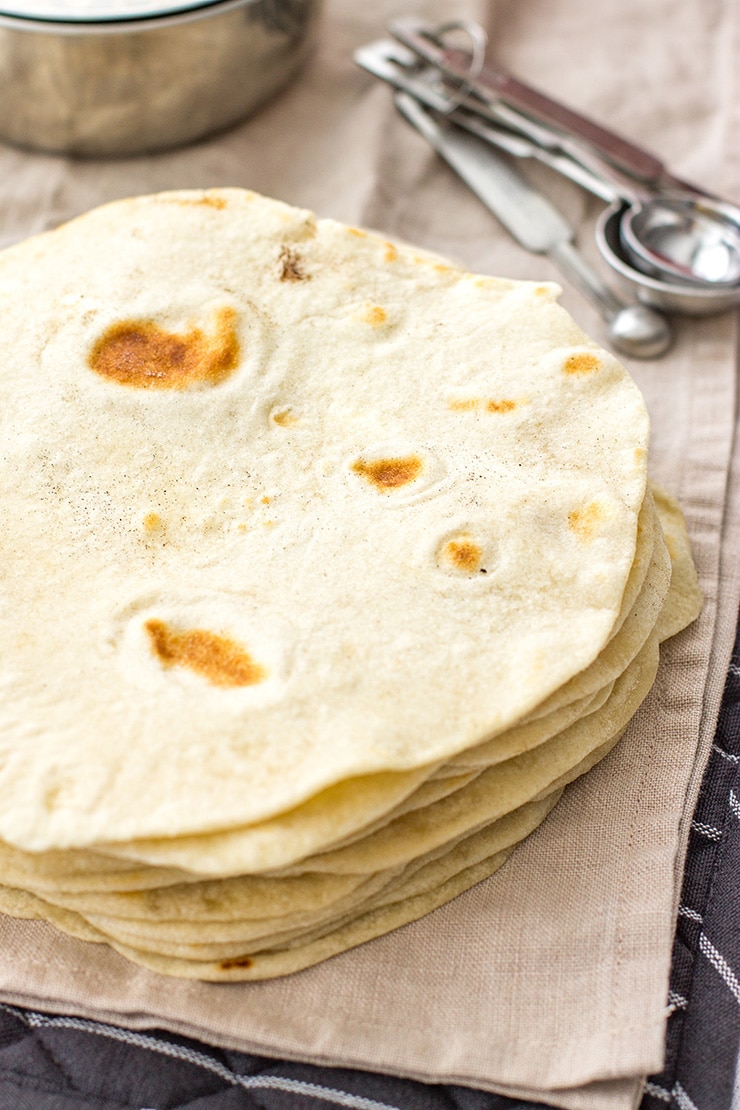 It will surprise no one to learn that there are quite a few flour tortilla recipes floating around out there. I make no claim that this particular interpretation is "pure" or "authentic." As an American of Slovak-German descent living in Belgium, I might actually be the last person you'd want to consult for advice on truly authentic Mexican cuisine. 😉
I can, however, tell you without a doubt when something is delicious, and believe me when I say that these tortillas meet and exceed all your tastebuds' expectations.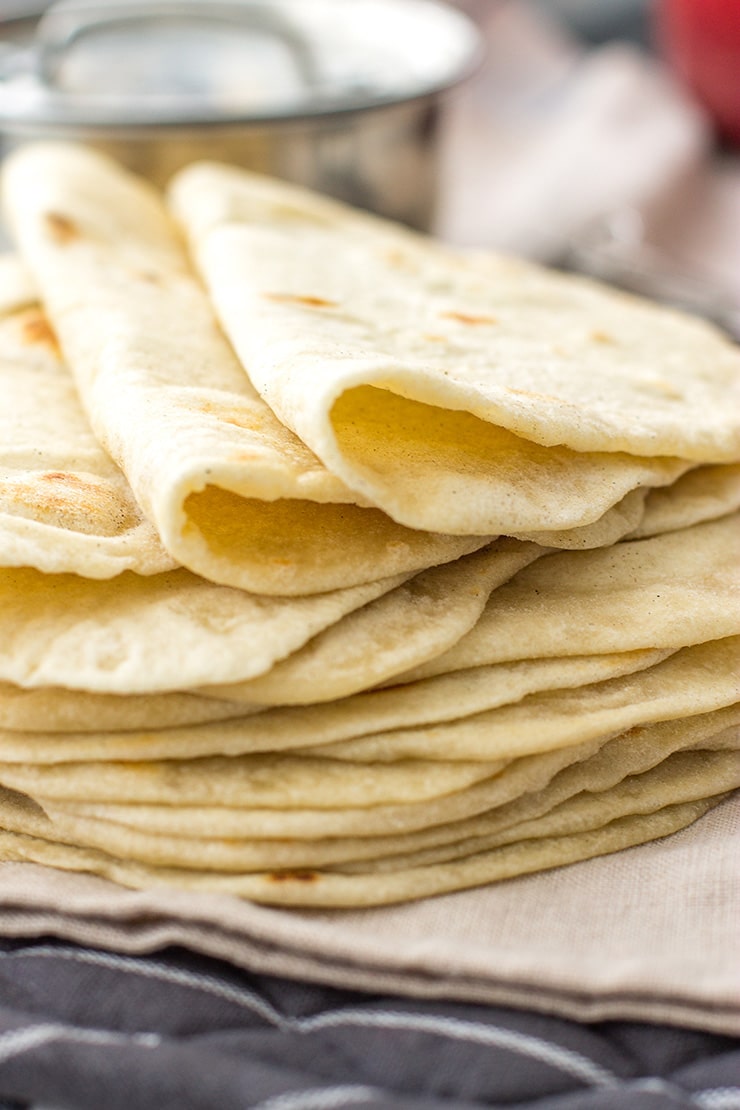 How To Make Flour Tortillas From Scratch
One of this recipe's many advantages is that it can be mixed quite easily with a stand mixer, a hand mixer, or by hand. Whichever approach you choose, the basic process is the same: combine flour, salt, and baking powder. Cut in some vegetable oil, mix in warm water, and knead it into a soft, supple dough ball.
Then, just pluck off a portion for each tortilla. The recipe should yield about 16 taco-sized shells. You can certainly measure these to be precise, but I find it a lot easier to just divide the ball in half, then divide those halves again, and so forth until you have 16 portions. No one in my family has ever complained about slightly uneven tortilla mass. :)Stretch and roll each portion into a smooth ball, flatten each slightly with your palm, and let the discs rest for a few minutes. Then you'll just roll each one out thin, and – boom – tortillas!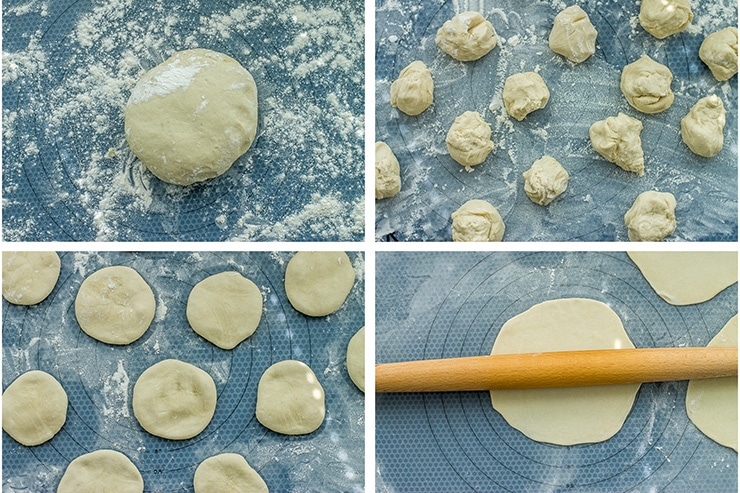 Well, you do have to cook them first. That takes 1-2 minutes each in a hot cast-iron or non-stick pan. As explained more in the recipe notes below, you'll know they're cooking properly when you get small bubbles on the top side and light brown spots on the bottom.
I have the extreme good fortune to have recruited my husband to be the designated family tortilla flipper. He finds it pretty zen. Plus, the flipper gets first dibs on sampling, so it's not a bad job to claim.It goes without saying that these add an extra-special touch to any meal with which you would normally serve tortillas! Some of our favorites include:
Black bean tacos with pico de gallo 
For more inspiration, don't miss this round-up of more than 35 amazing taco recipes – there is definitely something for everyone here! And of course, don't forget your skinny margaritas. 🙂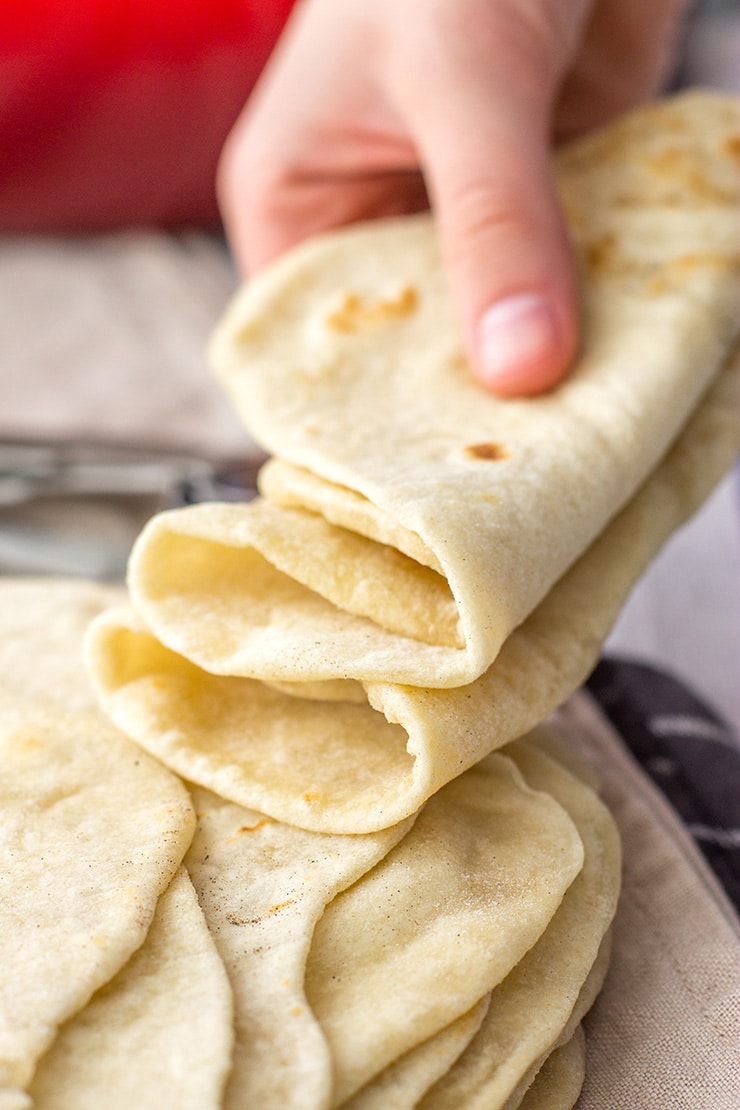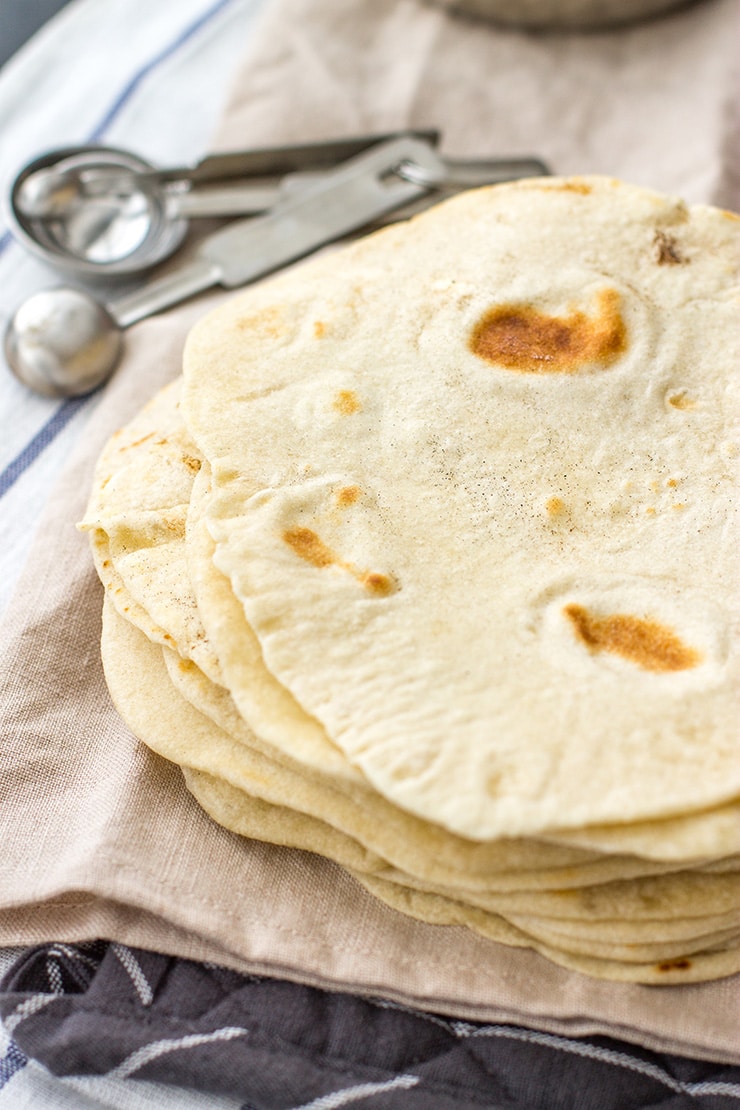 With a soft tortilla that manages to be pliable and sturdy all at once, you're not really going to go wrong. If you dispense with the fillings and just eat them straight off the hot skillet, well, you won't get any judgment from me.
Go ahead and give this recipe a try – I'm willing to bet you'll love the results, and be pretty darn proud of yourself for making tortillas from scratch! Enjoy! ♥
If you've tried these tortillas or any other recipe on the blog, please remember to rate the recipe and leave a comment below. I love hearing from you, and other readers will benefit from your experience!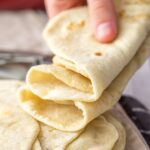 Print
Easy Flour Tortillas From Scratch
Elevate your next Mexican meal with these incredible flour tortillas from scratch. The perfect vehicle for tacos, burritos, enchiladas, and more, these tortillas manage to be soft, pliable, and sturdy all at once. Plus they're amazingly easy to make - five ingredients and no special equipment.
Ingredients
3

cups

all-purpose flour

1

teaspoon

salt

1

teaspoon

baking powder

1/3

cup

vegetable oil, shortening, or lard

1

cup

hot water
Instructions
Stand Mixer Instructions
In the bowl of a stand mixer fitted with the dough hook, combine flour, salt, and baking powder. Mix briefly to combine.

With the mixer running at medium speed, add oil and water. Mix for 1-2 minutes, stopping at least once to scrape the sides of the bowl. After the dough begins to come together into a ball, reduce mixer speed to low and continue mixing for 1-2 minutes, until dough is smooth.
Mix by Hand Instructions
In a large mixing bowl, combine flour, salt, and baking powder. Whisk briefly to combine, then add vegetable oil. Stir until the mixture resembles coarse crumbs.

Pour in warm water and stir to combine. Knead briefly with well-floured hands until the mixture comes together into a craggy dough.
Either way, to proceed..
Whether you used a stand mixer or your hands, transfer dough at this point from the mixing bowl to a well-floured work surface. Divide into 16 roughly equal portions. Roll each portion into a ball and flatten slightly with the palm of your hand. Cover flattened balls of dough with a clean kitchen towel, and allow to rest for at least 15 minutes and up to an hour.

When ready to cook, warm a large cast-iron or heavy-bottomed skillet over medium-high heat.

Keeping the work surface and rolling pin lightly floured, roll each dough ball into a circle about 6" in diameter. (Try not to stack the rolled tortillas on top of one another - this makes it more difficult to transfer them to the pan. If you need additional staging area, a lightly floured sheet of parchment paper works well.)

Transfer tortillas one at a time into the hot skillet. Cook for about 1 minute, until small bubbles form on the top and brown spots form on the bottom surface. (If it takes much longer than a minute to see golden brown spots on the underside, increase the heat slightly. If instead the tortilla browns too much or too quickly, reduce the heat.) Flip and cook the other side for about 30 seconds.

Remove from the pan and stack cooked tortillas loosely wrapped in a clean kitchen towel. (This will keep them soft, pliable, and warm.)

Serve immediately or allow to cool for later use. Tortillas can be stored for 2-3 days in the fridge in a plastic zip-top bag; before using, wrap tortillas in slightly damp paper towel and microwave for 15-30 seconds. Tortillas can also be frozen for 2-3 months; to freeze, separate tortillas with sheets of parchment or waxed paper and store in a zip-top freezer bag.
Did you make this recipe?
Leave a review below, then snap a quick picture and tag @nourishandfete on Instagram so I can see it!
Nutrition Estimate
Serving:
1
tortilla
|
Calories:
124
kcal
|
Carbohydrates:
18
g
|
Protein:
2
g
|
Fat:
4
g
|
Saturated Fat:
3
g
|
Sodium:
146
mg
|
Potassium:
50
mg
|
Calcium:
1.4
%
|
Iron:
6.2
%
Before You Go…
Don't forget to PIN THIS to save the recipe for later. You can also subscribe to receive recipe updates each week by email, or follow me on FACEBOOK, INSTAGRAM, PINTEREST, or Twitter to see a lot more delicious food and other happenings.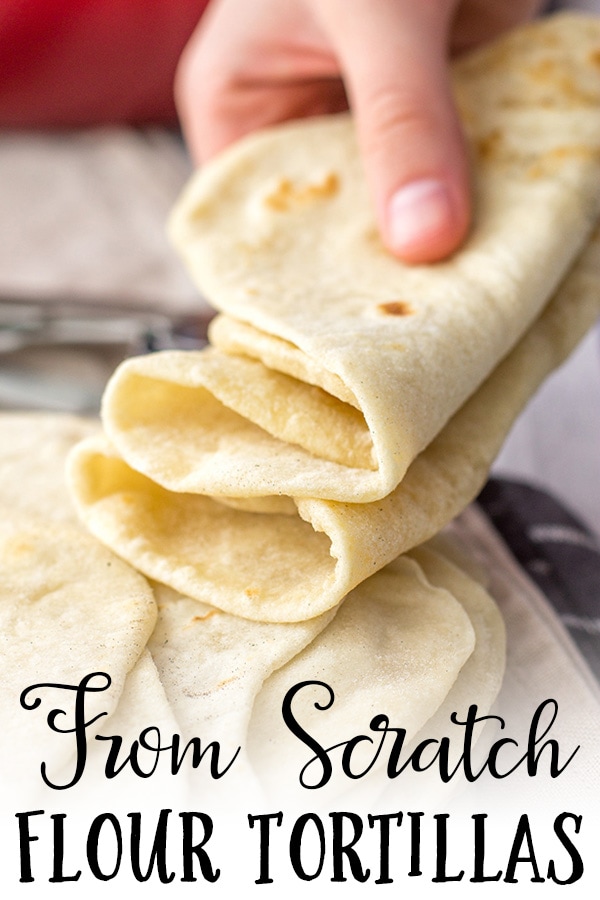 583