Jalapeno Lime Fish Tacos
These tasty Jalapeno Lime Fish Tacos are healthy, fresh, and packed with flavor. Count on this one-skillet, 30-minute meal to help you escape the weeknight dinner rut.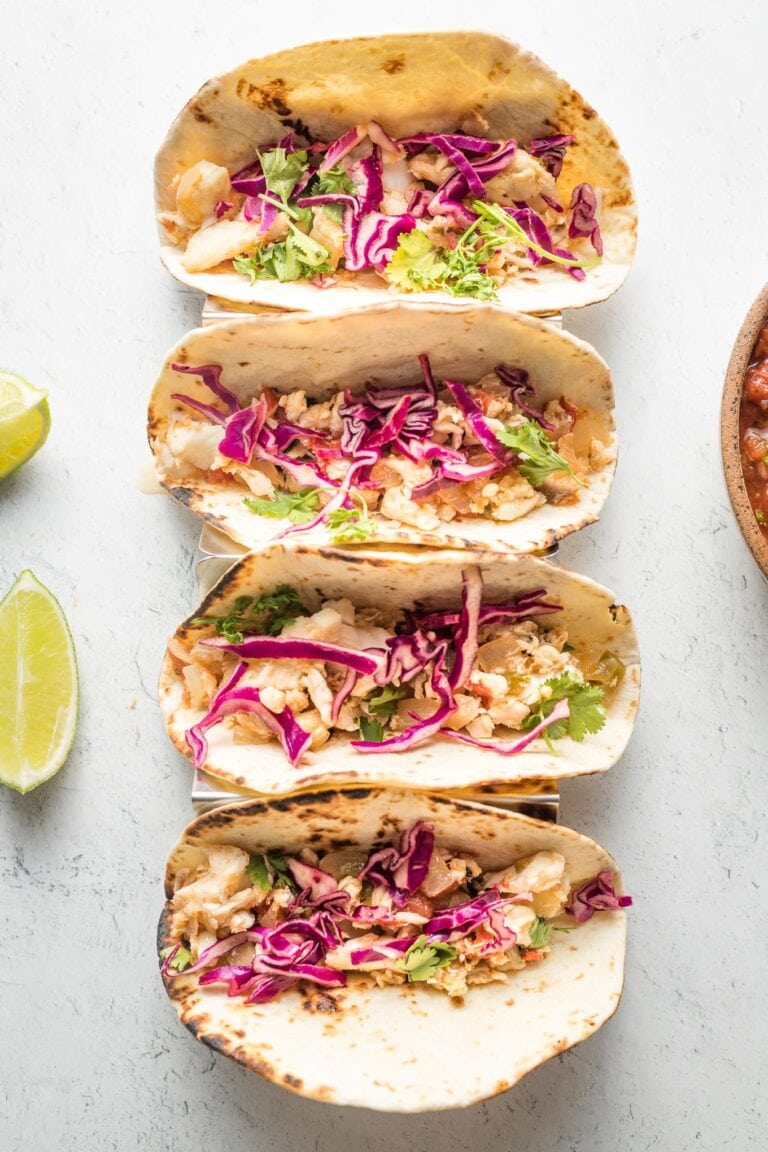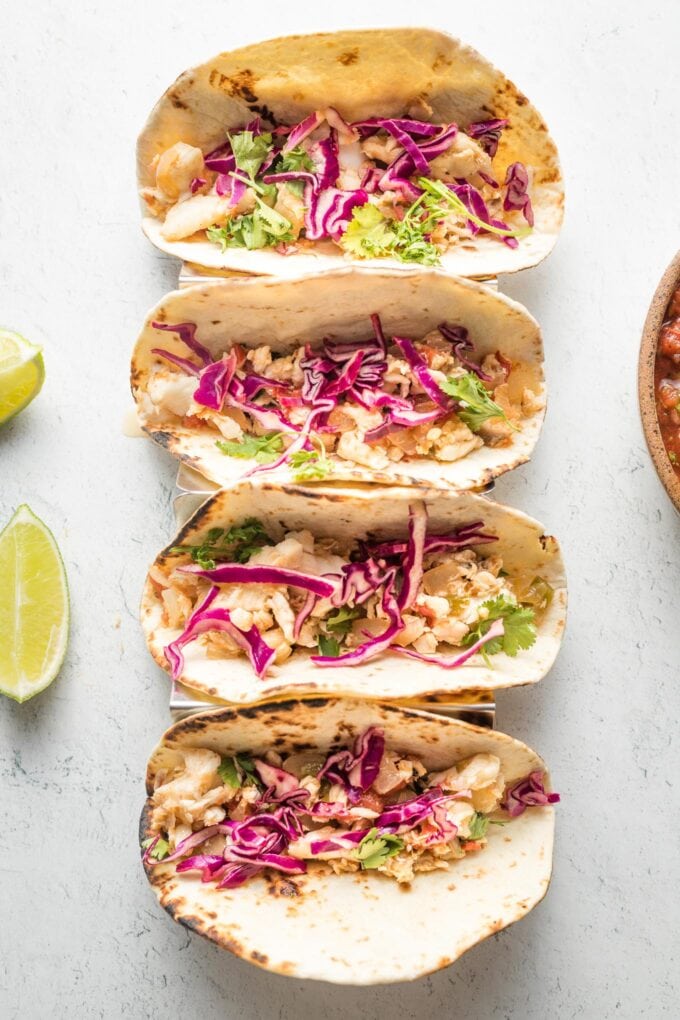 Fish tacos are such a fun and simple way to add more seafood into your diet, or simply more variety. Even many "fish skeptics" manage to cope when it comes in taco form. Mexican and Tex-Mex style food has that effect on people!
These jalapeno lime fish tacos, made with flounder, tilapia, or any other mild white fish, are just the ticket for a fresh, healthy meal. They're a breeze to make in one skillet and take just about 25 minutes, yet the combination of flavors and textures — tender fish, zippy cilantro, tangy lime, crunchy cabbage — are worthy of a restaurant meal. Beachside, preferably!
Ingredients & Common Substitutions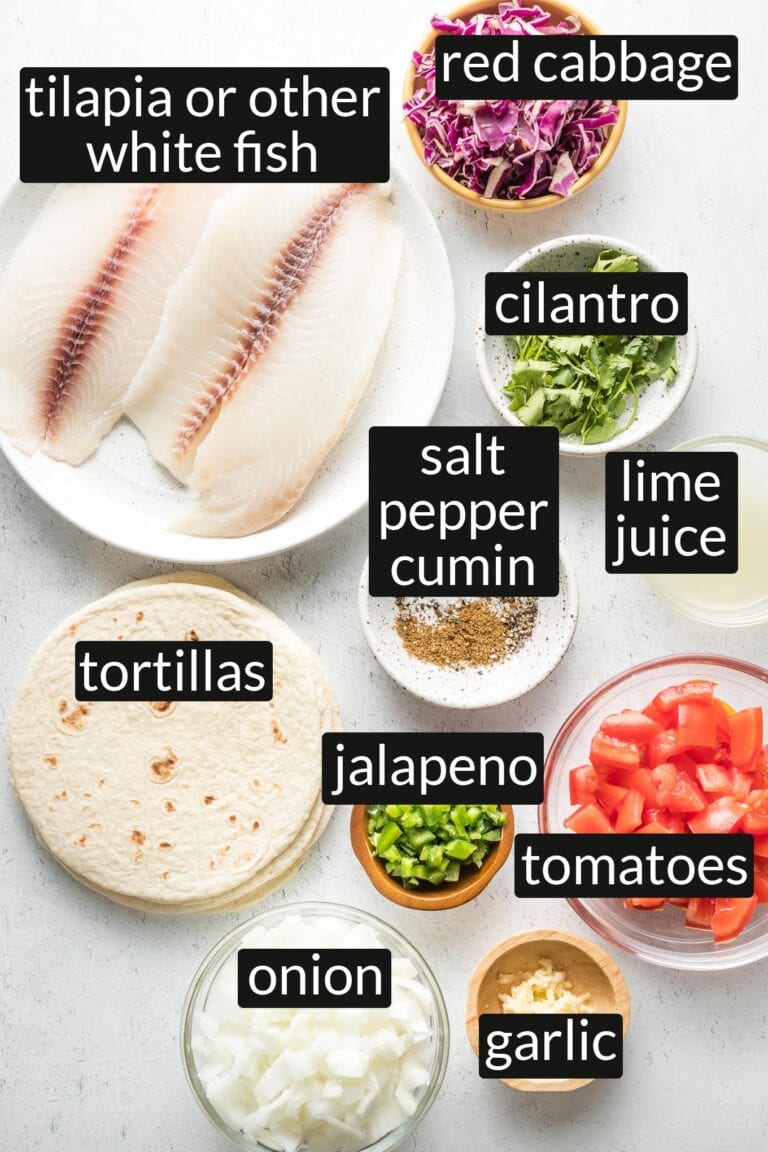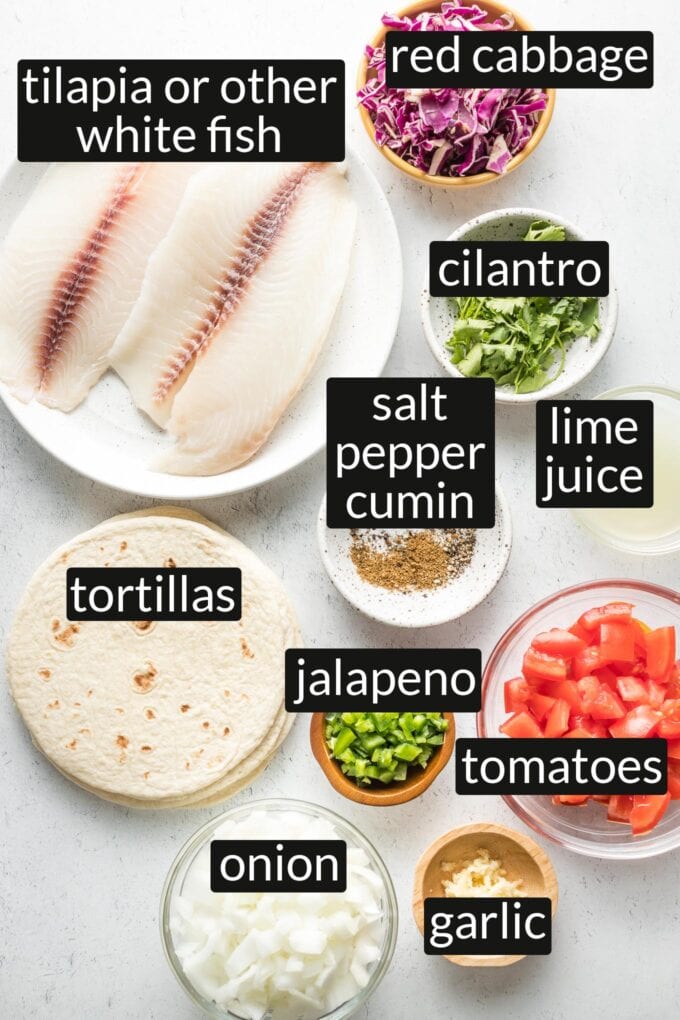 Flounder, tilapia, or another white fish. I often buy frozen fillets at Trader Joe's. They're economical and easy to keep on hand for simple meals like these tacos or baked lemon fish. White fish is generally mild and adapts well to any seasonings you layer on.
Jalapeno. I like to remove the ribs (the inside white lining of the peppers) and seeds for a fairly mild mixture, but you can easily include some or all of them to turn up the heat! For a different or added flavor, swap in chipotle chilis in adobo or another hot pepper you like.
Cilantro. A generous handful of the leaves will do. If you're not into cilantro, leave it out, or consider swapping in some Mexican oregano if you have it!
Tomatoes. A couple of Roma or on-the-vine tomatoes work well and are generally available year-round. You could use a small can of diced tomatoes in a pinch, but be sure to drain them before adding to the skillet.
Onion. I prefer using yellow or white onion in these tacos.
Garlic.
Lime juice. A key ingredient, so use fresh if you can. Plus you'll love having extra wedges for garnish!
Spices. Salt, pepper, cumin.
Red cabbage. This makes the base of a tasty and vibrant slaw that perfectly contrasts the tender taco filling. Sub in green cabbage or shredded lettuce if you prefer.
Tortillas. Store-bought keep this quick and easy, but if you have time, homemade tortillas are surprisingly easy and always a HUGE hit!
Sliced avocado or guacamole makes a nice addition to the final tacos, too, but as you can see we often eat them without if I don't happen to have an avocado on hand.
How To Make Them
Start by cooking the onion, garlic, jalapeno, tomatoes, and lime juice together in a skillet. This allows the veggies to soften and begins to infuse the jalapeno and lime flavors throughout.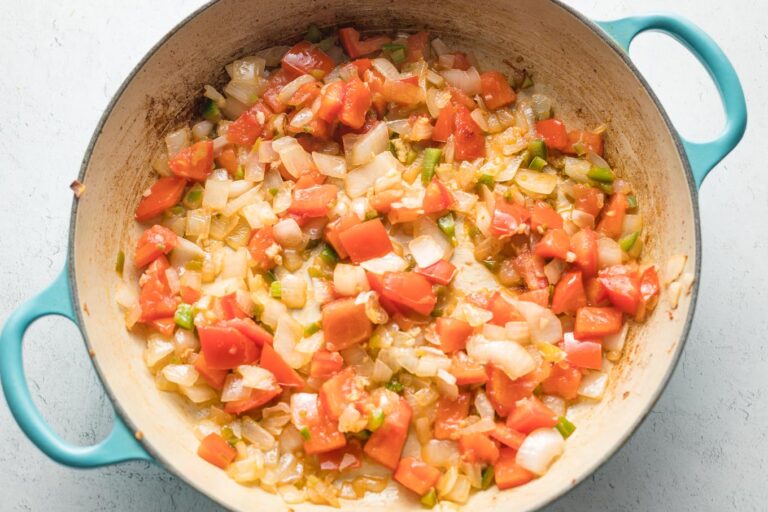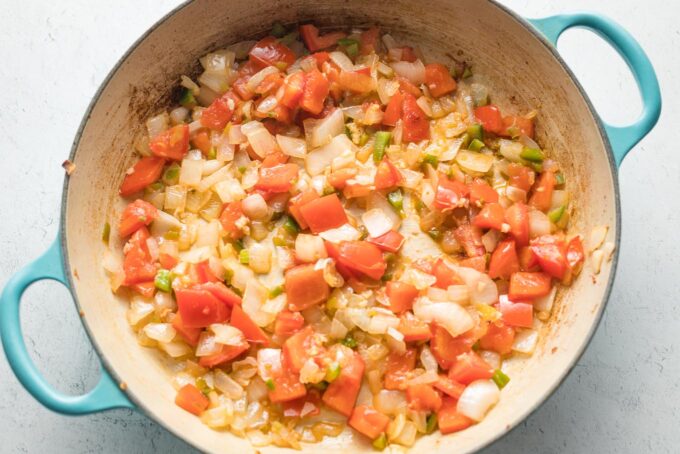 Add the seasoned fish fillets to the skillet and continue cooking. You'll want to add them whole, then slowly break them up as you go. I find a simple angled spatula like this works very well. You want to be a bit judicious with this step, so the fish falls apart gently into bite-sized chunks, but doesn't completely shred or disintegrate.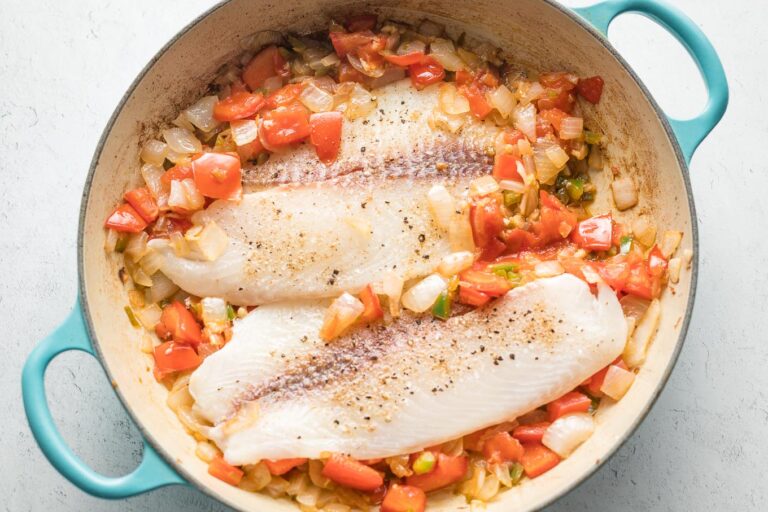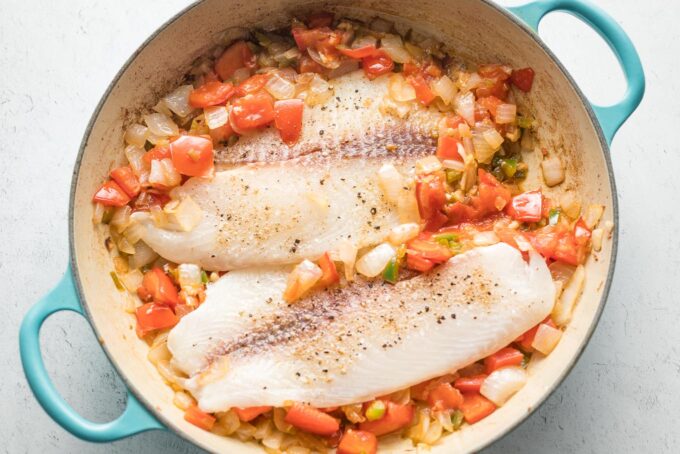 When the fish is cooked through and fully broken up, sprinkle the mixture with cilantro leaves and remove from the heat.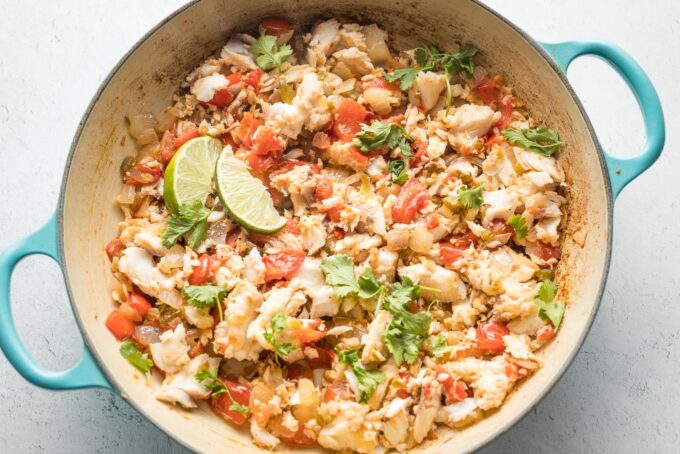 Your tacos are ready to assemble and enjoy!
Frequently Asked Questions
How do you tell when fish is done?
Fully cooked fish will turn opaque, rather than translucent, and will generally reach a temperature of 145° F. A fish such as flounder or tilapia will cook quickly in a hot skillet, but the exact time can vary depending on the cookware, thickness of the fish, and other factors. If you want to remove any guesswork, use an instant read thermometer to test a piece quickly and easily.
Are corn or flour tortillas better for tacos?
This really comes down to personal preference! Corn tortillas are often smaller and well-suited to street tacos, but can be more finicky when it comes to holding filling without tearing or breaking apart. Try both and see which you prefer, taste and texture-wise. In many stores, you can even find a blended corn-wheat tortilla that gives you the best of both worlds.
What To Serve With Fish Tacos
Although fish tacos make a reasonably well-rounded meal on their own — protein, veggies, carbs if you use a tortilla — serve them alongside chips and salsa, cilantro lime rice, a Mexican salad, or a quick batch of spicy black beans to stretch the meal.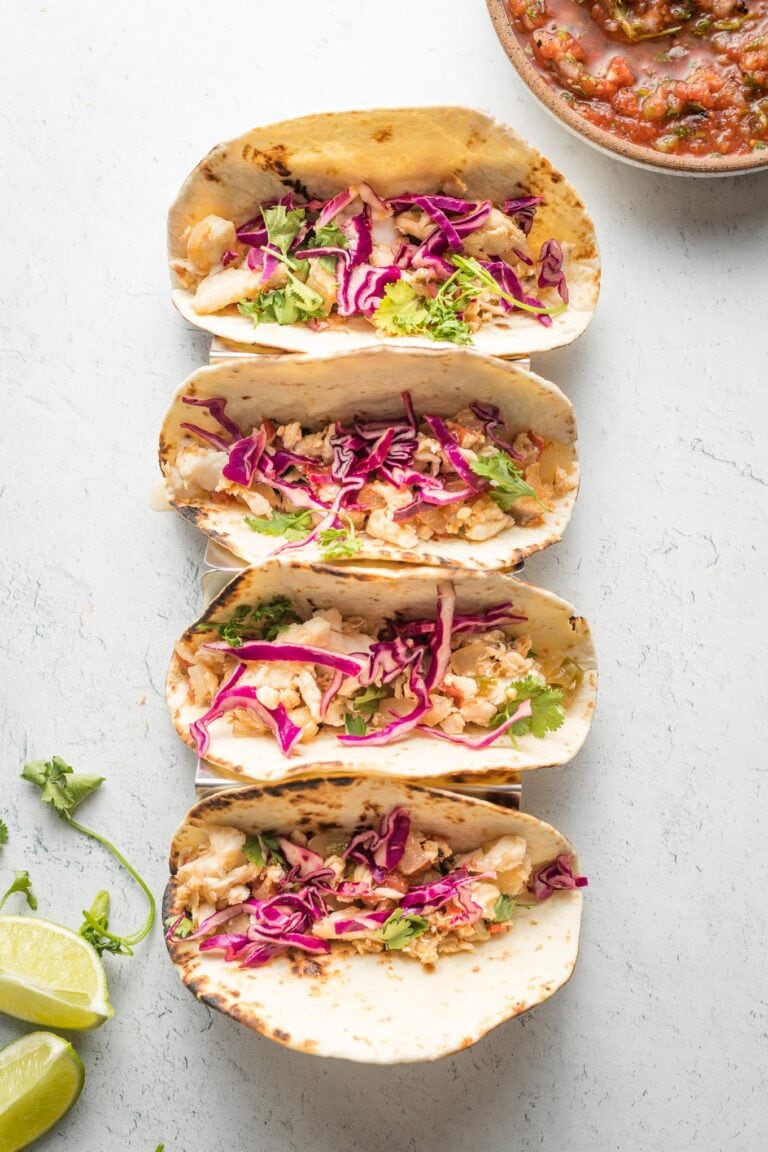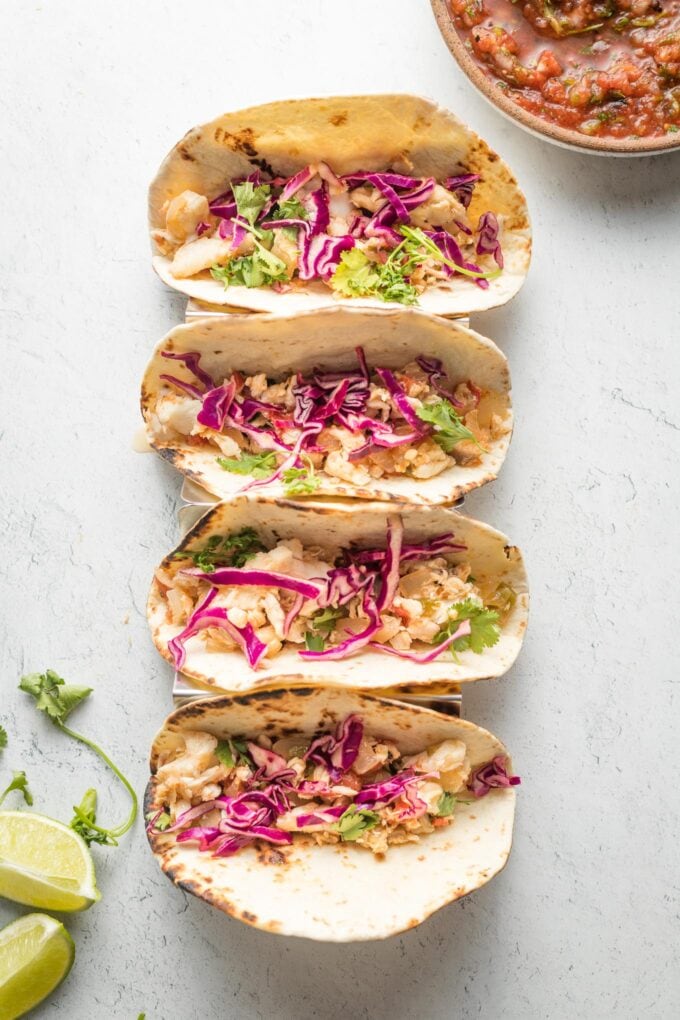 More Fun Taco Recipes
These tacos are a family favorite, and were our initial introduction into the happy world of homemade fish tacos. Light, healthy, and totally satisfying. I know you'll enjoy them, as well!
If you try these Jalapeno Lime Fish Tacos, don't forget to rate the recipe and leave a comment below. I love hearing how recipes turn out in your kitchen, and it helps other readers, too.
You can also FOLLOW me on PINTEREST, INSTAGRAM, FACEBOOK, and TWITTER for more great recipes and ideas!
Jalapeno Lime Fish Tacos
These tasty Jalapeno Lime Fish Tacos are healthy, fresh, and packed with flavor.
Ingredients
For the Fish
1 teaspoon olive oil 
1/2 small white or yellow onion chopped
4 garlic cloves minced or pressed
2 Roma or on-the-vine tomatoes seeded and chopped 
1 jalapeno pepper seeded and finely diced
1 pound flounder tilapia, or other mild white fish fillets, rinsed and patted dry 
1 teaspoon kosher salt 
6-8 cranks fresh-ground black pepper
1/2 teaspoon ground cumin
2 tablespoons fresh lime juice from 1-2 limes
1-2 tablespoons cilantro leaves
For the Slaw
3/4 cup shredded red cabbage
1-2 tablespoons cilantro leaves
1 teaspoon lime juice
1/2 teaspoon kosher salt
Instructions
Make the Fish. In a large skillet, warm olive oil over medium-high heat, then add the onions. Cook 3-4 minutes, stirring often. Add garlic and cook for about 1 minute, just until fragrant. Add tomatoes, jalapeno, and lime juice. Cook just until heated through, 1-2 minutes.

Season one side of the fish with a sprinkling of salt, pepper, and cumin. Add whole fish fillets to the skillet and cook for about 5 minutes, gently breaking up the fish into bite-sized chunks, until the fish is cooked through and the liquid in the skillet is slightly reduced. Be careful not to stir too aggressively or the fish will disintegrate. Sprinkle with cilantro and remove from the heat.

Make the Slaw. Toss cabbage together with additional cilantro, lime juice, and salt. Set aside to top tacos, as desired.

Assemble. Char or warm the tortillas briefly, then assemble tacos with fish, slaw, avocado, and more lime or cilantro, as desired. Enjoy!
Notes
Yield: For our family, this recipe yields about 8 medium tacos. Adjust the serving sizes accordingly depending on the size of your tortillas.
Heat: Dial the heat up or down simply by including more or less jalapeno. I usually make these fairly mild by removing all of the ribs and seeds, and sometimes include just 1/2 of a pepper. Adjust to your taste!
Recipe: Adapted from Skinny Taste and Mel's Kitchen Cafe.
Nutrition Estimate
Calories: 198 kcal, Carbohydrates: 11 g, Protein: 16 g, Fat: 11 g, Saturated Fat: 2 g, Cholesterol: 51 mg, Sodium: 345 mg, Potassium: 623 mg, Fiber: 5 g, Sugar: 3 g, Vitamin A: 728 IU, Vitamin C: 23 mg, Calcium: 48 mg, Iron: 1 mg
Did you make this recipe?
Leave a review below, then snap a quick picture and tag @nourishandfete on Instagram so I can see it!
This recipe was originally published July 14, 2017, and has been updated with new photos, the addition of the slaw in the recipe, and more helpful post questions and answers.