Ground Beef Instant Pot Tacos
Instant Pot tacos with ground beef and salsa are a go-to weeknight meal. Simple, kid-friendly, and so delicious. Best of all, they take less than 30 minutes, and you can prep taco toppings while the pressure cooker does all the work.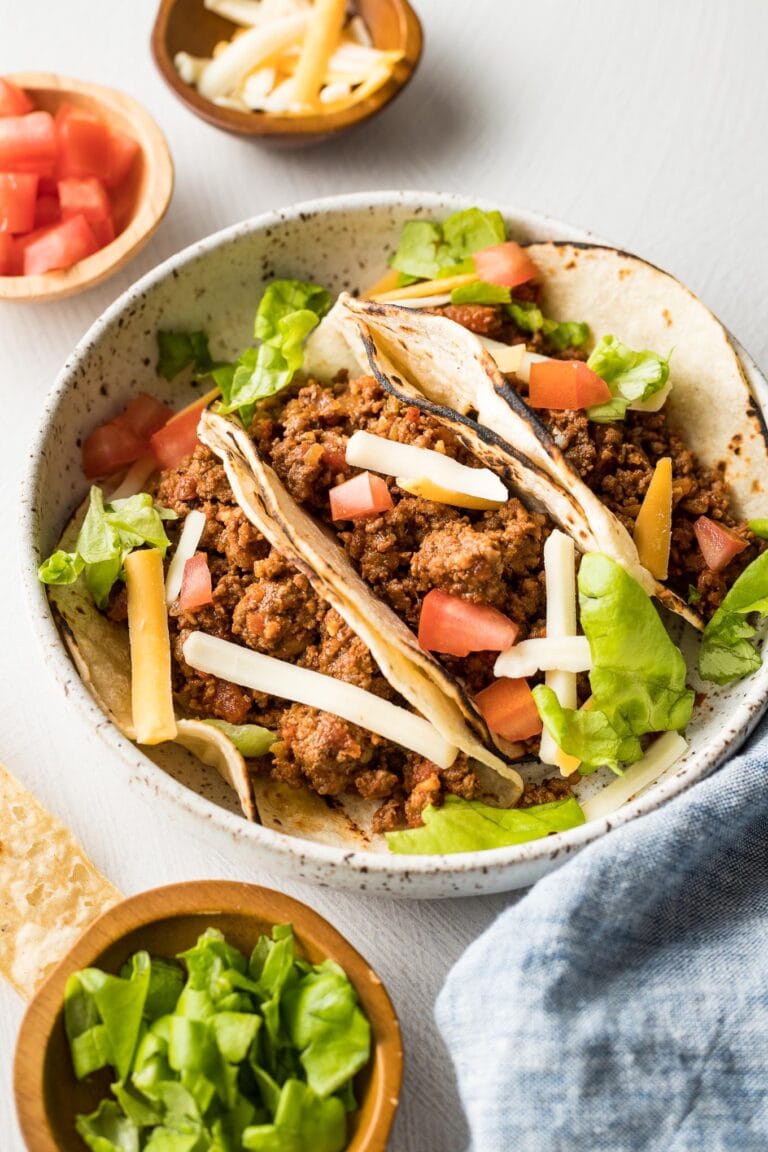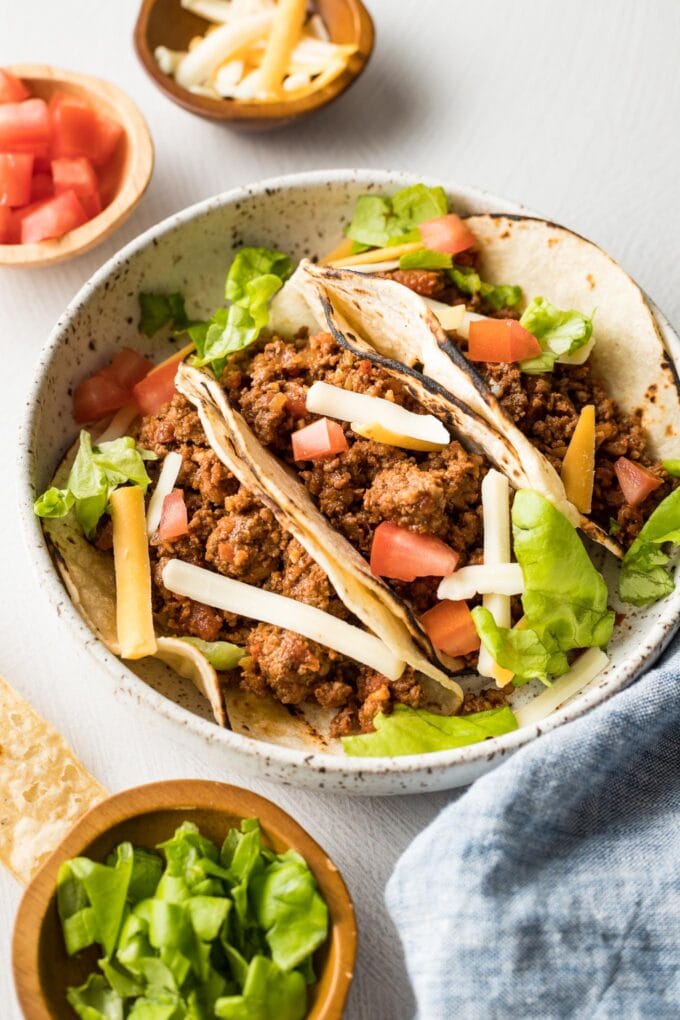 Our taco obsession is well-known and hardly unusual. We love a good chicken or black bean filling, these paleo ground pork tacos are always a winner, and lately we've been really into these vegan walnut chorizo tacos, as well. But these simple ground beef tacos might be the most classic favorite of all.
Related Post: 35+ Tantalizing Taco Recipes
Cooking taco meat in the Instant Pot is super fast, and the pressure cooker magically intensifies the flavors.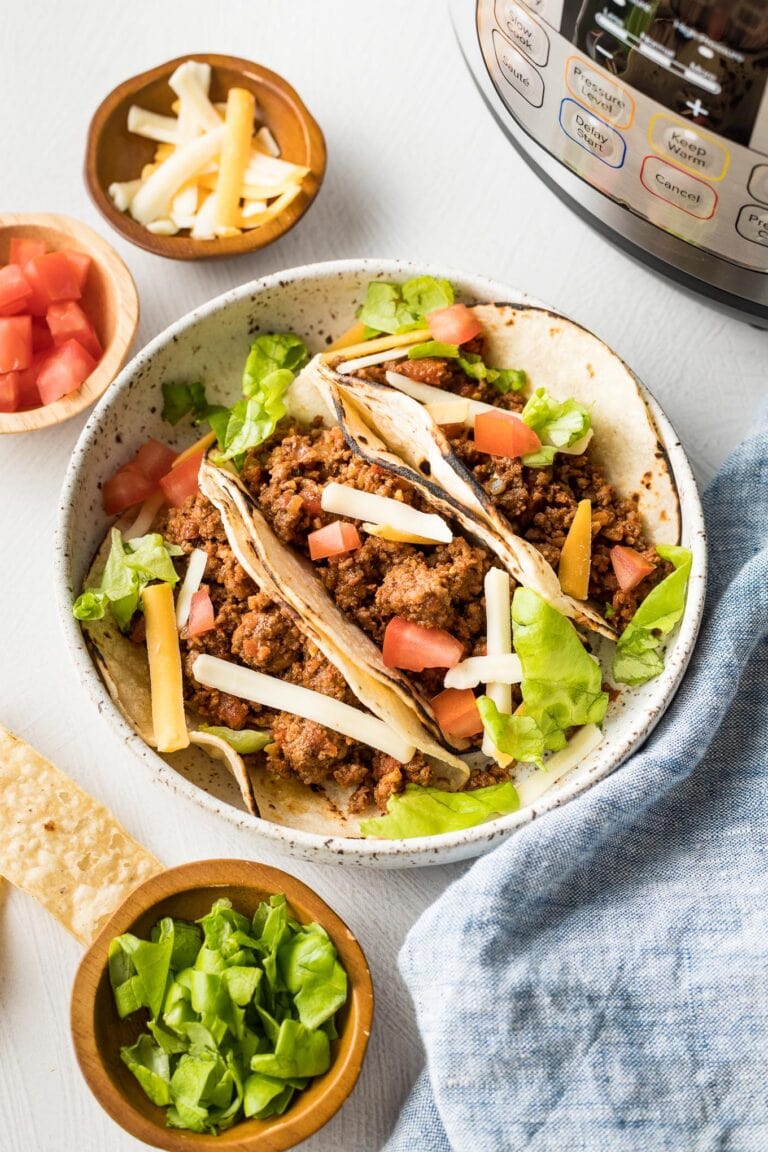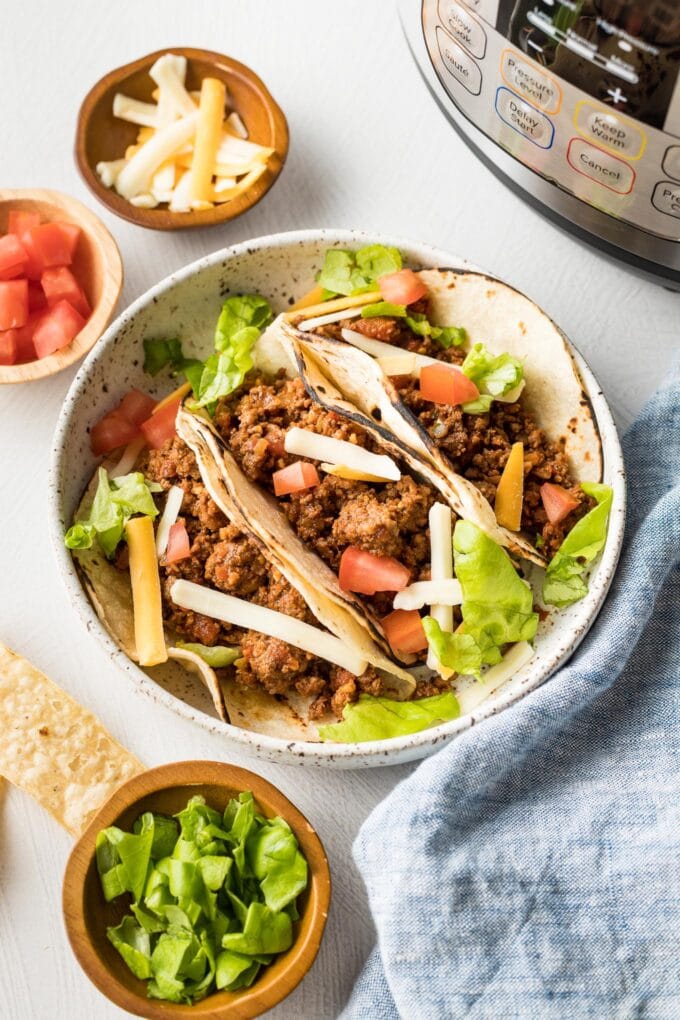 Instant Pot taco ingredients
It's all about taking advantage of the Instant Pot's unique cooking mechanics to add flavor. Generally, when cooking in the Instant Pot, you need to add a certain amount of liquid to help it come to pressure and cook properly. You might as well add that liquid with flavorful ingredients, rather than simply water.
For this recipe, we're adding tons of flavor with:
Pico de gallo or any other salsa you love – fresh or jarred is fine.
Green chilies – the kind that come in a small can. I usually use mild, but you can always turn up the heat.
Taco seasoning and a pinch of salt.
That's it! I've been making this with my homemade taco seasoning, and heck yeah… it is so good, and so easy.
I usually use store-bought salsa, because if I've gone to the trouble of making homemade pico, I kind of just want to eat it with chips.
How to make taco meat in the Instant Pot
Brown the meat for a few minutes using the sauté function, stir in the remaining ingredients, and cook on high pressure for 7 minutes. That should give you just enough time to warm some tortillas and prep your toppings!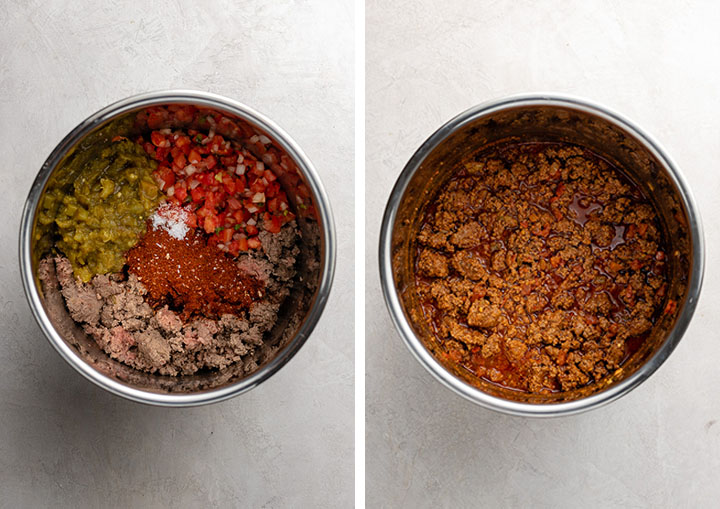 After the 7 minutes is up and you do a quick release of the pressure, you may find that the taco meat is a little too saucy. I used to just serve it this way with a slotted spoon, but have since realized that turning the Instant Pot back to sauté for 1-2 minutes helps everything come together perfectly.
If you're feeling ambitious, whip up some ridiculously soft homemade tortillas and get ready for the praise to come pouring in. We also love corn-wheat blend tortillas from Trader Joe's and always keep them on hand for ultra-easy taco nights.
Can I make Instant Pot tacos with frozen ground beef?
Yes! You'll want to add the frozen beef to the Instant Pot together with all of your seasonings, and cook on high pressure for 10 minutes, instead of the 7 otherwise called for in this recipe.
Be extra sure to sauté the mixture for a minute or two after releasing the pressure, since the meat will not have the additional flavor and browning effect from a pre-pressure cooking sauté.
Can I use ground turkey or chicken?
Yes, both ground turkey and ground chicken work well in this recipe. You may be able to skip the final sauté step entirely, as those meats tend to give off less liquid while cooking than beef.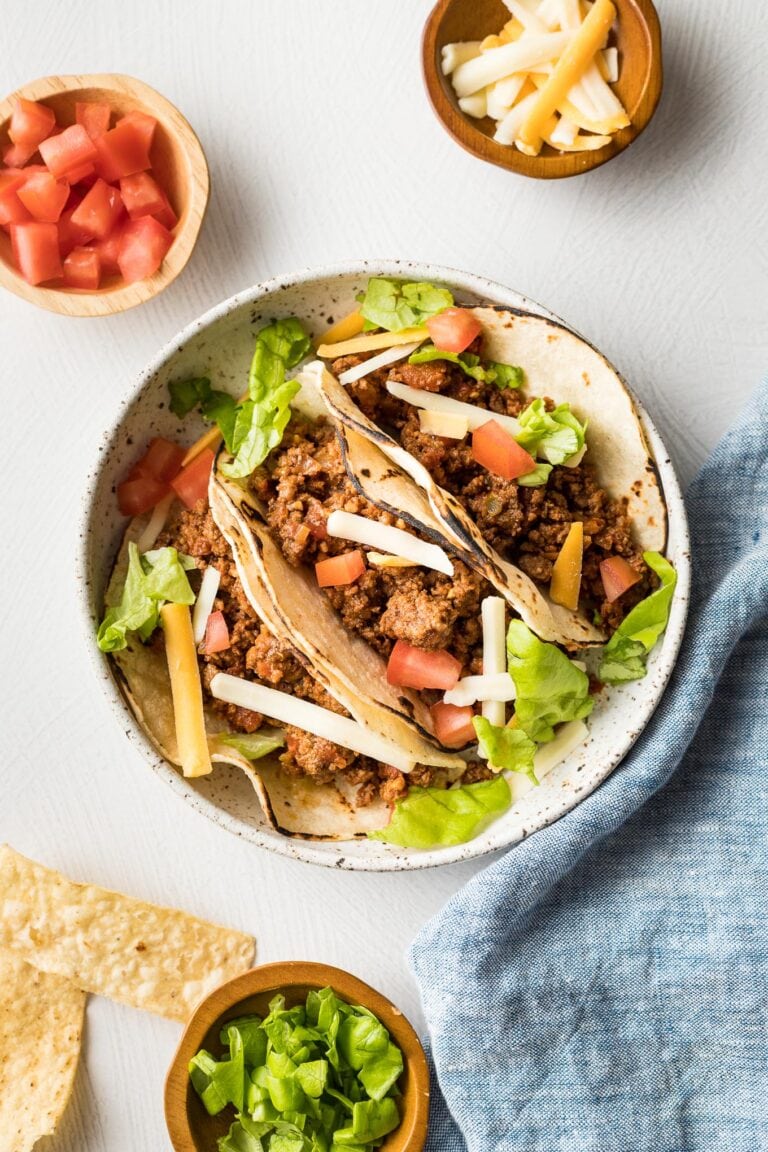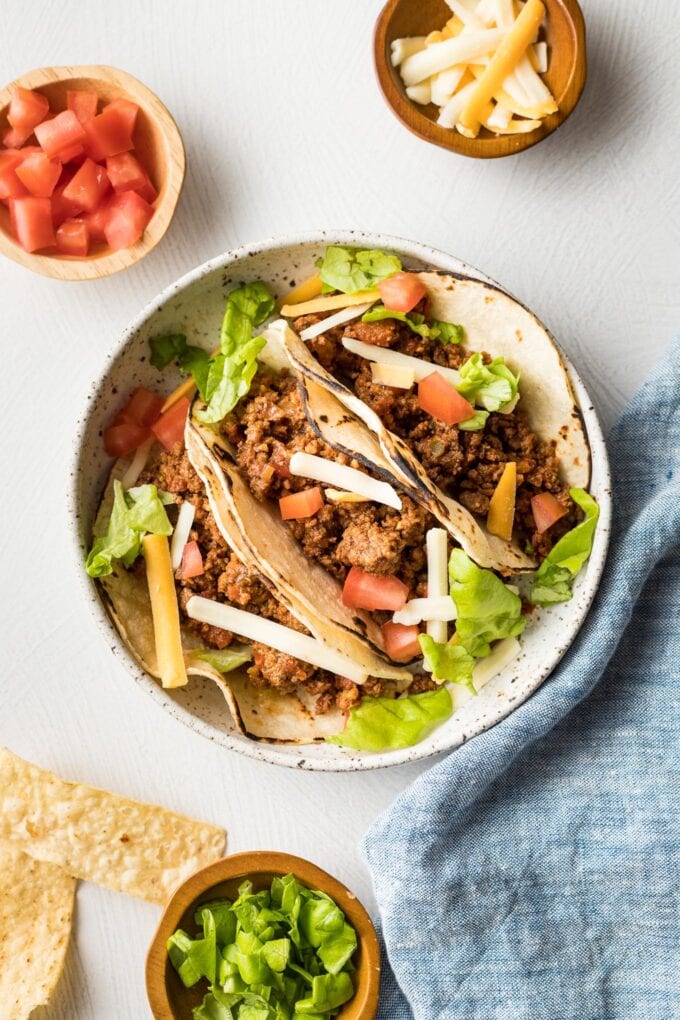 With a simple filling this delicious and easy, you'll want tacos any and every night of the week.
Serving suggestions
We love these tacos best plain and simple, which is another reason they make such a nice quick family meal. Of course, you can go as simple or as fancy on the toppings as you like.
Shredded cheese
Shredded lettuce
Chopped tomatoes
Chopped red onions
Shredded red or green cabbage
Guacamole or chopped or sliced avocados
Fresh cilantro
Recommended Equipment
If you try these Ground Beef Instant Pot Tacos, don't forget to rate the recipe and leave a comment below. I love hearing how recipes turn out in your kitchen, and it helps other readers, too.
You can also FOLLOW me on PINTEREST, INSTAGRAM, FACEBOOK, and TWITTER for more great recipes and ideas!
Ground Beef Instant Pot Tacos
Easy and ultra-flavorful ground beef tacos made in the Instant Pot!
Ingredients
1 pound lean ground beef
1 cup pico de gallo or regular salsa
4 ounce can green chilies I usually use mild
2 tablespoons taco seasoning
1/4 teaspoon salt
For serving:
tortillas or taco shells
diced tomatoes
shredded lettuce
grated Mexican cheese
Instructions
Turn the Instant Pot to its sauté function and add the ground beef. Cook for 2-3 minutes, breaking up the meat, until mostly browned.

Stir in the salsa, chilies, taco seasoning, and salt. Close and seal the Instant Pot, and cook for 7 minutes on manual/high pressure.

When finished, use the quick release function to vent the steam, then open the lid and stir well. Return the Instant Pot to sauté for an extra 1-2 minutes, stirring well. (This helps the meat soak up the remaining sauce.)

Spoon meat into tortillas or shells and top as desired. Enjoy!
Notes
The estimated cook time of 20 minutes includes at least 10 minutes for your Instant Pot to come to pressure and release. The actual pressure cooking time is 7 minutes.
Homemade taco seasoning is the best, and so easy to make in bulk! Try this recipe, you'll never look back!
I usually use store-bought pico de gallo for this, although homemade pico would also be incredible! You can also sub any salsa of your choice.
Any leftover meat will keep well in the fridge for 3-4 days, or can be frozen for 2-3 months.
Nutrition Estimate
Calories: 184 kcal, Carbohydrates: 8 g, Protein: 24 g, Fat: 5 g, Saturated Fat: 2 g, Cholesterol: 70 mg, Sodium: 719 mg, Potassium: 392 mg, Sugar: 5 g, Vitamin A: 385 IU, Vitamin C: 3.8 mg, Calcium: 10 mg, Iron: 2.8 mg
Did you make this recipe?
Leave a review below, then snap a quick picture and tag @nourishandfete on Instagram so I can see it!
This post was originally published May 2, 2019, and has been updated with new photos, more helpful text, and a recipe tweak.