Teriyaki Ground Beef
Packed with tender vegetables and a flavorful sesame and ginger-infused sauce, this 25-minute teriyaki ground beef is a terrific dinner you can pull off with minimal energy. Serve as rice bowls, with noodles, or in lettuce cups.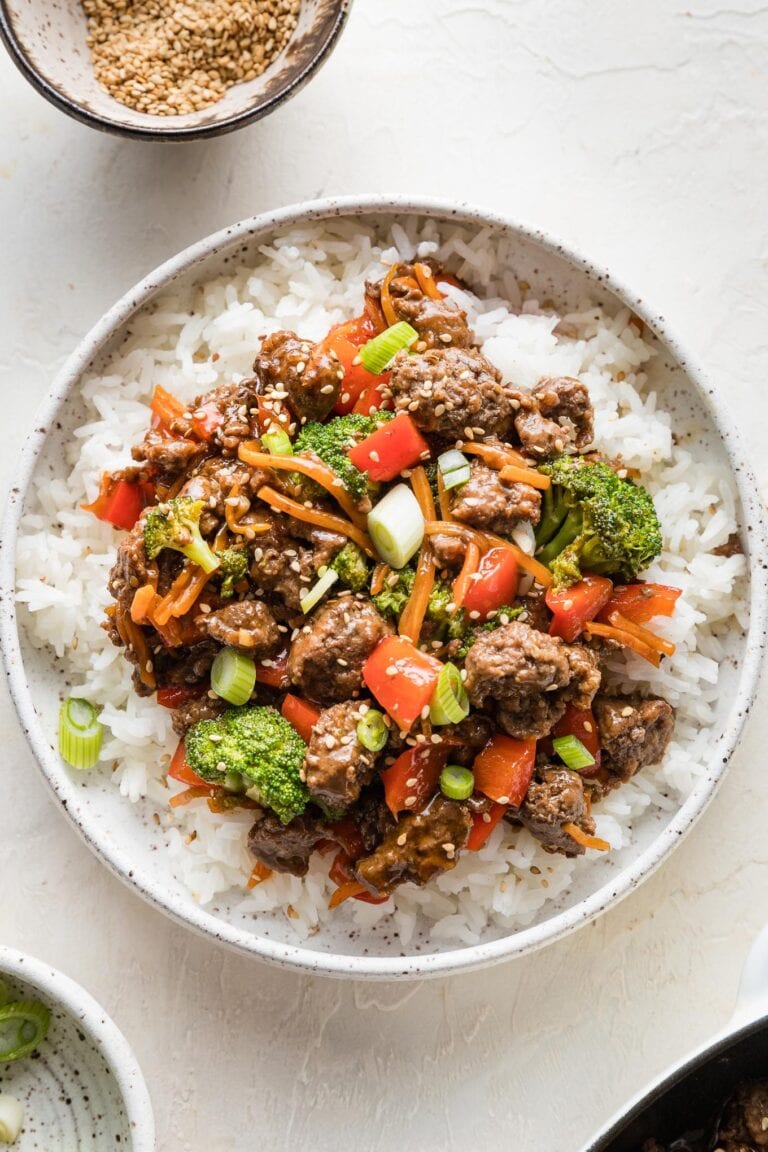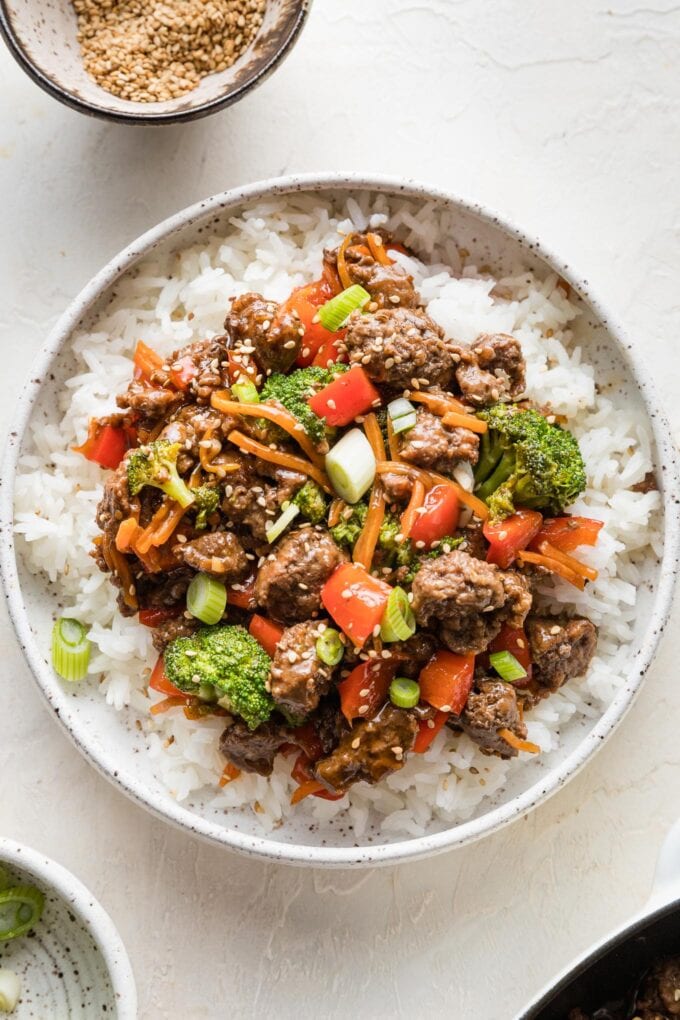 Teriyaki Ground Beef and Rice
This Asian-inspired dish is one of our favorites for busy weeknights and a simple way to use ground beef. The homemade teriyaki sauce is so much healthier and more economical than a grocery store bottle, and it all comes together in no time.
Teriyaki ground beef is a weeknight wonder that checks all the boxes. It's:
Quick. You can have this on the table in 25 minutes.
Easy to prep and clean up. One skillet dinners are the best!
Flavorful. The homemade teriyaki sauce has a hint of sweetness and clings to every piece of meat and vegetable, making this a potential winner even for choosy kids.
Adaptable. Swap the protein, veggies, or serving base. It's all good.
Ingredients & Common Substitutions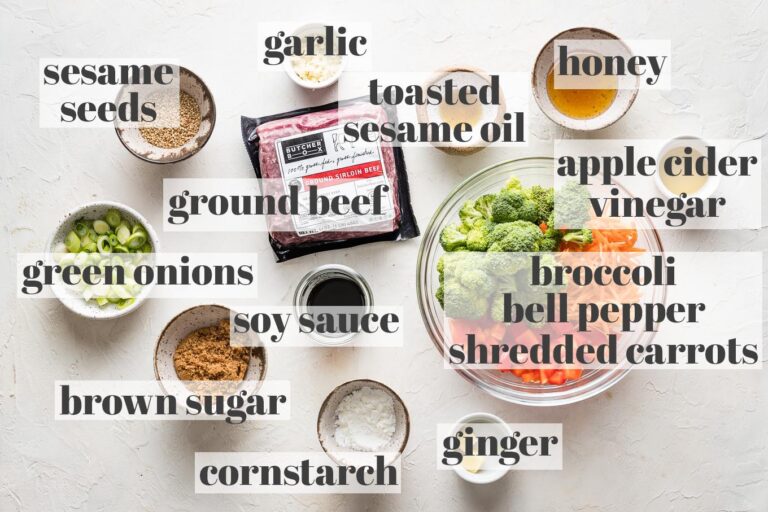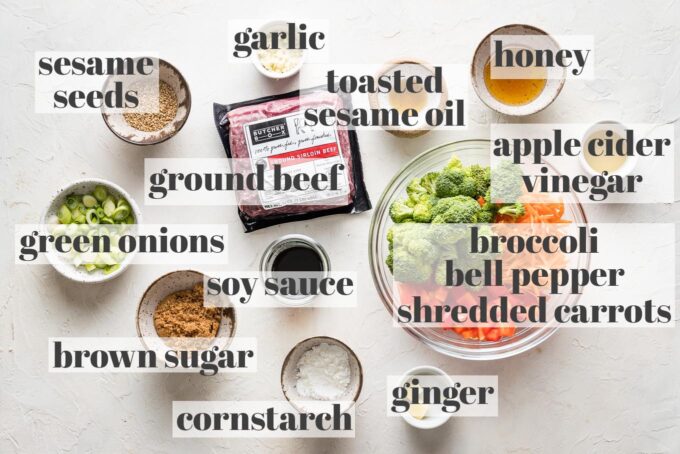 Here are a few notes and shopping tips about the ingredients you'll need to make this, as well as possible substitutions.
Ground Beef or Ground Sirloin: We purchase this from ButcherBox. Economical, ethical, and terrific quality.
Vegetables: Broccoli florets, chopped bell pepper, and shredded carrots all cook quickly and add wonderful flavor and nutrition. I used a red bell pepper here for the variety of color, but any color is fine, or a mix.
Sauce ingredients: Low-sodium soy sauce, honey, apple cider vinegar (or rice wine vinegar), brown sugar (can use light or dark), garlic, ginger, toasted sesame oil, and cornstarch. Toasted sesame oil is a wonderful plus-up for your pantry. A bottle lasts forever and adds tremendous flavor. Fresh ginger is terrific, but to make this pantry-friendly, I most often use frozen ginger cubes.
Garnishes: Sesame seeds and green onions are the perfect finishing touches.
Why sweeten the sauce with both honey and brown sugar? The mix adds subtle complexity and balanced sweetness.
What is teriyaki sauce?
Teriyaki is a sweet-and-salty sauce frequently used in Japanese cooking. It adds great umami and is a fantastic shortcut to flavorful, satisfying meals without much time or fuss. Teriyaki pairs well with chicken, beef, seafood, tofu, or vegetables.
The four main ingredients of a simple teriyaki sauce are soy sauce, sake or mirin, a sweetener, and ginger. Cornstarch is also commonly used as a thickening agent. I actually prefer to mimic the flavor of mirin with a combination of apple cider or rice vinegar and a bit of honey, just so I don't need to stock an extra item in my fridge.
How to make homemade teriyaki sauce
Ditch the bottled sauce: you don't need it! This is an Americanized version of the Japanese classic, to be sure, but I promise it's quite delicious and appealingly accessible for the average home cook.
For this recipe, you can simply whisk together soy sauce, honey, brown sugar, toasted sesame oil, garlic, ginger, apple cider or rice vinegar, and a bit of cornstarch as a thickener. It will be thin enough to pour into the skillet, then bubble into a perfectly thick teriyaki sauce that coats every bite.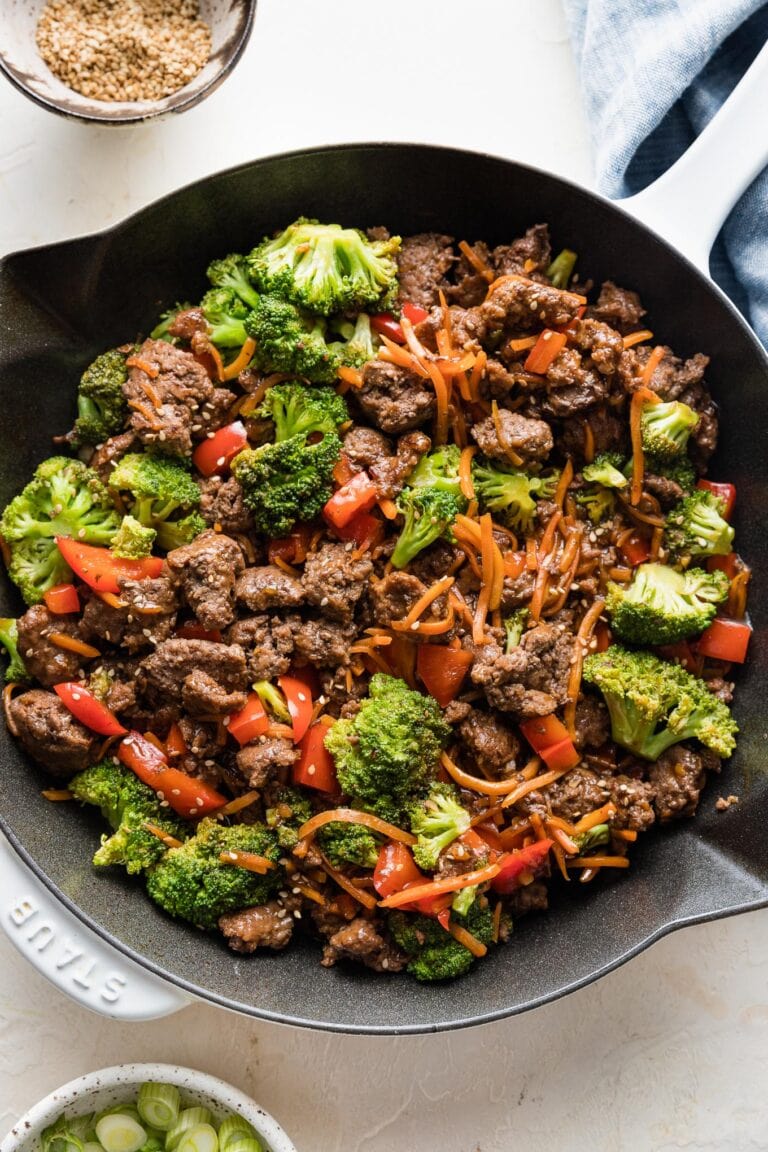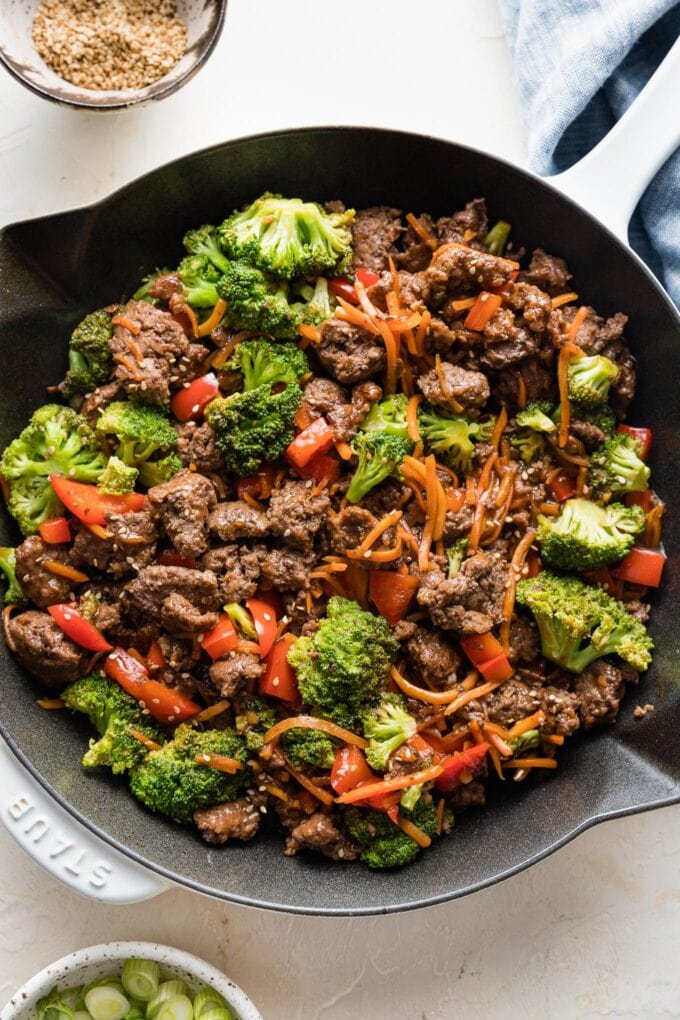 How To Make Ground Beef Teriyaki
This comes together lightning fast, and you can complete most steps while the ground beef is browning, which makes it feel even more efficient.
Be sure to start rice or noodles first thing, so they're done at about the same time as the beef and veggie mixture.
Brown ground beef and garlic together. Drain any excess fat.
Whisk together the sauce ingredients and chop veggies as needed while the beef is browning.
Add the veggies to the beef, followed by the sauce. A quick sauté will tenderize the veggies and thicken the sauce.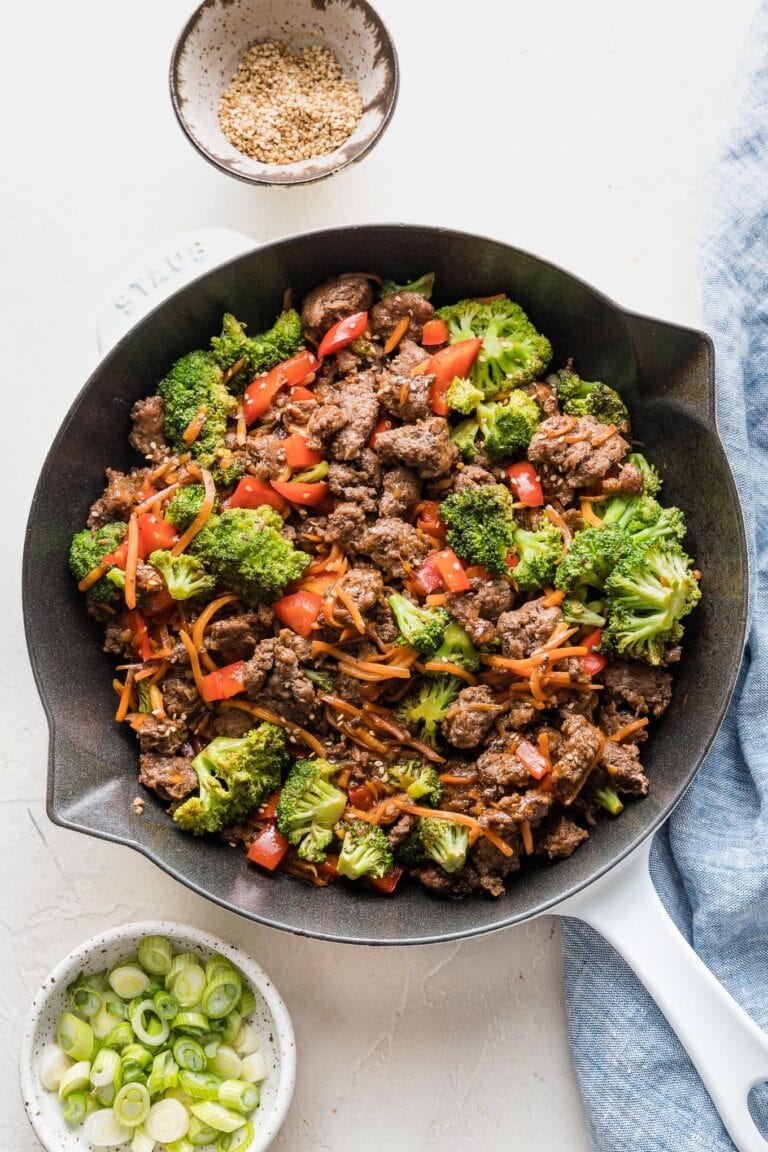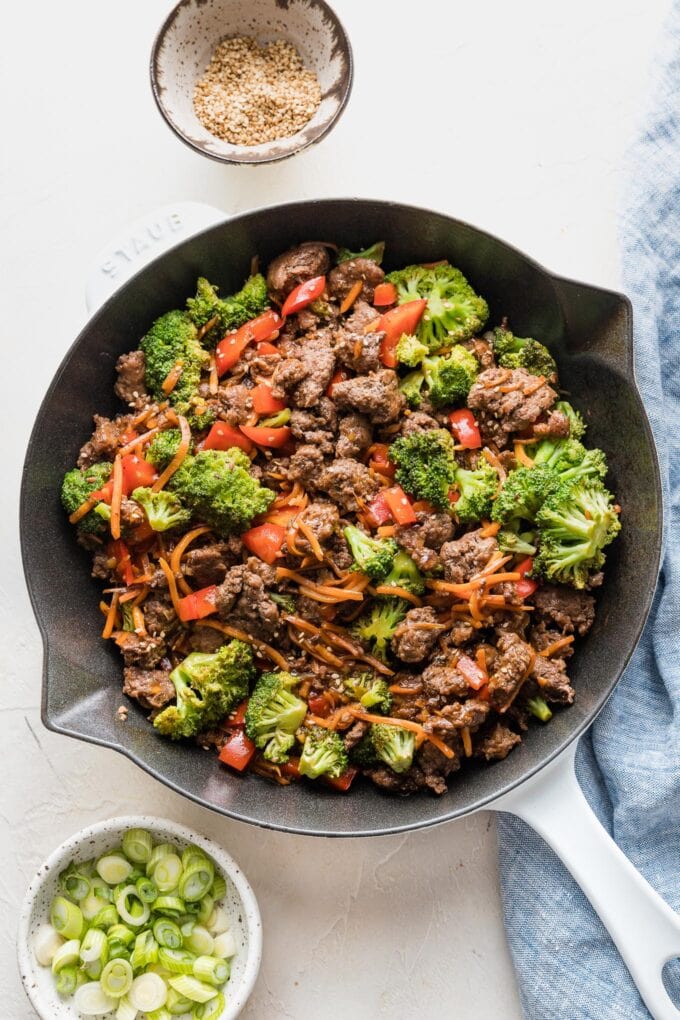 Serving Suggestions
Pile this delicious mixture on top of your base of choice and garnish if desired. White rice, brown rice, cauliflower rice, or even quinoa make a great base, as do thick udon noodles or any other you like.
Sesame seeds and chopped green onions make a lovely garnish and pop of color.
Variations
Swap the ground beef for ground chicken or turkey; just add a small drizzle of canola or vegetable oil to the skillet in which to cook it.
Use just one or two of the listed veggies, or substitute snow peas, sugar snap peas, mushrooms, zucchini, broccolini, or anything else that will cook quickly.
Add heat with a drizzle of Sriracha or your other favorite hot sauce, or a pinch of red pepper flakes i in the sauce.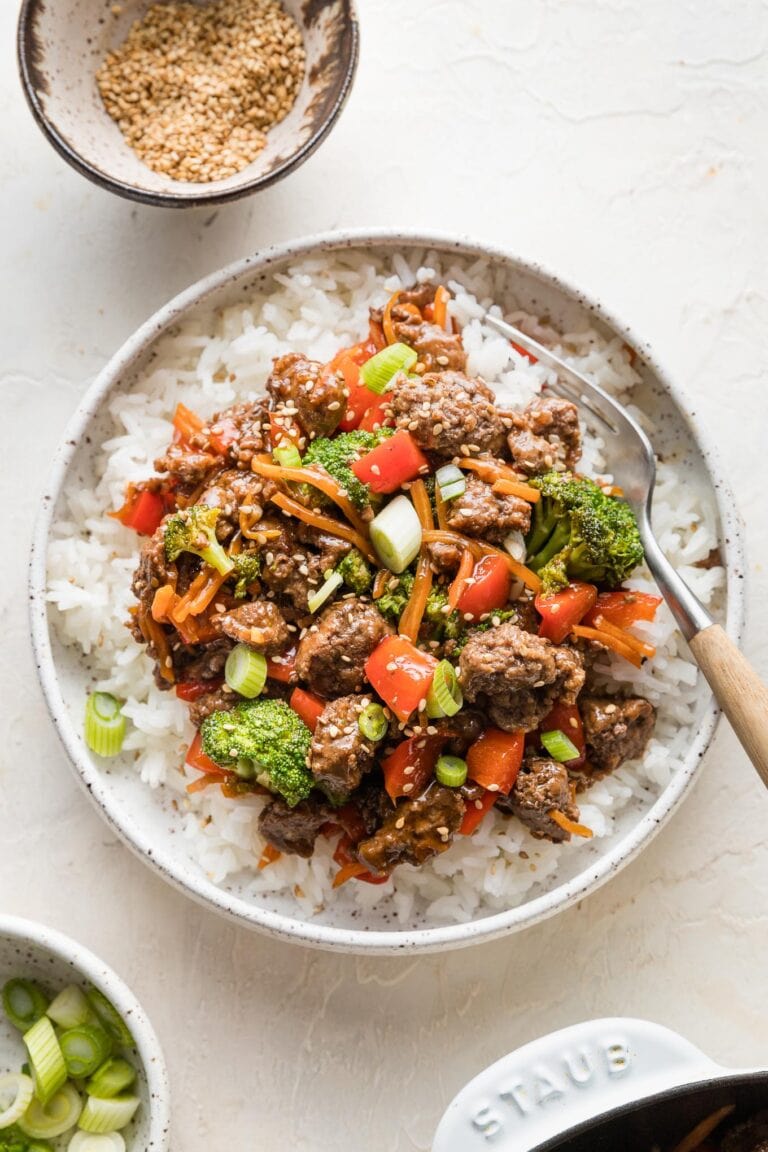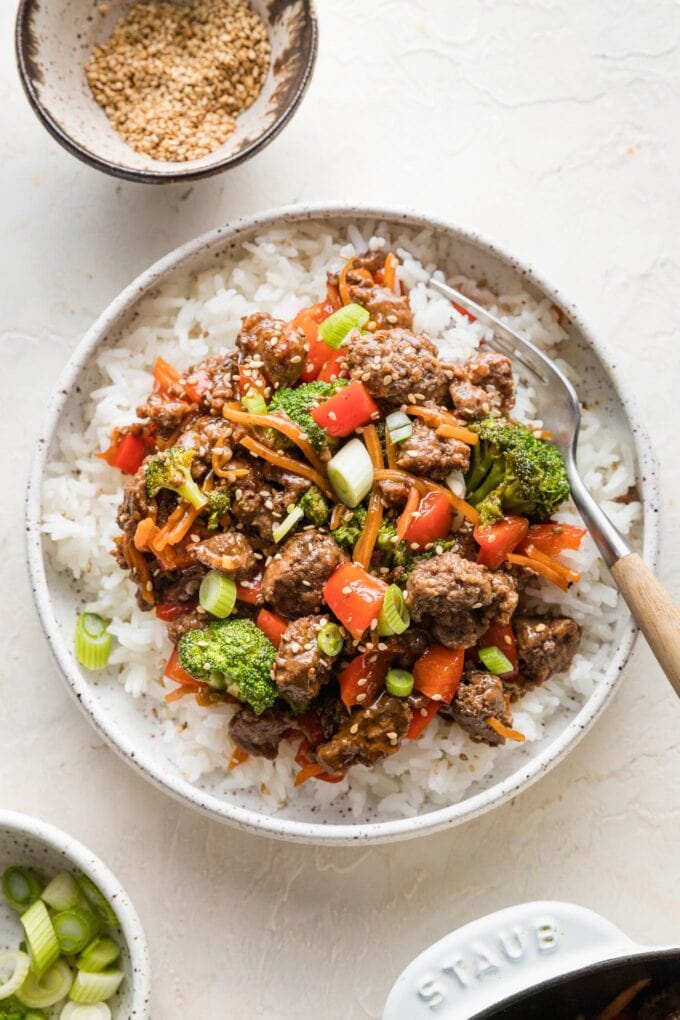 Storage & Reheating
Teriyaki ground beef keeps and reheats very well. It's one of my favorite meal preps for a healthy, protein-packed lunch!
Storage: Leftovers keep very well for 3-4 days. Store in any airtight container in the fridge. (These are our favorite meal prep boxes!)
Reheating: Warm in the microwave or over medium-low heat in a small saucepan. Add a splash of water to loosen the sauce and minimize sticking, only if needed.
More Asian-Inspired Weeknight Dinners
Enjoy this teriyaki flavor? Try my ultra-quick skillet honey teriyaki chicken, or a slow cooker teriyaki chicken — my whole family's favorite Crockpot meal.
You'll also love this simple Korean ground beef, a chicken and asparagus or chicken and bell pepper stir fry, or easy bourbon chicken.
If you try this recipe for Teriyaki Ground Beef, don't forget to rate it and leave a comment below. I love hearing how recipes turn out in your kitchen, and it helps other readers, too.
You can also FOLLOW me on PINTEREST, INSTAGRAM, FACEBOOK, and TWITTER for more great recipes and ideas!
Teriyaki Ground Beef
Packed with tender vegetables and a flavorful sesame and ginger-infused sauce, this 25-minute teriyaki ground beef is a terrific dinner recipe you can pull off with minimal energy. Serve over rice, with noodles, or in lettuce cups.
Ingredients
1 pound lean ground beef
2 cloves garlic minced
1/3 cup low-sodium soy sauce
1/3 cup water
2 Tablespoons honey
2 Tablespoons packed brown sugar light or dark
1 Tablespoon apple cider or rice vinegar
1 Tablespoon cornstarch
2 teaspoons peeled and minced fresh ginger see note
1 teaspoon toasted sesame oil
1 bell pepper any color, chopped into small pieces
2 cups broccoli florets chopped into small pieces
3/4 cup shredded carrots
sesame seeds and green onions to garnish
Instructions
Set a large skillet over medium-high heat. Add the ground beef and garlic. Cook for 5-6 minutes, until mostly browned, breaking it up into small pieces as you go. Drain or use a paper towel to soak up excess fat.

While the beef browns, combine soy sauce, water, honey, brown sugar, vinegar, cornstarch, ginger, and toasted sesame oil in a small bowl or liquid measuring cup. Set aside.

Add the bell pepper, broccoli, and carrots to the skillet. Cook for 2 minutes, then pour in the sauce. Cook for 2-3 minutes more, just until the sauce thickens slightly and the vegetables become slightly tender.

Season with salt and pepper to taste, and serve over rice or noodles. Garnish with sesame seeds and chopped green onions, as desired.
Nutrition Estimate
Calories: 275 kcal, Carbohydrates: 25 g, Protein: 28 g, Fat: 7 g, Saturated Fat: 3 g, Polyunsaturated Fat: 1 g, Monounsaturated Fat: 3 g, Trans Fat: 0.4 g, Cholesterol: 70 mg, Sodium: 876 mg, Potassium: 773 mg, Fiber: 3 g, Sugar: 18 g, Vitamin A: 5225 IU, Vitamin C: 81 mg, Calcium: 57 mg, Iron: 4 mg
Did you make this recipe?
Leave a review below, then snap a quick picture and tag @nourishandfete on Instagram so I can see it!