Korean Ground Beef Bowls
These Korean ground beef bowls are outrageously easy to make, delicious, and ready in less than 20 minutes. If you're looking for something new to do with ground beef, this is the answer!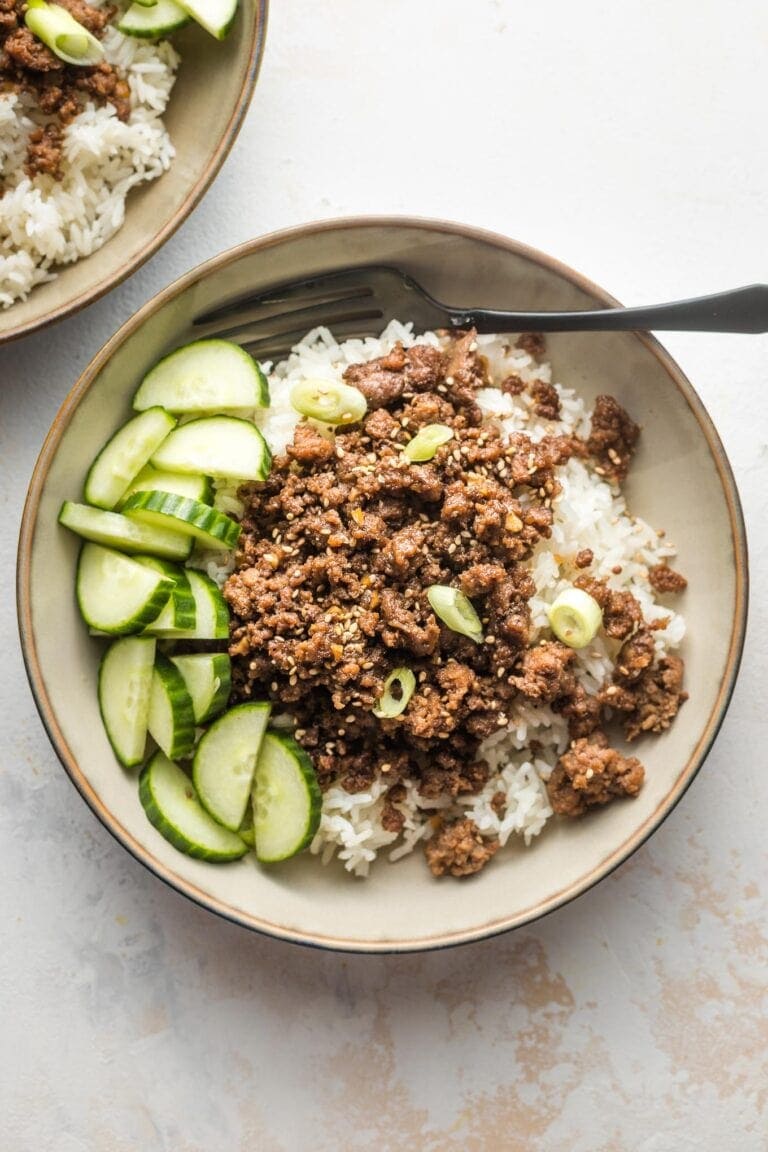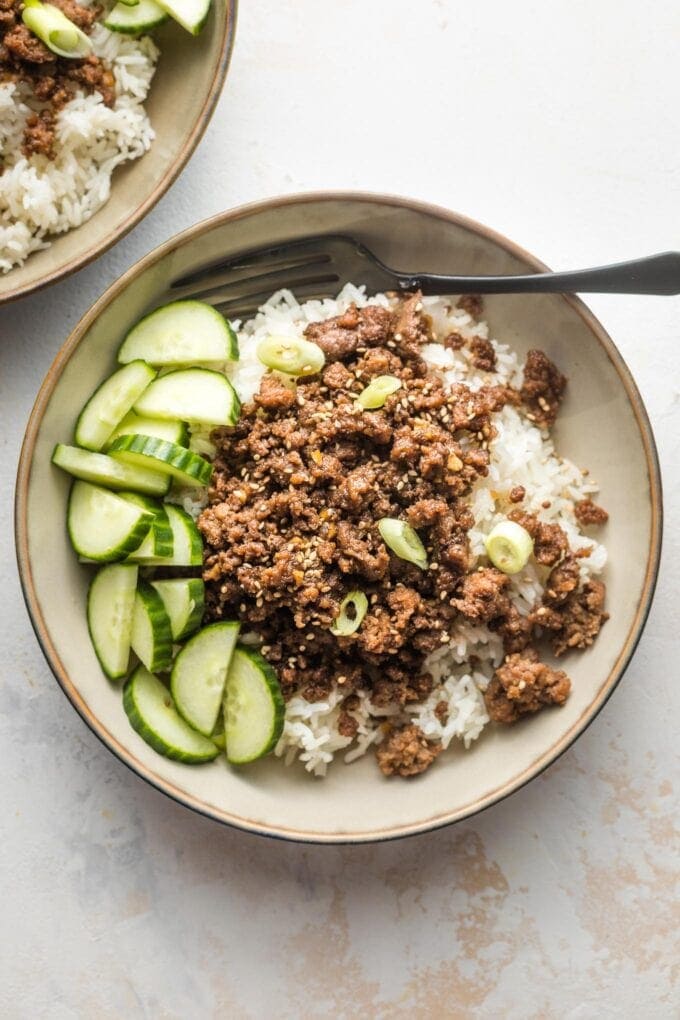 Sometimes you just need an easy home-cooked meal. Easy, and as fast as — or faster than — discussing what to order for takeout.
That's been me more often than not lately, and life is likely to look similar for the foreseeable future. This is a recipe for all of those days.
This easy Korean ground beef is:
Super quick and easy — 15 minutes flat. The beef literally takes less than 15 minutes, start-to-finish, and most of that is sufficiently hands-off to allow you to slice up veggies and other garnishes. I call it a 20-minute meal only because it might take that long to make rice!
Versatile. This goes with lots of different things, so it's a great way to use up not only that forgotten ground beef in the back in the freezer, but also whatever veggies you happen to have. Steam some broccoli or snow peas, slice up some fresh cucumber and carrots, throw in some bell pepper, you name it.
Absolutely delicious. The combination of savory, sweet, and salty flavors is downright irresistible. This just may be a lick-the-bowl situation!
Ingredients
1 pound ground sirloin or beef. This recipe doesn't need much fat, so use the leanest meat that you have. 90% is ideal. But don't worry if your meat is less lean — it's quite easy to drain off some of the excess fat after cooking, either by pouring it out or by dabbing up a bit with paper towels.
Garlic. Fresh adds nice flavor as it sizzles with the beef, but you can sub 1/2 teaspoon garlic powder in a pinch.
Soy sauce. Low-sodium preferred.
Brown sugar. Light or dark, use what you've got.
Sesame oil. Toasted if possible! This stuff is a terrific pantry staple if you don't already keep it on hand; a little goes a long way, and it adds amazing depth of flavor to Asian-inspired dishes. It's available in most grocery stores near other cooking oils — just look for a small section of specialty oils.
Ground ginger, red pepper flakes, black pepper.
What to serve with Korean ground beef
My absolute favorite way to serve Korean ground beef is over plain rice, with a sprinkling of sesame seeds, and a pile of sliced cucumbers, shredded carrots, or other fresh crunchy veggies on the side.
If you make rice in the Instant Pot, and start it first thing — before cooking the beef — it will be done at just about the same time!
The beef is also tasty with steamed or stir-fried veggies. We often do broccoli, and I plan to try peppers and snow peas soon.
Cutting carbs? Use this filling to make Korean beef lettuce wraps! So healthy and delicious!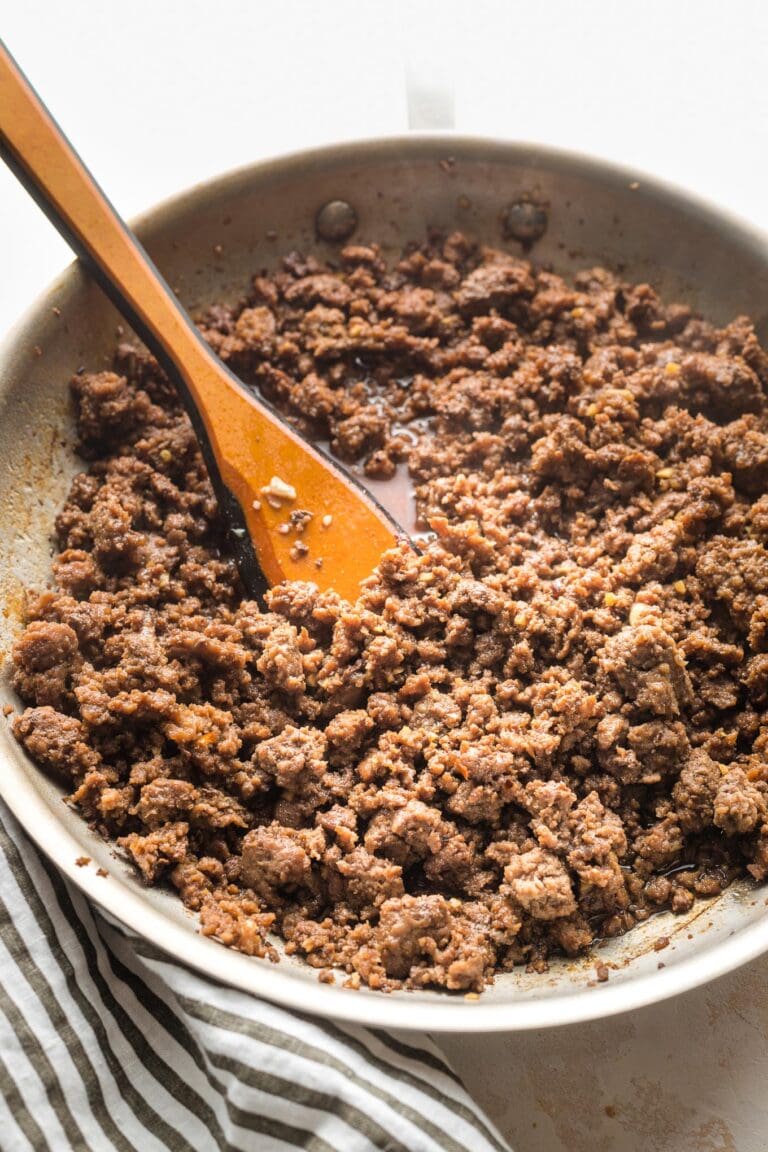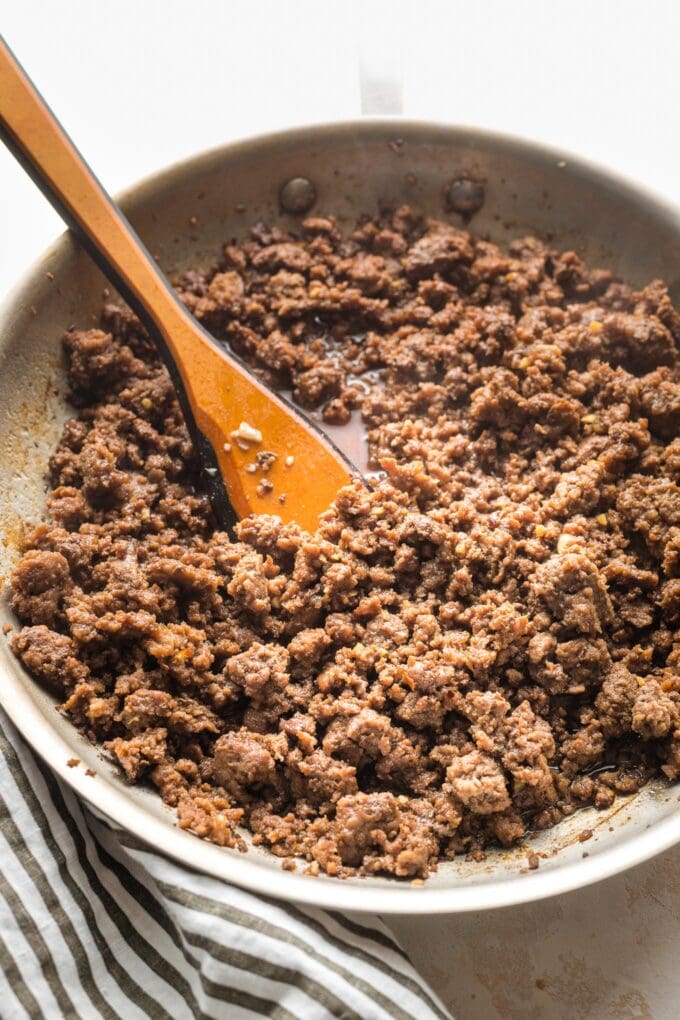 Storage and freezing tips
This recipe doubles very easily, and if I have enough beef, I often do just that, because it reheats very well and makes delicious lunches. Simply store any leftovers tightly-covered in the fridge for 3-4 days; rice and beef in one container, veggies in another.
Also, yes, Korean ground beef can be frozen! Store the cooked beef in any freezer-safe container for 3-4 months, and defrost in the fridge for 6-8 hours before warming in the microwave or in a skillet. If the beef looks dry after reheating, add a tiny drizzle of extra sesame oil or sprinkle on a few droplets of water.
More Easy Ground Beef Recipes
Looking for more dinners to make with that pound of ground beef you purchased on sale? Instant Pot ground beef tacos, unstuffed peppers, 25-minute ground beef pasta, or chili garlic beef and shells are always winners.
Enjoy Asian-inspired skillet dinners? You'll also love my recipe for teriyaki ground beef.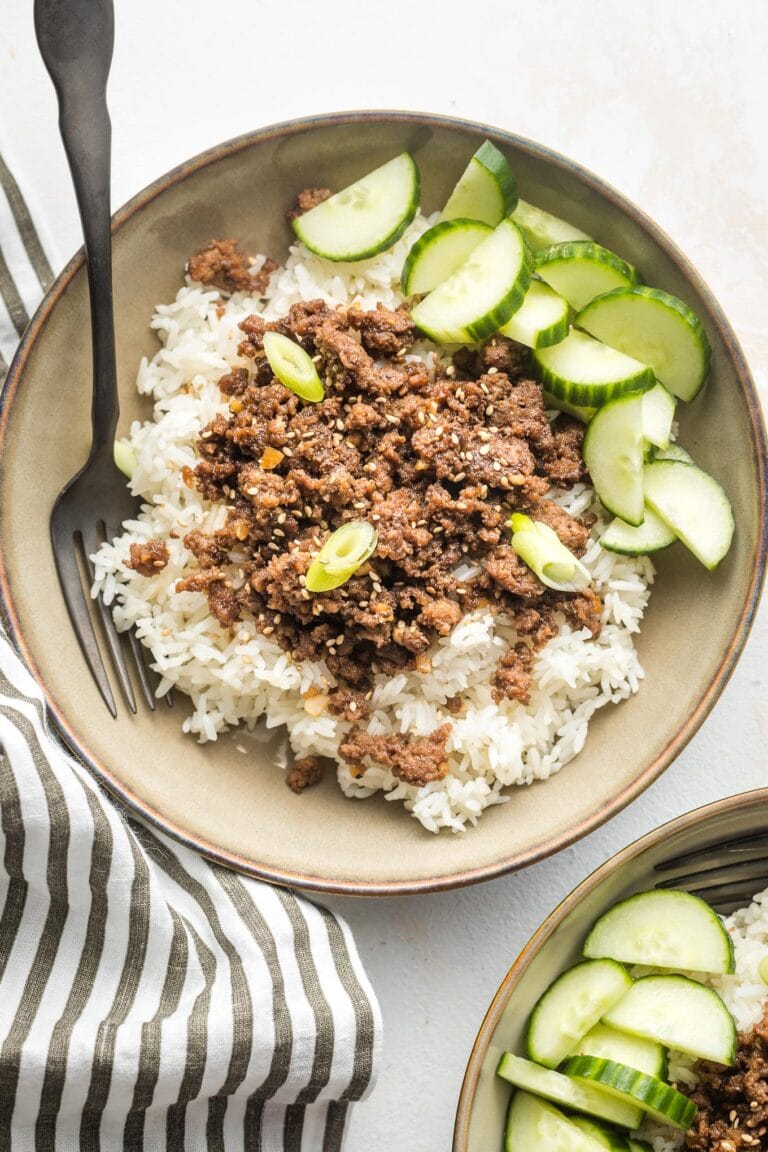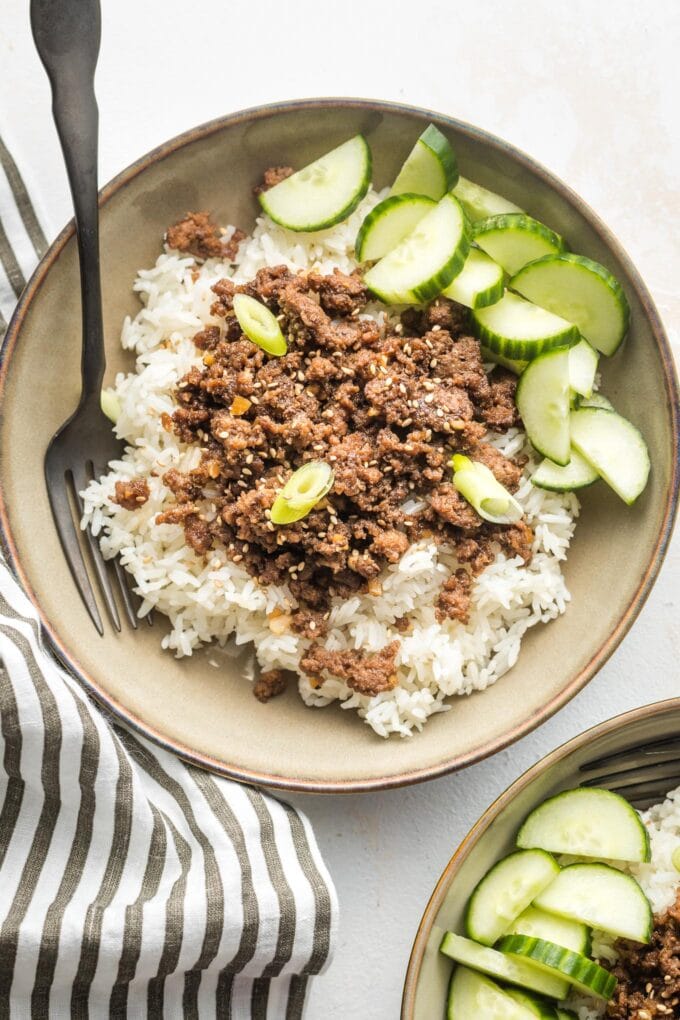 If you try this Korean ground beef, don't forget to rate the recipe and leave a comment below. I love hearing how recipes turn out in your kitchen, and it helps other readers, too.
You can also FOLLOW me on PINTEREST, INSTAGRAM, FACEBOOK, and TWITTER for more great recipes and ideas!
Korean Ground Beef Bowls
These Korean ground beef bowls are outrageously easy to make and delicious. A great find for your dinner rotation!
Ingredients
1 pound lean ground beef
2-3 cloves garlic minced
1/4 cup low-sodium soy sauce
1/4 cup brown sugar
1 Tablespoon toasted sesame oil
1/4 teaspoon ground ginger
1/4 teaspoon red pepper flakes
8-10 cranks freshly-ground black pepper
rice, cucumber, green onions, sesame seeds, shredded carrots, etc. for serving
Instructions
Warm a large skillet over medium-high heat. Add ground beef and garlic. Break up the meat into small crumbles and saute until mostly browned. Drain excess fat if desired.

In a small bowl or liquid measuring cup, combine soy sauce, brown sugar, sesame oil, ginger, and red and black pepper. Stir this mixture into the beef and continue cooking for 1-2 minutes.

Serve hot over rice and with veggies or other garnishes on the side.
Notes
Yield: This recipe yields 4 medium servings if paired with rice or another base and veggies. It doubles easily.
Timing: If you're making rice on the stovetop or Instant Pot to accompany this meal, be sure to start it first, because the beef comes together extremely quickly and you don't want to be waiting on the rice at the end.
Storage: Leftovers keep very well, tightly-covered in the fridge, for 3-4 days.
Nutrition: Nutritional info is an estimate based on 1 pound of ground beef seasoned and divided among 4 equal servings; it does not include rice, veggies, or other sides.
Nutrition Estimate
Calories: 250 kcal, Carbohydrates: 15 g, Protein: 25 g, Fat: 9 g, Saturated Fat: 3 g, Cholesterol: 70 mg, Sodium: 612 mg, Potassium: 439 mg, Fiber: 1 g, Sugar: 14 g, Vitamin A: 37 IU, Vitamin C: 1 mg, Calcium: 27 mg, Iron: 3 mg
Did you make this recipe?
Leave a review below, then snap a quick picture and tag @nourishandfete on Instagram so I can see it!