Old-Fashioned Crisp Oatmeal Cookies
This recipe produces simple, old-fashioned, crisp oatmeal cookies with an ever-so-slightly chewy center. Perfect for an easy treat and for dunking into a cold glass of milk!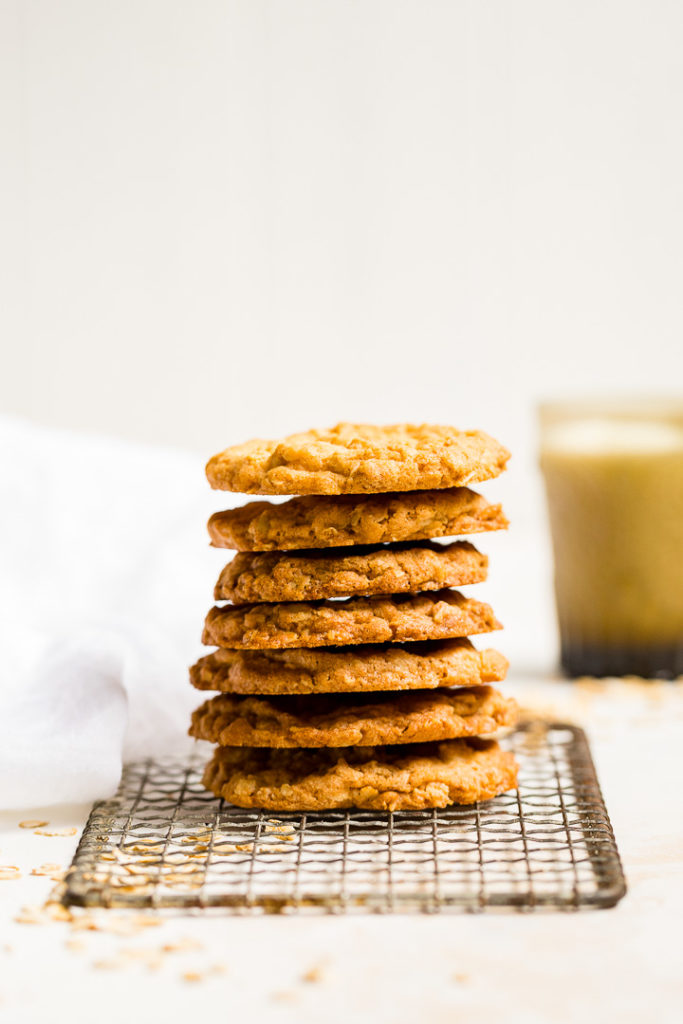 As is probably obvious, I love to cook. But in truth, baking was my first love. And when people ask me what is my favorite thing to bake, I'm quite torn. Cookies vs. cupcakes? If only these were the truly great problems and choices of our times.
I love that cupcakes can be very festive and beautiful, but honestly, is there anything as downright comforting as a homemade cookie? And while we have far too many "family favorite" cookie recipes (here, here, and here, for starters), this one holds a special place in my heart.
It's one for which I searched high and low, then worked to recreate, with the aim of mimicking a simple, classic oatmeal cookie my husband remembers his Mom making when he and his siblings were small.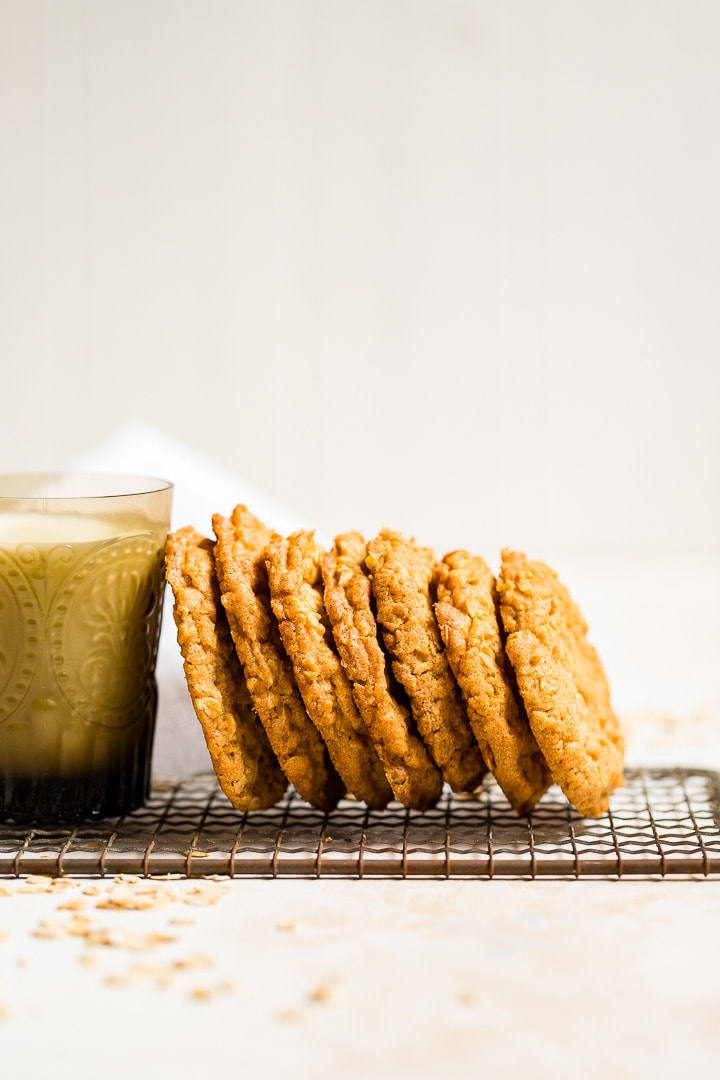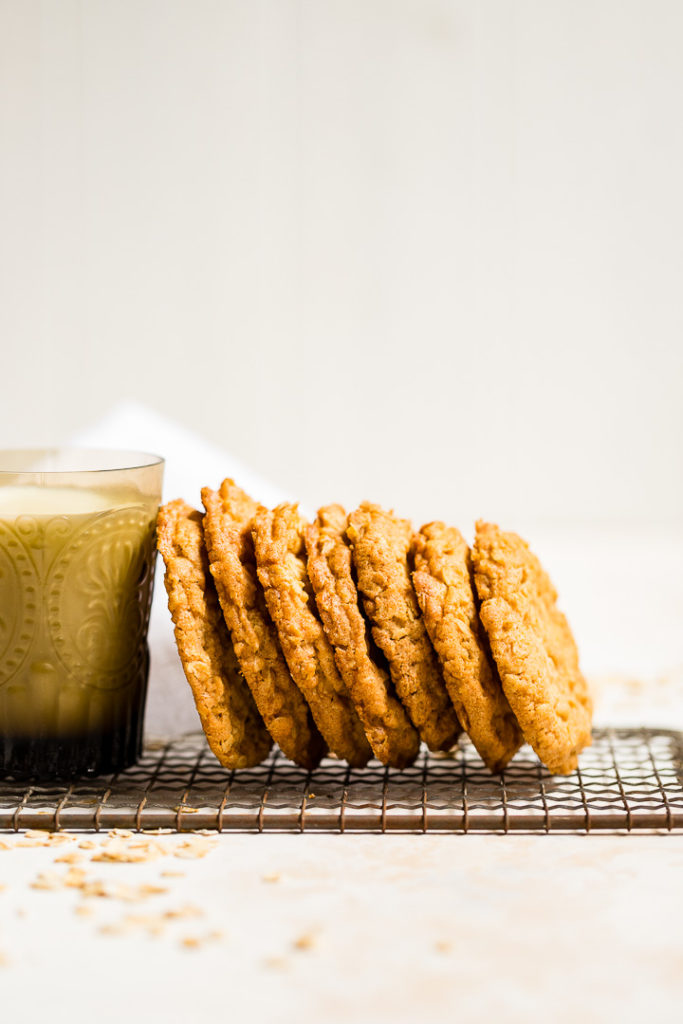 Simple ingredients. No fancy instructions.
Crisp edges. An oh-so-slightly chewy center.
Old-fashioned in all the best kinds of ways.
What kind of oats to use in oatmeal cookies?
There is one critical element, however, to making a successful batch of these cookies, and that is to use old-fashioned rolled oats. I don't recommend using quick cooking oats, even if you have them on hand. Quick oats simply don't hold their shape and texture nearly as well when mixed into the dough and baked.
Fortunately, old-fashioned oats are very easy to find when you look for them, usually right next to the boxed and quick versions in the grocery store. I buy them in bulk and consider them a pantry staple for breakfast, granola, snack bars, and more.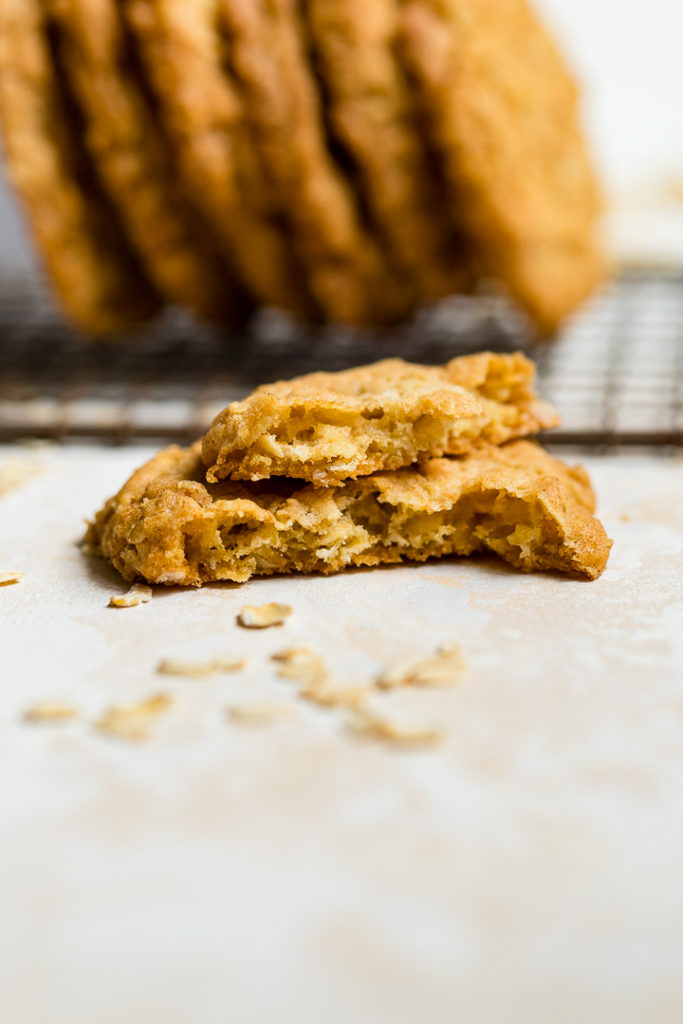 These cookies make a really lovely little snack. The flavors are simple, but a little hint of brown sugar and cinnamon goes a long way. They go beautifully with a cup of tea for an afternoon snack, or with a tall glass of cold milk for an after-school treat.
If you try these oatmeal cookies or any other recipe on the blog, please rate the recipe and leave a comment below. I love hearing from you, and other readers will benefit from your experience!
Old-Fashioned Crisp Oatmeal Cookies
Beautifully simple old-fashioned oatmeal cookies with crispy edges and a slightly chewy center.
Ingredients
1 cup all-purpose flour
1 teaspoon cinnamon
3/4 teaspoon baking powder
1/2 teaspoon baking soda
1/2 teaspoon salt
14 tablespoons (1 3/4 sticks) butter, at room temperature
1 cup granulated sugar
1/4 cup packed light brown sugar
1 large egg
1 teaspoon vanilla extract
2 1/2 cups old-fashioned rolled oats
Instructions
Preheat the oven to 350 degrees F (180 C). Line baking sheets with parchment paper or silicone baking mats and set aside.

In a medium bowl, whisk together the flour, cinnamon, baking powder, baking soda, and salt; set aside.

Using a stand mixer or electric hand mixer, beat together the butter, granulated sugar, and brown sugar on medium speed until the mixture is light and fluffy. Add the egg and vanilla and beat on medium-low to combine.

Scrape down the sides of the bowl, then add the flour mixture and beat just until incorporated. (Try not to overmix; a few streaks of flour are OK.) Gradually add the oats and mix until evenly combined.

Scoop out mounds of dough approximately 2 tablespoons each and roll into balls. Place the cookies about 2 inches apart on the baking sheets; they will spread out.

Bake for 12-15 minutes, until the cookies are golden brown with crisp edges and very slightly soft centers. If baking more than one pan at a time, rotate them midway through the bake time to ensure the cookies brown evenly. Cool cookies completely on the baking sheets, then store tightly covered at room temperature.
Notes
Cookies will keep well at room temperature at least 3-4 days.
Do not sub quick cooking for the old-fashioned rolled oats! They do not hold up as well when mixed into the dough and baked, and the end result will NOT be the same!
Nutrition Estimate
Serving: 1 cookie, Calories: 157 kcal, Carbohydrates: 20 g, Protein: 1 g, Fat: 7 g, Saturated Fat: 4 g, Cholesterol: 26 mg, Sodium: 137 mg, Potassium: 56 mg, Fiber: 1 g, Sugar: 10 g, Vitamin A: 225 IU, Calcium: 17 mg, Iron: 0.7 mg
Did you make this recipe?
Leave a review below, then snap a quick picture and tag @nourishandfete on Instagram so I can see it!