Autumn Harvest White Sangria
A white sangria perfect for autumn, filled with apples, pears, and cider. Make a large pitcher for easy serving, then top off each glass with sparkling wine for a fall cocktail that's as elegant as it is easy!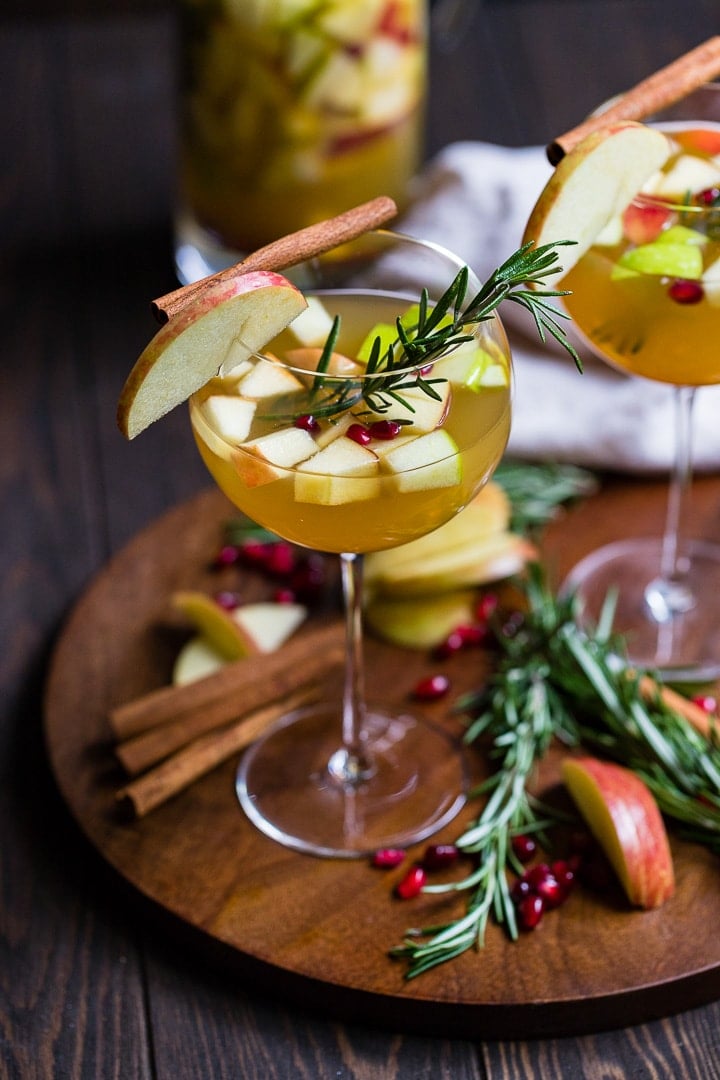 Although I'm not a huge fan of the original Pumpkin Spice Latte (too sweet!), I do go in for pretty much everything else about fall. Breads and baked goods, cider, apple and pumpkin everything, cozy boots and sweaters, you name it.
And if I can combine a few fall favorites in one beverage – with wine? SOLD!
This white sangria is simple, seasonal, and delicious. It also happens to be a great way to serve a crowd, if you expect to be doing any fall entertaining! I love serving something festive and seasonal that doesn't require you to mix individual drinks on repeat.
Even better? Mix this up the night before – it will get BETTER steeping in the fridge until you're ready to serve!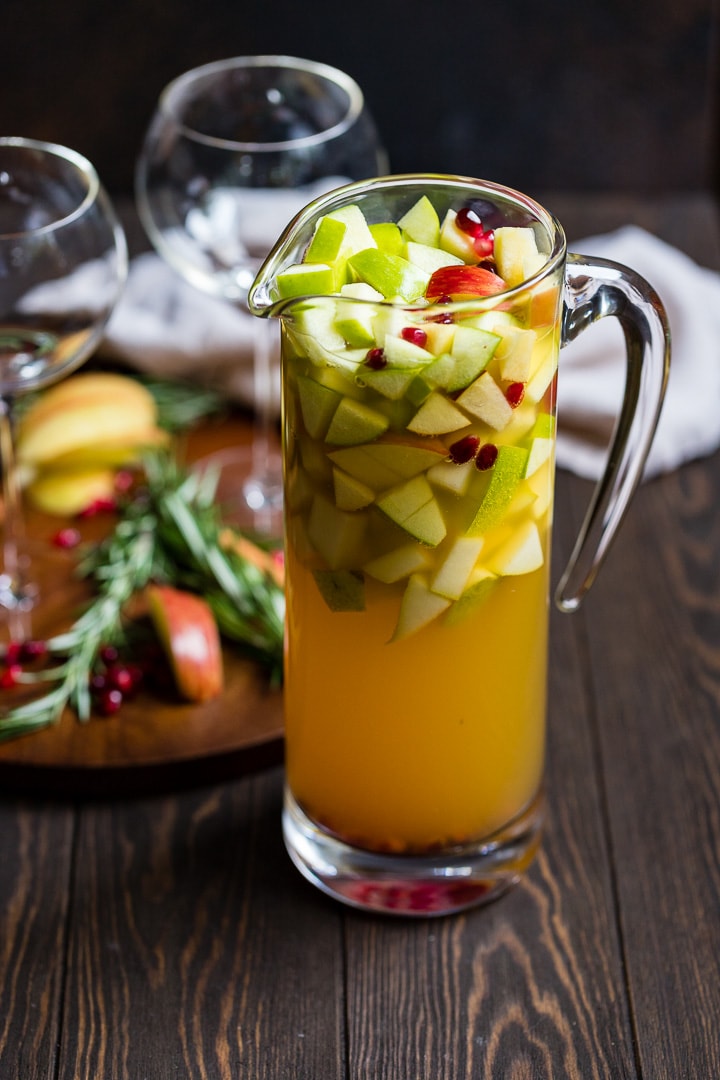 What do you put in a white sangria?
That's an easy one – white wine! My personal favorite variety to use for this sangria is Pinot Grigio. It's dry and acidic, and apple and pear are among the main flavors in the wine itself, which I think makes it play very nicely here. That said, just about any dry white you like and tend to keep on hand should be fine!
For a typical white sangria, you might just add some fruit to the wine and call it a day. But to amplify the fall flavors here, we'll add a cup of apple cider. This is partly why I'd encourage using a dry white wine here: there's already sweetness from the fruit and the cider – no need to overdo it!
Of course you can use any fruit you like, but for this autumn version, apples, pear, and a few pomegranate seeds are just lovely. You could also use cranberries, in addition to or instead of the pomegranate.
How far in advance can you make sangria?
The day before you intend to drink it is ideal. A few hours ahead will work, too, if you're in a pinch. Do your best to allow at least a few hours for the flavors of the wine, cider, and fruit to meld.
Longer than a day, though, and you're asking for trouble. The fruit may start to break down or get mushy (ick!), and the wine will eventually oxidize from being exposed to air. So, just a day will do it.
Can you put Prosecco or sparkling wine in sangria?
Absolutely! I mean, bubbles are always welcome, right?
But – for the best results in this recipe, I recommend holding them until you are ready to serve. Pour the steeped sangria into individual serving glasses, leaving an inch or so of room. Then top off with the bubbly, so you get the full fizz effect straight from the bottle.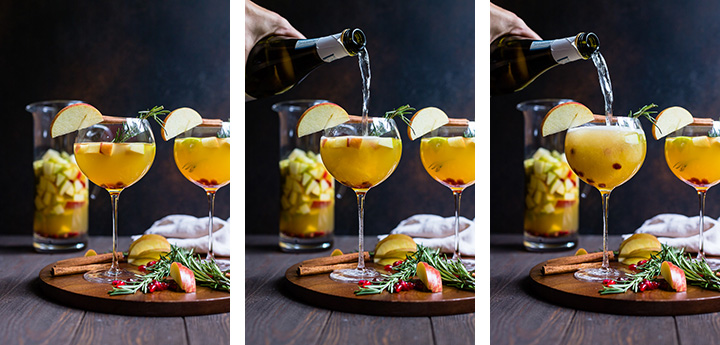 You can use actual Prosecco, Champagne, or any other white sparkling wine. Curious about the differences? This is a good read!
For these purposes, i.e. mixing in with other flavors, I find them basically interchangeable and tend to opt for a more affordable choice.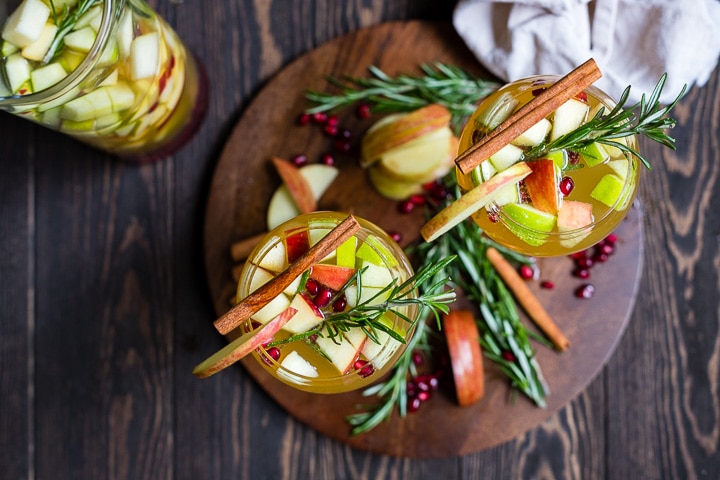 If you try this autumn white sangria or any other recipe on the blog, please rate the recipe and leave a comment below. I love hearing from you, and other readers will benefit from your experience!
Autumn Harvest White Sangria
The perfect white sangria for fall!
Ingredients
1 750 ml bottle white wine
1 cup apple cider
1 Granny Smith apple
1 honey crisp apple
1 Bartlett pear
1/4 cup pomegranate seeds
1 750 ml bottle Prosecco or sparkling white wine
fresh rosemary and cinnamon sticks to garnish (optional)
Instructions
In a large pitcher, combine one bottle of white wine with the apple cider. Core and chop the apples and pear into small chunks (no need to peel), then stir them in along with the pomegranate seeds. Let chill in the refrigerator for at least 1 hour, up to overnight.

When ready to serve, pour individual glasses leaving 1"-2" of room in each. Top with chilled Prosecco or sparkling white wine. Garnish as desired, and serve.
Notes
I especially like to use Pinot Grigio for this sangria, but any dry-ish white wine that you like will work! Also feel free to swap the varieties of apples and pears to use what you have - these are my favorites but it's very flexible!
Did you make this recipe?
Leave a review below, then snap a quick picture and tag @nourishandfete on Instagram so I can see it!


More fall cocktail ideas
While you're in the spirit (get it!?), here are a few more fun drinks you might want to try this fall:
And if you're STILL looking for inspiration, you might like this round-up of 11 ultra-easy cocktails perfect for holiday entertaining.