Savory Parmesan Biscuit Crumble Chicken Pot Pie
An ultimate comfort food! Chicken pot pie with carrots, celery, mushrooms, creamy roux, and a simple savory parmesan biscuit topping, perfect for a cozy supper.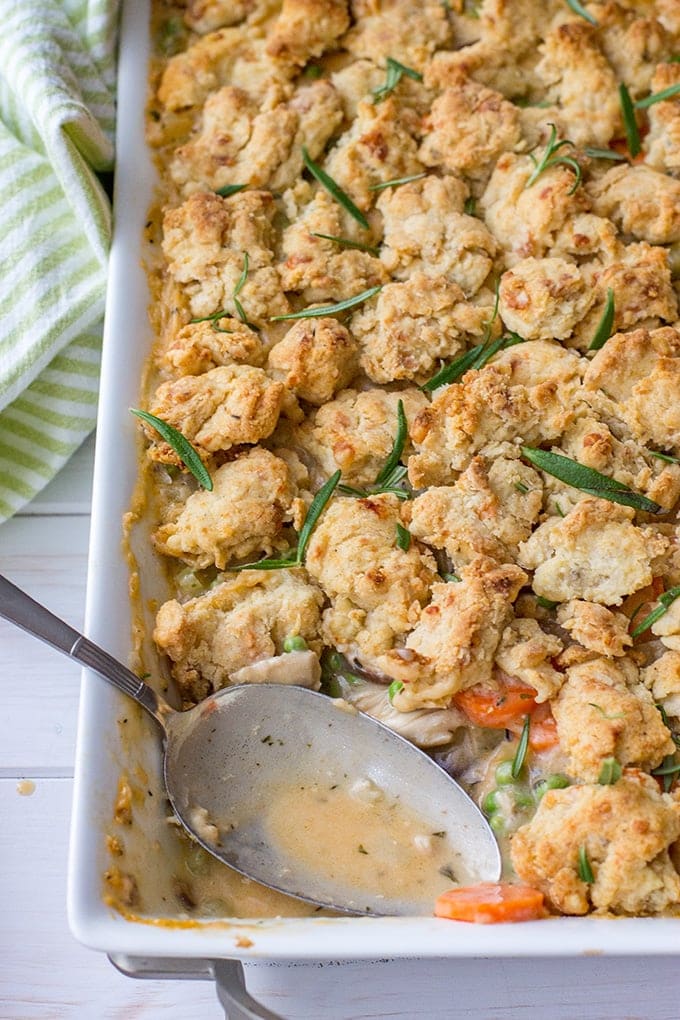 This, my friends, is chicken pot pie done deliciously for a crowd. If you have many mouths to feed, whether your own family or guests, and are looking for a comforting, hearty meal this fall or winter, this will not disappoint.
Most of the time, I aim to focus on sharing recipes here that are as fast and simple as they are tasty. So be forewarned and forearmed that this one is more a labor of love. This is the perfect meal to make on a lazy weekend afternoon, perhaps with some appetizers and a glass of wine in hand. There is a fair bit of chopping involved, and a few steps before you get to assembly, baking, and, best of all, eating.
But, just look at all those bold, beautiful veggies, sauteed and ready to go. Carrots, onion, celery, mushrooms, with thyme and other seasonings to taste. And, of course, chicken!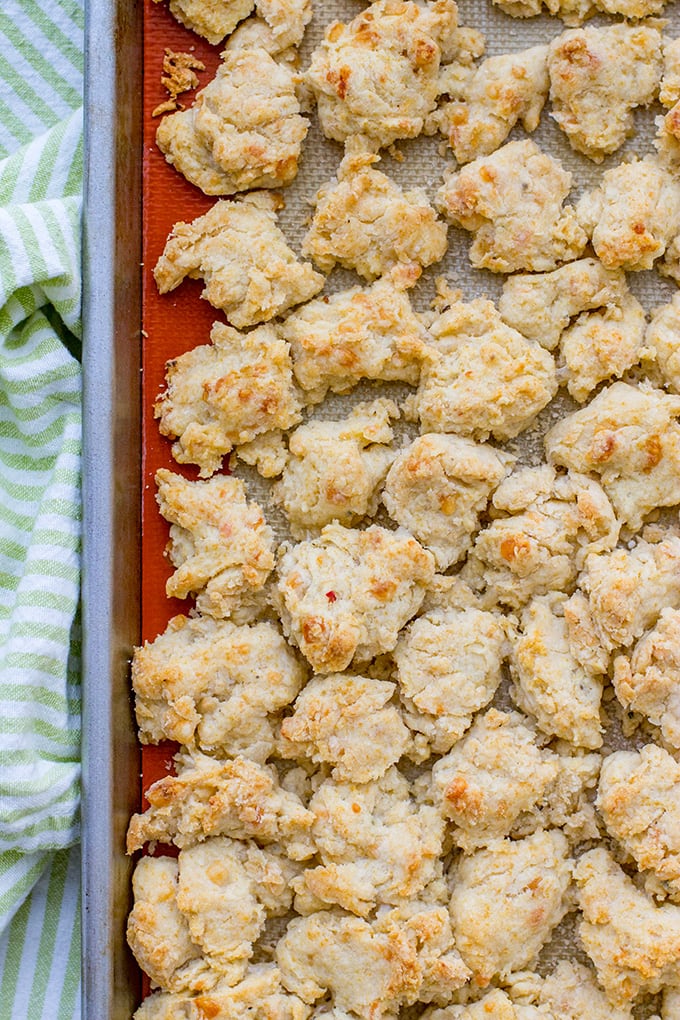 Now, as good as the filling is, I think the real star of this show is the Parmesan biscuit crumble topping. It's savory, with a slight kick from cayenne pepper. It's crunchy, thanks a short pre-bake in the oven. It covers the whole pot pie with its goodness and lightness. It's everything.
And now just look at what's under the hood. All those delicious veggies, now wrapped in a super flavorful, thick, creamy roux.
Related: Chicken and Dumplings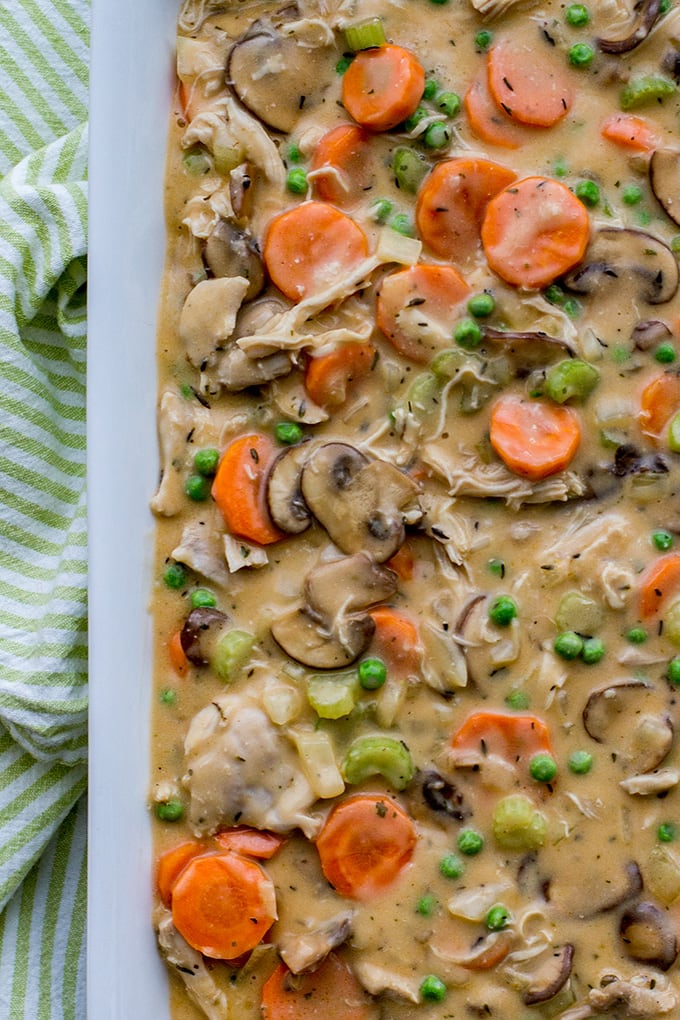 Another warning: this recipe makes a huge amount of food, especially when you consider how hearty and filling it is. The advantage is, by the time you get everything assembled, it's truly a one-pot dish, with your protein, veggies, sauce, and a little biscuit all in one.
So while it takes a little time to make, each individual step is straightforward, and when that delicious bubbling pan comes out of the oven, all you'll need to do is scoop up big spoonfuls, pass around the bowls, and listen for the contended oohs and aahs. 🙂
Enjoy!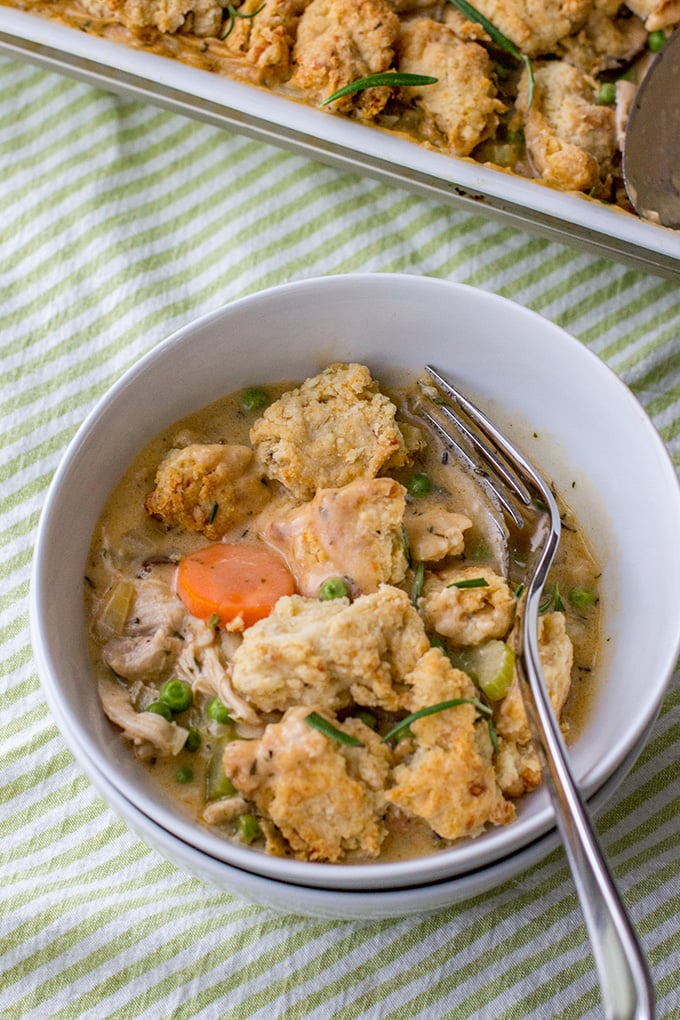 Savory Parmesan Biscuit Crumble Chicken Pot Pie
An ultimate comfort food! Chicken pot pie with carrots, celery, mushrooms, a creamy roux, and a simple biscuit topping, perfect for a cozy supper.
Ingredients
For the filling:
1.5 pounds (about 750 grams) boneless, skinless chicken breasts or thighs
3 cups chicken broth
2 tablespoons extra virgin olive oil
1 medium yellow onion chopped
3 medium carrots peeled and cut into small coins
3 small celery ribs chopped into thin slices
1 tablespoon fresh thyme minced (or 1 1/2 teaspoons dried)
salt and freshly-ground black pepper to taste
10 ounces (about 300 grams) small mushrooms cleaned and chopped into slices
1 teaspoon low-sodium soy sauce
1 teaspoon tomato paste
4 tablespoons (57 grams) unsalted butter
1/2 cup (60 grams) all-purpose flour
1 cup whole milk
juice of 1 small lemon
a handful of fresh parsley minced
1 cup frozen baby peas
For the crumble topping:
2 cups (240 grams) all-purpose flour
2 teaspoons baking powder
3/4 teaspoon salt
freshly-ground black pepper to taste
1/8-1/4 teaspoon cayenne pepper to taste
6 tablespoons (85 grams) unsalted butter very cold
1/2 cup grated Parmesan cheese
3/4 cup plus 2 tablespoons heavy cream
Instructions
First, make the chicken: Add the chicken and broth to a large Dutch oven set over medium heat, and bring to a simmer. Cook for 8-12 minutes, just until the chicken is cooked through. Transfer cooked chicken to a large bowl, and pour the broth through a fine-mesh strainer into a large liquid measuring cup and set aside. Don't bother to wash out the pot.

Meanwhile, make the topping: Preheat heat oven to 450 degrees F (220 C), and line a large baking sheet with parchment paper or a silicone baking mat. In a large bowl, whisk together the flour, baking powder, salt, black pepper, and cayenne pepper. Cut the 6 tablespoons butter into small pieces, and using your fingers, rub those pieces into the flour mixture until it is coarse and crumbly. Stir in the Parmesan, then add the cream and stir just until combined – do not over mix.

Crumble the biscuit mixture into small, craggy pieces, each about 1/2" or 1" in size, and set the pieces on the prepared baking sheet. Bake for 10-12 minutes, until fragrant and very lightly brown. Set aside to cool.

To make the rest of the filling: Heat 1 tablespoon oil in the now-empty Dutch oven over medium heat. When the oil is hot, add onion, carrots, celery, thyme, ¼ teaspoon salt, and ¼ teaspoon black pepper. Cover and cook, stirring occasionally, until the veggies are tender, 5 to 7 minutes.

While vegetables are cooking, shred or cut the chicken into bite-size pieces. When vegetables are cooked, add them to the bowl with the chicken, and set aside.

In the again-empty Dutch oven, heat the remaining oil over medium heat and add the mushrooms. Cover and cook, stirring occasionally, until the mushrooms release their juices, about 5 minutes. Remove cover and stir in soy sauce and tomato paste. Increase heat to medium-high and cook for 2-3 minutes, stirring frequently, until the liquid has evaporated and the mushrooms are well browned. Transfer mushrooms to bowl with chicken and vegetables; set aside.

Make the roux: Melt the butter in the again-empty Dutch oven over medium heat, then whisk in the flour and cook for 1 minute. Slowly whisk in reserved chicken broth, followed by the milk. Bring the mixture to a simmer, scraping the bottom of the pan to loosen any browned bits, then continue to simmer until sauce becomes thick, 3-5 minutes. Season to taste with salt and pepper.

Remove the roux from the heat and stir in lemon juice and 2 tablespoons parsley.

Assemble: Stir the chicken-vegetable mixture and frozen peas into the sauce, then pour the mixture into a large (13"x9") baking or casserole dish. Scatter the crumble topping evenly over the filling.

Bake for about 15 minutes, until the filling is bubbly and the topping is well-browned. Allow to cool for 5-10 minutes and sprinkle with remaining tablespoon of parsley before serving. (Or, if you're out of parsley, skip it, or use something else green for fun. In the photos here, I used rosemary, which turned out to be delicious.)

Leftovers will keep for 3-4 days in the fridge.
Nutrition Estimate
Calories: 476 kcal, Carbohydrates: 33 g, Protein: 24 g, Fat: 27 g, Saturated Fat: 14 g, Cholesterol: 111 mg, Sodium: 412 mg, Potassium: 708 mg, Fiber: 2 g, Sugar: 4 g, Vitamin A: 4250 IU, Vitamin C: 15.3 mg, Calcium: 165 mg, Iron: 2.7 mg
Did you make this recipe?
Leave a review below, then snap a quick picture and tag @nourishandfete on Instagram so I can see it!