Caprese Pasta Salad with Prosciutto
Ah, pasta salad. No barbecue, potluck, or summer gathering is complete without it. It's popular with adults and kids alike, so you know it's one of the first foods a crowd will dive into, and you can count on this easy Caprese Pasta Salad to deliver. It's quick and easy to throw together, and the classic, crowd-pleasing Italian flavors get taken up a notch with prosciutto, pine nuts, fresh basil and dressing!
I know, I know – it may be a stretch to call anything "the best." But if I'm going to go to bat for any food, this is a good candidate. It's the very first dish I ever made for my husband, and years later I still make it all the time to rave reviews.
We like it hot, warm, or cold. It's great for lunch, as a side, or for an easy dinner. You can adapt the recipe any which way you like, and easily edit out certain parts to please picky kids. So, yes, I'm comfortable calling this the very best Caprese Pasta Salad there is. 🙂
It's a no-brainer that pasta, tomatoes, mozzarella, and basil are delicious together. Add a bit of prosciutto, a sprinkling of pine nuts, and a perfectly-balanced dressing of olive oil and balsamic vinegar to pull it all together and make a pasta salad that's worthy of being a dinner unto itself.
How To Make Caprese Pasta Salad
Step by Step Photos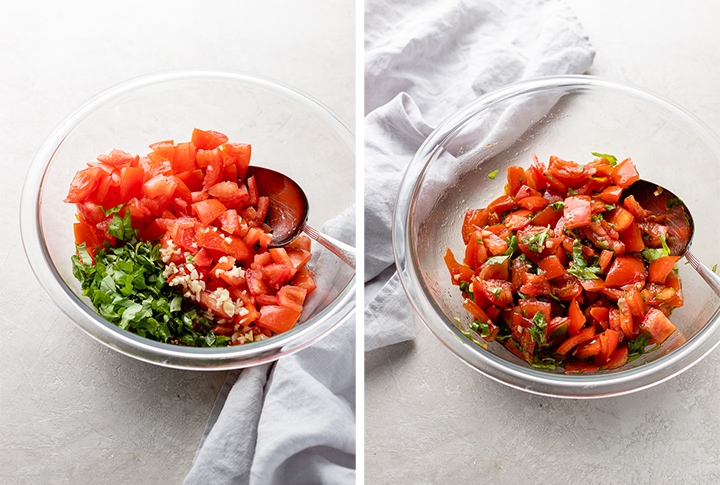 Coarsely chop about 1.5 pounds of tomatoes, and mix with a bit of minced garlic, basil, balsamic vinegar, olive oil, and red pepper flakes. Give everything a good stir so the flavors start to meld.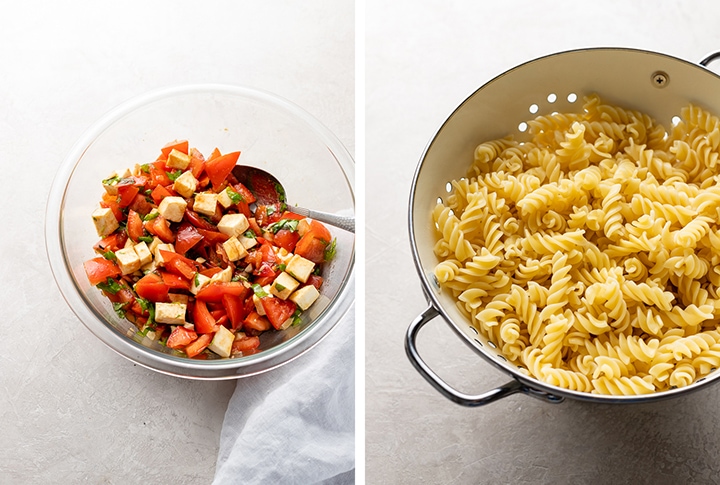 Now chop a large ball of mozzarella into small pieces, and stir those in. Meanwhile, boil a large pot of water and cook the pasta to al dente. Be sure to generously salt the pasta water. It gives the pasta flavor!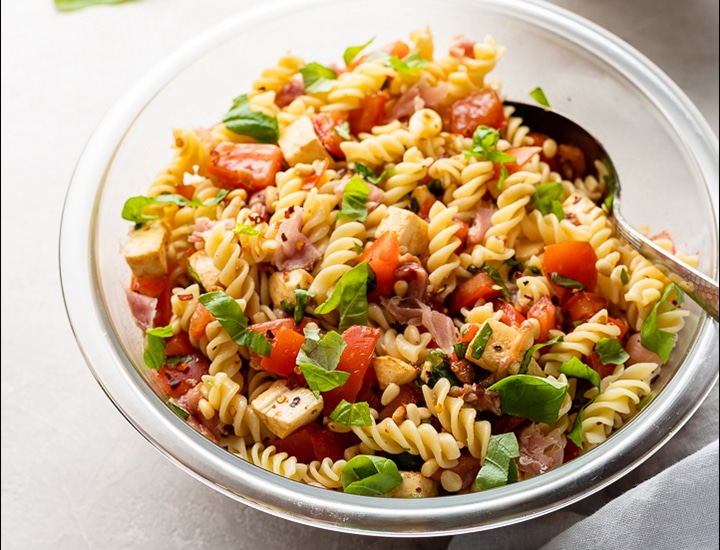 While you wait for the pasta to cook, prep your remaining ingredients: slice a couple ounces of prosciutto, and set aside a few pine nuts. After the pasta is drained and slightly cooled, add it together with the prosciutto and pine nuts to the tomato-mozzarella mixture.
Salt and pepper to taste, and you're done! I like to add a few more fresh basil leaves on top just for presentation.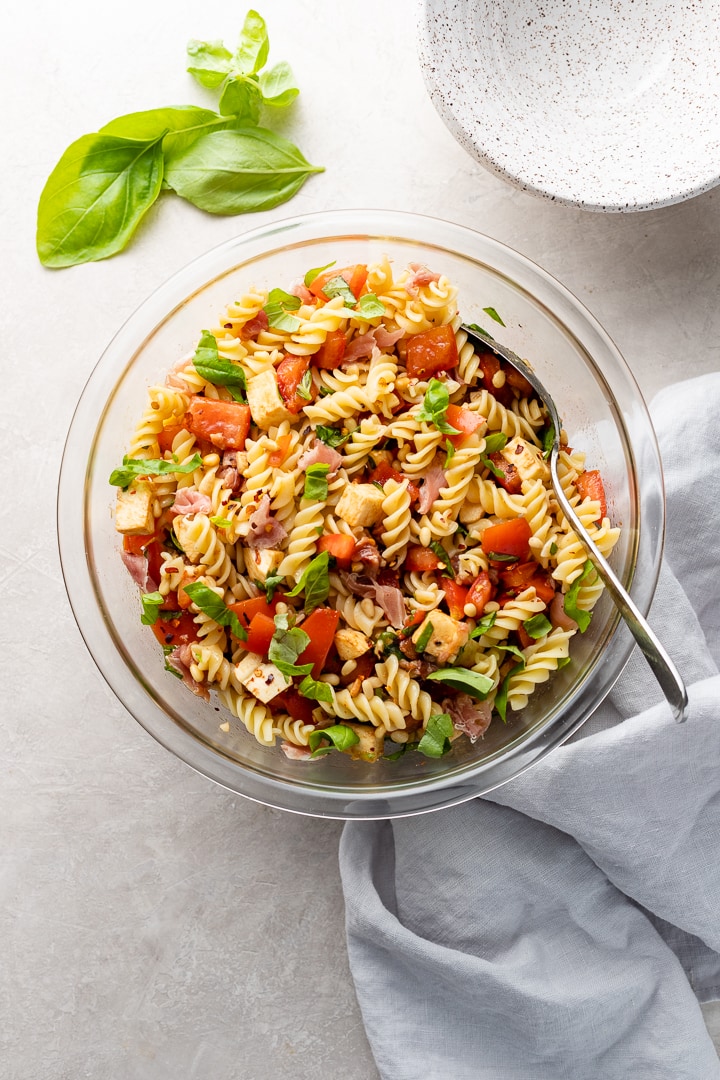 Can I make this Caprese Pasta Salad ahead of time?
Yes! You can fully make this pasta salad a day ahead of time. Add a little more fresh basil and a little cracked pepper right before serving to perk it up and make it bright green!
You can also prep the dressing, pasta, and mozzarella cubes separately, then just chop the tomatoes and assemble everything the day of.
What type of pasta to use?
I used rotini here, and often use farfalle (bowties), too. Anything short and with a little texture will work well. You want some ridges for the dressing and herbs to stick to.
Can I sub cherry tomatoes or another mozzarella?
Yes! This is also delicious with cherry or grape tomatoes, halved if you like, and with small balls of mozzarella. No other changes are needed.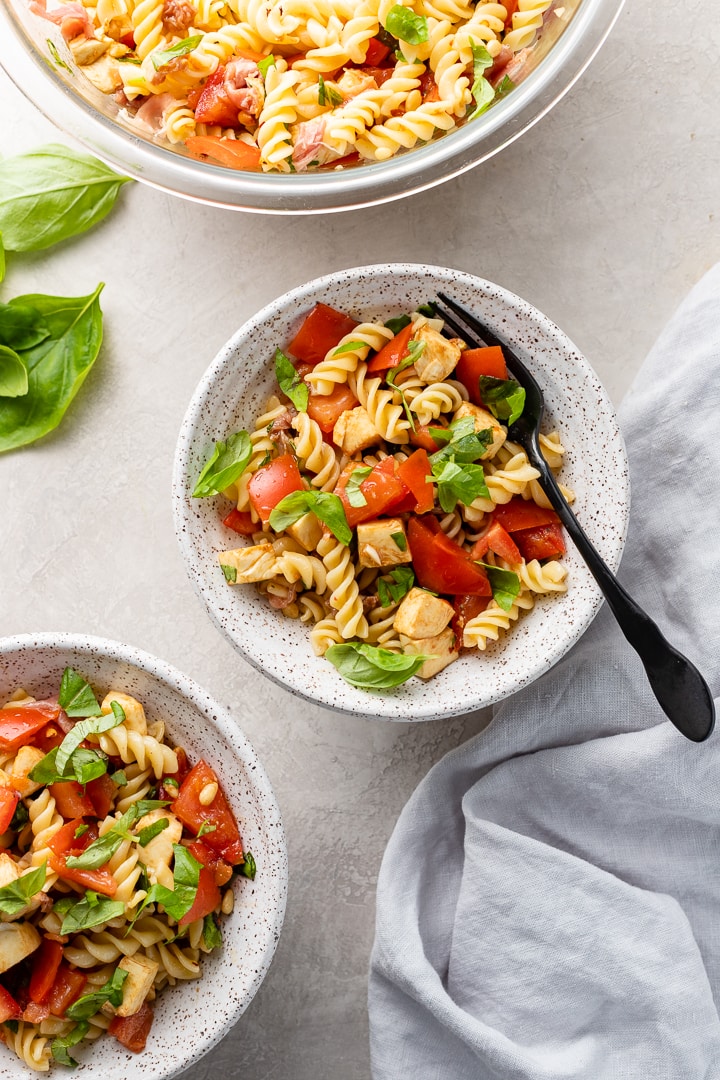 If you try this pasta salad or any other recipe on the blog, please rate it and leave a comment below. I love hearing from you, and other readers will benefit from your experience!
Caprese Pasta Salad with Prosciutto
No barbecue or summer gathering is complete without this delicious Caprese Pasta Salad. A classic flavor combination made even more irresistible with a sprinkling of prosciutto and pine nuts.
Ingredients
1 1/2 lbs. (750 grams) tomatoes cored and coarsely chopped
4 cloves garlic minced or pressed
1/2 cup fresh basil leaves slivered
1/2 cup (125 ml) extra-virgin olive oil
3 tbsp. balsamic vinegar
1/2 tsp. red pepper flakes
1/2 lb. (250 grams) mozzarella cheese cut into small cubes
1/4 cup (36 grams) pine nuts
kosher salt and freshly ground black pepper
1 lb. (500 grams) pasta
2 ounces (60 grams) prosciutto thinly sliced and torn into small pieces
Instructions
In a large bowl, combine the chopped tomatoes, garlic, basil, olive oil, vinegar, and red pepper flakes. Stir well and let stand at room temperature for a few minutes, allowing the flavors to blend. Chop and stir in the mozzarella. Set aside.

Meanwhile, bring a large pot of water to boil. Add a generous pinch of salt and the pasta and cook, stirring occasionally, until al dente. Drain well, then allow pasta to cool for 1-2 minutes. (You don't want it to melt the mozzarella in the next step.)

Add pasta to the tomato-mozzarella mixture, along with the prosciutto and pine nuts. Season with a bit of salt and pepper, and toss to combine.

Serve warm, at room temperature, or cold. If you make ahead or have leftovers, cover pasta tightly and store in the fridge for up to 2 days.
Nutrition Estimate
Calories: 377 kcal, Carbohydrates: 49 g, Protein: 16 g, Fat: 13 g, Saturated Fat: 5 g, Cholesterol: 27 mg, Sodium: 239 mg, Potassium: 411 mg, Fiber: 3 g, Sugar: 5 g, Vitamin A: 1070 IU, Vitamin C: 12.4 mg, Calcium: 170 mg, Iron: 1.5 mg
Did you make this recipe?
Leave a review below, then snap a quick picture and tag @nourishandfete on Instagram so I can see it!
Looking for more easy summer potluck ideas? Try my favorite sweet spinach strawberry salad, a big batch of skillet black beans, an easy white bean dip, or the ultimate chipotle street corn dip.
Craving Caprese flavors in the off-season? Try this delicious winter Caprese with pan-roasted tomatoes – you'll be an instant believer!