Easy Strawberry Spinach Salad with Feta and Walnuts
Bring this to the potluck – a salad people will actually eat! This easy strawberry spinach salad recipe is perked up with oranges, candied walnuts, and creamy feta to stand out from the crowd. Finish with a delicious balsamic poppy seed dressing, and say hello to your spring/summer salad on repeat!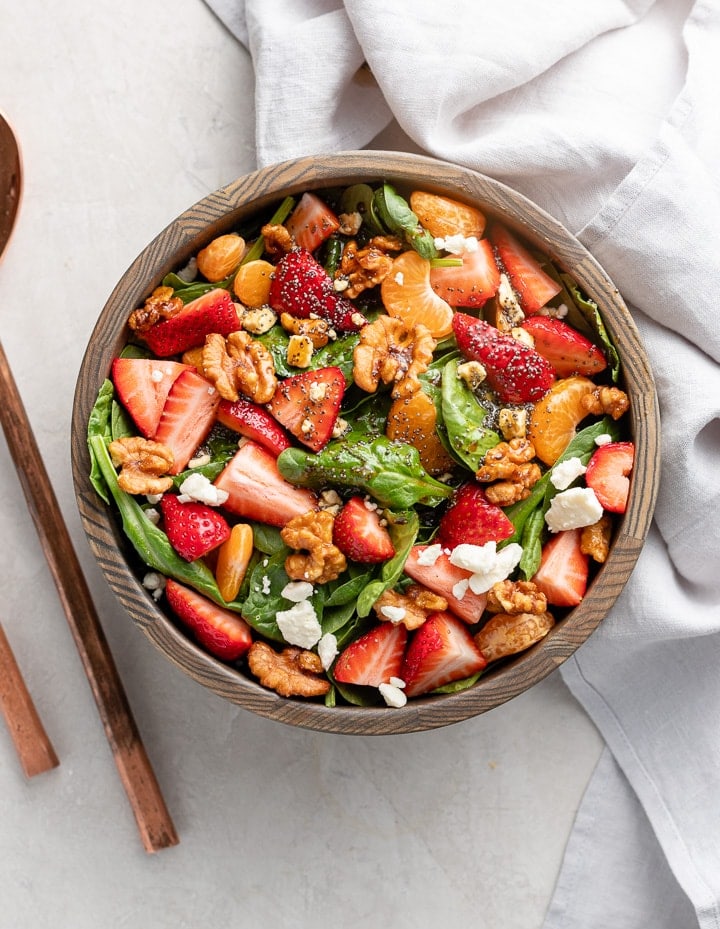 Our Easter celebrations were pretty simple this year, but we did the basics: basket, church, egg hunt, the usual. Our dinner menu was really simple, as well, since it was just three of us. But I did put the finishing touches on and serve this perfect salad, which turned out to be the highlight! No question, we'll be eating this all summer long, and I know you'll want to, too.
What else is in a spinach strawberry salad?
Easy spinach strawberry salad recipes are pretty easy to come by, so you might fairly wonder what makes this one stand out. It's a case where a few fresh ingredients go a long way!
Fresh baby spinach
Strawberries, of course!
Clementine or mandarin oranges, peeled and segmented
Candied walnuts
Creamy feta cheese, crumbled
If you're able to buy organic produce, I highly recommend it here. Strawberries and spinach rank numbers one and two on the 2019 "Dirty Dozen" – a list of foods found to contain the most pesticide residue when grown conventionally. Yikes!
Fortunately, most stores carry organic baby spinach, including Trader Joe's. And I picked up these strawberries from an early spring crop at a new local farmers market. You can tell they're not perfect, and I like that. 🙂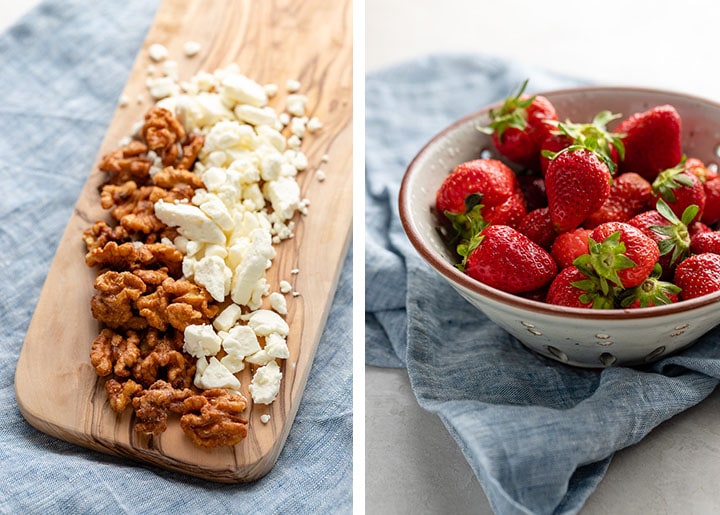 For Virginia/DC locals, there's now a market on Sunday mornings at Marshall High School, near Tysons Corner. Tons of parking, a nice array of stands, and corn hole to entertain kids. I definitely recommend it.
If walnuts aren't your thing, no problem, just swap them for candied pecans or slivered almonds. Pecans are actually more common in strawberry spinach salad recipes, so I like using walnuts for a tiny twist.
Best dressing for spinach strawberry salad
Now we need to talk about the dressing for a minute. Where are you on team homemade dressing? I need to know. And if you're not there yet, I'm going to try to bring you around.
Homemade dressing is so so easy to make, and I know I used to think of it as this thing other people did, people who had more time and energy and kitchen skill, but now that I've seen the light, I am 100% team homemade. It's healthier, more economical, and seriously kind of fun.
For this dressing, you'll need:
Balsamic vinegar
Extra-virgin olive oil
Honey
Poppy seeds
Smooth Dijon mustard
Kosher or coarse sea salt & black pepper
Shake it up in a jar, and voila – balsamic poppy seed salad dressing. The most perfect complement to spinach strawberry salad. Yum!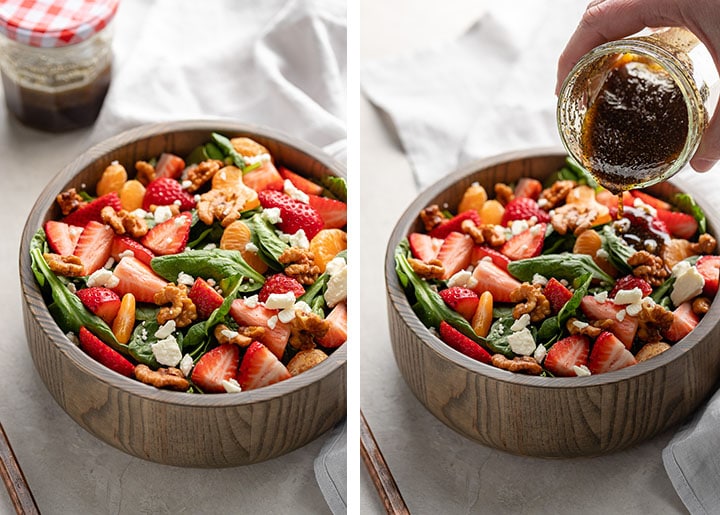 You'll probably have a little extra dressing after making this salad, which is actually great, because you can just tightly seal the lid and stash it in the fridge. On a busy night, just grab the jar, give it a good shake, and pour the rest of the dressing over whatever greens you have. Ta-da!
Just like that, you're someone who has homemade salad dressing in the fridge. You little kitchen boss! xx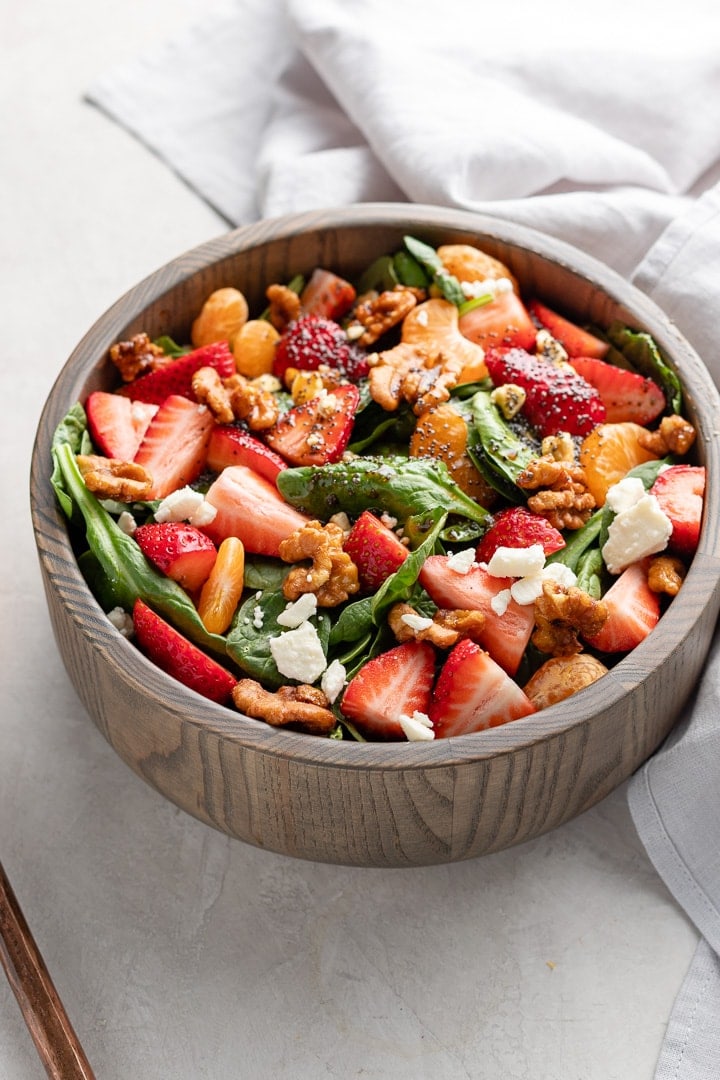 As written, this salad makes a perfect side. It's easy to prep ahead for a BBQ, potluck, or summer party – just bring the salad and dressing in a separate jar, and shake/drizzle the dressing on right before you toss and serve.
If you want to make this salad into a more filling meal, try adding some grilled chicken or salmon.
And if you want a slightly more tart flavor, add a bit of chopped red onion. Delicious!
More Easy Salad Recipes
As always, if you try this salad or any other recipe on the blog, please rate it and leave a comment below. I love hearing from you, and other readers will benefit from your experience!

Easy Spinach Strawberry Salad with Feta
Ingredients
For the salad
10 ounces fresh baby spinach
1 quart strawberries hulled and quartered
2 clementine or mandarin oranges peeled and segmented
1/2 cup candied walnuts
1/4 cup feta cheese crumbled
For the dressing
1/4 cup balsamic vinegar
3 tablespoons extra-virgin olive oil
2 tablespoons honey
1 tablespoon poppy seeds
1/2 teaspoon smooth dijon mustard
1/4 teaspoon kosher or coarse sea salt
a few turns freshly-ground black pepper
Instructions
To prepare the dressing, combine all ingredients—vinegar, oil, honey, poppy seeds, mustard, salt, and pepper—in a mason jar or liquid measuring cup. Shake or whisk until thoroughly-combined. Set aside.

To assemble the salad, combine spinach, strawberries, and oranges in a large serving bowl. Pour on about half the dressing, and toss to combine. The spinach should be lightly coated. Add the walnuts and feta, toss lightly, and serve, with extra dressing on the side as desired.
Notes
As written, this salad yields about 4 small side servings. If making as a main meal component, I suggest scaling it up.
If preparing the salad ahead, be sure to add the dressing just before serving. Prepared dressing can be stored in a jar or other airtight container in the fridge for up to a week; just shake well to recombine before serving.
Walnuts can be easily subbed for candied pecans or slivered almonds. I love this salad best with candied nuts, and they are available off the shelf at most major grocery stores. But if you prefer, it's also delicious with "regular" nuts lightly toasted in a skillet over medium heat for 5-10 minutes. For a nut-free option, toasted pumpkin or sunflower seeds are nice.
Strawberries not in season? Try the same recipe with blueberries, blackberries, dried cranberries, or dried apricots.
Nutrition information is an estimate based on dividing these ingredients into 4 servings and using about half of the dressing.
Nutrition Estimate
Calories: 246 kcal, Carbohydrates: 38 g, Protein: 6 g, Fat: 9 g, Saturated Fat: 1 g, Cholesterol: 4 mg, Sodium: 324 mg, Potassium: 884 mg, Fiber: 8 g, Sugar: 25 g, Vitamin A: 6840 IU, Vitamin C: 193.9 mg, Calcium: 182 mg, Iron: 3.4 mg
Did you make this recipe?
Leave a review below, then snap a quick picture and tag @nourishandfete on Instagram so I can see it!