Homemade Taco Seasoning
Homemade taco seasoning will save you money and quickly become a pantry staple! This simple recipe uses chili powder, paprika, cumin, dried onion, garlic powder, and cayenne pepper – all the spices you need to quickly and easily season your favorite taco filling. Make a big batch and enjoy this healthier, more convenient, and way more economical alternative to taco seasoning packets.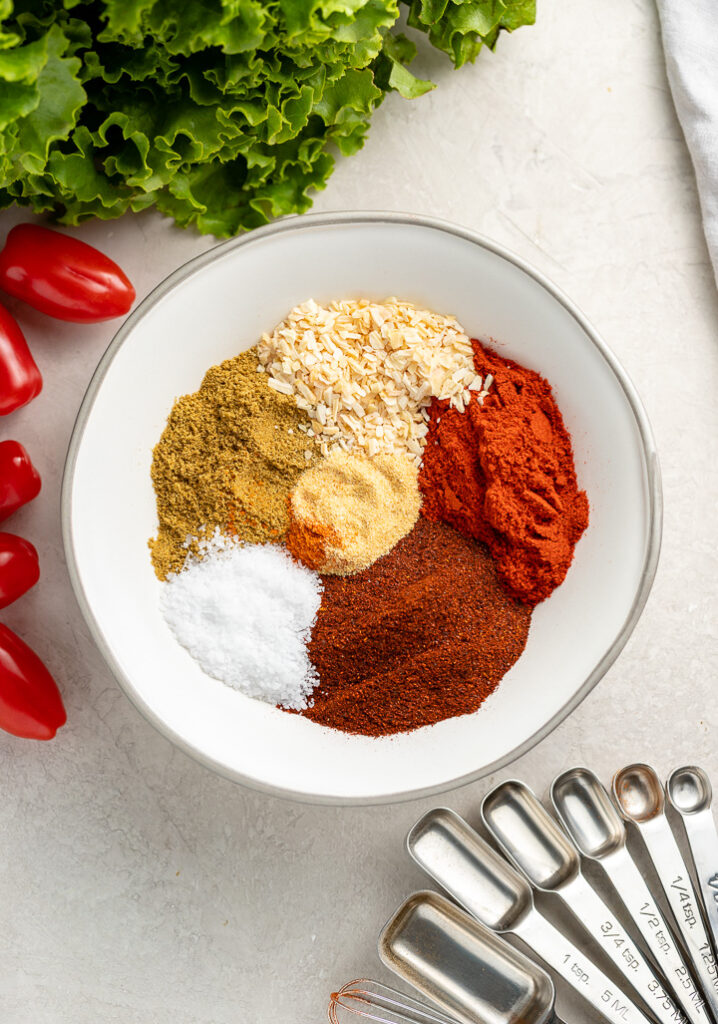 First of all, if you're reading this, you're probably planning to eat tacos soon, so you're already winning. Life is good!
Once you realize how easy it can be to make some kitchen basics from scratch, it's sort of intoxicating. And homemade taco seasoning is a perfect example. Until you try it, you might not even realize there's an alternative to the store-bought seasoning packets. But once you do try it, those packets lose their appeal. Quickly!
What spices are in taco seasoning?
You very well may have every spice you need for this taco seasoning already sitting in your pantry, meaning it's free. If you need to buy a few spices, all of these are staples and easy to use in other recipes. Or just a really big batch of taco seasoning, which now that I think about it, is not a bad idea at all. Here's the list:
Chili powder
Paprika
Cumin
Dried minced onion (onion powder is a good substitute, just use about half the amount)
Garlic powder
Cayenne pepper
Kosher salt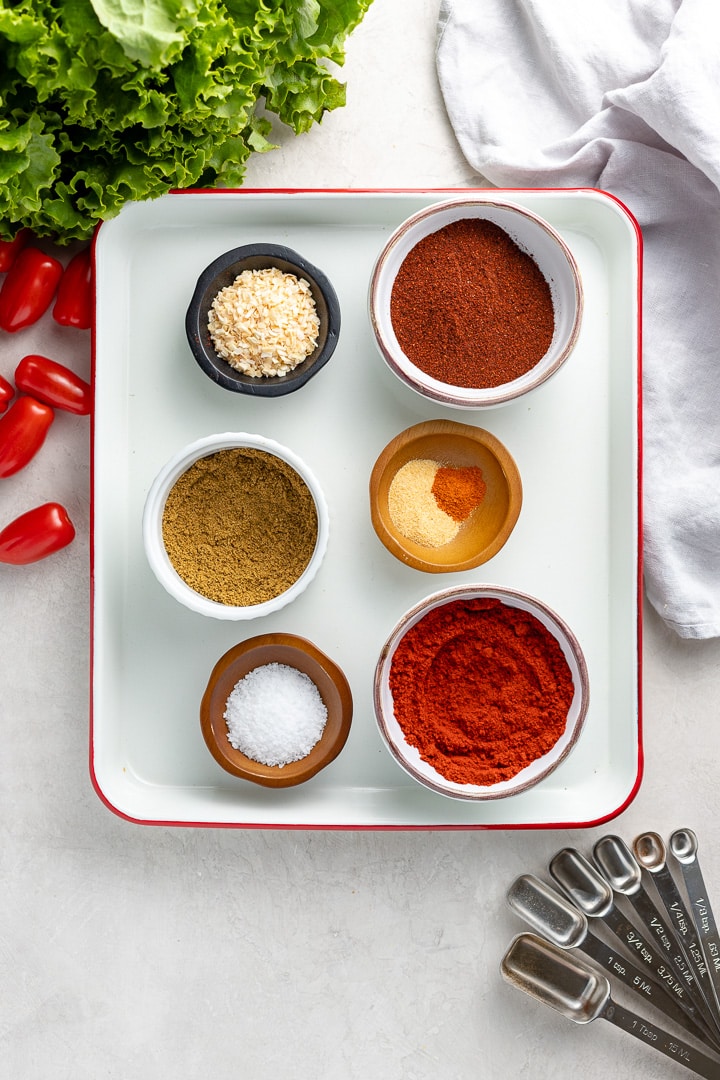 How much salt?
I include 1 tablespoon salt in the mix itself. We're basically average salt consumers, so this might be a good starting point.
One of the great things about making your own blend, though, is that it's easy to adjust the salt and anything else to fit your own needs and taste. If you prefer, reduce or leave salt out of the blend entirely, and just season your finished tacos to taste. Voila! Low-sodium taco seasoning.
Is taco seasoning gluten-free?
Yes! Well, homemade taco seasoning is gluten-free! One of the many benefits of saying goodbye to the packets is the ability to know exactly what's in your food. You can be sure you're getting only amazing flavor, not traces of gluten, added sugar, preservatives, or who knows what else.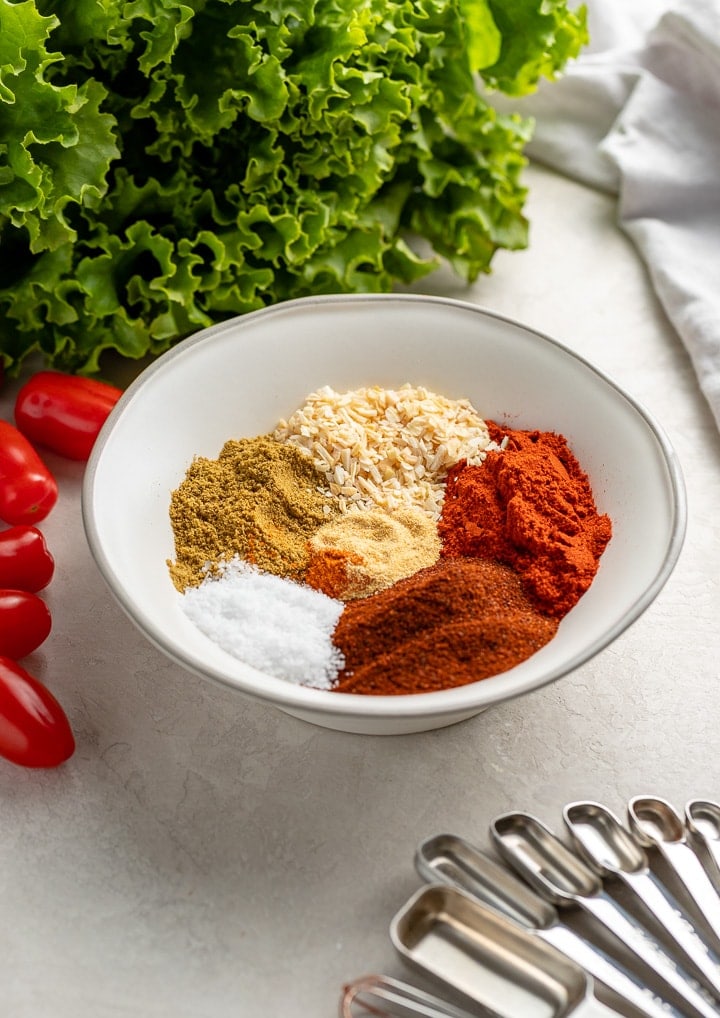 How to make, store, and use homemade taco seasoning
Making this could not be easier. Combine all the spices and blend well.
I so recommend picking up a set of these narrow measuring spoons. They make it so much easier to measure spices straight out of jars, and the price is really good!
Use the mix as you would a traditional packet. I estimate about two heaping tablespoons of mix for each pound of ground beef, chicken, or turkey. Just brown the meat, then add the mix along with some water, and cook! This also makes a great seasoning for roasted chickpeas.
Store the seasoning mix in a glass container with a tight-sealing lid. I always clean out and keep extra jam jars for things like this. Cheap, easy, and cute! Weck jars are popular, too. Tightly-sealed, the mix will keep for at least 2-3 months in your pantry or spice cabinet.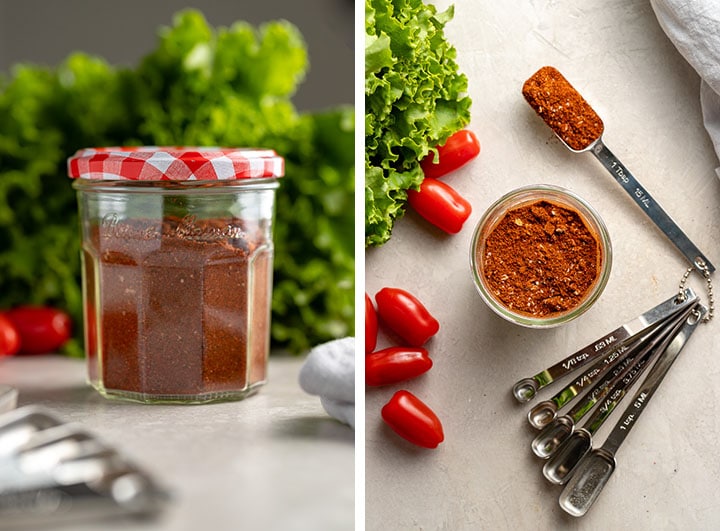 While you're doing things the homemade way, have you ever tried making flour tortillas from scratch? These are the most popular recipe here on Nourish and Fete, with dozens and dozens of rave reader reviews!
If you like this homemade taco seasoning, you might also be interested in my recipes for skinny Baja chicken tacos, jalapeno lime fish tacos, spicy black bean and corn tacos, or crispy chickpea tacos with sunset slaw. There's also this roundup of more than 35 delicious tacos from around the web. I guess you can say we really like our tacos in this house!
Whatever you're putting inside your tortilla, don't forget the guacamole and pico de gallo!
As always, if you try this or any other recipe on the blog, please rate it and leave a comment below. I love hearing from you, and other readers will benefit from your experience!

Homemade Taco Seasoning
This simple recipe for homemade taco seasoning will quickly become a pantry staple! A perfect blend of spices, so much healthier and cheaper than packets!
Ingredients
4 tbsp. chili powder
3 tbsp. plus 1 tsp. paprika
3 tbsp. ground cumin
1 tbsp. plus 2 tsp. dried minced onion
1 tbsp. kosher salt
1 tsp. garlic powder
1/4 tsp. cayenne pepper
Instructions
Combine all ingredients and mix well to blend. Store in an airtight container until ready to use.

To prepare tacos, use approximately 2 heaping tablespoons of seasoning mix per 1 lb. of ground beef, chicken, or turkey.

For instance, to quickly make taco meat on the stovetop, brown 1 lb. of meat in a skillet over medium-high heat, add 1 cup of water with the seasoning, and simmer until the liquid is almost completely gone. Tacos!
Notes
Nutrition information is an estimate for the entire batch, which yields approximately 1 cup. You'll typically use just 2 tablespoons of the spice mix for cooking 1 lb. of meat!
Nutrition Estimate
Calories: 529 kcal, Carbohydrates: 89 g, Protein: 24 g, Fat: 24 g, Saturated Fat: 3 g, Sodium: 6809 mg, Potassium: 3255 mg, Fiber: 42 g, Sugar: 15 g, Vitamin A: 40445 IU, Vitamin C: 15.4 mg, Calcium: 747 mg, Iron: 49.5 mg
Did you make this recipe?
Leave a review below, then snap a quick picture and tag @nourishandfete on Instagram so I can see it!