Crispy Chickpea Tacos with Sunset Slaw
Chickpea tacos are easy, healthy, and delicious! Quick crisped and seasoned chickpeas are topped with a vibrant, crunchy slaw and creamy chipotle sauce for a vegetarian taco everyone loves.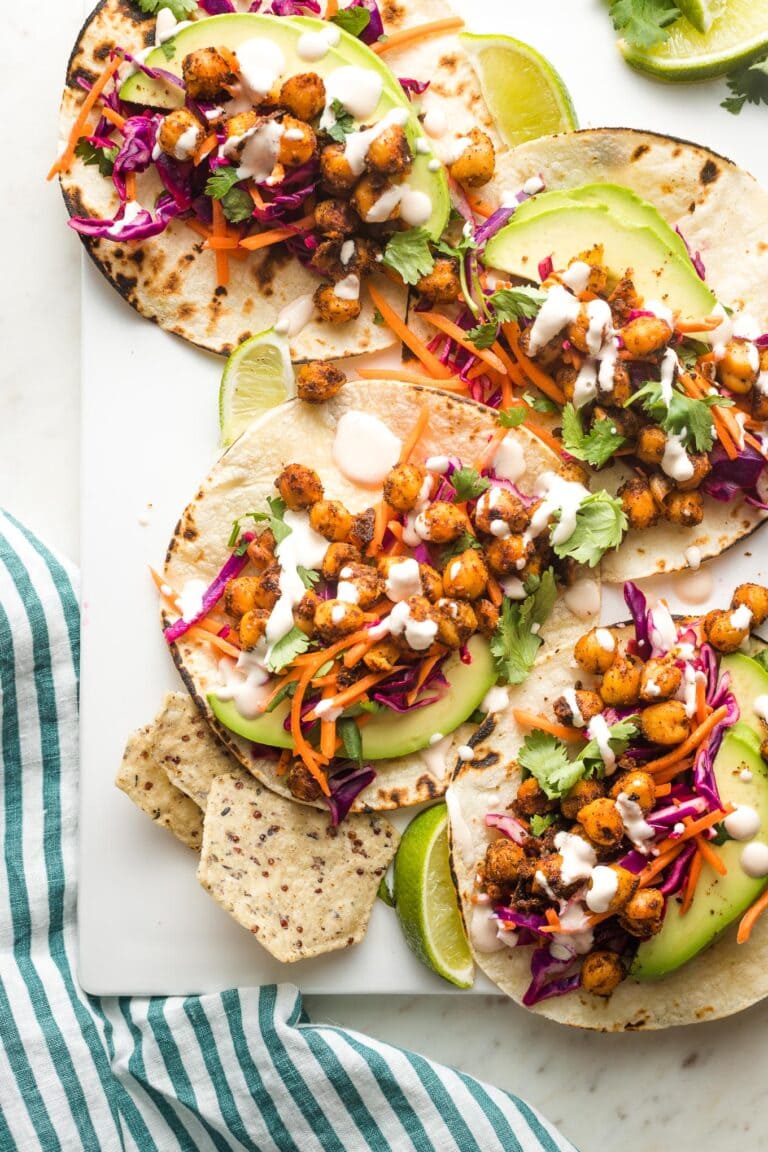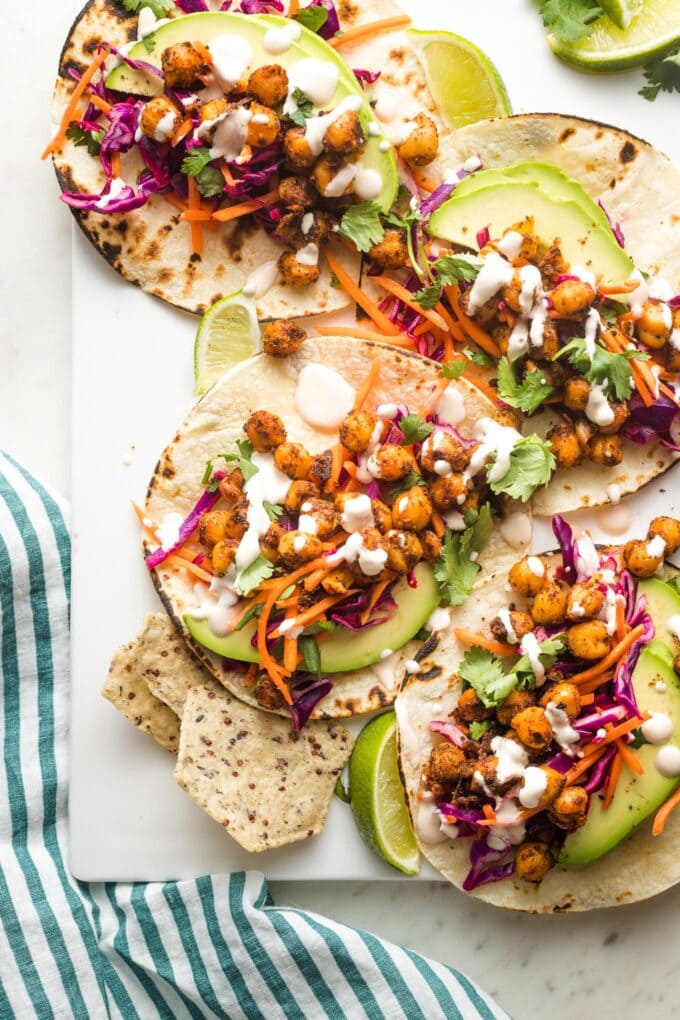 Calling all taco lovers! Do you love the classic fillings but also enjoy a change in scenery from time to time? These crazy delicious chickpea tacos are just the thing.
Why you'll love them
Quick and easy. It's so incredibly easy to crisp chickpeas in a skillet, while adding a few simple seasonings that deliver big time Tex-Mex flavor. The slaw and sauce are so simple, too, that this full meal is done in 30 minutes or less.
Naturally vegetarian and gluten-free. This is a great vegetarian taco that doesn't require any unusual or specialty ingredients — very helpful if you're looking to go meatless more often. There's also an easy swap to make them vegan.
Great mix of textures and flavors. The chickpeas are delicious, but when you add a crunchy cabbage slaw with the colors of a blazing sunset, plus a smooth, creamy sauce with the irresistible heat of chipotle chili, you get a combo that sings.
Winner winner chickpea dinner!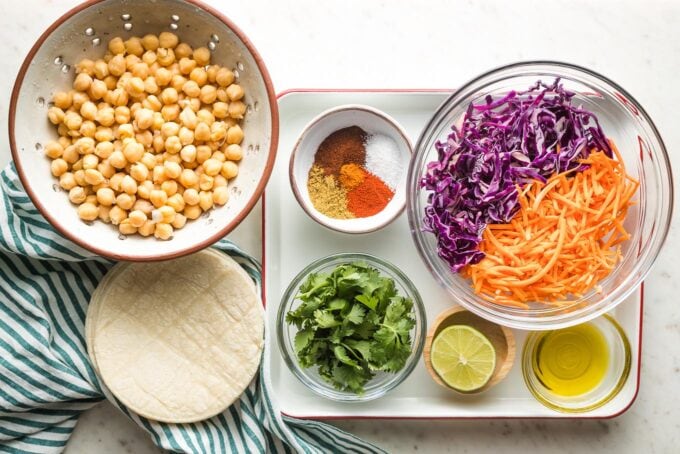 Chickpea taco ingredients
Chickpeas (aka garbanzo beans): two standard 15 ounce cans of beans yield enough for about 8 medium tacos.
Shredded red cabbage and carrot: vibrant, healthy, and crunchy, these make the perfect base for a brilliant "sunset slaw." I usually buy both pre-shredded, which makes the prep super quick and easy. This slaw gets its name and is adapted from a recipe in the cookbook Smitten Kitchen Everyday by Deb Perelman.
Cilantro and lime juice: it's worth buying both fresh, if possible, for the pop of color and flavor they add.
Avocado: so so good to add one more creamy texture to the assembled tacos that I consider it a must-have.
Tortillas, of course: store-bought, or if you're going all out, try making your own corn or flour tortillas. They're easier than you think and so rewarding!
Olive oil and seasonings: cumin, chili powder, smoked paprika, cayenne pepper, kosher salt, and black pepper.
How to make chickpea tacos
To get this meal on the table as quickly as possible, start the chickpeas first. Drain, rinse, and add them to a skillet over medium-high heat. Sprinkle on the seasoning and let them crisp up for a few minutes, giving them the occasional stir.
Meanwhile, you can whip up the slaw and the sauce. This comes together in no time, especially with the convenience of pre-shredded cabbage and carrots.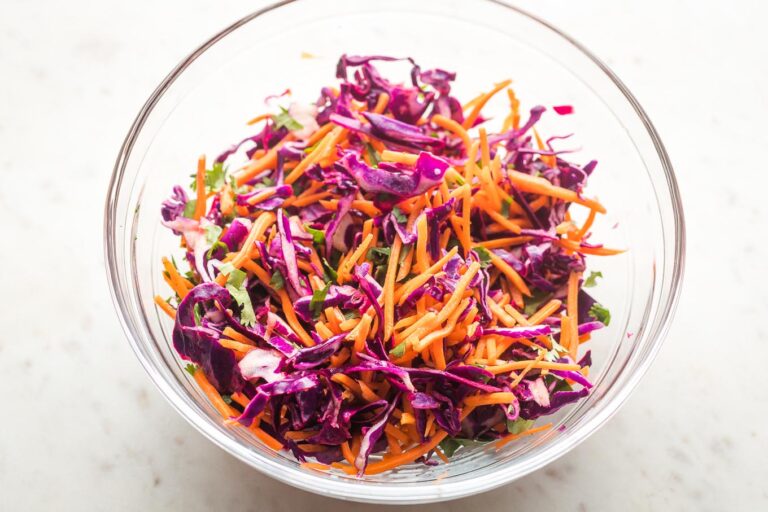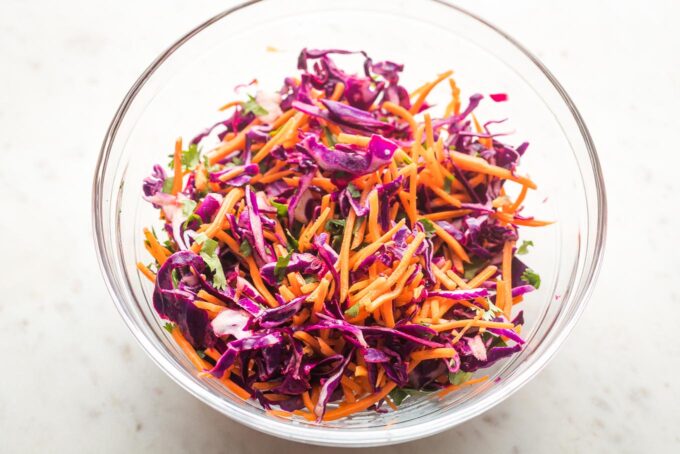 By the time you do this and slice up an avocado, the chickpeas should be nice and crispy. If they're crisping up too quickly, you can always turn down the heat or sprinkle 1-2 teaspoons of water on top, which will sizzle away quickly but prevent the chickpeas from getting too dry.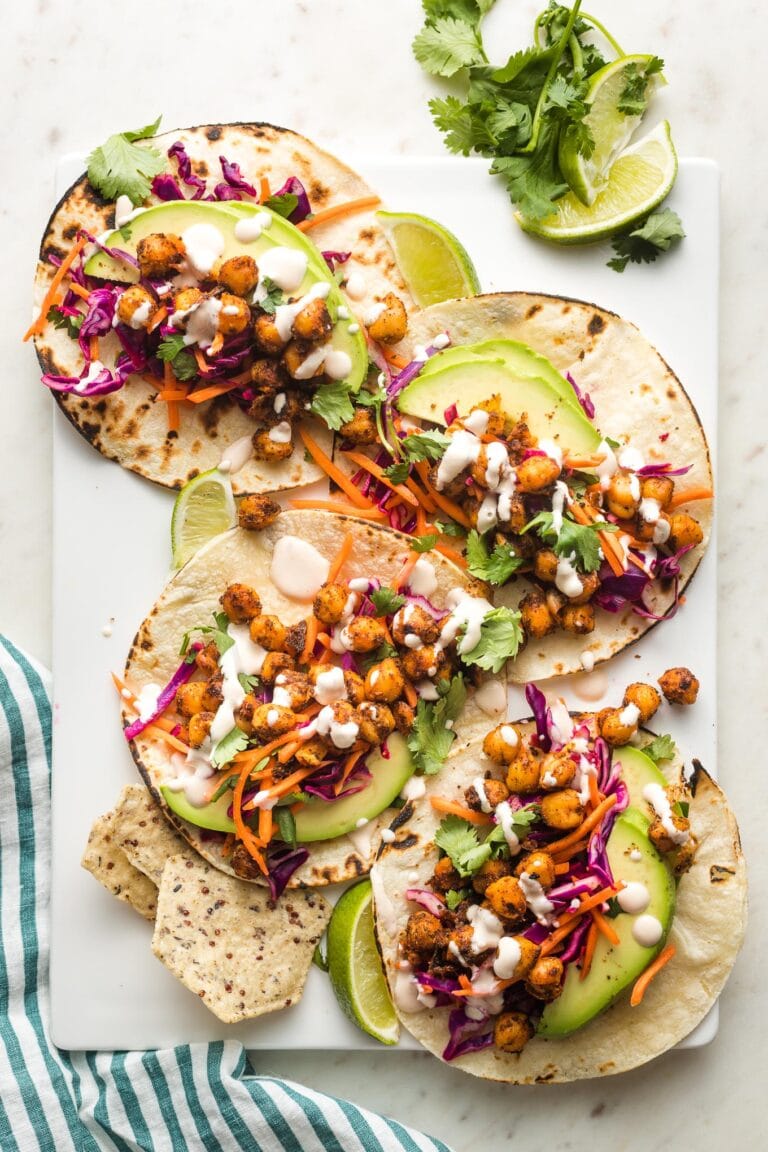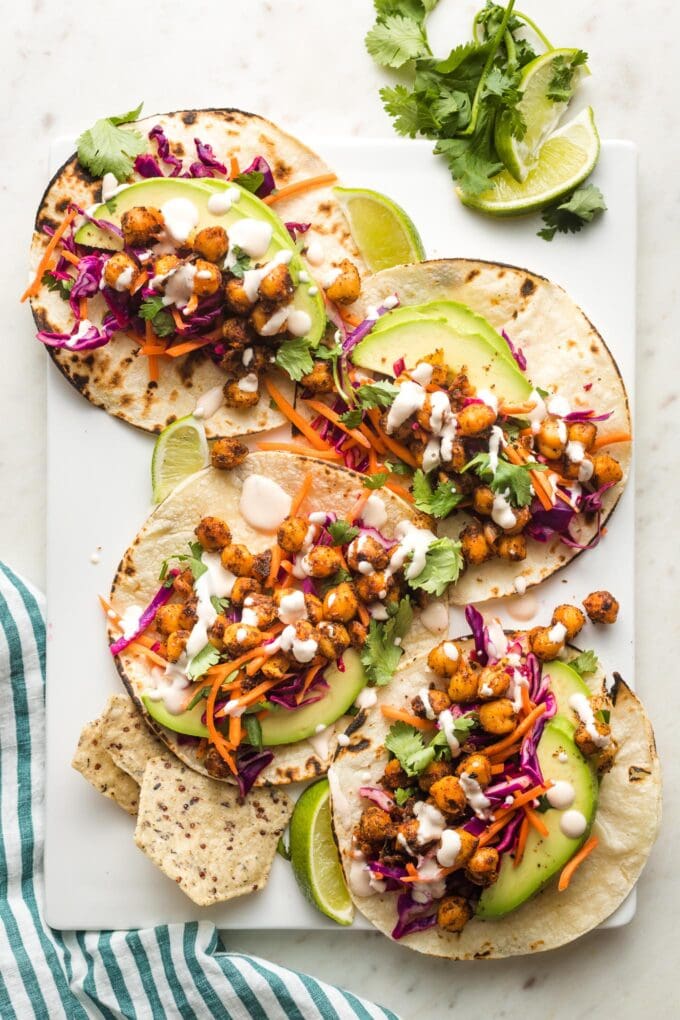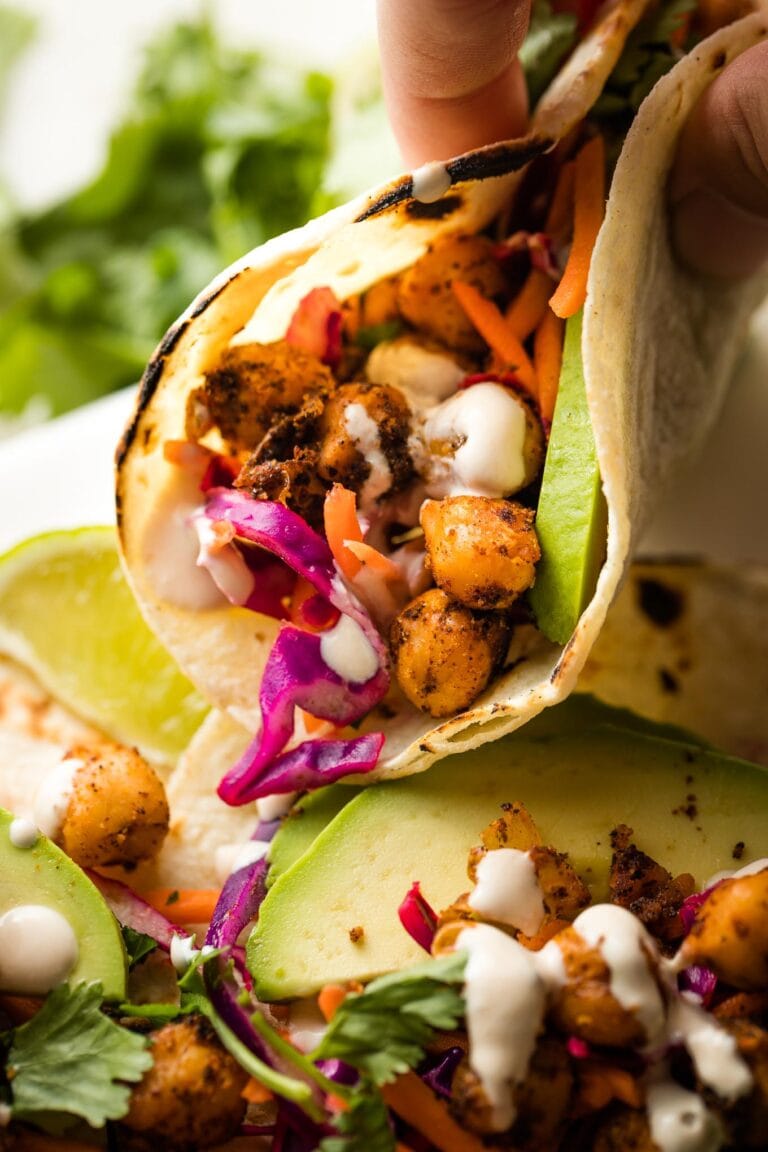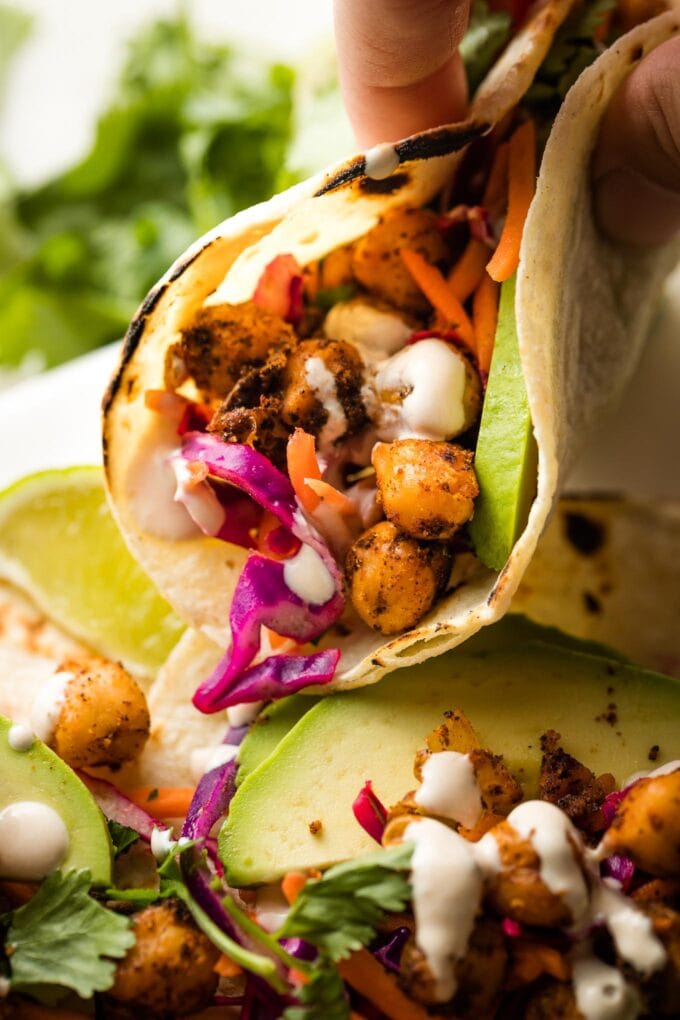 More topping ideas
We love these tacos best as described, but if you're not feeling that for any reason, crispy skillet chickpeas also go well with other taco toppings.
Shredded lettuce
Pico de gallo or other salsa
Sliced jalapenos
Cilantro or green onions
Pickled red onion
Sriracha
More easy taco recipes
If you're looking for more meatless options, you'll love these simple black bean tacos and this version with added sweet potato. Don't mind meat sometimes? Try filling them with our favorite Instant Pot ground beef, homemade barbacoa, skinny Baja chicken, or shrimp with green chili adobo sauce.
If you try these chickpea tacos, don't forget to rate the recipe and leave a comment below. I love hearing how recipes turn out in your kitchen, and it helps other readers, too.
You can also FOLLOW me on PINTEREST, INSTAGRAM, FACEBOOK, and TWITTER for more great recipes and ideas!
Crispy Chickpea Tacos with Sunset Slaw
Easy, healthy, and delicious! Quick crisped and seasoned chickpeas are topped with a vibrant, crunchy slaw and creamy chipotle sauce for a vegetarian taco everyone enjoys.
Ingredients
Chickpeas
2 tablespoons olive oil
2 (15 ounce) cans chickpeas drained and rinsed
2 teaspoons ground cumin
2 teaspoons chili powder
1 teaspoon smoked paprika
1 teaspoon kosher salt
1/8 teaspoon cayenne pepper
6-8 cranks freshly-ground black pepper
Slaw
1 and 1/4 cups shredded red cabbage
1 cup shredded carrot
2-3 tablespoons chopped fresh cilantro
juice of 1/2 lime
1/2 teaspoon kosher salt
Crema
1/3 cup sour cream or Greek yogurt see notes for vegan substitution
juice of 1/2 lime
1-2 teaspoons adobo sauce optional, see note
1-2 teaspoons water just enough to thin the sauce as desired
1/4 teaspoon kosher salt
Serving
tortillas charred or warmed
sliced avocado
extra lime wedges
Instructions
Warm olive oil in a medium skillet over medium heat. Add chickpeas, then sprinkle cumin, chili powder, paprika, salt, cayenne, and black pepper on top. Stir to combine and coat chickpeas evenly, then cook for 8-10 minutes, stirring occasionally, until the chickpeas turn crispy and golden.

Toss slaw ingredients together in a medium bowl. In a separate small bowl, whisk together sour cream or Greek yogurt, lime juice, adobo sauce, and salt. Add water a little bit at a time until the sauce is as thin as you want it.

Start with charred or warmed tortillas and layer on chickpeas, slaw, and sauce. Top with avocado slices and serve with extra lime wedges or other toppings, as desired.
Notes
Vegan option: Use a plain coconut yogurt in place of the sour cream or Greek yogurt.
Adobo sauce: Is most easily found in a small can accompanying chipotle chili peppers, which you can usually find near other Mexican foods in major grocery stores. If you don't have any, leave it out and stir 1/2 teaspoon chili powder into the sauce, instead.
Recipe: Chickpea seasoning adapted from Macheesmo; slaw adapted from Smitten Kitchen Everyday by Deb Perelman.
Yield and nutrition: This yields approximately 4 medium tacos. Nutritional estimate is per 2 generous tacos, or 1/4 of the recipe, but will vary depending on the type of tortillas and other toppings used.
Storage and repurposing: Any leftover chickpeas will keep in the fridge for about a week; in addition to being the base of spur-of-the-moment leftover tacos, they make a great snack on their own, or, slightly mash them with the back of a fork, and use as a simple dip or topping for nachos. Slaw can be kept up to 2 days in the fridge but is easy and best to remake fresh.
Nutrition Estimate
Calories: 110 kcal, Carbohydrates: 8 g, Protein: 3 g, Fat: 8 g, Saturated Fat: 1 g, Cholesterol: 1 mg, Sodium: 1286 mg, Potassium: 262 mg, Fiber: 2 g, Sugar: 3 g, Vitamin A: 6251 IU, Vitamin C: 18 mg, Calcium: 61 mg, Iron: 1 mg
Did you make this recipe?
Leave a review below, then snap a quick picture and tag @nourishandfete on Instagram so I can see it!