Sweet Potato Black Bean Tacos
Whip up these chili-spiced sweet potato black bean tacos for a savory, fun, super healthy dinner! Ready in about 30 minutes, naturally vegan, and easy to finish with your favorite toppings.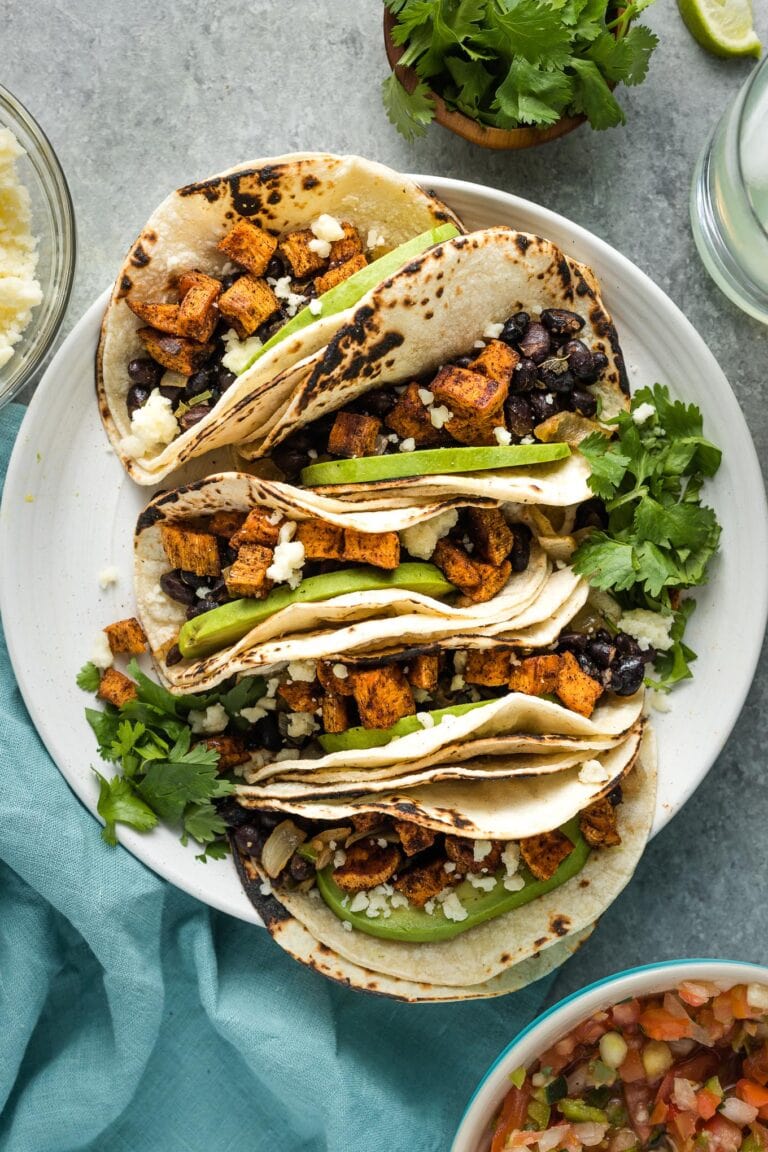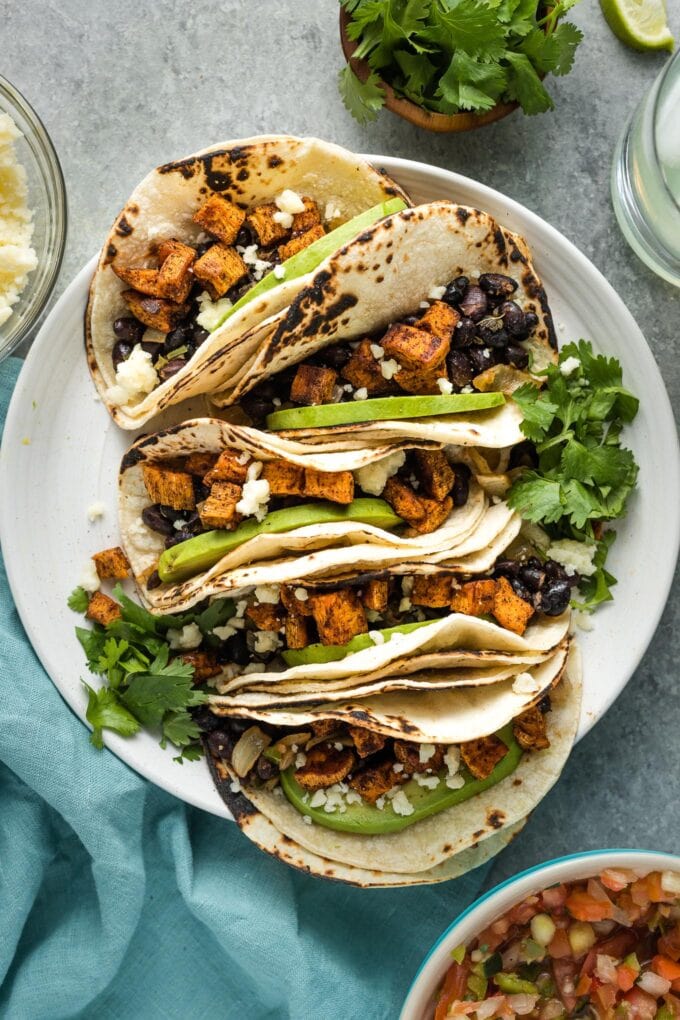 I've been trying to perfect a method for making tacos with sweet potatoes and black beans pretty much since we began to consciously seek out more meatless meals. There are dozens of recipes combining the two, but the flavor and texture was never quite right — until now!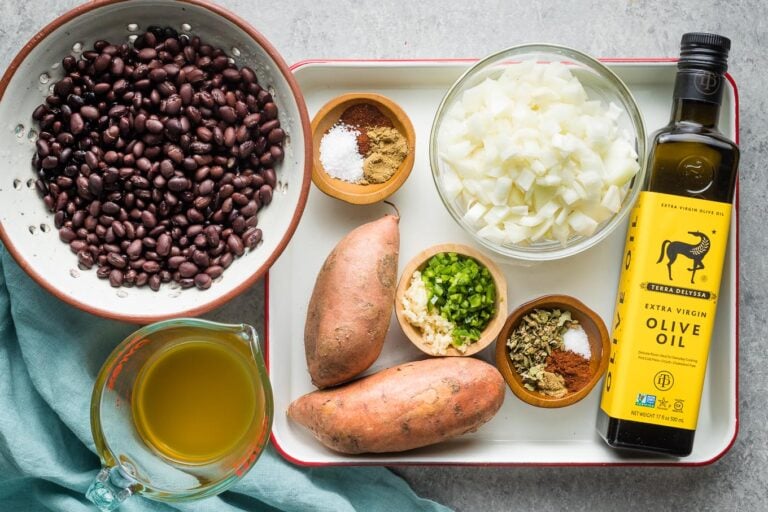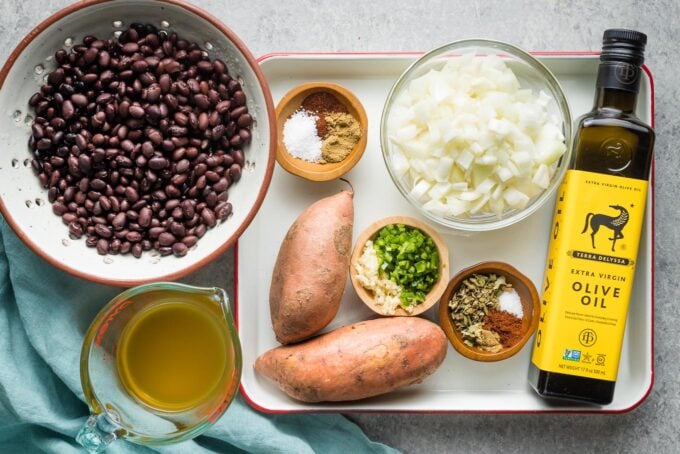 What you'll need to make sweet potato black bean tacos
Sweet potatoes: 2 medium taters, peeled and chopped into 1/2-inch pieces. Chop the potatoes small and even to ensure they roast quickly and at the same rate.
Canned black beans: one standard 15 ounce can, drained and rinsed.
Onion: yellow onion is our go-to; white or red work great, as well.
Jalapeno pepper.
Seasonings: garlic, chili powder, cumin, kosher salt, and oregano. Ancho chili powder and Mexican oregano add an extra element of flavor if you have them on hand, but the "regular" versions of both work just fine.
Chicken or vegetable broth. You can also use water in a pinch.
Olive oil.
Corn or flour tortillas and toppings to serve. Both the sweet potatoes and black beans are super flavorful, so you can keep the toppings simple. I usually serve these with pico de gallo or another salsa, sliced avocado, and crumbled Cotija.
Related: Sweet Potato Black Bean Chili
How to make them
What makes this recipe different? Roasting the sweet potatoes yields the perfect texture — slightly crisp on the outside, tender inside — and saves you the considerable annoyance of monitoring them in a skillet. Chili powder and cumin balance their natural sweetness.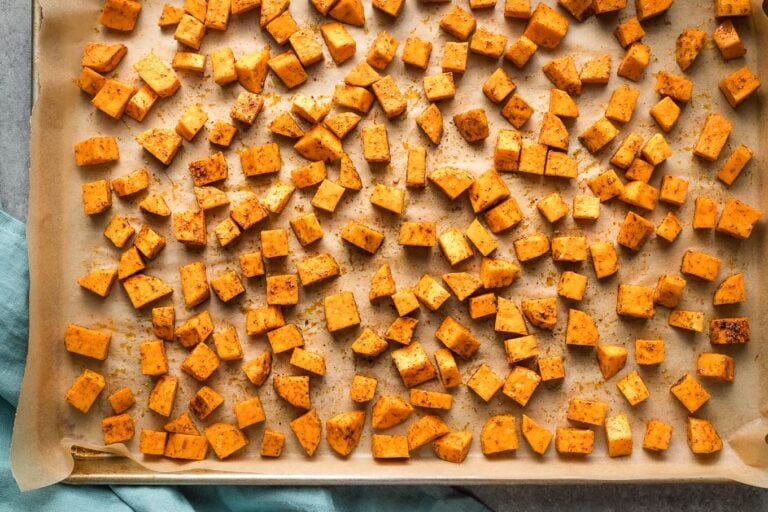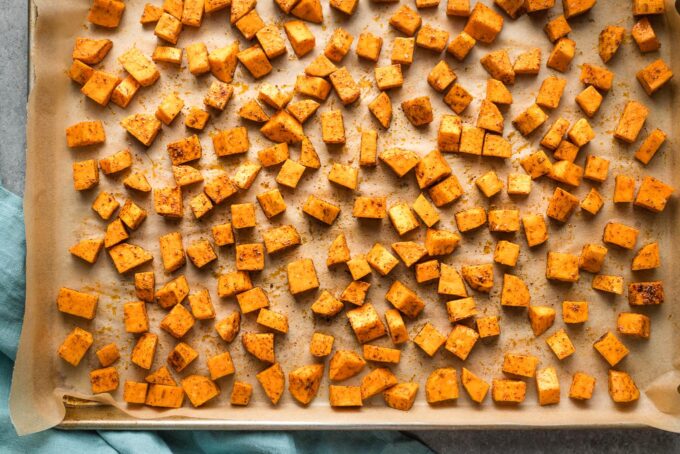 While the oven does the heavy lifting on the potatoes, you'll have time to quickly season the black beans. No blandness here: a few simple spices make them sing. Best of all, everything gets done at about the same time, with a few spare minutes to prep tortillas and toppings.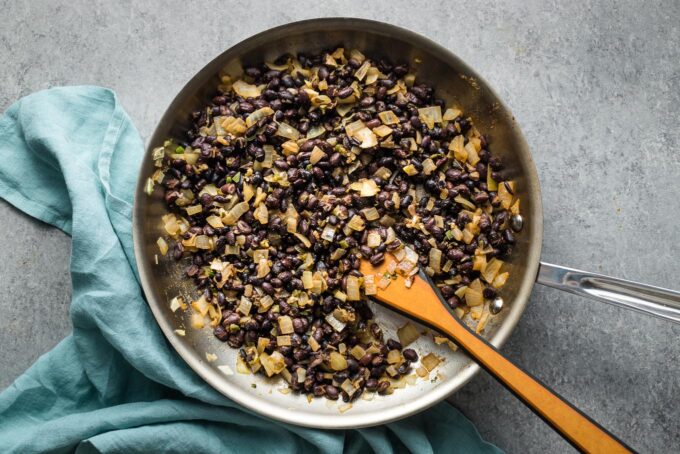 Serving suggestions
Roasted sweet potatoes and black beans make a great base for a taco bar. Simply set out a stack of warmed tortillas, both fillings, and your toppings of choice, and let people walk down the assembly line.
If you're feeding a crowd, start things off with chips and a skillet full of chipotle street corn dip. Everyone will rave about it as a starter, and you can add the remaining dip to the taco bar as an extra topping.
If you want to add a side dish, try a simple Mexican salad or cilantro lime rice.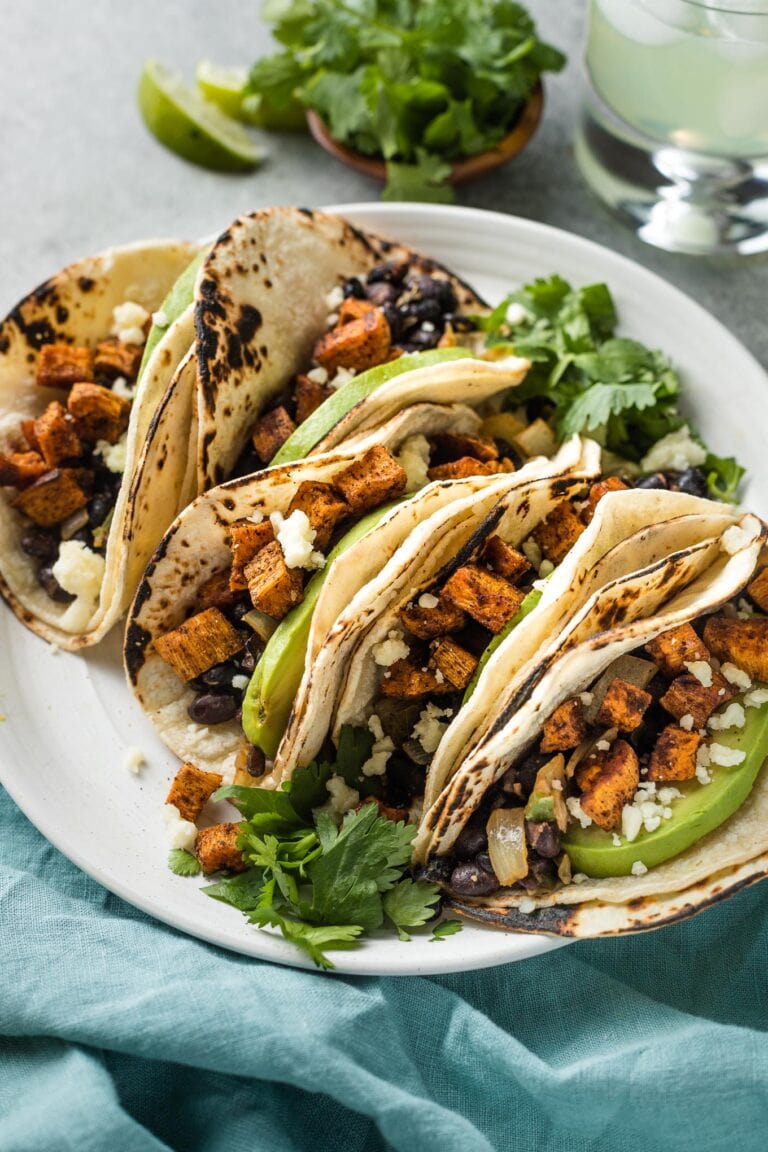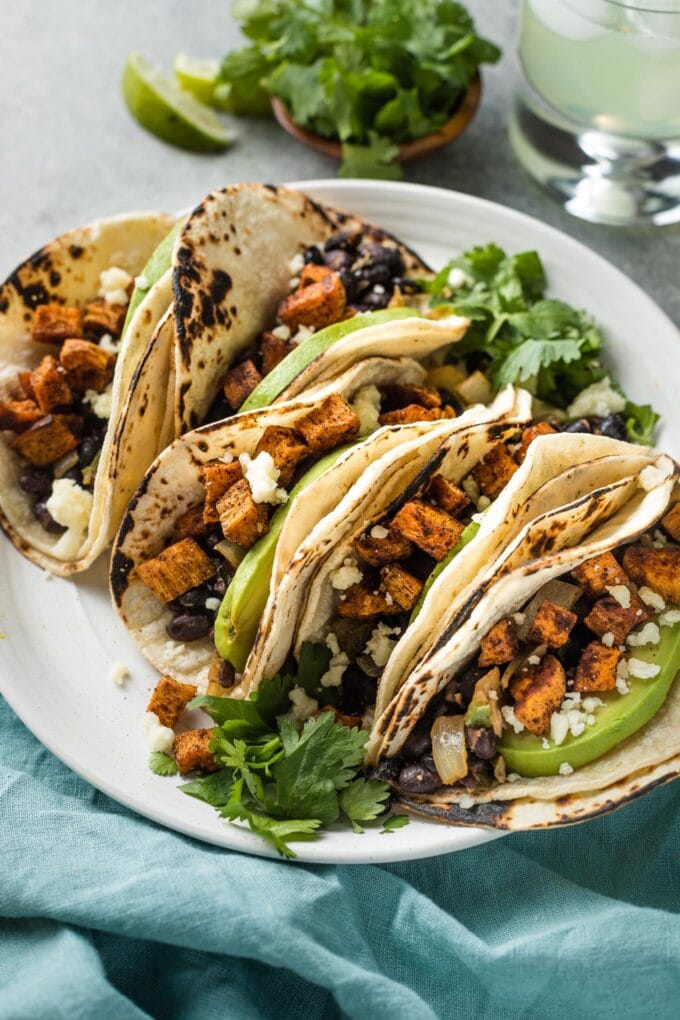 More taco recipes
You can also FOLLOW me on PINTEREST, INSTAGRAM, FACEBOOK, and TWITTER for more great recipes and ideas!
Sweet Potato Black Bean Tacos
A delicious and super healthy dinner! Ready in about 30 minutes, naturally vegan, and easy to finish with your favorite toppings.
Ingredients
Sweet Potatoes
2 medium sweet potatoes peeled and cut into 1/2-inch cubes
2 tablespoons olive oil
1 teaspoon chili powder
1/2 teaspoon ground cumin
1/2 teaspoon kosher salt
Black Beans
1 tablespoon olive oil
1 small yellow onion diced
2 cloves garlic minced
1 jalapeno chili stemmed, seeded, and chopped
1 15 ounce can black beans drained and rinsed
1/4 cup chicken or vegetable broth
1/2 teaspoon kosher salt
1/2 teaspoon ground cumin
1/2 teaspoon oregano preferably Mexican oregano
1/4 teaspoon ancho or regular chili powder
For Serving
flour or corn tortillas
salsa
Cotija
avocado
Instructions
Preheat the oven to 425 degrees F. Line a large rimmed baking sheet with parchment paper.

Start the sweet potatoes. Combine them with the olive oil, chili powder, cumin, and salt in a bowl. Toss well. Spread potatoes in a single layer on the baking sheet, leaving space in between them. Roast for 30 minutes, using a spatula to flip them halfway through.

While the sweet potatoes roast, prep the beans. Warm olive oil in a skillet over medium-high heat. Add onions and cook for 4-5 minutes. Add garlic and jalapeno; cook 30-60 seconds more, just until fragrant. Add beans, broth, salt, cumin, oregano, and chili powder. Reduce heat to medium and simmer for 6-8 minutes, until the beans are tender and the liquid mostly absorbed. Reduce the heat more if it's bubbling too vigorously, and add another splash of broth if the beans start to look very dry.

Assemble tacos with warmed tortillas, sweet potatoes, beans, and other toppings as desired. Enjoy!
Notes
This recipe yields approximately 8 small tacos, and the nutritional information is an estimate based on the filling for 1. Tortillas and toppings vary widely in nutritional content and for that reason have not been included.
Nutrition Estimate
Calories: 156 kcal, Carbohydrates: 23 g, Protein: 5 g, Fat: 6 g, Saturated Fat: 1 g, Sodium: 572 mg, Potassium: 396 mg, Fiber: 6 g, Sugar: 3 g, Vitamin A: 8109 IU, Vitamin C: 7 mg, Calcium: 43 mg, Iron: 2 mg
Did you make this recipe?
Leave a review below, then snap a quick picture and tag @nourishandfete on Instagram so I can see it!