Skinny Chipotle Street Corn Dip
The ultimate skinny version of Mexican street corn dip, with charred sweet corn, the earthy heat of chipotle chilis, and tangy Greek yogurt!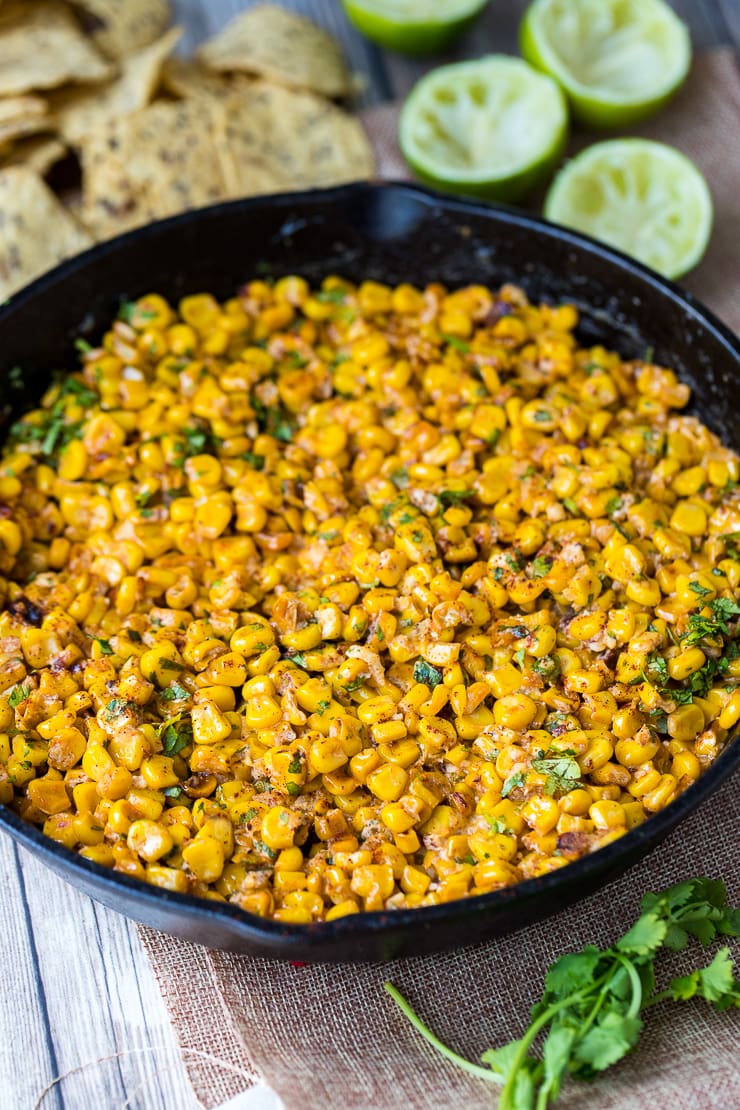 I have wanted to share this forever, and could write you a long story about how I adapted the recipe over time and love it and made it for this party, then that one, etc. etc.
But, here's the deal – literally as I type this, movers are circulating my house, packing our last remaining things into boxes and plotting the best way to stack those boxes into crates for the long journey across the Atlantic to our "new/old" house in Virginia.
So I'm going to keep this one pretty quick!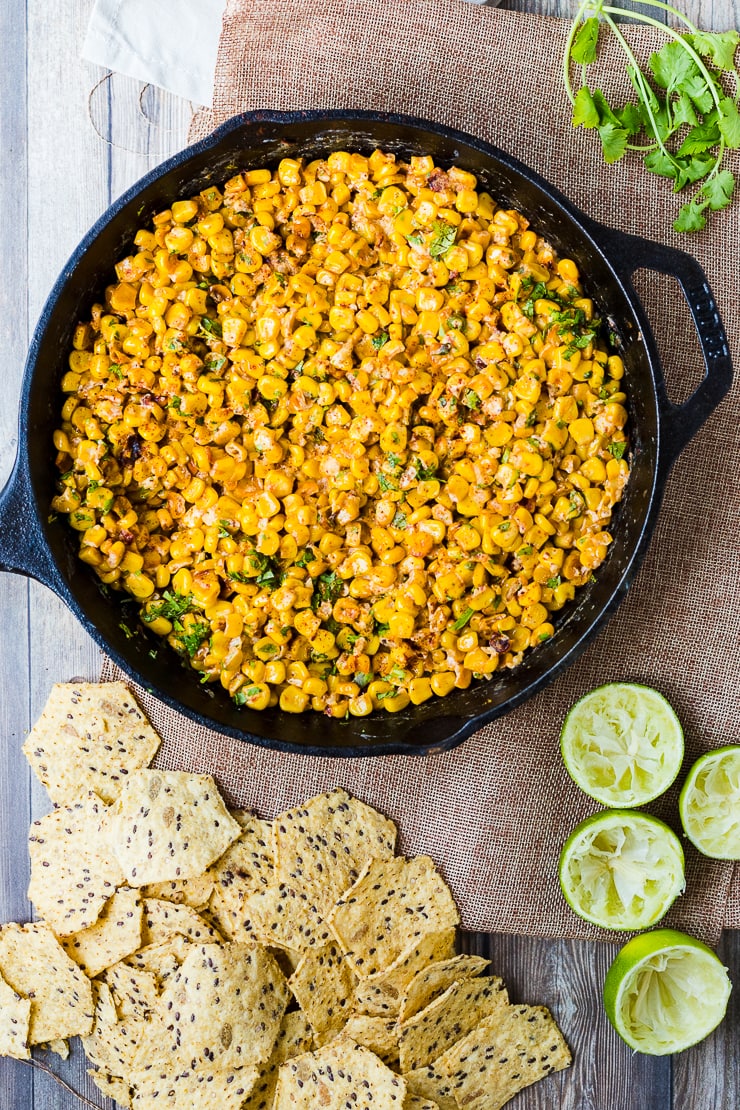 I might have been the last person to explore this world of Mexican street corn, and I have to admit that I am really partial to enjoying this glorious phenomenon in dip form. Easy, less messy than a dripping corn-on-the-cob, and, well, who doesn't love a good party dip?
Not that you need to save this for parties. In my book, it would also make an excellent dinner. 🙂
Simple Tips For Making Chipotle Street Corn Dip
You can make this with fresh, frozen, or canned corn. I have done all of these depending on circumstances, and honestly, I could not tell the difference. Normally I'm all "fresh is best," and certainly this is a great recipe for late summer corn, but hey, use what you've got!
Once you add the corn to the skillet, let it cook for a few minutes without stirring it! This is how you get some char.
Most street corn dips use mayonnaise, but I honestly hate the stuff and rarely keep it around. We do, however, always have Greek yogurt, and I've yet to find a recipe in which I couldn't just swap in yogurt one-for-one to replace mayo. This one is no exception. A thick, plain Greek yogurt adds the perfect creaminess to pull the dip together, not to mention a great tang!
Substitute For Cotija Cheese
OK, big confession time. I have never actually made this with Cotija cheese!! I feel like a bit of a fraud. I know that is the traditional ingredient and almost certainly the best, but I have never once seen Cotija or anything similar for sale in Belgium. I'm really excited to try some when we move back to the US!
However, if you are looking for a Cotija substitute … I encourage you to try Parmesan! I know a lot of recipes suggest swapping in feta, but honestly, I find the taste just … off for Mexican dishes like this. Maybe it's in my head? I don't know.
But I LOVE the way Parmesan tastes in this – sharp and salty, just right to play off of the lime juice and earthy chipotles. And based on the number of times I've been asked for this recipe, I'm not alone. So, if you can't or don't want to hunt down Cotija, just try some good old Parm! SO good.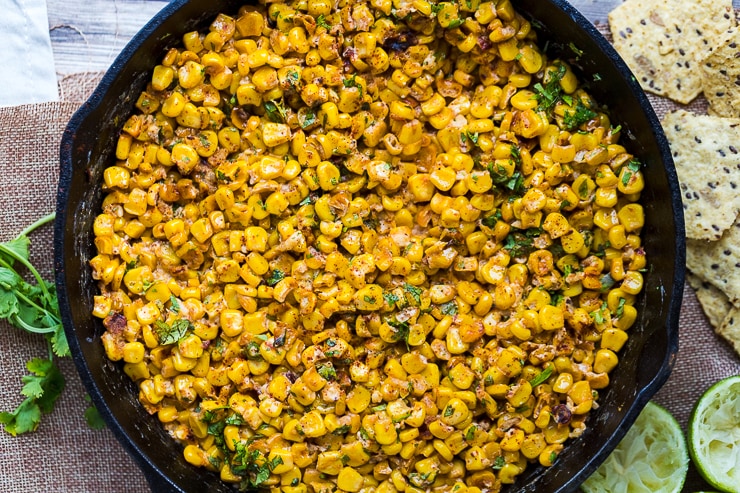 OK, that's it, even there I wrote way more than I intended, but hopefully those tips help you out if you decide to treat yourself/your guests to a big skillet of this deliciousness. Enjoy, and wish me luck as we head "home" to the US! Eek! 🙂
More Mexican and Tex-Mex Appetizers You'll Love:
Enjoy! If you make this Skinny Chipotle Street Corn Dip or any other recipe from Nourish and Fete, please rate it and leave a comment below. We love hearing from you, and other readers will benefit from your experience!
Skinny Chipotle Street Corn Dip
The ultimate skinny version of Mexican street corn dip, with charred sweet corn, the earthy heat of chipotle chilis, and tangy Greek yogurt!
Ingredients
2 tablespoons unsalted butter
2 cloves garlic – minced
1 teaspoon chili powder
3 cups corn kernels – fresh, frozen, or canned
1 chipotle chili pepper in ancho sauce – seeded and diced
1/4 cup Greek yogurt
1/4 cup crumbled Cotija cheese (can sub Parmesan)
generous handful chopped fresh cilantro leaves
juice of 1 lime
kosher salt – to taste
Instructions
Set a large skillet over medium-high heat, and melt butter until it foams and slightly subsides. (I love using a cast-iron skillet to get a nice char on the corn.)

Add garlic and chili powder, and cook until fragrant, about 1 minute. Add corn kernels and chopped chipotle, stirring to coat evenly in butter. Let the corn cook for a few minutes until the bottoms of the kernels are slightly charred, then toss and let char again. Repeat until cooked through and slightly blackened, 8-10 minutes total.

Remove pan from heat, and stir in Greek yogurt, cheese, cilantro, and lime juice. Season with kosher salt to taste, and serve immediately.
Notes
I do especially love the texture and heat of this when served immediately, but I'm going to be honest – it reheats pretty darn well, also. I mean, if you have a bit of this in the fridge and some chips in the pantry (or, uh, just a spoon) you'd be crazy to let it go to waste. 🙂
Adapted from Closet Cooking via Damn Delicious.
Nutrition Estimate
Calories: 91kcal, Carbohydrates: 11g, Protein: 2g, Fat: 4g, Saturated Fat: 2g, Cholesterol: 12mg, Sodium: 173mg, Potassium: 98mg, Fiber: 1g, Sugar: 2g, Vitamin A: 210IU, Vitamin C: 1.2mg, Calcium: 34mg, Iron: 0.4mg
Did you make this recipe?
Leave a review below, then snap a quick picture and tag @nourishandfete on Instagram so I can see it!
This post contains affiliate links. As an Amazon Associate, I earn a commission (at no additional cost to you) from qualifying purchases made by clicking these links. As always, all recommendations and opinions are my own.