Try this easy recipe for slow cooker beef barbacoa, and your family will be raving that it's every bit as good as Chipotle!
There is no better feeling than making a meal your family truly enjoys, right? Sadly for us family cooks, it can be all too rare to hear praise at the dinner table, even when it's well-deserved.
But, guaranteed, if you serve up this beef barbacoa, you will be rewarded with oohs and aahs and, best of all, more pleases. That's what happens when you turn your kitchen into your very own little Chipotle!
Better yet, this recipe is easy to make in your slow cooker or Crockpot. And it's easy to make a huge batch, so you can store the leftovers and repurpose them for other easy meals over the course of several days. Or freeze it! Win-win-win.
What type of beef is barbacoa?
Although Wikipedia will tell you barbacoa is often prepared with parts from the heads of cattle, such as the cheeks, I personally prefer to use beef brisket or chuck roast. Brisket can be pricey but is wonderfully tender. It's definitely worth watching for when it goes on sale!
Fun fact I learned while researching this post: in northern Mexico, barbacoa is often prepared with goat meat!
How to make beef barbacoa in a slow cooker
You'll love this recipe, because it really is so simple!
Take your meat (this is a brisket pictured here). You want a little bit of fat on it, as shown here, but if there are large pieces of fat, cut them off;
Cube the meat into large-ish chunks, and sear them for a couple minutes on each side in a large skillet;
Add meat to the slow cooker;
Add chiles, broth, spices, and seasoning;
Give it all a stir; and,
Let it cook!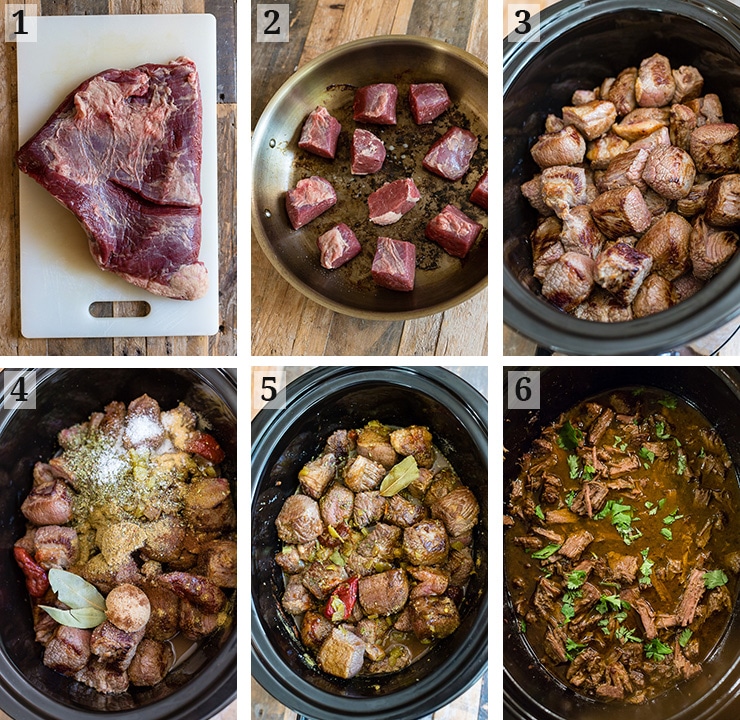 When the meat is fully cooked, it will be very easy to shred just by pulling each cube apart gently with two forks. You can either do this right in the slow cooker, or remove the pieces of meat to shred on a cutting board.
It's fine to cook this on high to save time, but I've made it both ways and always find it a bit easier to shred when it cooked longer on the low setting. So go ahead, set it and forget it.
Bonus – your house is going to smell incredible!
Is beef barbacoa spicy?
If you use 2 chipotle chiles per 4 lbs. of beef, and a moderate amount of other seasoning, your barbacoa will be flavorful but not very spicy. This is a good level to start with if you're serving children who are sensitive to spicy foods.
You can use 3 or even 4 chipotles if you want to turn up the heat!
More tasty Mexican recipes
How to serve beef barbacoa
Tacos
Burritos
Enchiladas
Nachos
Tostadas
… or just throwing forkfuls directly into your mouth 🙂
Truly, the options are endless. I like to make a really big batch – this doubles easily. Then we can have tacos one night, enchiladas another – bonus if I've already got some sauce on hand! And I am always excited to serve this over chips for "nachos for dinner" on a family movie night. That rarely elicits any complaints!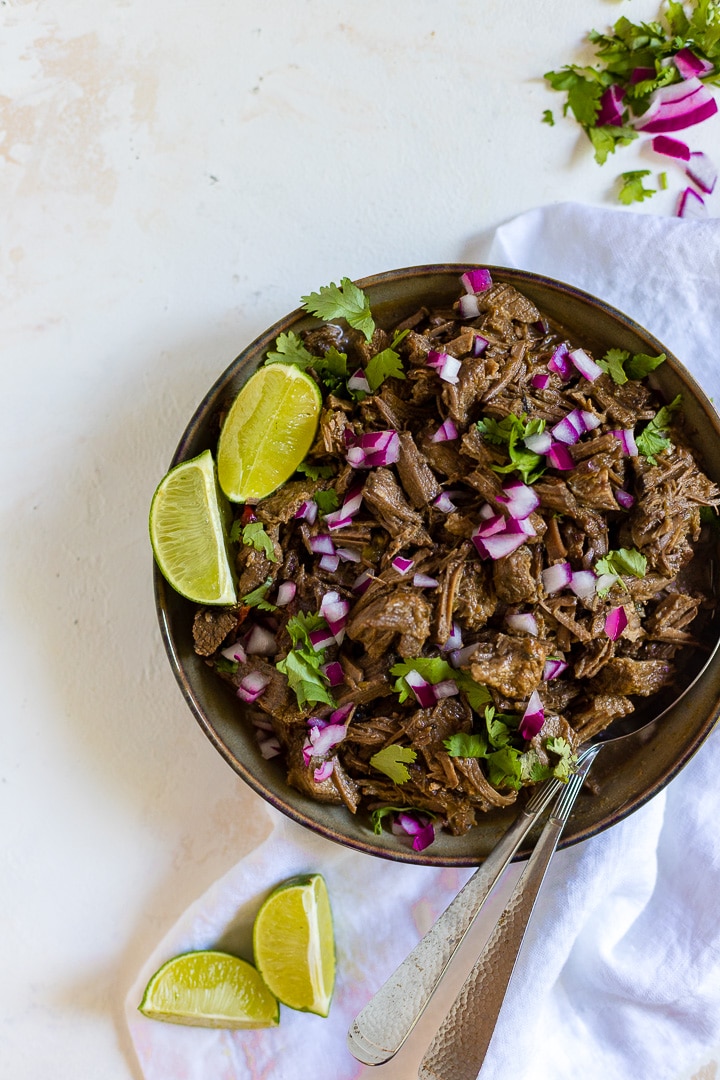 If you try this slow cooker beef barbacoa or any other recipe on the blog, please rate the recipe and leave a comment below. I love hearing from you, and other readers will benefit from your experience!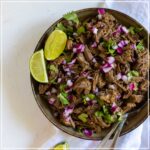 Print
Easy Slow Cooker Beef Barbacoa
The best easy slow cooker beef barbacoa recipe!
Ingredients
4

lbs

beef brisket or chuck roast

cooking spray

2-3

chipotle chilis in adobo sauce

4

oz

can mild chopped green chiles

2/3

cup

beef broth

juice of 2 limes

2

tablespoons

brown sugar

1

tablespoon

Worcestershire sauce

1

tablespoon

cumin

2

teaspoons

oregano

1

teaspoon

garlic powder

1

teaspoon

kosher salt

1/2

teaspoon

ground black pepper

1/4

teaspoon

ground cloves

2

bay leaves
Instructions
Trim most, but not all, the fat from the beef. Cut the meat into large pieces, 2-3" each.

Lightly coat a large skillet with cooking spray and set over medium-high heat. Sear the pieces of beef on all sides, working in batches if necessary to avoid crowding the pan. Transfer seared pieces of meat to the slow cooker.

Add remaining ingredients and stir to combine. Cook over high heat for 5-6 hours or low heat for 8-9 hours. (I prefer low when possible.)

Check the meat; when it's ready, the pieces will be very tender and easily shred with a fork. There should still be a good amount of liquid. Remove the chipotles and bay leaves. Either shred the meat in the slow cooker using two forks, or remove it to a cutting board to shred, then return. Leave the shredded meat in the sauce on the warm function until ready to serve. (It's good to let it rest in the juices for at least 10-15 minutes so the meat soaks up some of it.)

To serve, remove meat with a slotted spoon, adding as much sauce as desired. Use in tacos, burritos, enchiladas, nachos, or more!
Notes
If you desire a slightly smoother, thicker sauce with more heat, puree the chipotles together with all ingredients through the cloves in a blender or food processor before pouring over meat in the slow cooker. I'd still recommend adding the bay leaves separately.

Shredded barbacoa will keep well in the fridge for at least 3 days; simply reheat and serve. I've got a ton in the freezer and will report back on how it tastes and the best way to defrost!
Did you make this recipe?
Leave a review below, then snap a quick picture and tag @nourishandfete on Instagram so I can see it!
Nutrition Estimate
Calories:
374
kcal
|
Carbohydrates:
5
g
|
Protein:
47
g
|
Fat:
17
g
|
Saturated Fat:
5
g
|
Cholesterol:
140
mg
|
Sodium:
624
mg
|
Potassium:
816
mg
|
Sugar:
3
g
|
Vitamin A:
0.7
%
|
Vitamin C:
6.2
%
|
Calcium:
3.6
%
|
Iron:
29.8
%