Strawberry Rhubarb Oat Crumble Bars
Everyone loves these sweet strawberry rhubarb crumble bars! Made with vibrant fruit, wholesome oats, and a generous fruit-to-crumble ratio. Perfectly portable for spring parties, dessert, picnics, and more.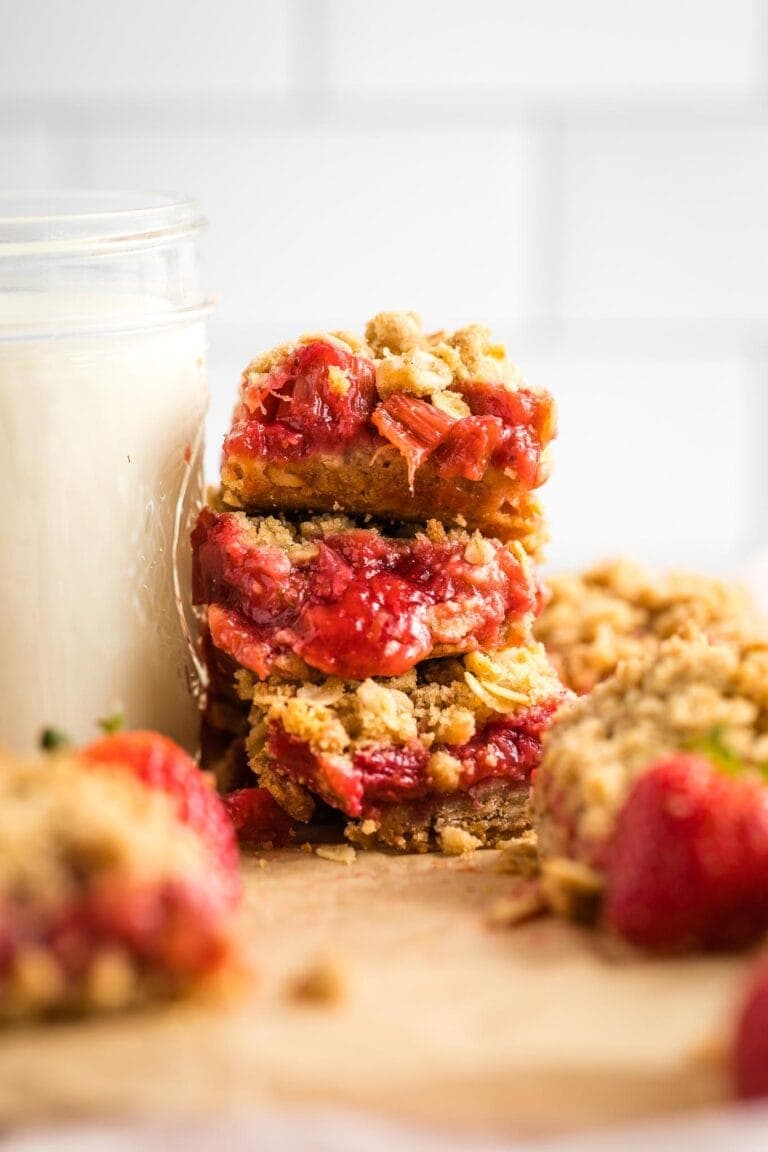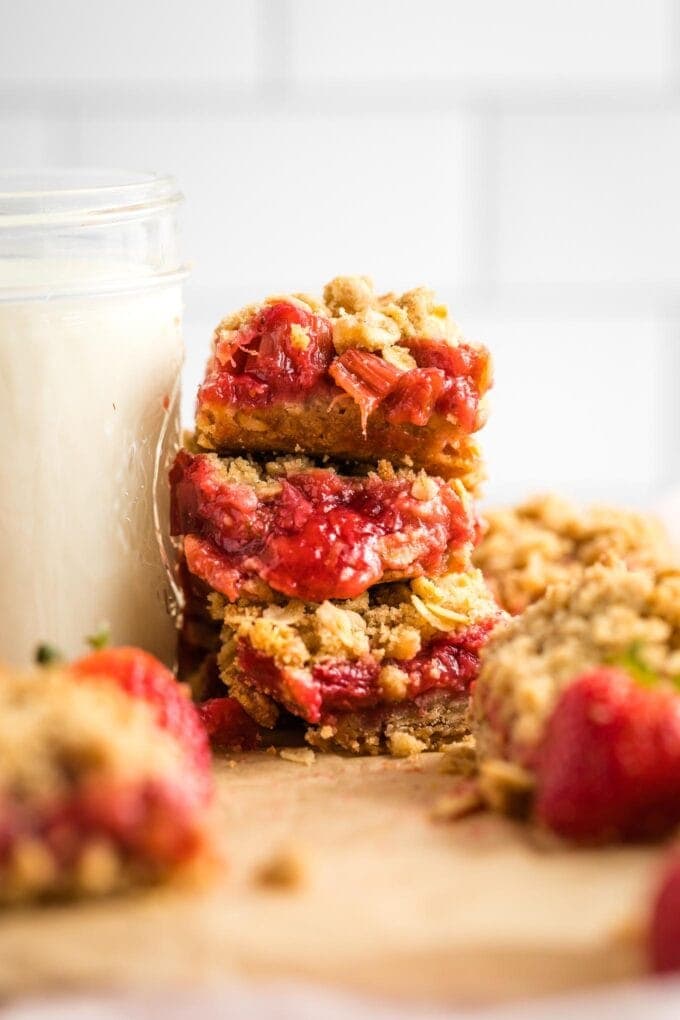 When the weather starts to turn warm, the growing variety of in-season produce is a simple and universal joy. Right alongside rising temperatures, sunshine, and flowers, strawberries and rhubarb, in particular, are sure signs of spring.
Sweet strawberries and tart rhubarb are a classic dessert combination, and these no-fuss bars have been our favorite way to enjoy them ever since we lived in Brussels. Belgian strawberries are famous in the spring, and no trip to the farmers market was complete without picking up a basket!
Read this full guide to spring produce!
What you'll need to make strawberry rhubarb bars
Strawberries: about 2 cups, sliced.
Rhubarb: another 2 cups, sliced into small pieces about 1/2″ thick. Don't worry if you can only find very green or very red rhubarb. Either will work fine in this recipe.
White and brown sugar: A bit of granulated white sugar sweetens the fruit filling, while brown sugar adds flavor and texture to the oat crumble topping.
Old-fashioned oats: be sure to use the "old-fashioned" variety, also often labeled "rolled" oats. The quick-cooking kind will not hold their shape or texture.
Lemon juice: brightens the fruit flavor.
Cornstarch: this is essential to help the fruit filling set up and hold its shape once the bars are baked and cut.
Ginger and cinnamon: don't skimp on these! Each adds subtle depth of flavor to the crumble topping.
Other baking staples: butter, flour, vanilla extract, salt.
How to make them: tips and tricks
Making these strawberry rhubarb crumble bars is simple and straightforward. Start by making the fruit filling in a medium saucepan. Cook it over medium heat until the fruit starts to break down and the released liquid has thickened a bit, as shown on the right.
Meanwhile, make the crumble and press about half evenly across the bottom of a small square baking pan. Cover with the fruit filling, then scatter the remaining crumble on top and bake.
Lining the pan with parchment or foil isn't strictly necessary, but it does make it much easier to remove the bars after baking and get clean cuts.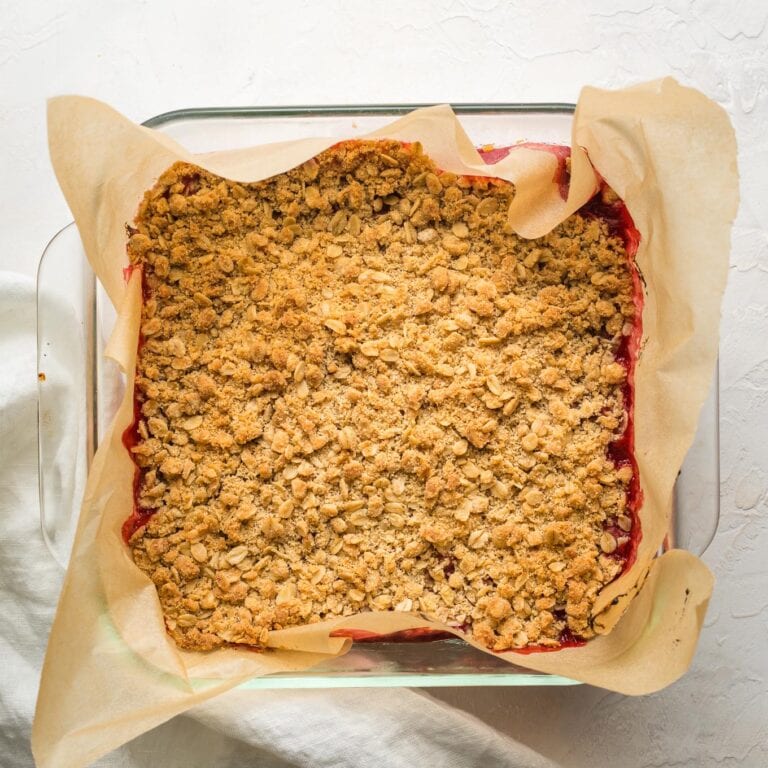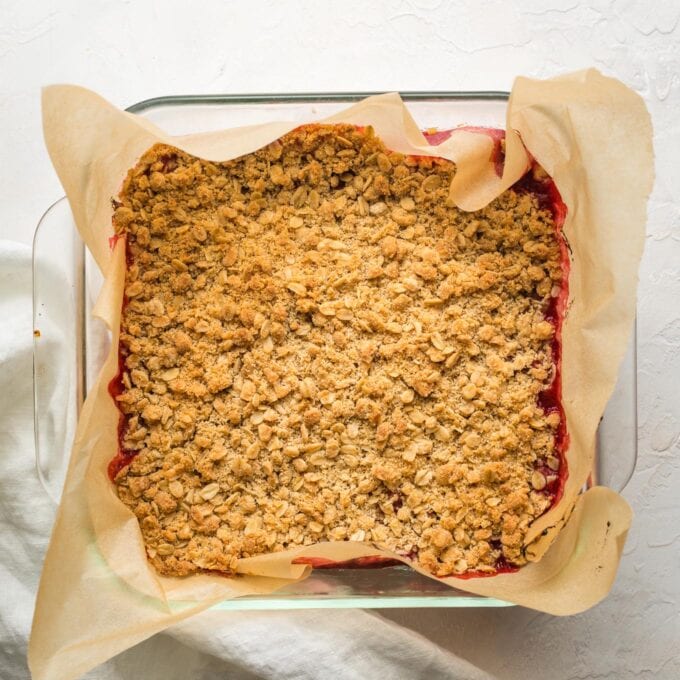 Cooling and storage
These bars definitely need to cool for a few hours before being cut and served, otherwise the filling will run out and you'll have more of a mess than a treat. Plan for about 4 hours to cool at room temperature, or 1-2 hours in the fridge.
Strawberry rhubarb bars keep well in the fridge for 3-4 days. Although we enjoy the texture and taste when they're served slightly cool, they're absolutely fine hanging out at room temperature for several hours. So no worries if you're taking them to a picnic or a potluck!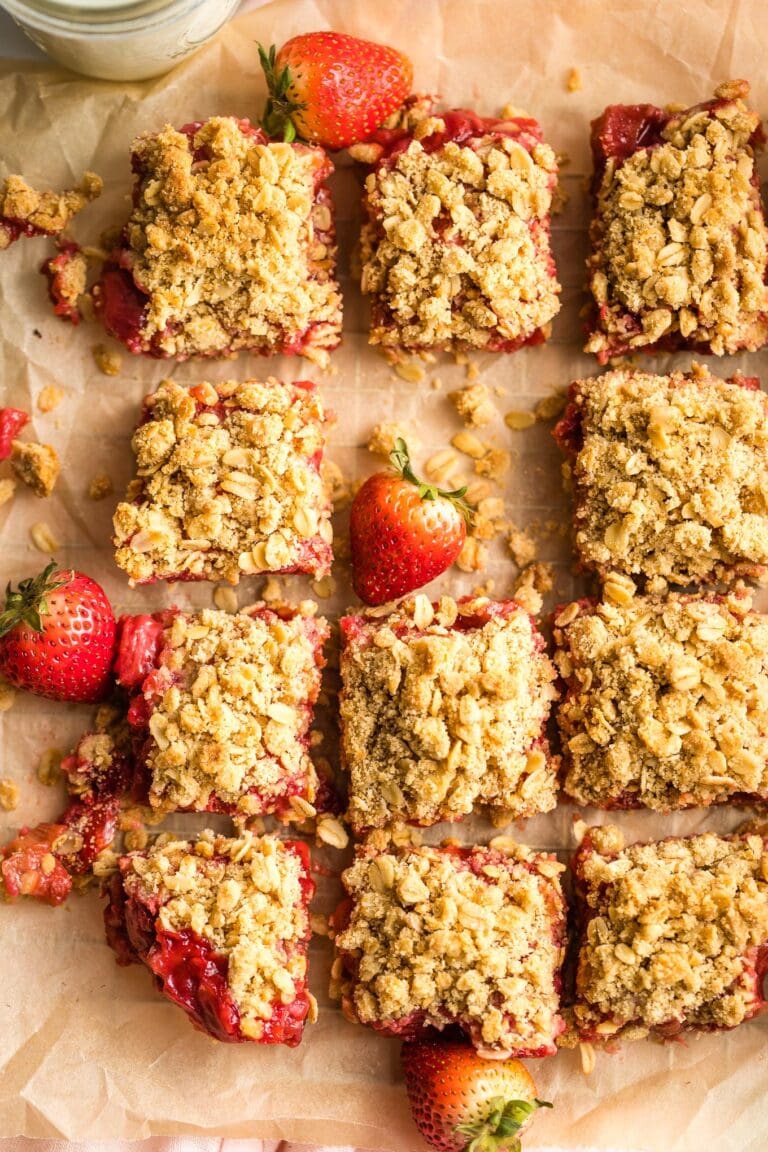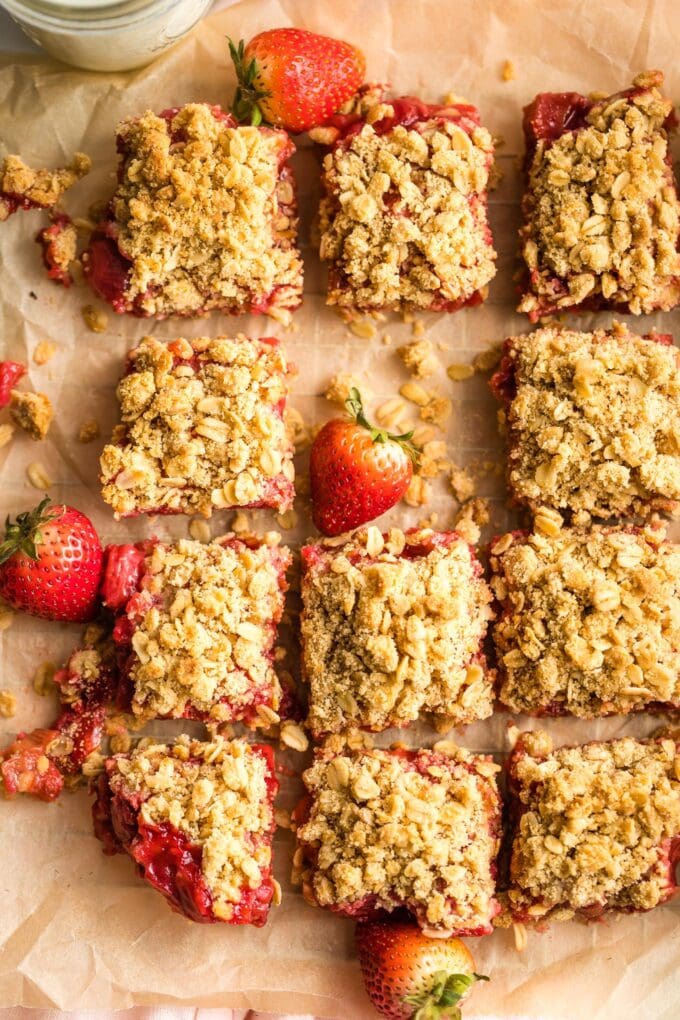 More fruit desserts
You can also FOLLOW me on PINTEREST, INSTAGRAM, FACEBOOK, and TWITTER for more great recipes and ideas!
Strawberry Rhubarb Oat Crumble Bars
Everyone loves these delicious treats! Quick and easy to make, with vibrant fruit, wholesome oats, and a generous fruit-to-crumble ratio. Perfect for spring dessert, parties, potlucks, and more.
Ingredients
Fruit filling
2 cups (280 grams) sliced strawberries
2 cups (220 grams) sliced rhubarb 1/2" slices
1/4 cup (50 grams) granulated sugar
1 tablespoon fresh lemon juice
4 teaspoons (15 grams) cornstarch
1 teaspoon vanilla extract
Crumble topping
6 tablespoons (85 grams) unsalted butter
1 cup (80 grams) old-fashioned oats
3/4 cup plus 2 tablespoons (110 grams) all-purpose flour
1/2 cup (95 grams) brown sugar either light or dark
1/2 teaspoon ground ginger
1/2 teaspoon ground cinnamon
1/4 teaspoon table salt
Instructions
To make the filling, combine strawberries, rhubarb, sugar, lemon juice, cornstarch, and vanilla in a medium saucepan and stir gently. Cook over medium heat for about 8 minutes, until the rhubarb is tender, the strawberries begin to break down, and the juices thicken slightly. Set aside to cool slightly.

Preheat the oven to 375 degrees F (190 C). For easy removal, line an 8" or 9" square baking pan with parchment paper or aluminum foil. (No need if you plan to serve bars straight from the pan.)

To make the crumble, melt butter in a medium microwave-safe bowl. Stir in the oats, flour, brown sugar, ginger, cinnamon, and salt. Press roughly half the crumble mixture tightly and evenly into the bottom of the baking pan.

Spread the fruit filling evenly over the bottom layer, then scatter the remaining crumble mixture over the fruit. (Don't worry if there are gaps in the topping.)

Bake 30-40 minutes, until the fruit is bubbly and the crumble is golden. Let cool in the pan for at least 4 hours at room temperature, or 1-2 hours in the fridge to ensure bars can be removed intact. Cut into squares and serve.
Notes
Bars keep well in the fridge for 3-4 days. They are fine at room temperature for several hours, if you're taking them to a picnic or a potluck.
Nutrition Estimate
Serving: 1 square, Calories: 128 kcal, Carbohydrates: 20 g, Protein: 1 g, Fat: 4 g, Saturated Fat: 2 g, Cholesterol: 11 mg, Sodium: 40 mg, Potassium: 105 mg, Fiber: 1 g, Sugar: 10 g, Vitamin A: 145 IU, Vitamin C: 12.1 mg, Calcium: 26 mg, Iron: 0.6 mg
Did you make this recipe?
Leave a review below, then snap a quick picture and tag @nourishandfete on Instagram so I can see it!
Recipe adapted from Sift & Whisk and Smitten Kitchen.