Mixed Berry Puff Pastry Tart with Mascarpone
This mixed berry puff pastry tart with sweetened mascarpone is super easy to put together and will be the hit of any summer party. Ready in 30 minutes, perfect for July 4th!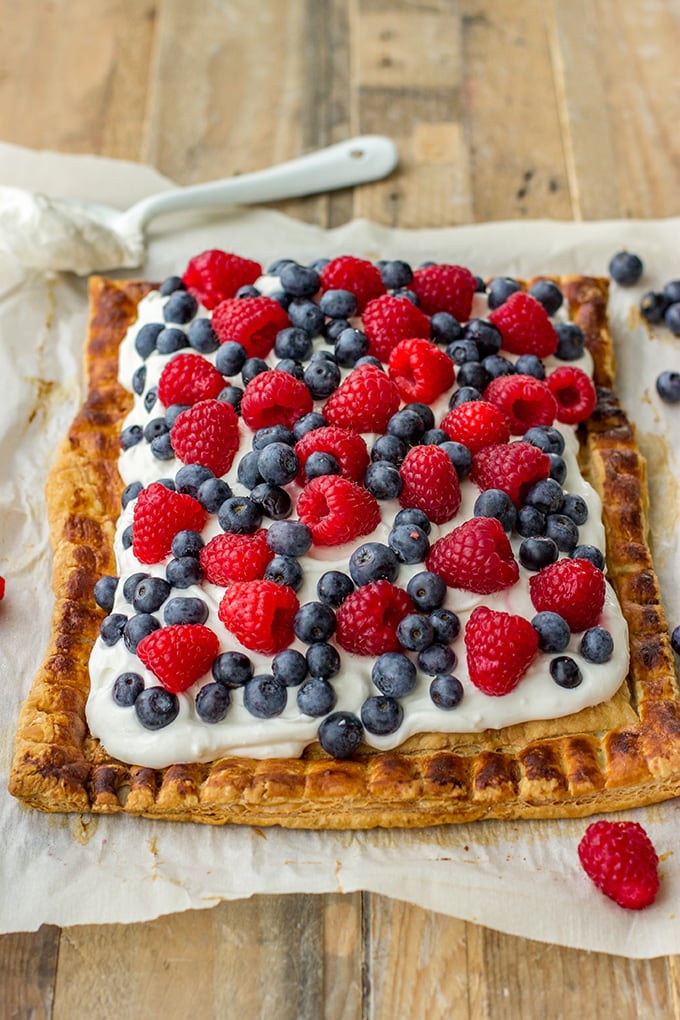 Sometimes, a dessert doesn't require much additional explanation or justification, and I submit that this is one of those times. I've already highlighted the many reasons to be obsessed with summer berries, baking them into strawberry muffins and oat crumble bars, and pureeing them into lemonade.
It was high time for a batch of gorgeous raspberries and blueberries to hang out with some whipped cream and puff pastry, and clearly, they hit it off.
A Quick and Easy Summer Dessert
In my book, the perfect summer foods are delicious, light, simple, and quick. Sides and desserts you can throw together without a lot of time or fuss before your friend's cookout, or while the burgers char on the grill. This mixed berry puff pastry tart checks all those boxes, and looks good while doing it, besides!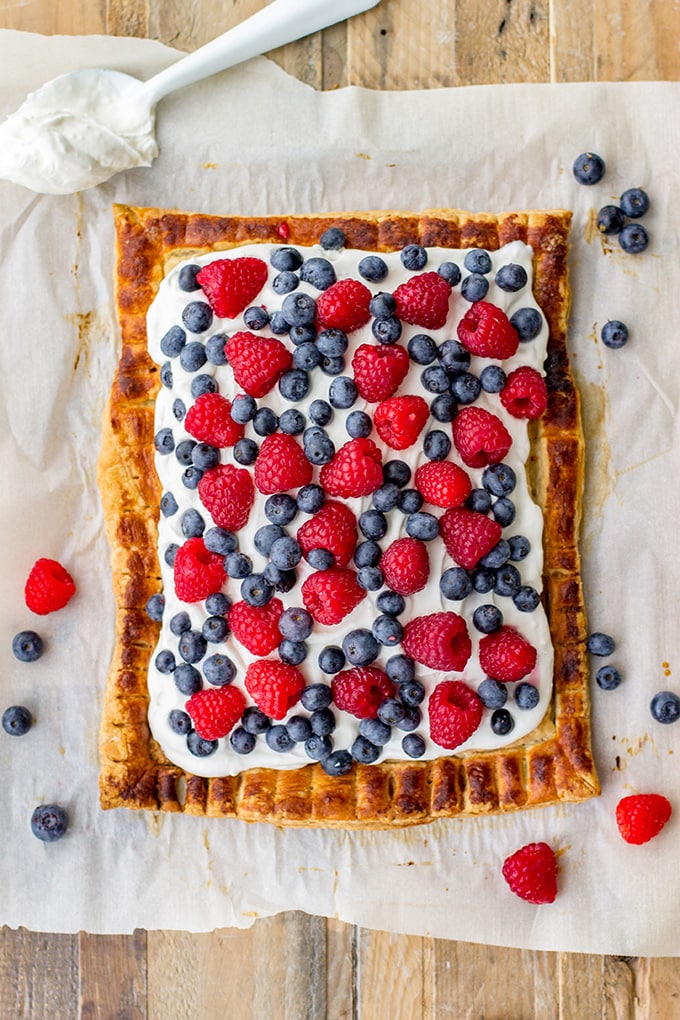 Now I normally emphasize making as much as possible from scratch, but also I live in the real world, with many many things competing to fill the day's 24 hours. So if you ask me, dolling up a package of puff pastry can be pretty darn close to from-scratch baking, and is a worthy life saver for the busy home cook, or just the average person with a lot going on.
(Side note: This is just my $.02, not sponsored in any way. Also, I am interested in trying to make puff pastry from scratch, more out of curiosity than anything else, so if you have any tutorials or tips for this, I'd love to hear them! In the meantime, I'm all about keeping it simple.)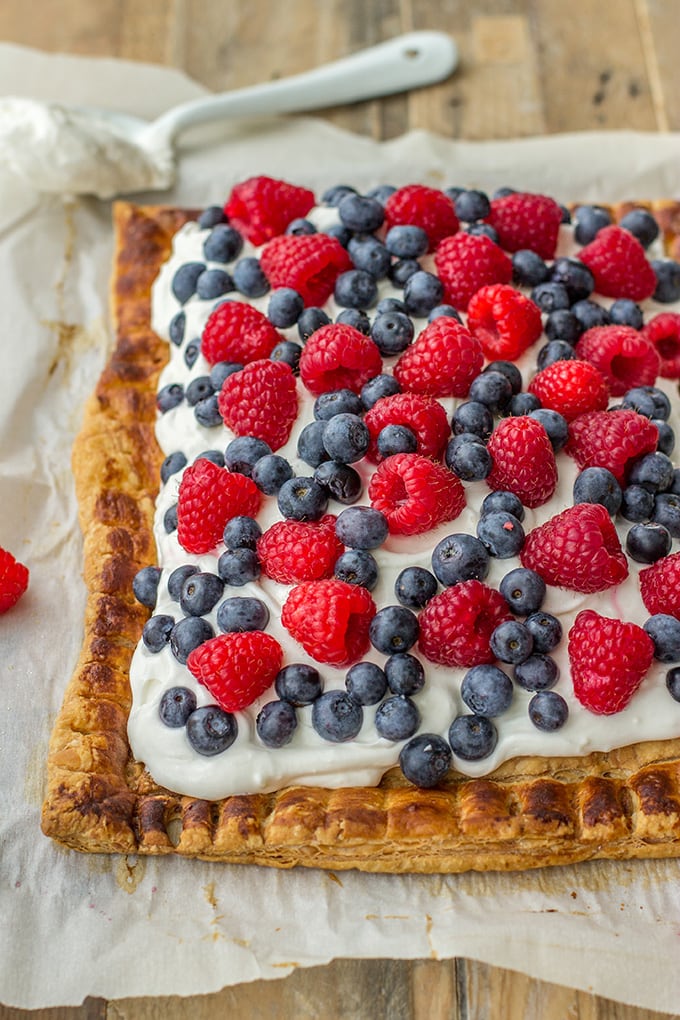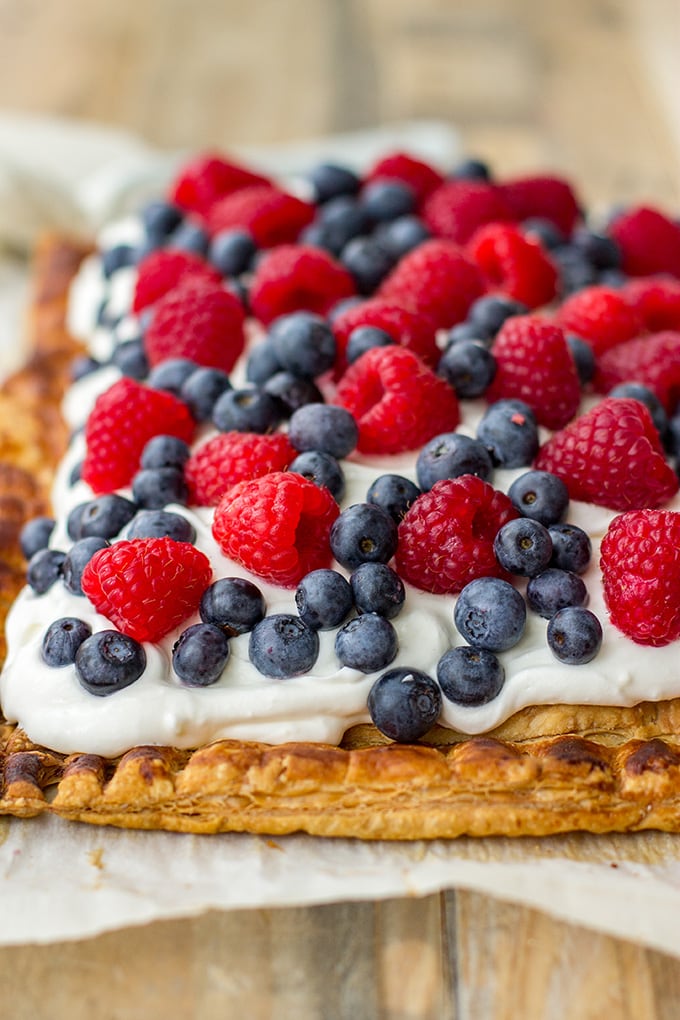 Mascarpone What?
If you've never used mascarpone before, get ready to wonder where it's been all your life. Pronounced mahs-car-POH-nay, it's sort of the Italian cousin of cream cheese, and most widely known as the base for an authentic tiramisu. You can most likely find it in the cheese aisle of your grocery store, possibly near the ricotta.
Combining mascarpone with whipped cream, then using the resulting deliciousness to top puff pastry is an idea for which I have to credit Becky of The Cookie Rookie. And a genius idea it is! I did, however, considerably reduce the sugar in the whipped topping, and left out the sugar entirely from the berry mixture. Not one of my taste testers missed it. With a mixture of red and blue berries, this tart is perfectly festive for any Fourth of July get-together, without being overly cutesy or contrived.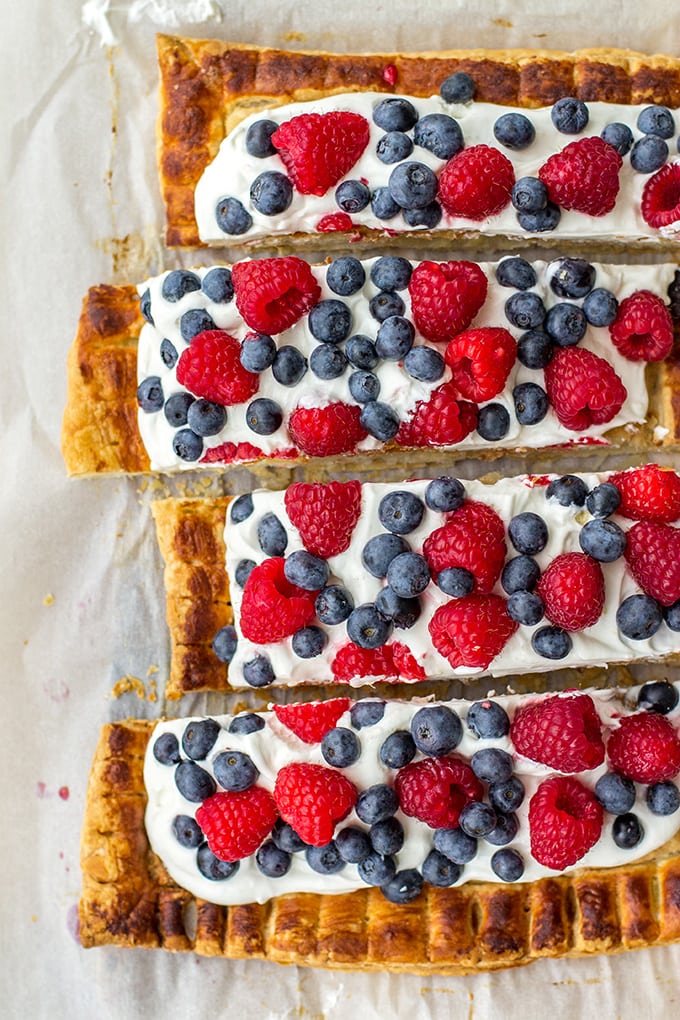 [clickToTweet tweet="Looking for a 4th of July dessert? This mixed berry puff pastry tart with mascarpone is perfect!" quote="Looking for a 4th of July dessert? This mixed berry puff pastry tart with mascarpone is perfect!"]
You'll want to keep this in the fridge until ready to serve. Depending on how big your slices are, this will yield 12-16 pieces, but don't be surprised to see people coming back around for seconds! Add it to your summer menu ASAP, relax, and enjoy!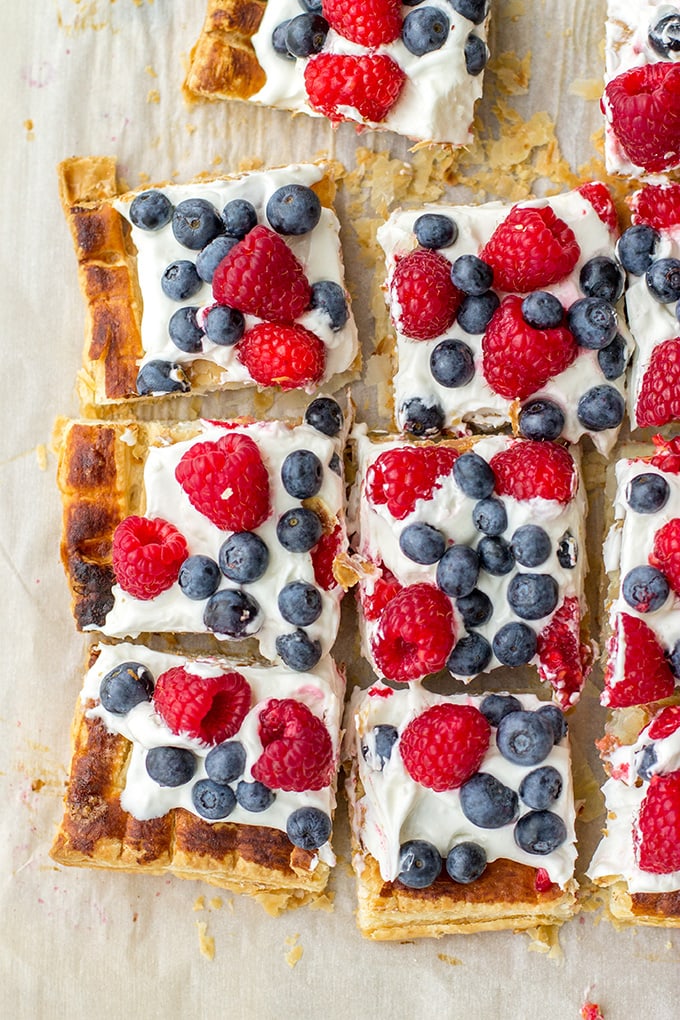 If you try this tart or any other recipe on the blog, please remember to rate the recipe and leave a comment below. I love hearing from you, and other readers will benefit from your experience!
Mixed Berry Puff Pastry Tart with Mascarpone
A mixed berry puff pastry tart with sweetened mascarpone cheese will be the hit of any summer party. Simple, easy, and ready in about 30 minutes, perfect for the Fourth of July!
Ingredients
1 sheet frozen puff pastry thawed
1 egg
1 teaspoon water
2 teaspoons granulated sugar for sprinkling
4 ounces (113 grams) mascarpone cheese
4 ounces (113 grams) whipped cream (either freshly whipped or cool whip)
1/4 cup (50 grams) granulated sugar
1 cup raspberries approximately 4 ounces or 120 grams
1 cup blueberries approximately 6 ounces or 170 grams
Instructions
Preheat oven to 400 degrees F (200 degrees C).

On a large sheet of parchment paper, roll out the puff pastry to a rectangle approximately 12x10 inches (30x25 cm). Using a knife, score a border approximately 3/4 inch (2 cm) inside the edge, then use a fork to prick the inside of the pastry several times to prevent it from poofing up excessively while it bakes.

Combine the egg and water in a small bowl, then brush the pastry border with the egg wash. Sprinkle with 2 teaspoons sugar. Bake pastry for 18-20 minutes until golden brown. Set aside to cool.

While the pastry bakes, prepare the topping. In a large bowl, combine the mascarpone, whipped cream, and 1/4 cup sugar. Whip gently with a spatula until mixture is evenly combined. Set aside along with the berries.

Once the puff pastry has cooled, top with the cream and the berries. Refrigerate until ready to slice and serve.
Notes
You could certainly substitute strawberries, blackberries, or any combination you like. Enjoy!
Adapted from The Cookie Rookie 
Nutrition Estimate
Calories: 184 kcal, Carbohydrates: 15 g, Protein: 2 g, Fat: 12 g, Saturated Fat: 5 g, Cholesterol: 25 mg, Sodium: 53 mg, Potassium: 48 mg, Fiber: 1 g, Sugar: 6 g, Vitamin A: 190 IU, Vitamin C: 3.3 mg, Calcium: 25 mg, Iron: 0.6 mg
Did you make this recipe?
Leave a review below, then snap a quick picture and tag @nourishandfete on Instagram so I can see it!