Chicken in White Wine Sauce
This simple recipe for Chicken in White Wine Sauce has tender pan-fried chicken cutlets nestled in a sauce that is light and flavorful all at once. No need for a heavy cream sauce here! Best of all, this is elevated yet crowd-pleasing and easy to make in 25 minutes.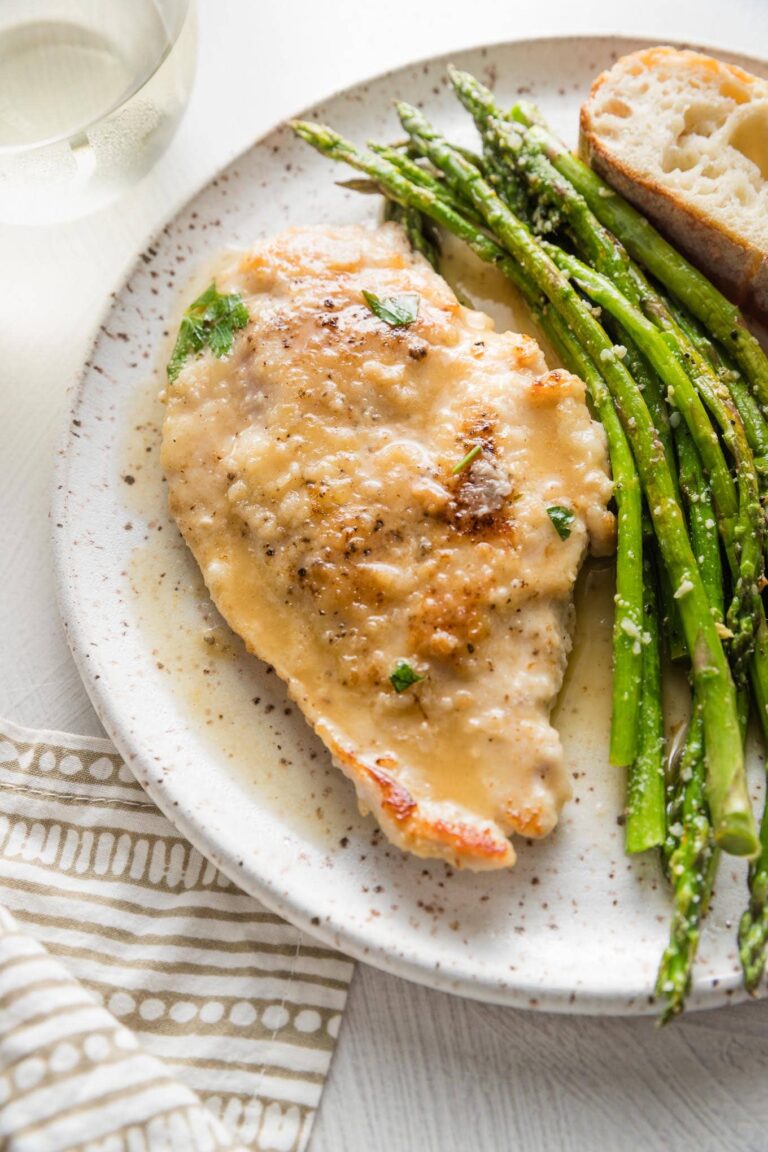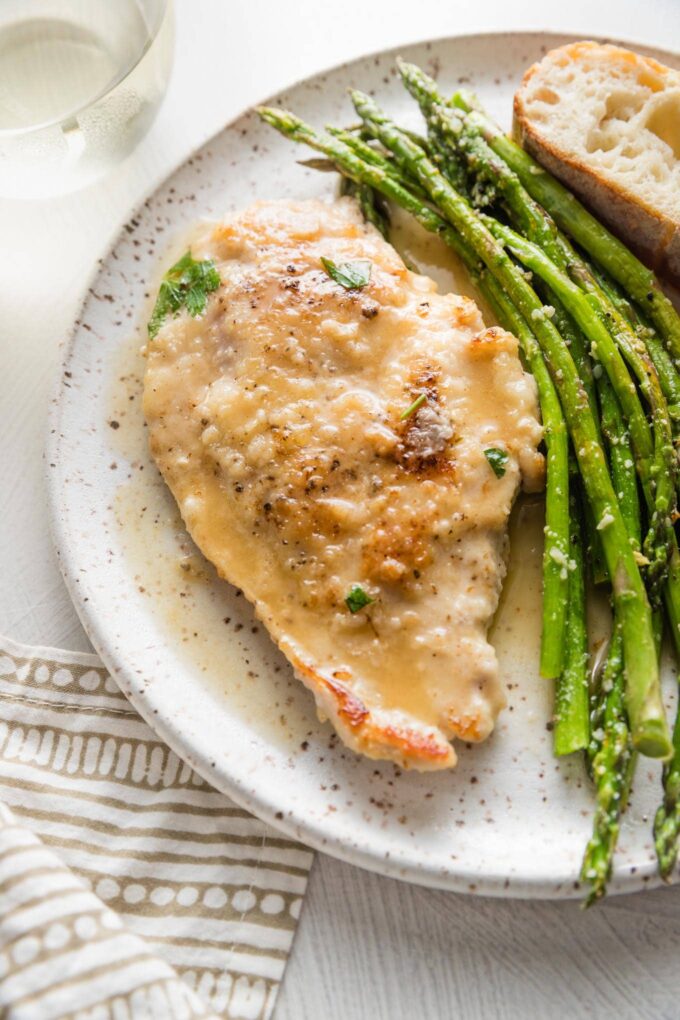 A Lighter White Wine Sauce for Chicken
This easy chicken skillet with a light white wine sauce is one of my favorite dinner options! It's easy to make, requires pretty ordinary ingredients, and tastes incredible. It's as good on any old Tuesday night as it is for company you want to impress.
I especially love that this recipe is:
Easy to make in one skillet. Less washing up!
Saucy yet light. Skip the heavy cream sauce, this sauce shines without being weighed down.
Super fast. 25 minutes and dinner is done.
Serve this chicken with roasted garlic green beans, asparagus, or broccolini. Crusty bread or pasta is not optional, because you will want to soak up every last drop of the sauce!
Ingredients & Substitutions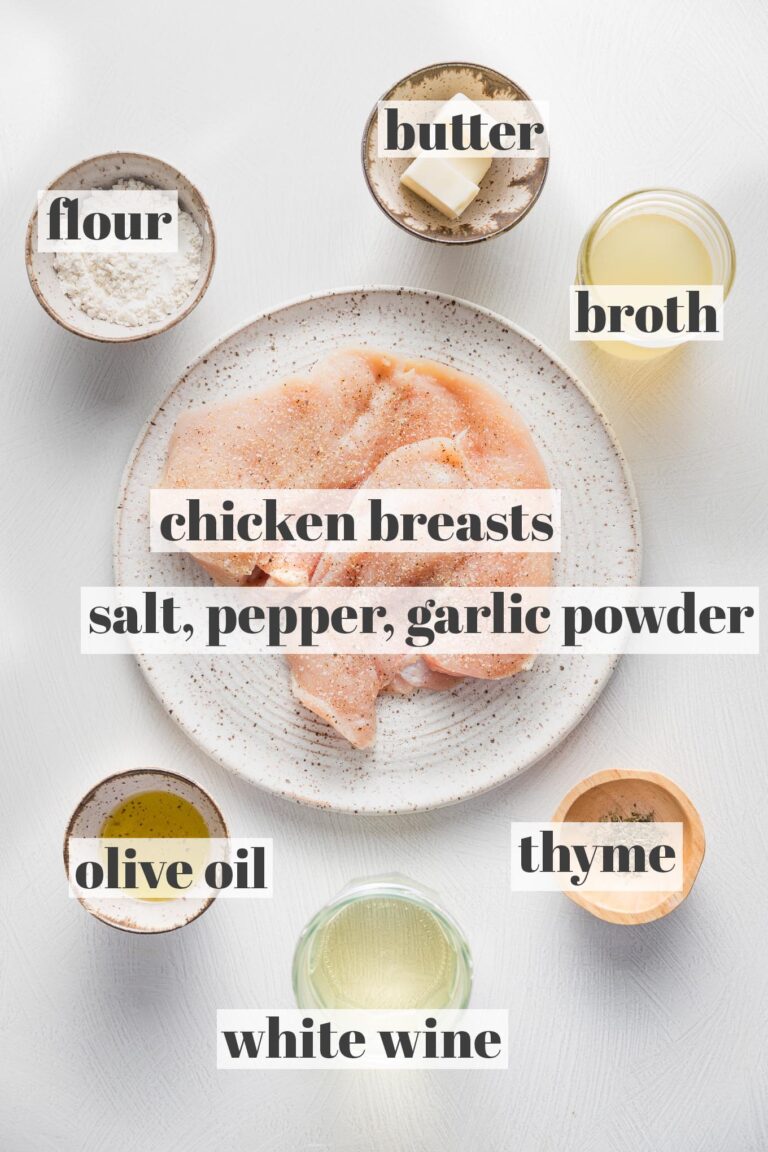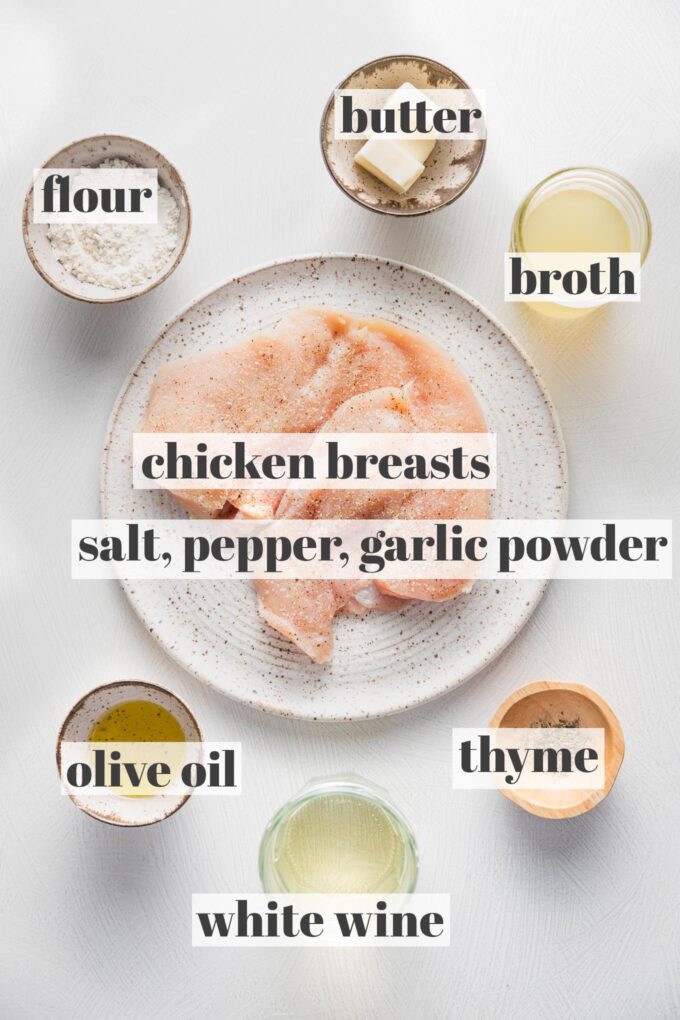 Here are a few notes and shopping tips about the ingredients you'll need to make this, as well as possible substitutions. Find full amounts in the print-friendly recipe card below.
Chicken breasts. Use thin-sliced boneless skinless chicken breasts so that they cook in the recommended amount of time. You can purchase chicken this way, or purchase standard chicken breasts and butterfly them yourself by slicing through the middle.
White wine. You can omit this in favor of additional broth, but it won't really be chicken in white wine sauce, now will it? 🙂
Chicken broth. A low-sodium version is preferred, so you have more control over how salty the finished dish is.
Garlic powder, dried thyme, kosher salt, and black pepper.
All-purpose flour. This is for dredging the chicken breasts prior to their quick sauté, which helps them develop a light crust. Omit this or substitute almond flour to keep the dish gluten-free.
Olive oil and butter.
What white wine is good for cooking chicken?
Dry white wines are typically recommended for cooking. Our favorites are sauvignon blanc or pinot grigio. We also sometimes like an un-oaked chardonnay. Dry whites tend to be more crisp and less full-bodied than sweet white wines, and complement rather than compete with the other ingredients in savory sauces.
What is the difference between white wine and white cooking wine?
Products labeled "white cooking wine" tend to be of lower quality than white wines you would drink. They often have a higher percentage of alcohol by volume, as well. For both of these reasons, avoid them if you can and simply use a standard white wine!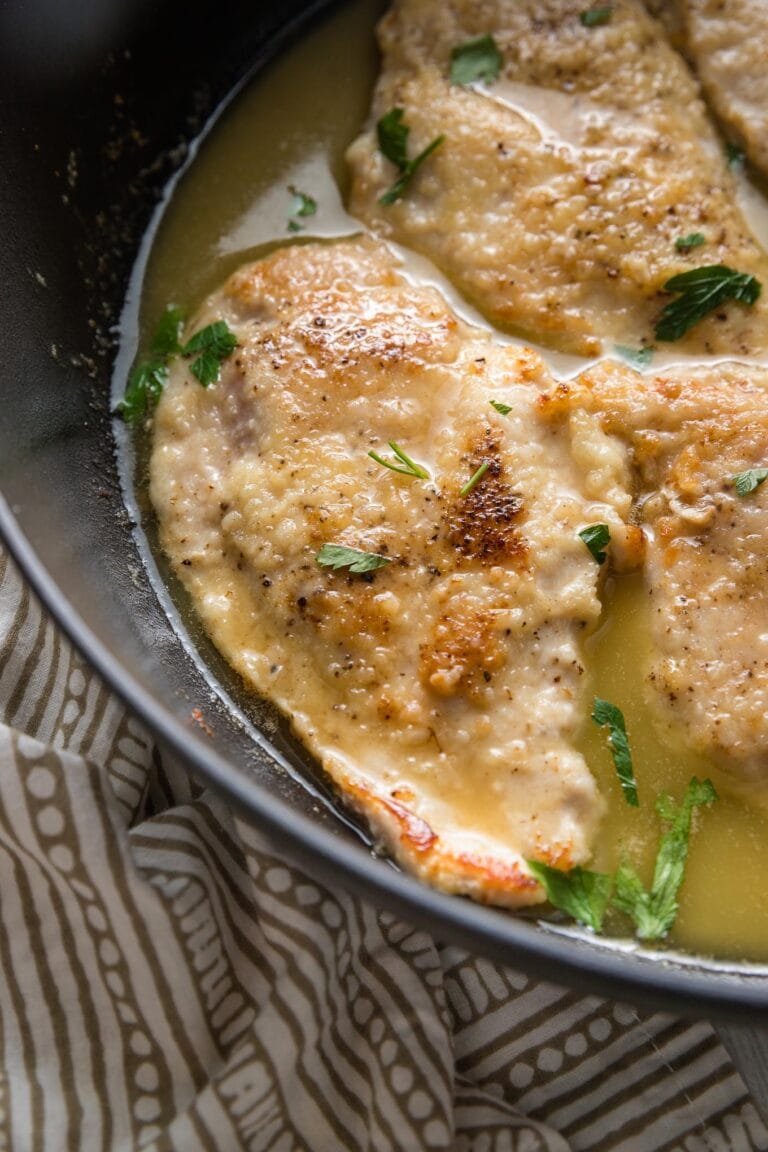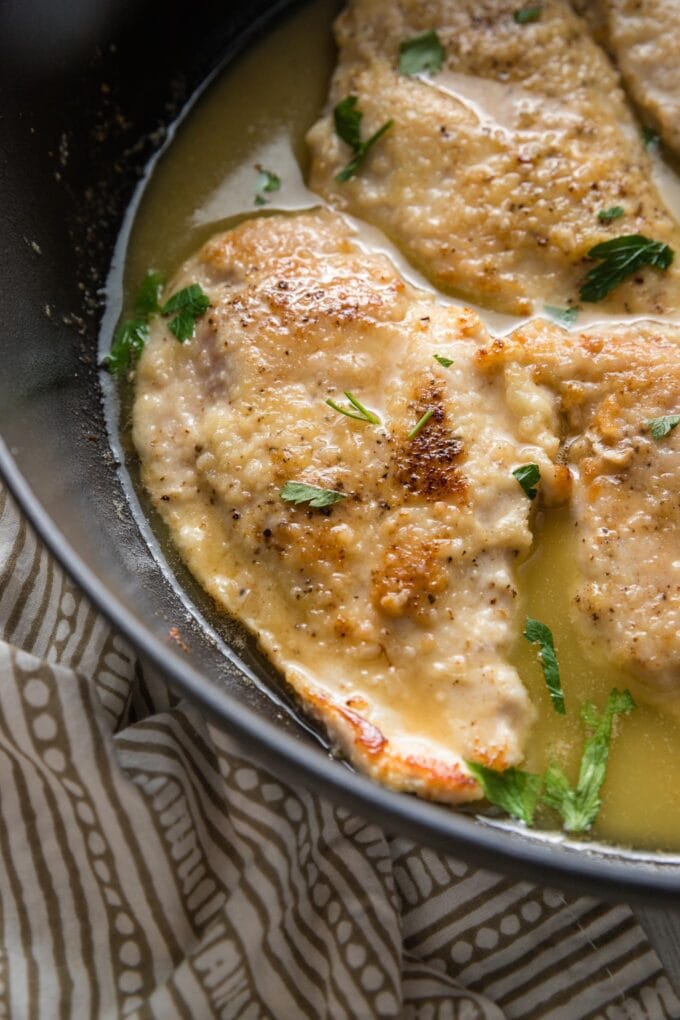 How To Make Chicken in White Wine Sauce
This is a dish that comes together so quickly and simply, you'll be amazed that the final result still feels so elegant.
You will find full instructions with exact ingredients and times in the print-friendly recipe card below.
Season chicken breasts and lightly dredge them through a bit of flour. This helps them develop that nice outer crust that contrasts so pleasingly with a tender interior.
Brown both sides of chicken lightly in butter and olive oil in a hot skillet. Remove to plate before they are fully cooked through.
Make the sauce. Add broth and wine to the pan, stir, and let the mixture bubble for 1-2 minutes. Melt in more butter and a smidge of thyme. Season with salt and pepper to taste.
Finish everything together. Return chicken to the pan, lower heat, and simmer for another few minutes. The chicken will finish cooking but stay tender, while the sauce will thicken to perfection.
Pro Tip: Be sure to scrape the bottom of the pan well after bringing the white wine and chicken broth to a simmer. This will loosen any browned bits left over from browning the chicken, enriching the flavor of your sauce, and also make your pan significantly easier to clean!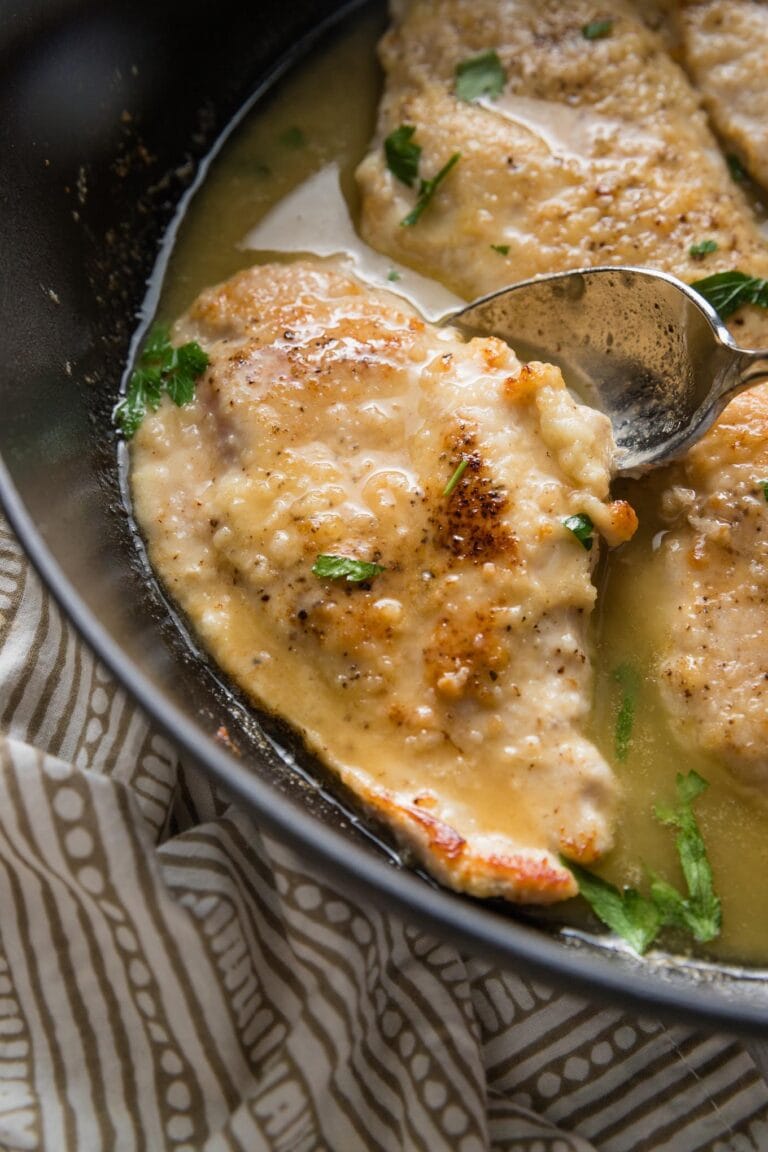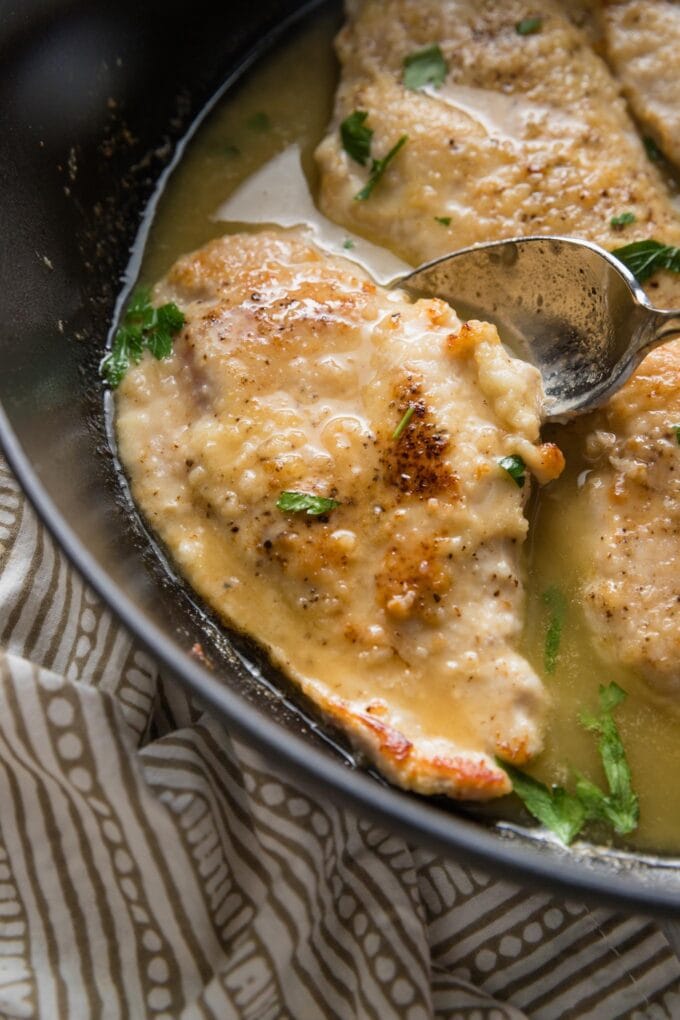 Variations and Optional Add-ins
Gluten-Free: Leave out the flour dredge or substitute almond flour to keep this gluten-free.
Add Greens: Wilt some baby spinach or Swiss chard into the sauce at the same time as you return the chicken breasts to the pan.
Add Spinach and Tomatoes: This white wine spinach tomato chicken is a big hit.
Add Mushrooms: Sauté for 4-5 minutes before cooking the chicken, then remove to a plate, set aside, and return to the pan alongside the browned chicken.
Add Onions or Shallots: Sauté after browning the chicken, then continue to cook and soften in the sauce.
Serving Suggestions
White wine chicken is delicious served with a light salad or your favorite mix of roasted or steamed vegetables. We love asparagus, green beans, broccoli, or broccolini. We also find it necessary to enjoy a carb-y side, all the better to enjoy extra sauce. Crusty Italian or French bread, lemon butter orzo, roasted red potatoes, or creamy mashed potatoes all work well.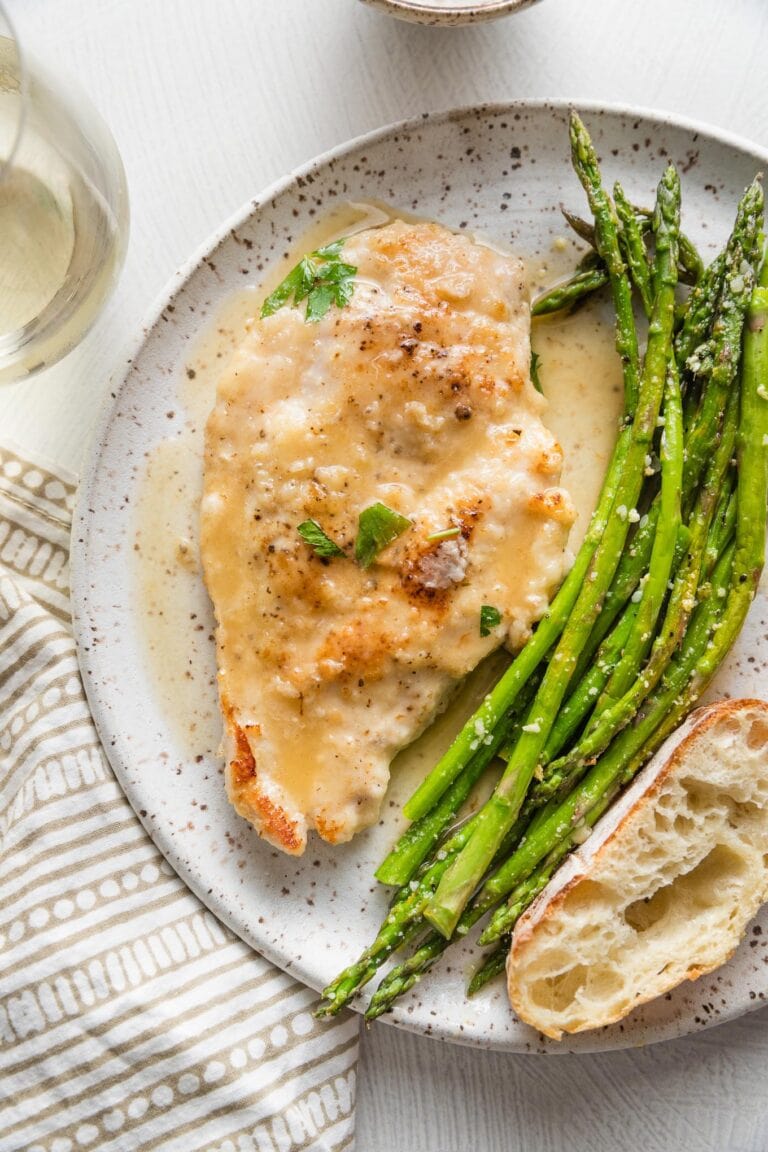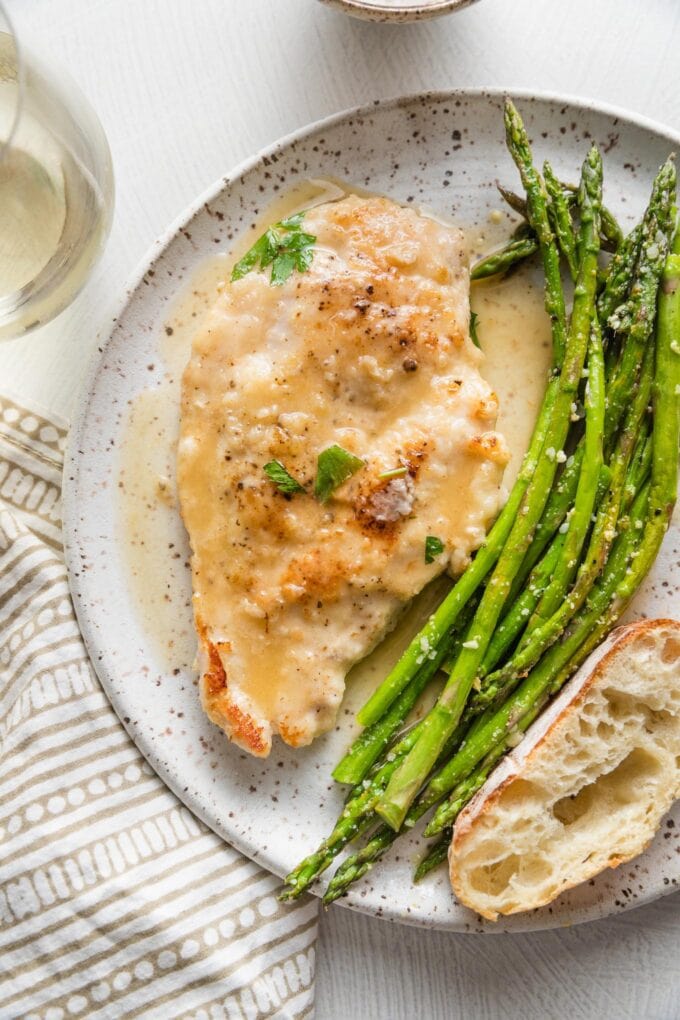 Recipe FAQs & Expert Tips
Can you cook with white wine for kids?
This is a personal judgment call. Some alcohol will cook out of the sauce very quickly, but not all. Consider the age of your children, whether they have any unique health concerns, and how much chicken vs. sauce they are likely to consume.
For the record, yes I do feed this chicken to my children. They both like it!
Can you make this dish without wine?
Yes: simply replace the white wine in the sauce with additional chicken broth.
How do you know when chicken breasts are done cooking?
Chicken is safe and ready to eat when it is white all the way through and has reached 165° F, per official USDA guidelines. A simple instant-read meat thermometer makes it easy to watch for that benchmark and pull the chicken off right away. No guesswork and no over-cooked, dry chicken!
How do I get a nice golden crust on my chicken breasts?
To encourage your chicken to develop a nice golden crust, be certain that the pan and cooking oil is already hot when you place the chicken breasts in the skillet. Also be sure to season your chicken breasts thoroughly and evenly on both sides, and don't skip the dredge through flour: this helps them to sear quickly on the bottom and develop that appetizing golden crust.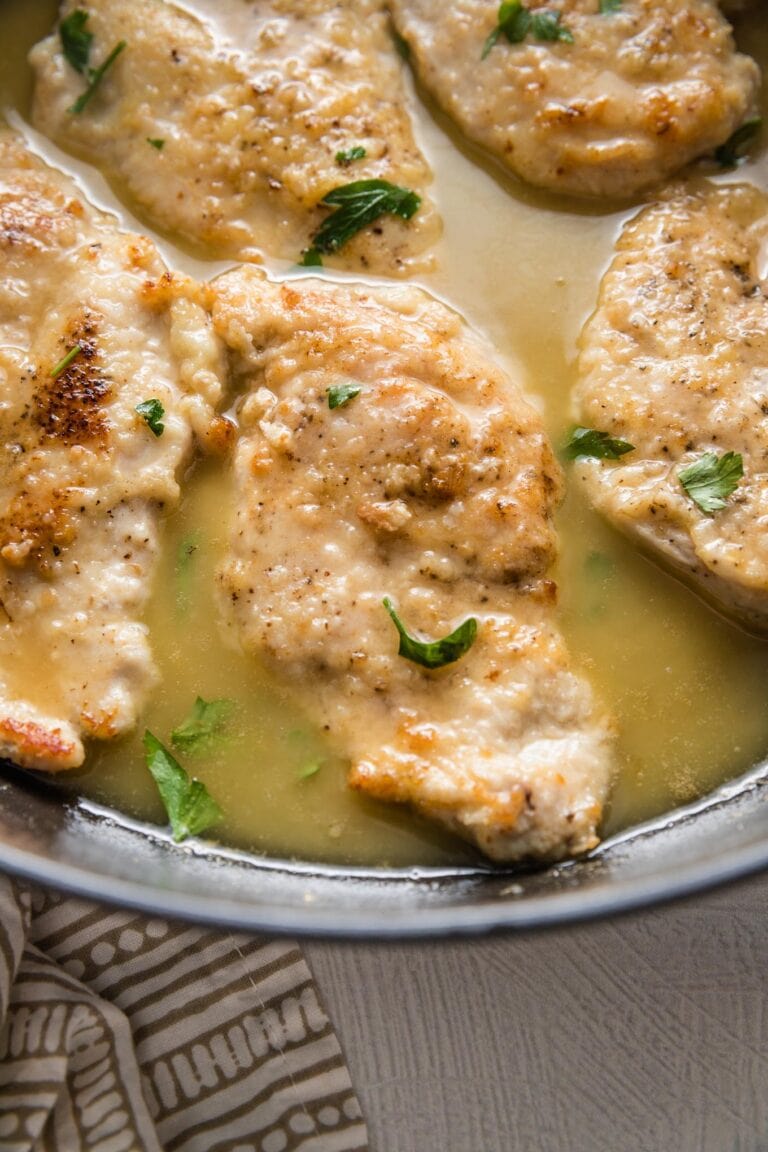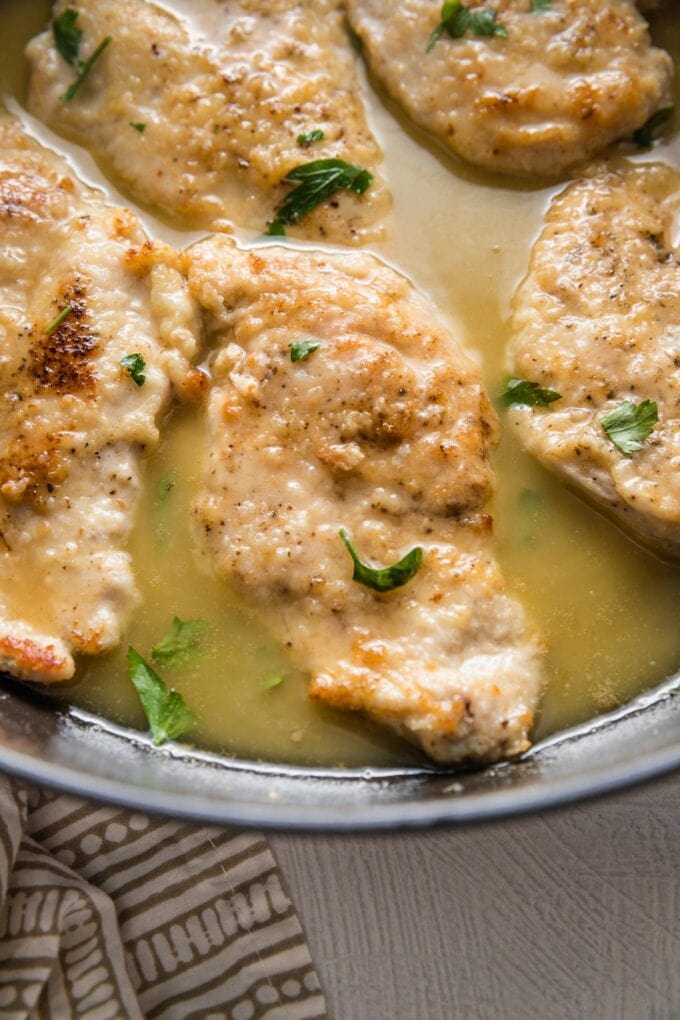 Storage & Reheating
Storage: Place leftovers in any airtight container in the refrigerator for 3-4 days. (These are our favorite meal prep boxes for the fridge.)
Warming: Reheat on 50% power in the microwave until warmed through. Using half power reduces the odds that your chicken will dry out in the microwave; it's worth the extra few seconds it takes.
If the sauce gets too thick: don't worry. It will loosen up a bit as it warms. You also can always thin a light sauce like this by placing it in a small saucepan over medium heat and whisking in 1-2 teaspoons of broth or water.
Freezing: I don't really recommend freezing this.
Related Recipes
If you need more easy chicken dinner ideas, try my oregano chicken, Greek-marinated chicken, lemon thyme chicken skillet, or lemon chicken thighs next. Creamy lemon chicken and lemon chicken pasta are also winners each and every time!
If you try this White Wine Chicken recipe, don't forget to rate it and leave a comment below. I love hearing how recipes turn out in your kitchen, and it helps other readers, too.
You can also FOLLOW me on PINTEREST, INSTAGRAM, FACEBOOK, and TWITTER for more great recipes and ideas!
Chicken in White Wine Sauce
Tender pan-fried chicken cutlets nestled in a sauce that is light and flavorful all at once. No need for a heavy cream sauce here!
Ingredients
3 Tablespoons all-purpose flour
4 thin-sliced chicken breasts
1/4-1/2 teaspoon garlic powder
kosher salt & black pepper
1 Tablespoon olive oil
3 Tablespoons butter divided
1/2 cup chicken broth
1/2 cup dry white wine
1/4 teaspoon dried thyme
fresh herbs optional garnish
Instructions
Place flour in a small bowl or plate. Sprinkle chicken breasts evenly on both sides with garlic powder and a small amount of salt and pepper. Warm olive oil and 1 Tablespoon of the butter in a large skillet over medium-high heat.

Lightly dredge each chicken breast through the flour. Shake gently to remove any excess, then place each piece in the hot pan. Cook for 1-2 minutes per side, until browned on the outside but not quite fully cooked through. Remove chicken pieces and set aside.

Add broth and wine to the pan, bring to a simmer, and let it bubble for 1-2 minutes, scraping the bottom to remove any browned bits. Add remaining 2 Tablespoons butter and thyme. Simmer for another 1-2 minutes, while the butter melts.

Return chicken to the pan, lower heat to medium-low, and simmer for another 3-4 minutes, until sauce thickens slightly and chicken is cooked through. Garnish with fresh herbs, if desired, and serve.
Nutrition Estimate
Calories: 221 kcal, Carbohydrates: 6 g, Protein: 13 g, Fat: 14 g, Saturated Fat: 6 g, Polyunsaturated Fat: 1 g, Monounsaturated Fat: 5 g, Trans Fat: 0.4 g, Cholesterol: 59 mg, Sodium: 144 mg, Potassium: 268 mg, Fiber: 0.2 g, Sugar: 0.4 g, Vitamin A: 281 IU, Vitamin C: 1 mg, Calcium: 12 mg, Iron: 1 mg
Did you make this recipe?
Leave a review below, then snap a quick picture and tag @nourishandfete on Instagram so I can see it!