Pan Fried Gnocchi with Roasted Tomatoes
This recipe for Pan Fried Gnocchi with roasted tomatoes and fresh basil is light, flavorful, and comes together in about 25 minutes. We especially love the contrast of textures between the juicy burst tomatoes and crisp-tender skillet-cooked gnocchi.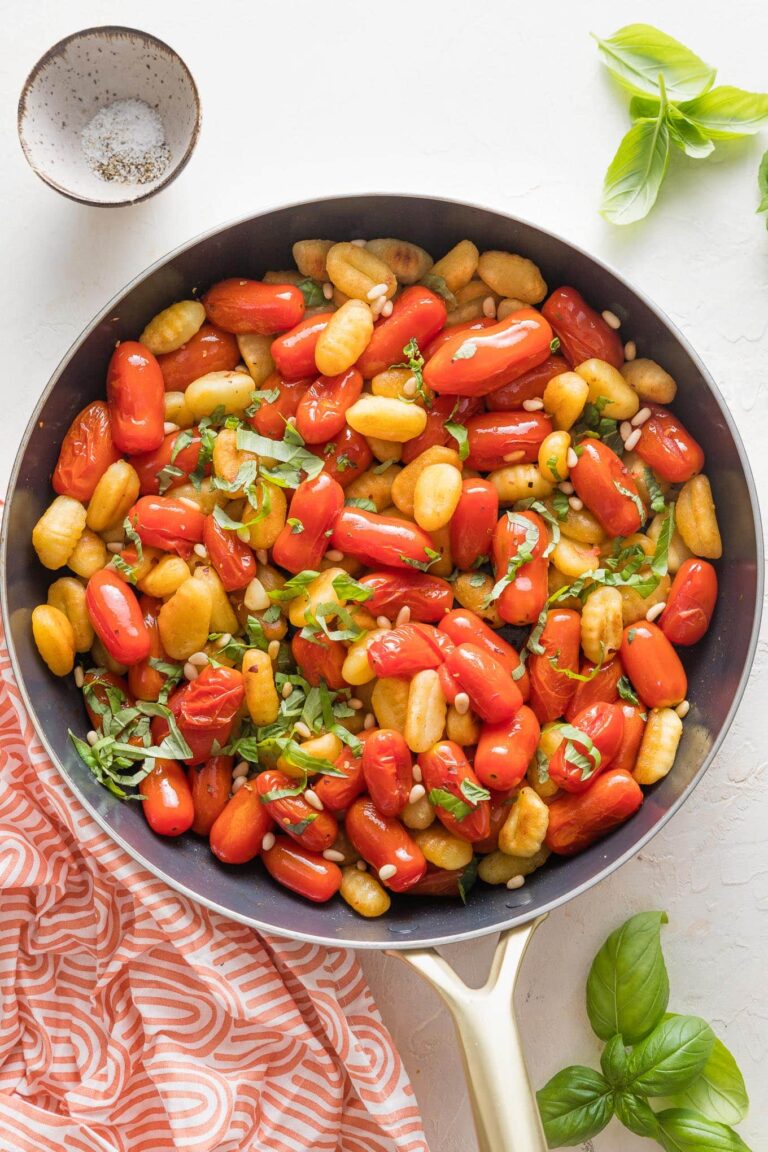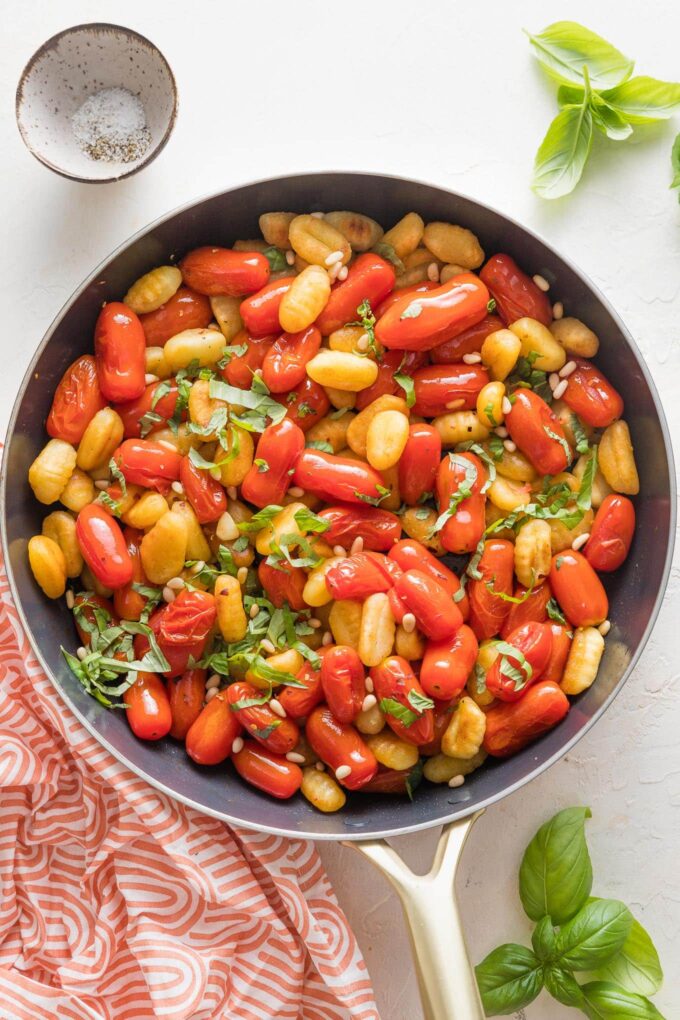 Best Pan Fried Gnocchi
Any fan of Italian or Italian-inspired cuisine is likely a fan of gnocchi. Soft pillows of dough with small ridges perfect for holding little bits of sauce? Who needs convincing!
Although the standard cooking method for gnocchi is a quick bubble in boiling water, just like pasta, it's totally possible to pan fry your gnocchi as well, using a small amount of butter and olive oil for ideal flavor. Although it takes slightly longer, your patience is rewarded with a beautifully browned, almost caramelized effect, giving the outside of the gnocchi a slight crisp to contrast the soft interior.
Pair this delicious gnocchi with juicy oven-roasted cherry tomatoes, plenty of good olive oil and fresh garlic and basil, and you have a delightful summer dinner.
Ingredients & Substitutions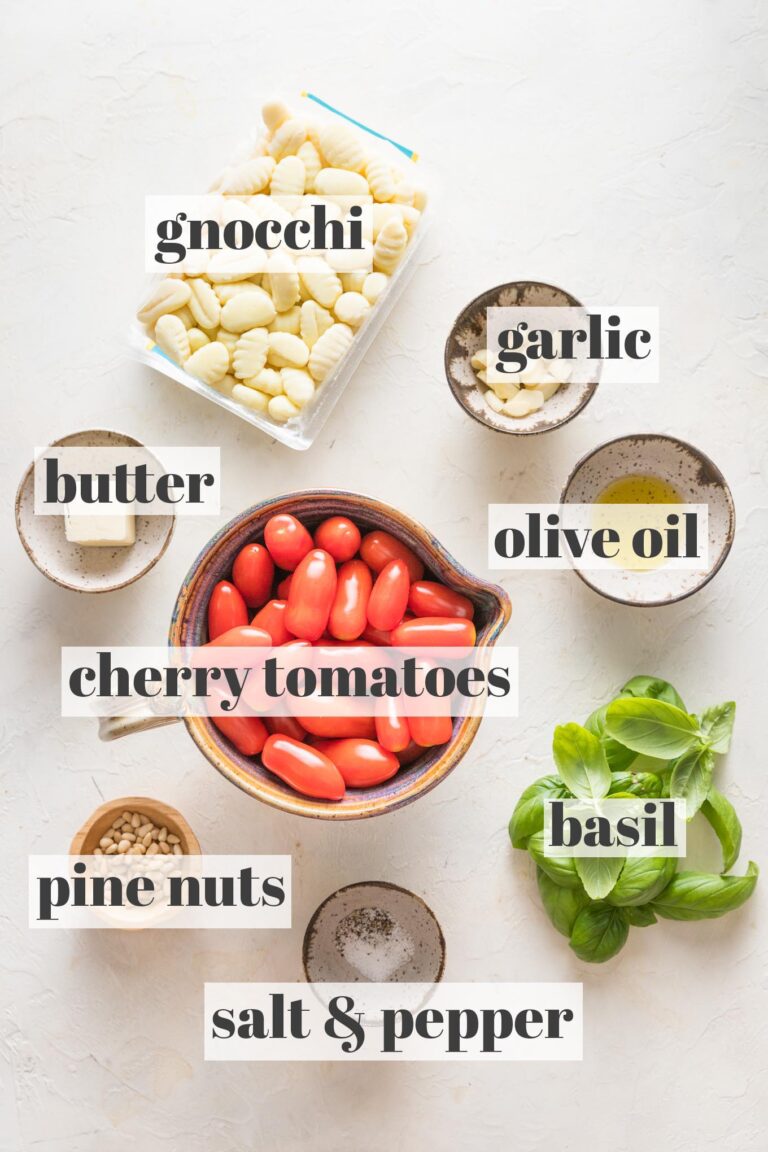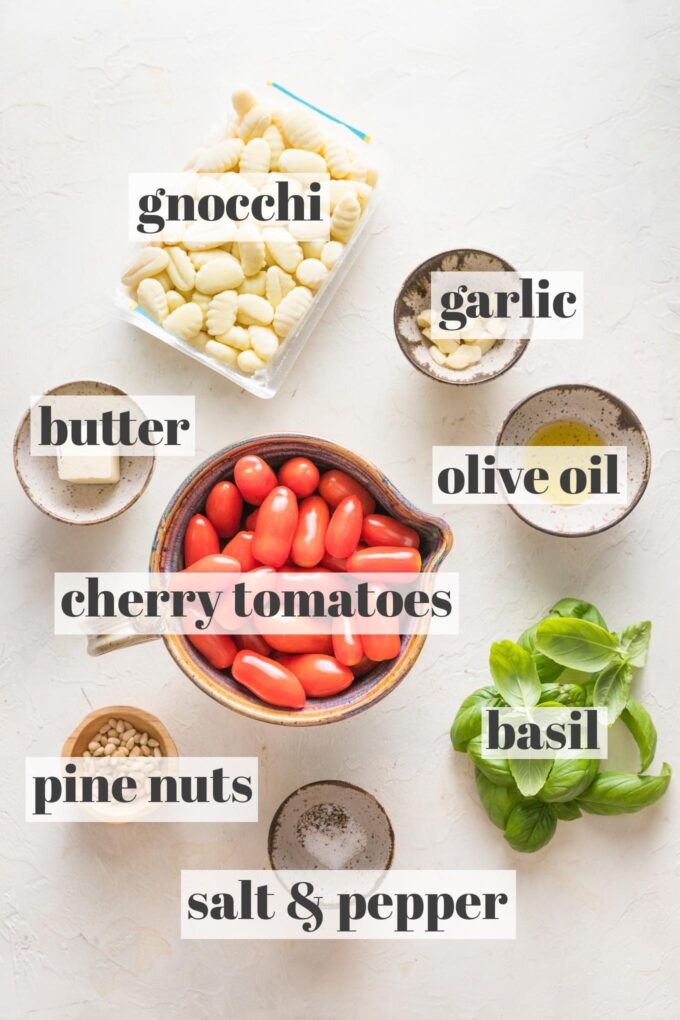 Here are a few notes and shopping tips about the ingredients you'll need to make this, as well as possible substitutions. Find full amounts in the print-friendly recipe card below.
Gnocchi. Purchase the shelf-stable gnocchi for this recipe, the kind sold in the aisle with dried pasta. These hold up best to a quick sauté without losing their texture or turning to mush.
Cherry tomatoes. Just as in our favorite roasted tomato spaghetti recipe, cherry tomatoes are ideal for a quick roast in the oven to make them tender and draw out their natural sweetness.
Fresh garlic. This will roast in the oven alongside the tomatoes for maximum flavor.
Fresh basil. And plenty of it!
Pine nuts. Optional but if you can manage to add just 1-2 small spoonfuls they really do add a terrific final layer of flavor.
Olive oil, butter, kosher salt, black pepper, and red pepper flakes.
I usually pass some grated or shaved Parmesan cheese at the table for those who want it!
How To Fry Gnocchi in a Pan
Although it takes slightly longer to cook gnocchi in a pan, you also save work because you won't need to haul out an extra pot for boiling water. Here's a quick overview of what to do. Find full instructions with exact ingredients and times in the print-friendly recipe card below.
Roast the tomatoes and garlic. Toss these together with a generous drizzle of olive oil and roast for roughly 10 minutes at 450 degrees F. The tomatoes should develop deep wrinkles, and some will burst. Remove from oven and set aside.
Sauté the gnocchi. Melt butter and more olive oil in a skillet, add the gnocchi, and cook undisturbed until they are golden and crisp on one side. Toss and cook until tender all the way through.
Combine and serve. Add the roasted tomato mixture to the skillet together with basil, red pepper flakes, and pine nuts, if using. Season with extra salt and pepper, and more olive oil if you like, then dig in!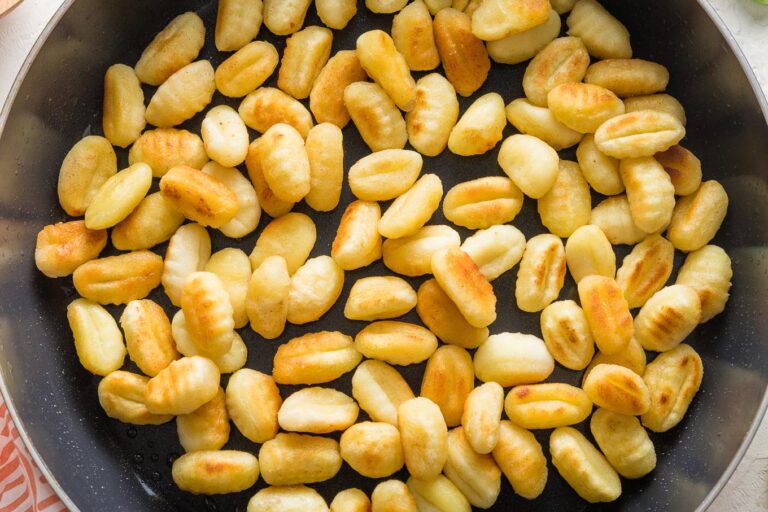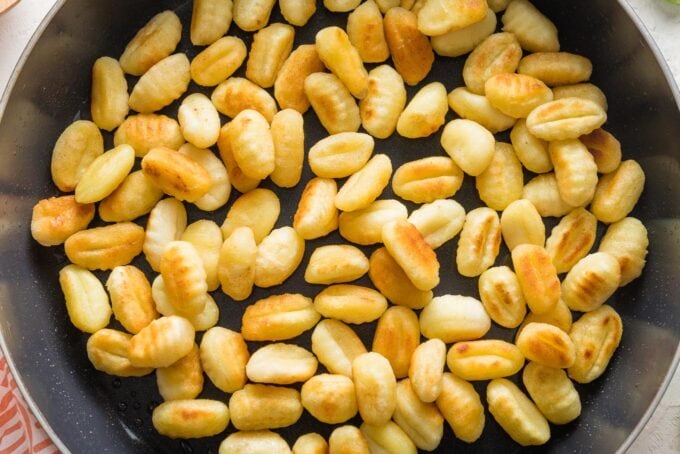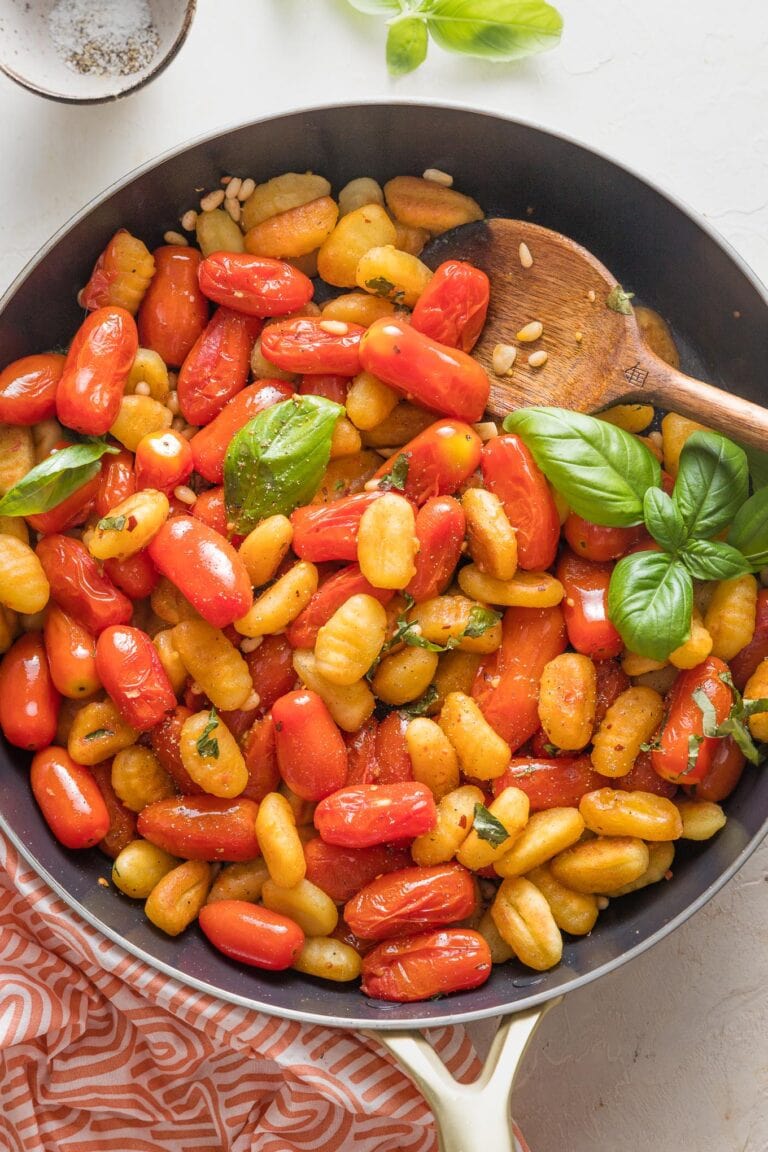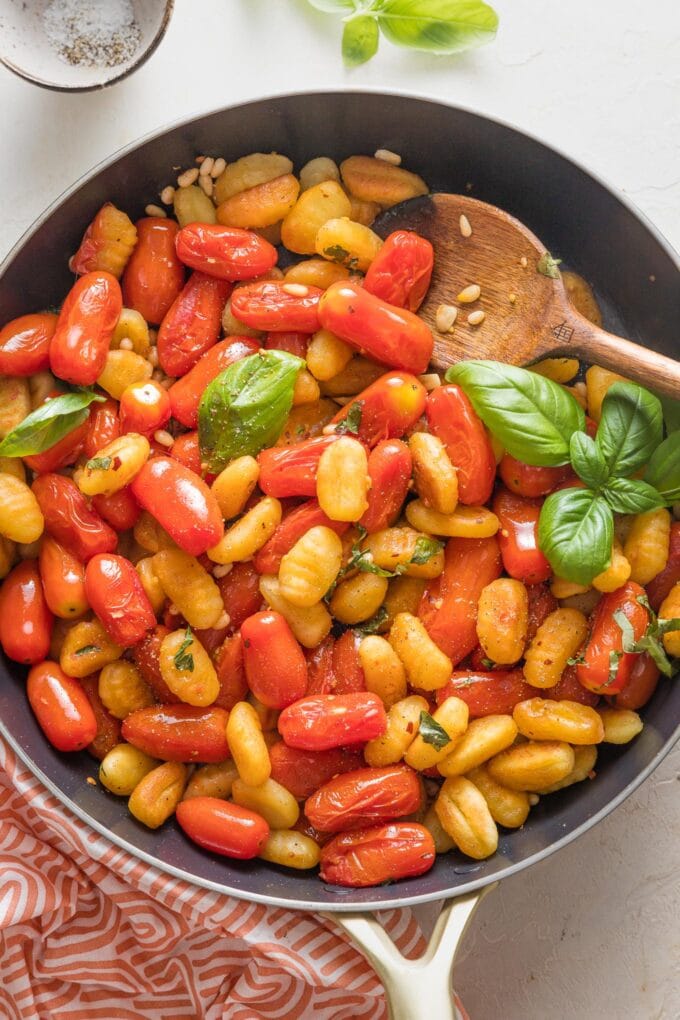 Recipe FAQs & Expert Tips
Can I make this dairy-free or vegan?
Yes; substitute the butter for additional olive oil or your favorite vegan butter, and this gnocchi recipe will be naturally dairy-free and vegan.
What goes well with gnocchi?
Gnocchi are as versatile as any other type of pasta, and go well with sauces ranging from lightly browned butter to pesto to robust red sauces.
Our favorite way to serve this recipe for pan fried gnocchi is as a main dish with a light vegetable on the side: corn on the cob, roasted broccoli, or a simple green salad.
Storage & Reheating
Storage: Store any leftovers in airtight containers in the refrigerator for 3-4 days. (These are our favorite meal prep boxes.)
Reheating: Warm in the microwave or over medium-low heat in a small saucepan. If using a saucepan, add a splash of broth or water to minimize the gnocchi sticking.
I don't recommend freezing this; the gnocchi tends not to keep the best texture.
Related Recipes
Love gnocchi? Try this creamy pesto gnocchi, creamy one-pan Tuscan gnocchi, gnocchi alla vodka, or gnocchi with pesto and charred cherry tomatoes next.
In love with the flavor of these simple burst cherry tomatoes? Pair them with a light emulsified sauce for this delicious and easy roasted tomato pasta.
If you try this Pan Fried Gnocchi recipe, don't forget to rate it and leave a comment below. I love hearing how recipes turn out in your kitchen, and it helps other readers, too.
You can also FOLLOW me on PINTEREST, INSTAGRAM, FACEBOOK, and TWITTER for more great recipes and ideas!
Pan Fried Gnocchi with Roasted Tomatoes
We love that this recipe is light, flavorful, and comes together in about 25 minutes. It also has an especially nice contrast of textures from the juicy burst tomatoes, crisp edges, and tender interiors of the skillet-cooked gnocchi.
Ingredients
3 cups cherry tomatoes about 2 pints or 30 ounces
6 cloves garlic thinly-sliced
4 Tablespoons olive oil divided
2 Tablespoons butter
1 pound potato gnocchi
1/2 cup fresh basil slivered
1-2 Tablespoons pine nuts optional
1/4-1/2 teaspoon red pepper flakes
salt and pepper to taste
Instructions
Preheat oven to 450 degrees F. On a rimmed baking sheet or oven-safe skillet, toss together tomatoes, sliced garlic, and 2 Tablespoons of the olive oil. Roast for 10 minutes, until the tomatoes are wrinkled and just beginning to burst. Remove from oven and set aside.

While the tomatoes roast, combine butter and remaining 2 Tablespoons olive oil in a large skillet over medium-high heat.

When the butter is melted, add gnocchi to the pan and stir to coat. Let the gnocchi cook for about 5 minutes without stirring, until they begin to brown and turn crispy on the bottom. At that point, stir the gnocchi and cook for another 2-3 minutes to lightly brown the other side. If at any point the pan is getting dry or the gnocchi are browning too quickly, reduce heat to medium and/or add an extra drizzle of olive oil.

Add the roasted tomatoes and garlic, slivered basil, pine nuts, and red pepper flakes to the skillet. Sample and season with salt and pepper to taste. Serve right away.
Notes
Add Cheese: I usually pass some grated or shaved Parmesan at the table for those who want it. You can also stir some small mozzarella balls in with the gnocchi and tomato mixture at the end, just be aware they will melt slightly from the residual heat.
Nutrition Estimate
Calories: 402 kcal, Carbohydrates: 47 g, Protein: 6 g, Fat: 22 g, Saturated Fat: 6 g, Polyunsaturated Fat: 3 g, Monounsaturated Fat: 12 g, Trans Fat: 0.2 g, Cholesterol: 15 mg, Sodium: 445 mg, Potassium: 290 mg, Fiber: 4 g, Sugar: 3 g, Vitamin A: 918 IU, Vitamin C: 27 mg, Calcium: 51 mg, Iron: 5 mg
Did you make this recipe?
Leave a review below, then snap a quick picture and tag @nourishandfete on Instagram so I can see it!