Gnocchi with Pesto and Charred Cherry Tomatoes
Tender gnocchi pair perfectly with basil pesto and cherry tomatoes for an amazing meal ready to eat in 25 minutes. Roasting the tomatoes is the simple step that sets this recipe apart!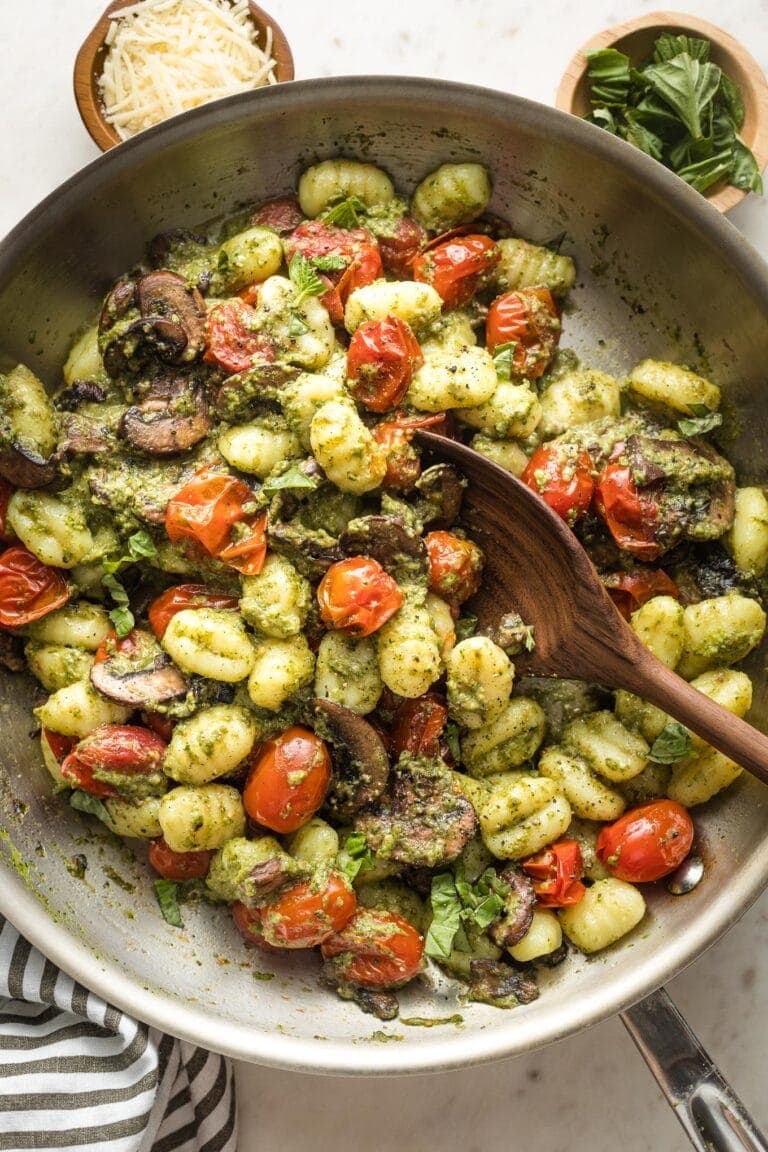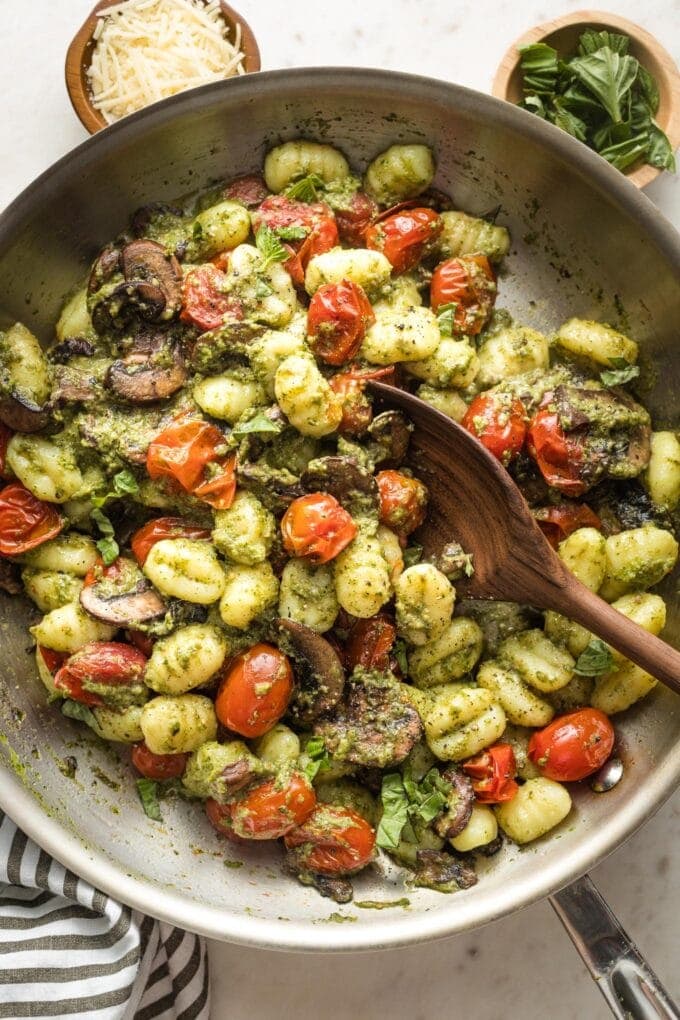 Like many of my most beloved meals, this one came about in the most basic, everyday sort of way. Pretty sure it was a rainy Monday. I needed to make dinner, really did not want to stop by the grocery store, and had these ingredients lying about:
Gnocchi.
Quality pesto.
Cherry tomatoes.
Needless to say, these are natural companions, and barely take any effort to throw together into a delicious dinner. But a simple extra step amps up this "thrown together" sort of meal and makes it worth repeating.
Friends, if you have yet to embrace the goodness of oven-roasted cherry tomatoes, get excited. To try them is to love them. Be prepared, because you'll want to start adding them to everything. 🙂
How to roast cherry tomatoes
Cherry and grape tomatoes have some natural sweetness, even right off the counter. There's a reason they are popular for snacking!
But, when you take the same little cherubs and roast them on high heat (we're talking 450 degrees here – don't be shy about cranking it up!), they become almost transcendent. Sizzling and slightly charred on the outside, a few will burst open. When they cool down enough to pop into your mouth, their taste will be sweeter and more intense. The perfect little gem to mix into any pasta like this. They're also amazing on top of pizza!
Any rimmed baking sheet will work. This is my favorite — I've used and abused it for at least a decade. I love the ridged bottom, substantial sides, and relatively small size. This makes it easy to handle for small roasting jobs like these tomatoes or a side dish, and easy to fit in the sink afterwards.
Can I use fresh or jarred pesto?
Gnocchi is terrific with both jarred and homemade pesto. If you're making it homemade, we love this traditional basil pesto (with a "secret" ingredient that adds just a little zing) or incorporate some extra veggies with this zucchini pesto variety.
That said, I definitely like to keep a jar of pesto in the pantry, too. It makes dinners like this quick and achievable on the busiest night! Just make it good quality. Delallo is my hands-down favorite brand for both jarred pesto and shelf-stable gnocchi. (Not sponsored – just true love. I grew up down the road from their flagship store in Western Pennsylvania, and never miss a chance to stock up.)
How to make pesto gnocchi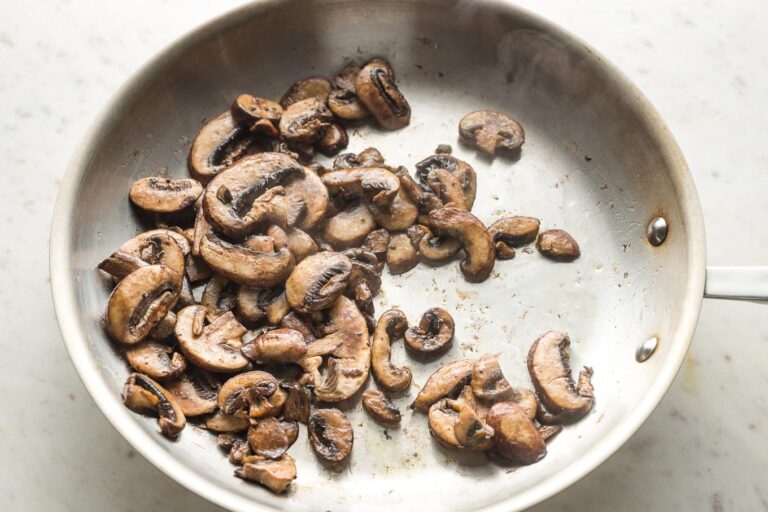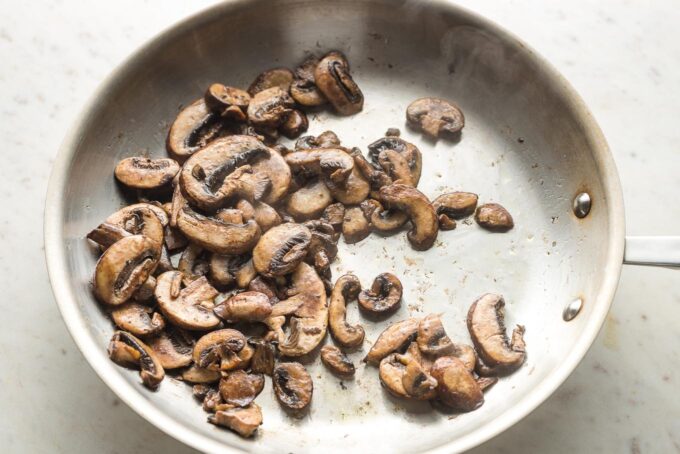 Roast tomatoes: Just a drizzle of olive oil, salt, pepper, and a few minutes in the high heat of your oven makes these magical. This step can be done in advance, if you like, but can also be done in little more than the time it takes water to boil and cook the gnocchi.
Cook gnocchi: Be sure to salt your water well — to impart the best flavor, it should be salty like the sea! Once the water is boiling rapidly, add the gnocchi and cook just 2 minutes or so, until they float.
Sauté mushrooms: Optional but we love the added flavor! If you're not into or don't have mushrooms on hand, just leave them out.
Put it all together: Stir pesto into the mushrooms, add gnocchi and tomatoes, stir gently, and eat! Add a little fresh basil and grated Parmesan if you feel fancy.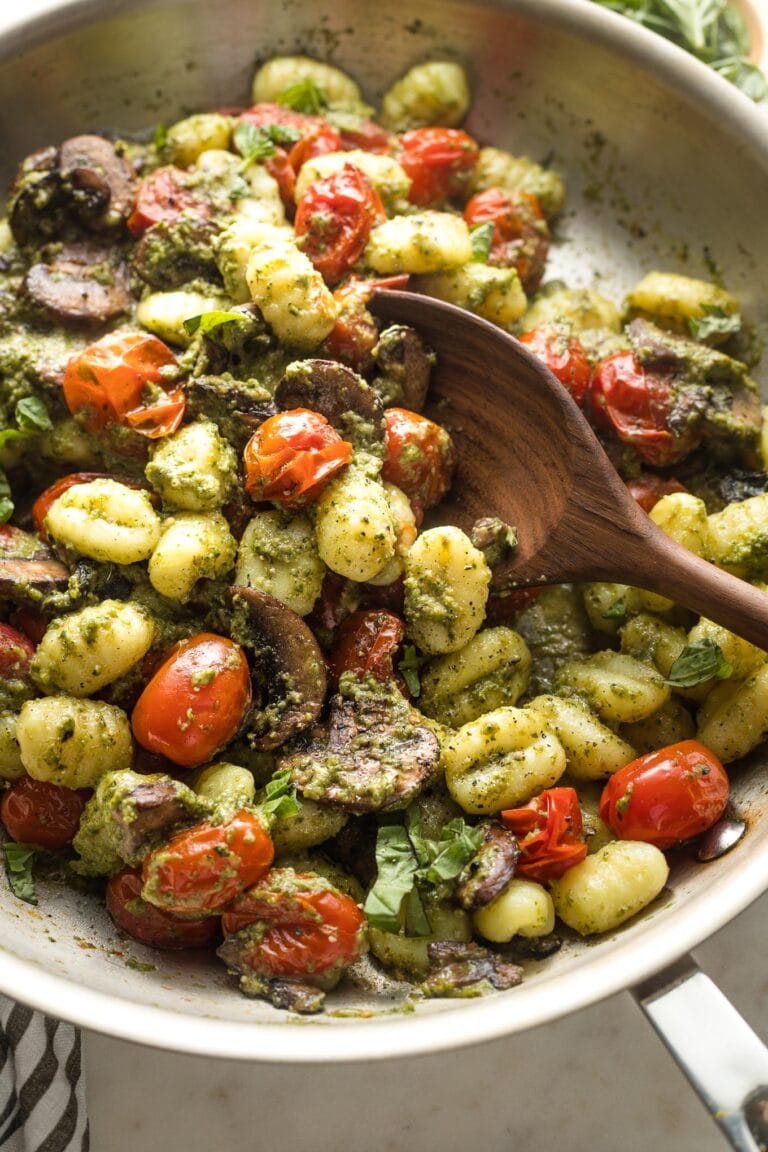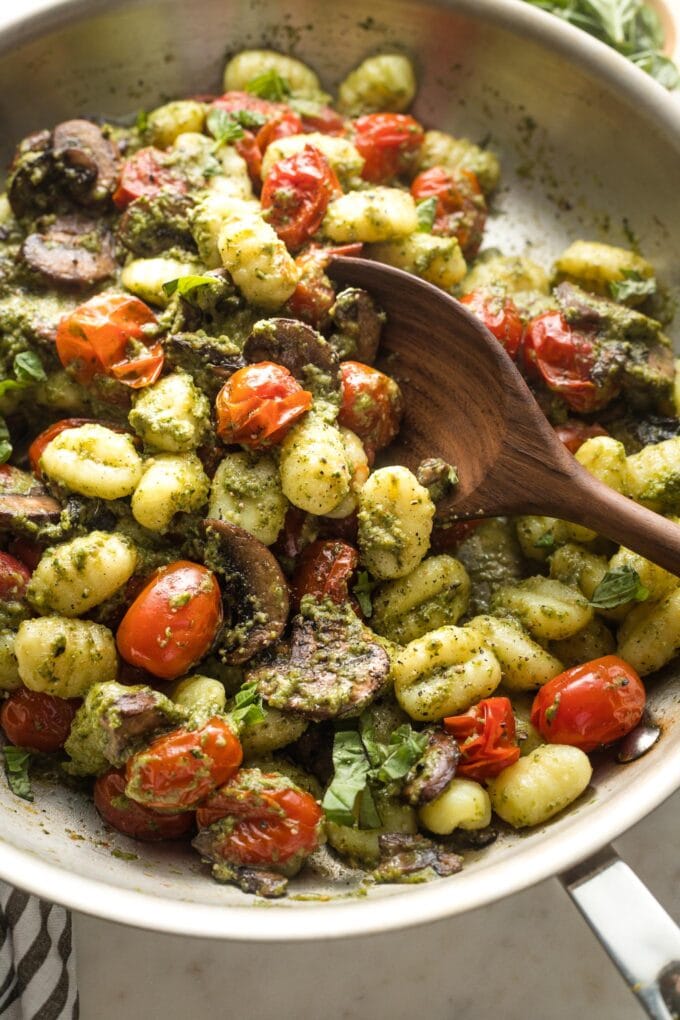 Tips and variations
Have fewer dishes: You can reduce the number of dishes to wash if you drain the gnocchi, then use the same pot they cooked in to sauté the mushrooms and mix everything together. This might take a few extra minutes, but saves you a pan.
Make it rich: If you like creamy pasta sauce, add 1/4 cup cream along with the pesto.
Add more vegetables: Toss in any extra veggies you have in the fridge. Bell peppers, zucchini, squash, or baby spinach are all good choices.
Make it fancy: Pine nuts, sun-dried tomatoes, green or Kalamata olives, or artichoke hearts are all easy to pull out from the pantry and go well with the flavors of pesto gnocchi.
Crisp up the gnocchi: This pan fried gnocchi with roasted cherry tomatoes and pine nuts is a delight of its own.
What to serve with pesto gnocchi
Some might call this lazy, but I love to serve pesto gnocchi with just a bit of fresh baby spinach or arugula on the side. The greens pick up a bit of pesto if nestled next to the gnocchi, and the flavors complement each other well.
Also try serving this with: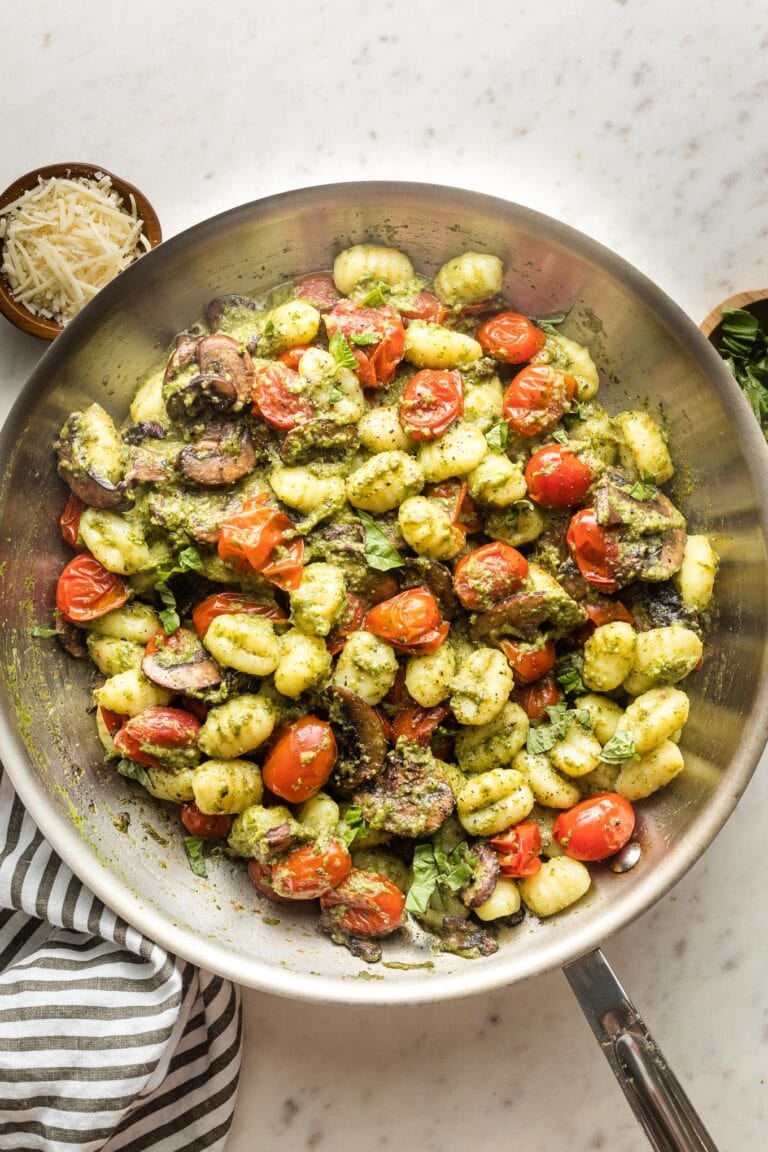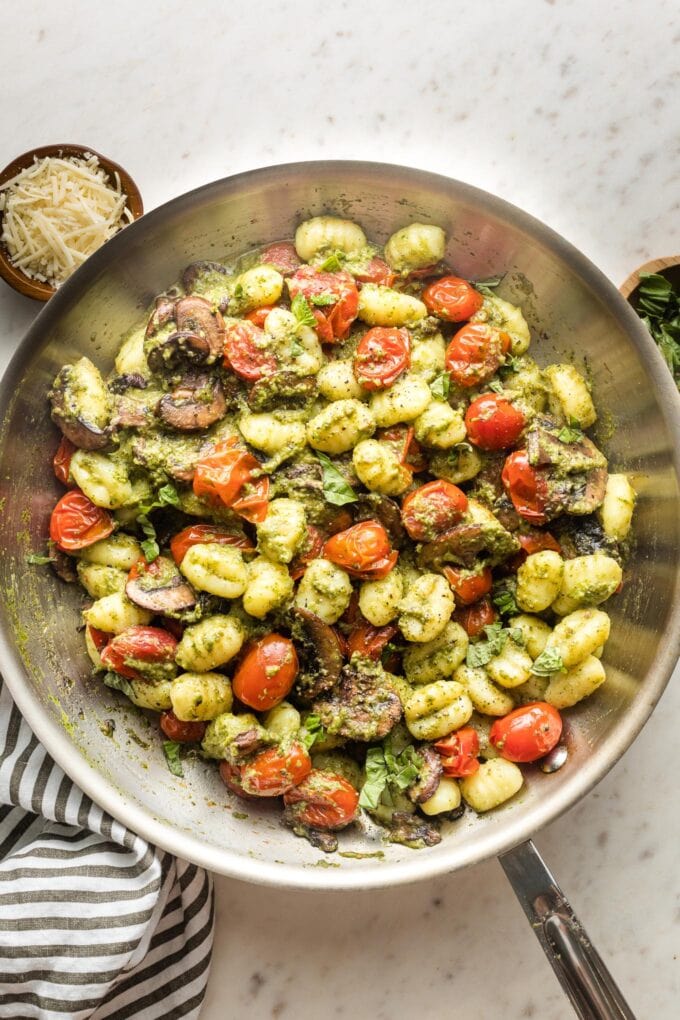 If you try this pesto gnocchi, don't forget to rate the recipe and leave a comment below. I love hearing how recipes turn out in your kitchen, and it helps other readers, too.
You can also FOLLOW me on PINTEREST, INSTAGRAM, FACEBOOK, and TWITTER for more great recipes and ideas!
Pesto Gnocchi with Charred Cherry Tomatoes
Tender gnocchi pair perfectly with basil pesto and oven-charred cherry tomatoes for an amazing meal ready to eat in 25 minutes!
Ingredients
2 cups cherry tomatoes
2  tablespoons olive oil divided
kosher salt
fresh-ground black pepper
16 ounces potato gnocchi
8 ounces  white or baby Bella mushrooms sliced
1 cup pesto
fresh basil and Parmesan cheese optional for serving
Instructions
Preheat oven to 450 degrees F. Spread cherry tomatoes on a rimmed baking sheet, drizzle with 1 tablespoon olive oil, and sprinkle lightly with salt and pepper. Toss briefly to coat, then roast for 10-12 minutes, just until tomatoes are slightly charred and a few have burst. Remove from the oven and set aside.

Meanwhile, boil a large pot of well-salted water and cook gnocchi for 2-3 minutes, just until they float to the surface. Drain and set aside.

Warm remaining 1 tablespoon olive oil in a skillet over medium-high heat. Add mushrooms and season lightly with salt and pepper. Cook for 4-5 minutes, stirring occasionally, until the mushrooms are browned and softened. Stir in pesto; remove from heat.

Add gnocchi and tomatoes to the skillet and stir gently. Serve immediately, garnishing with fresh basil and grated Parmesan, as desired.
Notes
Ingredient Notes: Gnocchi is terrific with both jarred and homemade pesto. If making it homemade, we love this traditional basil and zucchini variety. If using jarred, pick up a high-quality brand if possible, because the flavor is very prominent. DeLallo is my favorite.
Storage: Any leftovers will keep in the fridge up to 3-4 days and reheat well in the microwave.
Nutrition Estimate
Calories: 480 kcal, Carbohydrates: 50 g, Protein: 10 g, Fat: 28 g, Saturated Fat: 5 g, Cholesterol: 5 mg, Sodium: 975 mg, Potassium: 343 mg, Fiber: 5 g, Sugar: 5 g, Vitamin A: 1614 IU, Vitamin C: 18 mg, Calcium: 131 mg, Iron: 5 mg
Did you make this recipe?
Leave a review below, then snap a quick picture and tag @nourishandfete on Instagram so I can see it!
This post was originally published December 3, 2018 and has been updated with new photos and more helpful tips, variations, and serving suggestions.