Pesto Pasta and Peas Recipe
This pesto pasta and peas recipe is quick, easy, and totally delicious! Make your own pesto or use store-bought: either way, this can be ready in less than 20 minutes and makes a lovely light meal.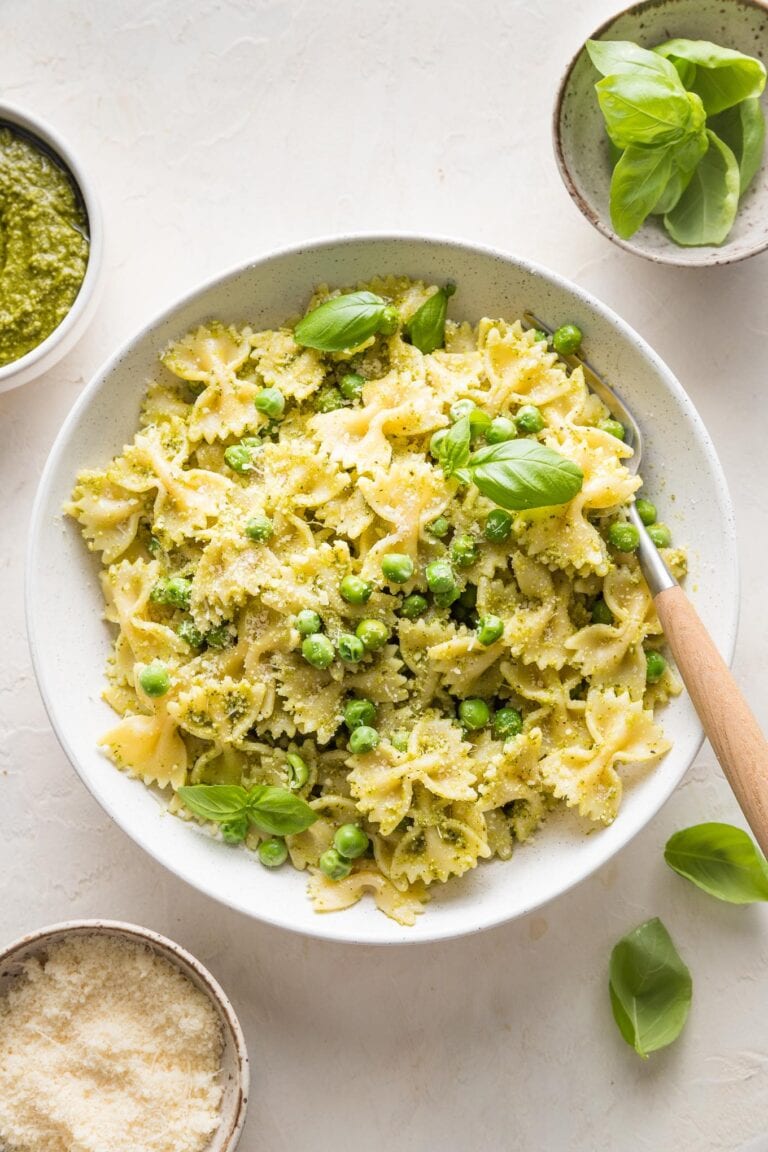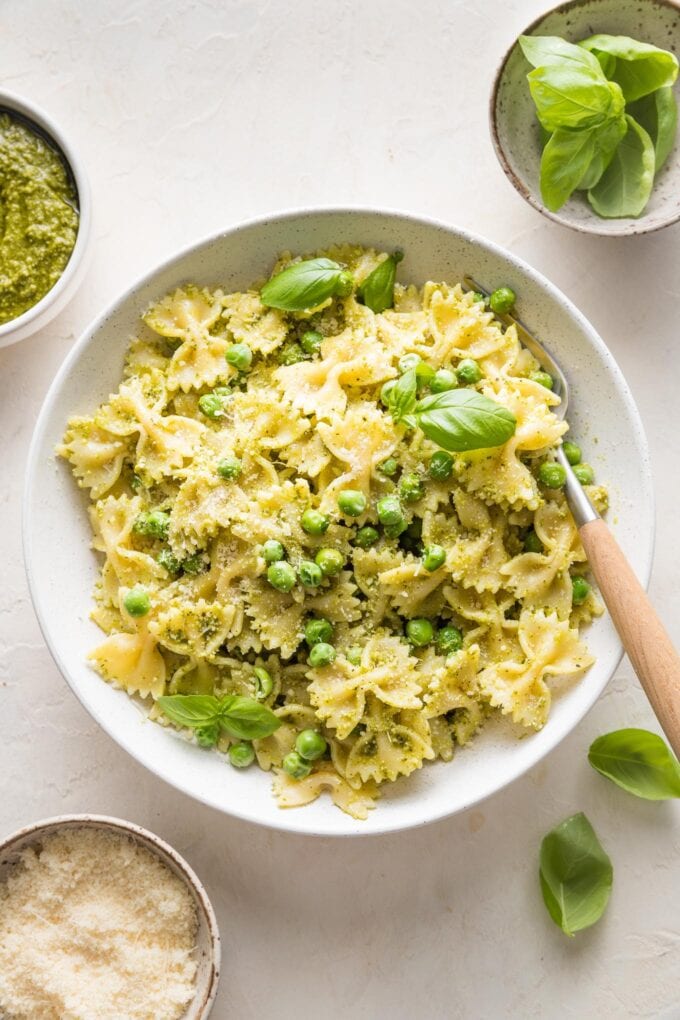 Simple pesto pasta and peas is a go-to meal around here, especially for easy lunches that I know both kids will enjoy. It's got fresh, flavorful basil pesto, al dente pasta, tender peas, and plenty of Parmesan.
As always, this checks lots of boxes for the busy home cook. You'll find that it's:
Ready in 15-20 minutes. Even if you make your own pesto, it moves fast.
Fresh yet cozy. This sits right at the intersection of comfort food and fresh ingredients.
Endlessly versatile. Pesto pasta works as well for a light supper as it does for lunch, a side dish, or a potluck. Dish it up on its own or paired with any protein you like.
I've come to realize that some of the recipes I once considered too simple to share are exactly the ones people want. After all, we're all busy yet want to eat well! I hope this one fits in that category for you.
Ingredients & Substitutions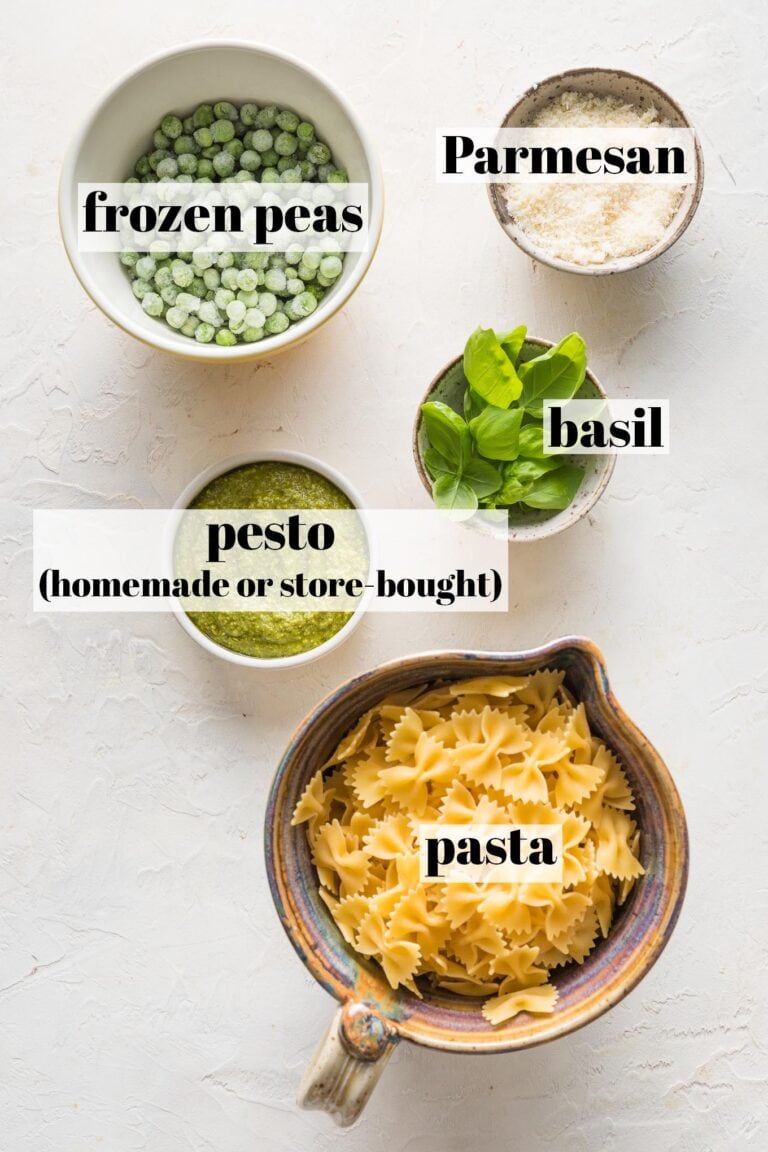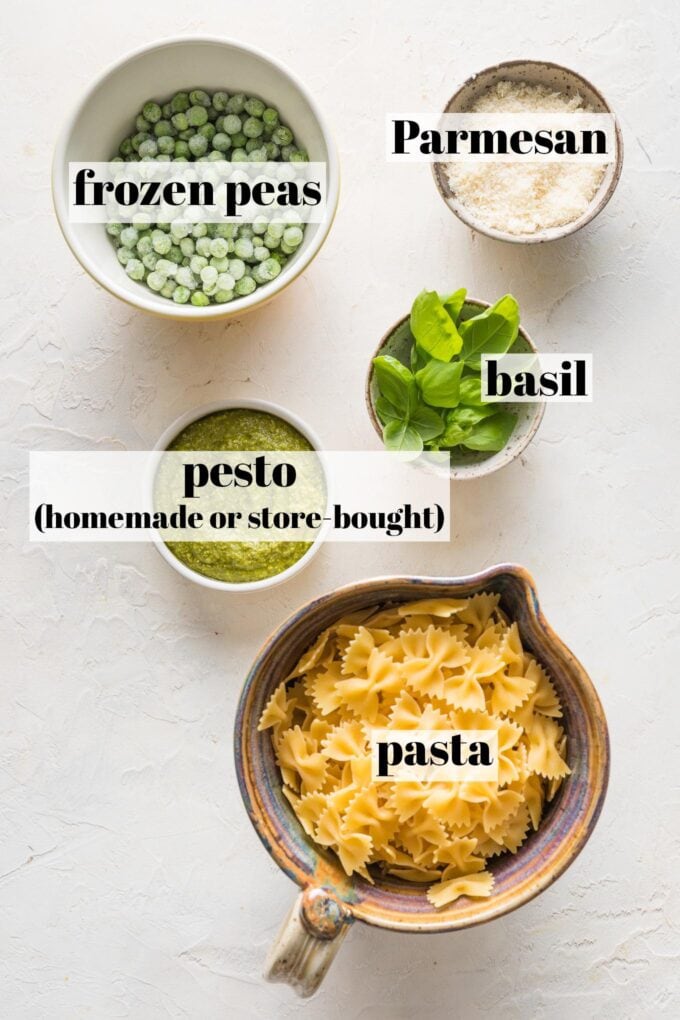 Here are a few notes and shopping tips about the ingredients you'll need to make this, as well as possible substitutions. Find full amounts in the print-friendly recipe card below.
Pesto. The key! To make a traditional homemade pesto, you will need lots of fresh basil leaves, walnuts or a mix of walnuts and pine nuts, olive oil, Parmesan cheese, garlic, kosher salt, and black pepper. You can definitely substitute a store-bought pesto here–I do this often–but use the highest-quality pesto you can afford.
Dried pasta. I love this with farfalle, penne, or rotini, but any medium-sized shape with some ridges will work well. You want to give the pesto some nooks and crannies to fill.
Frozen peas. There's no need to defrost them first–they will cook directly in with the pasta as it boils. Of course you can substitute fresh peas if in season. They will probably need to cook for about half the time.
Extra basil and Parmesan. Pecorino Romano cheese makes a nice subtle twist. You can also add mint if you like for an extra herb–it goes surprisingly very well with peas.
How To Find Quality Store-Bought Pesto
My favorite tip for purchasing pesto? Look in your grocery store's fresh deli section, near fresh tortellini, cheeses, and olives. There will usually be some small tubs of fresh, pre-made pesto. I've had better luck with these pestos than with jarred ones sold on the shelves near dried pasta and other shelf-stable sauces. You can often find dairy-free or nut-free varieties in this section, too.
Can I add meat to this recipe?
Of course! Crumbled bacon, torn prosciutto, or pancetta would be an excellent choice. For myself, I also really enjoy this pasta with garlic butter shrimp or cold oven salmon mixed in.
How To Make Pesto Pasta & Peas
This recipe literally takes 15-20 minutes to make, even with making the pesto from scratch! Let's hit the highlights.
This is a general overview. As always, you will find full instructions with exact ingredients and times in the print-friendly recipe card below.
Boil a large pot of water over high heat. You'll have time to make the pesto while the water comes to a boil, which is what makes this recipe so efficient.
Make pesto, if needed. Blitz walnuts and garlic in a food processor or blender, then add basil, Parmesan, salt, pepper, and olive oil. Boom: pesto!
Cook the pasta and peas. Add a generous pinch of salt to the bubbling water, followed by the pasta. Add peas when about 2 minutes remain in the cook time, then drain everything together.
Combine it all. Mix pasta, peas, and pesto to taste. Add more Parmesan and some fresh basil leaves for garnish.
Pro Tip
Be sure to reserve a small scoop of pasta water before draining the cooked pasta and peas, if you think you may want to loosen the sauce. Water in which pasta was cooked contains starches given off from the pasta, which makes it blend more smoothly into sauces and thin them out gently.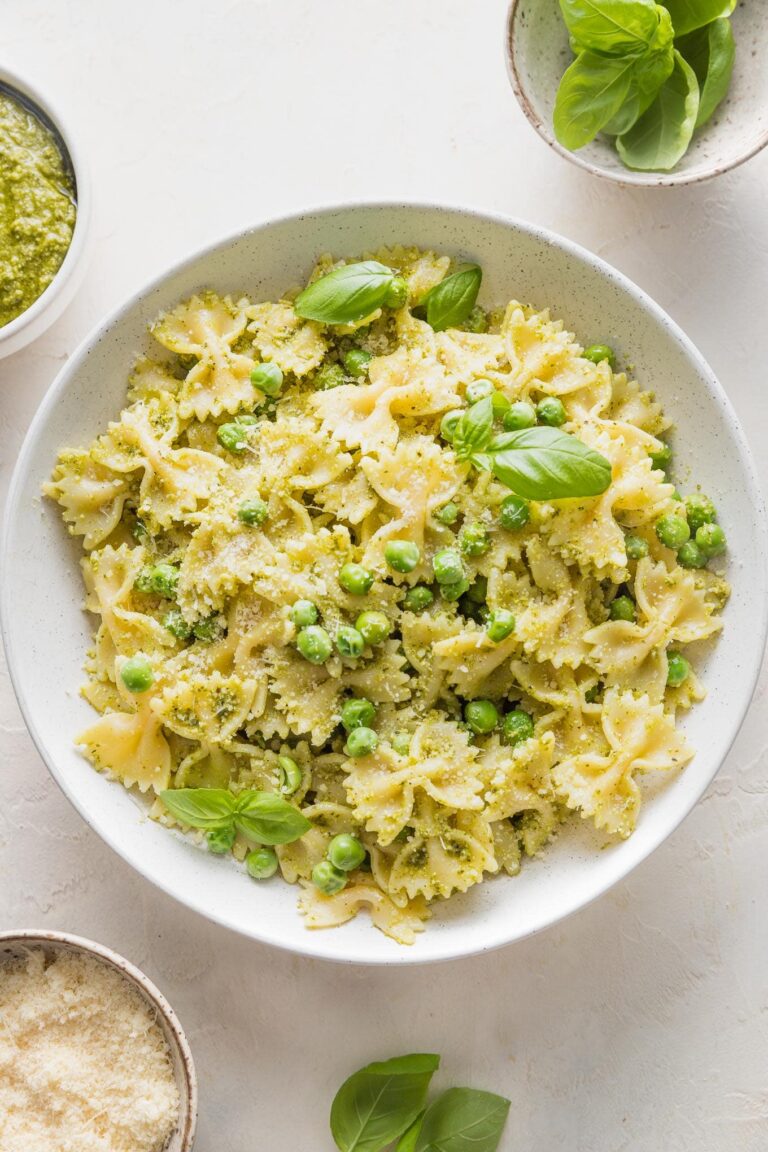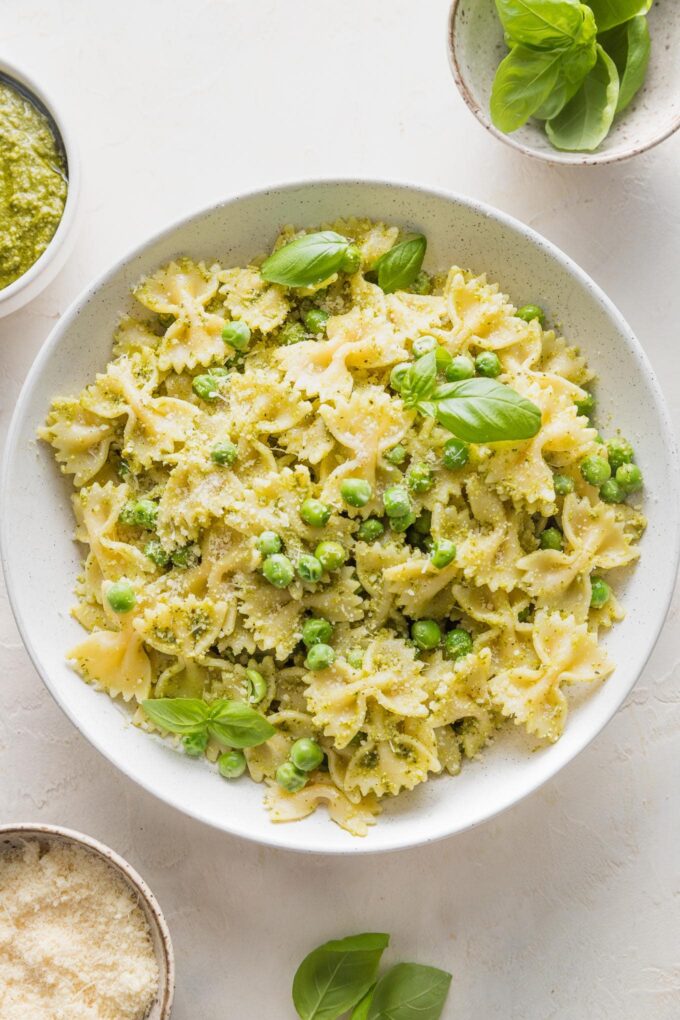 Recipe FAQs & Expert Tips
Is pesto pasta healthy?
Although pesto pasta is of course not low in carbohydrates, this combination does have a good amount of nutrients thanks to the peas, which are high in fiber and protein, and the basil, which has a surprising number of health benefits. If you want to pack in more veggies, try using zucchini basil pesto for this dish and any other that calls for green pesto. It's delicious!
What to serve with pasta and peas?
This is a simple but filling main course on its own, and delicious as a side with grilled chicken, salmon, or steak. We enjoy it hot, room temperature, or cold, making it terrific for prepping ahead of time or taking to a potluck.
I also love to eat the leftovers for a quick lunch, maybe throwing in some arugula, roasted vegetables, or cherry tomatoes–really whatever is in the fridge.
What is pasta e piselli?
You may have heard the term pasta e piselli, which refers to a simple yet delectable Italian pasta recipe with tender peas, lots of Parmesan, butter or olive oil, and perhaps a sautéed onion or shallot. Unlike the dish shared here, pasta e piselli does not traditionally include basil pesto.
Are frozen peas as healthy as fresh ones?
Yes! Freezing preserves the nutrients of peas and other vegetables. Buying frozen produce is an excellent way to ensure you can eat a rainbow of healthful veggies throughout the year.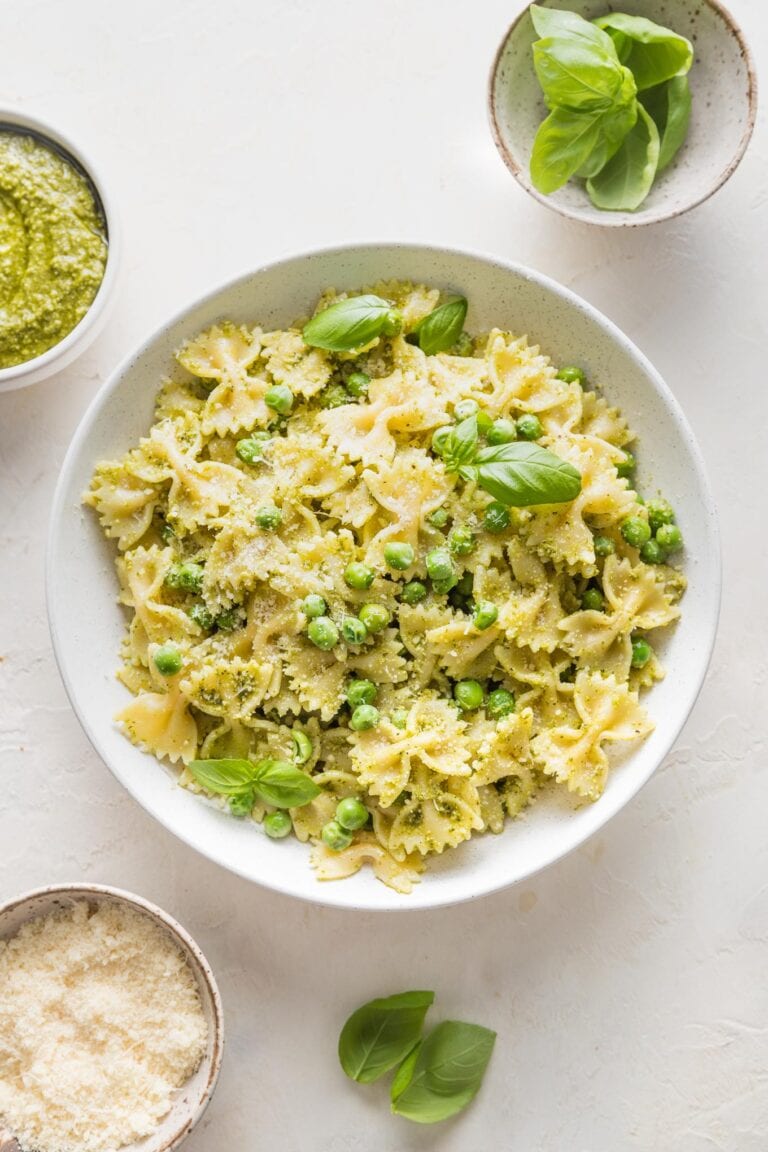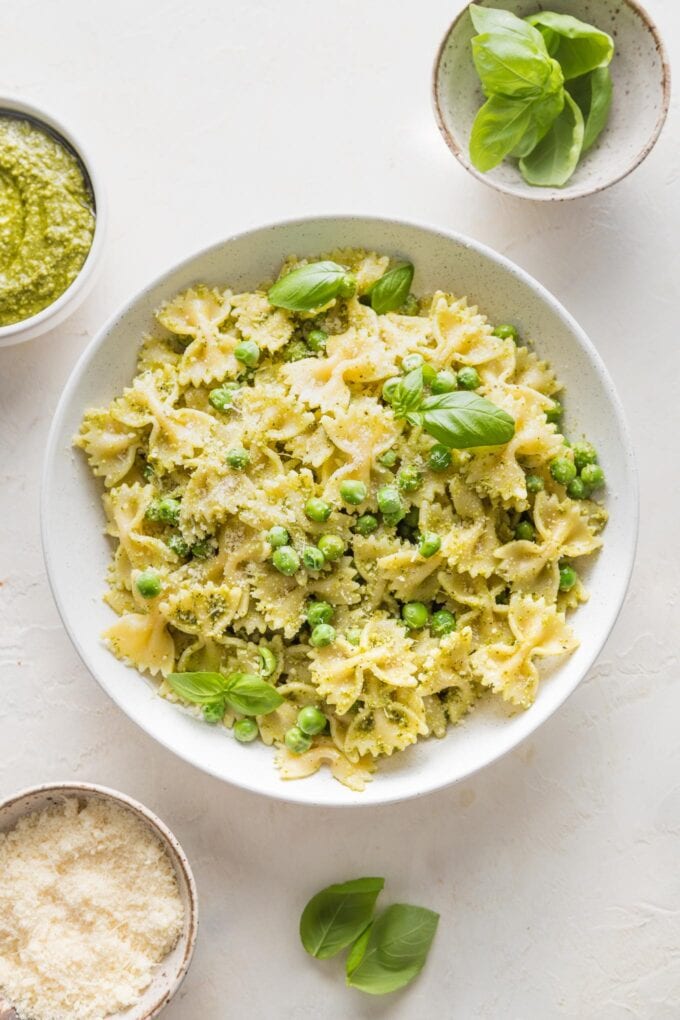 Storage & Reheating
Storage: Place leftovers in any airtight container in the refrigerator for 3-4 days. (These are our favorite meal prep boxes for the fridge.)
Warming: Reheat in the microwave or in a small pan over medium heat on the stovetop. If the pesto looks dry, add a splash of water or broth to thin it back out.
Freezing: Pesto keeps and freezes well, as long as it is not touching any excess air, so it's terrific for making ahead or even making a double batch to mix with pasta for a very quick dinner.
Related Recipes
Looking for more quick and easy pasta dishes? You'll love my lemon broccoli pasta, lemon chicken pasta, roasted tomato spaghetti, or super simple creamy tomato pasta.
If you're into more creative ways to use pesto, try our favorite chicken pesto pasta salad, pesto artichoke chicken, pesto cavatappi, or creamy pesto gnocchi.
If you try this Pesto Pasta and Peas recipe, don't forget to rate it and leave a comment below. I love hearing how recipes turn out in your kitchen, and it helps other readers, too.
You can also FOLLOW me on PINTEREST, INSTAGRAM, FACEBOOK, and TWITTER for more great recipes and ideas!
Pesto Pasta and Peas
Quick, easy, and totally delicious! Make your own pesto or use store-bought: either way, this can be ready in less than 20 minutes and makes a lovely light meal.
Ingredients
For the Pesto
1/2 cup walnut pieces
6 cloves garlic peeled
3-4 cups fresh basil leaves plus more for garnish
3/4 cup grated Parmesan cheese
kosher salt and black pepper
1/2 cup extra-virgin olive oil
Everything Else
1 pound pasta uncooked, any shape
1 and 1/2 cups frozen peas no need to defrost
1/4 cup grated Parmesan cheese
Instructions
Start water: Set a large pot of water to boil over high heat.

If making pesto from scratch: Add walnuts and garlic to the bowl of a food processor or blender. Pulse for 20-30 seconds to finely chop. Add basil, Parmesan, 3/4 teaspoon kosher salt, and 1/4 teaspoon black pepper. While the machine is running, pour in olive oil and process until thoroughly pureed, about 60 seconds. Sample, add more salt and pepper to taste, and set aside.

Cook the pasta and peas: When the water is bubbling rapidly, add a generous pinch of salt and the pasta. Cook according to package directions just to al dente. When 2 minutes remain in the cooking time, add peas to the boiling water directly with the pasta. Scoop out about 1/2 cup of the pasta water in a liquid measuring cup, then drain pasta and peas together in a large colander or strainer.

Finish: Transfer the drained pasta and peas to a large bowl. Stir in about half of the pesto and 1/4 cup Parmesan. Add more pesto to taste, and stir in pasta water a spoonful at a time if desired to loosen the sauce. Garnish with extra basil leaves, serve, and enjoy.
Notes
Use Store-Bought Pesto: Use a good quality store-bought pesto to make this even faster and easier. I try to buy the most expensive pesto I can, which is usually one that I find in the refrigerated deli section of the store, rather than jarred on the shelf with pastas and other sauces. Pesto tastes a lot better when fresh. For 1 pound of dried pasta I find 6-7 ounces of pesto works well, but this will depend a lot on your family's taste.
Use Another Homemade Pesto: Use your own favorite recipe or try my basil pesto with lemon zest, zucchini basil pesto, or sun-dried tomato pesto for a twist.
Substitute the Walnuts: I like to use half walnuts and half pine nuts, although the price of pine nuts can be prohibitive sometimes. You can also swap in other nuts; feel free to experiment.
Ideas For Extra Pesto: Store extra pesto in an airtight container in the refrigerator for 4-5 days. Spread it on sandwiches, mix it into soups, add to meatballs, or spread on roasted salmon for any easy burst of flavor.
Nutrition Estimate
Calories: 458 kcal, Carbohydrates: 50 g, Protein: 14 g, Fat: 23 g, Saturated Fat: 4 g, Polyunsaturated Fat: 5 g, Monounsaturated Fat: 11 g, Cholesterol: 11 mg, Sodium: 515 mg, Potassium: 285 mg, Fiber: 4 g, Sugar: 3 g, Vitamin A: 793 IU, Vitamin C: 13 mg, Calcium: 157 mg, Iron: 2 mg
Did you make this recipe?
Leave a review below, then snap a quick picture and tag @nourishandfete on Instagram so I can see it!
If you try this White Wine Chicken recipe, don't forget to rate it and leave a comment below. I love hearing how recipes turn out in your kitchen, and it helps other readers, too.