Creamy Tomato Pasta
This recipe for Creamy Tomato Pasta comes together in just 20 minutes, uses simple ingredients, and is a little lightened-up. Tender pasta gets coated in a silky tomato sauce that only tastes decadent.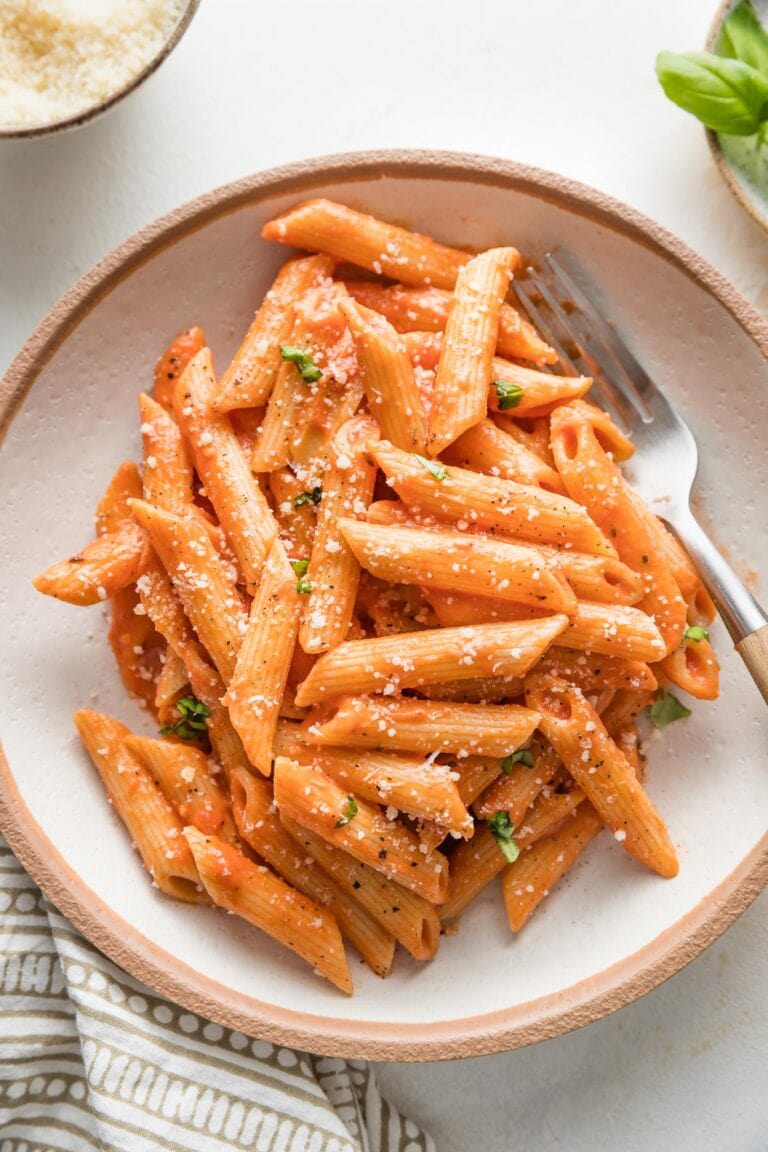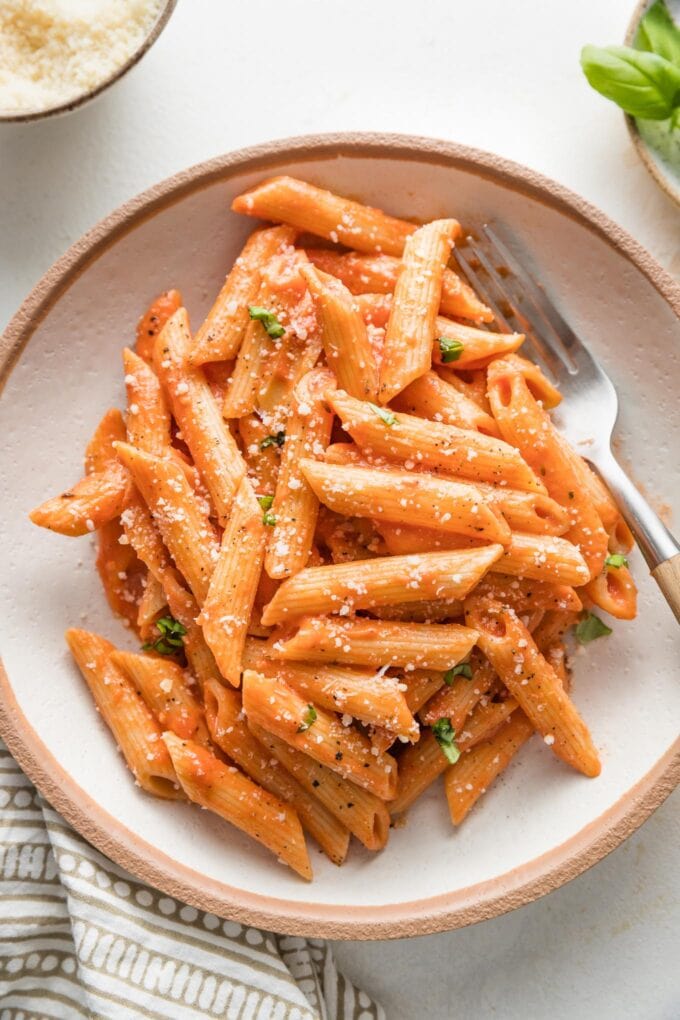 The Best Creamy Tomato Sauce for Pasta
Nothing makes or breaks a pasta dish like the sauce, and this creamy tomato blend is one we rely on time and again. It's so quick and easy to make, yet tastes restaurant-worthy. It's also crowd-pleasing, so worth trying when you have picky eaters to please.
Pasta with this creamy tomato sauce is a star:
Ready in about 20 minutes, with minimal prep and clean-up.
Made of everyday ingredients, so shopping is a breeze.
The perfect blend of indulgent and healthy, with a lighter yet still irresistible cream sauce that clings to each piece of pasta.
Paired with a simple salad or veggies and garlic bread, this is the ultimate comforting dinner that doesn't take all day to get on the table.
Love the sound of this? You'll also adore creamy tomato sauce for tortellini!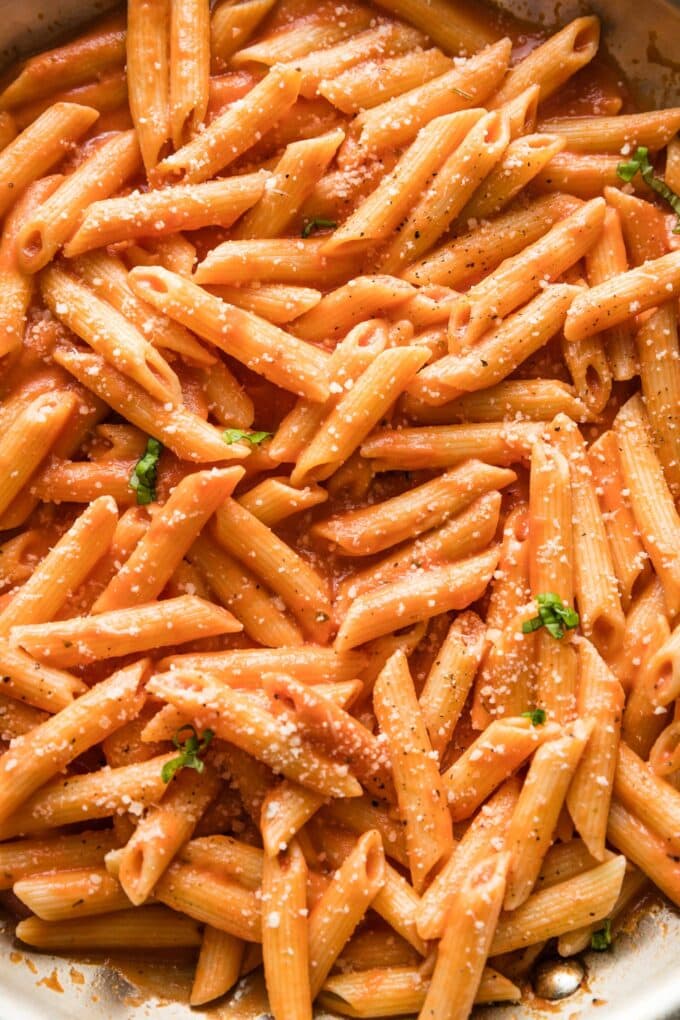 Ingredients & Common Substitutions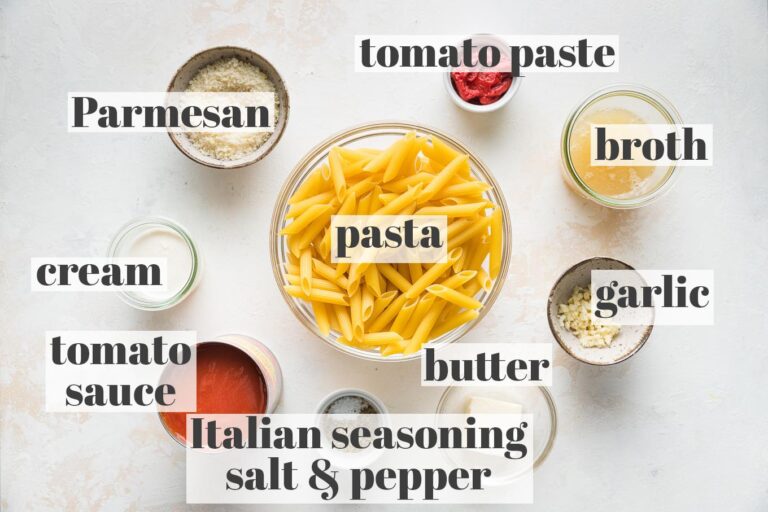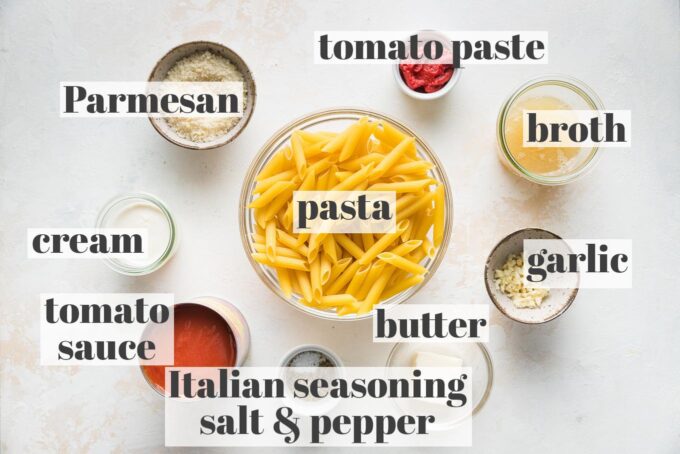 Here are a few notes and shopping tips about the ingredients you'll need to make this, as well as possible substitutions.
Pasta: Use penne, rigatoni, rotini, cavatappi, or another shape with small ridges or nooks and crannies.
Tomato sauce and tomato paste: A dynamic duo for making a silky yet full-bodied tomato sauce any time of the year. Although my favorite brand is Muir Glen, we've had good results from Trader Joe's and the Whole Foods 365 store brands as well.
Broth: This helps to form the base of and stabilize the sauce without relying on giant glugs of heavy cream. Use chicken or vegetable broth, any brand that you like.
Cream: Yes, we still need some cream. It's silky creamy tomato pasta, after all!
Garlic: Do yourself a favor and use fresh minced garlic here. It flavors the whole sauce.
Butter, Italian seasoning, kosher, and black pepper. You can substitute olive oil for the butter if you like.
Parmesan and Fresh Herbs: For garnish. Italian parsley, basil, or oregano are all lovely.
How To Make Creamy Tomato Pasta
You truly won't believe how quickly this comes together. The longest single step is boiling water for the pasta!
Cook pasta just to al dente, or even a little shy.
Melt butter in a large skillet over medium-high heat, then add minced garlic and cook for just 30-60 seconds. You want to proceed with the next step just after the garlic is fragrant and lightly browned, before it comes close to burning.
Add tomato sauce, tomato pasta, broth, and Italian seasoning. Simmer at this step for 1-2 minutes. This begins to thicken the sauce and intensify flavors, meaning that you can add less heavy cream and still get a lusciously creamy sauce.
Reduce heat to medium, then stir in the cream. Simmer until it's as thick as you like. Season with salt and pepper to taste.
Toss drained pasta with sauce and dig in! Fresh basil and Parmesan cheese are icing on the cake.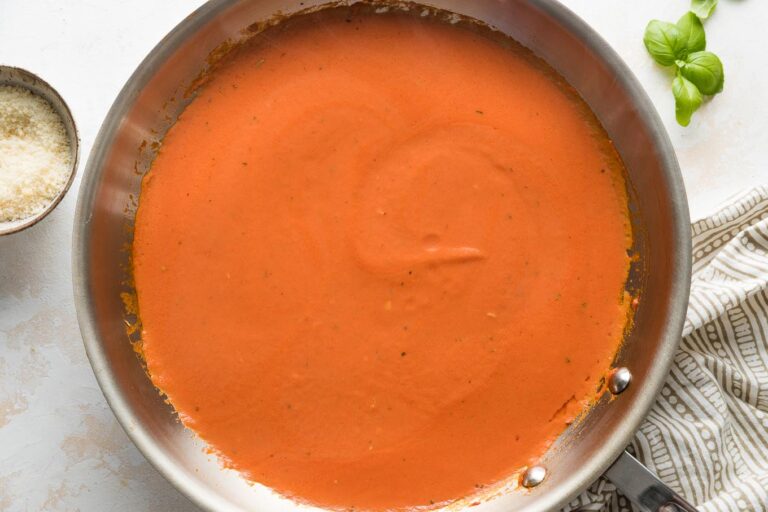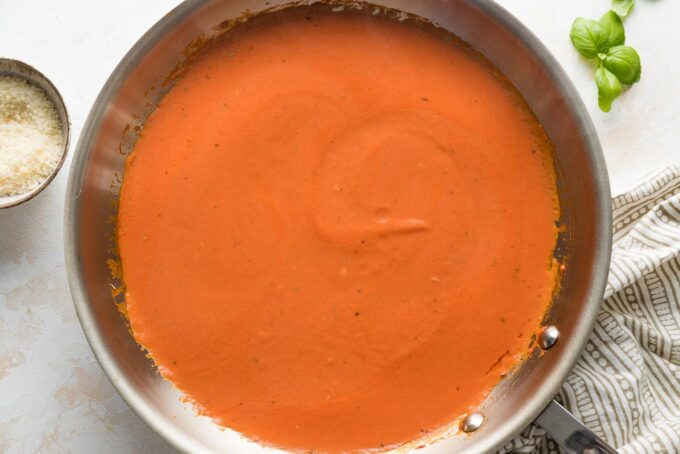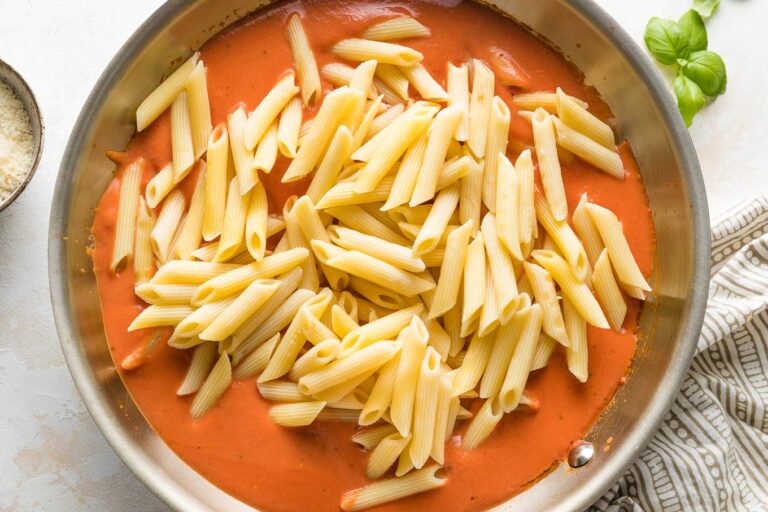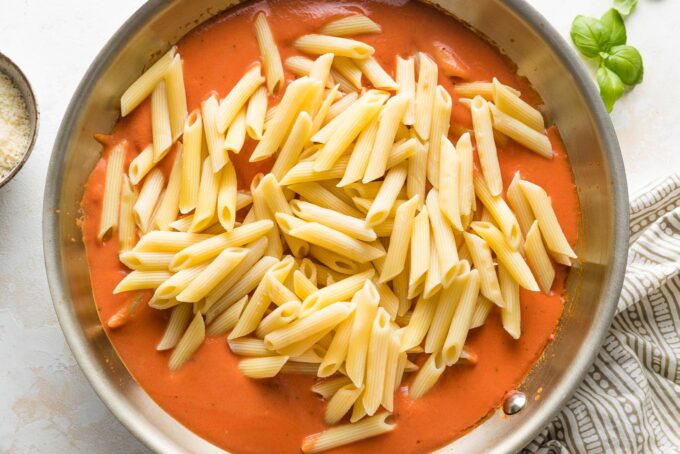 Pro Tip: If the timing works out, you do not need to drain the pasta into a colander, then toss into the sauce. Use a wide slotted spoon to transfer cooked pasta directly from the boiling water into the sauce. It's OK if a little water comes with it!
Does cream curdle in tomato sauce?
A notorious challenge of making a creamy tomato pasta sauce is the risk of curdling, which is the separation of the sauce components into small curds or lumps. This is possible with any cream sauce, but especially with a tomato-based sauce, because of tomatoes' acidity.
Curdling is more likely when the cream and the acid (tomatoes) are at very different temperatures, so it helps to leave the cream out at room temperature while you begin preparing the sauce. It also helps somewhat to add the cream at medium heat or lower, and take care not to cook it too long or over very high heat after incorporating the cream.
How to fix curdled cream in tomato sauce?
Tomato cream sauce already curdled? Never fear–a broken sauce can be fixed with a generous splash of water! Add about ¼ cup of water to the skillet and whisk constantly as the sauce returns to a simmer. The bubbling action will help everything re-meld and bring back your rich, glossy sauce back to life.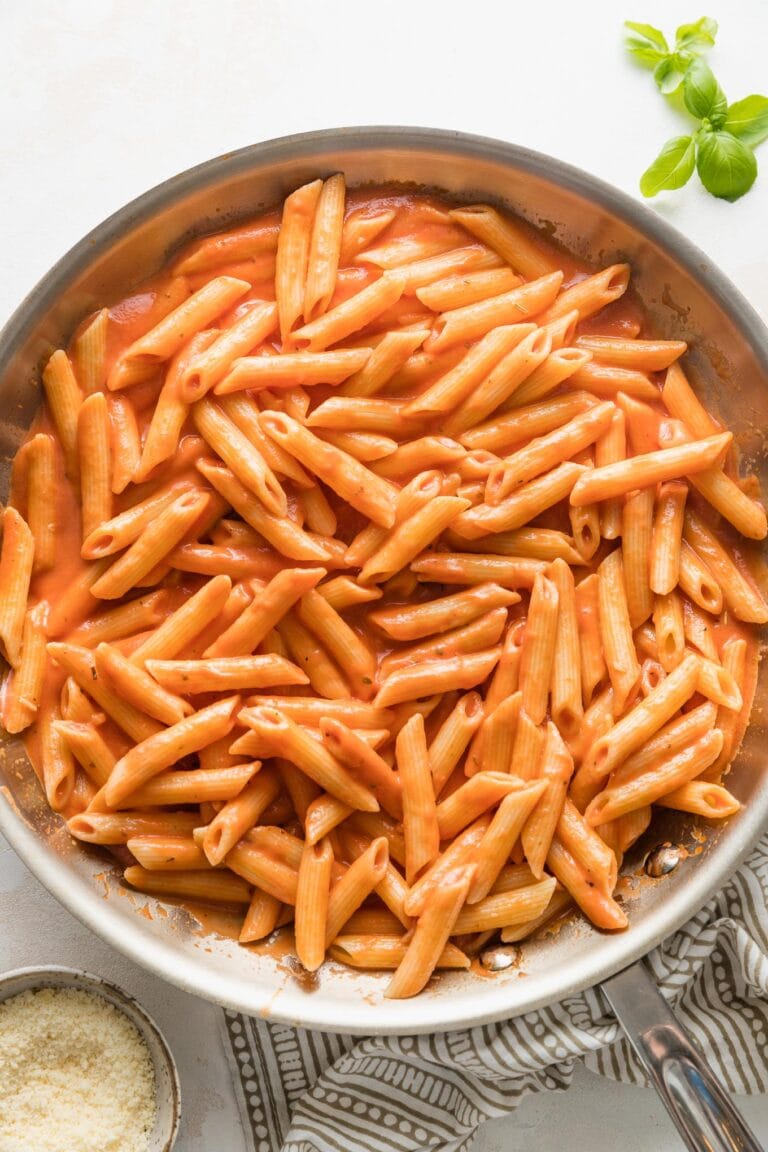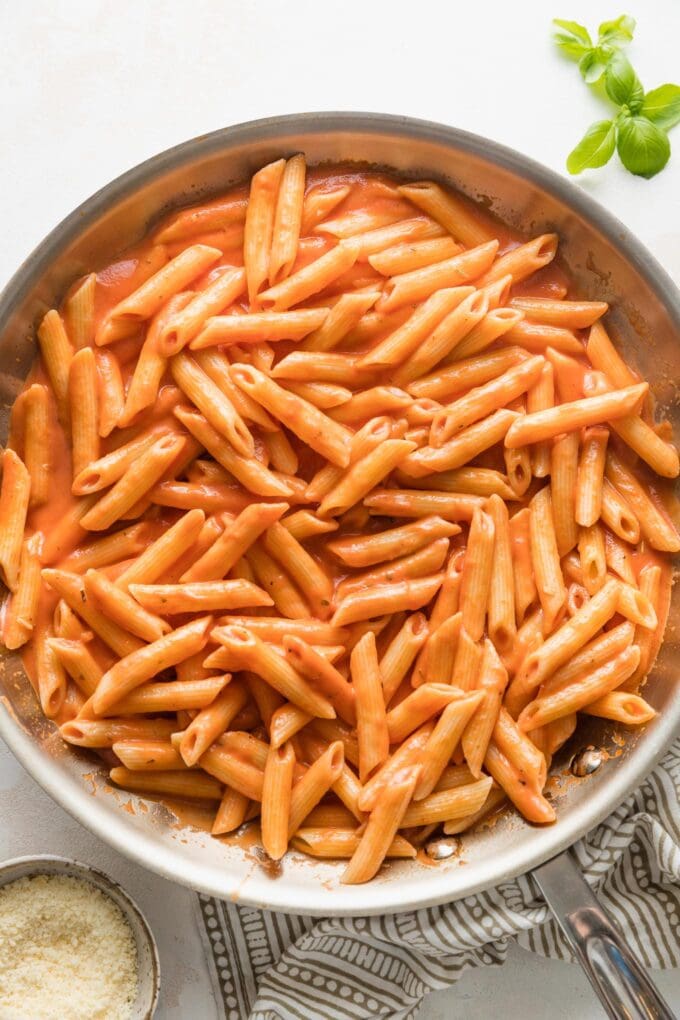 Variations and Add-Ins
Use your favorite gluten-free pasta to make the whole dish gluten-free.
Add a couple generous handfuls of baby spinach, arugula, or Tuscan kale for some built-in greens. Mix these in just after swirling in the cream, and they will wilt lightly into the sauce.
Sauté half a yellow, white, or sweet onion, or a generous handful of mushrooms, in the butter for 3-4 minutes before adding the garlic. This adds an extra layer of flavor. Shallot would also be nice.
Add shredded rotisserie chicken, cooked meatballs, or garlic butter shrimp to incorporate some protein.
Swap out or add to the Italian seasoning with your favorite dried or fresh herb. Basil, oregano, thyme, and rosemary all work well.
Add a pinch of red pepper flakes for heat.
Serving Suggestions
We love this for a simple, comforting family dinner with roasted garlic green beans, broccolini, or a large green salad. Add garlic bread, garlic knots, or breadsticks to stretch it and win bonus points. 🙂
If you want to serve this more as a side dish, it's a great complement to Italian dressing chicken or baked boneless pork chops.
Storage & Reheating
Creamy tomato pasta keeps and reheats very well. The sauce usually maintains its consistency as long as it's not warmed for too long or over excessively high heat.
Storage: Leftovers keep very well for 3-4 days. Store in any airtight container in the fridge. (These are our favorite meal prep boxes!)
Reheating: Warm in the microwave or over medium-low heat in a small saucepan. Add a splash of broth or water to help loosen the sauce and minimize sticking, only if needed.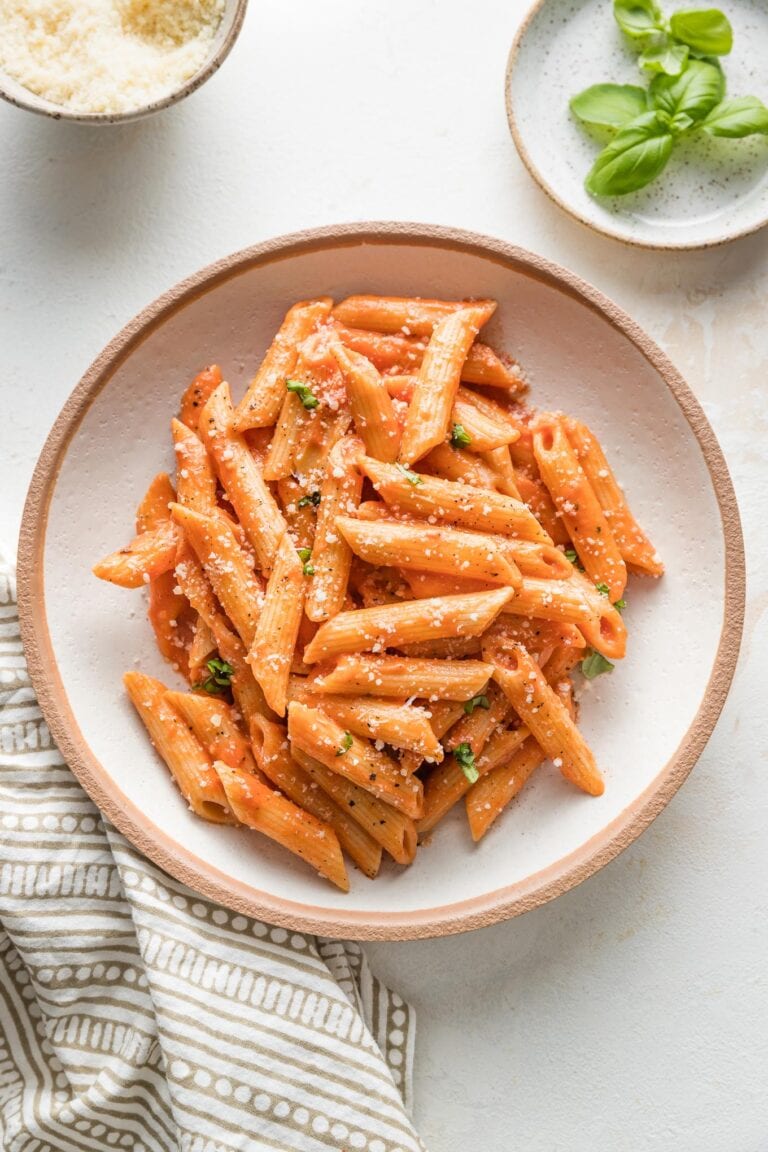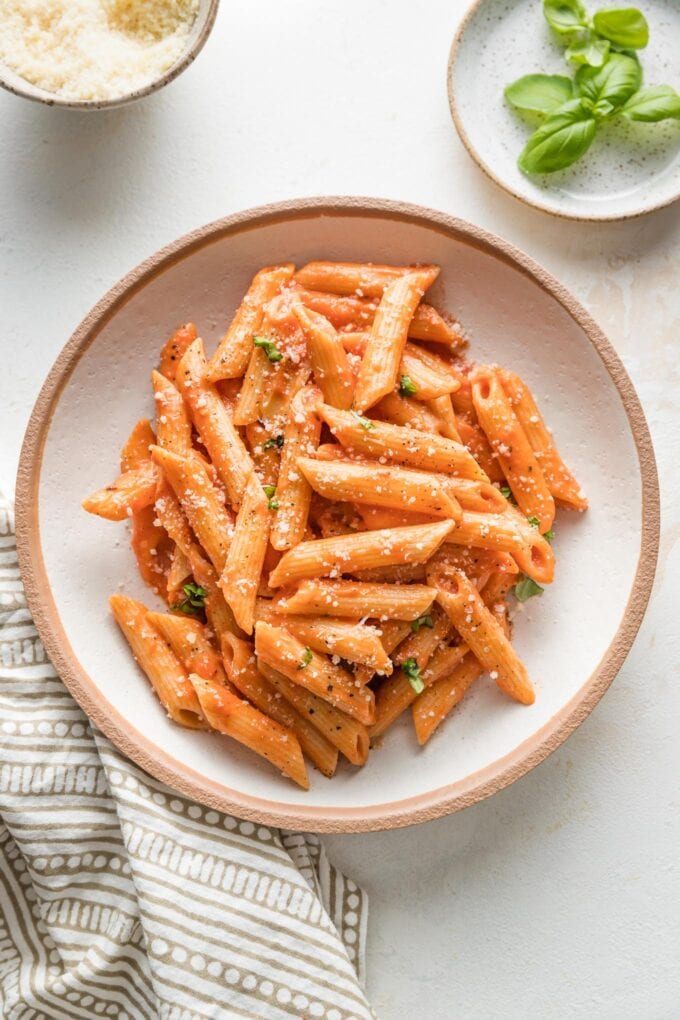 More Easy Pasta Recipes
If you enjoy this recipe, you'll also like my creamy Cavatappi pasta, tortellini Alfredo, lemon caper pasta, pasta Napoletana, or creamy one-pan Tuscan gnocchi. Prefer a pesto sauce? This pesto gnocchi is always a quick, easy, and delicious side or light main dish.
If you try this recipe for Creamy Tomato Pasta, don't forget to rate it and leave a comment below. I love hearing how recipes turn out in your kitchen, and it helps other readers, too.
You can also FOLLOW me on PINTEREST, INSTAGRAM, FACEBOOK, and TWITTER for more great recipes and ideas!
Creamy Tomato Pasta
Tender pasta in a silky tomato cream sauce that only tastes decadent.
Ingredients
8 ounces pasta
2 Tablespoons butter
2-3 cloves garlic minced
1 (14 ounce) can tomato sauce
2 Tablespoons tomato paste
1/2 cup chicken or vegetable broth
1/2 teaspoon Italian seasoning
1/4 cup cream
kosher salt and black pepper
Parmesan for serving
Instructions
Boil a large pot of water. Add a generous pinch of salt, followed by the pasta. Cook to al dente, according to package directions. Drain and set aside.

While the pasta cooks, melt the butter in a large skillet set over medium-high heat. Add garlic and cook for 30-60 seconds, just until fragrant.

Add tomato sauce, tomato paste, broth, and Italian seasoning. Stir into a smooth sauce and let simmer for 1-2 minutes, then reduce heat to medium and stir in the cream. Simmer for another 2-3 minutes, until it's as thick as you like. Season with salt and pepper to taste. (I start with 1/4 teaspoon salt and 8-10 cranks pepper.)

Add drained pasta, toss well, and serve with generous sprinkles of Parmesan.
Nutrition Estimate
Calories: 346 kcal, Carbohydrates: 50 g, Protein: 10 g, Fat: 12 g, Saturated Fat: 7 g, Polyunsaturated Fat: 1 g, Monounsaturated Fat: 3 g, Trans Fat: 0.2 g, Cholesterol: 32 mg, Sodium: 695 mg, Potassium: 533 mg, Fiber: 4 g, Sugar: 7 g, Vitamin A: 950 IU, Vitamin C: 9 mg, Calcium: 48 mg, Iron: 2 mg
Did you make this recipe?
Leave a review below, then snap a quick picture and tag @nourishandfete on Instagram so I can see it!