Lemon Caper Pasta
This easy Lemon Caper Pasta recipe uses just a handful of ingredients and takes about 20 minutes, yet tastes fresh and flavorful. It's a lovely simple meal by itself, or an elegant side dish to chicken, fish, or shrimp.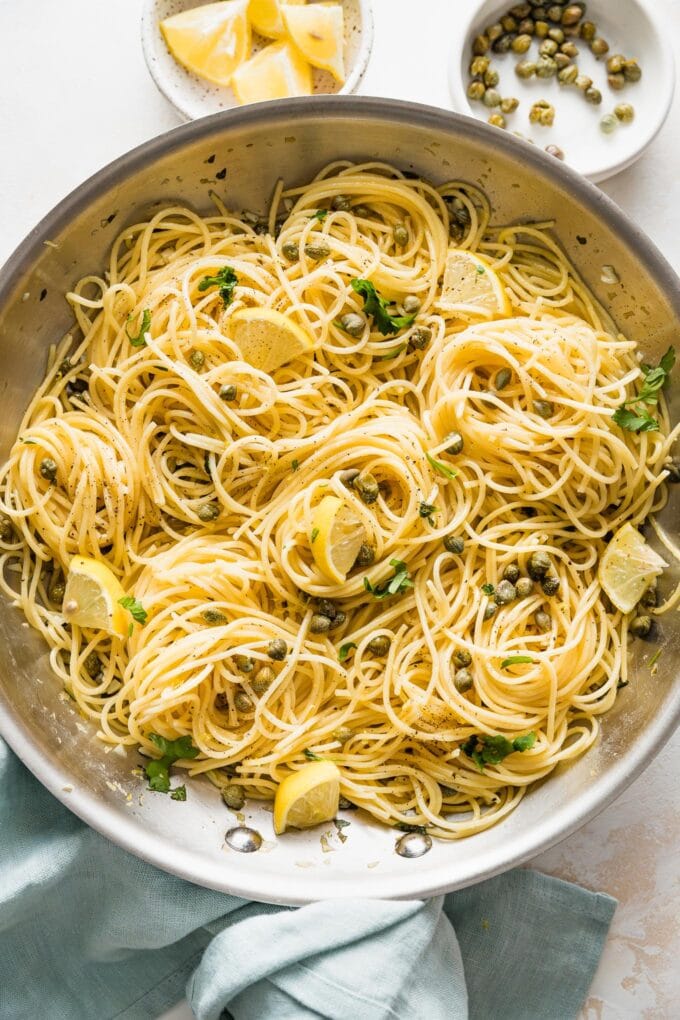 You'll Love This
Busy cooks rejoice! This is a fresh, real food meal that can be on the table in 20 minutes flat.
Short shopping list. Just a handful of ingredients can impart terrific flavor when they're well-chosen and delicious. Most are pantry staples, too.
Flexible flavor. Love briny capers? Pile more on your helping. Suspicious kids? They'll love the pasta with light lemon butter sauce, no capers needed.
Ingredients & Common Substitutions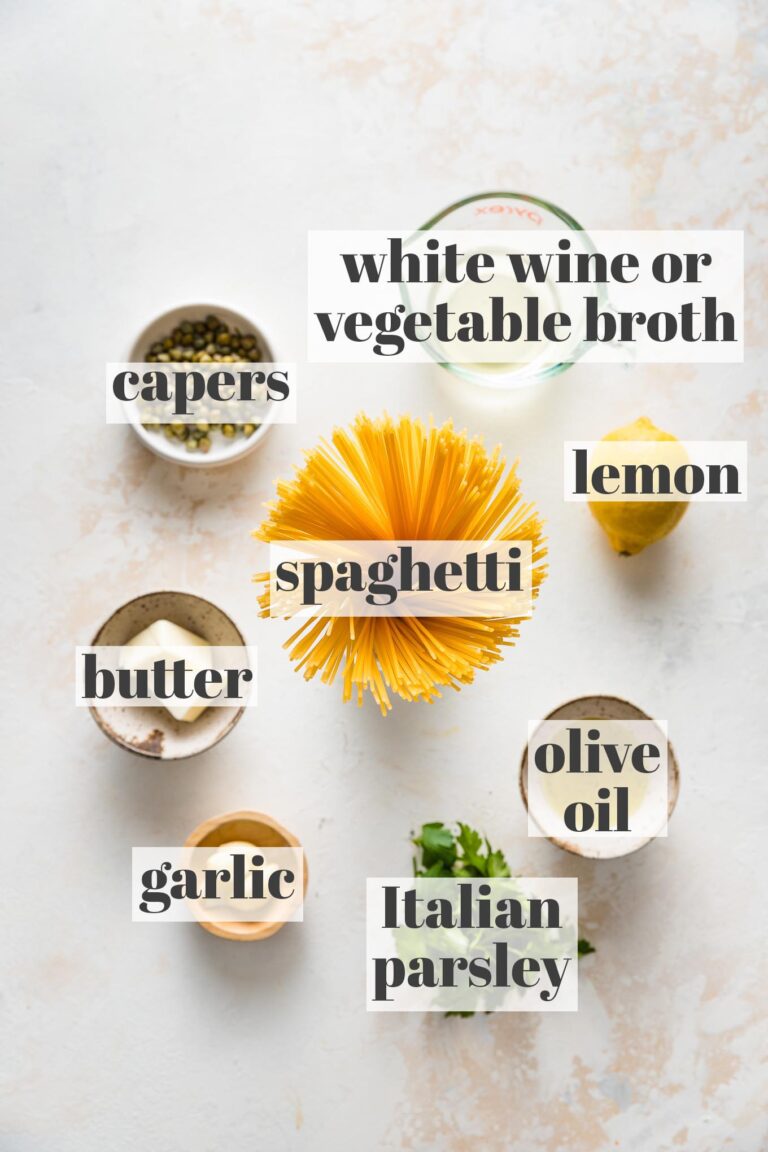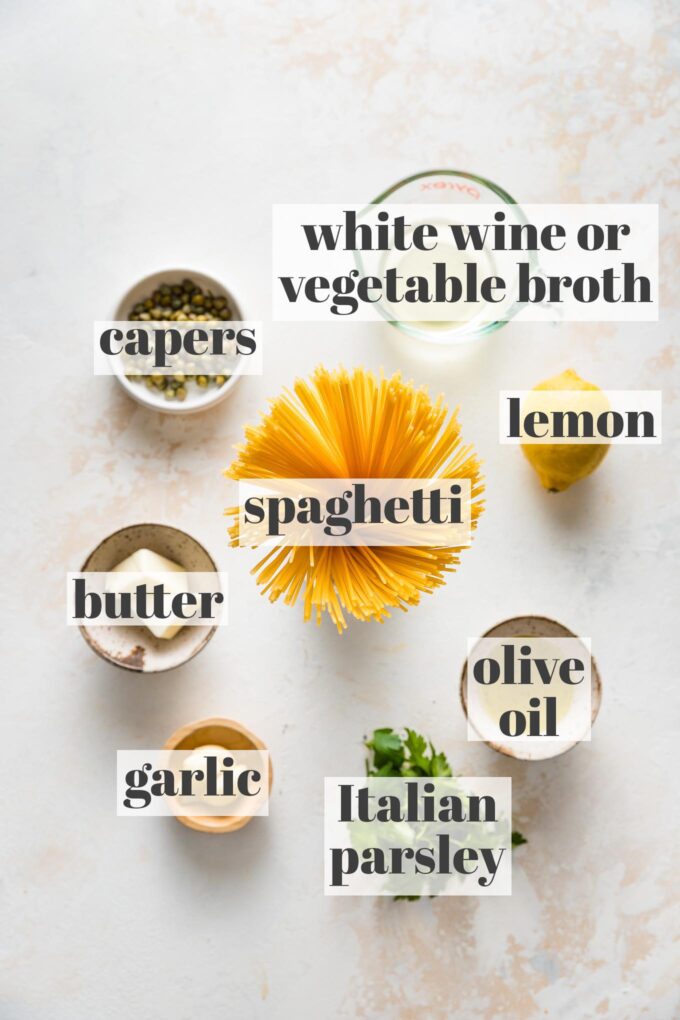 Here are a few notes and shopping tips about the ingredients you'll need to make this, as well as possible substitutions. Full ingredients & amounts are in the recipe card below.
Spaghetti: Or any other pasta shape that you have. It would be terrific with rotini or shells, as well.
Lemon: Use a fresh lemon here–it's a key part of the sauce, and you'll want both the zest and the juice. For the easiest prep, use a lemon zester before slicing the lemon in half and juicing.
Garlic: Again, fresh is best here.
Capers: The tiny green condiment most well-known for its crucial role in chicken piccata, capers are the briny add-on that sets this dish apart.
Dry White Wine or Vegetable Broth: You can use either or a combination of the two. Chicken broth or stock also works, if you're not concerned about keeping this vegetarian.
Butter and Olive Oil: Use a bit of both to add flavor without weighing the sauce down.
Fresh Parsley: The most lovely little garnish and pop of bright green at the end. Either curly or flat-leaf parsley goes well.
What are capers?
Jarred capers are actually the green, un-ripened flower buds of a prickly bush called capparis spinosa, which grows wild across the Mediterranean and parts of Asia. They appear frequently in Mediterranean cooking.
The buds are picked, dried, and then either cured in salt or pickled in brine. This process is what gives capers their signature briny, tangy, savory flavor, with a bit of a floral note. This makes sense, since they are a flower bud, after all!
Do you rinse capers from the jar?
You should drain but do not need to rinse capers packed in brine. You can rinse jarred capers, however, if you prefer, to remove some of the saltiness associated with the pickled brine. This is just a flavor preference.
How To Make Lemon Caper Pasta
This is an overview. Full instructions with timing & temperatures are in the recipe card below.
Step One: Cook pasta in well-salted, rapidly boiling water. Scoop out about 1/2 cup of the pasta water just prior to draining–this will be the perfect liquid to use to loosen or stretch the sauce if desired.
Step Two: Grab a pan to start the quick lemon caper sauce. Melt butter, cook garlic, then swirl in the white wine or broth. Let this mixture reduce very briefly, then add the good stuff: one more tablespoon of butter, lemon zest and juice, and the capers.
Step Three: Finish by tossing in the cooked pasta. Give everything a good stir and let it sit for a moment to let the pasta soak up a bit of sauce. It should cling lightly to the pasta, not pool around it, if that makes sense. Add a bit of reserved pasta water if desired.
Step Four: Garnish and serve! Lemon wedges and extra parsley make it all look fresh and bright.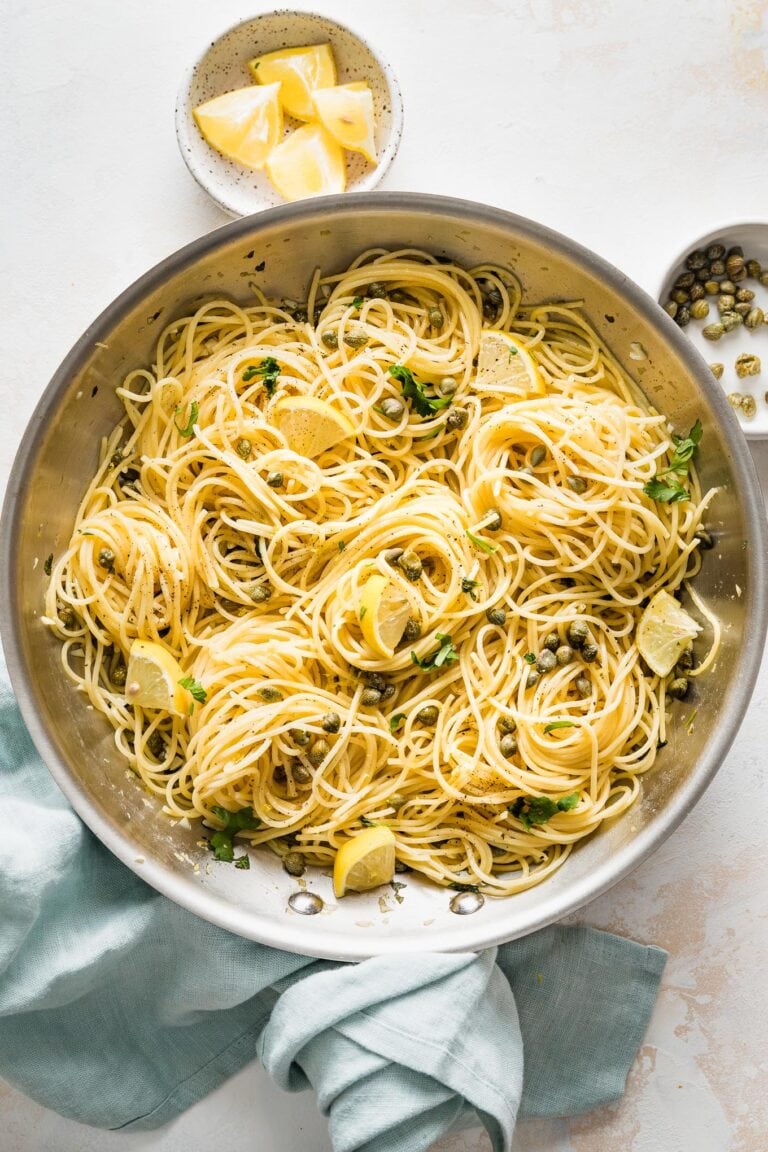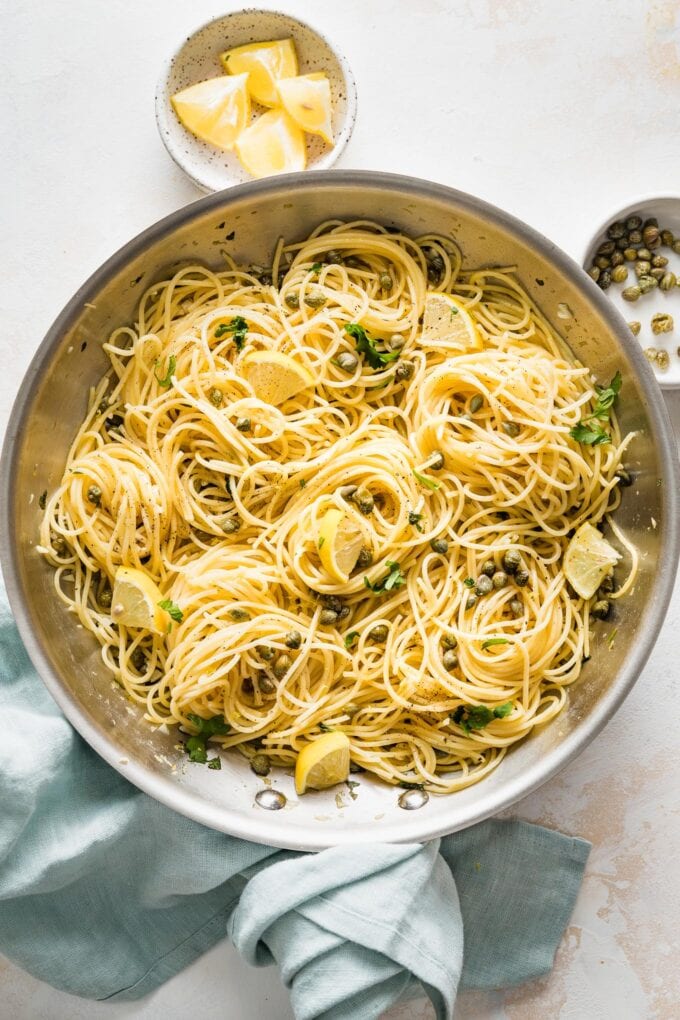 Variations and Add-Ons
Add Parmesan cheese on individual servings for a light yet creamy touch.
Love a little heat? This goes beautifully with a sprinkling of red pepper flakes.
Want more textural contrast? This is terrific with the same garlicky breadcrumbs we use in this spaghetti with mushrooms and oregano.
Craving more color? Mix in some drained green olives, cherry tomatoes, or additional herbs.
Serving Suggestions
Serve with a light salad and garlic bread for a simple meal. This is the answer to your busy weeknight dinner dilemmas!
Use this as a side to your favorite light protein. We find it goes really well with Greek chicken, lemon butter tilapia, or garlic butter shrimp. Scallops or other seafood would also be good pairings.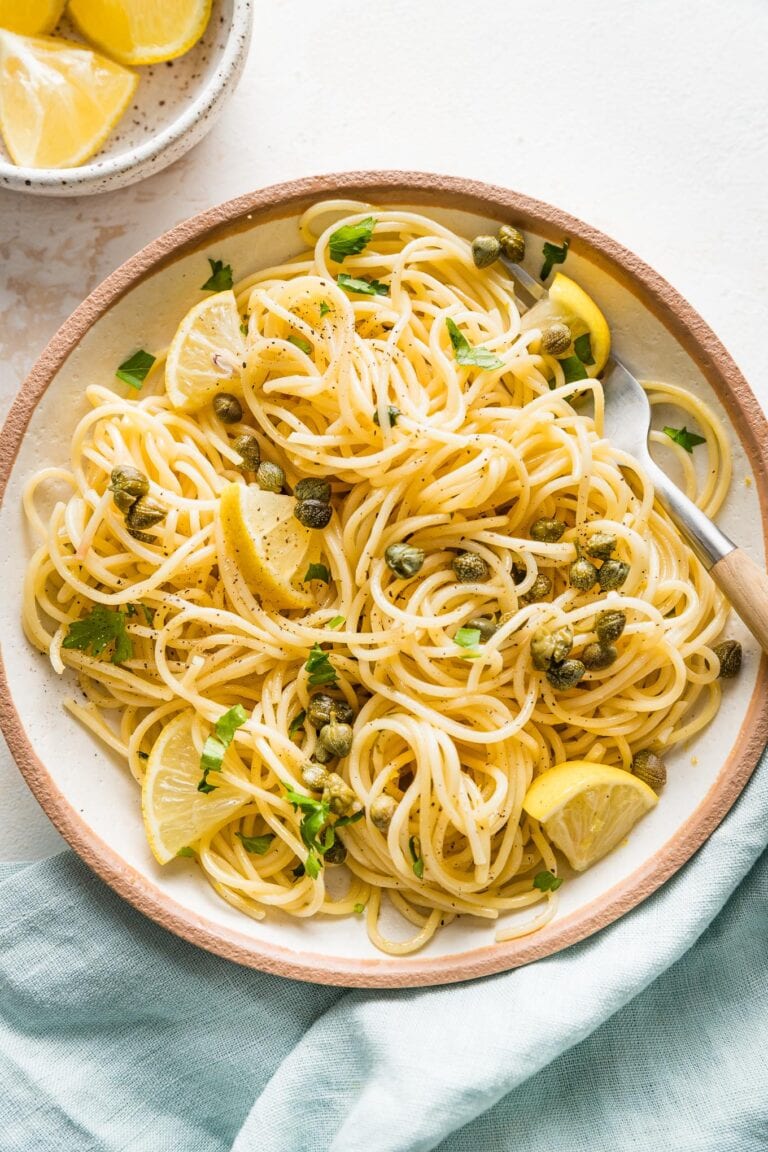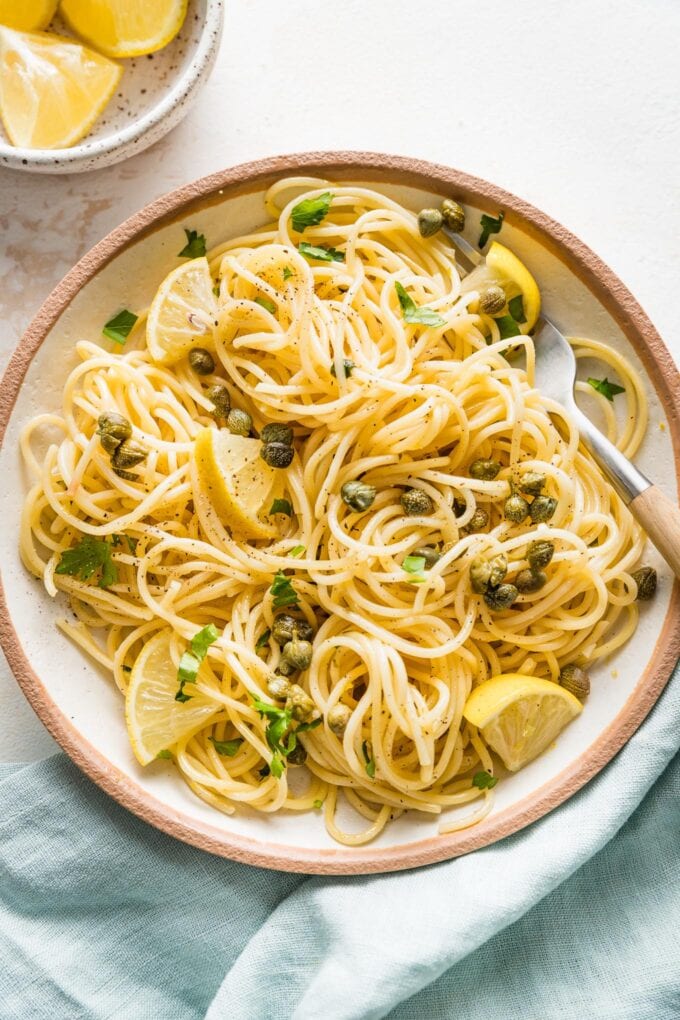 Storage & Reheating
As with most pasta dishes, this one is great to reheat and enjoy for lunch the next day.
Storage: Leftovers keep very well for 3-4 days. Store in your favorite airtight containers in the refrigerator.
Reheating: Warm in the microwave or over medium-low heat in a small saucepan. Add a splash of broth or water to help loosen the sauce and minimize sticking. An extra squeeze of lemon juice gos a long way to freshen it up before eating.
More Easy Pasta Recipes
These are always a winner for a quick, simple, crowd-pleasing meal. Try my easy garlic butter pasta, lemon chicken pasta, or salmon pesto pasta next.
If you try this Lemon Caper Pasta, don't forget to rate the recipe and leave a comment below. I love hearing how recipes turn out in your kitchen, and it helps other readers, too.
You can also FOLLOW me on PINTEREST, INSTAGRAM, FACEBOOK, and TWITTER for more great recipes and ideas!
Lemon Caper Pasta
Just a handful of ingredients and 20 minutes are all you need to make this delightful lemon caper pasta. A fresh, easy main or elegant side!
Ingredients
Instructions
Boil a large pot of water, salt generously, and cook pasta to al dente, according to package directions. When the pasta is tender, scoop out about 1/2 cup of the water; drain the rest and set pasta aside.

Meanwhile, melt 1 Tablespoon of the butter in a large skillet over medium heat. Swirl in the olive oil, then add garlic. Cook for 30-60 seconds, just until fragrant. Add white wine or broth, and simmer for 1-2 minutes, just until slightly reduced.

Add remaining 1 Tablespoon butter, lemon zest and juice, capers, and parsley to the skillet. Simmer together for about 1 minute, then add the drained pasta and toss well.

Add drained pasta water to further loosen the sauce, only if desired. Sample and add salt and pepper to taste—you may not need much, as capers are salty. Serve and enjoy!
Notes
You can rinse the capers if desired, especially if you're trying to minimize the salt factor, but it's not necessary.
Add Parmesan if you like cheese; add a pinch of red pepper flakes if you like heat.
Nutrition Estimate
Calories: 348 kcal, Carbohydrates: 47 g, Protein: 8 g, Fat: 14 g, Saturated Fat: 5 g, Polyunsaturated Fat: 1 g, Monounsaturated Fat: 7 g, Trans Fat: 0.2 g, Cholesterol: 15 mg, Sodium: 345 mg, Potassium: 189 mg, Fiber: 3 g, Sugar: 2 g, Vitamin A: 196 IU, Vitamin C: 15 mg, Calcium: 30 mg, Iron: 1 mg
Did you make this recipe?
Leave a review below, then snap a quick picture and tag @nourishandfete on Instagram so I can see it!