Five Minute Arugula Parmesan Pine Nut Salad
An arugula parmesan pine nut salad that's ready in five minutes (really!), out-of-this-world delicious, and great for casual weeknights or entertaining. All the other salads are jealous.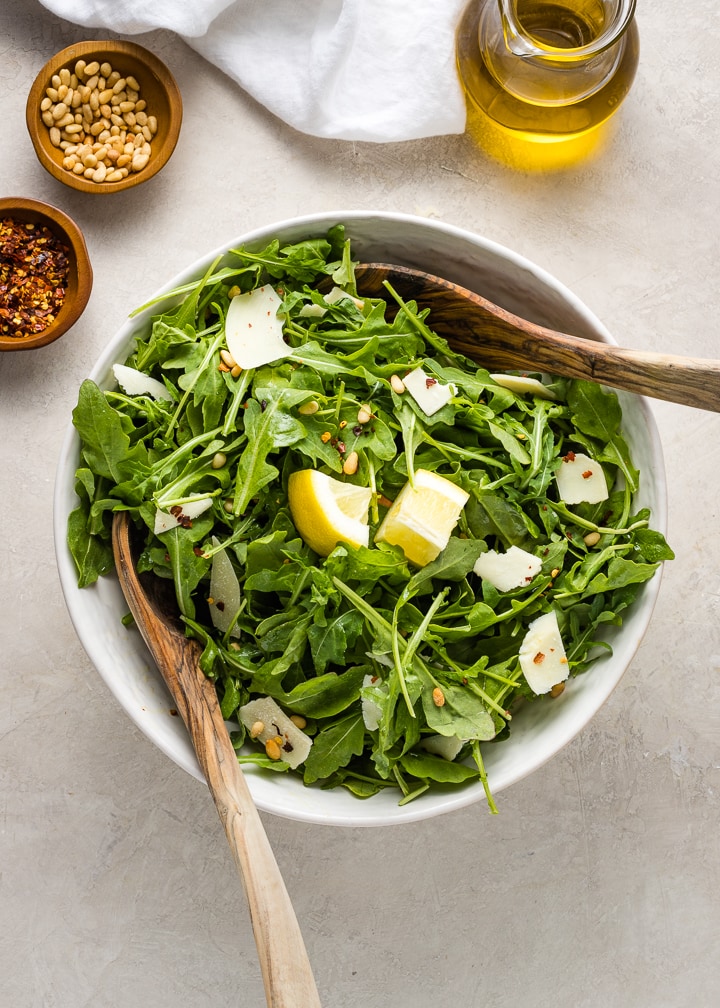 Do you ever feel all proud of yourself for planning dinner, only to realize midway through the afternoon that you completely neglected to think of a side or vegetable?
No!? OK. Maybe it's only me. 🙂
However, if at any point you do forget about a side until the last minute, this salad is the ultimate pinch-hitter. It defies imagination that something so simple is so delicious, but isn't that what great cooking is ultimately about? Combining simple, fresh ingredients in a way that makes them all shine?
I've made this salad at least once a week for years. The flavors are bright, fresh, and slightly peppery. It happily and healthfully rounds out a huge variety of dinner menus, and the ingredients, while simple, are elevated in a way that makes the salad perfectly lovely for entertaining.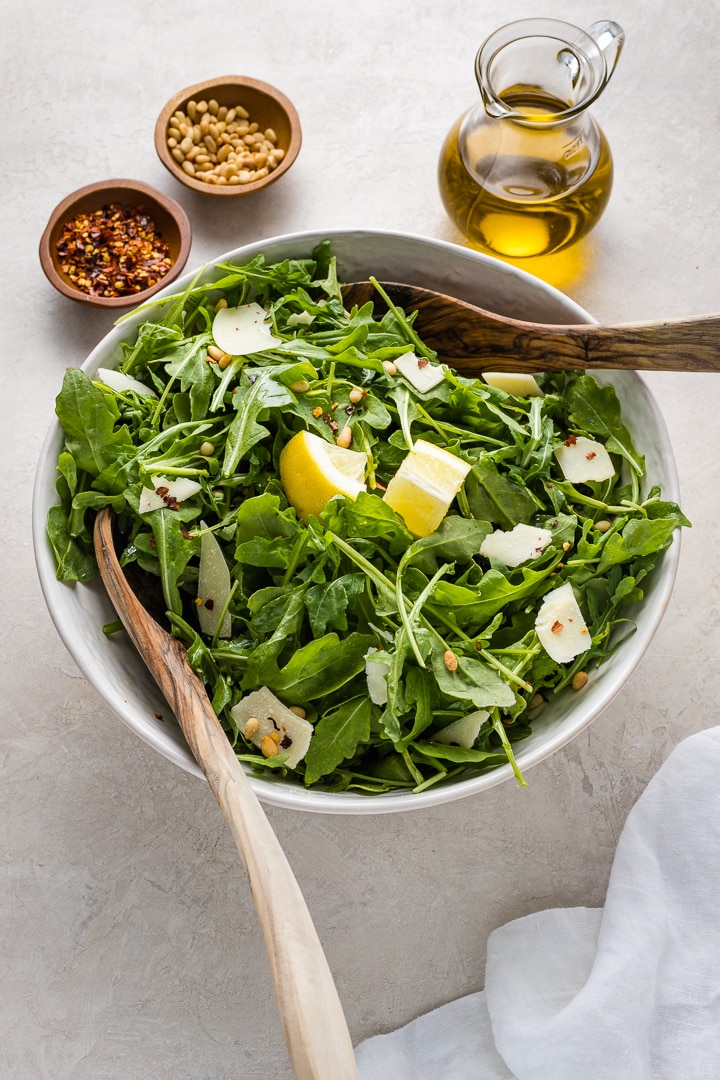 Arugula Parmesan Salad: Ingredients
A nice thing about having a simple, accessible, versatile salad like this in your back pocket is that it's pretty easy to always buy the ingredients. Most are pantry staples, and I just pick up arugula every week, so I rest easy knowing I have this salad ready to go any day.
Here's what you'll need:
Arugula: I love arugula because it stays fresh and crisp in the fridge longer than many other lettuce varieties, and it has a subtle peppery flavor.
Parmesan: Shaved, grated, shredded – it's that salty, tangy Parmesan flavor that pulls this together.
Pine Nuts: Trader Joes sells pre-toasted pine nuts, which I highly recommend. They may seem pricey, but keep in mind you usually only need a teaspoon or two to add amazing flavor to a recipe, and they last a long time in the pantry. If your pine nuts aren't already toasted, you can warm them in a skillet for 2-3 minutes over medium heat. Watch carefully so they don't blacken and burn.
Olive Oil: Just a drizzle!
Lemon Juice: Just a squeeze! Sometimes I go overboard on the lemon juice here, and regret it. You want just a touch for the bright flavor, not a big punch of citrus.
Black and/or Red Pepper: A few turns of freshly-grated black pepper to further draw out the arugula's flavor. And if you enjoy a little kick, sprinkle on a small pinch of red pepper flakes, too. SO GOOD!
How To Make It
Friends, this is a dump and toss situation. Literally: add it all to a salad bowl, toss, and serve.
You could measure the ingredients, but you really don't have to, which saves even more time. A little drizzle, a little sprinkle, taste, and adjust however you like. This way you don't even have any prep dishes to wash.
Pro Tip: If you want to get this ready a few minutes ahead of time, pour the olive oil and lemon juice into the bottom of your salad bowl, then softly put the arugula on top, followed by the Parmesan, pine nuts, and pepper. Place the salad in the fridge or on the table to get it out of the way; when you sit down to eat, toss everything together right at the table. Everything is perfectly fresh, because it hasn't been sitting overly long in the oil and citrus.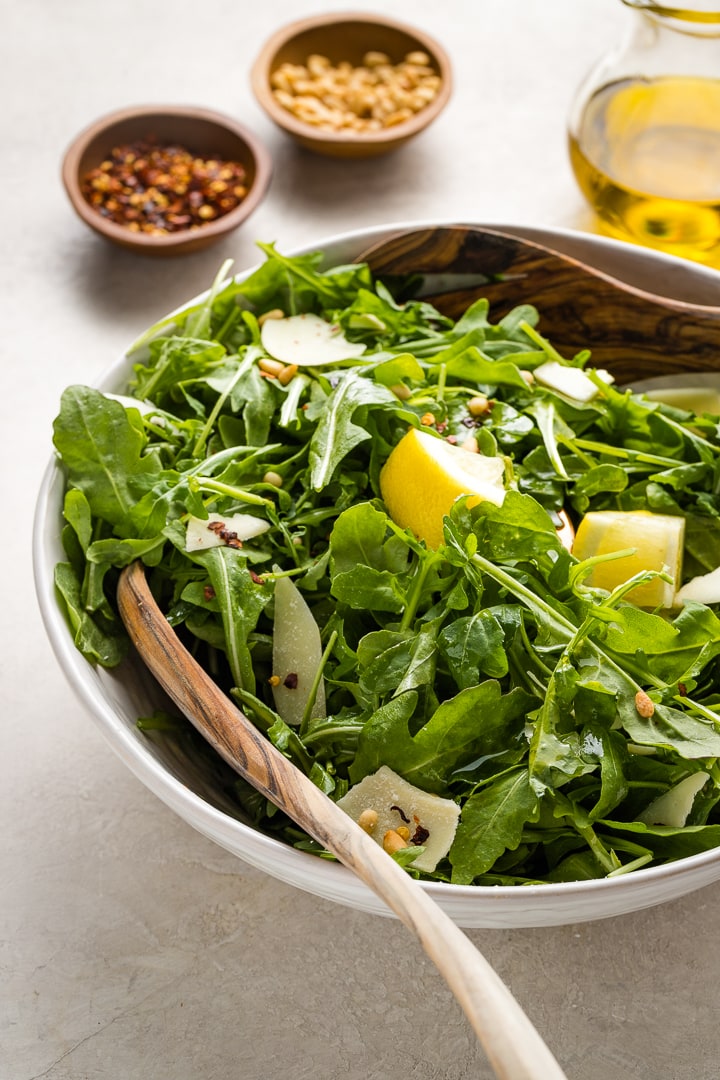 What To Serve With It
This arugula Parmesan salad truly goes with just about any meal, which is one of the reasons it's so darn convenient! Here are some of my favorite pairings:
Grilled Steak or Pork Chops
And if you're looking for more easy salad recipes, you might enjoy this spinach salad with balsamic and sea salt, or add strawberries or nectarines for a sweet flavor twist.
If you try making this salad or any other recipe on the blog, please rate it and leave a comment below. I love hearing from you, and other readers will benefit from your experience!
Happy, healthy eating, friends!
Arugula Parmesan Pine Nut Salad
This salad is literally thrown together in 5 minutes and tastes delicious. Peppery arugula, toasted pine nuts, fresh lemon – dream flavors that go with any fast dinner you put on the table!
Ingredients
3-4 handfuls fresh baby arugula
2 tablespoons freshly-grated or shaved Parmesan
1-2 tablespoons pine nuts toasted
2 teaspoons extra virgin olive oil
2 teaspoons freshly-squeezed lemon juice
1/2 teaspoon freshly-ground black pepper
1/4-1/2 teaspoon red pepper flakes optional
Instructions
Gently toast the pine nuts over medium heat for 2-3 minutes, if not already toasted.

Add arugula and Parmesan to a large salad bowl. Drizzle with olive oil and lemon juice, and sprinkle with black pepper and red pepper flakes. Add the pine nuts and toss to combine. Serve immediately.
Notes
If you're in a major hurry, this salad will still be delicious with un-toasted pine nuts, but they really are worth the extra 2 minutes if you can spare them. Toasting brings out the flavor and makes them complement the arugula so well.
Now that I've made this approximately 11 billion times, I never actually measure the ingredients, but the proportions above give you an idea to get started. Feel free to taste before serving and adjust with more olive oil, lemon juice, Parmesan, or pepper as desired.
Nutrition Estimate
Calories: 106kcal, Carbohydrates: 2g, Protein: 2g, Fat: 10g, Saturated Fat: 1g, Cholesterol: 2mg, Sodium: 41mg, Potassium: 67mg, Vitamin A: 95IU, Vitamin C: 1.2mg, Calcium: 28mg, Iron: 0.6mg
Did you make this recipe?
Leave a review below, then snap a quick picture and tag @nourishandfete on Instagram so I can see it!