Balsamic Spinach Salad With Sea Salt
Inspired by a memorable meal in Portugal, this balsamic spinach salad with a pinch of coarse sea salt is simplicity at its finest. Just pair dark leafy baby greens with this easy spinach salad dressing – made of pantry staples – for a delicious side salad that's ready to go in five minutes. Perfect to round out dinner on a busy night!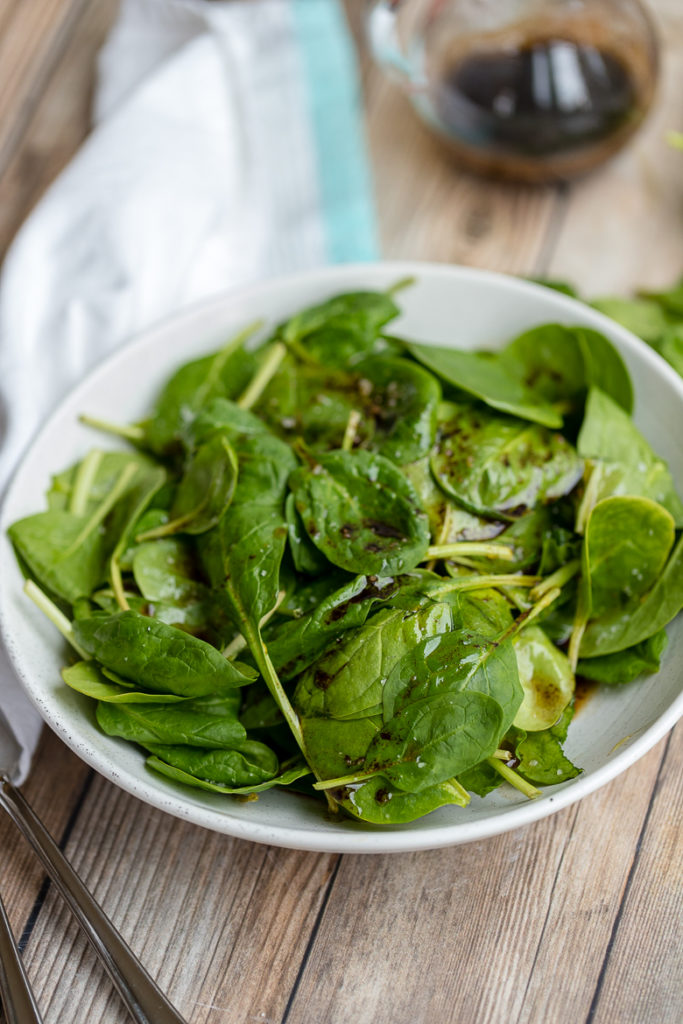 Hi friends – I know it's been a minute, and I'm sorry about that! The month of May is crazy with celebrations in our family, and I basically took a week off from blogging to pull together my son's third birthday party, and also to (finally!) start getting our house in order for our upcoming move. But now we're back in action with several recipes I really cannot wait to share with you!
Now you might wonder, really, Monica, you're soo excited to share a recipe for… spinach salad? I know. But hear me out. 🙂
I've been perfecting and wanting to share this since taking a family trip several months ago to Portugal, where we spent a few days each in Lisbon and Porto. We absolutely loved both, and in fact rather than feeling as though I've "done" Portugal, the trip made me quite want to spend more time exploring the country.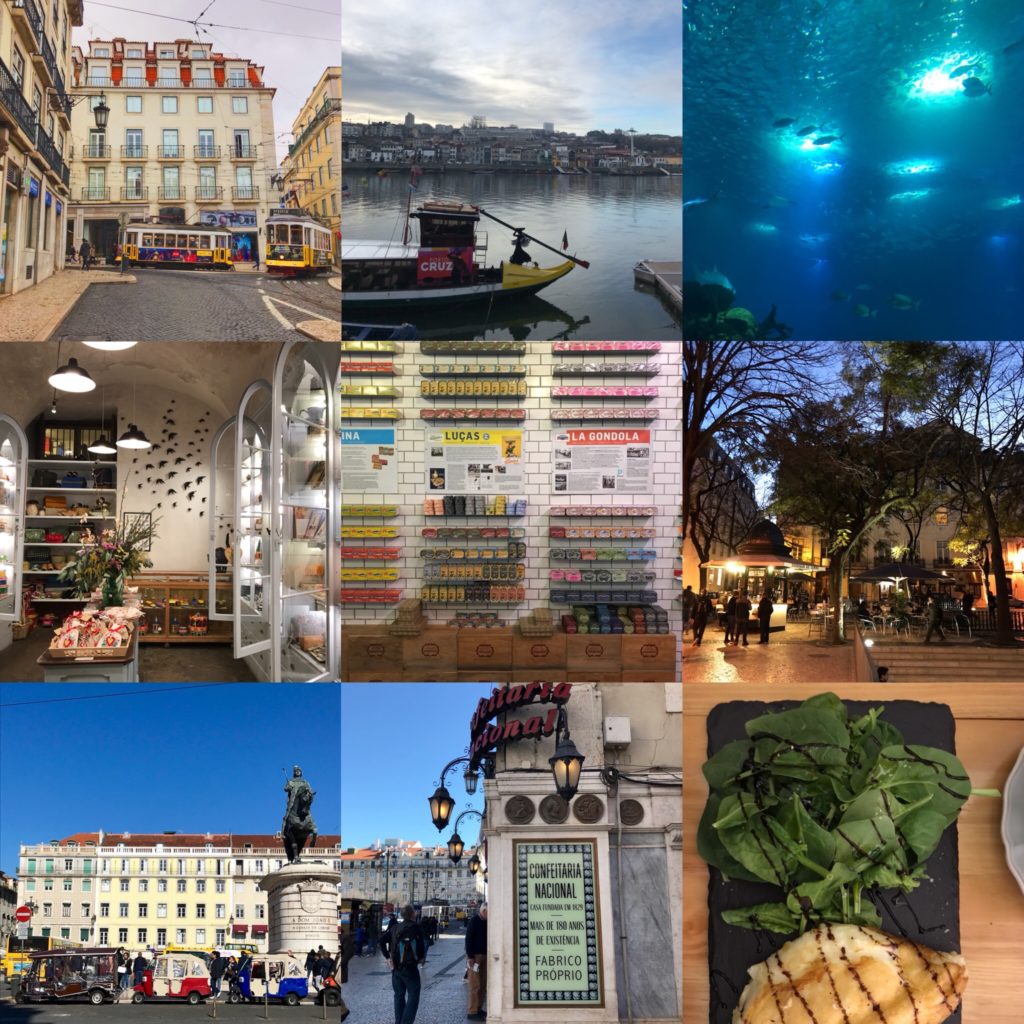 That said, poor Porto – it absolutely poured rain the entire time we were there, so it didn't show itself at its best. However, a simple little breakfast our last day at the Mercador Cafe honestly was such a bright spot!
Now, I try to eat my veggies but can be kind of a traditionalist in the breakfast department. Pancakes, bacon, eggs, oatmeal, fruit — that's breakfast to me! Long have I marveled at people who pack leafy greens into the first meal of the day — and even enjoy it! But that day, I just craved eggs (maybe because I'd eaten my weight in gelato and pastels de nata the day before). And the omelette on offer came with a spinach salad. A deceptively simple one — just baby spinach leaves, with a sprinkling of coarse sea salt, and the lightest drizzle of tangy balsamic.
Needless to say, after I'd eaten an entire plate of greens almost as big as my head, and wished for more, I was only marveling about how delicious it was, and how incredibly simple. I knew I had to recreate it when we got home.
Fortunately, after a bit of experimentation, I've settled on this "recipe" for a balsamic spinach salad, which is pretty much as easy as it gets. A perfect example of something so simple that once you start making it, it no longer seems like a "recipe" at all, and you wonder why you haven't just been feeding yourself this way forever.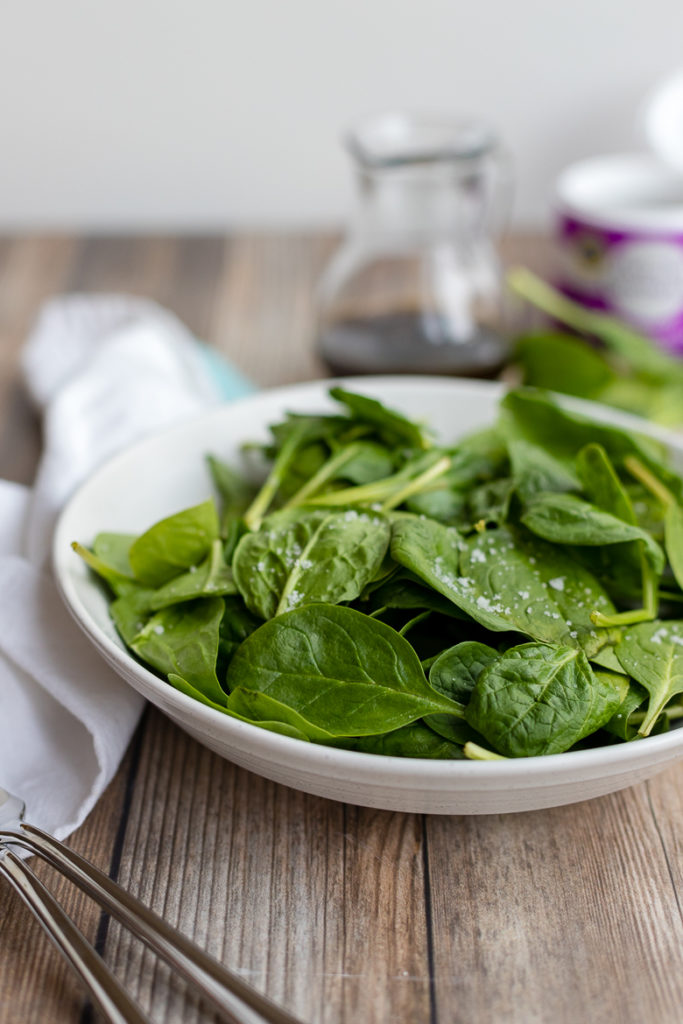 How To Liven Up Spinach Salad
Of course, if this is a little TOO simple for you, or for others member of your family, there are lots of ways you could add to or spice it up:
Add cheese – Parmesan, Pecorino, or Feta all would be very nice.
Add nuts – roasted walnuts, slivered almonds, toasted pine nuts, you name it. Who doesn't like a little crunch in their salad?
Add dried or fresh fruit – a few strawberries in summer, some dried cranberries if you have them on hand, use your imagination!
Slice up and add a hard-boiled egg – This makes an ultra-simple and tasty lunch!
Use the greens as a bed for protein – I usually serve this spinach salad as a side dish, but you could just as easily put chicken, pork, seafood, or tofu on top for a nicely-plated meal, and some of the marinade or other seasonings from your protein would mix into the greens, as well.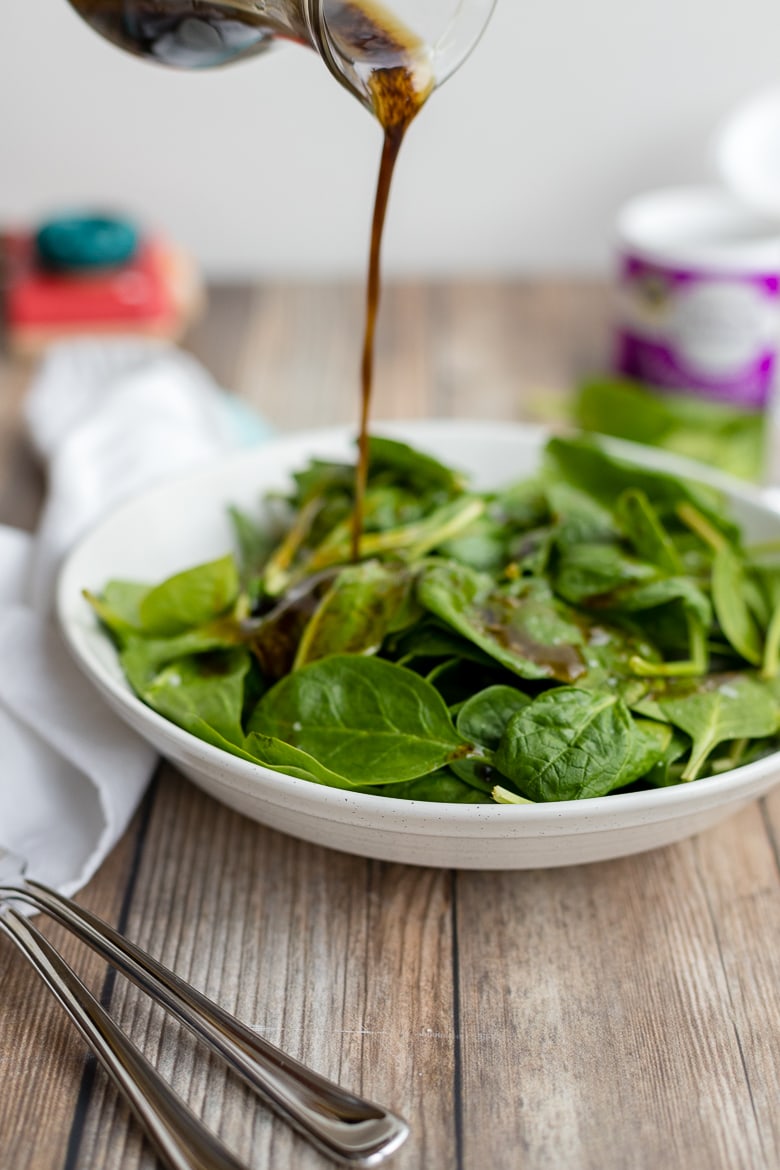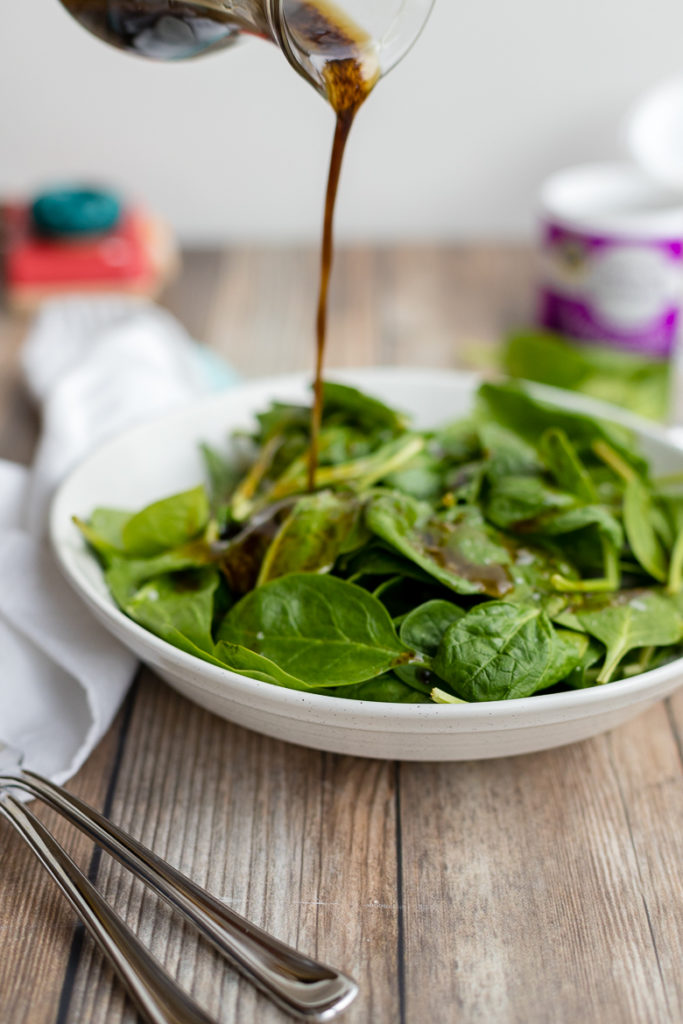 How To Make An Easy Spinach Salad Dressing
The real star of this show is the homemade balsamic vinaigrette. If I could only have one salad dressing for the rest of my life, people, this would be it. It's SO versatile, delicious, and simple to make. If you like to cut costs where you can, not to mention unpronounceable additives in your family's food, start with skipping the bottled salad dressing and make a big batch of this balsamic instead.
Full ratios are outlined in the recipe card below, but basically you just want to combine 3 parts good-quality olive oil with 1 part balsamic vinegar, add a bit of salt and pepper, and shake 'til you have a dressing! You can add anything you want – garlic, fresh or dried herbs, etc., but you don't NEED to. It tastes amazing with just those four ingredients.
AND, it keeps for weeks. So now you have homemade salad dressing ready to go at the drop of a hat. You so fancy!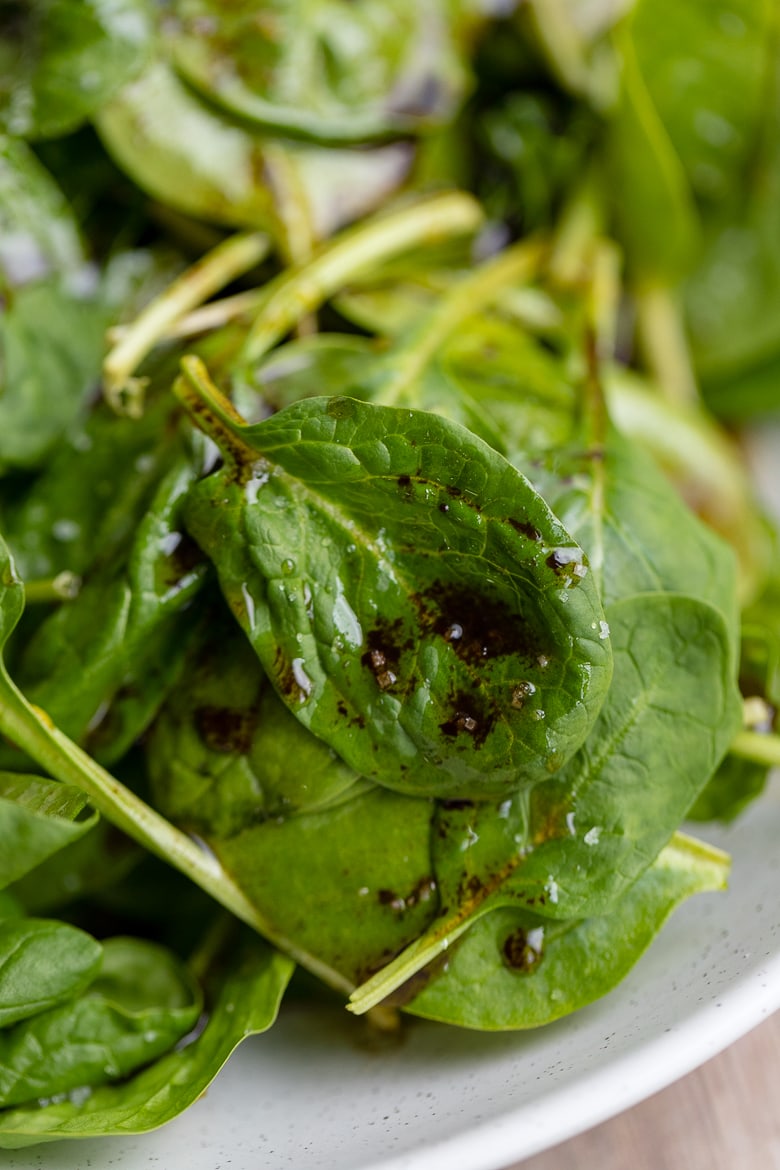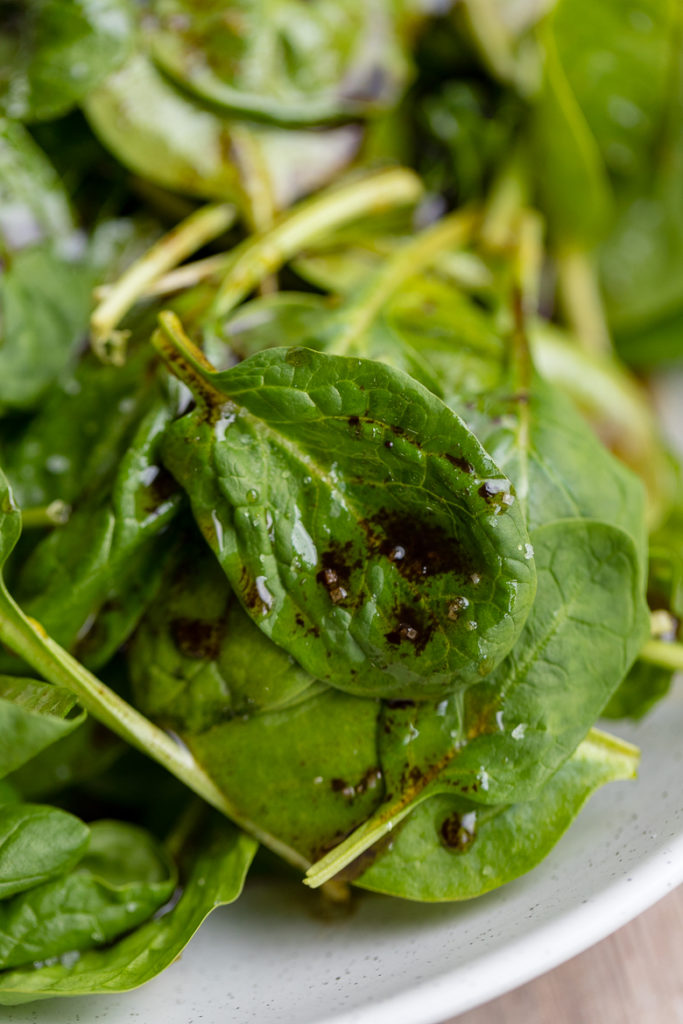 I make this spinach salad AT LEAST once a week. It's just so incredibly easy and convenient for a busy night, especially because it goes well with nearly any protein or other main. And it's easy enough to throw together a little plate of greens alongside eggs in the morning, just like I had it the first time in Porto. And, well, if you can't live in a perpetual state of vacation, at least you can eat food that reminds me you of it!
More Side Salad Ideas:
If you try this balsamic spinach salad or any other recipe on the blog, please remember to rate the recipe and leave a comment below. I love hearing from you, and other readers will benefit from your experience!
Balsamic Spinach Salad With Sea Salt
A light, easy side, this balsamic spinach salad with a pinch of coarse sea salt is simplicity at its finest. Just pair dark leafy baby greens with this easy spinach salad dressing, made of pantry staples, for a delicious side salad ready in five minutes. Perfect to round out dinner on a busy night!
Ingredients
4-6 cups baby spinach 
3/4  cup extra virgin olive oil
1/4  cup balsamic vinegar
coarse sea salt and freshly-ground black pepper
Instructions
Wash spinach leaves, if necessary, and place into a large bowl.

In a jam jar or other container with a tight-fitting lid, combine olive oil and balsamic vinegar. Add a generous pinch of sea salt and a few grinds of black pepper. Tighten the lid and shake vigorously. Dip a piece of spinach into the vinaigrette and taste, then adjust salt, pepper, or proportion of oil and vinegar as desired.

Sprinkle the spinach with another generous pinch of sea salt, then drizzle the dressing on top, and toss lightly. Serve immediately.
Notes
This will make far more dressing than you're likely to want on a single batch of this salad. Just make all of it - it will keep on the counter for several weeks! And now you have homemade salad dressing ready to go every night — look at you! The oil and vinegar will separate a few minutes after shaking — just shake again to recombine before dressing your next salad.
Of course, if you do prefer to simply make less vinaigrette, just stick to an approximate ratio of 3 parts oil to 1 part vinegar, and scale down as needed. A small amount can be simply whisked together in a small bowl or liquid measuring cup and poured immediately over the salad.
With so few ingredients, the quality of each takes on even more importance, so try to use the best balsamic and olive oil that you can, and the freshest spinach!
If you're preparing just one or two portions of salad, it might be easier to simply put the spinach on each plate, dust with sea salt, and drizzle with the dressing. That's what is shown in the photos here, and what I usually do when cooking for two!
Nutrition Estimate
Calories: 82 kcal, Carbohydrates: 1 g, Fat: 8 g, Saturated Fat: 1 g, Sodium: 25 mg, Potassium: 167 mg, Vitamin A: 2815 IU, Vitamin C: 8.4 mg, Calcium: 30 mg, Iron: 0.9 mg
Did you make this recipe?
Leave a review below, then snap a quick picture and tag @nourishandfete on Instagram so I can see it!