Perfect Flourless Chocolate Cake
A classic dessert that happens to be naturally gluten-free – the perfect flourless chocolate cake! Top with a rich chocolate ganache and fresh berries, slivered almonds, or a dusting of powdered sugar for a deliciously decadent dessert.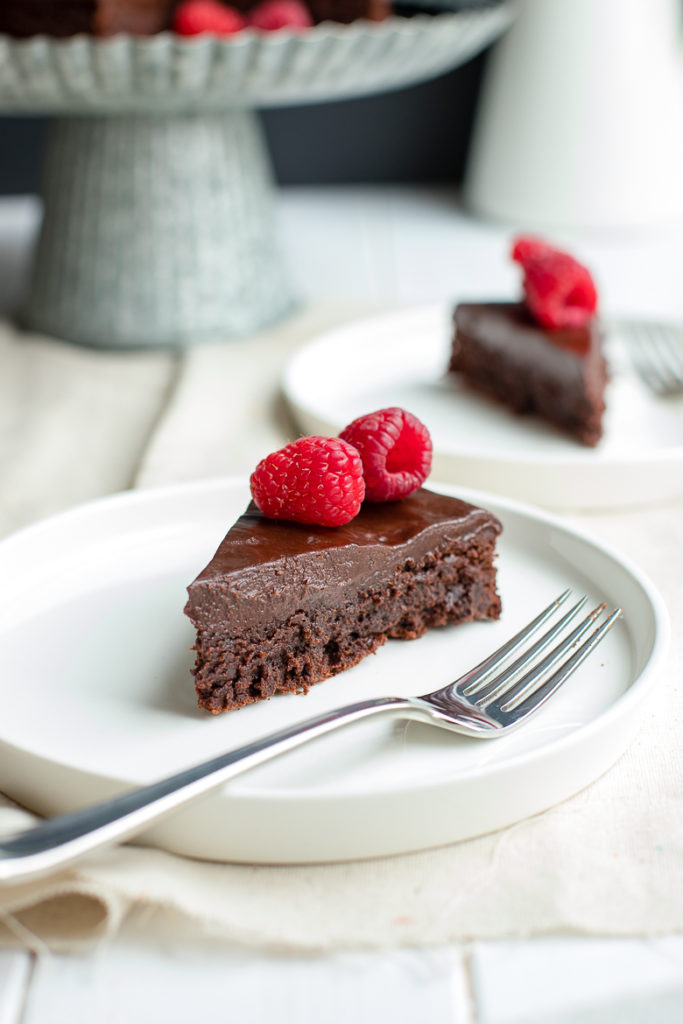 So a telling fact about life lately is that I have been meaning to share these photos for more than a month now. SAD. But hopefully you can forgive the delay, because I figure the perfect chocolate cake late is better than the perfect chocolate cake never. Is that a saying? Maybe it should be. 🙂
I do try to avoid hyperbole as much as possible, but, well, I firmly believe this is the perfect flourless chocolate cake. Delicious, reliable, easy and fast to make, straightforward ingredients, and lots of chocolate. Basically, all my love languages in one sweet little sheet of decadence. And all thanks to King Arthur Flour. What else is new? They are genius.
See? Easy to make! One bowl, no mixer. Just stir, pour, and bake.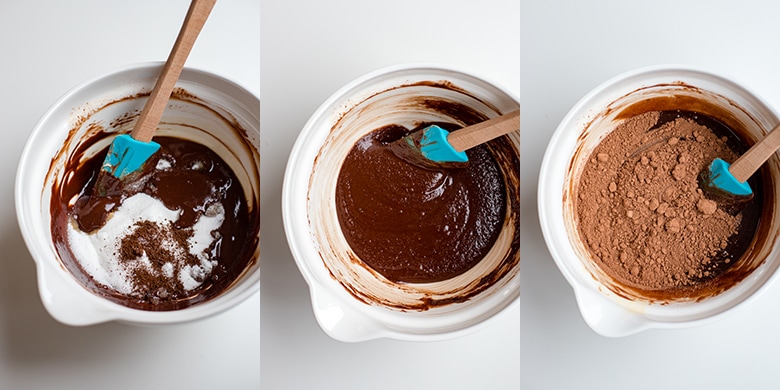 Now fair warning: this is a rich dessert. The chocolate is almost like a fudge, with a thick, rich consistency that tastes like pure indulgence as you sink your teeth into each and every bite.
Just so we're clear: that is not a bad thing!
It does mean that, to me, this cake is perfect for special occasions – Valentine's Day, Passover, birthdays, Saturdays, etc. 😉 It's lovely for entertaining, as it's really very simple to make, yet very impressive, and so rich that a small slice goes a long way. Feeding a crowd a from-scratch dessert has never so easy and delicious!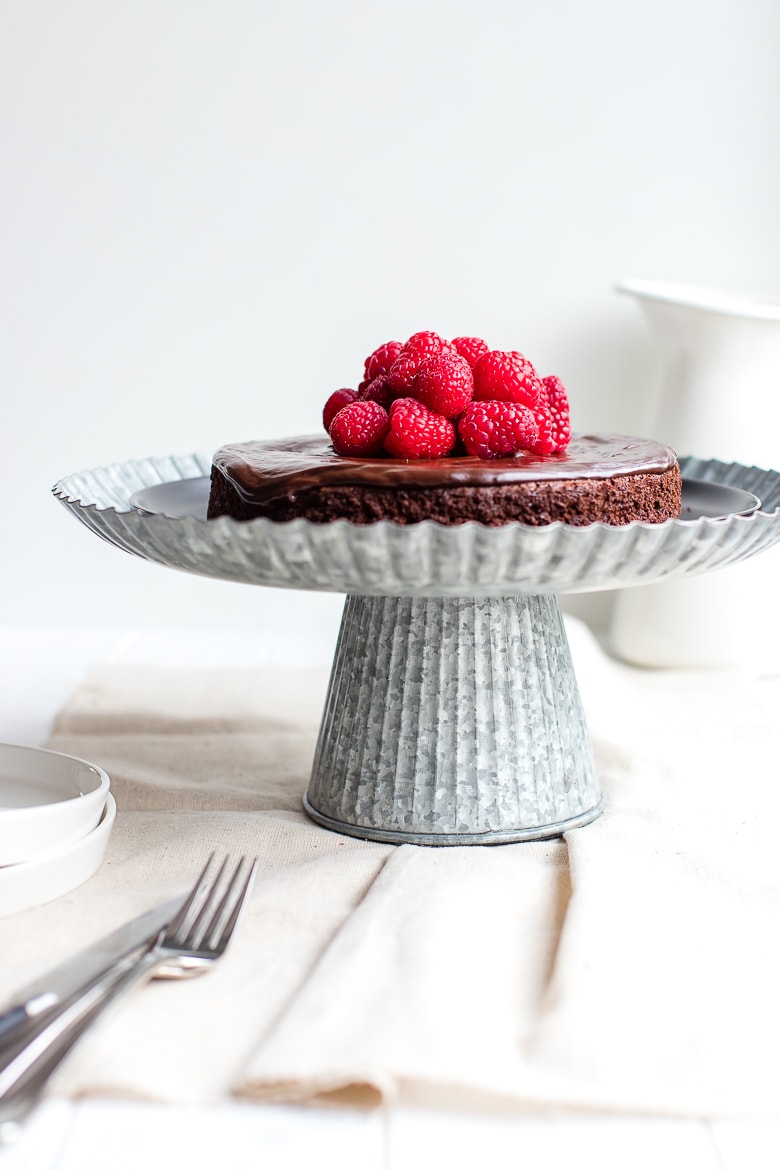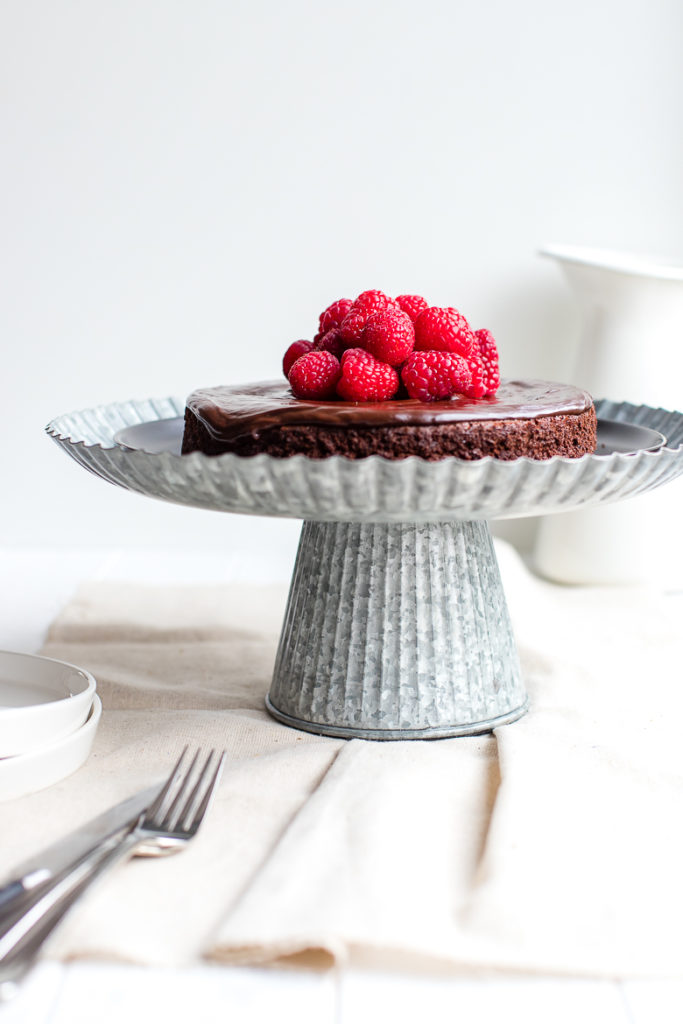 Is Flourless Chocolate Cake Gluten-Free?
Yes! I know that may seem obvious, but if there's one thing I've learned from my gluten-free friends, it's that you shouldn't make any assumptions! This chocolate cake contains no flour or other gluten product, and so is naturally gluten-free, which is why I find it a particularly lovely choice for entertaining if you have guests with Celiac disease or any other gluten sensitivities. It's gluten-free but definitely not something that your gluten-loving friends will consider a sacrifice in any way, shape, or form.
One thing I would note and underscore, however, is to be aware that even though this cake is naturally gluten-free, for someone with a high degree of gluten sensitivity, the simple fact that it may have been prepared in a gluten-filled kitchen does open up the possibility of cross-contamination. Just be transparent with your guests about what you're serving and how it was made, and let them be the judge of what is best. No hurt feelings! Just better safe than sorry!
The Beauty of Chocolate Ganache
Now, back to the chocolate! 🙂 Have you ever made a chocolate ganache? If not, this is definitely the time to start! It's the sort of thing that sounds and looks very elegant yet could not be simpler in practice. Melt cream and chocolate together. Stir until smooth. Pour over your cake, and also anything that sits still in your kitchen. Devour. Poured on top of this cake, the ganache will glisten and gleam.
Of course, you could also simply sprinkle powdered sugar on top, but then you'd be missing out on a chance for more chocolate, and are you sure that's the way you want to go?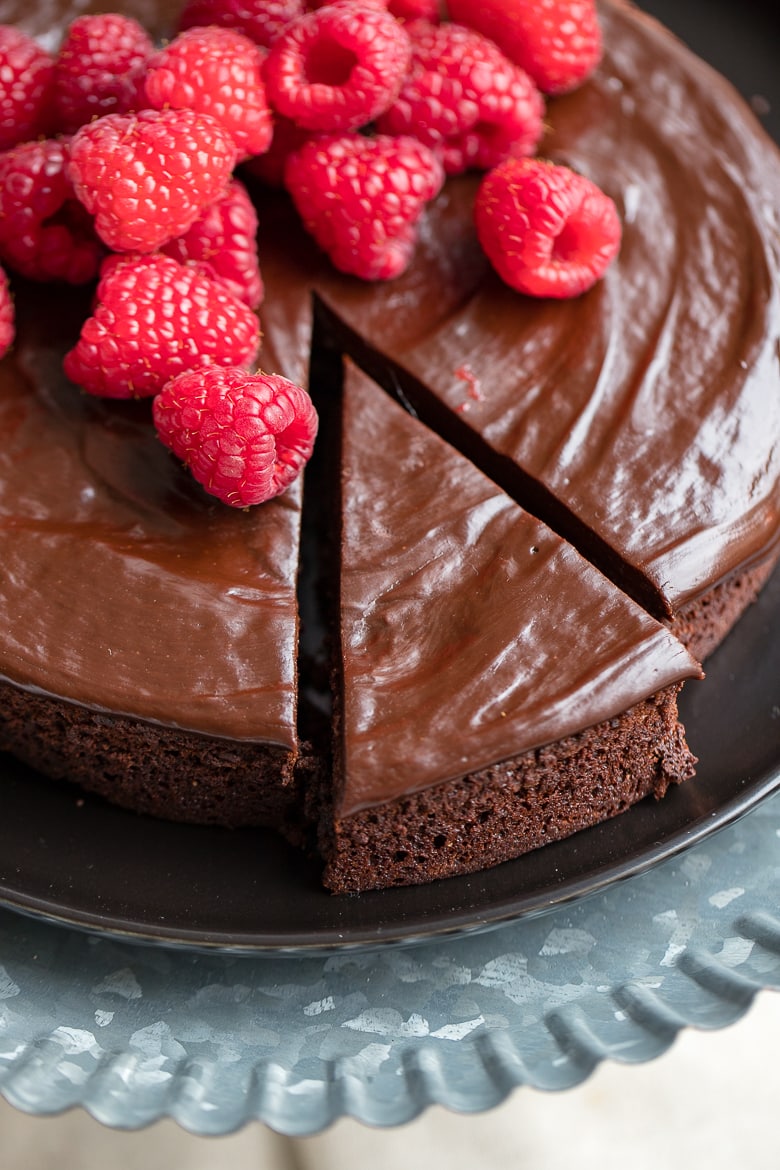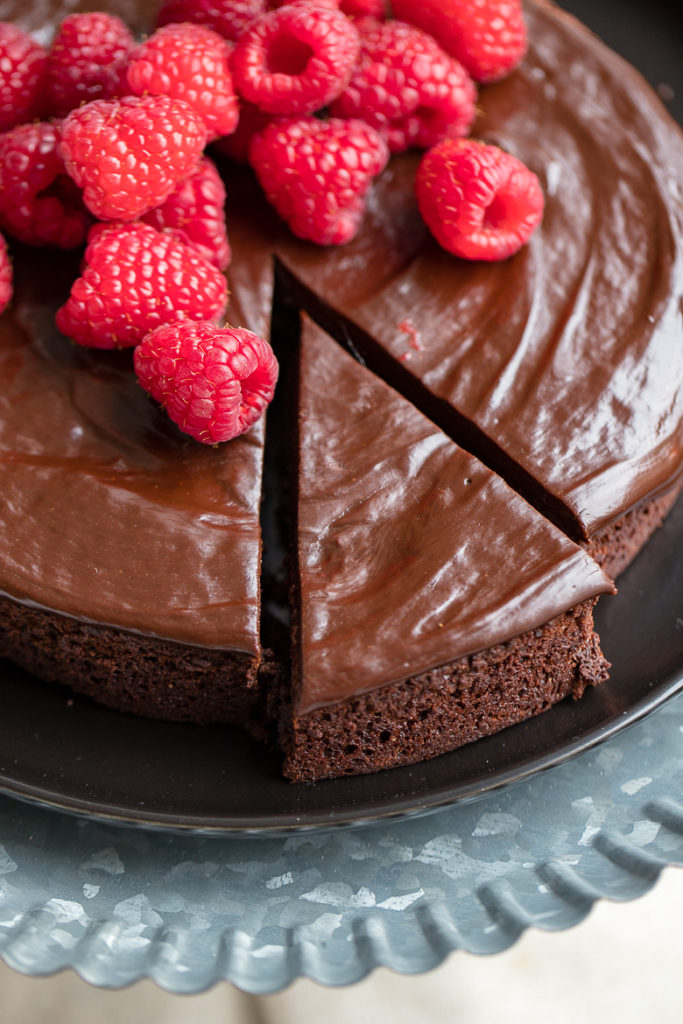 My personal favorite is to pile a big heap of raspberries on top of the ganache. When I made this for an Easter dessert earlier this year, I instead topped it with toasted slivered almonds, which was a nice alternative. Even if some of the almonds got a little TOO toasted. Oops: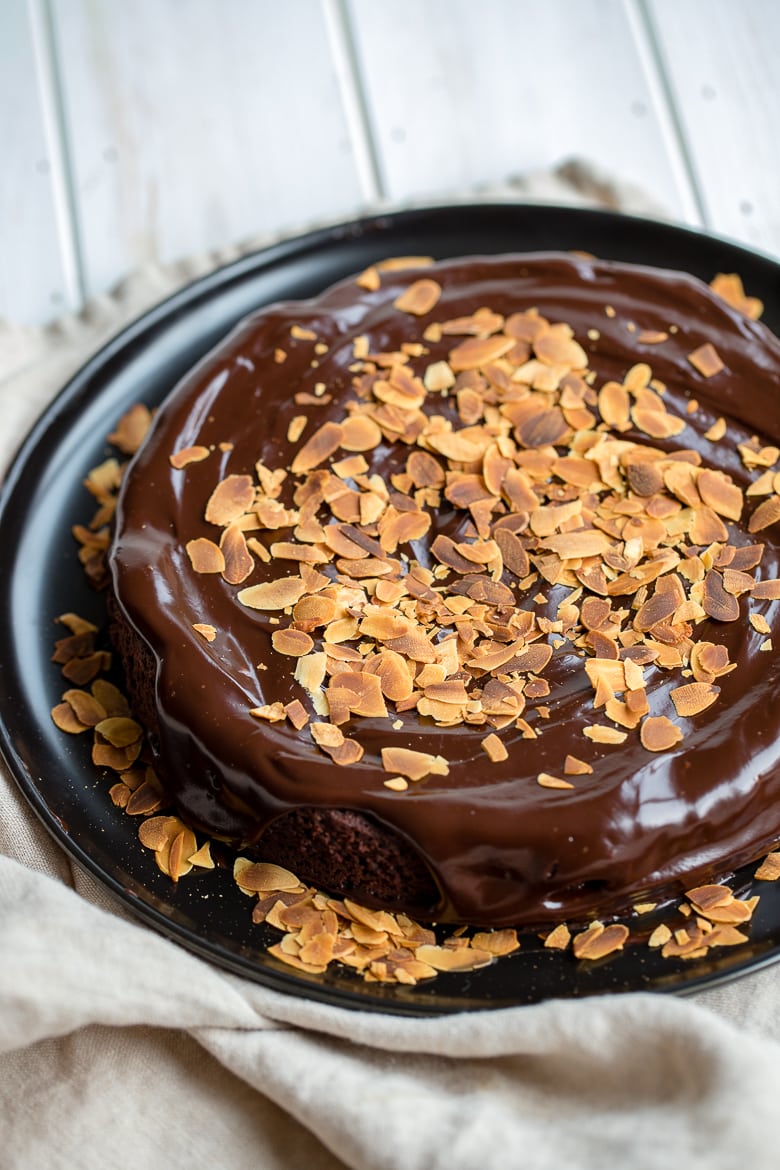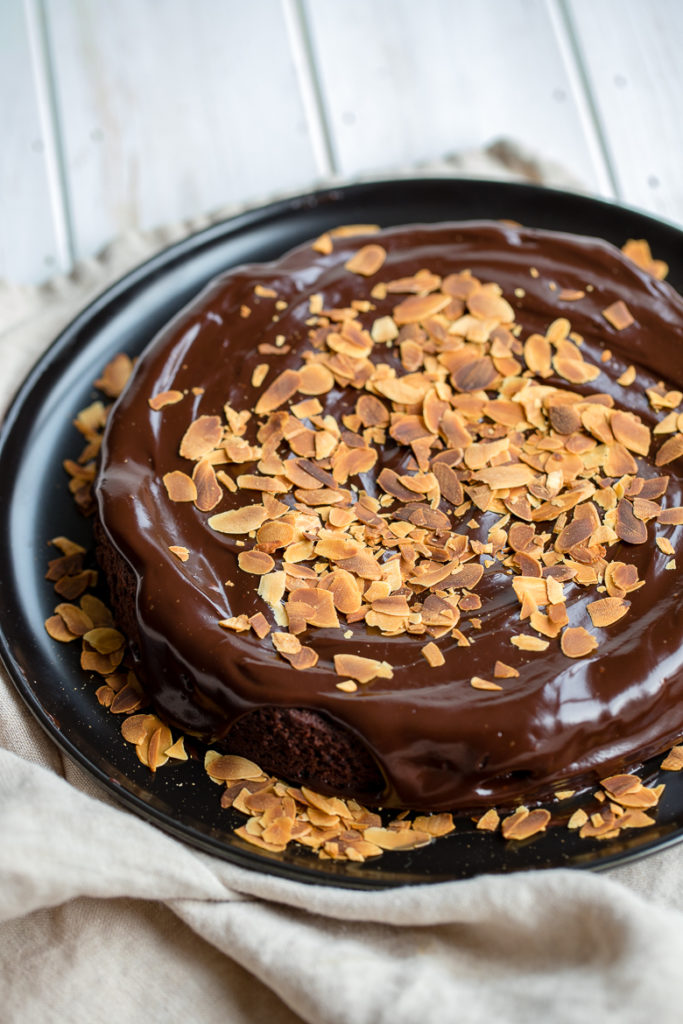 Tips for the Perfect Flourless Chocolate Cake
This is ideally made in an 8-inch round cake pan (affiliate link). If you don't already have one, I highly recommend picking one up – it's a nice size that comes in handy quite a bit!
Take the extra minute to prepare your pan well – coat the inside thoroughly with a smidge of soft butter, then dust a little flour on top of that, and then line the bottom with a piece of parchment paper (affiliate link) cut to size. Yes, you really want to do all three steps – you'll be glad you did when the finished cake pops easily right out of the pan!
Either chocolate chips or chopped chocolate bars will work for this recipe!
Dutch-processed cocoa powder (affiliate link) gives this cake the darkest, most intense flavor, but unlike in many other recipes, you can swap regular unsweetened cocoa powder if that's what you have on hand.
If you have one, an instant-read thermometer (affiliate link) will be your best friend for this recipe! It takes all the guesswork out of figuring out when the cake is done. When the middle hits 200°F (94°C), that bad boy is ready to come out of the oven. This cake is so fudgy that you cannot rely on a toothpick to test – it will never come out clean!
To remove the cake from the pan, run a knife around the edge, then flip the pan upside-down over a plate and shake ever so gently. The cake should simply fall out, after which you can peel off the parchment.
Another reason to love this cake for entertaining: it's actually better if made slightly ahead. You'll want the ganache to set for several hours before serving in any case, and it keeps very well overnight.
To cut the cleanest possible slices, use a very sharp knife (duh) and wipe it clean in between each cut. For bonus points, run the knife under hot water in between slices.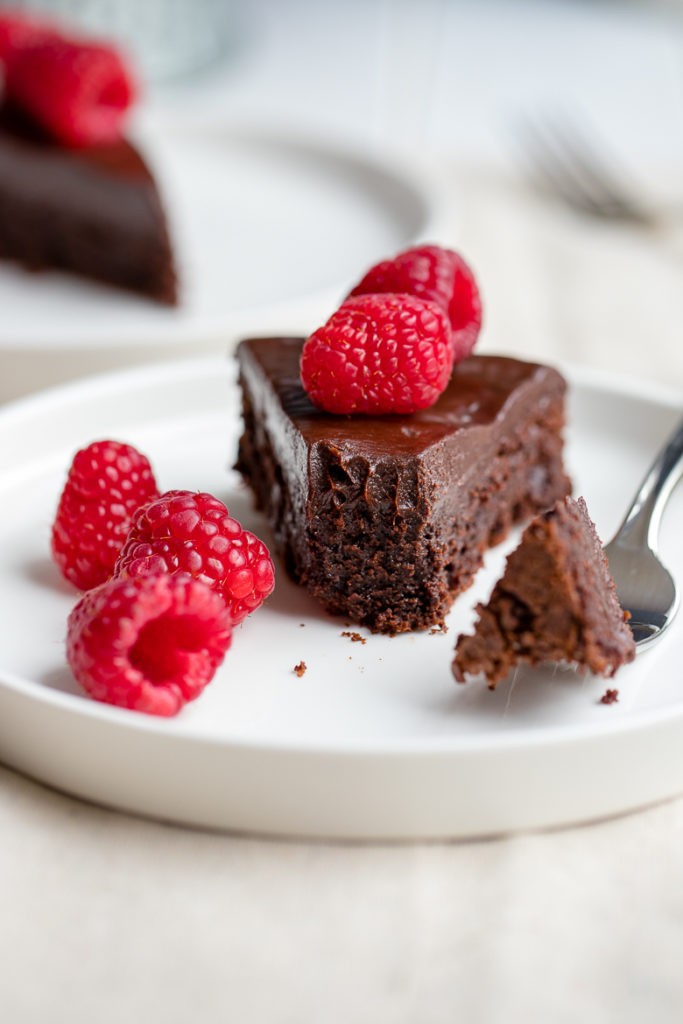 Now what are you waiting for?? Dig in! 🙂
If you try this flourless chocolate cake or any other recipe on the blog, please remember to rate the recipe and leave a comment below. I love hearing from you, and other readers will benefit from your experience!
Perfect Flourless Chocolate Cake
A classic dessert that happens to be naturally gluten-free - the perfect flourless chocolate cake! Top with a rich chocolate ganache and berries, slivered almonds, or powdered sugar for a deliciously decadent dessert.
Ingredients
Cake
1 cup (170 grams) chocolate chips (semisweet or bittersweet)
1/2 cup (8 tablespoons, 113 grams) unsalted butter
3/4 cup (149 grams) granulated sugar
1/4 teaspoon salt
1 to 2 teaspoons espresso powder (optional)
1 teaspoon vanilla extract
3 large eggs
1/2 cup (43 grams) Dutch-process cocoa powder
Chocolate Ganache Glaze
1 cup (170 grams) chocolate chips (semisweet or bittersweet)
1/2 cup heavy cream
berries, powdered sugar, or slivered almonds, for garnish, as desired
Instructions
Preheat oven to 375 degrees F (190 C). Lightly grease and flour a metal 8-inch round cake pan, then cut a piece of parchment to fit and lay it in the bottom of the pan.

To make the cake, combine chocolate and butter in a large microwave-safe mixing bowl, and heat until the butter is melted and the chips are soft. Stir and continue heating in brief intervals until the chips fully melt and the mixture is smooth.

Stir in the sugar, salt, espresso powder, and vanilla.

Add the eggs, beating mixture briefly until they are fully incorporated and smooth.

Add the cocoa powder, and stir gently just until combined.

Pour batter into the prepared pan, and bake the cake for about 25 minutes; when it is done, the top will have a thin crust, and the cake will register 200 degrees F (94 C) on an instant-read thermometer inserted into the middle.

After removing cake from the oven, let it cool for about 5 minutes in the pan. Then, run a knife around the inside edge, turn the pan upside-down over a serving plate, and shake or tap gently to loosen the cake. Allow to cool completely before adding the glaze.

To make the glaze, combine chocolate and cream in a microwave-safe bowl. Heat until the cream is very hot, but not simmering. Remove from the microwave, and stir until the chocolate melts and the mixture is completely smooth.

Pour glaze over the cake and allow to set for several hours before garnishing and serving.
Nutrition Estimate
Calories: 391 kcal, Carbohydrates: 42 g, Protein: 4 g, Fat: 23 g, Saturated Fat: 14 g, Cholesterol: 95 mg, Sodium: 108 mg, Potassium: 92 mg, Fiber: 2 g, Sugar: 37 g, Vitamin A: 610 IU, Vitamin C: 0.2 mg, Calcium: 65 mg, Iron: 1.3 mg
Did you make this recipe?
Leave a review below, then snap a quick picture and tag @nourishandfete on Instagram so I can see it!