Creamy Smoked Salmon Pasta
If you're looking to impress for date night or dinner guests, this Creamy Pasta with Smoked Salmon tastes special but is quick and easy for even the beginner cook to make!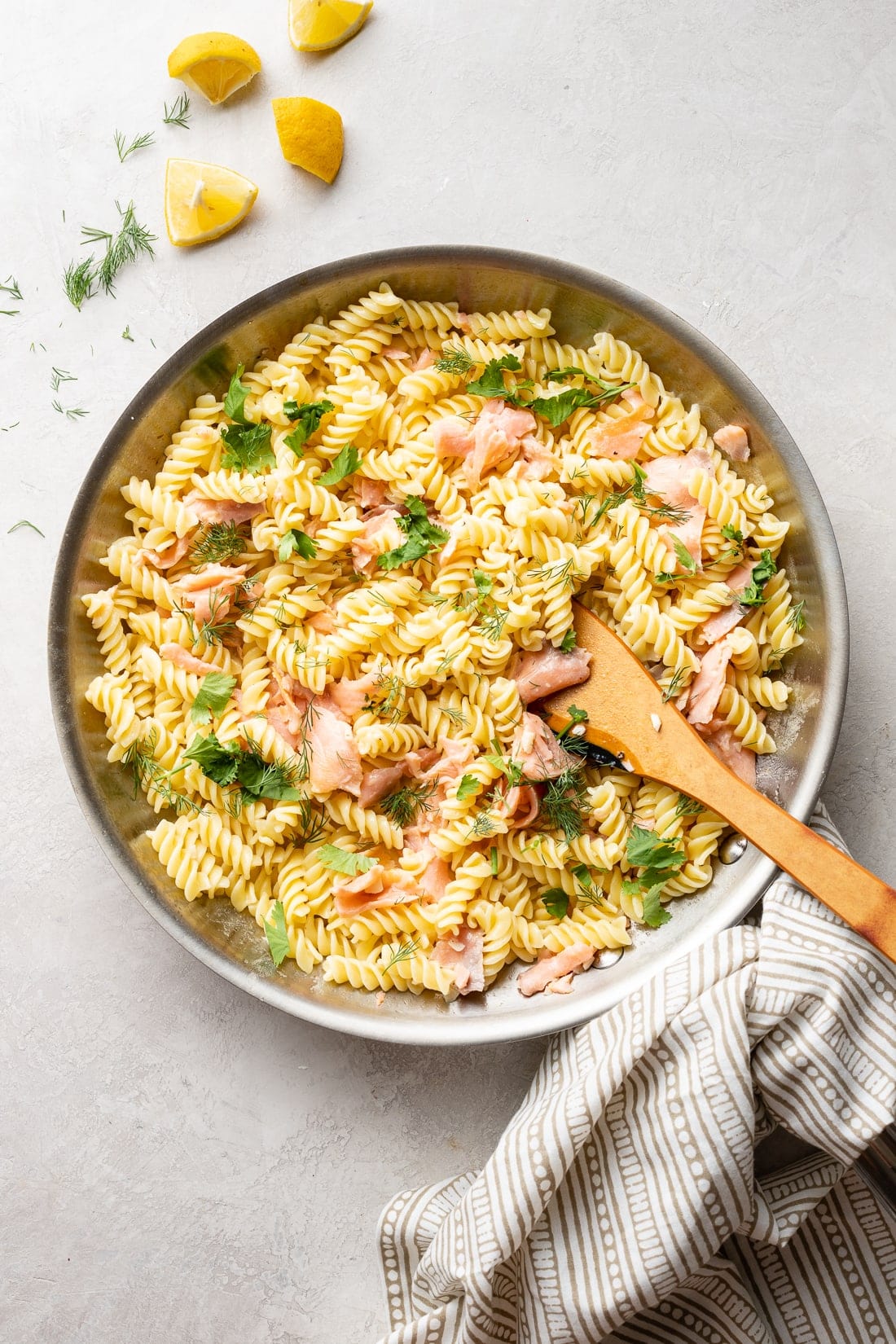 Like so many of my favorite recipes, this came from a fridge situation.
I'd shelled out for a package of smoked salmon, imagining we'd have a luxurious breakfast piling it onto bagels at least one day while on vacation. But… yeah, that didn't happen. So, there the package sat in the fridge.
With all the dire news lately about the impact of food waste, I'm trying harder to take little steps and use up things from the fridge. Of course it's a big favor to my bank account, too!
So, creamy smoked salmon pasta was born. But despite being a semi-random fridge dinner, it was a massive hit! From now on, when I make this, it will be very much planned!
Creamy Smoked Salmon Pasta: Ingredients
You'll need the following groceries to whip up this pasta. Lots of staples and a few worthwhile extras.
Pasta: any kind. Fusilli or Farfalle (bowties) work beautifully.
Butter and Olive Oil: A mixture of both imparts a nice balance of flavor and lightness, but you can use all butter if you prefer. Leaving out all the butter in favor of oil would definitely compromise the flavor.
Garlic.
Chicken or Veggie Broth.
Dry White Wine. Anything you have in the fridge is fine. Feel free to swap for more broth if you prefer!
Lemon Juice: From about half a lemon.
Heavy Cream: This makes the whole dish luscious and creamy!
Smoked Salmon: Torn or chopped into small pieces. So much flavor! Use about 6 ounces. If your package is larger than that, put the rest on toast for an easy meal.
Salt & Pepper: always key!
Fresh Herbs: A little fresh chopped dill and parsley go a long way to finishing off this dish and making it pretty! Highly recommend, even if you have to buy the herbs just for this. Use the extra dill to make the best Greek salad dressing you've ever had.
Smoked Salmon vs. Lox
They both taste great on a bagel, and the terms are pretty much used interchangeably. What's the difference between them, you might ask?
Short story: Genuine lox isn't actually smoked. It's cured in salt!
BUT, you could be forgiven for basically merging the two terms, especially because a really popular type of smoked salmon, Nova, is often labeled as "Nova Lox."
Confused yet?
Read more on the differences between smoked salmon and lox, and several other types of salmon, here if you're curious!
Or, just buy some delicious smoked salmon and make it into a stellar dinner. Much simpler.
Creamy Smoked Salmon Pasta: How To Make It
This is a delicious, company-worthy dish, but the real secret is that it's ultra-fast and simple to make.
First, boil a large pot of water. Add a generous pinch of salt, and when it's boiling rapidly, add the pasta. Look at the package directions and cook until it's just shy of al dente.
Meanwhile, you'll make that creamy, flavorful sauce! Begin by adding butter and olive oil to a large skillet over medium-high heat. Add the garlic and cook for about 30 seconds (photo 1).
Now, add chicken or veggie broth to the skillet, along with a bit of white wine and a squeeze of lemon juice (photo 2). Let this bubble for 4 minutes or so, to concentrate the flavor (photo 3).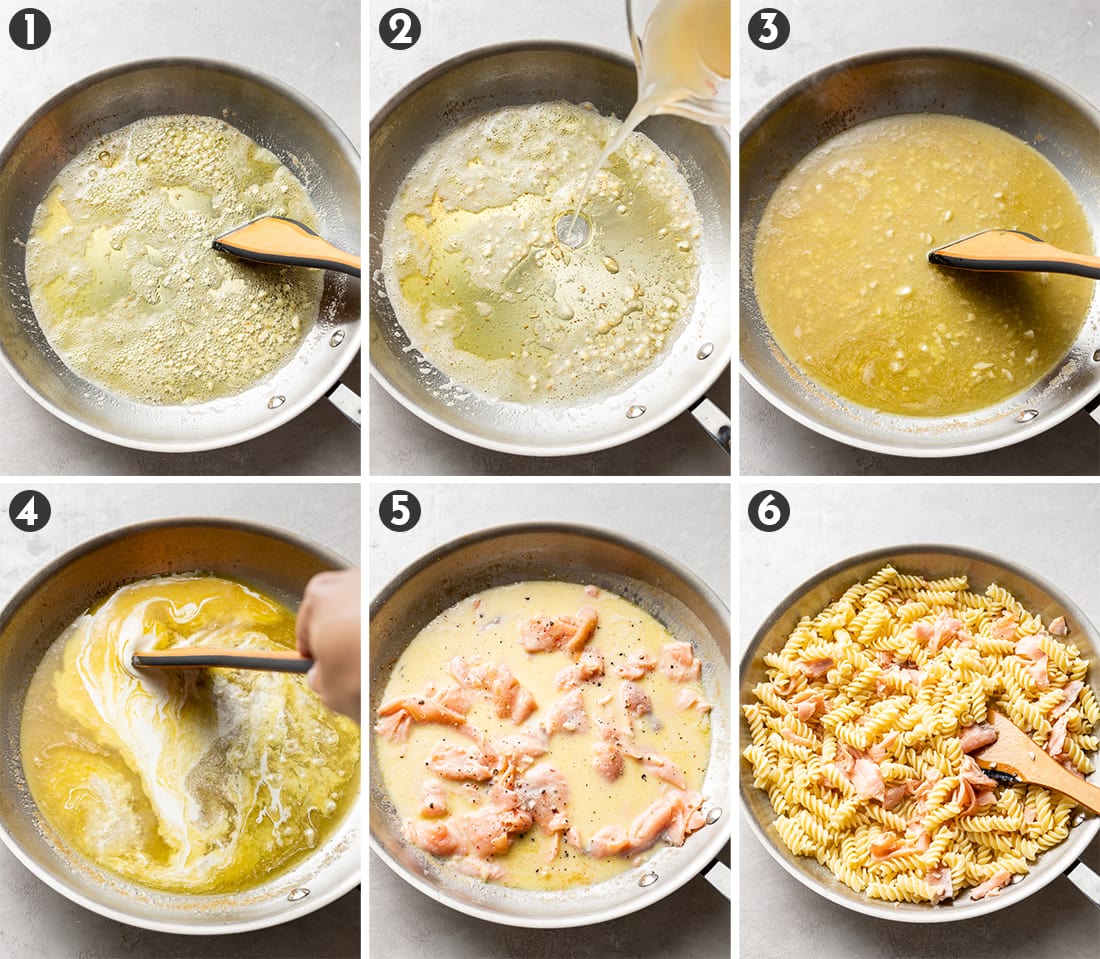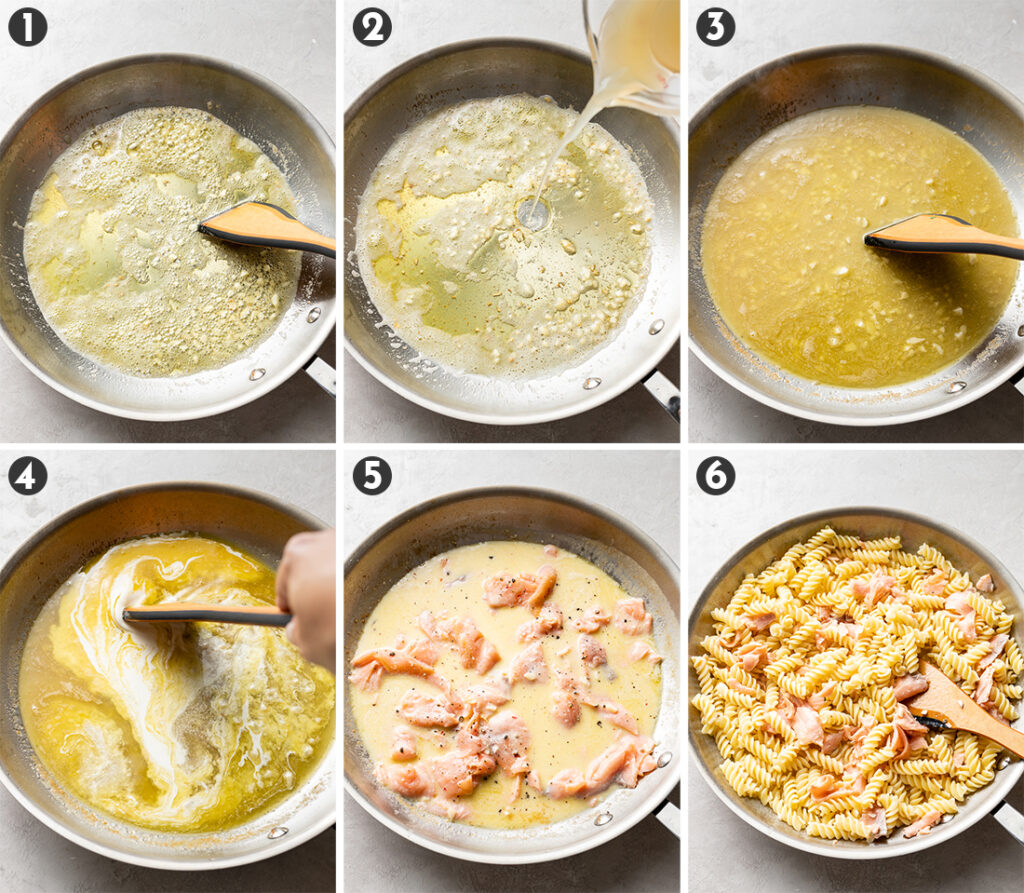 Stir in the cream and cook for one more minute (photo 4). You want the cream to be warm, but don't cook for too long, or the sauce will separate, which is not what you want!
Take the pan off the heat and stir in the salmon, which you'll have chopped or torn into small pieces (photo 5). Season with a little bit of salt and pepper. Now just stir in the pasta (photo 6). Dinner is served!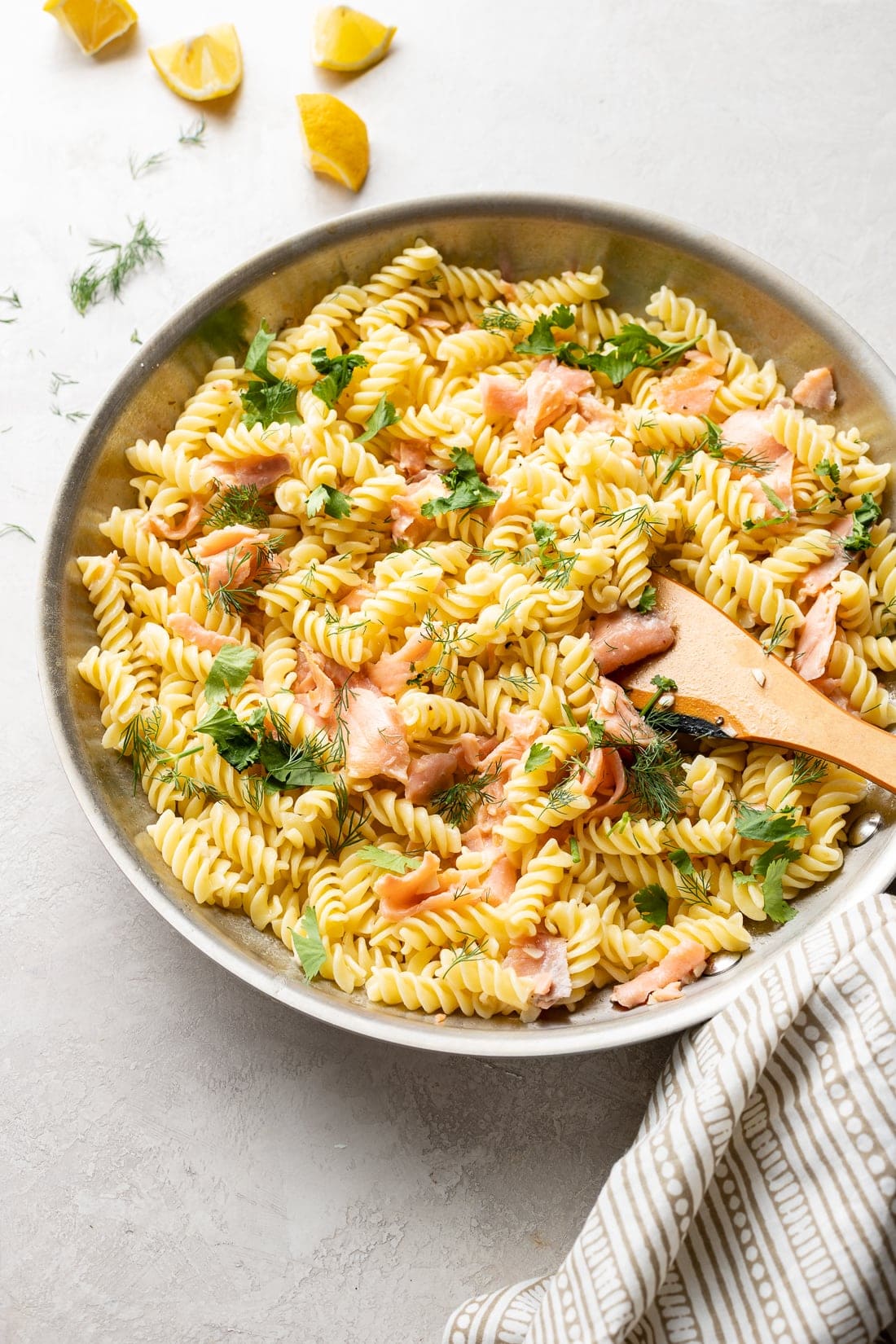 Can I Reheat Smoked Salmon Pasta? Freeze It?
Happy to report that this reheats really well. Better than most heavy, thick cream sauces, probably because it's relatively light and the pasta is just coated, not drowning in the sauce.
I would not, though, recommend freezing the recipe.
What To Serve With It
Serving this for dinner? It will be delicious with a simple roasted asparagus or arugula or spinach salad. The pasta is not too heavy in taste but is pretty filling with the salmon, so no need to go crazy on sides!
And if you're looking for similarly impressive yet easy meals, my number one recommendation is this Creamy Tuscan Chicken with spinach and sun-dried tomatoes. It gets rave reviews every time!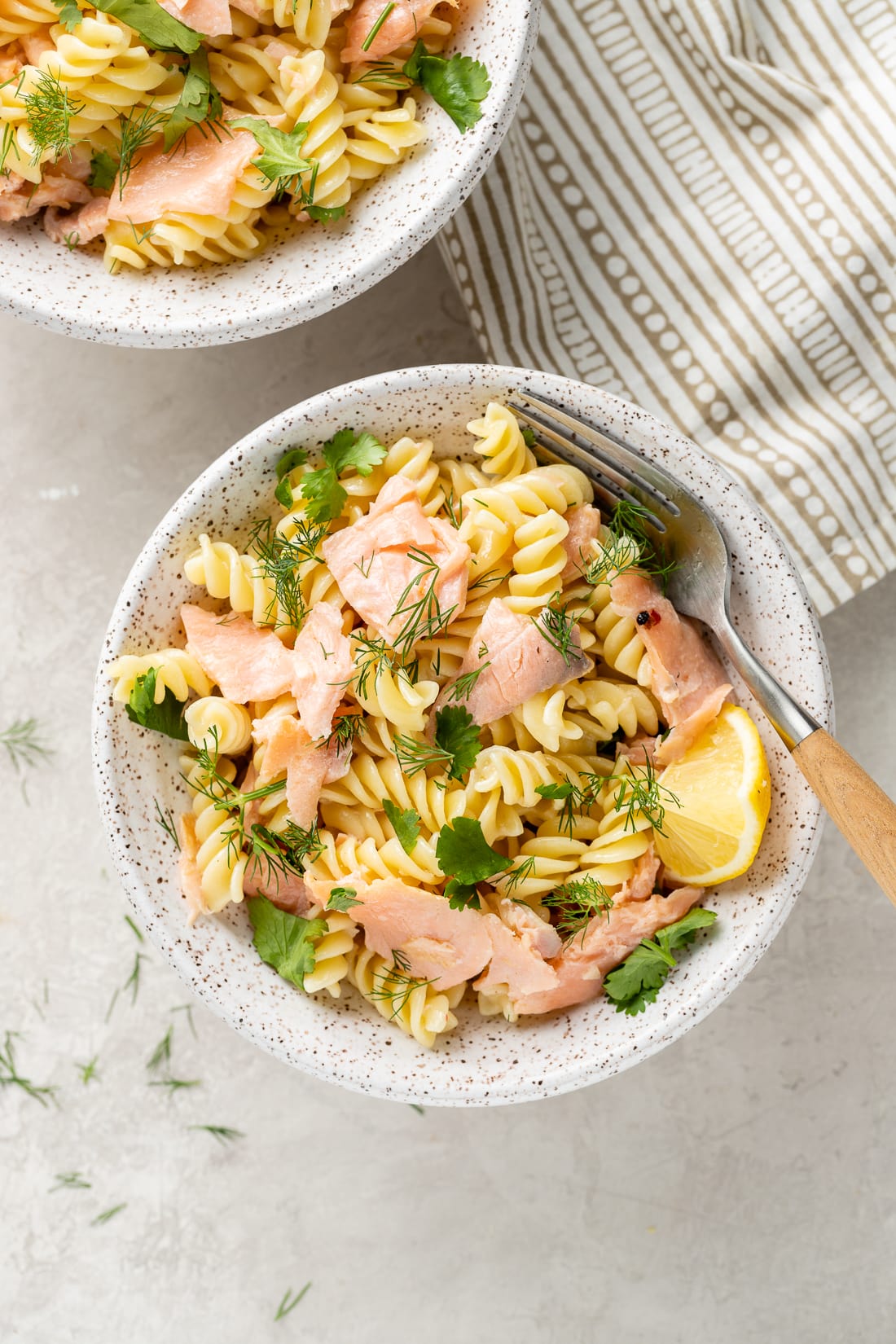 If you make this Creamy Smoked Salmon Pasta or any other recipe from Nourish and Fete, please rate it and leave a comment below. I love hearing from you, and other readers will benefit from your experience!
Creamy Smoked Salmon Pasta
If you're looking to impress for date night or dinner guests, this creamy pasta with smoked salmon tastes special but is easy for even the beginner cook.
Ingredients
8 ounces pasta
3 tablespoons butter
1 tablespoon olive oil
2 cloves garlic minced
1/2 cup chicken or veggie broth
1/2 cup dry white wine
juice from 1/2 a lemon
1/4 cup heavy cream
6 ounces smoked salmon torn or chopped into small pieces
kosher salt and black pepper to taste
for serving: fresh dill and fresh parsley
Instructions
Boil a large pot of water and add a generous pinch of salt. Cook pasta just to al dente, according to package directions.

While the pasta cooks, prepare the sauce. Add butter and oil to a large skillet set over medium-high heat.

When butter is melted, add garlic and cook for about 30 seconds, just until fragrant.

Add broth, wine, and lemon juice to the pan. Cook until the sauce is reduced by about half, about 4 minutes.

Stir in the cream and let the sauce cook for 1 minute more, just to warm it through. Remove pan from the heat, stir in the salmon pieces, and season lightly with salt and pepper.

Drain the pasta and add it to the skillet, stirring gently to coat with the sauce. For a pop of color and flavor, sprinkle with chopped fresh dill and parsley. Serve right away. Enjoy!
Notes
For an extra touch, try adding 1-2 tablespoons of capers, drained. They add a salty, briny flavor that really stands out and makes this dish even more special if serving to guests. You can usually find capers in a small jar in the condiment aisle of the grocery store, near jarred olives and pickles and things.
Nutrition Estimate
Calories: 449 kcal, Carbohydrates: 44 g, Protein: 16 g, Fat: 20 g, Saturated Fat: 10 g, Cholesterol: 53 mg, Sodium: 428 mg, Potassium: 259 mg, Fiber: 2 g, Sugar: 2 g, Vitamin A: 518 IU, Vitamin C: 1 mg, Calcium: 34 mg, Iron: 1 mg
Did you make this recipe?
Leave a review below, then snap a quick picture and tag @nourishandfete on Instagram so I can see it!