Greek Salad with Homemade Dressing
A traditional Greek salad is so delicious, healthy, and easy to make at home! This recipe includes a simple yet divine homemade dressing. It's light, fresh, and incredibly flavorful, thanks to the tang of red wine vinegar and zip of fresh dill.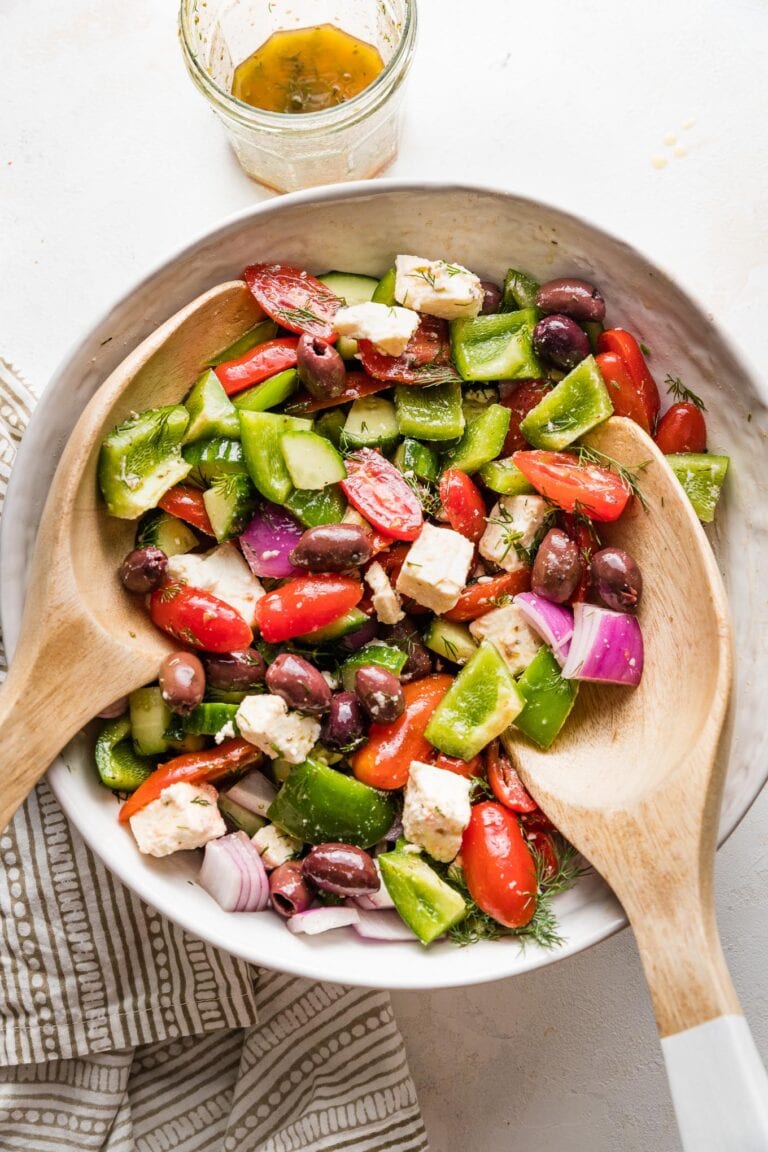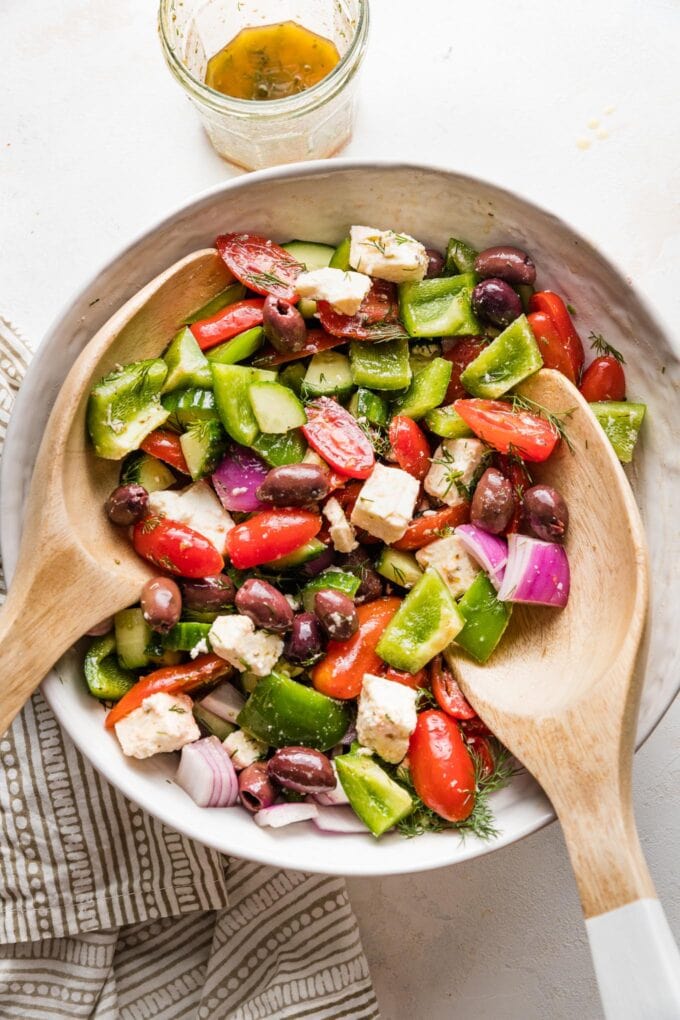 Salad of the Gods?
I mean, maybe? A Greek salad just might be heavenly, after all, when you consider how incredibly healthy, easy, and delicious it is. This is more or less the epitome of the much-admired Mediterranean diet. Fresh, simple, yet so tasty you absolutely never feel that you're missing out.
A traditional Greek salad is a classic that is well worth being able to whip up at home. What sets this recipe apart, in my opinion, is the homemade Greek salad dressing, which I've adapted over the years from an old family cookbook. The generous amounts of dried oregano and fresh dill combine to make magic.
We love that this Greek salad is:
Full of delightful texture and flavors. Crisp cucumber, juicy tomatoes, creamy feta, you get the idea.
Ultra-fast. Some quick chopping and whisking, that's it.
Versatile. This goes with anything as a side dish, or add some shrimp, chicken, or salmon, and it becomes a complete meal.
Serve this salad alongside Greek marinated chicken breasts, lemon chicken thighs, or Mediterranean shrimp skewers for a delicious and nourishing dinner menu.
Truly, the Greek gods would have eaten this and been satisfied.
Ingredients & Substitutions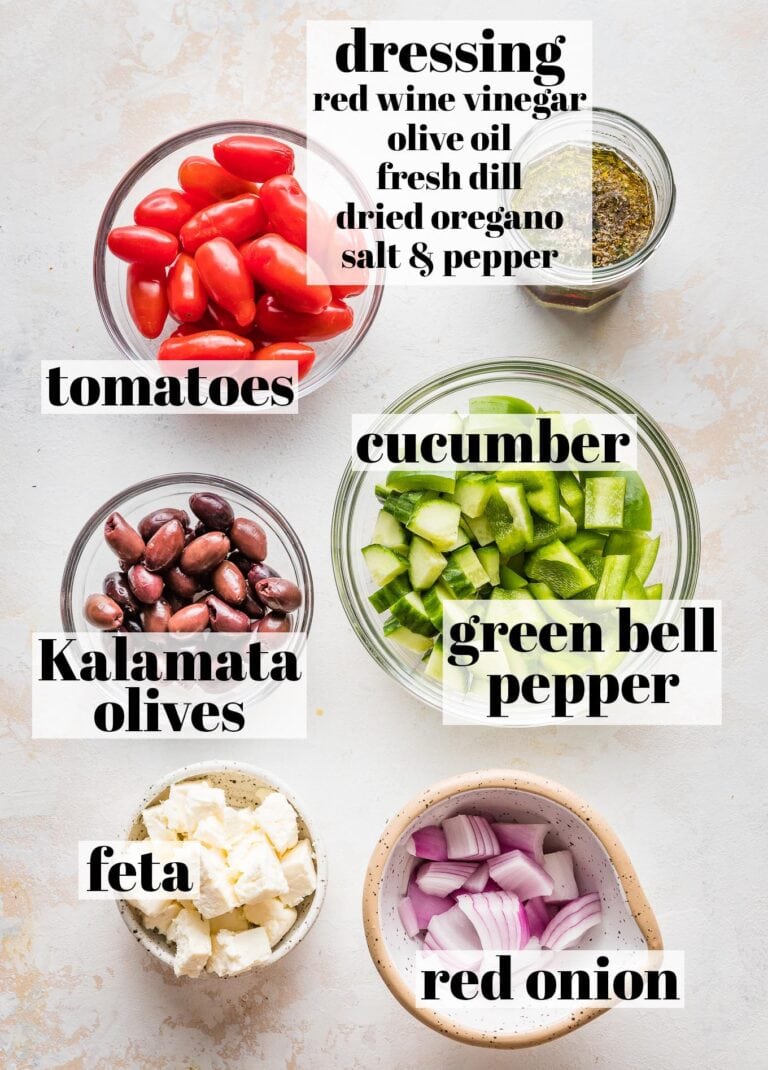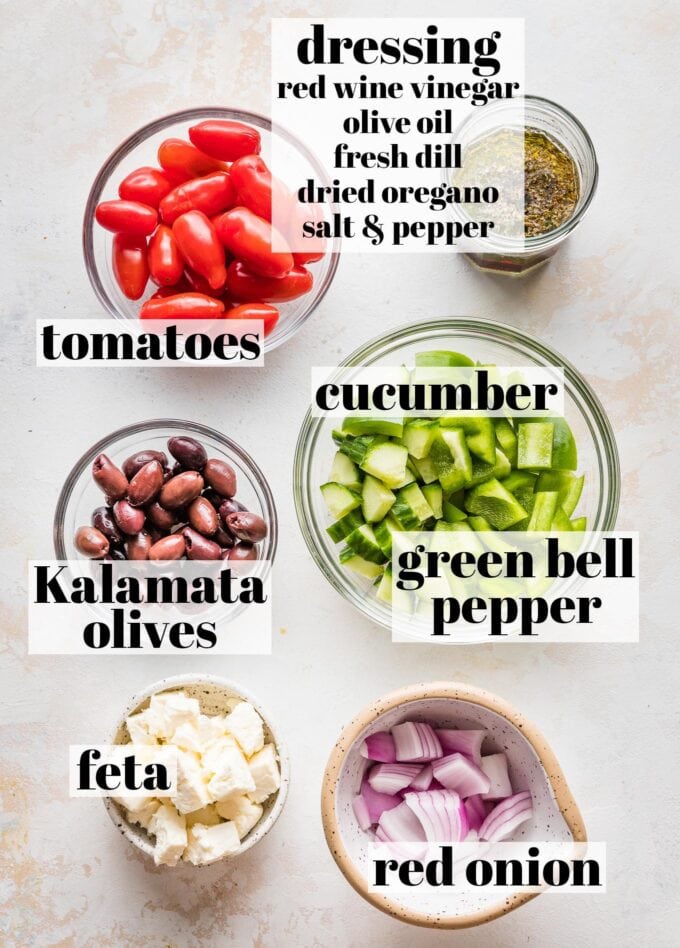 Here are a few notes and shopping tips about the typical Greek salad ingredients, as well as possible substitutions. Full amounts are noted in the print-friendly recipe card below.
Tomatoes: I like to use cherry or grape tomatoes for convenience, but quartered Roma tomatoes, any heirloom variety, or a plump on-the-vine tomatoes are all delicious, too.
Cucumber: An English cucumber is nice because the skin is thin and easy to eat, and it's not too watery or full of seeds in the middle.
Green Bell Pepper: A traditional Greek salad includes green bell pepper, but leave it out if it's not your thing. You can substitute it with another color of bell pepper, but you don't have to.
Red Onion: A little goes a long way! If you really want to soften the bite of red onion, soak it in water for a few minutes, then pat dry and add to the salad.
Kalamata Olives: Another key component of the traditional Greek salad! And so good! You can substitute with black olives or, again, leave them out.
Feta Cheese: Creamy, slightly salty goodness. You can leave the feta in large chunks, or crumble it into smaller pieces; this is just a matter of personal preference.
Homemade Dressing: which includes red wine vinegar, extra virgin olive oil, fresh dill, dried oregano, kosher salt, and black pepper. And is the signature component that elevates this otherwise simple combination.
Does Greek salad have lettuce?
A traditional Greek salad recipe does not contain lettuce, but if you want to add it, romaine, green leaf, red leaf, baby spinach, or a spring mix are all good options.
How To Make a Greek Salad
This is about as simple as it gets, which is about the level of effort I personally feel like expending in the kitchen during the spring and summer. Let's review:
Step One: Make the dressing. This is strictly a whisk or shake it all together situation.
Step Two: Toss together salad ingredients and dress to taste.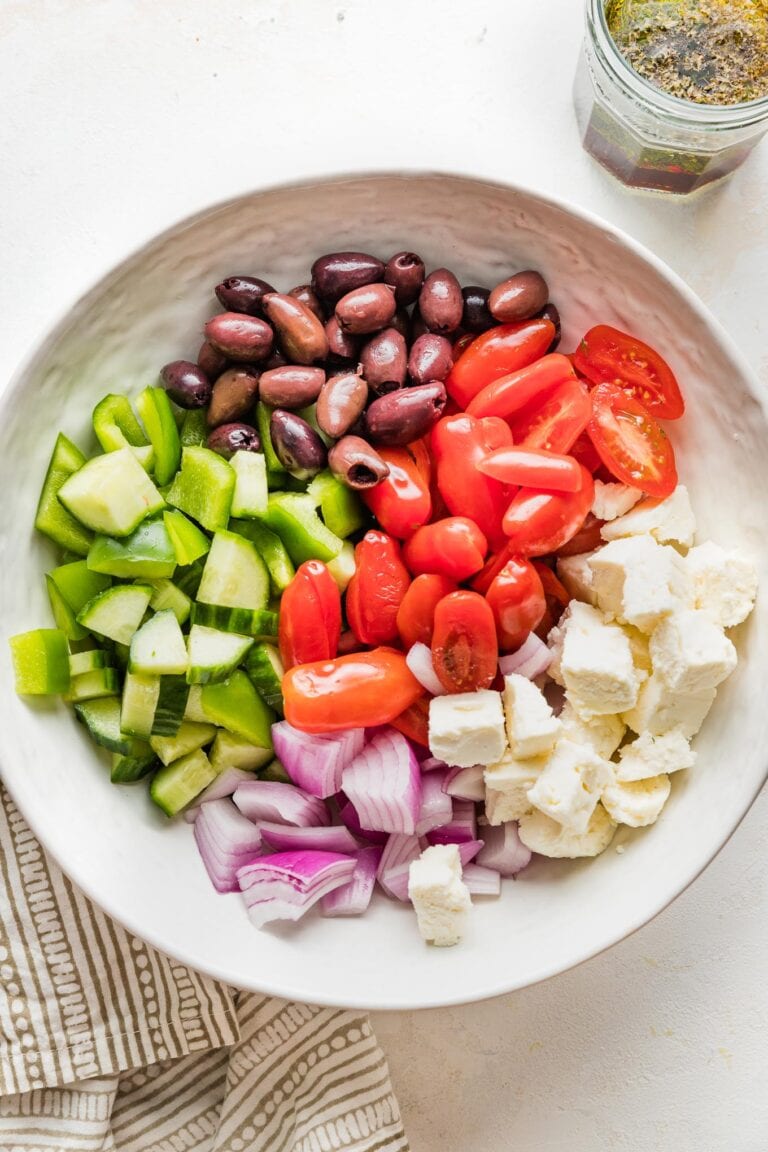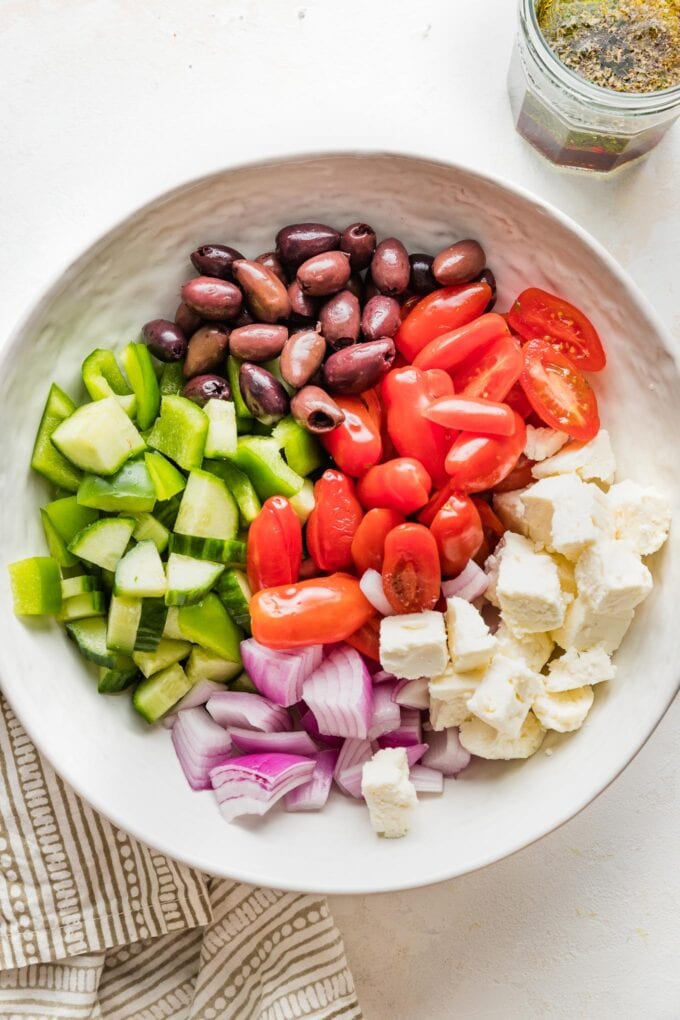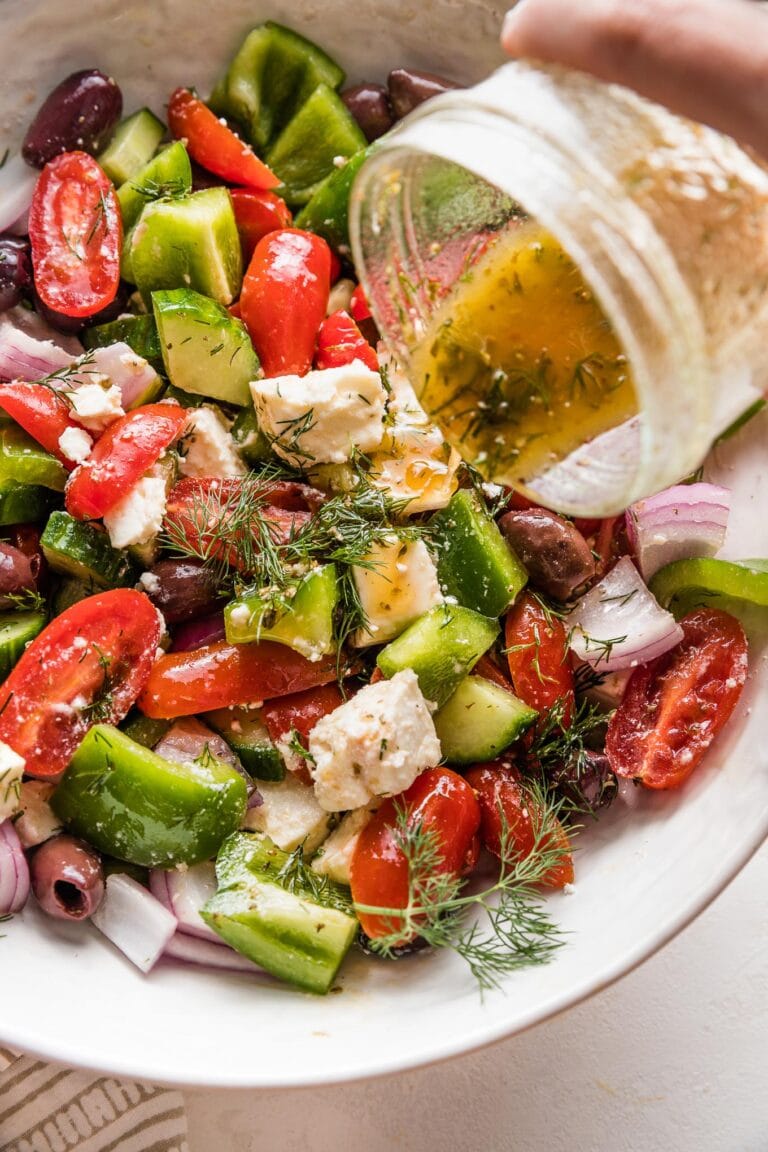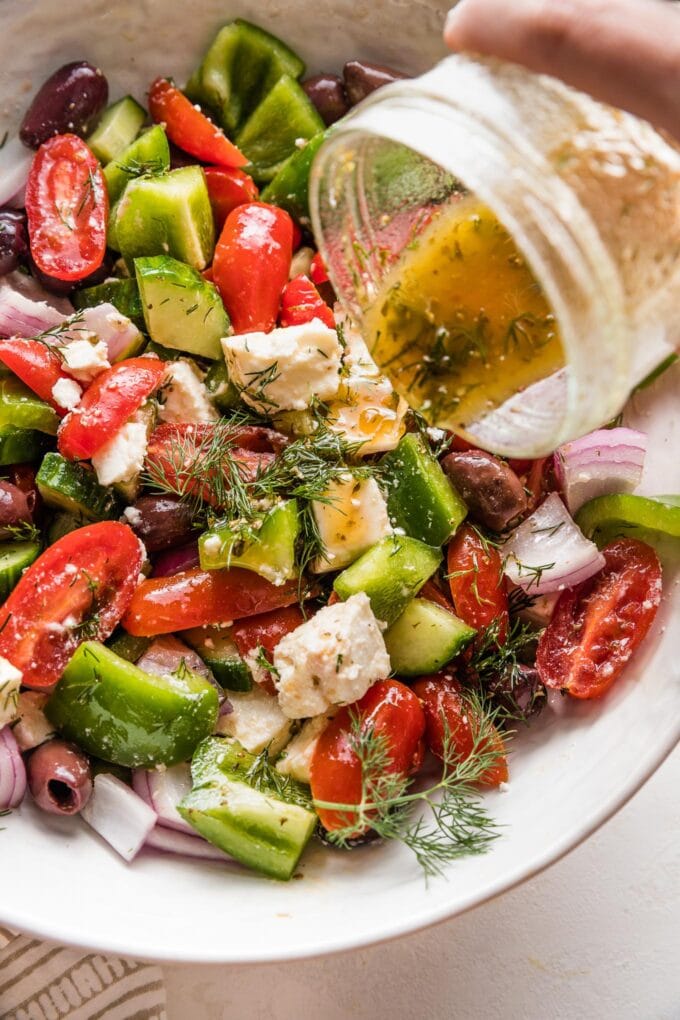 Tips and Tricks
My favorite way to test salad dressing is to dip one cucumber or another veggie into the jar before pouring it over your salad. You'll be able to tell whether you want more salt or to adjust the seasoning in some other way.
Start with a small amount of dressing–you can always add more!
If not using an English cucumber, scoop out some of the seeds from the middle then slice into half-moons so they are not too watery.
For the nicest presentation, reserve some (or all) of the feta to sprinkle on top at the end.
For another nice touch, add a few sprigs of fresh dill on top of the finished salad.
What to do with extra salad dressing?
Store extra dressing in a small container in the fridge – a mason jar or anything with a very tight-fitting lid will do – and give it another vigorous shake before serving again. If the oil solidifies, warm it very slightly, then shake.
I love it over the full Greek salad, but it's equally good just to dress up some chopped cucumbers and tomatoes for the most delicious two-ingredient salad you'll ever come across.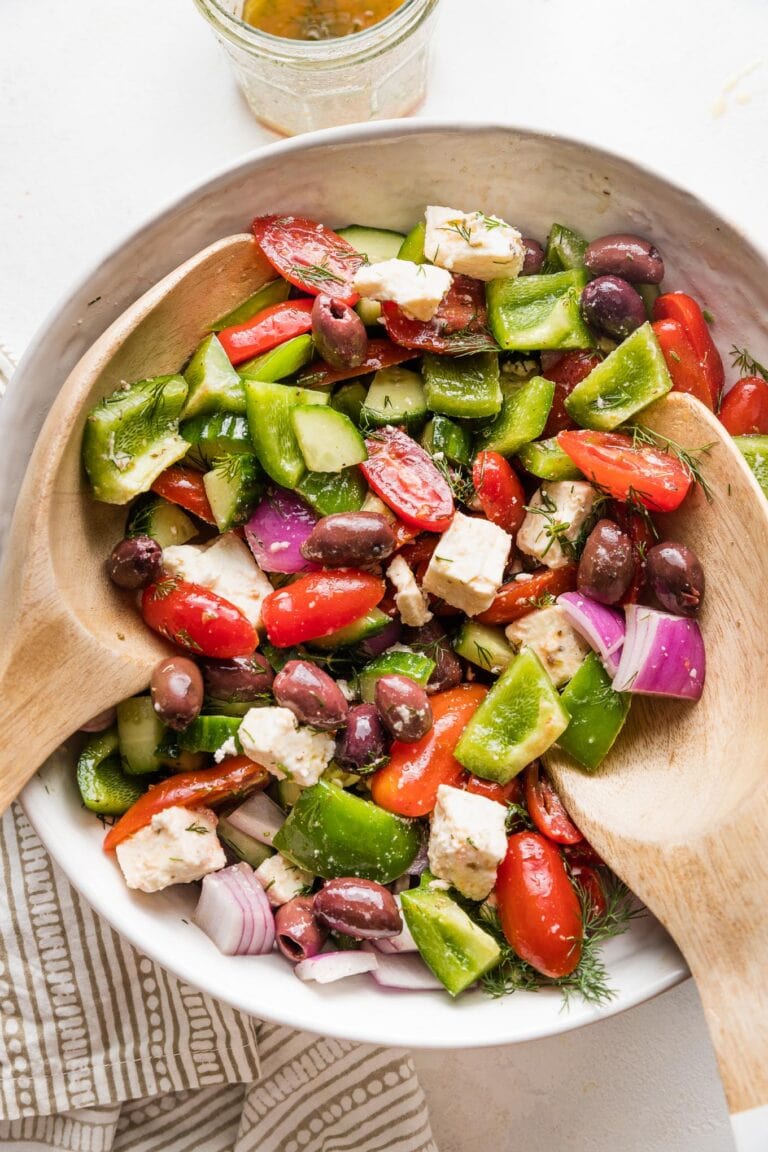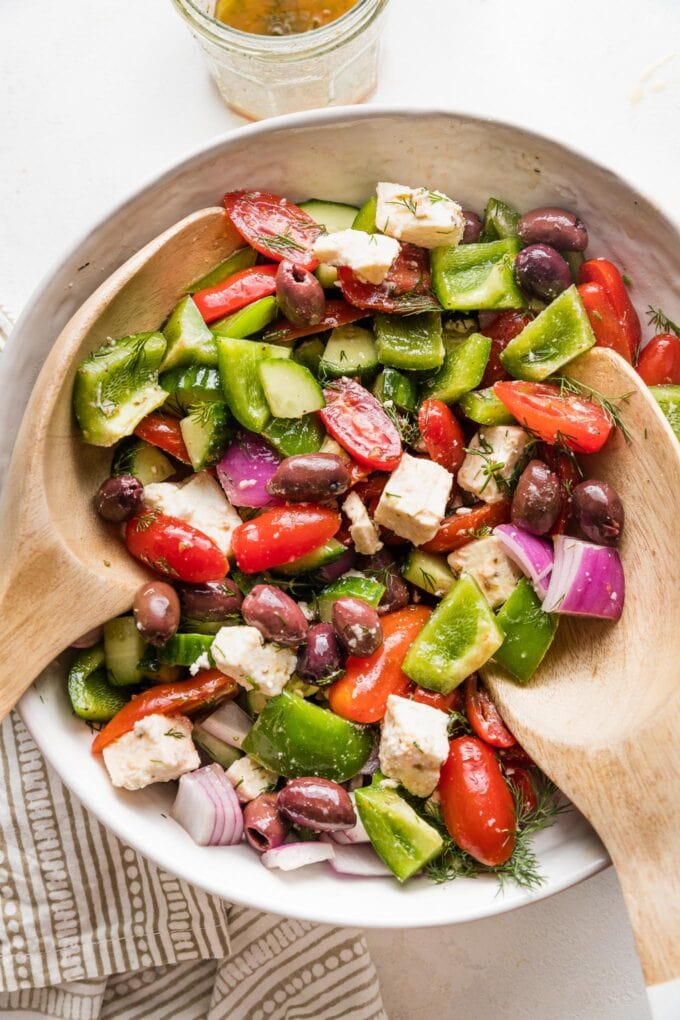 How To Store Greek Salad
Because the salad doesn't have any leafy greens, it is a good one to prep ahead of time for a gathering or weeknight dinner. If possible, toss together the vegetables and whisk the dressing separately, then combine just prior to serving. It does keep for 1-2 days, though, already dressed. Store in any airtight container in the fridge.
More Greek Recipes
If you enjoy this style of Mediterranean-inspired cuisine, try my Greek salmon salad, Greek marinated chicken, chopped Greek chickpea salad, chicken with Kalamata olives, or Greek chicken meatballs next. You'll also love this lemon orzo salad with feta.
If you try this Greek salad or the homemade dressing, don't forget to rate the recipe and leave a comment below. I love hearing how recipes turn out in your kitchen, and it helps other readers, too.
You can also FOLLOW me on PINTEREST, INSTAGRAM, FACEBOOK, and TWITTER for more great recipes and ideas!
Greek Salad with Homemade Dressing
A simple Greek salad is so healthy and easy to throw together, and divine when tossed with an easy and light homemade dressing!
Ingredients
For the Dressing:
1/4 cup red wine vinegar
1/3 cup extra virgin olive oil 
2 Tablespoons minced fresh dill 
1 teaspoon dried oregano 
1/2 teaspoon salt
freshly ground black pepper to taste
For the Salad:
1-2 cups cherry tomatoes halved
1 small green bell pepper chopped
1/2 large cucumber sliced
1/2 cup pitted Kalamata olives
1/4 cup red onion chopped
1/2 cup feta cheese crumbled or cubed
Instructions
To make the dressing, combine all ingredients in a small bowl or jar with a tightly fitting lid, and whisk or shake well to combine. (This can be done in advance and stored in the fridge for at least a week. Simply give the dressing another strong shake before adding it to the salad.)

To assemble the salad, combine tomatoes, pepper, cucumber, olives, and onion in a large bowl. Toss to combine. Add dressing to taste, starting with a small amount — you can always add more. Toss, add more dressing as desired, then top with the feta. Serve right away.
Notes
Extra dressing keeps well in the refrigerator for at least a week. Simply give the dressing another strong shake before adding it to another salad.
If you want to add lettuce, romaine, green leaf, red leaf, baby spinach, or a spring mix are all good options.
Nutrition Estimate
Calories: 168 kcal, Carbohydrates: 3 g, Protein: 2 g, Fat: 17 g, Saturated Fat: 4 g, Polyunsaturated Fat: 1 g, Monounsaturated Fat: 11 g, Cholesterol: 11 mg, Sodium: 516 mg, Potassium: 120 mg, Fiber: 1 g, Sugar: 1 g, Vitamin A: 252 IU, Vitamin C: 7 mg, Calcium: 82 mg, Iron: 1 mg
Did you make this recipe?
Leave a review below, then snap a quick picture and tag @nourishandfete on Instagram so I can see it!