Chicken with Kalamata Olives
Easy yet elegant, this Chicken with Kalamata Olives recipe is done in about 20 minutes and takes just one pan. You'll love the tender chicken breasts, briny olives, and luxurious pan sauce that brings it all together.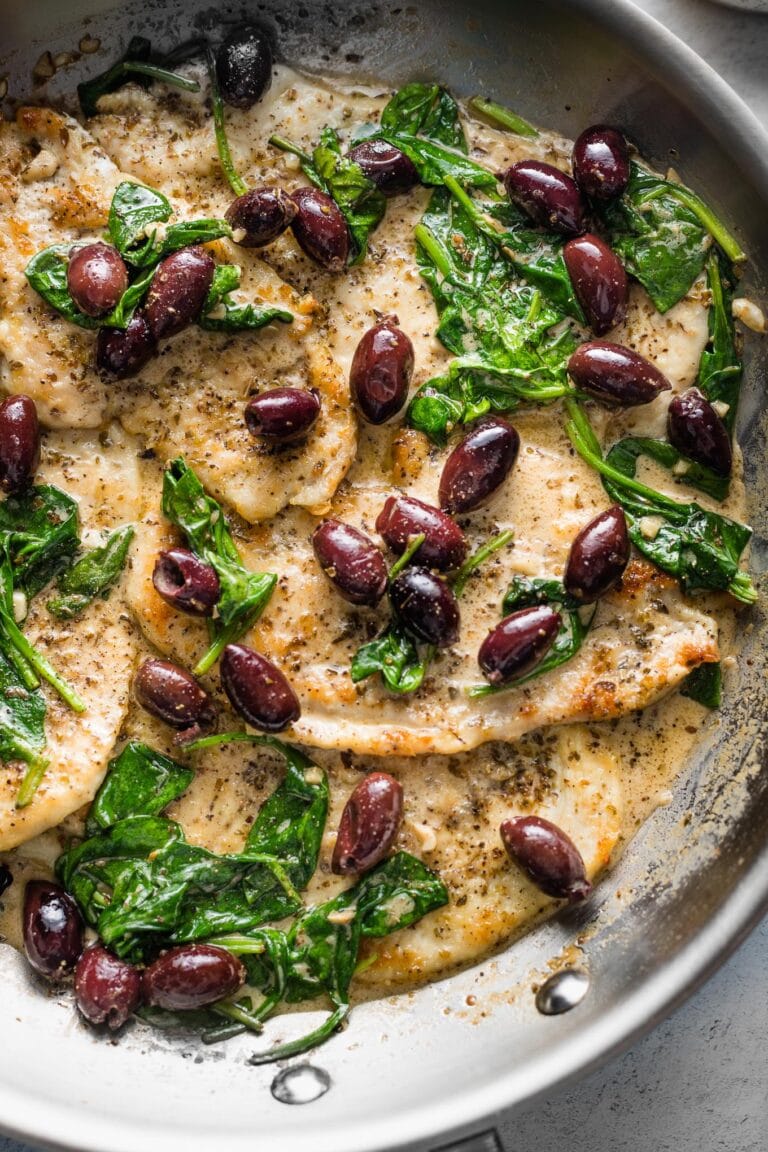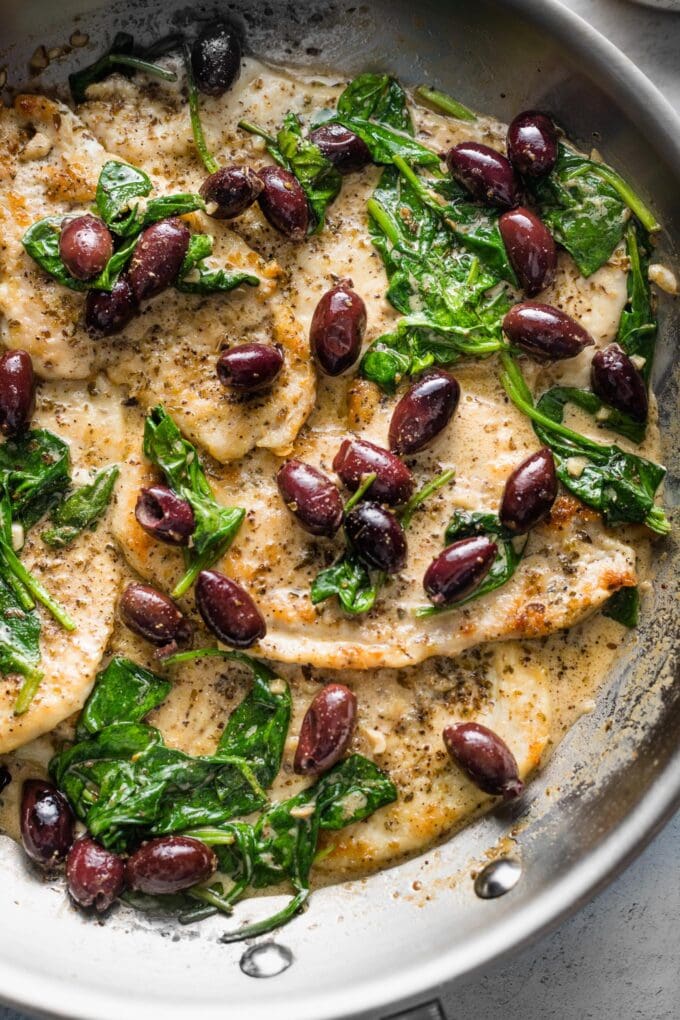 We love a good chicken skillet around here. They're quick, simple to prepare, and easy to fill with flavor. We also absolutely love Kalamata olives — or at least my husband and I do. Fortunately, kids (and kids at heart) gobble up just this chicken and the sauce, so even if your household is split on the olive debate, you can still make this work.
A great chicken skillet doesn't need to be complicated or overly heavy, and you can make a truly luscious cream sauce with just a little cream by mixing in broth and plenty of seasonings. No need for the oven, no separate baking dish, just one skillet between you and dinner.
Ingredients & Common Substitutions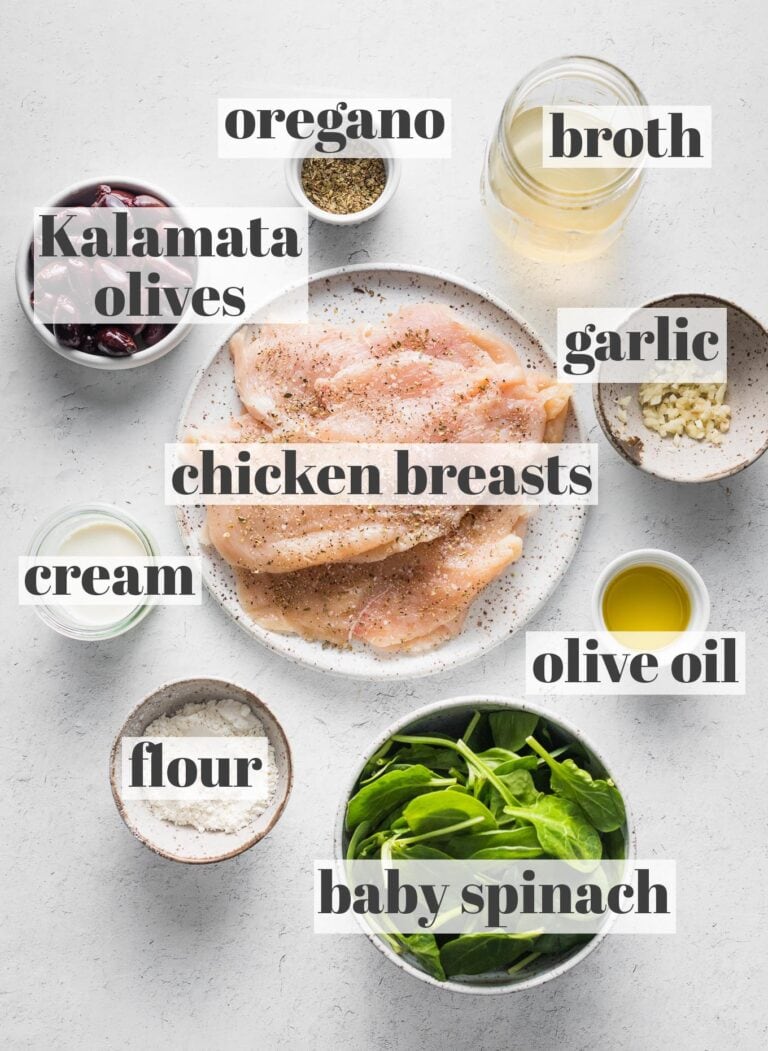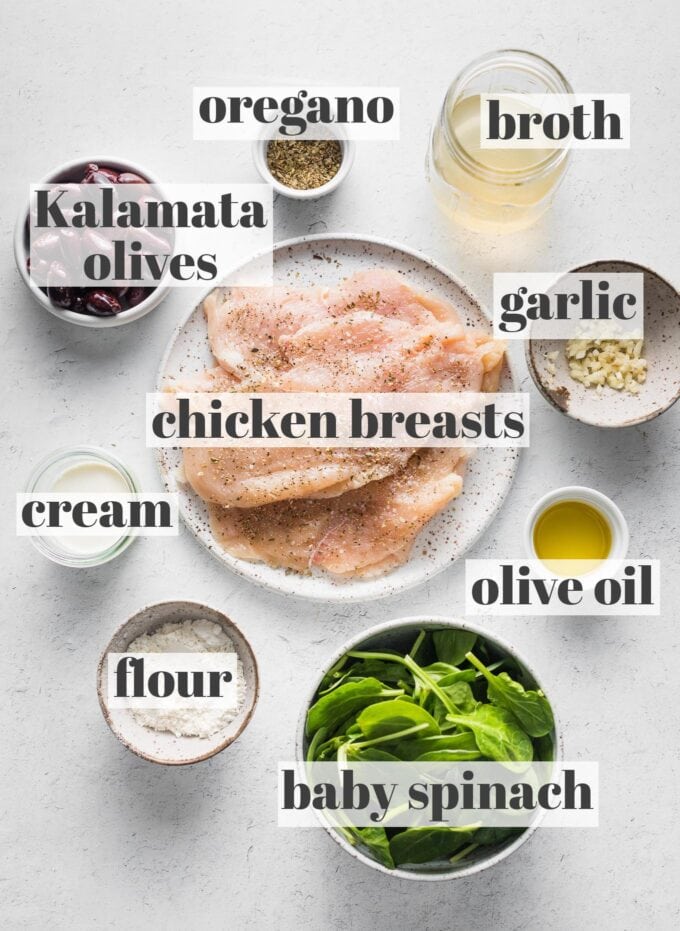 Here are a few notes and shopping tips about the ingredients you'll need to make this, as well as possible substitutions. Full ingredients & amounts are in the recipe card below.
Chicken Breasts. If your chicken breasts are sliced thinly, it really helps them to cook quickly and evenly without drying out. You can buy "thin-sliced" breasts at most grocery stores, but it's also easy to just cut thicker breasts in half through the middle so each piece becomes two
Kalamata Olives. Buy already pitted olives. Some grocery stores have an olive bar, usually located near the fresh produce or with specialty meats and cheeses, but you can also typically find jarred pitted Kalamatas near condiments or specialty oils. Either works well. Prefer another kind of olive? Swap it in with no other changes.
Baby Spinach. A nice way to add greens and more vegetable goodness to this recipe, but not strictly necessary. Leave it out if you're not a fan.
Fresh Garlic Cloves, Dried Oregano. This is a key part of seasoning the chicken and the sauce, so don't skimp on that good stuff and try to be sure even your dried herbs are reasonably fresh. Of course you can use fresh oregano for the recipe or for a garnish at the end, just be sure you use a lot if you go this route.
Flour. I like to dredge the chicken breasts in a small amount of all-purpose flour before pan-frying them, which helps them develop a nicely browned outer crust. You can use a gluten-free flour, if you prefer, or leave this out entirely, too.
Cream. A little cream goes a long way to making this sauce the luxurious thing of beauty that it is. Heavy cream, light cream, or half and half all work.
Chicken Broth. Rounds out the sauce. Use low-sodium broth to have more control over how salty the final dish is.
Staples: Olive oil, kosher salt, black pepper.
Have or prefer using chicken thighs? Also delicious, they just take longer to cook. Try this recipe for Greek chicken thighs with olives, tomatoes, and artichokes–another family favorite.
How To Make Kalamata Olive Chicken
This is an overview. Full instructions with timing & temperatures are in the recipe card below.
Step One: Season and brown the chicken in a bit of olive oil, then remove it to a plate while you make the sauce.
Step Two: Make the sauce. You definitely want to do this in the same skillet, so that all the incredibly flavorful bits left over from browning the chicken go straight where they belongs–into the sauce! You'll do this by browning the garlic, then adding the broth, followed by the cream, olives, and more seasoning.
Do I use the juice from packaged olives?
The liquid that surrounds packaged olives is technically known as olive brine, and it's a flavor powerhouse all on its own. For the right consistency in this and most recipes using olives, you'll want to scoop out the olives themselves with just a bit of the brine. This will leave you with a lot of the liquid left over–feel free to save it and use it to mix into sauces, soups, or salad dressings.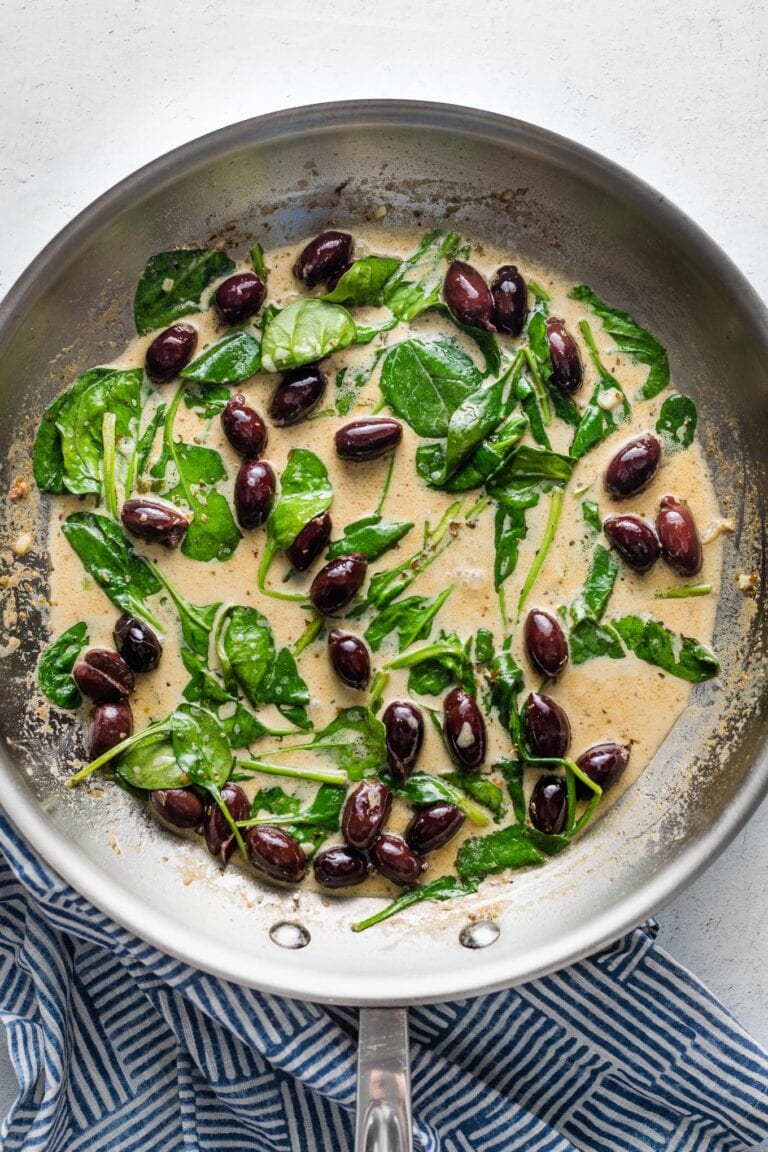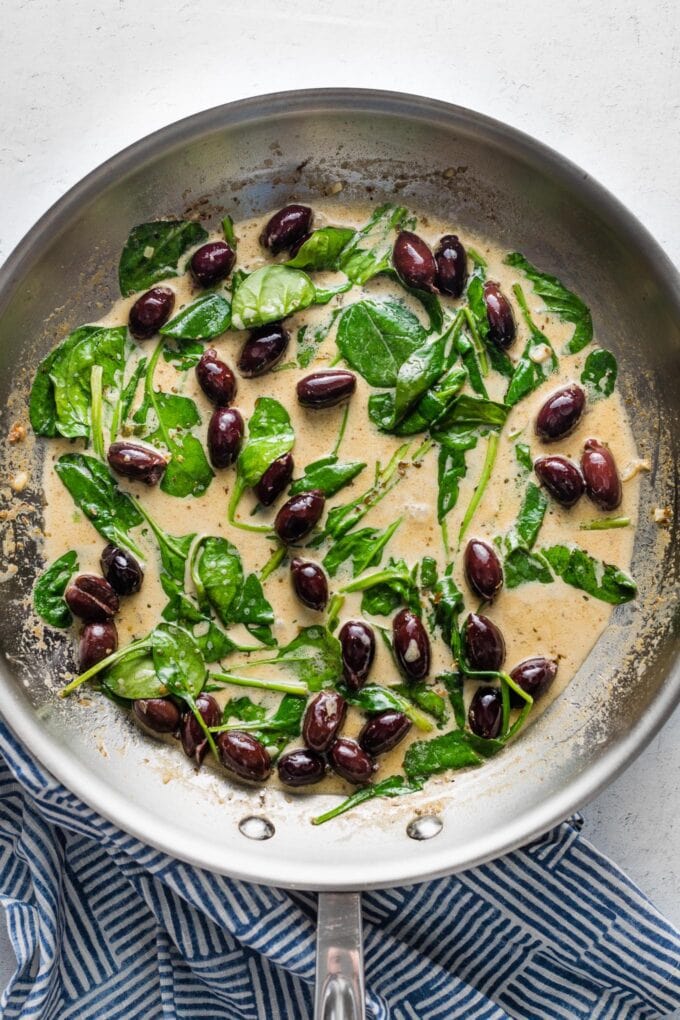 Step Three: Put it all together. Add spinach to the sauce, then return the chicken breasts and let it all warm together, spooning the sauce generously over the chicken as it does.
That's it! Time to dig in.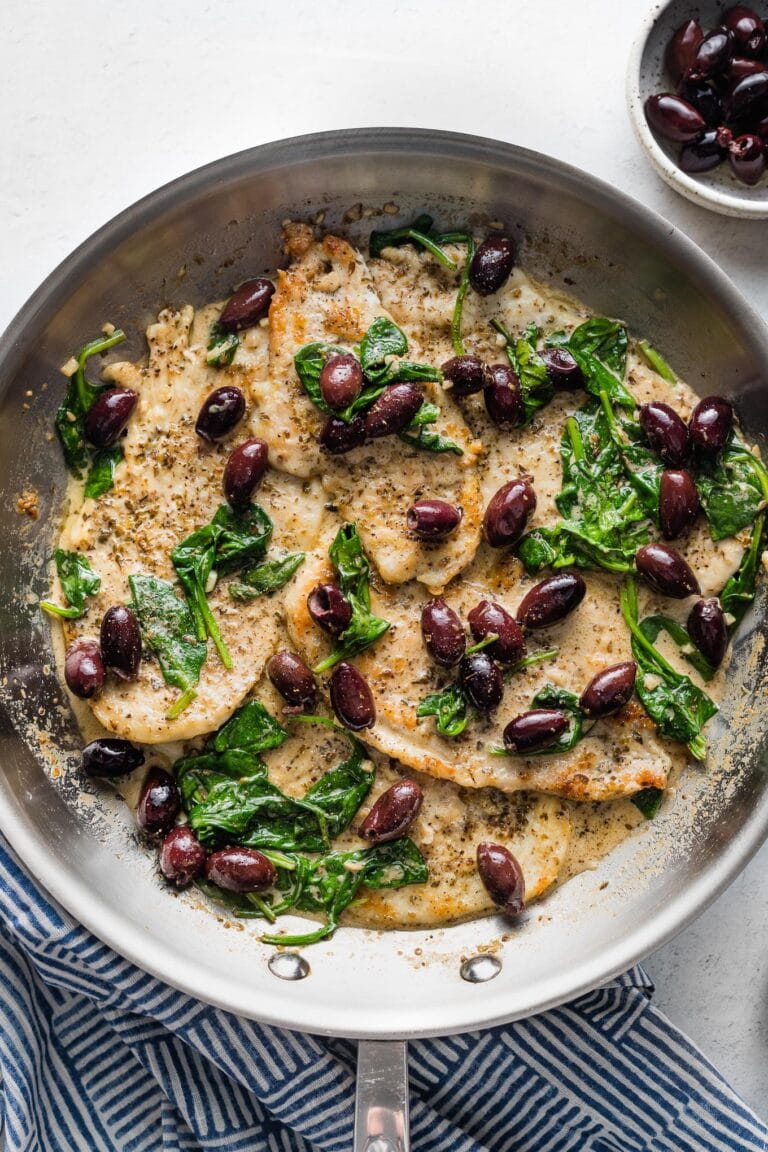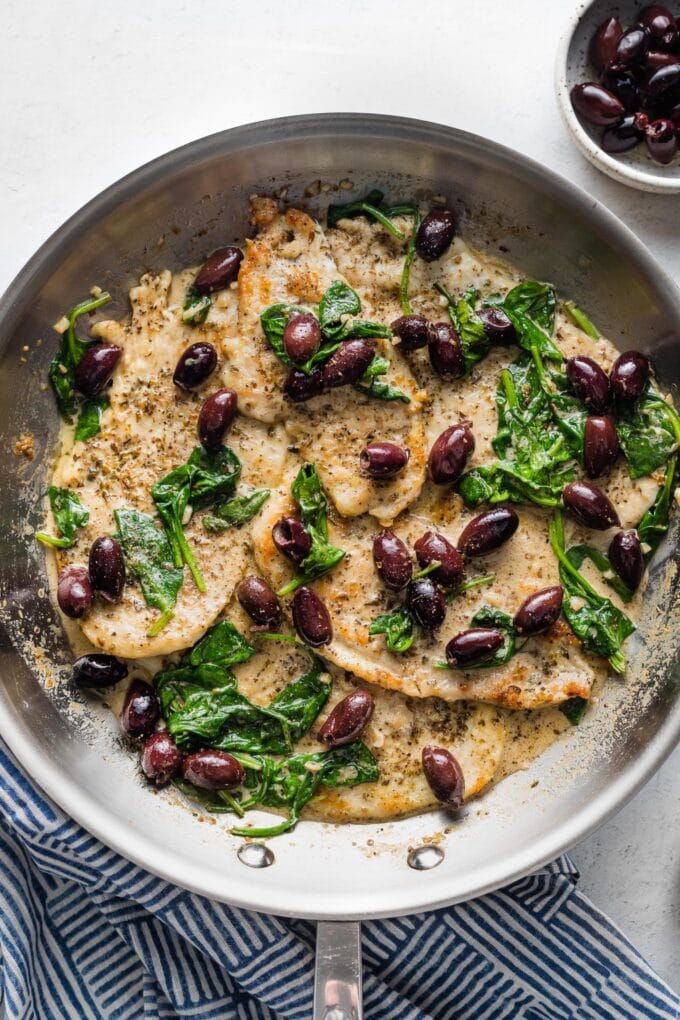 Serving Suggestions
We love this chicken alongside an Italian salad or a chopped Greek chickpea salad for more filling protein. Peppery arugula salad also makes a really nice pairing, complementing the light cream sauce. Steamed green beans or roasted asparagus work well, too.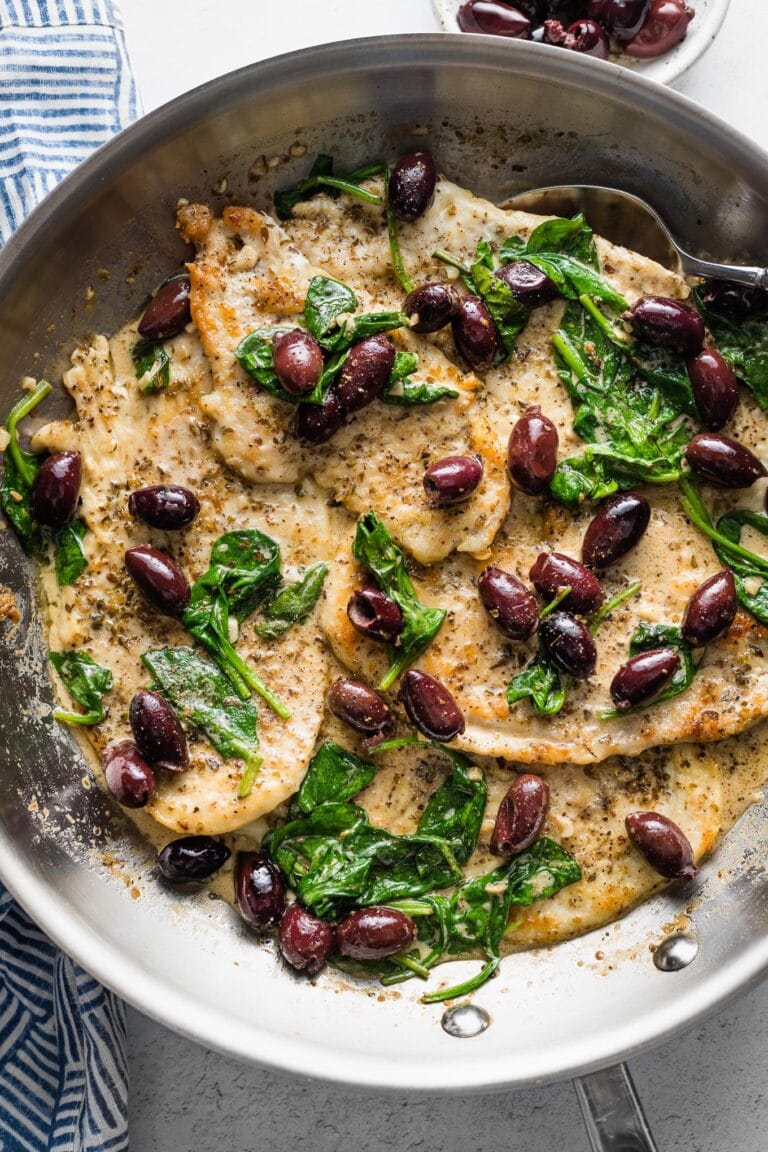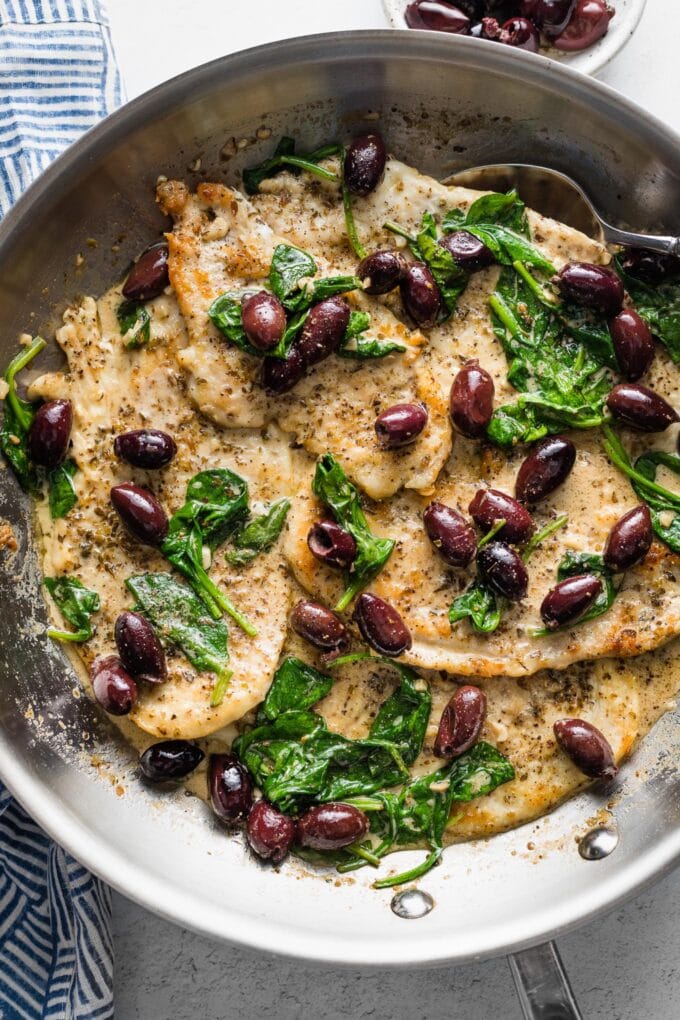 Variations
Add cherry tomatoes for another pop of color. If you prefer them to be softened, add them along with the chicken broth; if you prefer them more robust, add them at the end along with the spinach.
Sprinkle feta on top before serving.
Add onions or shallots for an extra layer of flavor. Sauté them for 4-5 minutes in the skillet after removing the chicken, but before adding the garlic.
Swap the oregano for thyme, rosemary, fresh basil, or a mix of Italian seasonings.
Storage & Reheating
This olive chicken keeps and reheats very well, so it's terrific for meal prep or lunch planning purposes. Leftovers always disappear!
Store individual portions or a larger amount in an airtight container in the refrigerator for 3-4 days, then reheat on 50% power in the microwave until warmed through. These are our favorite containers!
More Chicken Breast Recipes
Who doesn't need more easy ways to cook this family-friendly protein? Our favorites include creamy Tuscan chicken, lemon thyme or lemon rosemary chicken, and simple bourbon chicken. We also love using this Greek marinade for chicken breasts, then either cooking them on the skillet or on the grill.
If you try this Chicken with Kalamata Olives, don't forget to rate the recipe and leave a comment below. I love hearing how recipes turn out in your kitchen, and it helps other readers, too.
You can also FOLLOW me on PINTEREST, INSTAGRAM, FACEBOOK, and TWITTER for more great recipes and ideas!
Chicken with Kalamata Olives
Easy yet elegant, this is done in about 20 minutes and takes just one pan. We love the tender chicken breasts, briny olives, and luxurious pan sauce. Kids tend to like just the chicken and sauce, so it's family-friendly, too.
Ingredients
3 Tablespoons all-purpose flour
4 thin-sliced chicken breasts
kosher salt and black pepper
1 and 3/4 teaspoons dried oregano divided
1-2 Tablespoons extra virgin olive oil
3 cloves garlic minced
1/2 cup chicken broth low-sodium preferred
1/3 cup cream heavy or light, or half and half
1/2 cup Kalamata olives
2 cups baby spinach
Instructions
Place flour in a small bowl or plate. Sprinkle chicken breasts evenly on both sides with salt, pepper, and 1 teaspoon of the oregano. (Use more oregano if you like.) Warm olive oil in a large skillet over medium-high heat.

Lightly dredge each chicken breast through the flour. Shake gently to remove any excess, then place each piece in the hot pan. Cook for 2-3 minutes on each side, just until browned and cooked through. Remove chicken to a plate and set aside.

If the skillet is dry, add another small drizzle of olive oil. Add garlic and cook for 30-60 seconds, just until fragrant. Add chicken broth, then scrape the pan to remove any browned bits from the bottom. Bring the liquid to a simmer and cook for 1-2 minutes, until slightly reduced.

Stir in the cream, olives, remaining 3/4 teaspoon oregano, and salt and pepper to taste. (I usually add 1/4 teaspoon salt, and 6-8 cranks of black pepper.)

Add the spinach, then return chicken to the skillet. Let it warm for 1-2 minutes, spooning a bit of sauce over each piece of chicken. Serve and enjoy!
Notes
Make it Gluten-Free: Omit the flour entirely, or use any gluten-free blend. Its only purpose is to help the chicken develop a slight crust.
Nutrition Estimate
Calories: 219 kcal, Carbohydrates: 7 g, Protein: 14 g, Fat: 15 g, Saturated Fat: 6 g, Polyunsaturated Fat: 1 g, Monounsaturated Fat: 7 g, Trans Fat: 0.01 g, Cholesterol: 59 mg, Sodium: 355 mg, Potassium: 359 mg, Fiber: 1 g, Sugar: 1 g, Vitamin A: 1782 IU, Vitamin C: 6 mg, Calcium: 46 mg, Iron: 1 mg
Did you make this recipe?
Leave a review below, then snap a quick picture and tag @nourishandfete on Instagram so I can see it!