Quick Bourbon Chicken
As a home cook, there is little these days that brings me as much simple contentment as a dinner that is delicious, easy to shop for, easy to prep, and FAST. (OK, maybe an afternoon mani-pedi, but those are few are far between, so I am more than happy to settle for the small victory of dinner on the table.)
This bourbon chicken is the perfect thing to add to your menu any week that you know you will be busy and tired, but still want something tasty and homemade. Most of the ingredients are pantry staples, and the cooking process is dead simple. Whisk together the sauce, brown the chicken, let the sauce simmer and thicken, scoop out generous spoonfuls over any grain or veggie of your choice, and you're done! As a bonus, you can do almost all of this with one hand, while balancing a curious toddler on the other hip. If, you know, you like that kind of challenge.
Now, I should note that most bourbon chicken recipes do not include actual bourbon; rather, some say its namesake is a dish originally conjured on Bourbon Street. I cannot profess to know whether this is true or random internet lore (#alternativefact – eating two pieces of broccoli cancels out a post-dinner pint of Ben & Jerry's). But I can profess with great enthusiasm that, whatever its origin, my family loves the addicting, sweet-spicy sauce, and we find it even more flavorful with a splash of bourbon whisked in. Because, really, why not? On a similar note, we like to add cashews for the contrasting crunchy texture, but that is completely optional, as well.
So, next time you're in a pinch, feel confident skipping the takeout and whip up this quick bourbon chicken instead. You'll have a delicious meal on the table in 30 minutes, and you can bet there will be requests for seconds!
Quick Bourbon Chicken
Ingredients
1 lb. boneless skinless chicken breasts cut into bite-sized pieces
2 tbsp. plus 1 tsp. cornstarch divided
1 clove garlic minced or pressed
1/4 tsp. ground ginger
1/8-1/4 tsp. crushed red pepper flakes
3/4 cup low-sodium chicken broth 
1/3 cup light brown sugar
2 tbsp. ketchup
1 tbsp. apple cider vinegar
1/3 cup low-sodium soy sauce
1 tbsp. bourbon optional 
2 tbsp. canola vegetable, or coconut oil 
1 cup cashews optional 
Instructions
In a large ziplock bag, combine the chicken pieces with 2 tbsp. cornstarch and toss briefly to coat. 

In a medium bowl, whisk together remaining 1 tsp. cornstarch, garlic, ginger, red pepper flakes, chicken broth, brown sugar, ketchup, apple cider vinegar, soy sauce, and bourbon, if using. Set aside. 

Warm the oil in a large non-stick skillet over medium-high heat until it is hot and rippling. Add chicken pieces and cook for about 1 minute on each side, until the outside edges are golden but the chicken is not yet cooked through. Remove chicken pieces to a plate and set aside. 

Wipe excess oil from the skillet and return it to medium heat. Pour in the sauce, then add the chicken pieces. Bring the mixture to a simmer and let cook for 8-10 minutes, stirring occasionally, until the chicken is cooked through and the sauce thickens slightly. Stir in cashews, if desired. Serve hot over rice, quinoa, or noodles.
Nutrition Estimate
Calories: 514kcal, Carbohydrates: 40g, Protein: 32g, Fat: 25g, Saturated Fat: 4g, Cholesterol: 73mg, Sodium: 933mg, Potassium: 756mg, Fiber: 1g, Sugar: 22g, Vitamin A: 120IU, Vitamin C: 1.9mg, Calcium: 36mg, Iron: 3.3mg
Did you make this recipe?
Leave a review below, then snap a quick picture and tag @nourishandfete on Instagram so I can see it!
—Like it? Pin it!—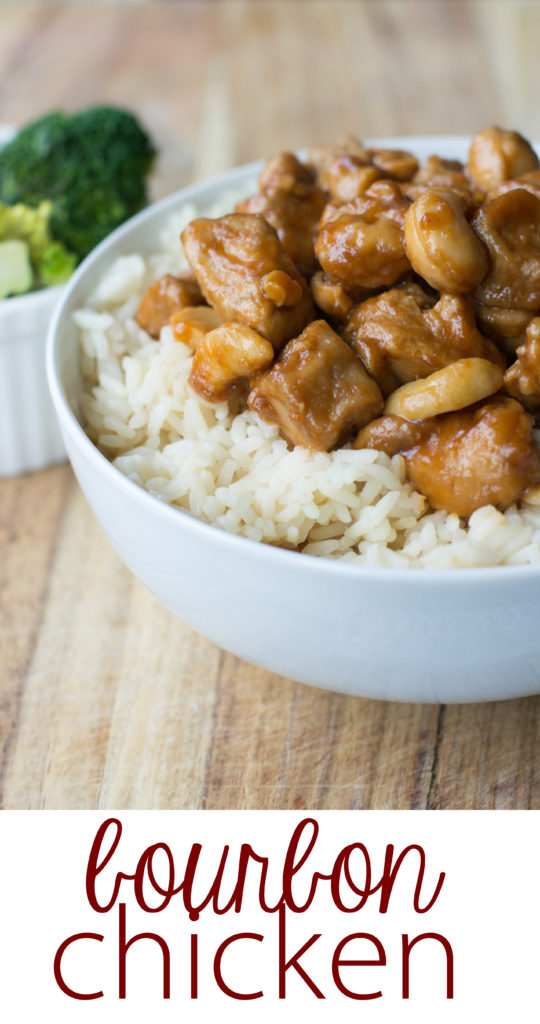 Recipe source: Lightly adapted from Mel's Kitchen Cafe and A Dash of Sanity