Mongolian Beef with Snow Peas
Mongolian beef is a quick and easy dinner your family will love! No one can resist these tender pieces of flank steak with crispy edges, coated in a mouth-watering sweet and sticky sauce.
Add snow peas for a vibrant, kid-pleasing veggie, and serve with any type of rice that you like.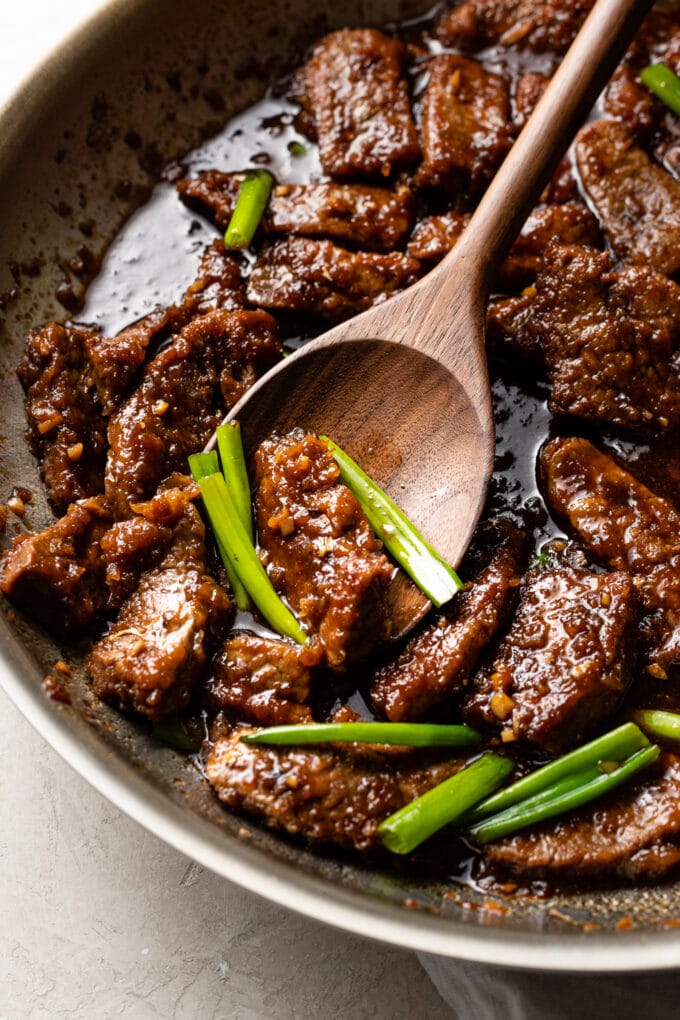 Call me crazy, but I've always had a soft spot for P.F. Chang's, specifically their double pan-fried noodles. Of course it isn't the healthiest–I'm not sure anything on their menu is–but as splurges go, noodles fried twice are a good one.
Old habits die hard, but my double pan-fried noodle affair sputtered out suddenly a few months ago. For my birthday, my husband and I had snuck away to lunch, heading to our local P.F. Chang's for the first time in more than five years. Scanning the menu, my eyes kept wandering, not seeing what they expected to see. More scanning. A frown, followed by a closer read. Soon it became clear: the pan-fried noodles are no more. Cue panic.
OK, truthfully, there was no panic. We said "oh well" and chose an appetizer and two items from the lunch menu. I ordered something forgettable. My husband, one of those people with the admirable yet annoying skill of always ordering the best thing, chose the Mongolian beef. It was delicious.
And I knew immediately I would need to learn to make it at home.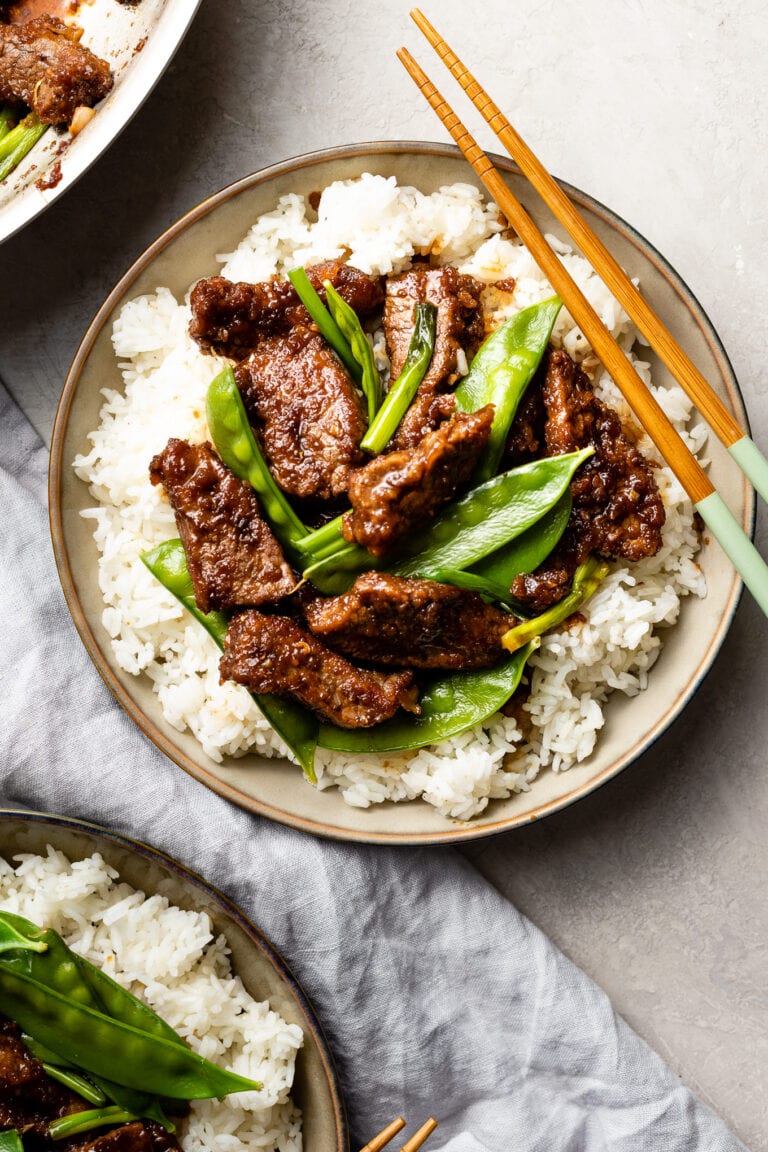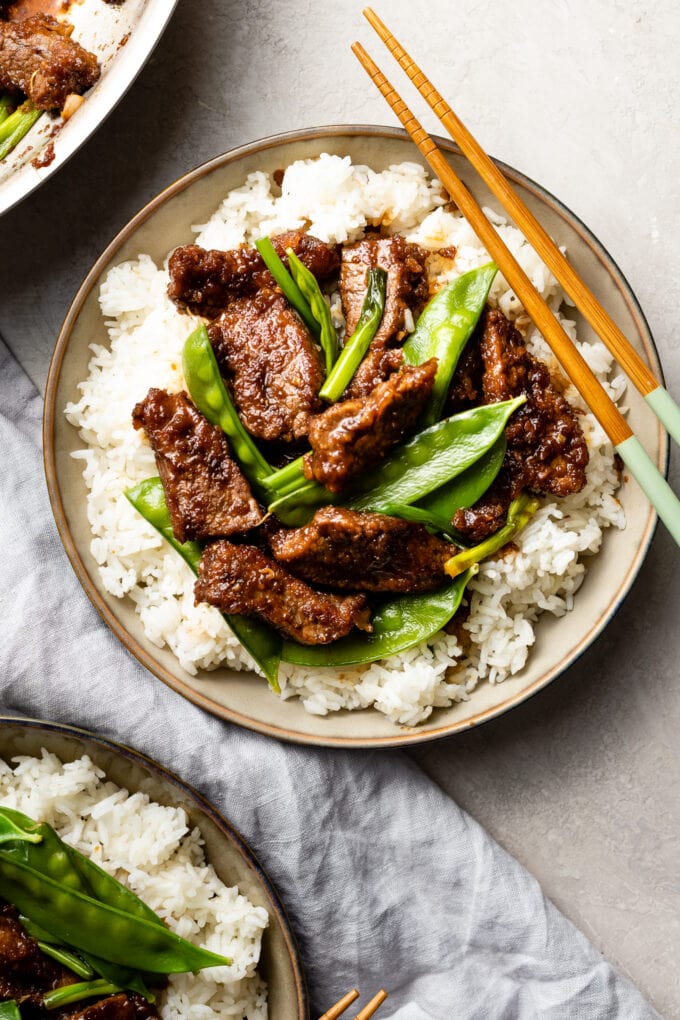 Fortunately, that turned out to be pretty straightforward!
Ingredients
This copycat Mongolian beef is easy to make with simple ingredients. Here's a summary if you're at the store or making a list. See the full recipe below for detailed amounts and instructions!
Flank steak
Corn starch
Canola or vegetable oil
Soy sauce
Brown sugar
Ginger
Garlic
Red pepper flakes
Green onions and snow peas – these are optional but add a wonderful crunch and pop of green!
How to make it
First you'll want to trim any very large pieces of fat from your steak and cut it into pieces. Start by slicing it against the grain into strips.
What does against the grain mean? It means you want to cut across all those little lines that run through the meat – not parallel to them. See below for a visual. Those lines are actually fibers running through the meat, so cutting across them this way breaks them up and makes the pieces much more tender!
Now cut the meat into small-ish pieces and coat them with a bit of corn starch.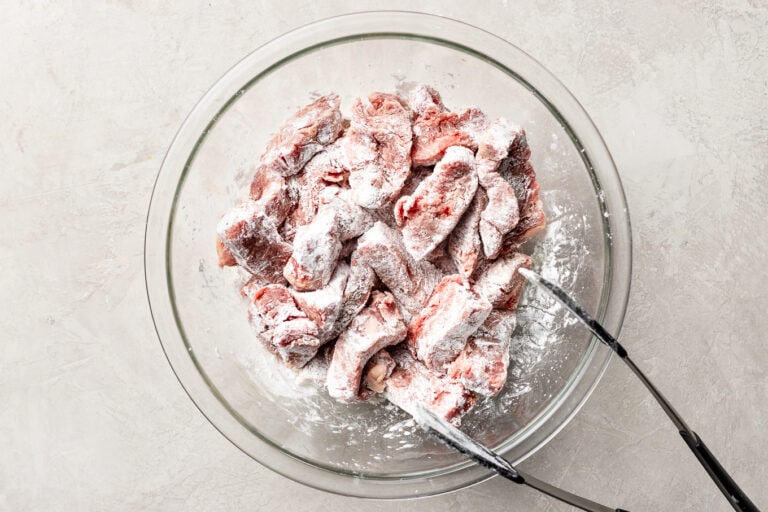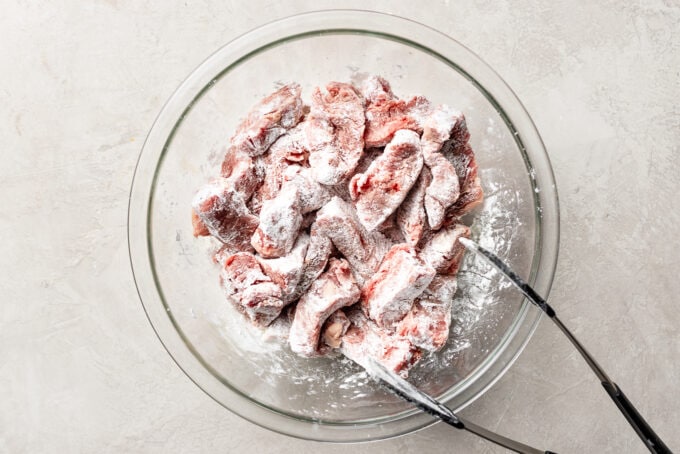 Warm a bit of oil in a large skillet and add the meat. Turn frequently until all of the pieces are nicely browned on the outside. Work in batches and transfer the browned pieces to a plate – if the skillet is overcrowded the pieces won't have those amazing crispy edges you're looking for!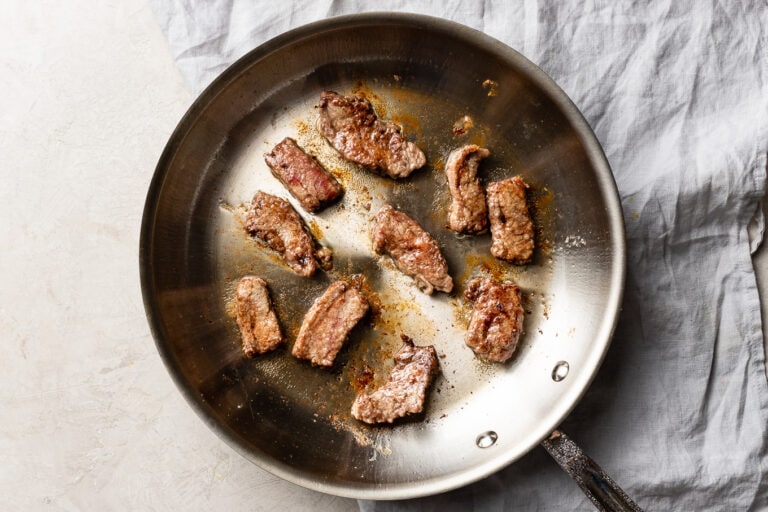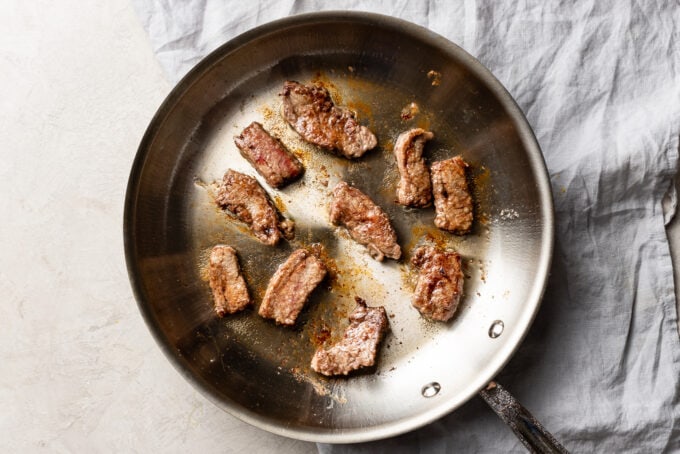 Once all the meat is out of the skillet, it's time to make the sauce, which is a simple affair – first sizzle the ginger and garlic, then add a mixture of soy sauce, brown sugar, and water.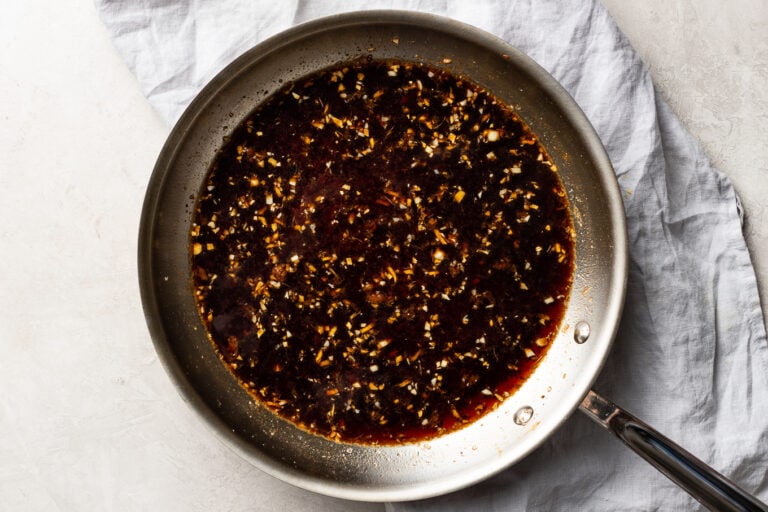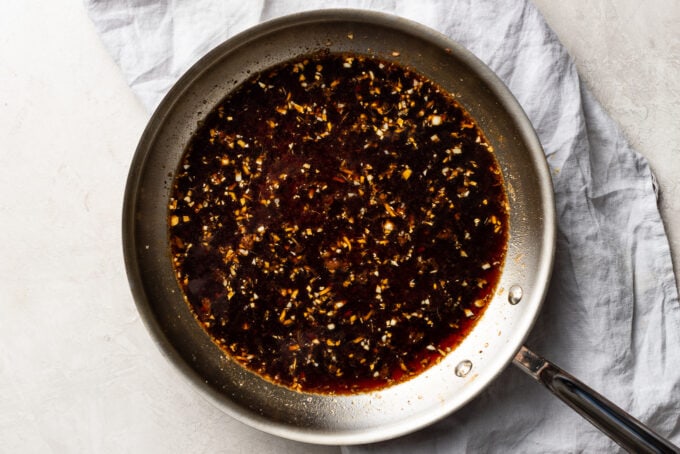 Once the sauce bubbles, add the steak pieces back in. Oh yes, dinner is looking good tonight!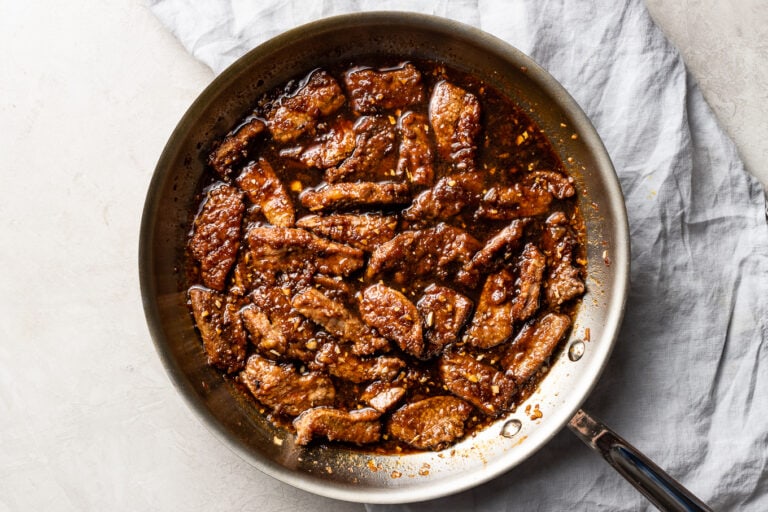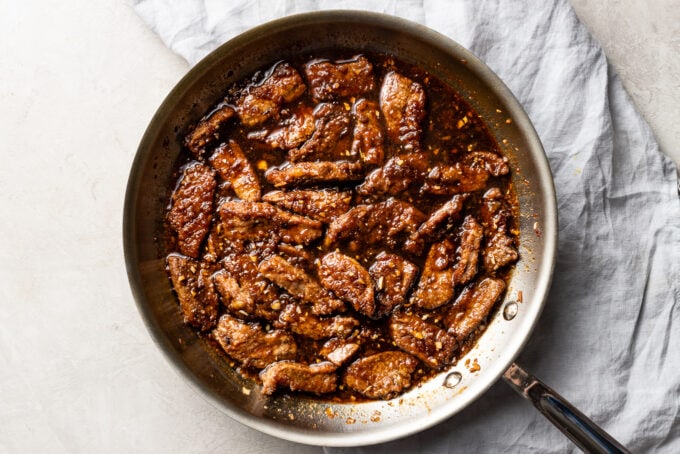 Let it cook for 1-2 more minutes, for the flavors to blend and the sauce to thicken a little bit more. Add your greens, give it a stir, and serve!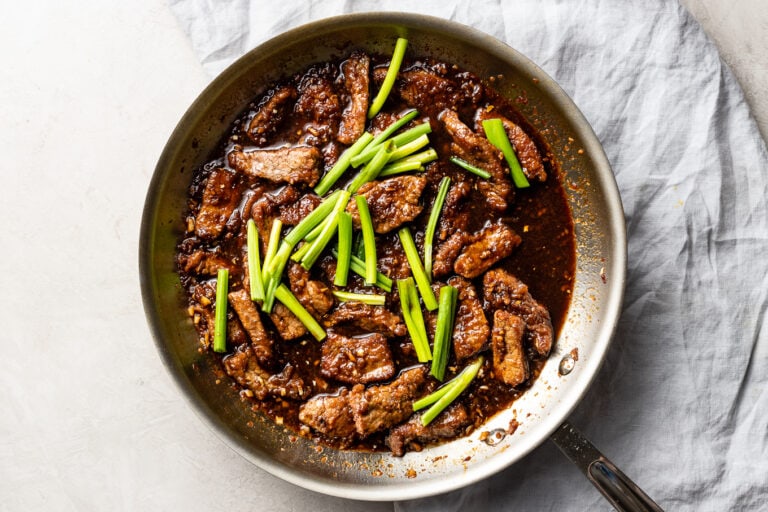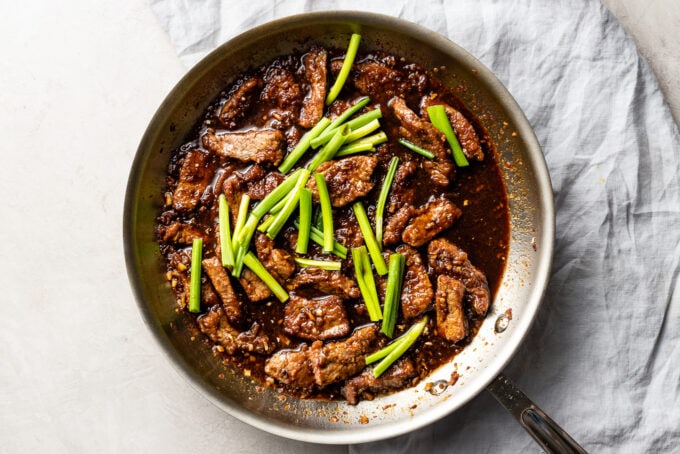 Complete the meal
Serving this with snow peas is so delicious and easy, especially if you buy snow peas that can be easily steamed right in the bag. This is my go-to, and I love that because they're added at the end, it's simple to serve the peas separately for little ones. (What is it with kids and foods not touching!?)
Spoon generous servings over bowls of rice–white, brown, cauliflower, you name it–and dinner is served!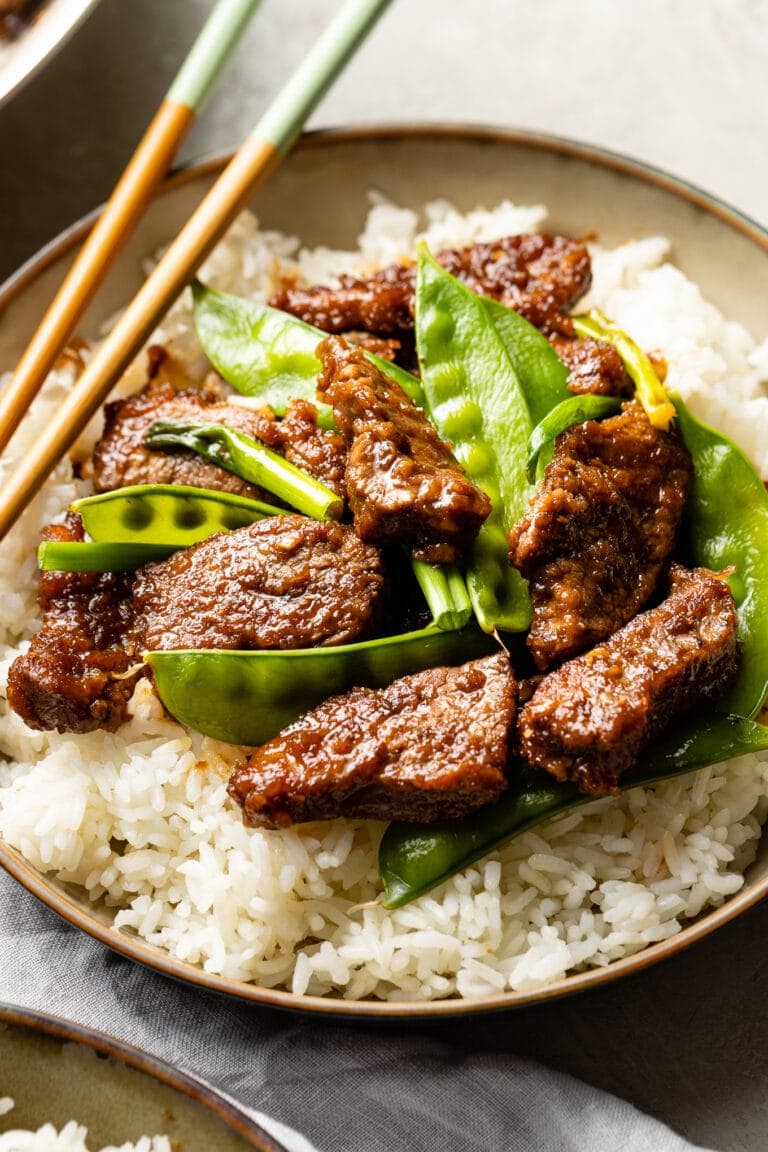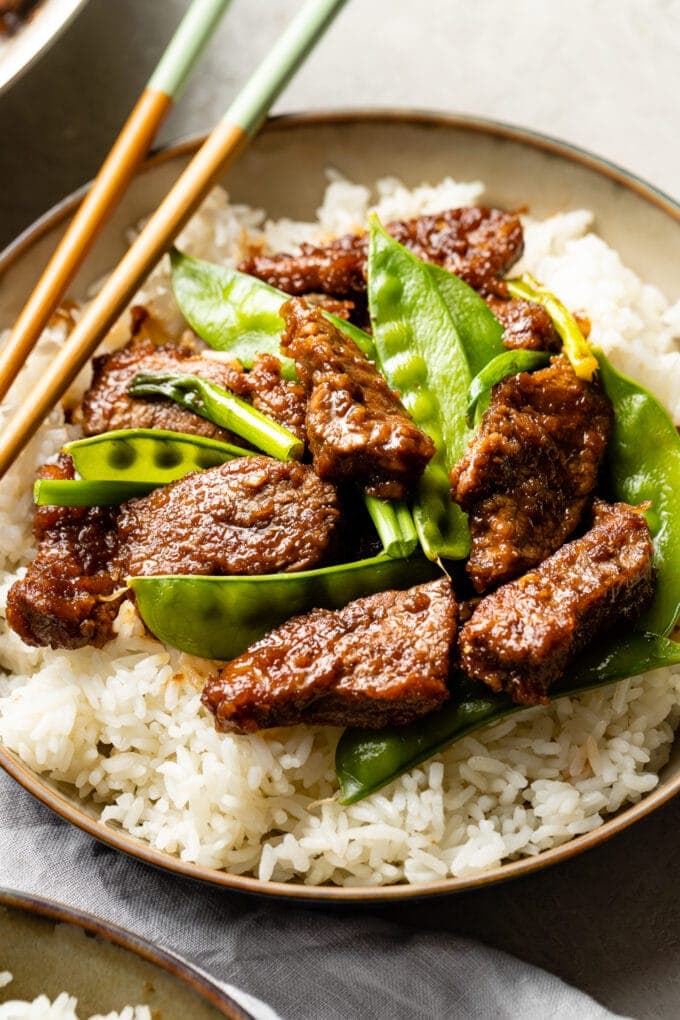 You can also FOLLOW me on PINTEREST, INSTAGRAM, FACEBOOK, and TWITTER for more great recipes and ideas!
Mongolian Beef with Snow Peas
A quick and easy dinner your family will love! Tender pieces of flank steak with crispy edges, sizzled in a mouth-watering sweet and sticky sauce.
Ingredients
1 pound flank steak
1/4 cup cornstarch
1-2 tablespoons vegetable oil
2 teaspoons fresh ginger minced (or 1 teaspoon dried flaked ginger)
3-4 cloves garlic minced
1/4 teaspoon red pepper flakes optional
1/2 cup low-sodium soy sauce
1/2 cup water
1/4 cup brown sugar
1 bunch green onions cut into 1-2 inch pieces
8 ounces snow peas steamed
Instructions
Slice the flank steak against the grain into thin strips, about 1/4 inch thick. Add pieces to a bowl, sprinkle with the cornstarch, and toss to coat.

Warm oil in a large pan over medium-high heat. Gently shake off any excess cornstarch and add steak pieces to the pan in a single layer. Cook for 1-2 minutes on each side, just until browned, then transfer to a plate. To get the best crispy edges, work in batches to avoid over-crowding the pan.

Once all the steak pieces are browned and removed to a plate, add garlic and ginger to the empty pan. Cook for about 30 seconds, then stir in the soy sauce, water, and brown sugar.

Bring the mixture to a boil, stirring frequently and scraping up any browned bits from the bottom of the pan. Once the sauce bubbles, return the steak to the pan. Let everything simmer for 1-2 minutes, so the sauce thickens slightly.

Add the green onions and snow peas. You can stir them in, sprinkle them on top, or serve on the side. Serve right away. Enjoy!
Notes
Many recipes for Mongolian beef call for more sugar than this. If you prefer even your savory dishes to be on the sweet side, feel free to add more, up to 1/2 cup.
The snow peas are optional. Leave them out entirely, serve them on the side, sub with broccoli, etc. I usually leave a few out of the beef mixture to serve separately for kids.
Nutrition Estimate
Calories: 323 kcal, Carbohydrates: 31 g, Protein: 28 g, Fat: 9 g, Saturated Fat: 5 g, Cholesterol: 68 mg, Sodium: 1138 mg, Potassium: 663 mg, Fiber: 3 g, Sugar: 17 g, Vitamin A: 936 IU, Vitamin C: 40 mg, Calcium: 90 mg, Iron: 4 mg
Did you make this recipe?
Leave a review below, then snap a quick picture and tag @nourishandfete on Instagram so I can see it!