Magic One Pot Mac and Cheese
Irresistibly creamy mac and cheese made entirely in one pot in 15 minutes. You won't believe this foolproof method, and a secret ingredient adds the best flavor. Every bit as easy as the boxed stuff, but better tasting and better for you.
Serve with our favorite five-minute salad or roasted broccolini for an easy, from-scratch meal.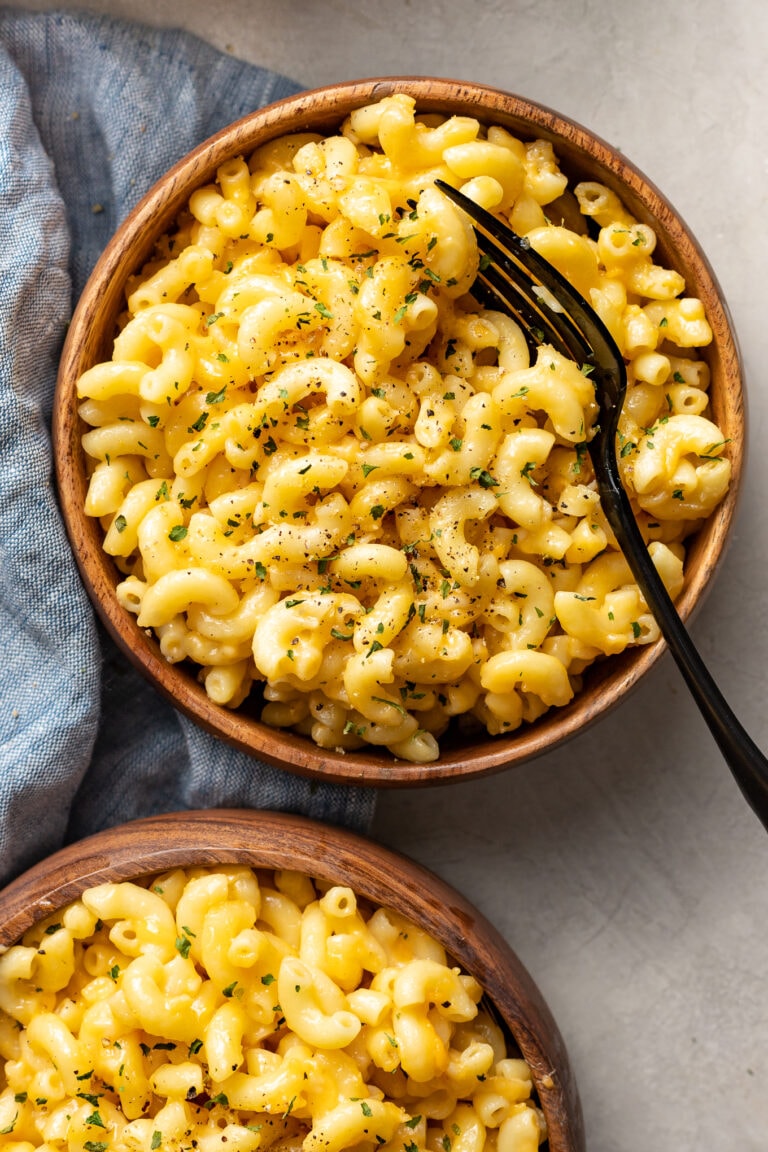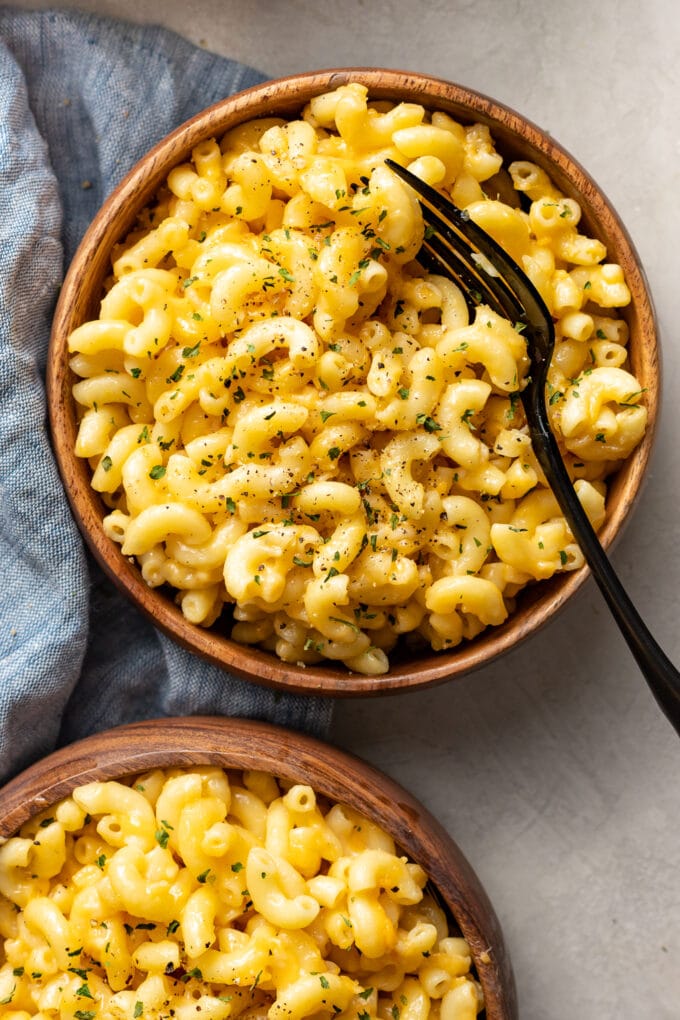 I want to write something about how we all love mac and cheese, it's incredibly versatile, the utility infielder of every parent's dinner rotation, so on and so forth. But of course we all already know this. A love song to mac and cheese is so obvious it's unnecessary.
So let's leave it at this: tender pasta, dreamy flavor, silky cheese sauce. Nothing more, nothing less.
I'll write a love song instead to this method of making mac and cheese, because dang, it's been a game-changer in our house. Maybe it will be in yours, too.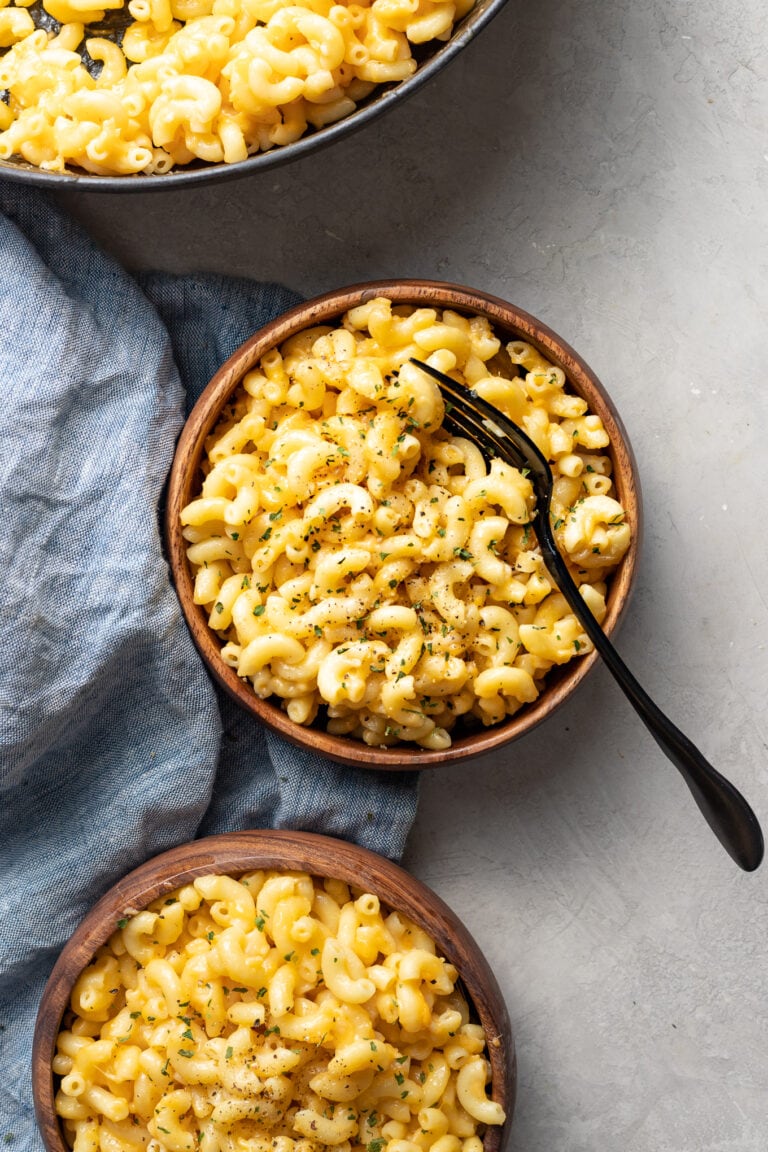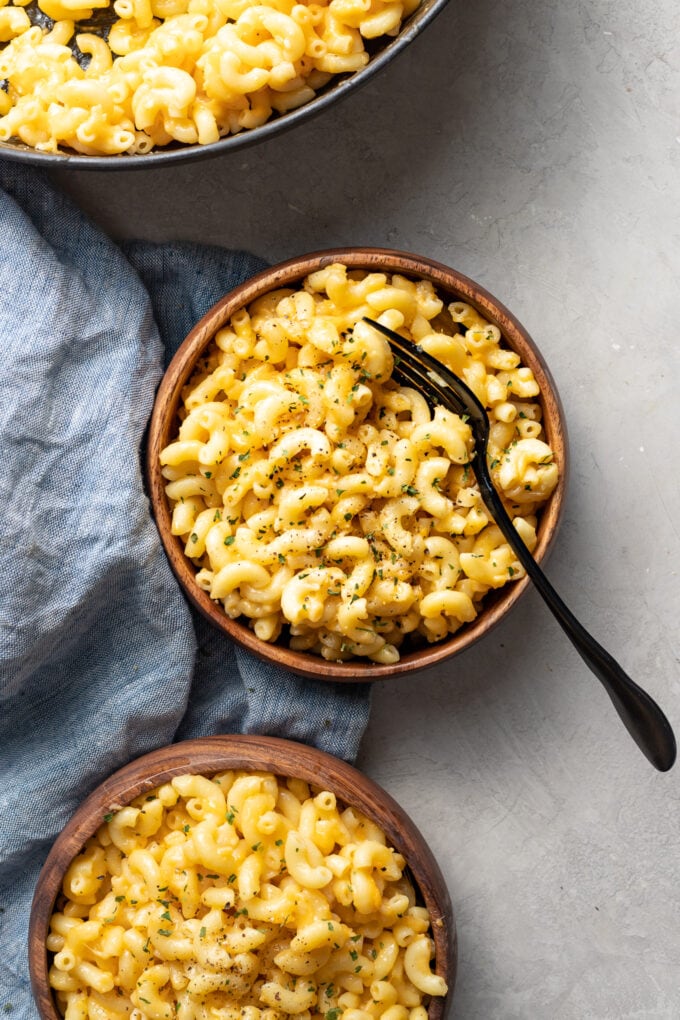 What you'll need
Straightforward ingredients here, with one special guest star.
Dried pasta – one pound, any shape.
Cheese – about 12 ounces. I love 8 ounces sharp cheddar and 4 ounces Parmesan. Pro tip: buy the cheese in blocks or wedges, not pre-shedded. I know it's tempting, but the results don't lie. Pre-shredded cheese is coated in starch specifically to keep the shards separated, so you will never get the smooth consistency you will by grating it yourself. Buy a good box grater with a built-in cup measure and the work becomes quick and easy.
Milk and butter.
Spices: garlic powder, ground mustard, salt, and pepper.
Better Than Bouillon: the secret sauce!
If you already keep Better Than Bouillon in your fridge, you know it solves all kinds of problems in one fell swoop. It is basically a super-concentrated paste that works as a modern-day bouillon cube upgrade. Dissolve a tiny spoonful in water and you have instant broth, but even more flavorful. It comes in little jars and is usually near the packaged broth in stores.
Since starting to cook with it about a year ago, I've cut way back on the amount of boxed broth and stock I need to buy, since a jar keeps in the fridge basically forever. Cheaper and less wasteful – those boxes took up a lot of space in the pantry and recycling bin!
Do I really need Better Than Bouillon?
All that to say, it's not a necessity! You can leave it out and use 2 cups water and 2 cups broth instead.
How to make it
Again, the real star of the show here is the simple cooking method. As promised: one pot, 15 minute wonder.
First, put the dried, uncooked pasta in a large pot. Add the butter, spices, Better Than Bouillon, and exactly 4 cups of water. Bring it to a boil over high heat, then dial back the heat and let things simmer, stirring frequently.
Since we're adding all those flavor-makers to the water while the pasta cooks, the pasta itself is delicious. This really sets this recipe apart. The cheese sauce is just a bonus. 😉
Check the pasta every minute or two and remove from heat as soon as it's tender. Add the milk and cheese.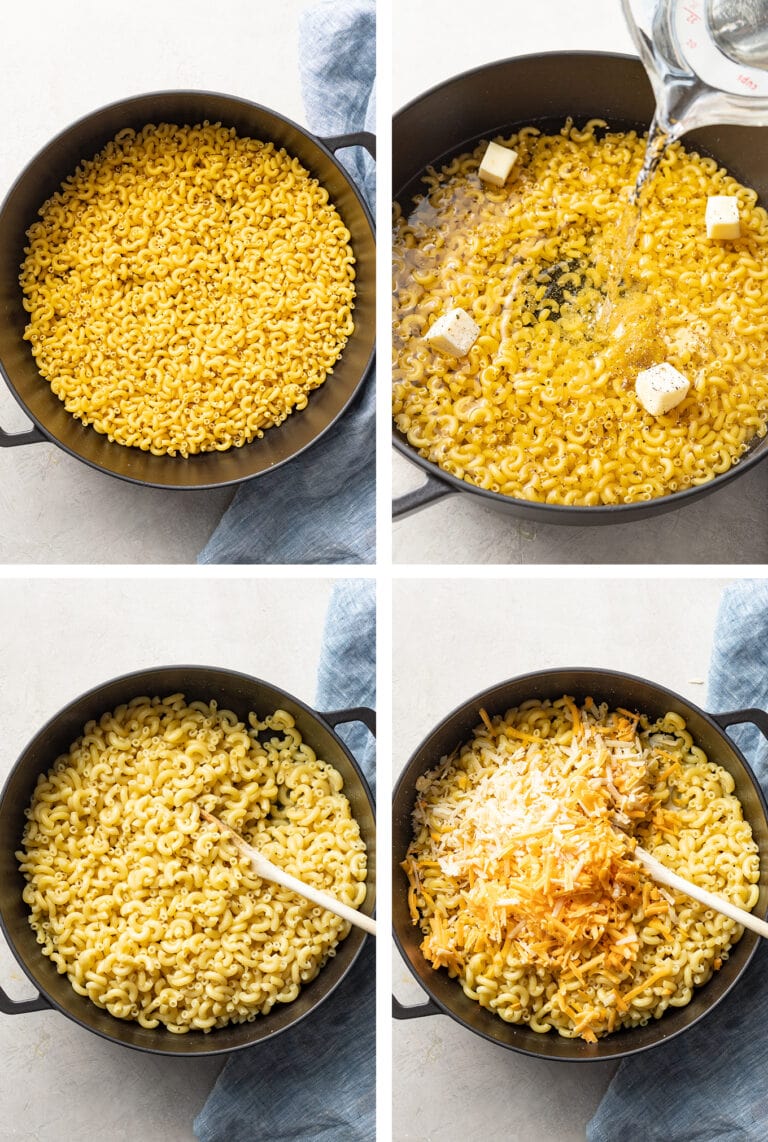 Stir well and voila! Instant creamy, cheesy goodness!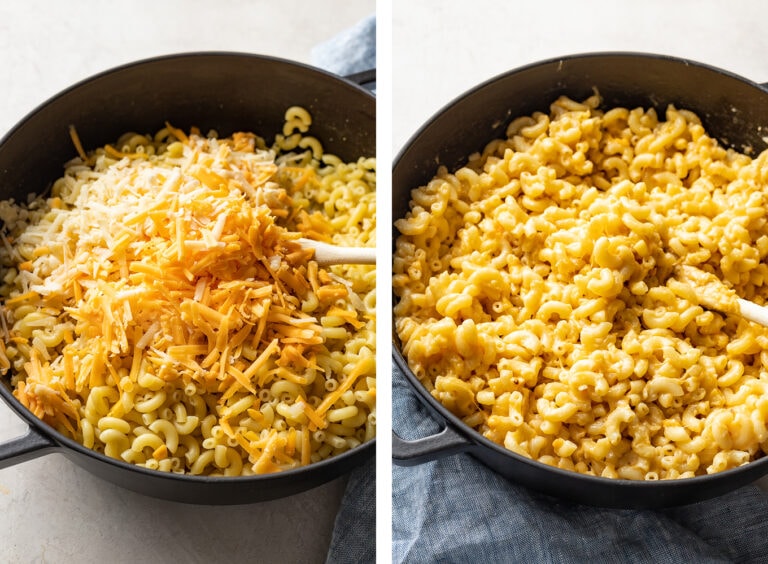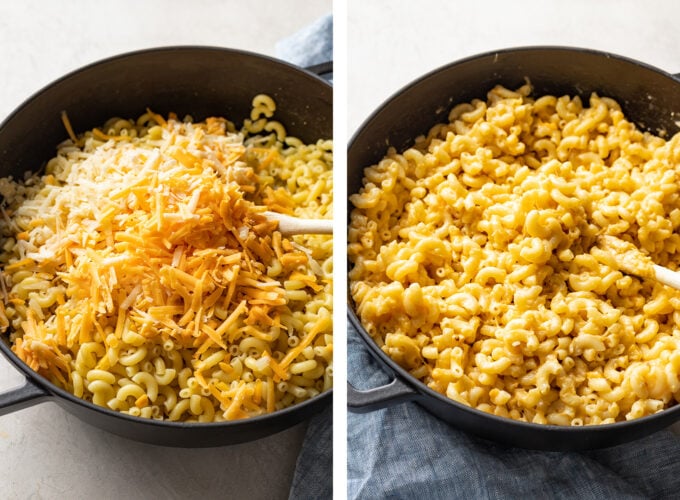 Complete the meal
Serve this creamy mac and cheese with a simple arugula, spinach, or Italian salad for a cozy meal that will please everyone.
Not into the salad life? Crispy oven-roasted broccolini is another great match. If you're feeding hungry carnivores, add some ribs or grilled chicken.
Mac and cheese also makes a fantastic side dish for Thanksgiving or potluck dinners. This recipe reheats very well, though if it stays on the stovetop for a long time, some of the creamy texture may be lost as pieces of macaroni begin sticking together. It will still taste great.
Related Recipes
Love this? You'll also enjoy our deliciously creamy baked broccoli mac and cheese, a lighter lemon broccoli pasta, or creamy one-pan Tuscan gnocchi.
If you try this One Pot Stovetop Mac and Cheese or any other recipe on Nourish and Fete, please rate the recipe and leave a comment below! We love hearing from you, and other readers will benefit from your experience!
You can also FOLLOW me on PINTEREST, INSTAGRAM, FACEBOOK, and TWITTER for more great recipes and ideas!
One Pot Mac and Cheese
Beloved by kids and adults alike, this delicious stovetop mac and cheese is the ultimate easy lunch, dinner, or side.
Ingredients
1 pound dry pasta any shape
4 cups water
2 tablespoons unsalted butter
1 1/2 teaspoons chicken base Better Than Bouillon see note
1/2 teaspoon garlic powder
1/4 teaspoon ground mustard
1/4 teaspoon salt
8-10 cranks freshly-ground black pepper
1/4 cup milk any kind
2 cups shredded sharp cheddar cheese about 8 ounces
1 cup shredded parmesan about 4 ounces
Instructions
Combine the pasta, water, butter, Better Than Bouillon, garlic powder, mustard, salt, and pepper in a large pot over high heat. Stir frequently while bringing the mixture to a rolling boil.

After the water boils, reduce heat to medium and let everything simmer, continuing to stir frequently. Check the pasta every 1-2 minutes. Turn off the heat when the pasta is tender.

Stir in the milk, followed by half of the cheese. Stir well until the cheese is melted and smooth, then add the remaining cheese and stir again. Serve immediately, with a bit more pepper or a sprinkle of parsley, if desired. Enjoy!
Notes
You can omit the Better Than Bouillon, though if you don't keep it on hand, I highly recommend it—a jar lasts forever, and it's one of those secret ingredients you'll reach for again and again! If you leave it out of this recipe, you can sub 2 cups of chicken broth or stock in place of 2 cups of the water to add similar flavor. You should still have 4 cups total liquid in the pot while cooking the pasta.
For a vegetarian dish, swap the chicken Better Than Bouillon for the vegetable, seasoned vegetable, or "no chicken" vegetarian base product. Or simply use 2 cups veggie stock and 2 cups water, per the note above.
I usually opt for whole milk if I have it in the fridge; otherwise our go-to is 2%.
For quality results, buy blocks of cheese and shred them yourself! I know it's so tempting, but pre-shredded cheese will NOT melt as well and may cause your sauce to be clumpy. Invest in a box shredder with a detachable base like this one – it makes grating and measuring super quick and easy.
Nutrition Estimate
Calories: 539 kcal, Carbohydrates: 58 g, Protein: 26 g, Fat: 22 g, Saturated Fat: 13 g, Cholesterol: 62 mg, Sodium: 616 mg, Potassium: 234 mg, Fiber: 2 g, Sugar: 3 g, Vitamin A: 641 IU, Calcium: 501 mg, Iron: 1 mg
Did you make this recipe?
Leave a review below, then snap a quick picture and tag @nourishandfete on Instagram so I can see it!
You might also like:
Did you ever see a bowl of pasta and think, dang, I'm just not in the mood for that? Yeah. Doesn't happen. Find more of our favorite pastas that are as easy to make as they are comforting and delicious.