Lemon Asparagus Pasta with Shrimp and Pistachios
A bright dish of Lemon Asparagus Pasta perked up with shrimp and crunchy pistachios. Ready in less than 30 minutes, this meal is perfect for adding some variety to busy weeknight comfort food!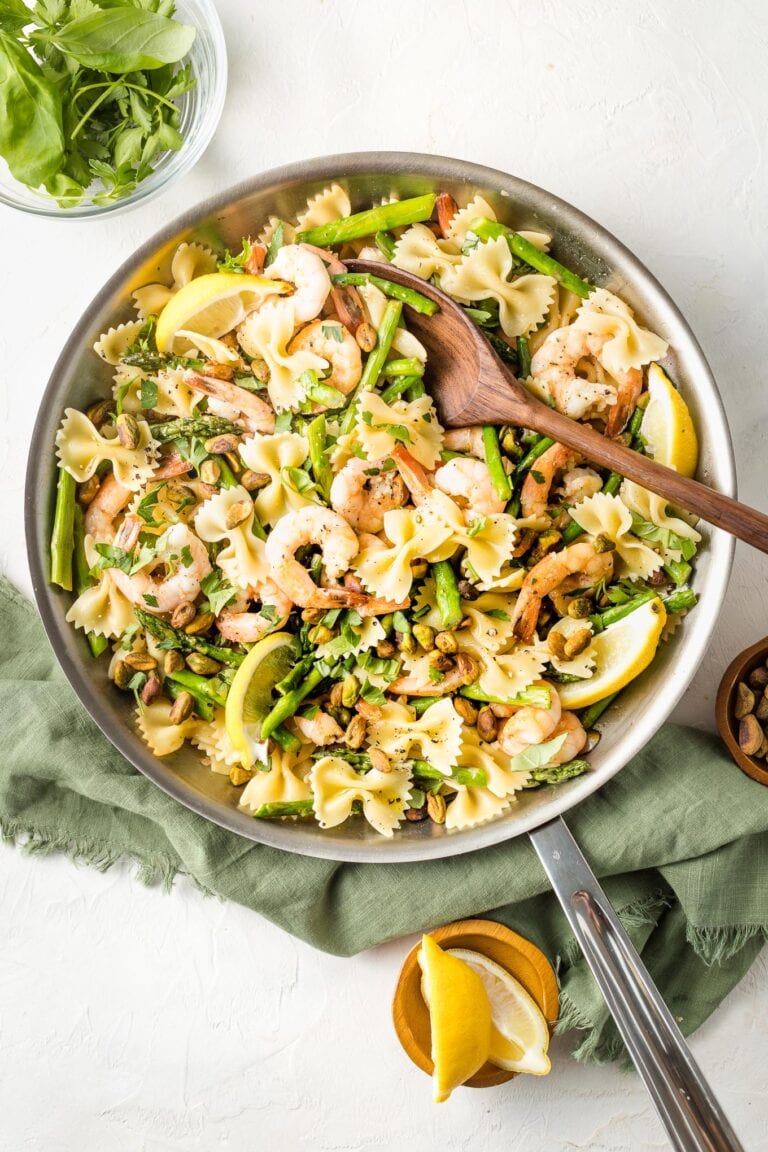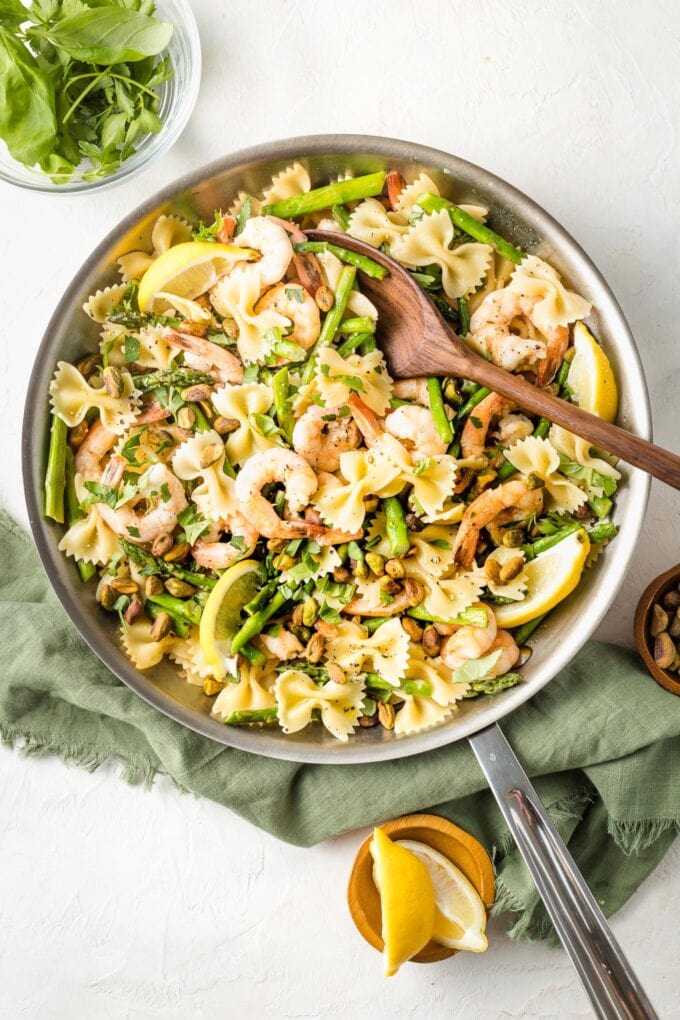 When the weather turns warm and large displays of asparagus begin appearing in stores, this simple pasta is one of the first meals I think to make. There's hardly a more sure sign of spring than those tidy bundles of tall green spears, neatly lined up for sale in bulk, and this is the perfect dish to put them to work!
Lemon Shrimp Asparagus Pasta
So what makes this simple recipe such a stand-out? It's:
Easy to make. Everything but the pasta cooks in one skillet, and you can have it on the table in less than 30 minutes.
Light yet satisfying. All the fun of pasta, but with a light "sauce" of citrus and fresh herbs that won't weigh you down.
Full of flavor and texture. Juicy shrimp, crisp-tender asparagus, zippy parsley and basil … and a sprinkling of salty, crunchy pistachios is the perfect unexpected ingredient to finish things off.
Easy to deconstruct for choosy kids. That said, it's easy to leave off the pistachios or any other ingredient to satisfy any squeaky wheels.
Ingredients & Common Substitutions
Here's what you'll need:
Pasta. I most often use farfalle, aka bowties, but any shape you like is fine.
Shrimp. Do yourself a favor and buy shrimp that are already peeled and deveined–such a time-saver! You can omit the shrimp for a nice vegetarian main.
Lemon. The lemon is a key flavor here, and fresh juice gives the best flavor, but organic bottled juice could work in a pinch.
Asparagus. Fresh, green, vibrant! You can use other veggies as well or instead, including bell peppers, green beans, or snap peas.
Pistachios. These might seem random but trust me, they add so much. Pre-shelled, salted pistachios can be expensive, but a small amount goes a long way. If you have extra, browse these additional recipes to use them up!
Herbs and seasonings. Fresh basil, fresh parsley, garlic, coarse salt, and pepper. You'll also need olive oil and a pat of butter. If you prefer, experiment with different herb garnishes–I think mint would be really lovely!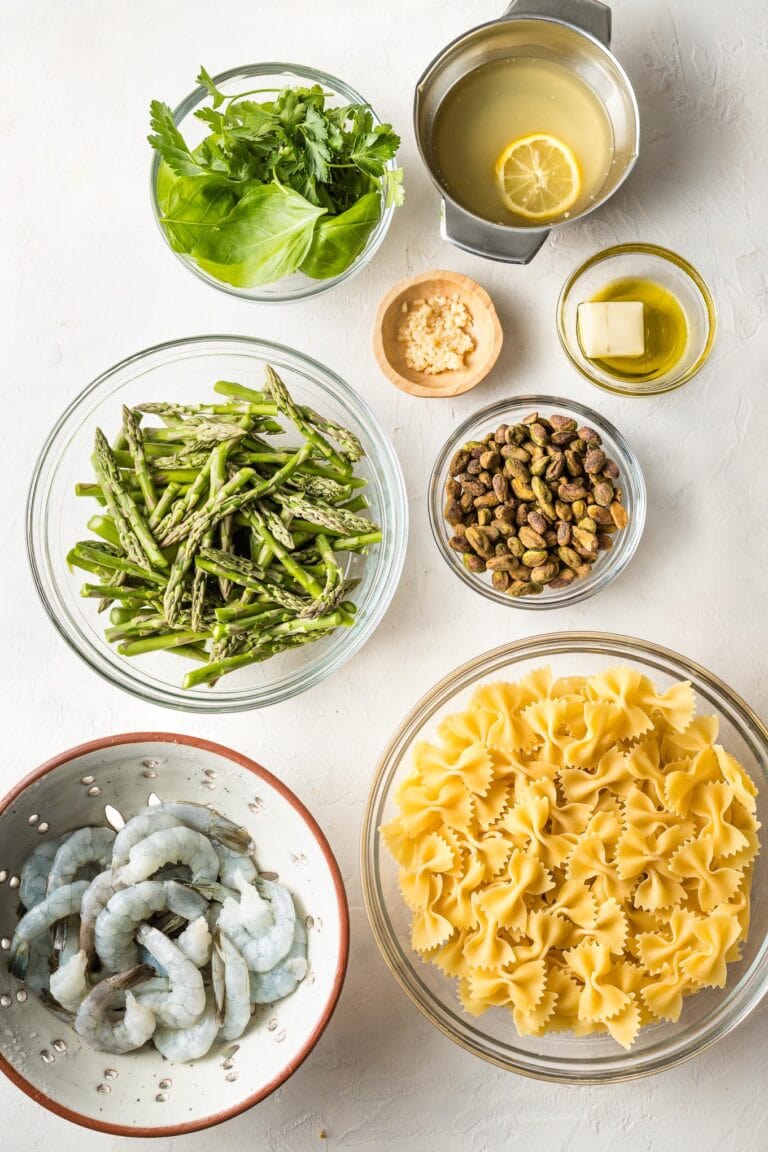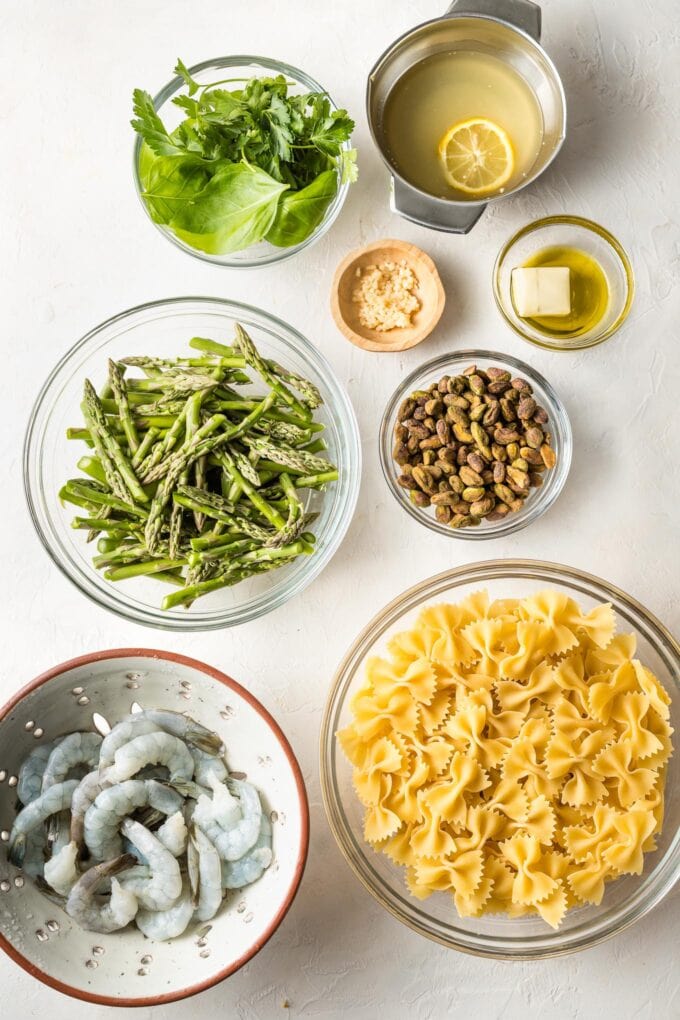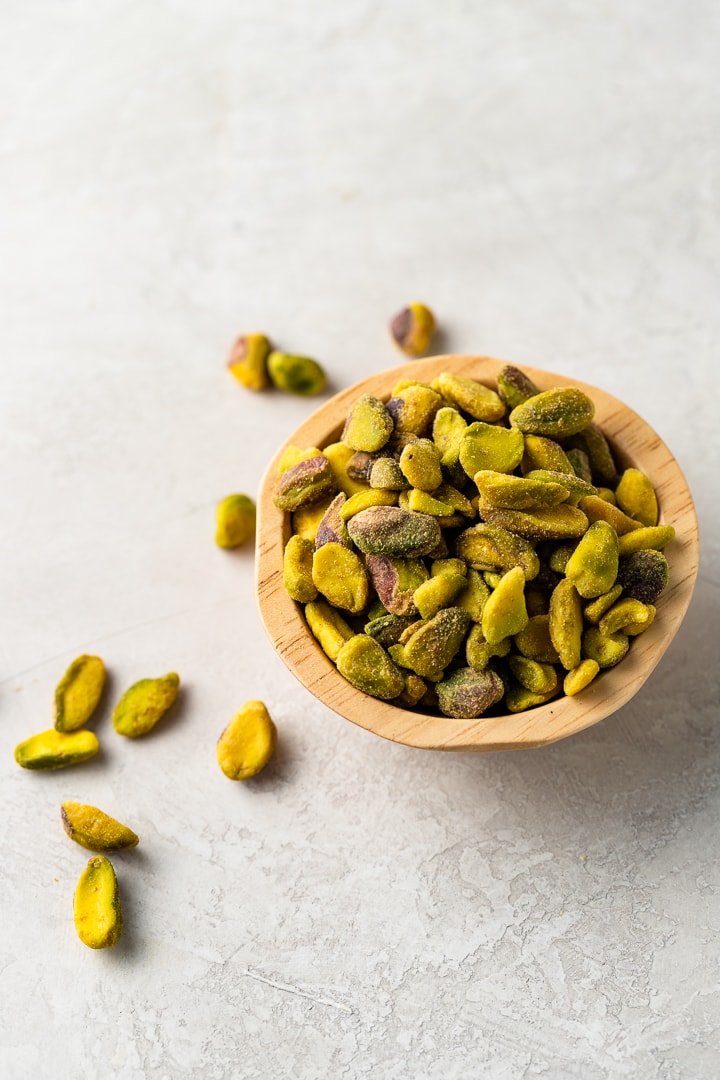 How To Make It: Tips & Tricks
The process itself is equally simple. You'll need two pans. In one, cook the pasta. The other will handle everything else.
Sauté the shrimp in a drizzle of olive oil with melted butter and sizzling garlic. Remove from the pan and set aside.
Sauté the asparagus, season well, then stir in the lemon juice and drained pasta.
Return shrimp to the pan, add the finishing touches, and – voila! Dinner is served.
Although this dish is very straightforward, bear in mind these tips to make it as delicious and easy-to-make as possible:
Cook pasta in well-salted water. Adding 1-2 teaspoons of salt to the boiling water before adding the pasta hugely improves the final flavor.
Use shrimp straight from the freezer. To defrost shrimp quickly, place them in a large strainer and let sit under cold running water for 4-5 minutes, shaking the strainer occasionally to be sure all the shrimp are exposed to the water. When they bend to the touch, they're ready to cook as directed! I left the tails on the shrimp in these photos, because, well, they look pretty! But for ease of eating, you can pull them off before cooking.
Trim the asparagus properly. Most of the stalk will be tender and tasty when cooked, but the very ends, where the stalk is thick and woody, is bitter and tough, so cut that portion off and discard. Here is a guide to trimming asparagus if you're unsure where to cut.
Splurge on fresh herbs if you can. The herbs add not only flavor, but a brightness and texture you won't quite replicate here with dried.
Hot and cold. While this recipe is delicious served hot, it's also a very nice summer meal or side to share, and can be kept in the fridge and served cold!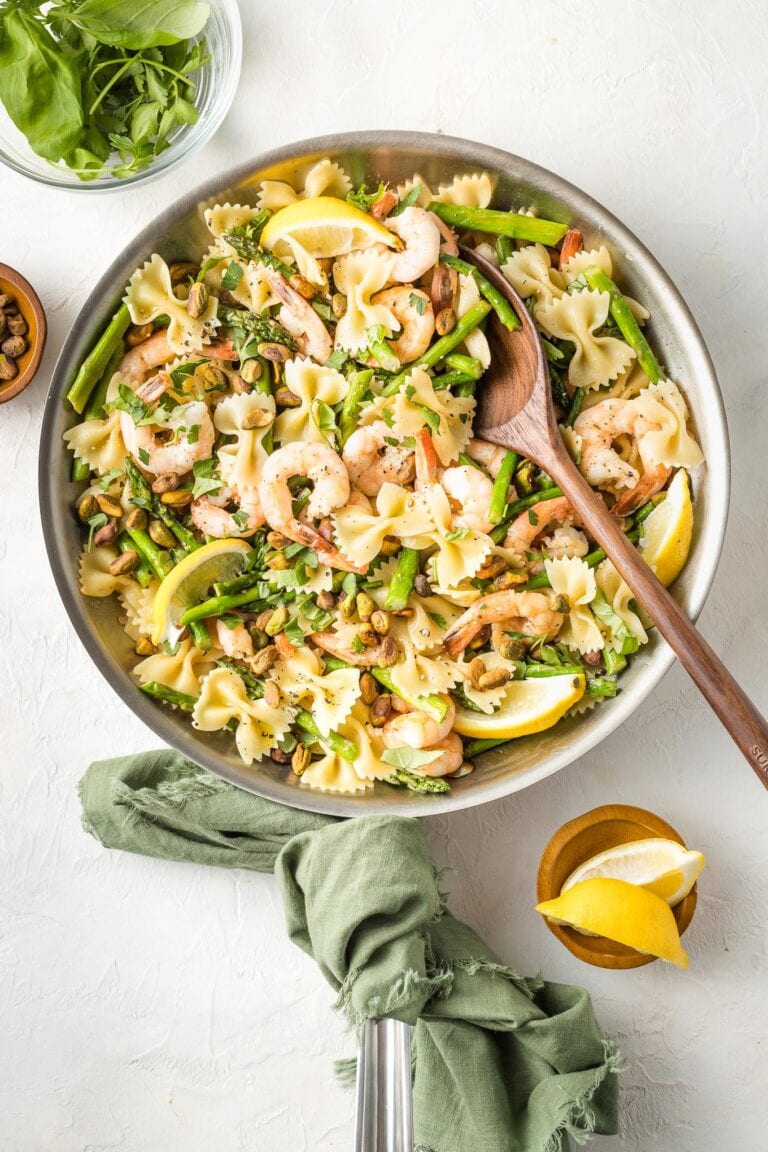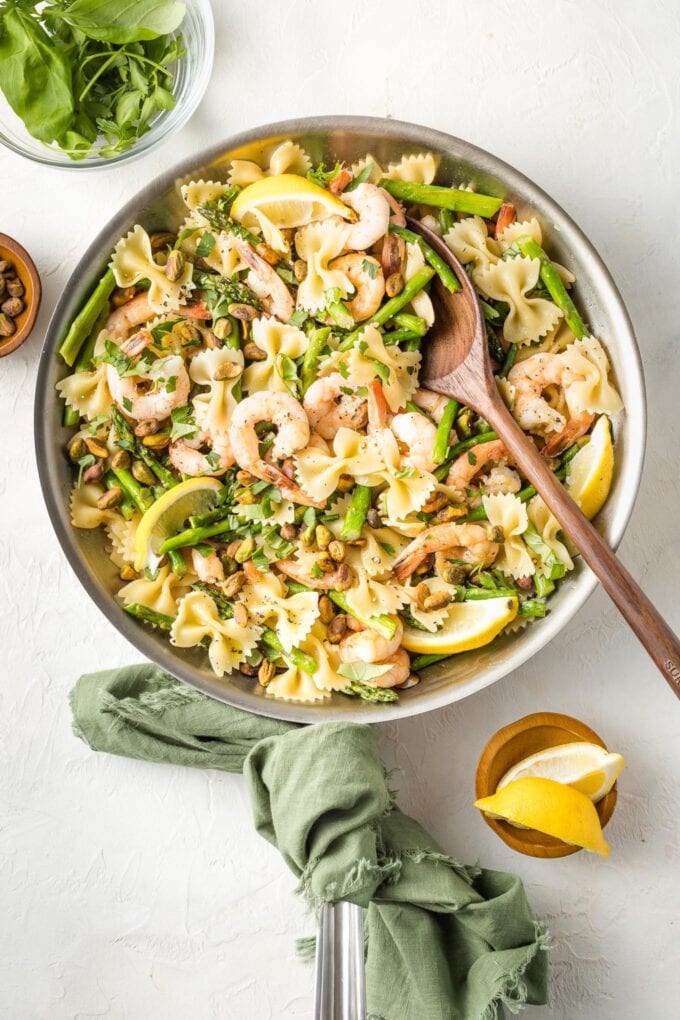 What To Serve With It
With carbs, protein, and veggies all in one pan, this can easily be a one-pot meal if you ask me! That said, it certainly goes well with a peppery arugula salad or sweet roasted carrots for some color contrast. Add garlic bread or flaky, buttery biscuits if you're serving company!
More Easy Spring Pasta Recipes
If you enjoy this shrimp asparagus pasta, try this lemony herb pasta primavera, pesto rigatoni with toasted walnuts, or lemon pepper shrimp pappardelle next. They're all lovely pasta dishes for spring.
If you try this Lemon Asparagus Pasta, don't forget to rate the recipe and leave a comment below. I love hearing how recipes turn out in your kitchen, and it helps other readers, too.
You can also FOLLOW me on PINTEREST, INSTAGRAM, FACEBOOK, and TWITTER for more great recipes and ideas!
Lemon Asparagus Pasta with Shrimp and Pistachios
A bright shrimp pasta dish perked up with asparagus, lemon juice, and crunchy pistachios. Perfect for adding some interest to busy weeknights!
Ingredients
12 ounces pasta
12 ounces fresh green asparagus
1 tablespoon olive oil
1 tablespoon butter
3 cloves garlic minced
12 ounces raw shrimp peeled and deveined
salt and freshly-ground black pepper
juice of 1 lemon
2-3 tablespoons chopped fresh parsley and/or basil
1/2 cup shelled pistachios
Instructions
Bring a large pot of water to a boil. Add a generous pinch of salt and cook pasta to al dente according to package directions. Drain and set aside.

Meanwhile, trim the woody ends off the asparagus, then chop spears into pieces 2-3" in length. Set aside.

In a large skillet over medium heat, melt butter and warm olive oil. When the butter is completely melted, add garlic and cook for about 30 seconds, just until fragrant.

Add shrimp to the skillet in an even layer, then season with salt and pepper. Cook shrimp for about 2 minutes on each side, just until they are opaque and no longer pink. Remove shrimp to a plate and set aside.

Keep the pan over medium heat; if it looks dry, add an extra drizzle of olive oil. Add the asparagus, season with salt and pepper, and sauté for 4-5 minutes. Add the cooked pasta and lemon juice, and stir to combine.

Return the cooked shrimp to the pan, followed by the parsley, basil, and pistachios. Stir to combine, and remove pan from the heat. Serve and enjoy!
Nutrition Estimate
Calories: 474 kcal, Carbohydrates: 63 g, Protein: 25 g, Fat: 13 g, Saturated Fat: 2 g, Cholesterol: 147 mg, Sodium: 446 mg, Potassium: 492 mg, Fiber: 5 g, Sugar: 4 g, Vitamin A: 585 IU, Vitamin C: 6.8 mg, Calcium: 131 mg, Iron: 4 mg
Did you make this recipe?
Leave a review below, then snap a quick picture and tag @nourishandfete on Instagram so I can see it!