Sheet Pan Chicken Sausage and Peppers
Juicy chicken sausage, sweet shallots, and a simple dash of Italian seasoning make this Sheet Pan Sausage and Peppers a quick, healthy, flavorful dinner. Try serving with hoagie rolls or over couscous or your favorite greens.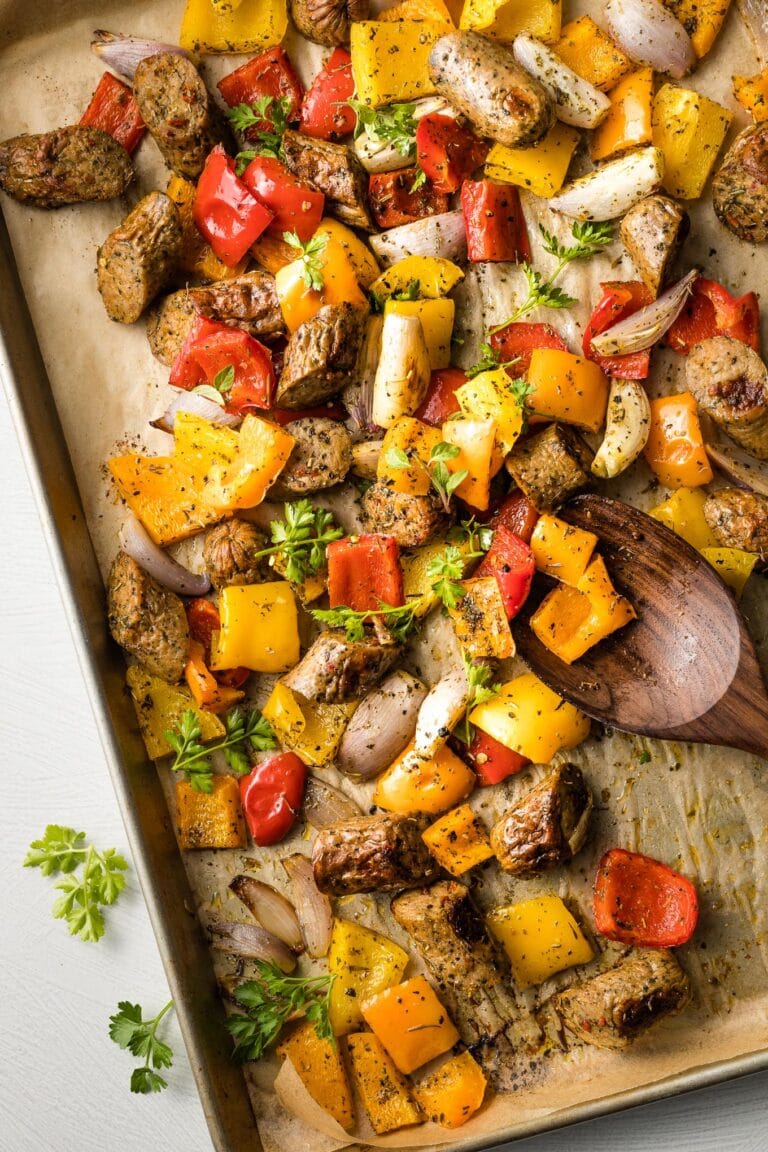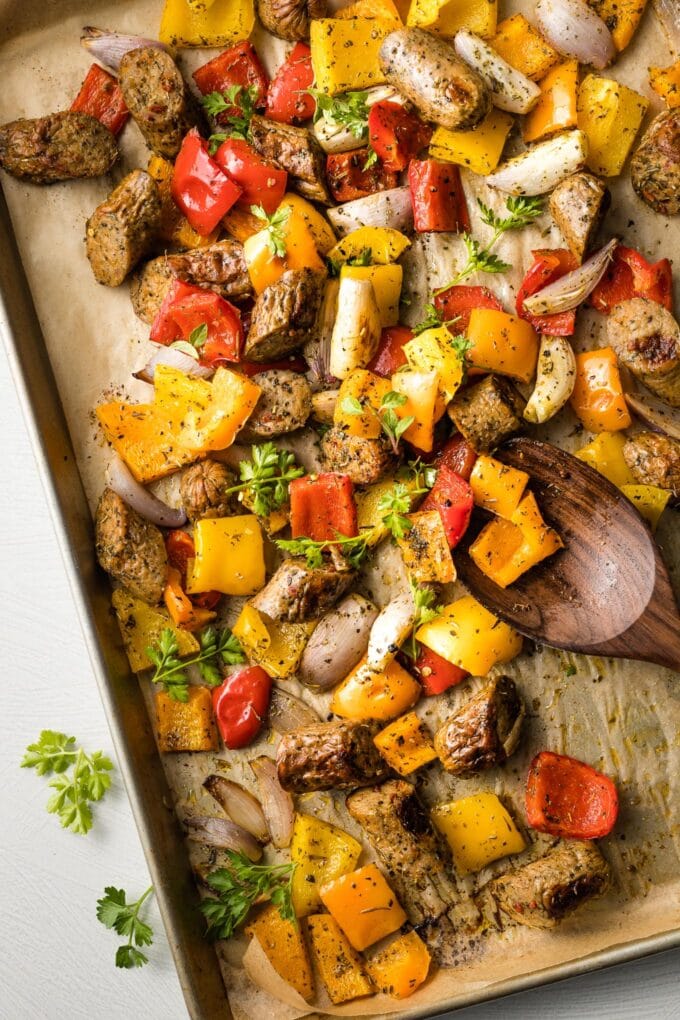 Sausage and peppers is a classic combo, and while a lot of recipes call for tossing the two together in a skillet, they're also perfectly suited for sheet pan cooking. Roasting gives the sausages delightfully crisp edges and brings out bell peppers' natural sweetness. We mix these with a handful of shallots for a simple meal with incredible flavor.
This is a riff on my chicken sausage sheet pan with potatoes, broccoli, and pepper, which has been very popular lately. I know I'm always looking for new twists on tried and true recipes; maybe you are, too!
Easy Sausage and Peppers
You'll love that this recipe is:
Flavorful. Well-seasoned chicken sausage is such a great shortcut for getting major taste with no fuss.
Healthy. Chicken sausage is typically leaner than pork, plus all those veggies.
Quick and easy. You'll need about 10 minutes to prep everything, and then it's just 20 minutes of totally hands-off roasting time.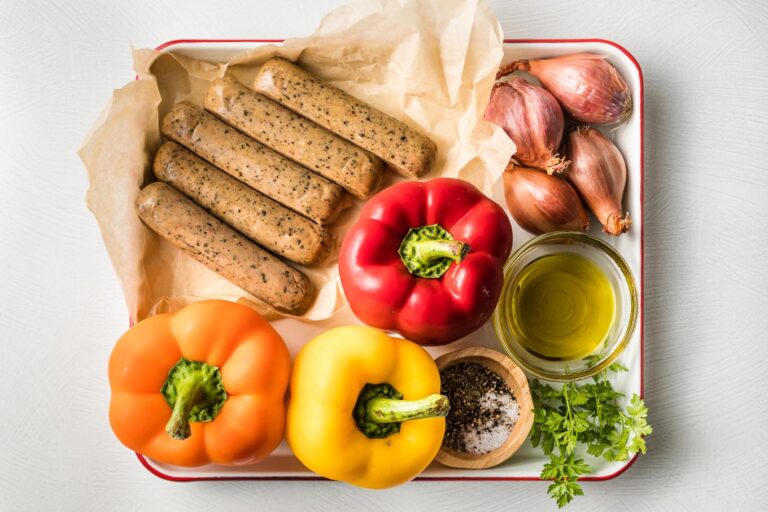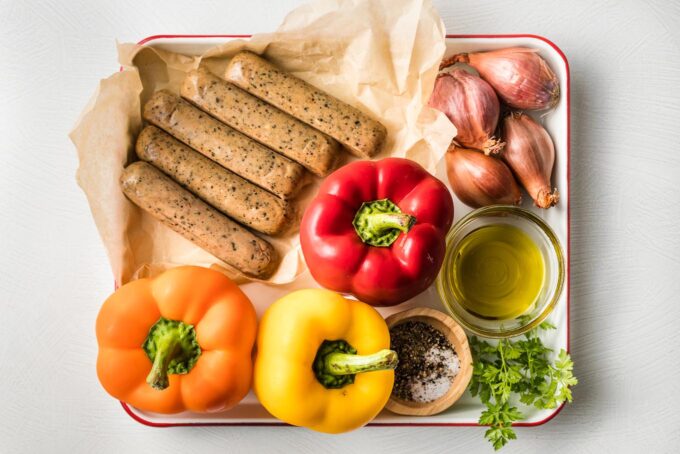 Ingredients & Common Substitutions
I also love this recipe because the shopping list is so pleasingly short. You'll need:
Chicken sausage. Many brands are widely available; my favorite types to use in a meal like this are Trader Joe's sun-dried tomato or Aidell's Italian-style chicken sausage with mozzarella cheese. Of course you can use another type of sausage if you like.
Bell peppers. Any color. Red, orange, and yellow bell peppers tend to be the most sweet, and personally I like having a mix simply for visual interest.
Shallots. What is a shallot, you may ask? It's a type of onion, smaller and more oblong than the standard variety, with a mild, ever-so-slightly garlicky flavor. They become very tender and sweet when roasted, and go beautifully with the peppers here. If you don't have shallots, give first preference to a red or sweet onion; standard yellow or white certainly work, too.
Olive oil, kosher salt, black pepper, and Italian seasoning. These pantry staples are power hitters for this and so many other recipes. If you don't happen to have Italian seasoning, follow this guide for substituting other dried herbs.
Fresh herbs. These are optional but a nice touch for adding color at the end. Try sprinkling fresh parsley, rosemary, basil, oregano, or thyme.
How To Make It
Chop. This is honestly most of the work, but I promise it's not too bad. 😉
Season. Toss the veggies and sausage all in one bowl together with a bit of olive oil, salt, pepper, and that lovely Italian seasoning.
Roast. Spread it all out on a large rimmed sheet pan — this pair is an affordable, high-quality favorite — and roast for 20 minutes or so. Use parchment paper to make clean-up even easier.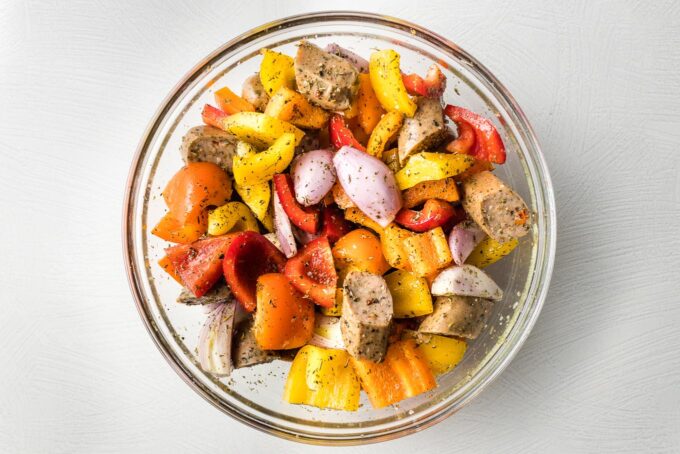 Dinner is DONE.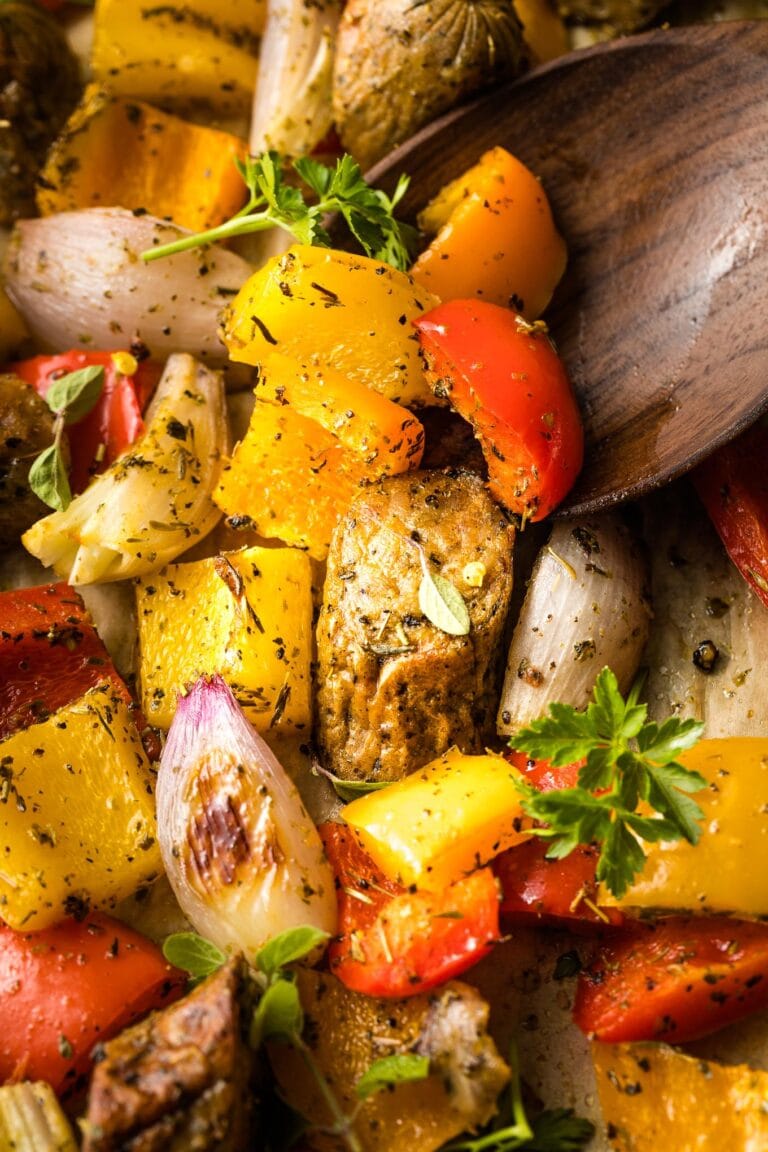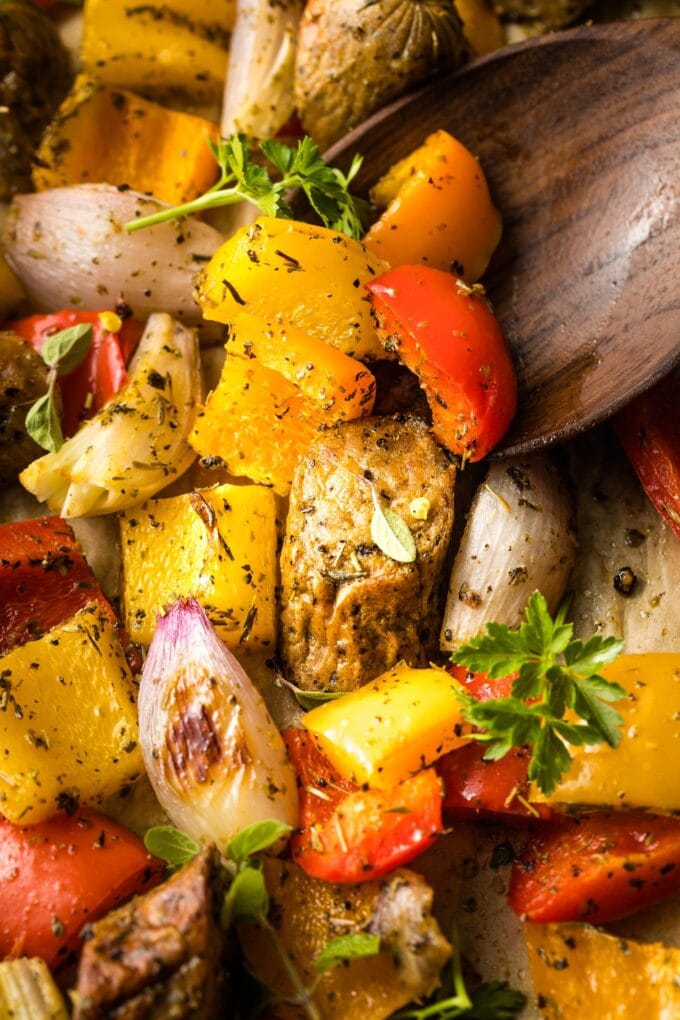 What To Serve With Sausage and Peppers
My personal favorite way to enjoy this meal is over a bed of pearl couscous. These tiny little spheres of pasta are easy to make and fun to eat! Sheet pan sausage and peppers also works well served over regular couscous, or piled into some crusty hoagie rolls for hearty sandwiches.
Limiting carbs? Serve the sausage and peppers over a bed of arugula or baby kale, or just eat them on their own!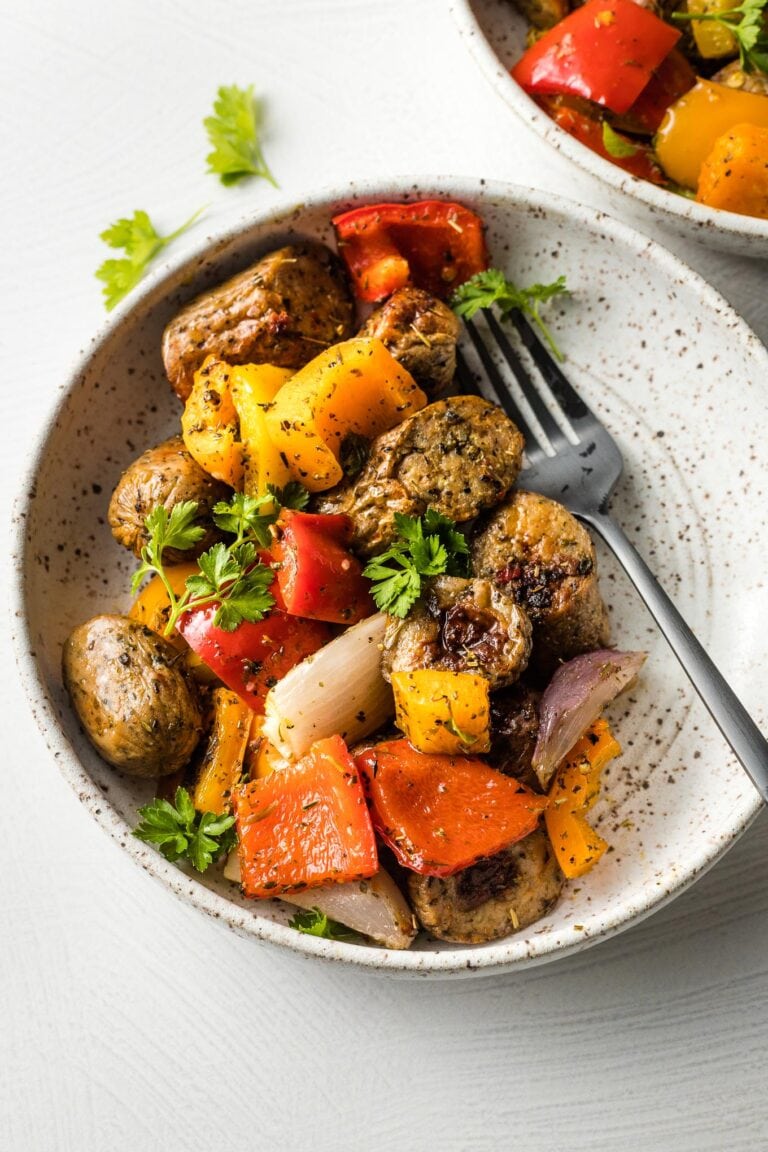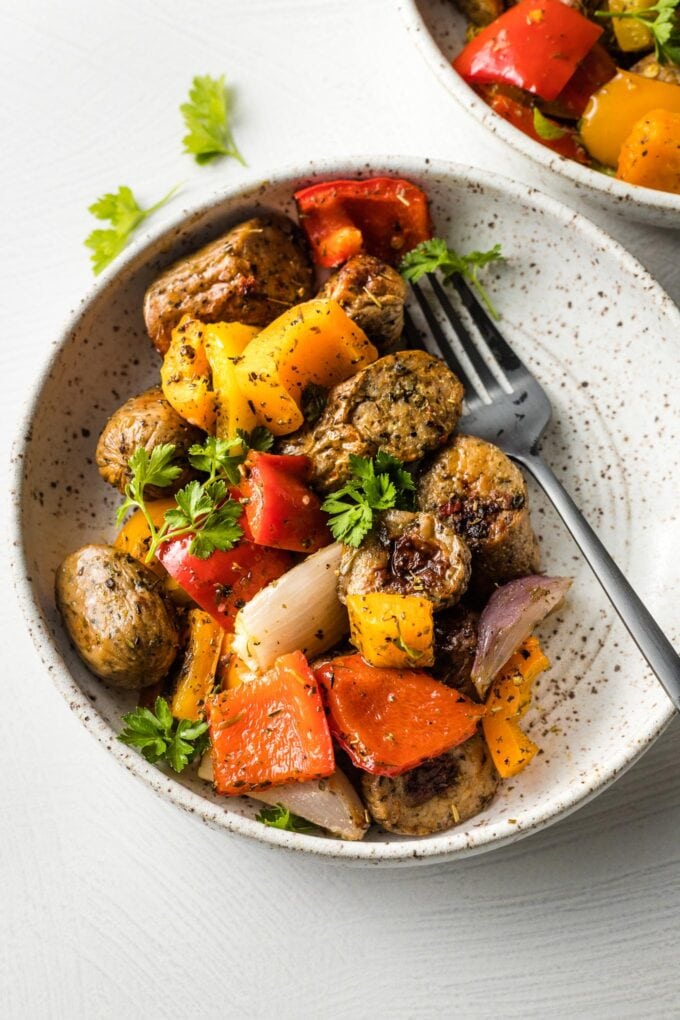 More Easy Sheet Pan Recipes
Love the simplicity of one-and-done sheet pan meals? Save this sheet pan rosemary garlic salmon, honey garlic shrimp and broccoli, and chipotle lime shrimp fajitas for more easy dinner ideas!
Helpful Equipment
If you try this Sheet Pan Sausage and Peppers, don't forget to rate the recipe and leave a comment below. I love hearing how recipes turn out in your kitchen, and it helps other readers, too.
You can also FOLLOW me on PINTEREST, INSTAGRAM, FACEBOOK, and TWITTER for more great recipes and ideas!
Sheet Pan Chicken Sausage and Peppers
A quick, healthy dinner everyone loves. Try serving with hoagie rolls or over couscous or your favorite greens.
Ingredients
4 links chicken sausage
3 bell peppers any color
4 shallots
1 and 1/2 tablespoons olive oil
2 teaspoons Italian seasoning
1 teaspoon kosher salt
10-12 cranks freshly-cracked black pepper
fresh parsley, rosemary, or other herbs optional garnish
Instructions
Preheat oven to 425 degrees F. Line a large rimmed baking sheet with parchment paper.

Slice sausages into 1" coins, chop peppers into 1" pieces, and peel and quarter the shallots. Combine these ingredients in a large bowl. Add olive oil, Italian seasoning, salt, and black pepper. Toss well.

Spread the sausage and veggie mixture out on the baking sheet and roast for 18-20 minutes, until the sausage is crisp and the veggies are tender.

Sprinkle with chopped parsley, rosemary, or other herbs as desired. Serve and enjoy!
Nutrition Estimate
Calories: 265 kcal, Carbohydrates: 14 g, Protein: 15 g, Fat: 18 g, Saturated Fat: 3 g, Cholesterol: 60 mg, Sodium: 1458 mg, Potassium: 285 mg, Fiber: 3 g, Sugar: 7 g, Vitamin A: 3112 IU, Vitamin C: 117 mg, Calcium: 32 mg, Iron: 2 mg
Did you make this recipe?
Leave a review below, then snap a quick picture and tag @nourishandfete on Instagram so I can see it!