Sweet Honey Poppy Seed Dressing
This sweet and tangy Honey Poppy Seed Dressing is the perfect accompaniment to all your salads, all year long. It's creamy yet light, thanks to a Greek yogurt base.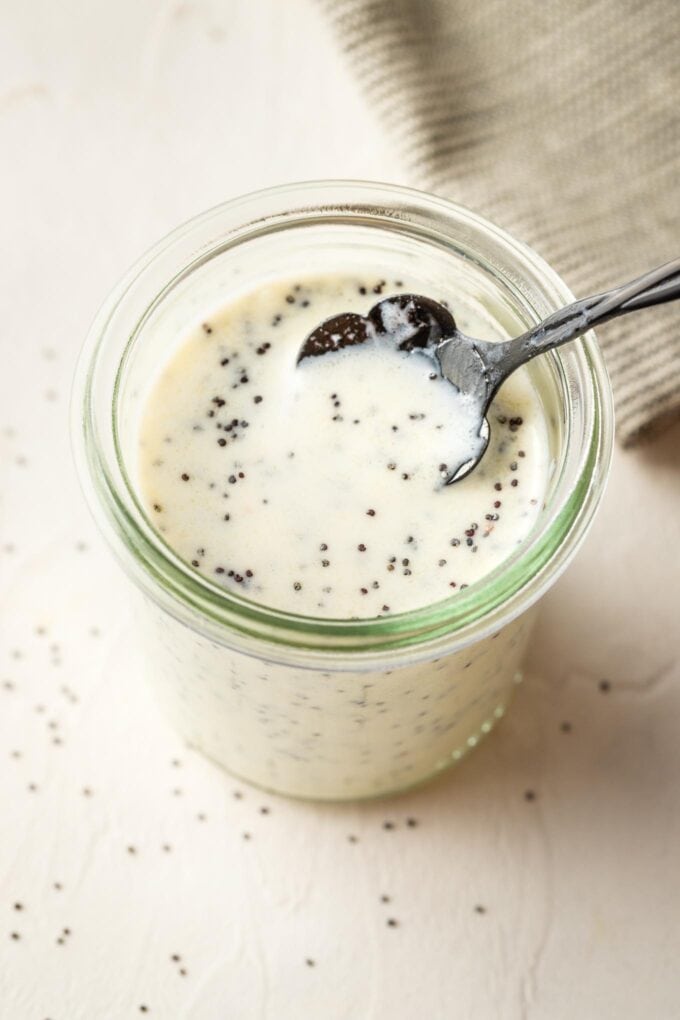 As much as I love cooking from scratch, I firmly believe there are times in life that call for pre-packaged salads. You know the ones: they come with pre-washed greens, separately packaged nuts, croutons, or other add-ins, and a little packet of dressing. Spendy and excessively-packaged, to be sure, but they do help get dinner done in a pinch.
I freely admit that we enjoyed an unusual number of those pre-packaged salads in the months just before and after my daughter's birth, and one favorite was this sweet kale chopped salad–especially the creamy poppy seed dressing.
The Best Sweet Poppy Seed Dressing
Little surprise, then, that I set out quickly to replicate that dressing as easily as possible using pantry ingredients. This dressing is a close match, and you'll love that it's:
Easy to make. Whisk and go.
Naturally-sweetened. A smidge of honey is all you need; no refined sugar.
Creamy but not heavy. Greek yogurt, as always, provides the perfect base texture and helps give the dressing its signature tang.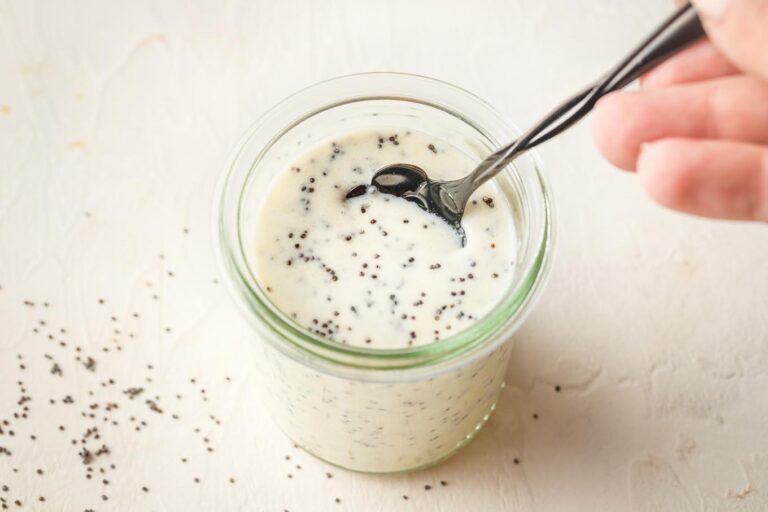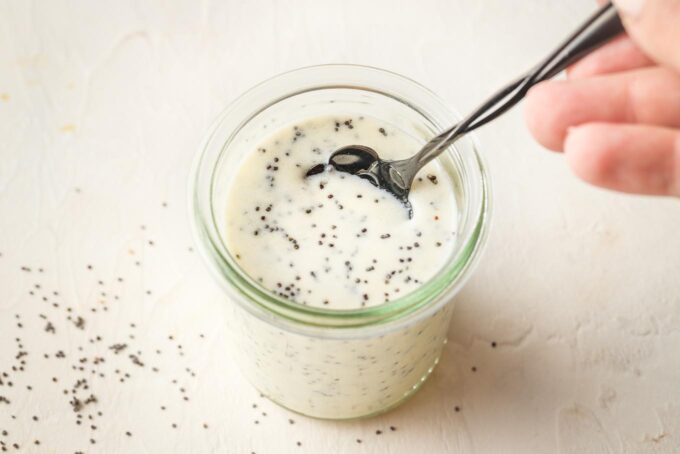 Ingredients & Common Substitutions
To make this dressing, you'll need just a handful of ingredients, most of which you probably already have.
Plain Greek yogurt. Whole milk or low-fat will work, whichever you prefer. I haven't tried making this dressing with flavored yogurt, but suspect the taste would be off.
White wine vinegar. If you don't have white wine vinegar, try using lemon juice, rice vinegar, or champagne vinegar instead.
Honey. A key to this dressing's smooth, sweet flavor!
Olive oil. Be sure to use a high-quality extra-virgin olive oil if you can; you want the most neutral flavor possible in a dressing like this one.
Poppy seeds. Obviously!
Salt. I like to use table salt in this recipe because it dissolves so smoothly and evenly into the dressing, but you can certainly use kosher or flaky sea salt instead. In that case, just sample the dressing and be prepared to add a bit more, to taste, up to an extra 1/2 teaspoon.
How To Make It
As with most homemade salad dressings, this couldn't be simpler. This one doesn't even require multiple steps — just add all ingredients to a bowl or jar and whisk well.
Pro Tip: If you're enjoying a really delicious salad at home, try making homemade croutons to take things to the next next level.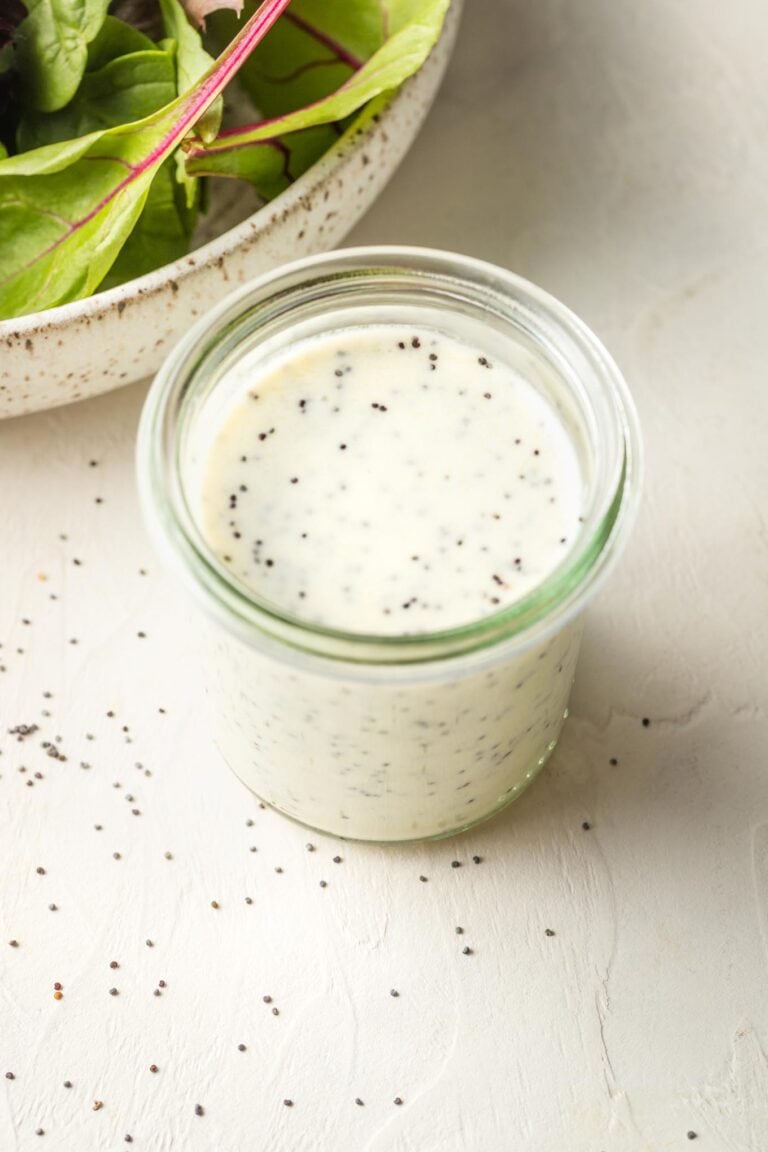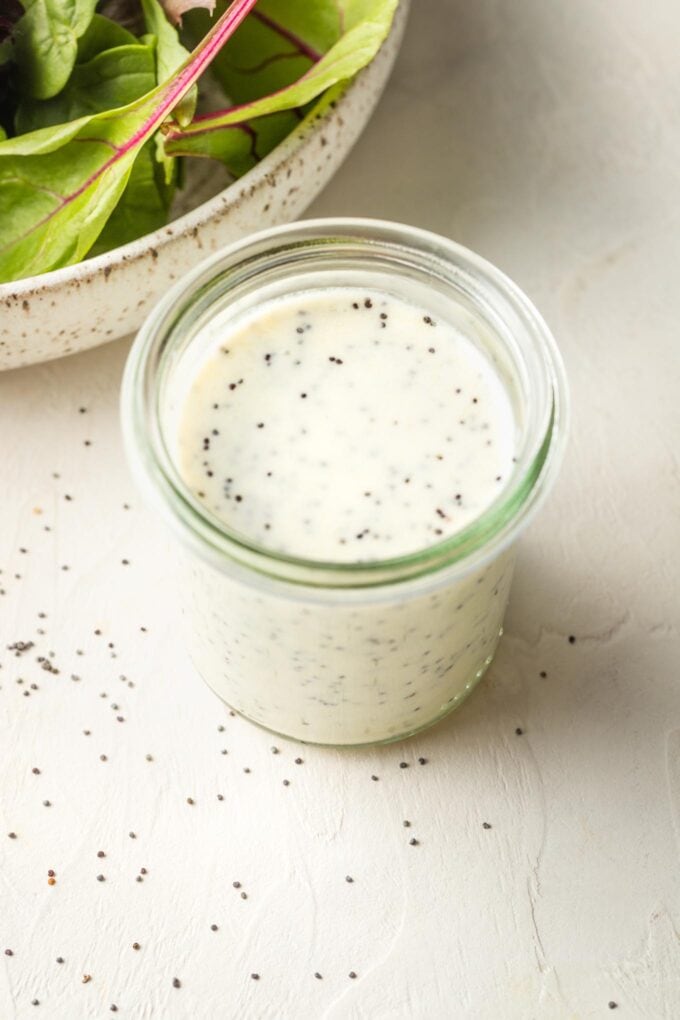 Yield & Storage Tips
This recipe makes a relatively small amount of dressing, about a scant 1/2 cup. This is perfect for a side salad, but if you're making it to go with a larger salad or want to have extra, consider doubling it.
Store dressing in a mason jar or another airtight container in the fridge, and it will keep well for up to 1 week. Honey poppy seed dressing doesn't keep for an eternity, as some homemade salad dressings do, because of its Greek yogurt base. It will separate out a bit while sitting in the fridge — just give the jar a vigorous shake to recombine before serving.
More Homemade Salad Dressings
If you enjoy making this, you'll also love these simple recipes for homemade Italian and Greek salad dressing, lime Caesar, cilantro lime dressing, and this easy balsamic vinaigrette.
If you try this Honey Poppy Seed Dressing, don't forget to rate the recipe and leave a comment below. I love hearing how recipes turn out in your kitchen, and it helps other readers, too.
You can also FOLLOW me on PINTEREST, INSTAGRAM, FACEBOOK, and TWITTER for more great recipes and ideas!
Honey Poppy Seed Dressing
Sweet, tangy, and creamy, this delicious dressing goes with all your salads, in all seasons.
Ingredients
1/4 cup plain Greek yogurt whole milk or low-fat
2 tablespoons white wine vinegar
1-2 tablespoons honey
1 tablespoon extra virgin olive oil
1 teaspoon poppy seeds
1/2 teaspoon table salt
Instructions
Combine the yogurt, white wine vinegar, 1 tablespoon of the honey, olive oil, poppy seeds, and table salt in a small mixing bowl or jar. Stir or whisk until smooth.

Taste; add more honey if you prefer a sweeter dressing. (I usually add 1 and 1/2 tablespoons of honey in total.) Whisk again until very smooth, and enjoy.

Any extra dressing can be stored in the fridge in a tightly-sealed jar for up to 1 week. Shake well to recombine before serving.
Did you make this recipe?
Leave a review below, then snap a quick picture and tag @nourishandfete on Instagram so I can see it!