Easy Balsamic Vinaigrette
A quick and easy recipe for making your own Balsamic Vinaigrette from simple ingredients. Silky smooth, tangy, and sweet, this dressing is easy to keep in the fridge and makes everyday salads shine.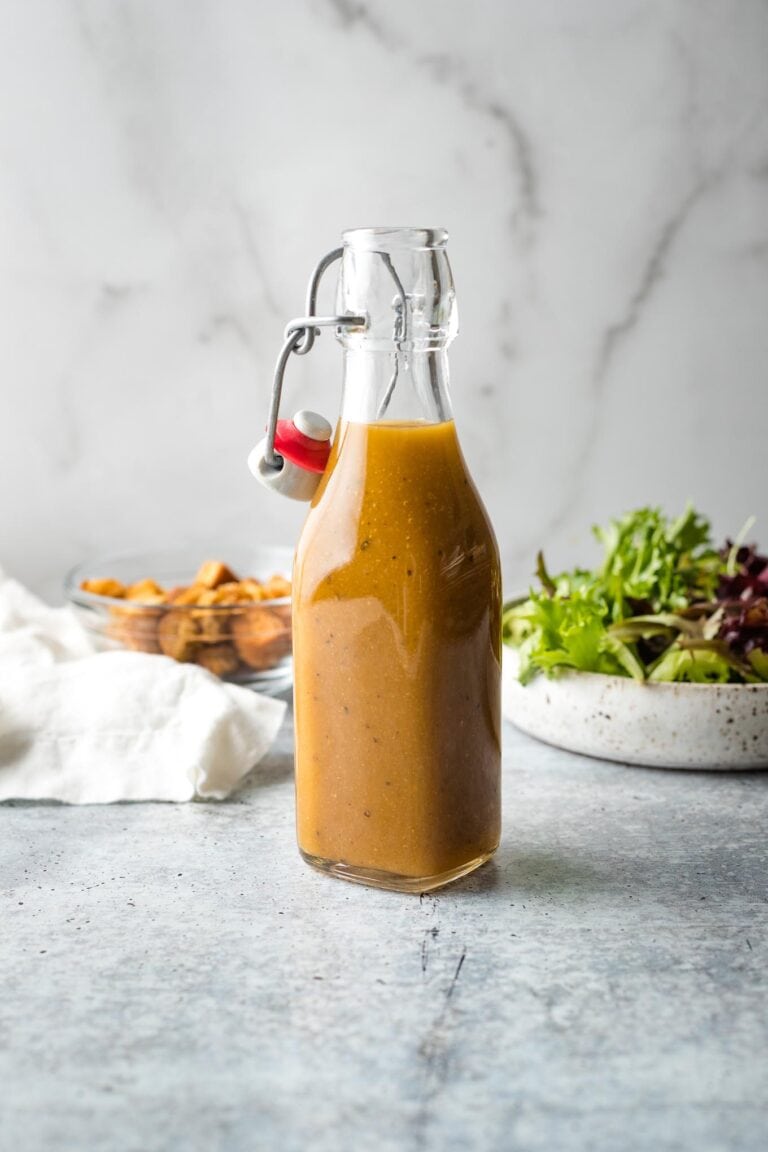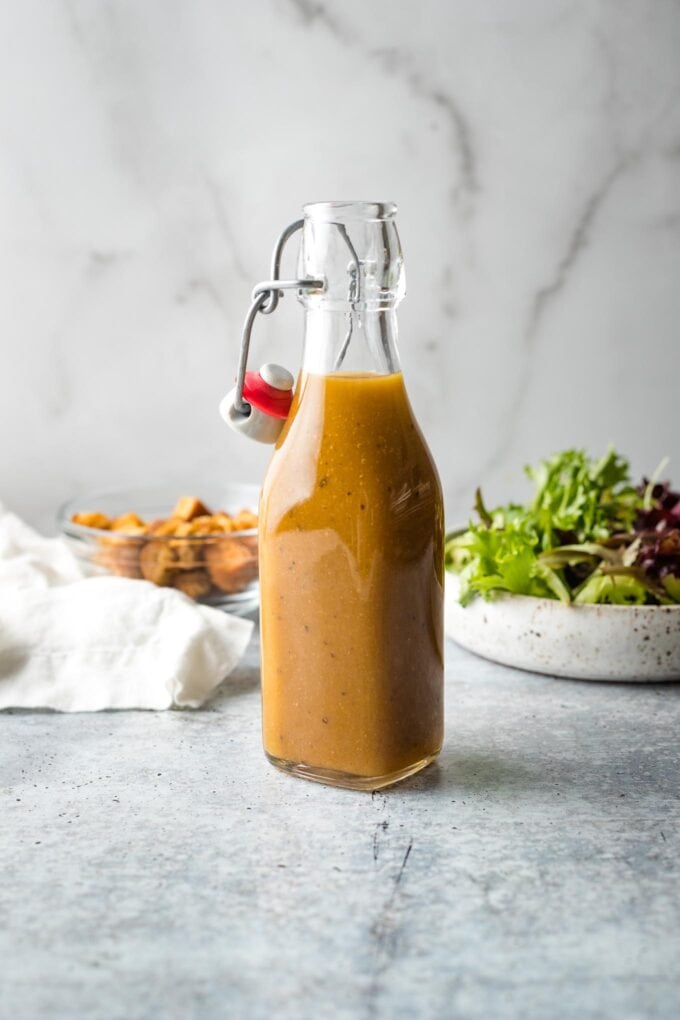 There's not much more satisfying than whipping up your own salad dressing at home. Once you realize how easy and delicious homemade dressings can be, you'll march right past the bottled stuff at the store.
This homemade balsamic vinaigrette is the cornerstone of DIY dressings, in my book. It has a silky smooth texture, thick but easy to drizzle and toss among greens. And the taste is a dreamy combination of tangy and sweet, with an appealing acidic bite and the clean taste of extra virgin olive oil. Salads never tasted so good!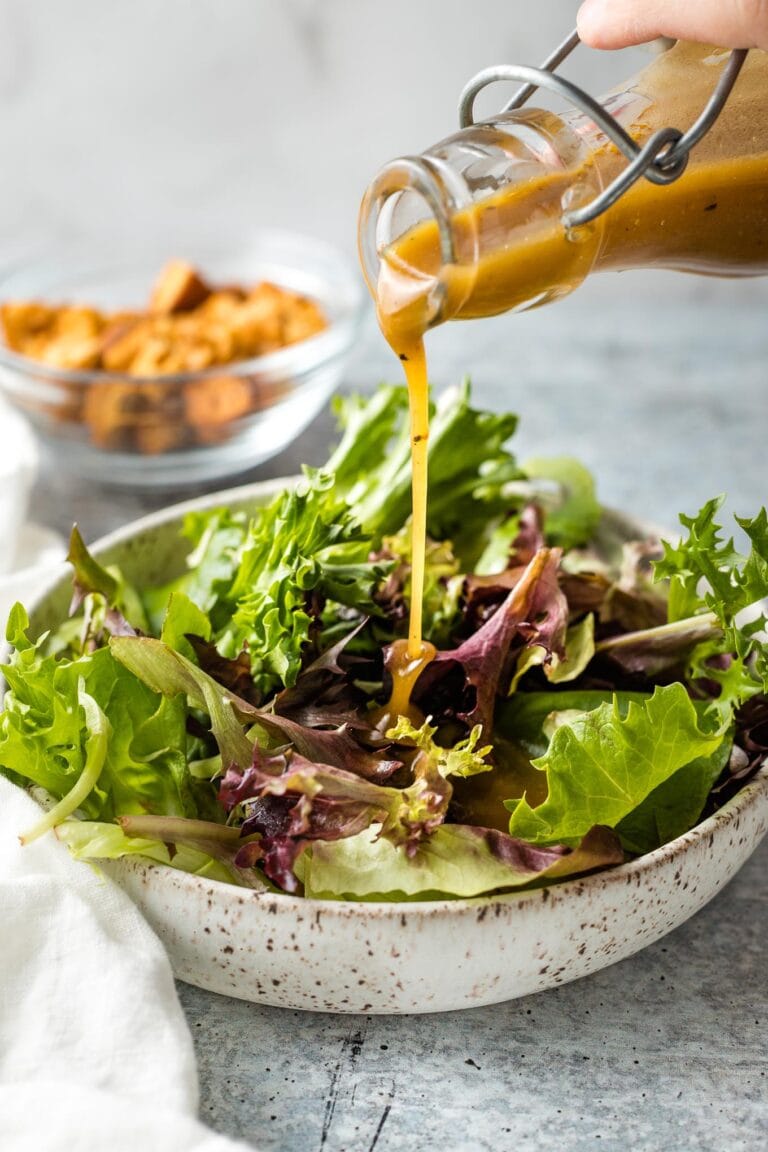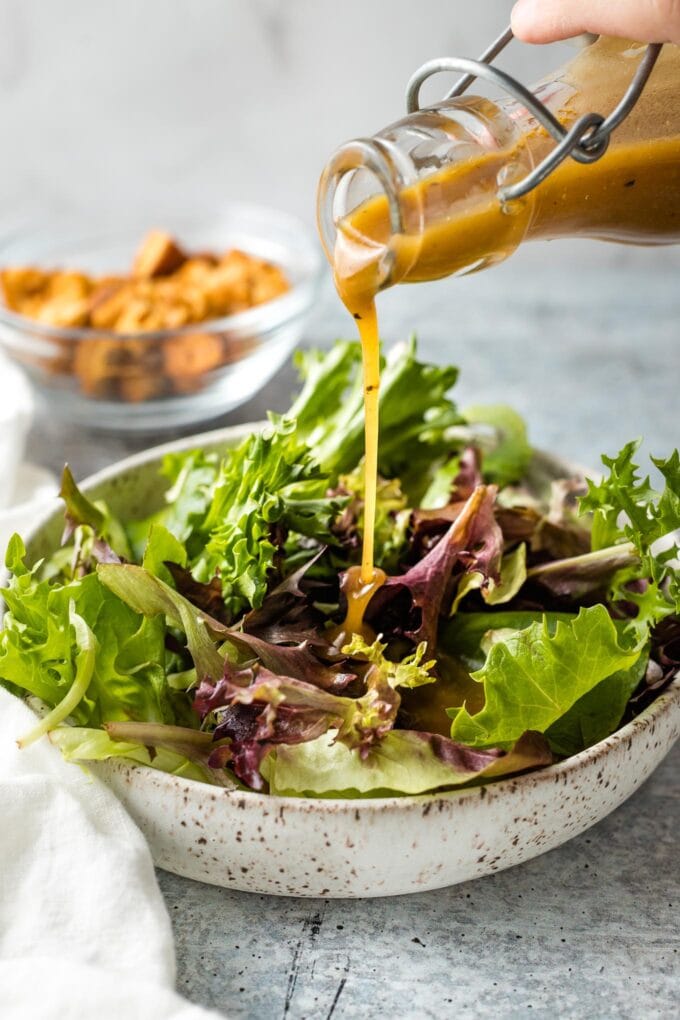 What's in Balsamic Vinaigrette
You truly just need a few pantry staples to make a balsamic vinaigrette that's more delicious and economical than most bottled varieties.
Let's go over the ingredients you'll need, and possible substitutions.
Balsamic vinegar. There's a reason high-quality aged balsamic vinegar is a good gift for the serious cook – it makes a huge difference in flavor. As vinegar ages, it becomes more rich, sweet, and mild. The vinegar is a stand-out ingredient in this dressing, so use a good one if possible.
Honey. A smidge of honey adds the perfect extra natural sweetness to the dressing. You can play around with the exact amount, reducing the honey for a more tangy dressing, or swap in maple syrup or agave for different flavor profiles.
Dijon mustard. This gives the dressing that signature tangy bite! Experiment with whole grain or your favorite standard yellow mustard for a substitute, if you like.
Olive oil. Use extra virgin olive oil if at all possible — it has a clean, smooth taste that you'll definitely appreciate in a simple dressing. You can substitute avocado or another neutral oil in this dressing if you prefer.
Sea salt and black pepper.
Garlic powder. This is where I part ways with most recipes for homemade balsamic vinaigrette, which more often call for fresh garlic. I personally find the flavor with garlic powder to be equally good, and prefer its ease, smoother finished texture, and longer fridge life for the dressing! If you do prefer fresh garlic, simply substitute 1 large clove and mince it very finely.
How To Make Balsamic Vinaigrette
Whisk together the vinegar, Dijon, honey, salt, pepper, and garlic powder, so that the flavors blend smoothly together.
Add olive oil and whisk vigorously into a smooth mixture.
That's it!
You can also use a blender or miniature food processor to blitz together this vinaigrette. The consistency will be thicker, almost reminiscent of a light syrup.
How To Store Balsamic Vinaigrette
It's easy to make a large batch of this vinaigrette and keep it in the fridge, so you can enjoy a nice homemade dressing at a moment's notice.
Store dressing in a mason jar or another airtight container in the fridge, and it will keep well for 3-4 weeks. The oil and vinegar will separate out into visible layers — this is normal. Just give the jar a vigorous shake before serving.
More Homemade Salad Dressings
If you enjoy making this, you'll also love these simple recipes for homemade Italian and Greek salad dressing, creamy poppy seed dressing, cilantro lime vinaigrette, and this irresistible Caesar dressing with lime.
If you try this Balsamic Vinaigrette, don't forget to rate the recipe and leave a comment below. I love hearing how recipes turn out in your kitchen, and it helps other readers, too.
You can also FOLLOW me on PINTEREST, INSTAGRAM, FACEBOOK, and TWITTER for more great recipes and ideas!
Easy Balsamic Vinaigrette
The perfect, goes with anything salad dressing – tangy and sweet, and quick and easy to whip up from everyday ingredients.
Ingredients
1/4 cup balsamic vinegar
2 tablespoons honey
1 tablespoon Dijon mustard
1/2 teaspoon sea salt
1/8-1/4 teaspoon garlic powder
15-20 cranks fresh-ground black pepper
3/4 cup extra virgin olive oil
Instructions
Combine the vinegar, honey, mustard, salt, garlic powder, and pepper in a small bowl. Whisk thoroughly to combine. Pour in the oil and whisk again until the dressing is very smooth.

Store in a tightly-closed jar in the fridge for up to 3-4 weeks. Shake well before serving.
Nutrition Estimate
Calories: 81 kcal, Carbohydrates: 2 g, Protein: 1 g, Fat: 8 g, Saturated Fat: 1 g, Sodium: 68 mg, Potassium: 6 mg, Fiber: 1 g, Sugar: 2 g, Vitamin A: 1 IU, Vitamin C: 1 mg, Calcium: 2 mg, Iron: 1 mg
Did you make this recipe?
Leave a review below, then snap a quick picture and tag @nourishandfete on Instagram so I can see it!