Rosemary Garlic Sheet Pan Salmon
This healthy baked rosemary garlic salmon is easy to make in the oven, and done in just 30 minutes together with sides. All on one pan! It's also kid-friendly, with amazing fresh flavor coming from just FIVE ingredients.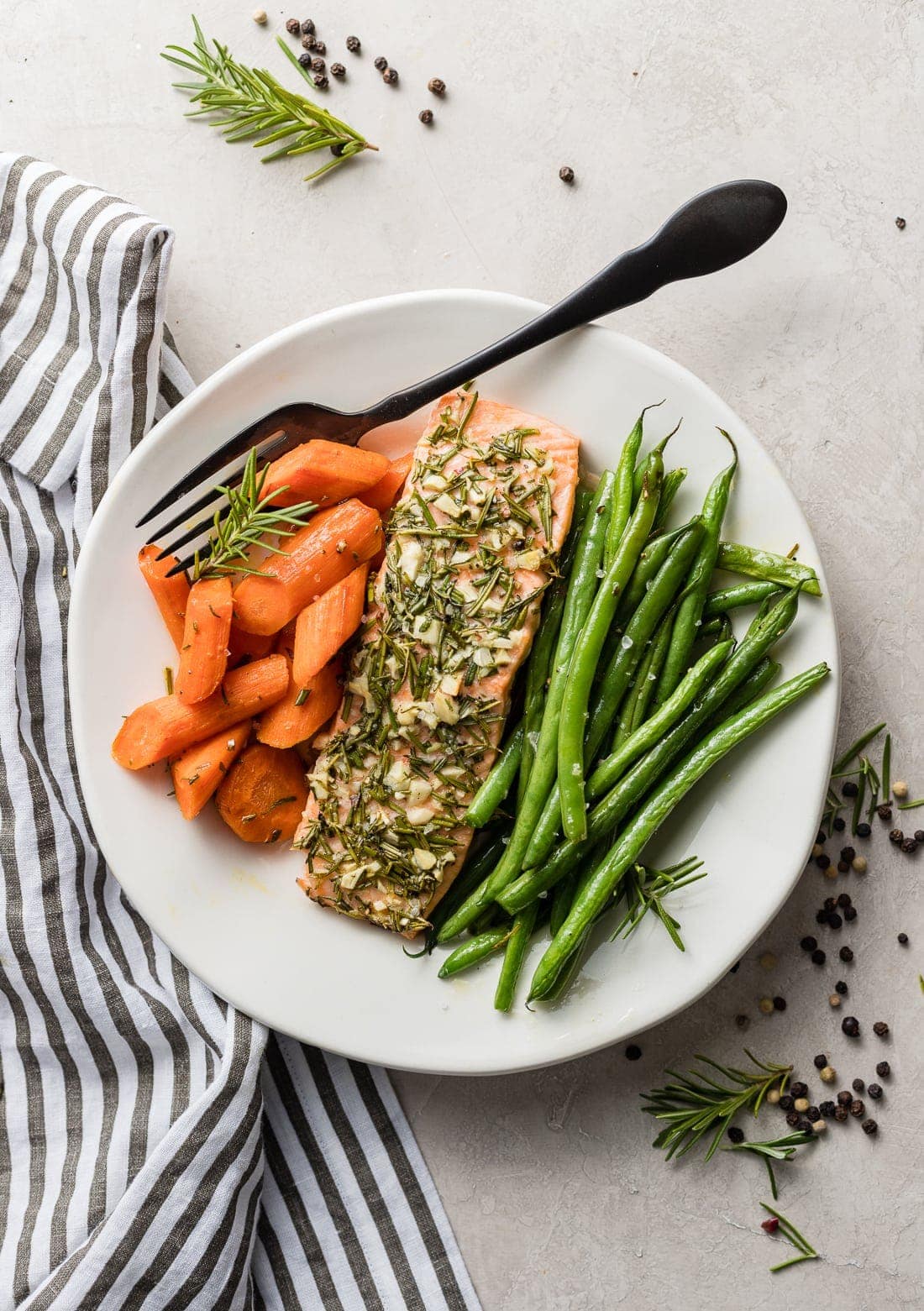 When you need to get dinner on the table in a hurry–and isn't that pretty nearly every day?–there's nothing like a simple sheet pan supper to get the job done. There's little more frustrating than having to stir, time, and tend to multiple pots at once. One-pan dinners are such a relief!
This particular combo is not only convenient, it's also good-for-you and incredibly flavorful. Heart-healthy salmon, crusted with a crackly layer of rosemary, garlic, and kosher salt, nestled in among sweet, colorful roasted veggies. Yes, please.
Best of all, this is fast and easy to make. With olive oil, salt, and pepper as freebies, you can fit the rest of your list on the tiniest scrap of paper floating in the bottom of your purse. You'll need:
Salmon filets
Carrots
Green beans
Fresh rosemary
Minced garlic
You ready? Let's do this!
But how to roast different items on the same pan?
One frequent question about sheet pan meals is how to ensure everything is done cooking at once. This is easy if you have a good recipe that's thought through the cooking times for you! And that's where we come in. 🙂
In this case, carrots take longer to roast than either salmon or green beans, so we'll simply cut them into small pieces and give them a head start in the hot oven. While they get going, prep the salmon, green beans, and the secret sauce: a simple combo of rosemary, garlic, salt, pepper, and olive oil. One whiff of this, and you'll know why this dinner is going to be so good.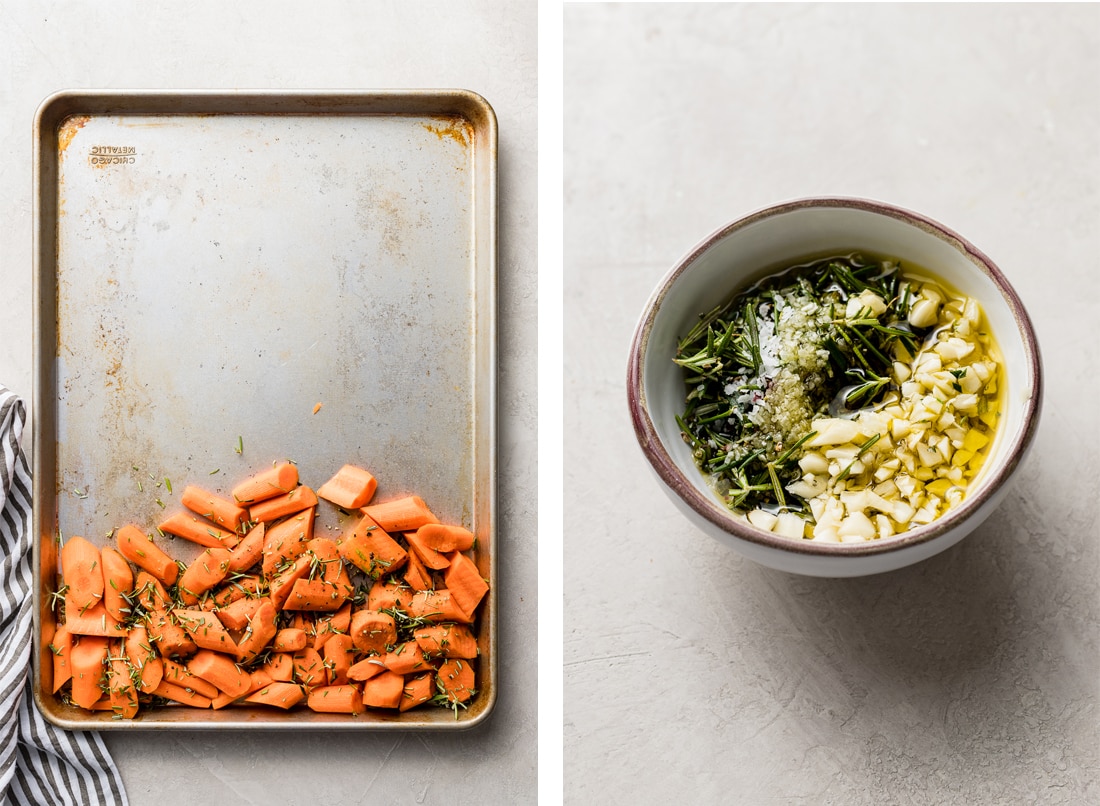 After the carrots get about a 12 minute head start, add the green beans and salmon to the pan, both seasoned with the rosemary-garlic mixture. Bake for another 12 minutes or so, and that's that. You can use a fork to be sure things are done – when everything's ready, you'll be able to easily pierce the carrots, and the salmon will fall off into large flakes at a light touch.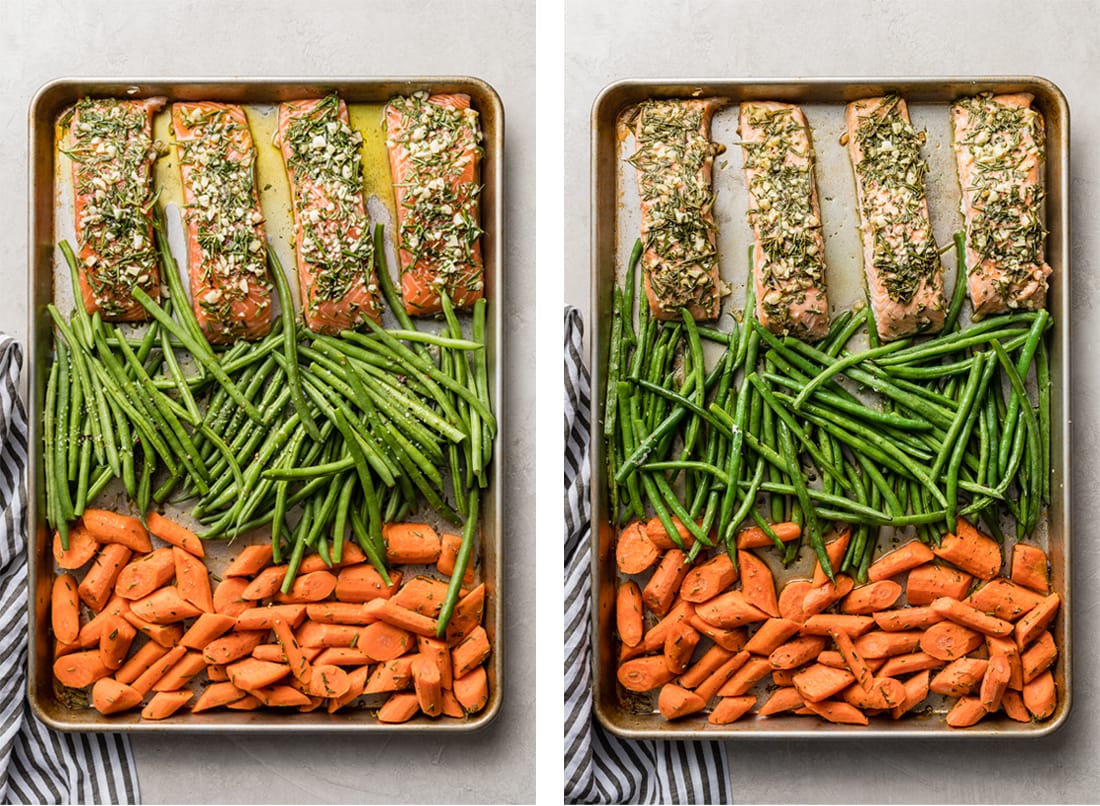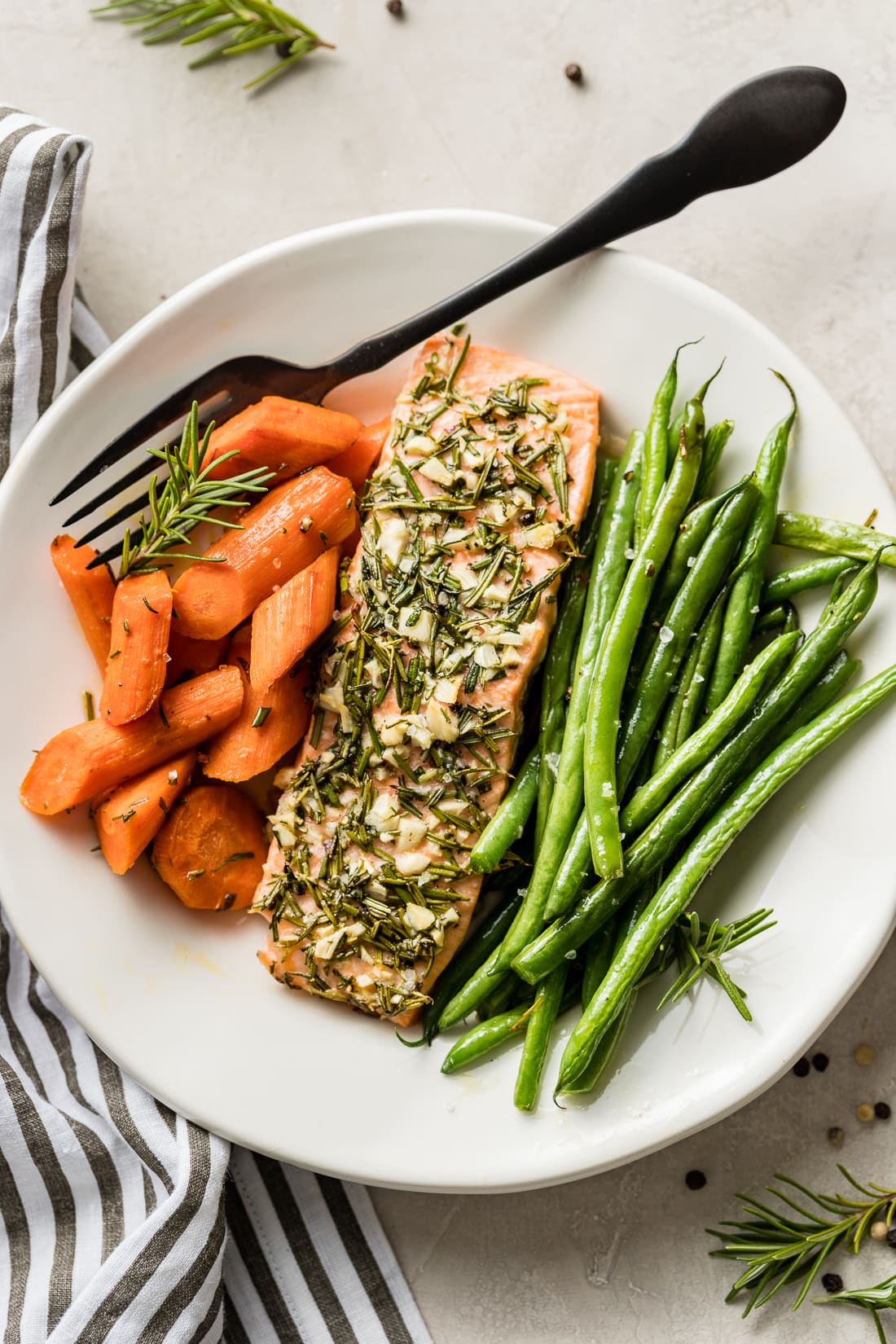 These flavors pair beautifully with green beans and carrots, but you can certainly substitute potatoes or other veggies. Just keep in mind that the cooking time may vary, so plan ahead!
More Easy Salmon Recipes
Salmon is such a delicious, healthy, and quick-cooking dish! Try my recipe for salmon pesto pasta, baked lemon herb salmon, or Greek salmon salads next.
Enjoy! If you make this Sheet Pan Salmon or any other recipe from Nourish and Fete, please rate it and leave a comment below. We love hearing from you, and other readers will benefit from your experience!
You can also FOLLOW me on PINTEREST, INSTAGRAM, FACEBOOK, and TWITTER for more great recipes and ideas!
Rosemary Garlic Sheet Pan Salmon
This healthy baked salmon recipe is easy to make in the oven with one pan and 30 minutes. It's also kid-friendly, with amazing rosemary and garlic flavor.
Ingredients
6-7 medium carrots
olive oil
kosher salt and black pepper to taste
4 tablespoons chopped fresh rosemary
6 garlic cloves minced
8 ounces green beans
4 medium salmon filets
Instructions
Preheat oven to 425 degrees F. Peel and chop the carrots into 1-2" long pieces. Chop any especially thick portions in half lengthwise, so the pieces are relatively even and cook at the same rate. Spread carrots on a large rimmed baking sheet, drizzle with 1-2 teaspoons of olive oil, and sprinkle lightly with salt, pepper, and 1 tablespoon of the chopped rosemary. Toss to coat, and place carrots in the oven to roast for 12 minutes.

Meanwhile, in a small bowl, combine the remaining 3 tablespoons rosemary, all of the minced garlic, 1/2 teaspoon kosher salt, black pepper to taste, and about 1 tablespoon olive oil. Set aside. Trim any stringy ends off of the green beans, if necessary, and toss them gently with a small spoonful of the rosemary-garlic mixture, reserving the rest.

Remove pan from the oven, add the salmon filets and green beans to the baking sheet, and spoon the remaining rosemary-garlic mixture evenly across the top of the salmon.

Return the full sheet pan to the oven to roast about 12 minutes more, until the carrots are tender and the salmon flakes easily when touched with a fork. Serve right away.
Nutrition Estimate
Calories: 291 kcal, Carbohydrates: 15 g, Protein: 25 g, Fat: 15 g, Saturated Fat: 2 g, Cholesterol: 62 mg, Sodium: 118 mg, Potassium: 1005 mg, Fiber: 5 g, Sugar: 6 g, Vitamin A: 15785 IU, Vitamin C: 15 mg, Calcium: 99 mg, Iron: 2 mg
Did you make this recipe?
Leave a review below, then snap a quick picture and tag @nourishandfete on Instagram so I can see it!
This recipe was originally published on March 9, 2017, and republished on September 7, 2019 with new photos, clearer instructions, and more helpful text.
This post may contain affiliate (*) links. See my full disclosures page.