Salmon Pesto Pasta
This salmon pesto pasta recipe comes together in 25 minutes for a comforting yet healthy one-bowl meal. Roasting the salmon delivers light flavor and texture, and using either homemade or jarred pesto makes this flexible and weeknight-friendly.
For simple, satisfying meals, quick and easy pastas like Tuscan tortellini, gnocchi alla vodka, pasta primavera, and tortellini Alfredo really hit the spot.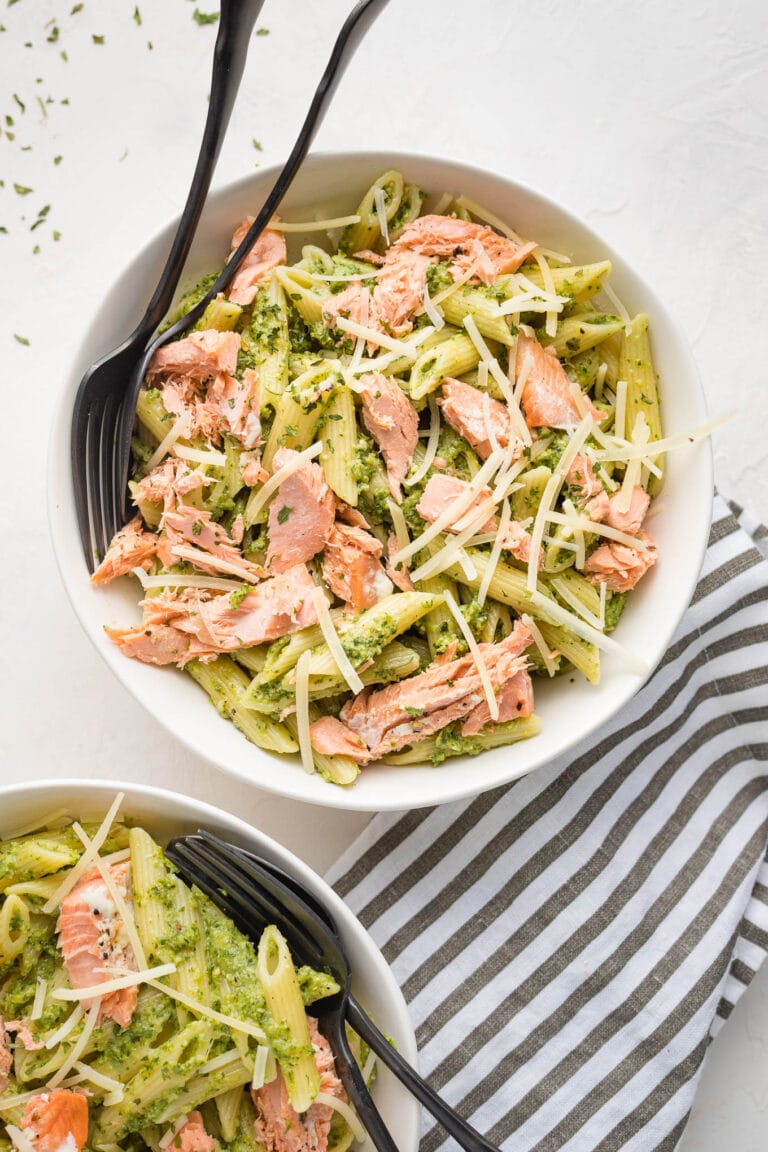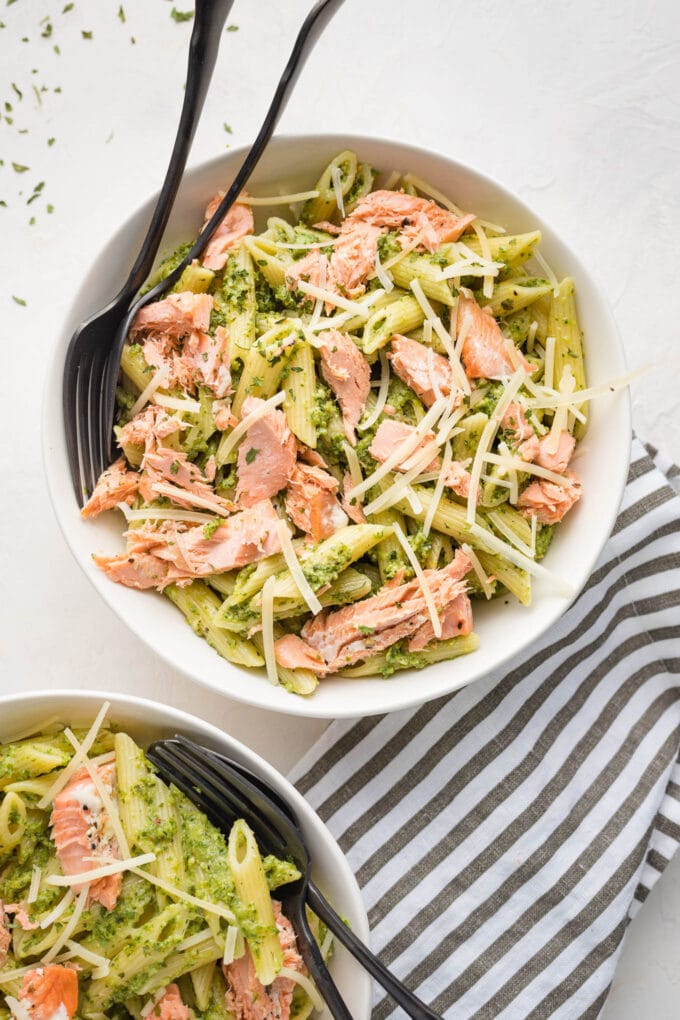 Are we ready for another quick and easy meal? They seem to be everyone's favorite, especially over on Instagram, and it's easy to see why. Who wants to cook something complicated at the end of the day?
Why You'll Love This
You'll love that this healthy salmon pesto pasta uses fresh, simple ingredients and an approachable technique — roasting — to deliver a restaurant-quality meal in just a few minutes.
A nice side benefit of this method is that, because the salmon is roasted separately, it can easily be added to some portions and not others, or left on the side — particularly helpful when cooking for littles or a crowd!
Salmon Pesto Pasta with No Cream
Many similar recipes call for a cream sauce, but we prefer the simplicity of flaky, roasted salmon; vibrant pesto; and tangy Parmesan all on their own. A hint of lemon, salt, and black pepper are all you need to make these flavors sing. Plus, it's a bit lighter and healthier this way.
Ingredients & Common Substitutions
Here's all you'll need to make this dish. You can click straight to the full recipe card for detailed amounts and instructions.
Penne or another dried pasta you love. It helps to use something with twirls or ridges to hold the pesto. Rotini, fusilli, and cavatappi are also great choices.
Salmon filet. You can buy salmon with the skin on or off. It doesn't matter much for this recipe, because you'll be flaking off pieces to serve with the pasta and can leave the skin behind then, in any case. It is also fine to buy either one large side of salmon or individual filets. Prefer to use smoked salmon? Try this creamy smoked salmon pasta with dill. It's also very quick and easy, with a light yet creamy sauce and a hint of dill, which complements salmon wonderfully.
Parmesan cheese. Fresh grated or pre-shredded, either are fine in this recipe, because it's just being mixed into the sauce and does not need to melt fully.
Olive oil, lemon juice, kosher salt, and black pepper.
PESTO! The star ingredient here.
The case for homemade pesto
I love making this with homemade pesto, especially in the summer when fresh basil is plentiful. Our go-to basil pesto has a hint of lemon zest for extra flavor and tartness. However, the batch of salmon pesto pasta shown in the photos here was actually made with our favorite zucchini basil pesto, which is a terrific way to use extra zucchini. It tastes just like "regular" pesto but is stealthy healthy, with two whole zucchini and a generous handful of spinach blitzed in.
Best of all, homemade pesto can be made and stored in the fridge until you want to use it in a recipe like this. It's helpful to do that any time you have a bunch of basil, zucchini, or other greens on the verge of going bad.
Homemade pesto usually lasts at least 5 days in the fridge.
That said, I definitely appreciate that some nights you just need your pesto to come from a jar — at least I do! DeLallo is always a reliable brand, if that's available to you.
Can you just add pesto to pasta?
Adding pesto directly to pasta is a quick and easy way to make a meal. One tip: drain and allow the pasta to cool for 1-2 minutes prior to adding the pesto. This keeps the pasta warm enough to loosen and warm the pesto, but prevents it from being so hot that the pesto is "shocked" and loses its vibrant green color and some of its flavor.
What meat goes with green pesto?
Pesto goes wonderfully with salmon, as well as with grilled steak, chicken, pork chops, shrimp, and other fish. It's a versatile power player in the kitchen!
Wanting to branch out more with your pesto? Read 10 more ways to use pesto beyond simple pasta.
A toast to roasting
Back to this salmon pesto pasta: the method is very straightforward. First, roast the salmon filet. Roasting is a very simple, classic technique that uses high heat to bring out natural flavor and give a crusty exterior to meat, seafood, and vegetables.
I usually roast on a rimmed sheet pan, but you can use an oven-safe pan or skillet, as well.
Be sure to season the salmon filet before putting it in the oven. A key principle of cooking is to season every layer of a dish, and the salmon here is no exception! It doesn't need much – a drizzle of olive oil, lemon juice, salt, and pepper are perfect.
Minor Variations
Love garlic? Add 1-2 cloves of finely minced garlic to the salmon seasoning for extra flavor.
Crave heat? Add a pinch of red pepper flakes to the salmon, and serve with more at the table.
Prefer cooking with butter? Melt 1 tablespoon and brush that over the salmon in place of the olive oil.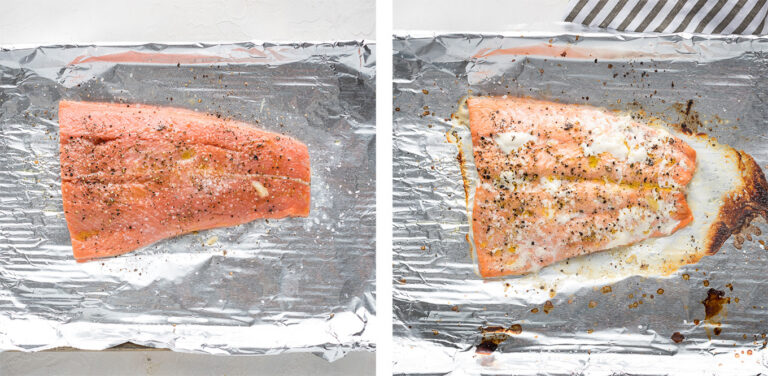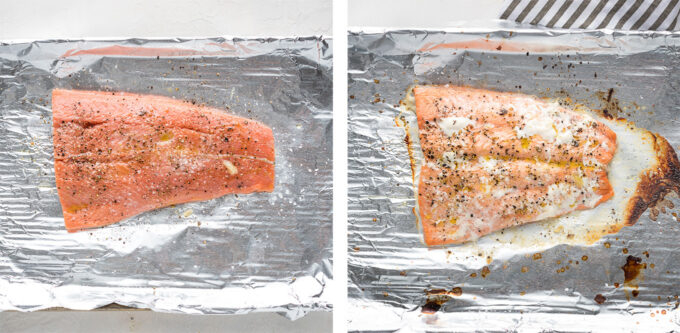 Meanwhile, cook the pasta just to al dente. Be sure to use well-salted water — it should be salty like the sea. This is the same "flavor every layer" principle. Salting the water generously gives the pasta itself a luscious, subtle flavor.
Drain the cooked pasta, but scoop out a bit of the cooking water first. It's starchy and perfect in case you want to thin out the sauce after adding the pesto and Parmesan.
It's preferable to use cooking water to do this, rather than oil, so that the pesto and resulting sauce does not become too slick.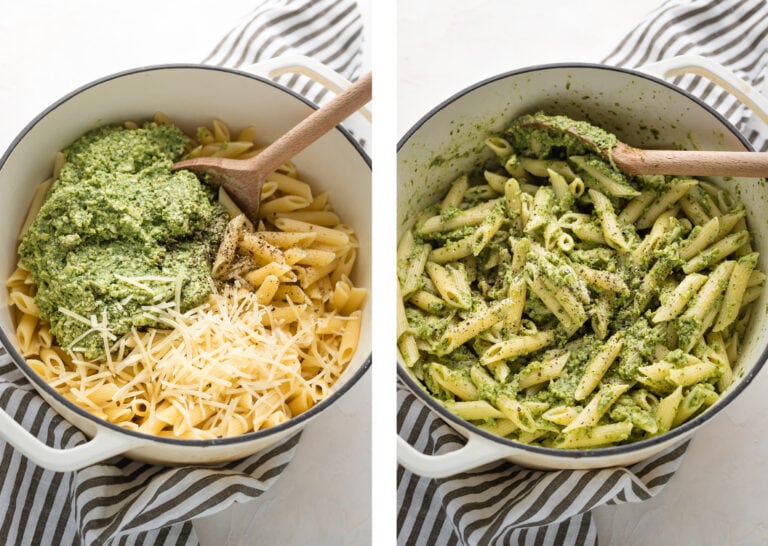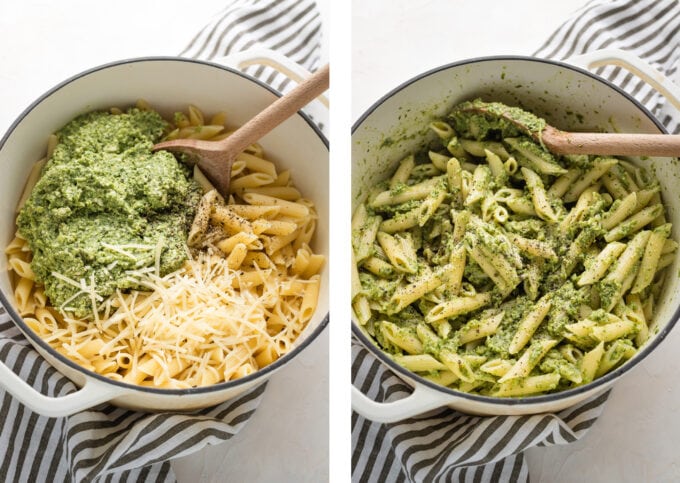 Simply flake the roasted salmon with a fork. It will separately easily. Top bowls of the pesto pasta with pieces of salmon, and dinner is served.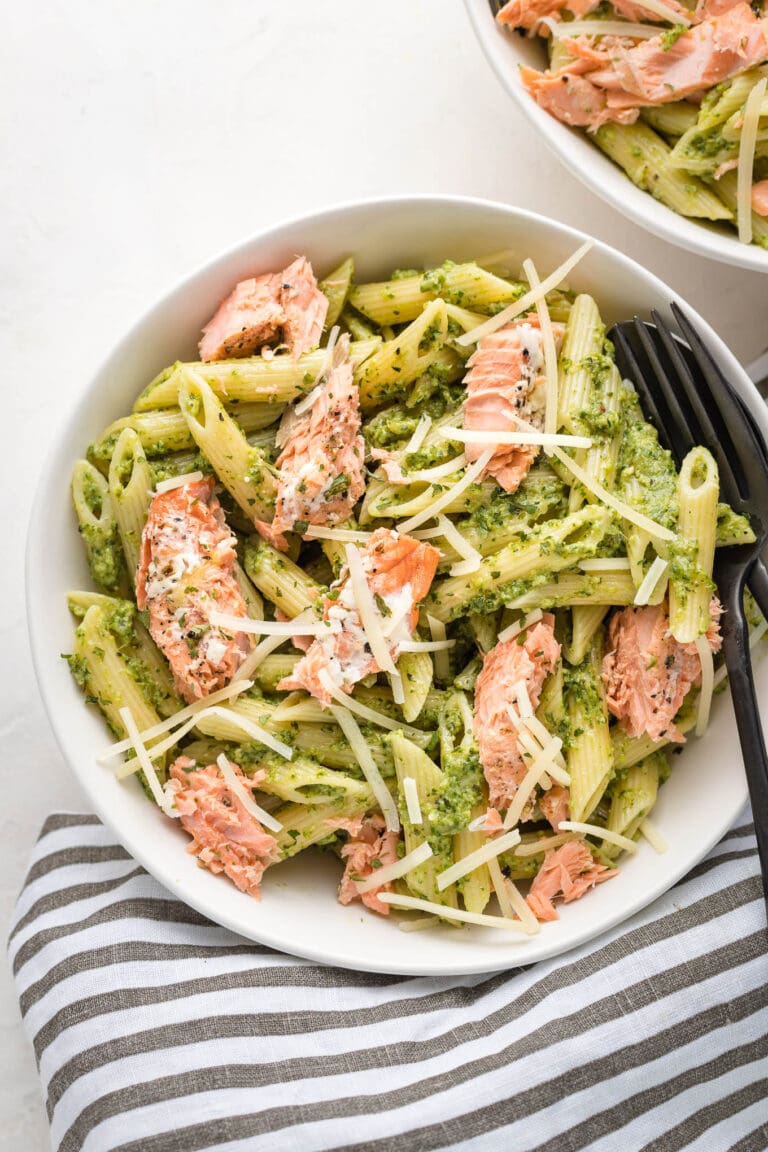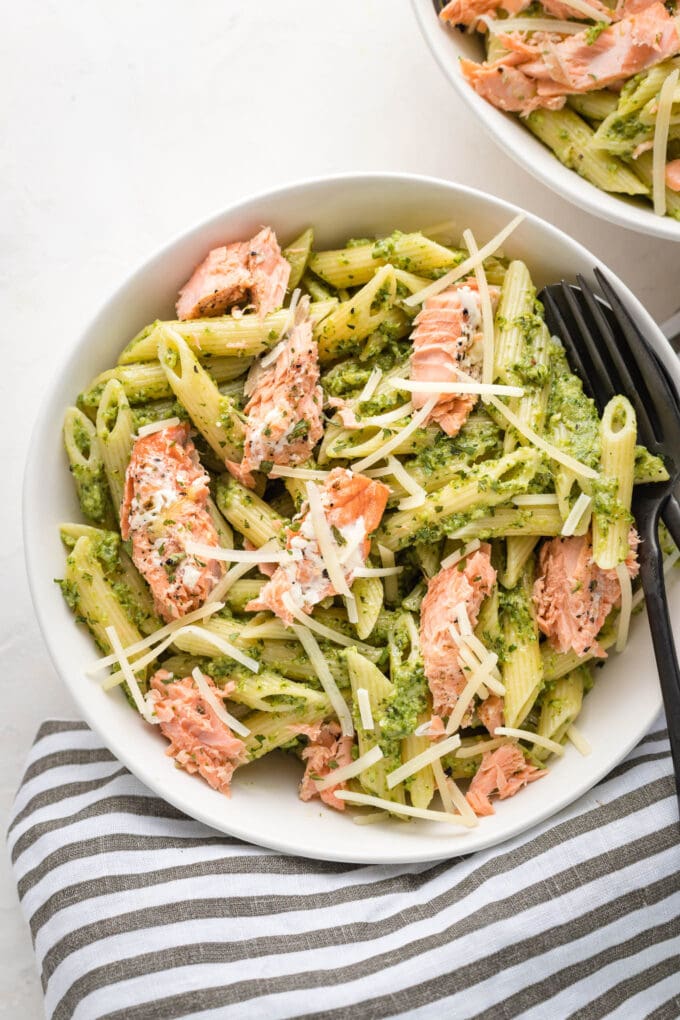 What complements pesto pasta?
This healthy salmon pesto pasta is a great one-bowl meal, especially when made with a pesto that already contains veggies. Perfect pairings include a simple arugula or spinach salad. You can also roast asparagus or broccolini right alongside the salmon for a healthy, no-fuss addition.
More Easy Pesto Pastas
If you enjoy these flavors, try these recipes for pesto rigatoni with toasted walnuts, gnocchi with pesto and charred cherry tomatoes, pesto pasta and peas, and the ultimate copycat Noodles & Company pesto cavatappi.
If you try this Salmon Pesto Pasta, don't forget to rate the recipe and leave a comment below. I love hearing how recipes turn out in your kitchen, and it helps other readers, too.
You can also FOLLOW me on PINTEREST, INSTAGRAM, FACEBOOK, and TWITTER for more great recipes and ideas!
Salmon Pesto Pasta
This salmon pesto pasta recipe comes together quickly into a comforting yet elegant and healthy one-bowl meal. Roasting the salmon delivers the best light flavor and texture, and using either homemade or jarred pesto makes this flexible and weeknight-friendly.
Ingredients
1 pound salmon filet
1-2 teaspoons olive oil
1 teaspoon lemon juice from 1/2 lemon
kosher salt and black pepper to taste
1 pound penne or any other pasta shape you enjoy
1 cup pesto jarred or homemade
1/2 cup grated Parmesan cheese
Instructions
Preheat oven to 400 degrees F and place the salmon filet on a foil-lined, rimmed baking sheet. Drizzle it with the olive oil and lemon juice, then sprinkle it lightly with kosher salt and black pepper. Roast salmon for 12-14 minutes. For a slightly crispy top, move the baking sheet to the top rack and turn the oven to broil for the last 1-2 minutes of cooking time, but watch it closely. Remove salmon when done and set aside.

While salmon cooks, bring a large pot of well-salted water to a boil. Cook pasta to al dente according to package directions. Reserve a bit of the pasta water in case you want it to loosen the sauce, then drain.

Return drained pasta to the pot and add pesto, Parmesan, and a pinch of black pepper. Stir well to combine. If you prefer a looser sauce, stir in reserved pasta water a splash at a time until it reaches your desired consistency. Taste and adjust seasoning as desired (you may want to add a pinch of salt or a squeeze of lemon juice, for example.)

Using a fork, break up the cooked salmon into bite-sized pieces. Either mix into the pasta in the pot, or serve the pasta and top with salmon separately. Enjoy!
Notes
Two of our favorite homemade versions are this classic basil pesto with lemon zest and this stealthy-healthy zucchini basil pesto with spinach. Both are excellent in this dish!
Love garlic? Add 1-2 cloves of finely minced garlic to the salmon seasoning for extra flavor.
As written, this recipe yields 6 generous servings. You can also reduce the amount of pasta to just 12 or even 8 ounces. In that case,  just eyeball and use a little bit less of the other ingredients.
Nutrition Estimate
Calories: 590 kcal, Carbohydrates: 60 g, Protein: 30 g, Fat: 24 g, Saturated Fat: 5 g, Cholesterol: 52 mg, Sodium: 552 mg, Potassium: 549 mg, Fiber: 3 g, Sugar: 3 g, Vitamin A: 936 IU, Vitamin C: 1 mg, Calcium: 184 mg, Iron: 2 mg
Did you make this recipe?
Leave a review below, then snap a quick picture and tag @nourishandfete on Instagram so I can see it!