Pesto Cavatappi Recipe (Noodles & Company Copycat)
With this classic recipe for Pesto Cavatappi, everyone's favorite Noodles & Company dish is unbelievably easy to make at home in just 25 minutes. Tested and perfected for busy nights and family meals!
When you're looking for quick home-cooked comfort, simple pasta dishes like tortellini with mushrooms, butter, and Parmesan, spaghetti with roasted tomatoes and garlic, and magic one-pot mac and cheese hit the spot.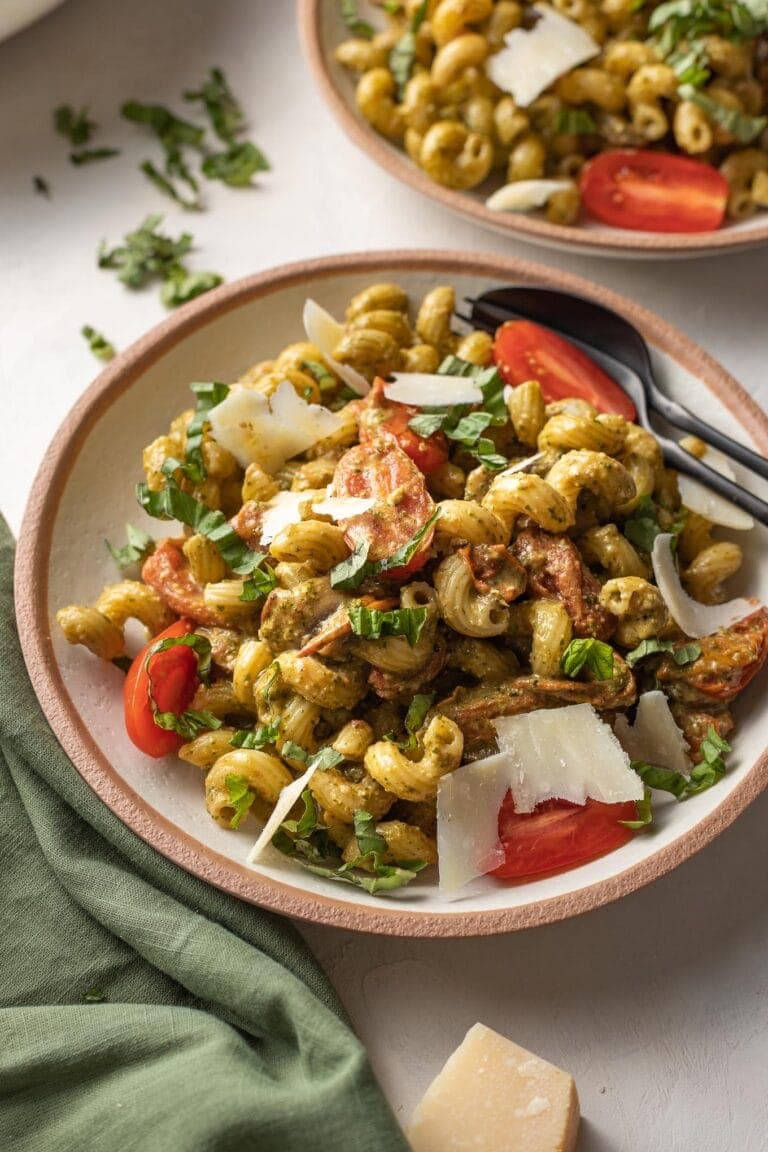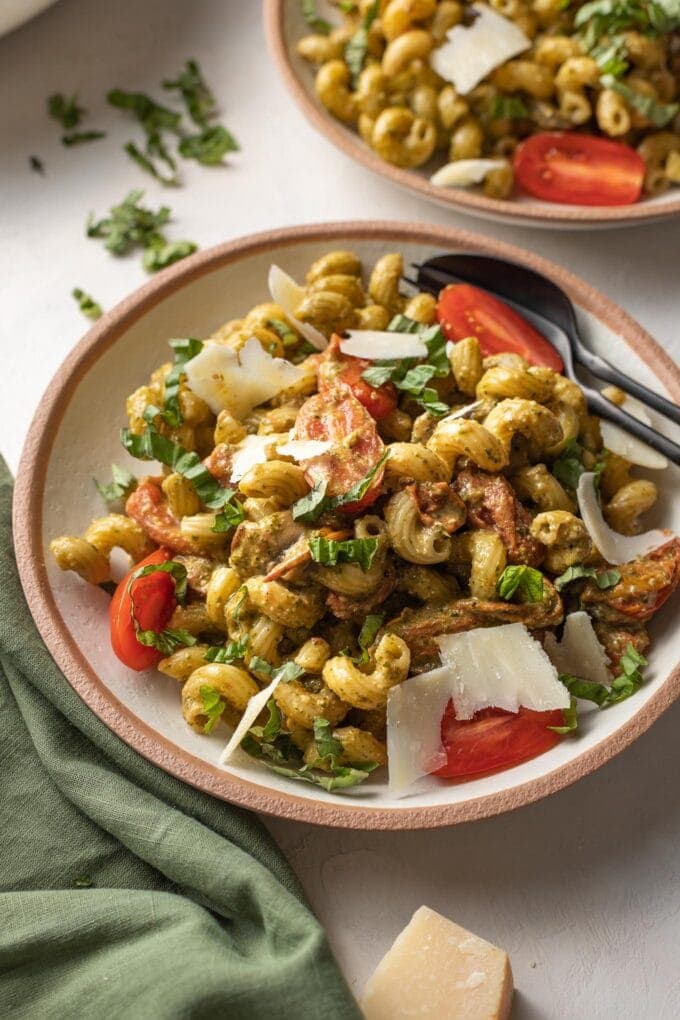 This is a remake of a post originally published in January 2018. You'll see new photos, simplified measurements in the recipe card, and more helpful information on cooking the dish, variations, and add-ons. Enjoy!
Pasta: the ultimate comfort food. Many of us know the fast-casual chain Noodles and Company, and one of its most popular dishes, pesto cavatappi. With nubby corkscrew noodles, vibrant pesto, a light cream sauce, garlic, and fresh tomatoes, it's no surprise that this dish is a home run.
But, like many restaurant favorites, sometimes you want to be able to whip it up at home!
Ingredients and shopping tips
Here's what you'll need to have. As always, you can see the full recipe below for detailed amounts and instructions.
Cavatappi – 1 pound, dried. You can also sub another ridged, curvy pasta shape, such as fusilli.
Basil pesto – about 1 cup, either homemade or store-bought.
Cherry or grape tomatoes – 1-2 cups.
Sliced mushrooms.
Garlic.
Chicken broth and white wine – if you prefer, you can omit the wine and use only broth. You can also sub vegetable broth, mushroom broth, or simply use a bit of the pasta water.
Heavy cream.
Parmesan cheese.
Kosher salt, black pepper, and olive oil.
What are cavatappi noodles?
Cavatappi are a form of short, tubular, spiral-shaped pasta, usually with ridges. The word is literally Italian for corkscrew, and that gives you the right idea! They go especially well with sauces that are thick and substantial, and are a home run in baked mac and cheese.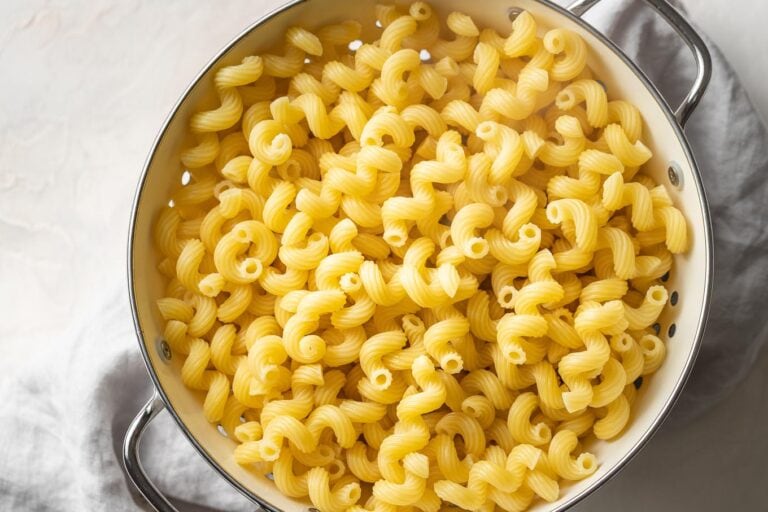 What kind of pesto to use?
While you can make this with any quality green pesto, our all-time favorite is this basil pesto with lemon zest. It's a snap to make and imparts truly amazing fresh flavor! You can make the pesto up to a week in advance and store in the fridge.
For a good store-bought pesto, look in the deli section of your local grocery, or pick up a jar in the aisle near dried pasta and sauces. DeLallo brand is always a good bet!
How to make Pesto Cavatappi at home
Once you make pesto cavatappi at home once, you won't believe how easy it is. The sauce comes together very quickly, so first boil a large pot of water, salt it generously, and get the pasta going.
Why salt the water? It gently seasons the pasta as it cooks, so your dish has more flavor overall without having to overload the sauce.
While the pasta bubbles away, start the sauce by cooking the sliced tomatoes and mushrooms in a drizzle of olive oil.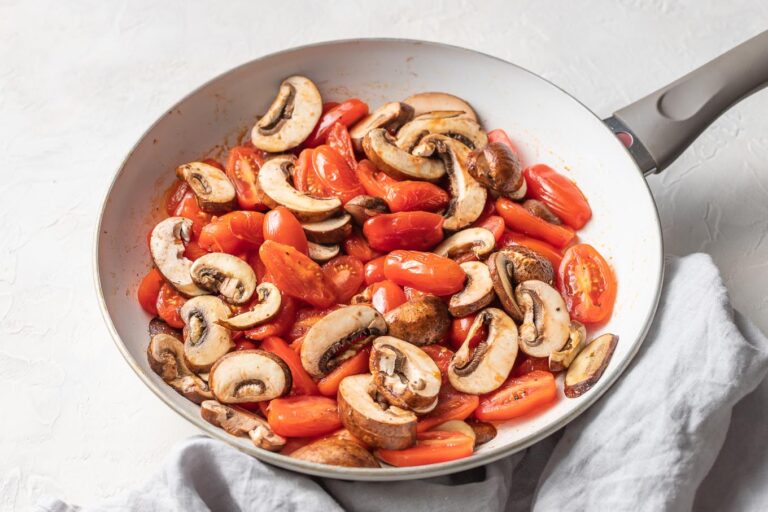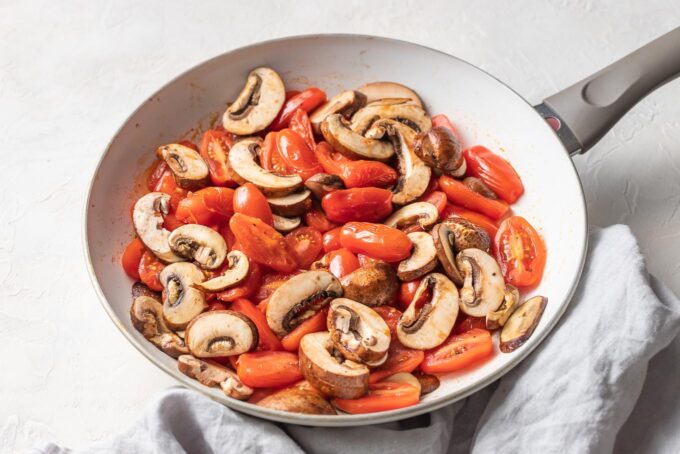 Note that the pan shown here is actually a bit small. Don't be like me – use a large skillet. You'll be glad later when you go to stir in all the glorious pasta.
Add minced garlic and cook until fragrant, then pour in the chicken broth and white wine, if using. Let it simmer for a few minutes, then pour in the cream.
Why not add the cream in earlier?
Good question, so glad you asked! When cooked over medium-high heat, cream can sometimes separate out from a sauce like this, which is not a good look. Adding the cream after the other liquid ingredients have had a chance to simmer and reduce minimizes the odds of the cream separating – and maximizes the odds of your dinner being a success!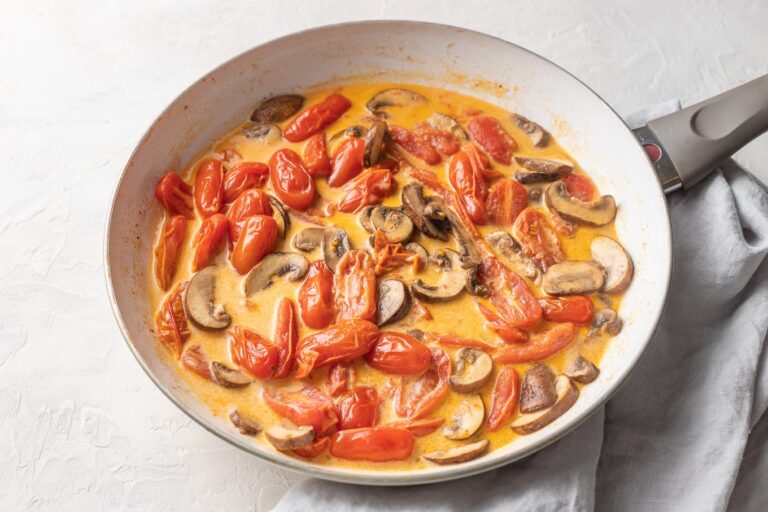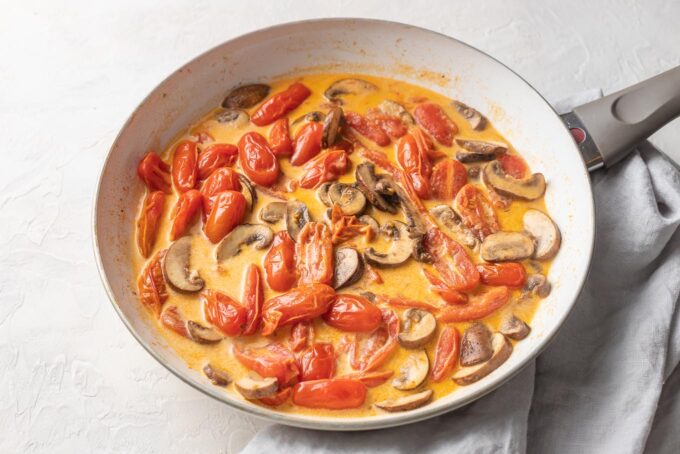 Once the cream is in and has just warmed through, stir in all that pesto goodness, along with some grated Parmesan.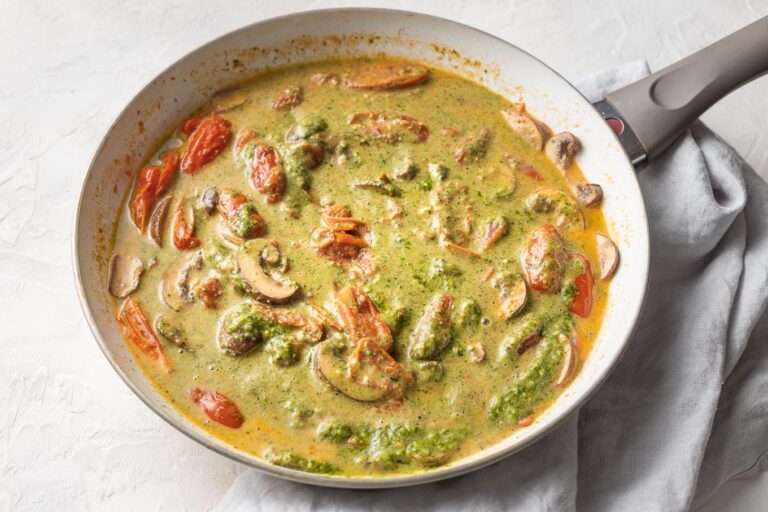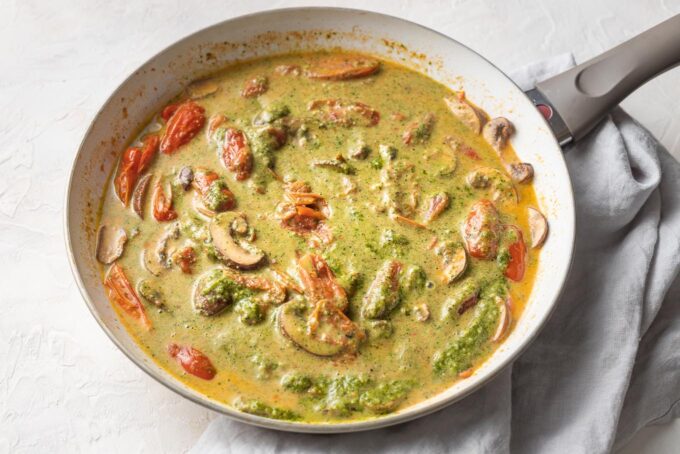 Stir well, add the drained pasta, and taste it! Add a little salt and pepper, to taste, and you, my friend, are done.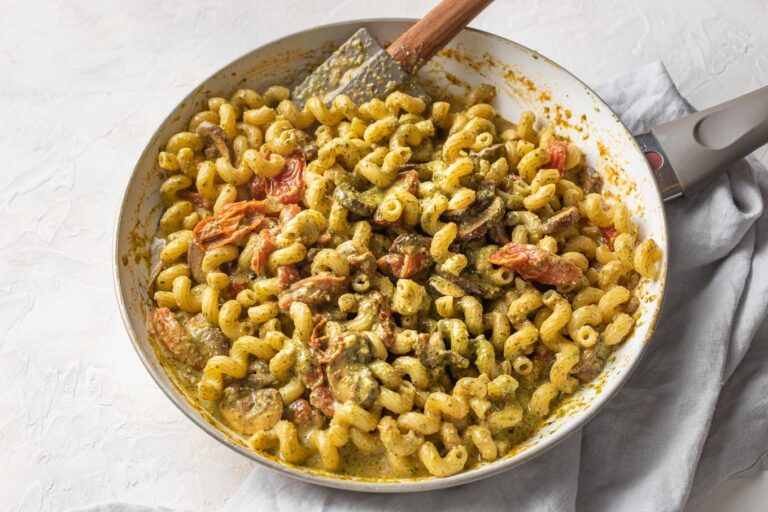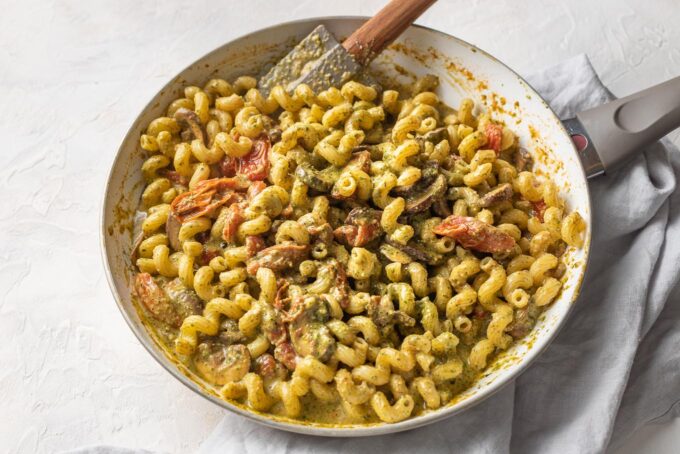 A helpful tip: if you prefer the sauce a bit looser, reserve 1/4-1/2 cup of the pasta water to stir in at the end. The starch left over in the water from cooking the pasta will keep the sauce rich while thinning out the overall consistency.
Can I add chicken or shrimp?
Absolutely! Both are delicious and add protein to make this a hearty meal.
If serving pesto cavatappi with chicken breasts or shrimp, it works well to season and sauté that first, using the same skillet you'll use for the sauce. Transfer the cooked protein to a plate, and proceed with the tomatoes and mushrooms. This ensures that nothing overcooks, while adding flavor. Just be sure to scrape the bottom of the pan after adding the broth and wine, to deglaze any browned bits stuck to the bottom.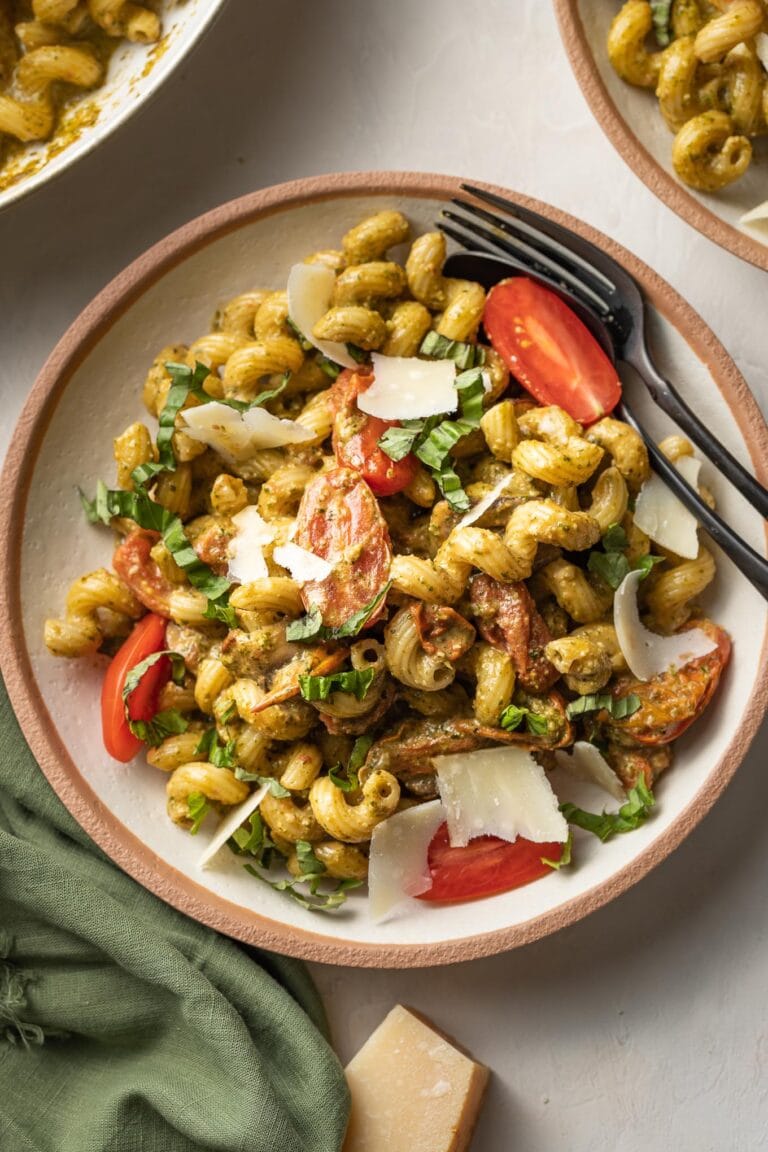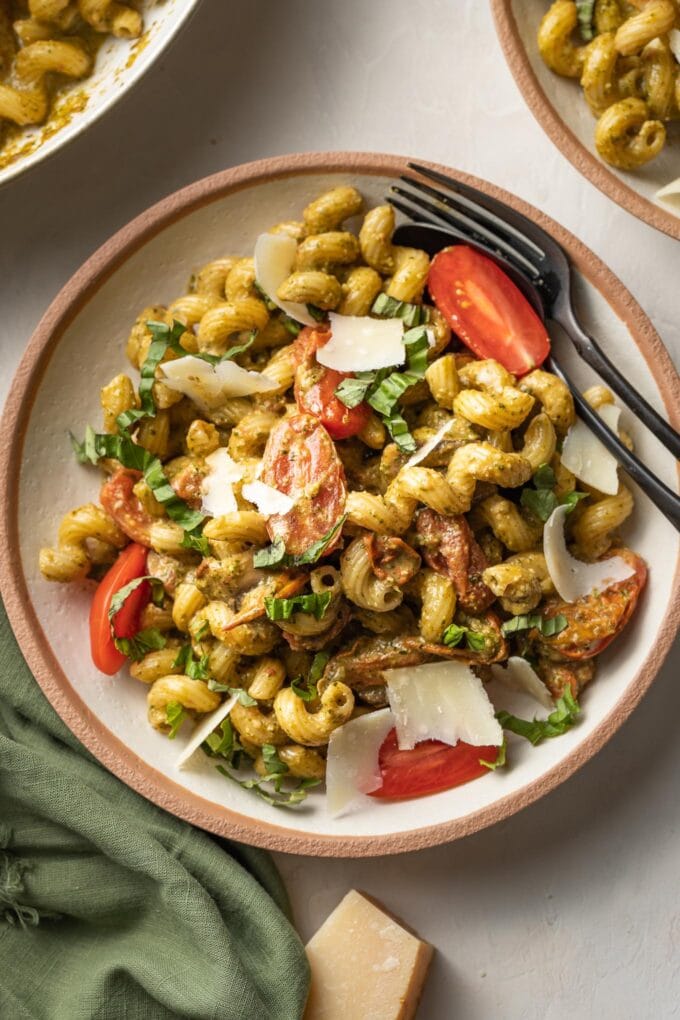 Variations
Use gluten-free pasta. Chickpea, brown rice, you name it.
Swap the pasta for zucchini noodles. Add these raw right into the prepared sauce – you want them to have a little bite! Love this paired with chicken for a low-carb meal.
Add sun-dried tomatoes, olives, or capers to supercharge the flavor.
Wilt some baby spinach or kale into the sauce for more greens.
Use zucchini basil pesto for a healthy swap, or sun-dried tomato pesto for a bigger change.
More Pesto recipes
If you try this copycat Pesto Cavatappi or any other recipe on Nourish and Fete, please rate the recipe and leave a comment below! We love hearing from you, and other readers will benefit from your experience!
Pesto Cavatappi (Noodles and Company Copycat)
With this recipe for Pesto Cavatappi, it's easy to recreate your restaurant favorite at home in 25 minutes. Tested and perfected for busy nights and family meals!
Ingredients
1 lb. cavatappi pasta or another hearty noodle
kosher salt
1 tablespoon olive oil
1-2 cups cherry tomatoes cut in half lengthwise, about 15 ounces
1 cup mushrooms sliced, about 8 ounces
2-3 cloves garlic minced
1/4 cup chicken or vegetable broth
1/4 cup dry white wine or sub additional broth
1/4 cup heavy cream
1 cup basil pesto homemade or store-bought
6-8 cranks freshly-ground black pepper plus more to taste
1/2 cup grated Parmesan cheese
Instructions
Bring a large pot of water to a boil. Add a generous pinch of salt, followed by the pasta. Cook just until al dente, according to package directions, then drain the pasta and set aside.

While the pasta cooks, make the sauce. Warm olive oil in a large skillet over medium-high heat. When the oil is hot and shimmering, add the sliced tomatoes and mushrooms. Cook for 2-3 minutes, until the tomatoes are softened and the mushrooms begin to release liquid. Add garlic and cook for 1 minute more, just until fragrant.

Pour in the broth and wine and simmer for another 2-3 minutes, until slightly reduced. Stir in the cream and simmer for 1 minute more. Reduce heat to low and stir in the pesto and Parmesan. Taste and add more salt and pepper, to taste.

Stir in the pasta and toss to mix well. Serve with additional cheese, fresh basil, or other herbs as desired.
Notes
If serving this with chicken or shrimp, it works well to cook the seasoned protein first, using the same skillet you plan to use for the sauce. Once you transfer the cooked protein to a plate, proceed as directed with step 2. Extra flavor will remain in the pan, tying everything together and adding to the dish. Just be sure to scrape the bottom of the pan after adding the broth and wine in step 3, to deglaze any browned bits stuck to the bottom.
Nutrition Estimate
Serving: 1cup, Calories: 413kcal, Carbohydrates: 47g, Protein: 12g, Fat: 19g, Saturated Fat: 5g, Cholesterol: 18mg, Sodium: 422mg, Potassium: 240mg, Fiber: 3g, Sugar: 3g, Vitamin A: 879IU, Vitamin C: 5mg, Calcium: 141mg, Iron: 1mg
Did you make this recipe?
Leave a review below, then snap a quick picture and tag @nourishandfete on Instagram so I can see it!
This post contains affiliate links. As an Amazon Associate, I earn a commission (at no additional cost to you) from qualifying purchases made by clicking these links. As always, all recommendations and opinions are my own.