Roasted Tomato Pasta
Roasted tomato pasta is absolutely delicious and takes just 6 ingredients and about 20 minutes. Al dente pasta is tossed with sweet blistered cherry tomatoes, slivered garlic, and a luscious-yet-light sauce everyone can love.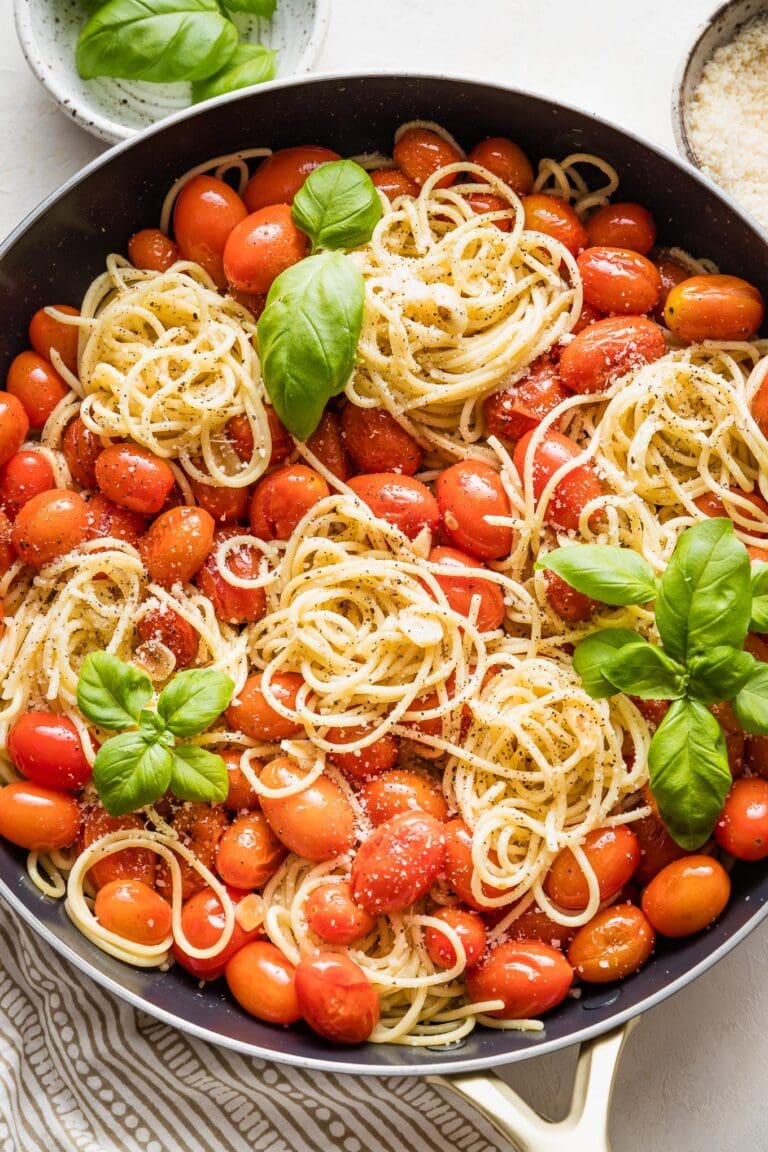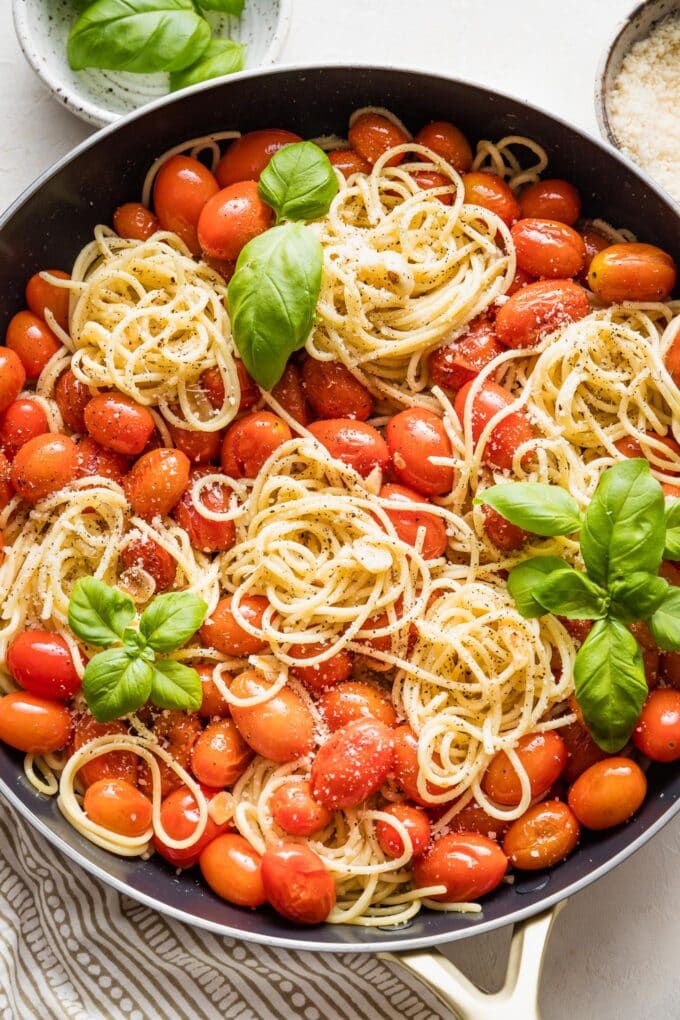 Quick, Easy, Elevated
I am super excited to share this dish with you! It's a lightning fast weeknight meal that delivers major flavor from simple ingredients: spaghetti, cherry tomatoes, and garlic. The secret to pull this together is an easy emulsified sauce.
Normally, we learn that oil and water don't mix, right? Unless you throw caution to the wind and rapidly boil them together for several minutes, in which case magic happens. The resulting light sauce delivers the flavor of olive oil in a way that doesn't merely coat, but clings to the pasta.
In addition to infusing the spaghetti with rich flavor, the sauce enhances the roasted tomatoes and garlic without drowning them, so this dish is a wonderful way to enjoy pasta without feeling heavy or weighed down in the slightest.
This recipe has been in my back pocket for years, ever since I dog-eared a particularly delicious-looking page in Cooking Light, a long-time favorite magazine that has since gone defunct and been born again. Over time, I've adjusted ratios and realized a few efficiencies. The resulting dish deserves frequent appearances on the dinner table: mine and yours. It's something the whole family will enjoy, so it's great for an easy weeknight meal, but it also feels elegant and elevated enough to appear at a summer dinner party.
Ingredients & Common Substitutions
Here is a visual overview of the ingredients you'll need for this recipe. Scroll down to the printable recipe card at the bottom of this post for quantities!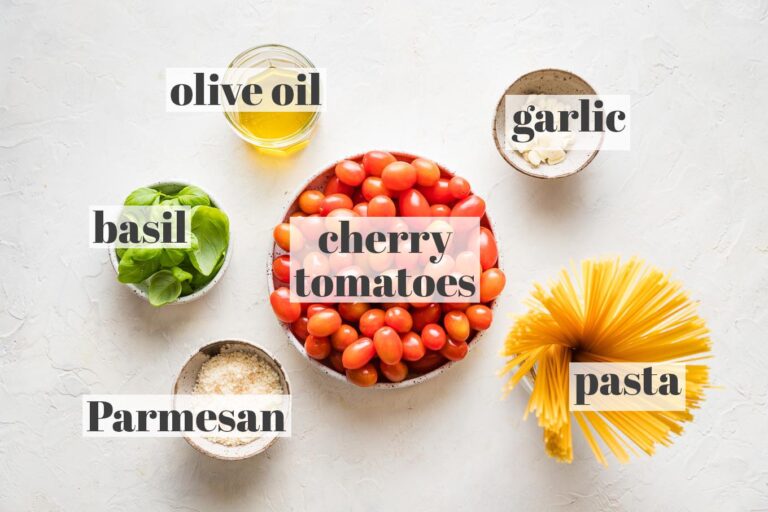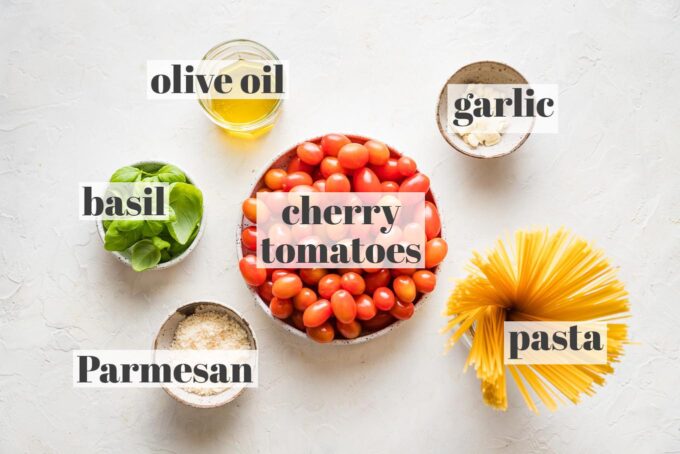 You'll also need a rimmed sheet pan or oven-safe skillet, a big pot for cooking the pasta, and some tongs for tossing everything together. Nothing more special than that!
Can I use large tomatoes?
Yes! For a fun swap or just to take advantage of garden produce, make this recipe with plum tomatoes, Roma, or heirloom varieties. Quarter them and roast them the same way, allowing an extra 10 minutes or so for them to blister and tenderize. Toss with the pasta and sauce just as directed.
How To Make Roasted Tomato Pasta
This is a meal that feels totally gourmet but is so easy to make, it feels like a little secret. You'll follow a few basic steps, and be ready to eat in 20 minutes.
Roast the tomatoes, garlic, and a drizzle of olive oil in an oven at 450 degrees F. If you're worried about heating up the kitchen, take heart – you'll only need the oven for about 10 minutes, and there's also an option to do this on the stovetop.
Cook the pasta. Boil a large pot of water, add a generous pinch of salt, and cook the pasta just to al dente while the tomatoes get roasted and wrinkly and gorgeous in the oven. Be sure to reserve some of the pasta water before draining: it's the starchy basis of the magical sauce you'll make next!
Make the sauce. Boil reserved pasta water and more olive oil together. For this recipe, oil and water do mix! The resulting emulsification is the stuff dreams are made of.
Toss it all together. Combine cooked pasta, tomatoes, garlic, salt, pepper, fresh basil leaves, and Parmesan to taste. Toss it all together, grab a fork, and dig in!
Kitchen Tip: Don't want to turn on the oven? You can also quickly "roast" the tomatoes on the stovetop! Use a cast-iron pan or your favorite skillet, and cook them in olive oil over medium-high heat until they are tender. Important: if cooking the tomatoes on the stovetop, add the garlic during the last 30-60 seconds of cooking time, so it does not burn!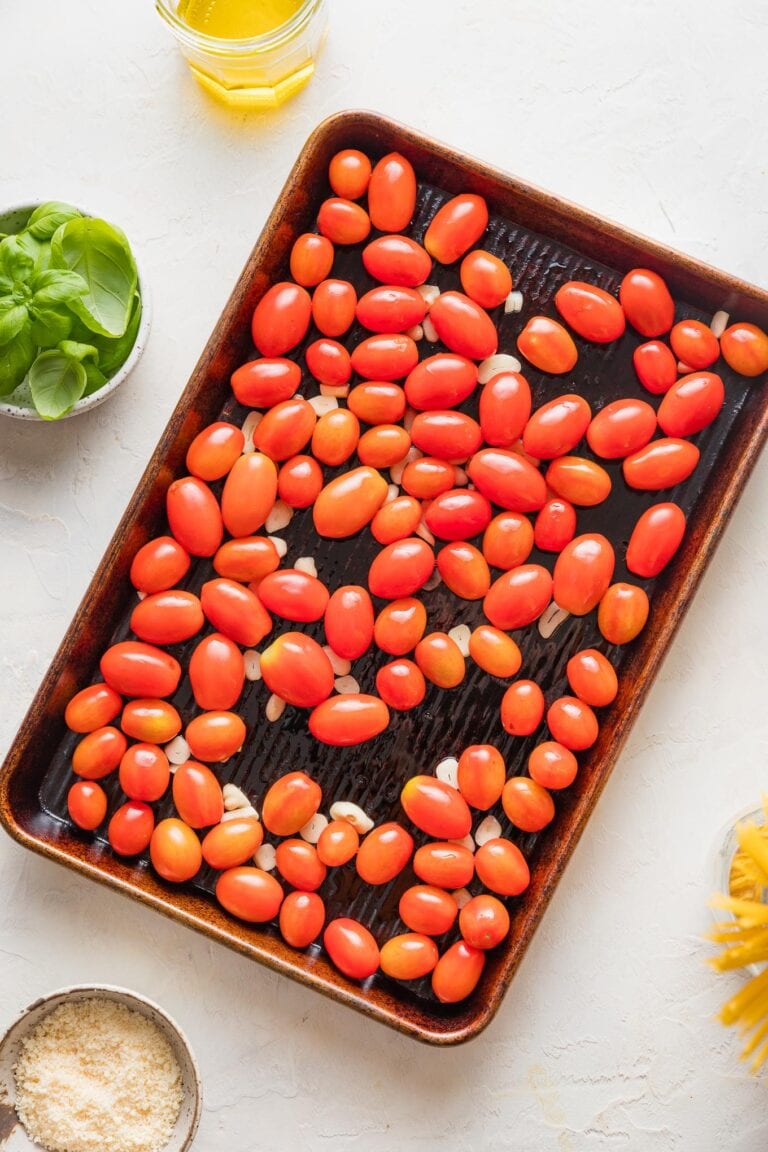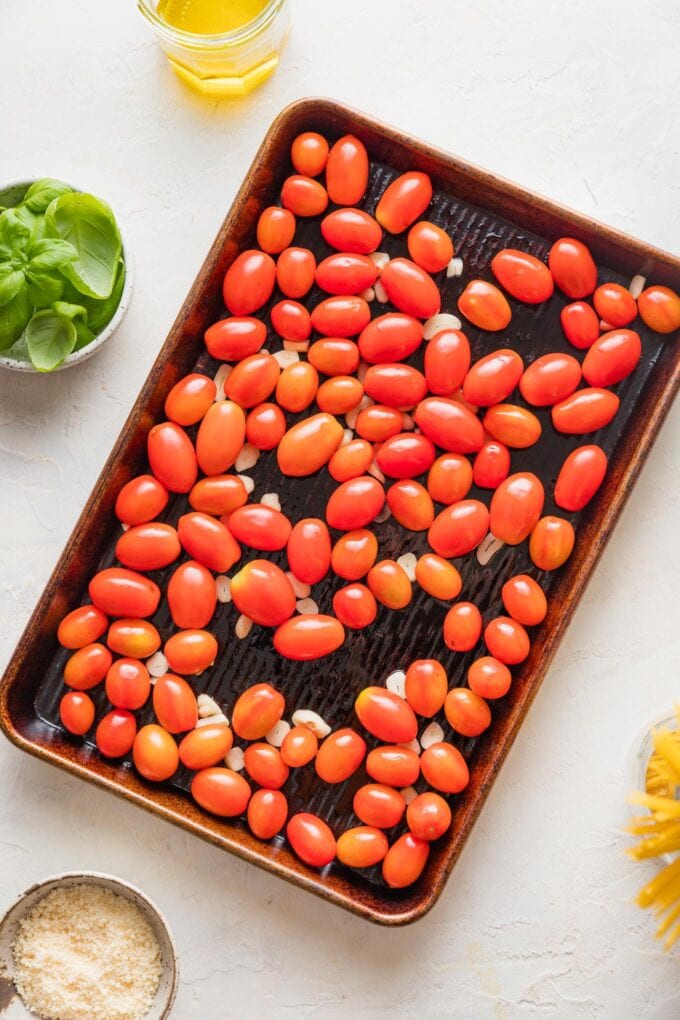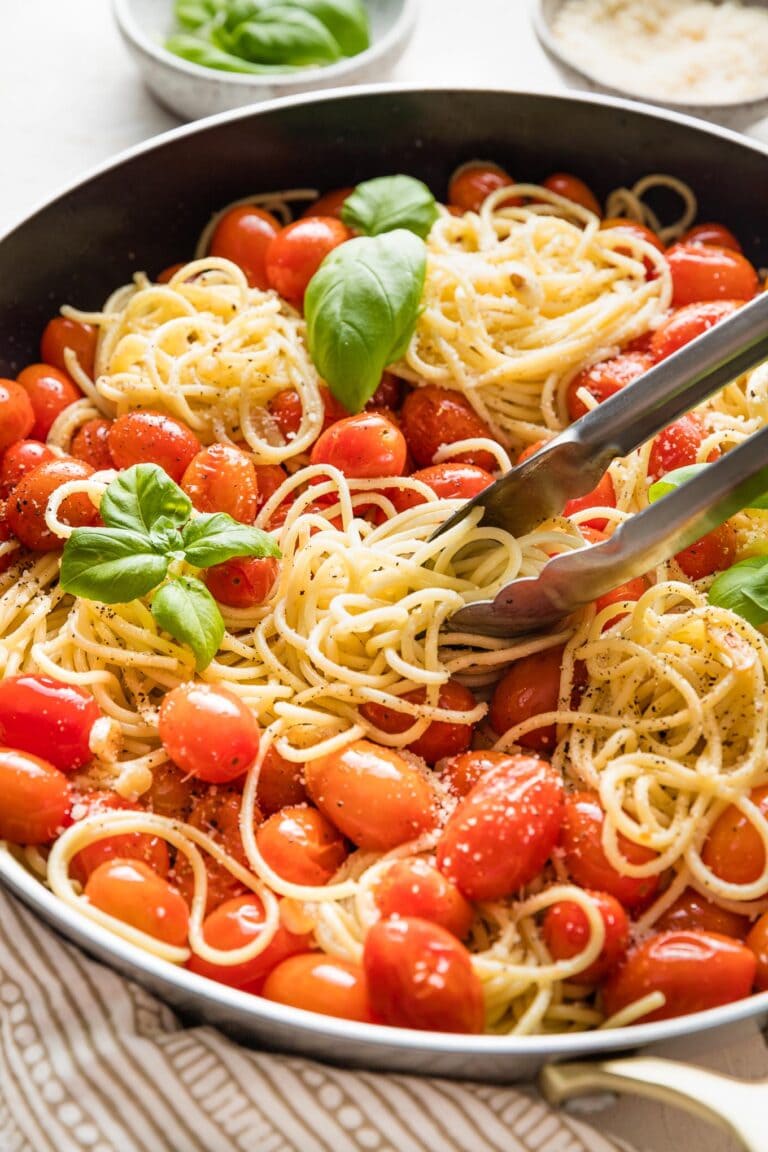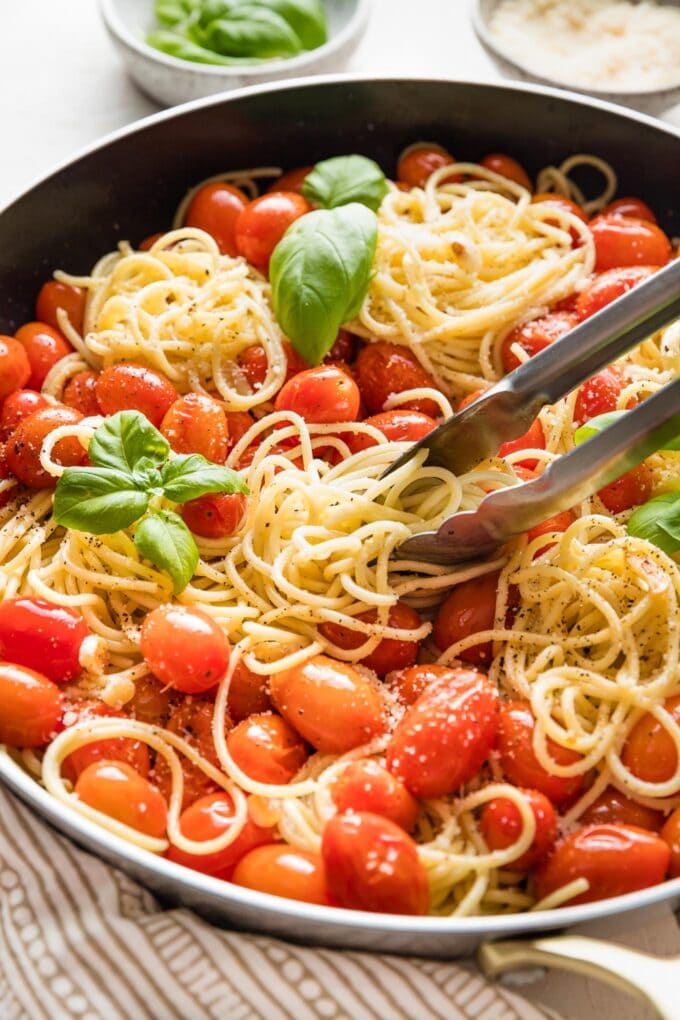 Serving Suggestions
This is such a classic and crowd-pleasing dish; there's no need to get fussy with the sides. I love to serve this with a simple side salad or veggie and call it a day. Here are some ideas:
Variations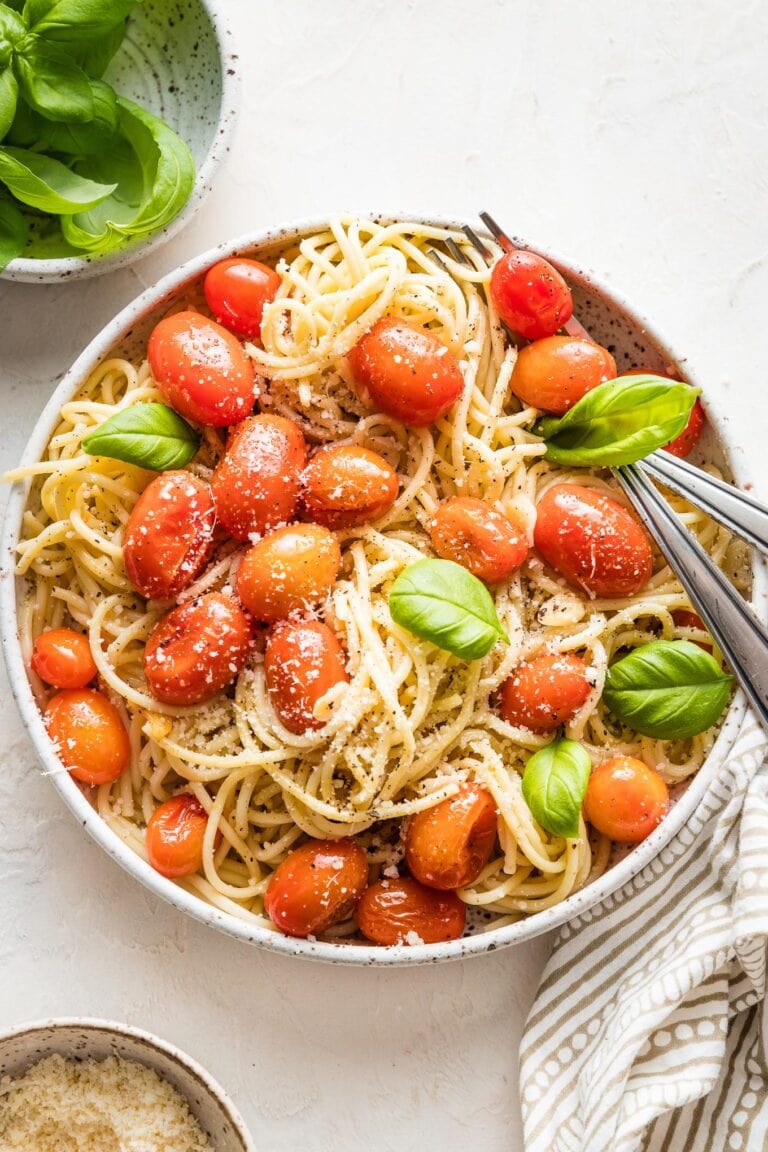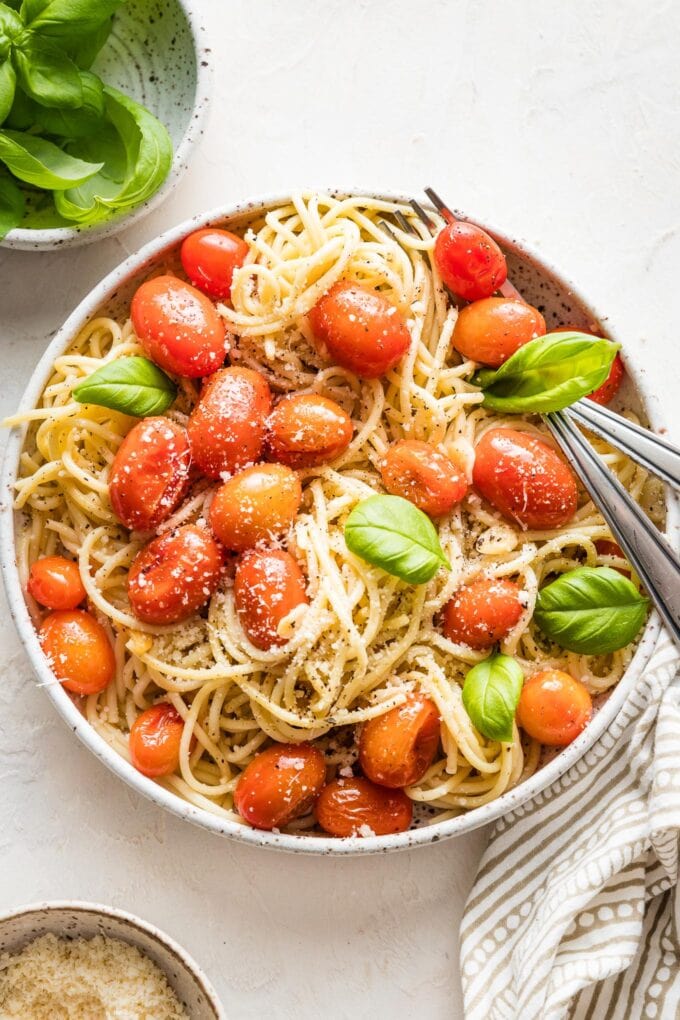 Storage & Reheating
This easy pasta dish is especially great to reheat and enjoy for lunch the next day. The tomatoes remain juicy and flavorful, and there's no concern about drying out any meat. Plus, a sprinkle of Parmesan and a sliver of fresh basil brings the whole thing straight back to life.
More Quick Pasta Recipes
You're in the right place, because quick and easy pasta recipes are one of my specialties! Lemon chicken pasta, creamy Cavatappi, salmon pesto pasta, lemon broccoli pasta, lemon pasta with capers, and creamy tomato tortellini are some of our family favorites that your crowd is likely to adore, too.
Can't get enough roasted tomatoes? Try them with pan-fried gnocchi next.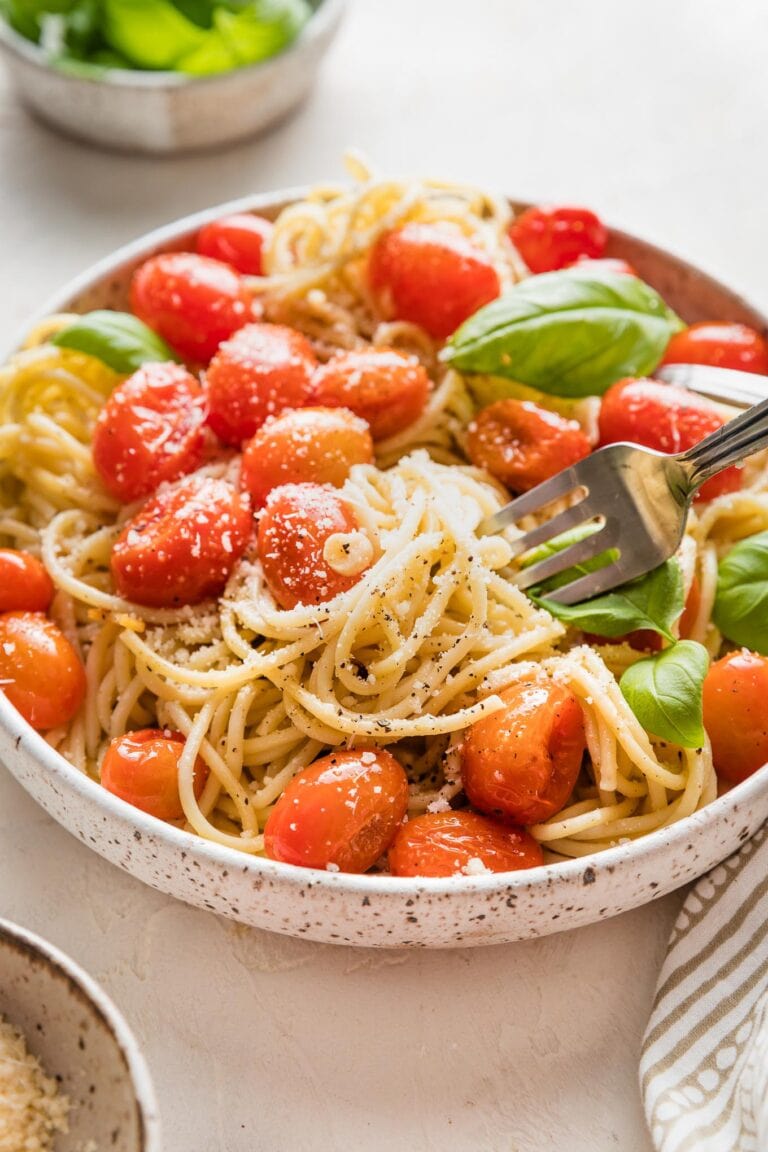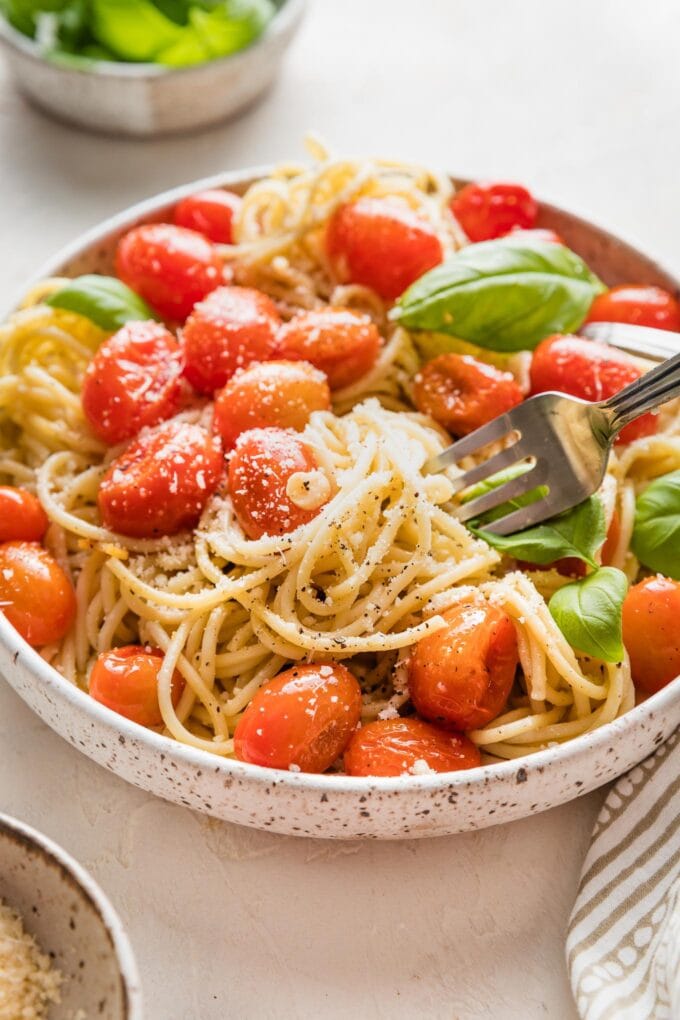 If you try making this Pasta with Roasted Cherry Tomatoes or any other recipe on the blog, please rate it and leave a comment below. I love hearing from you, and other readers will benefit from your experience!
You can also FOLLOW me on PINTEREST, INSTAGRAM, FACEBOOK, and TWITTER for more great recipes and ideas!
Roasted Tomato Pasta
This easy recipe for roasted tomato and garlic spaghetti can be on your table in 20 minutes with cherry tomatoes and a luscious, deceptively-simple sauce!
Ingredients
3 cups cherry tomatoes about 2 pints or 30 ounces
6 cloves garlic thinly sliced
1/4 cup plus 2 tablespoons olive oil divided
10 ounces pasta
kosher salt and black pepper to taste
fresh basil for serving
Parmesan cheese for serving
Instructions
Preheat oven to 450 degrees F. On a rimmed baking sheet or oven-safe skillet, toss together tomatoes, sliced garlic, and 2 tablespoons olive oil. Roast for 10 minutes, until the tomatoes are wrinkled and just beginning to burst. Remove from oven and set aside.

While the tomatoes roast, boil a large pot of water. Add a generous pinch of salt followed by the pasta. Cook to al dente, according to package instructions. When pasta is done, scoop out 3/4 cup of the cooking water and set it aside. Drain remaining water and set pasta aside.

In either a small saucepan or the now-empty pasta pot, combine the 3/4 cup reserved pasta water and 1/4 cup olive oil. Bring the mixture to a rapid boil over medium-high heat. Let it bubble for 4 minutes; this emulsifies the sauce, making it smooth and light.

After the sauce bubbles for 4 minutes, reduce heat and combine it with the drained pasta. Toss to coat, then add the roasted tomatoes and garlic, slivered basil, salt, and pepper to taste. Toss once more, and serve with Parmesan and more basil, as desired. Enjoy!
Notes
Don't want to turn on the oven? You can also quickly "roast" the tomatoes on the stovetop! Use a cast-iron pan or your favorite skillet, and cook them in olive oil over medium-high heat until they are tender. Important: if cooking the tomatoes on the stovetop, add the garlic during the last 30-60 seconds of cooking time, so it does not burn!
Don't worry! The sauce will bubble aggressively while it's being emulsified, but don't be alarmed – this is how it achieves such a light but flavorful effect.
Recipe source: I originally published this recipe here in February 2017, and have updated it several times, most recently in March 2023 with new photos and clearer, more efficient instructions. I have been adapting the original recipe from the August 2012 issue of the former magazine Cooking Light.
Nutrition Estimate
Calories: 409 kcal, Carbohydrates: 59 g, Protein: 11 g, Fat: 15 g, Saturated Fat: 2 g, Sodium: 18 mg, Potassium: 420 mg, Fiber: 3 g, Sugar: 5 g, Vitamin A: 545 IU, Vitamin C: 26.9 mg, Calcium: 35 mg, Iron: 1.8 mg
Did you make this recipe?
Leave a review below, then snap a quick picture and tag @nourishandfete on Instagram so I can see it!