15-Minute Garlic Butter Shrimp
Everyone loves these Garlic Butter Shrimp with fresh lemon juice and a hint of red pepper. And they're ready in just 15 minutes!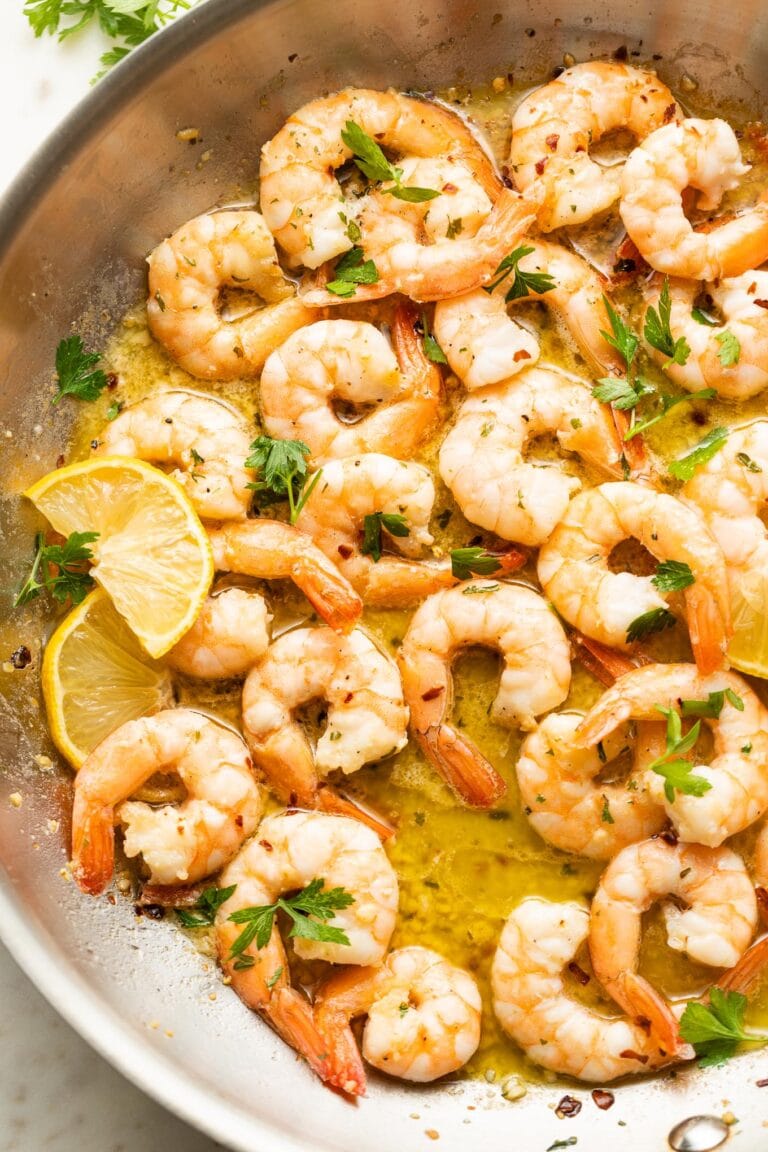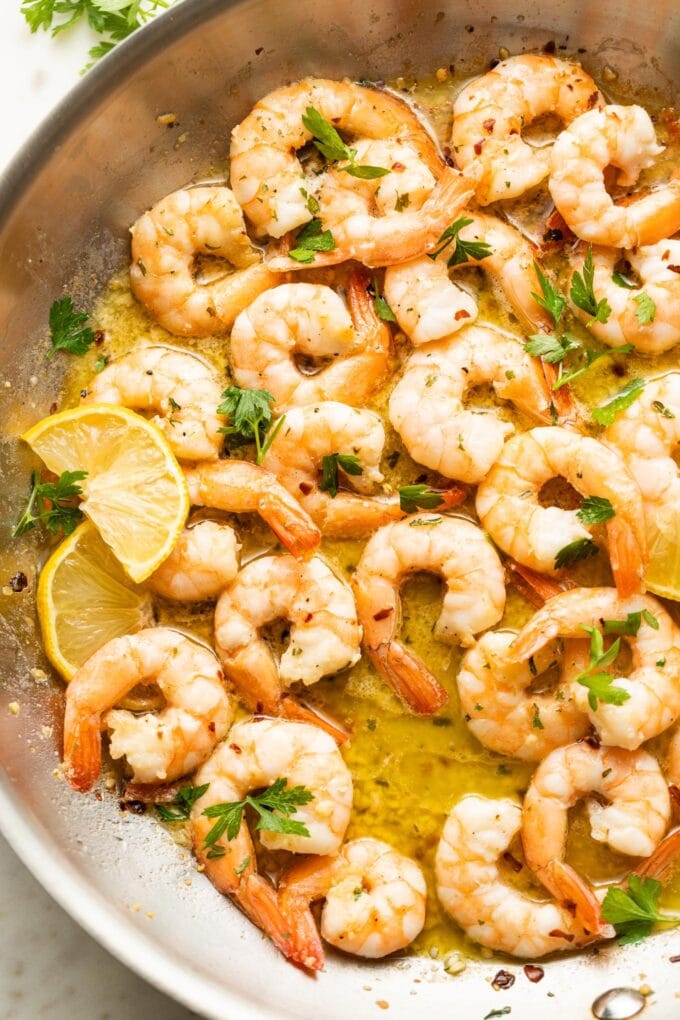 There are some recipes that I wonder, at times, whether they are just too simple to even be "recipes" in the true sense of the word. This garlic butter shrimp is a perfect example. It's a classic mix of ingredients brought together with simple, tried-and-true techniques.
Apart from all the delicious flavors happening here, which is reason enough to love these shrimp, they are incredibly easy and fast to make. You can literally have them prepped, cooked, and on the table in 15 minutes, start to finish.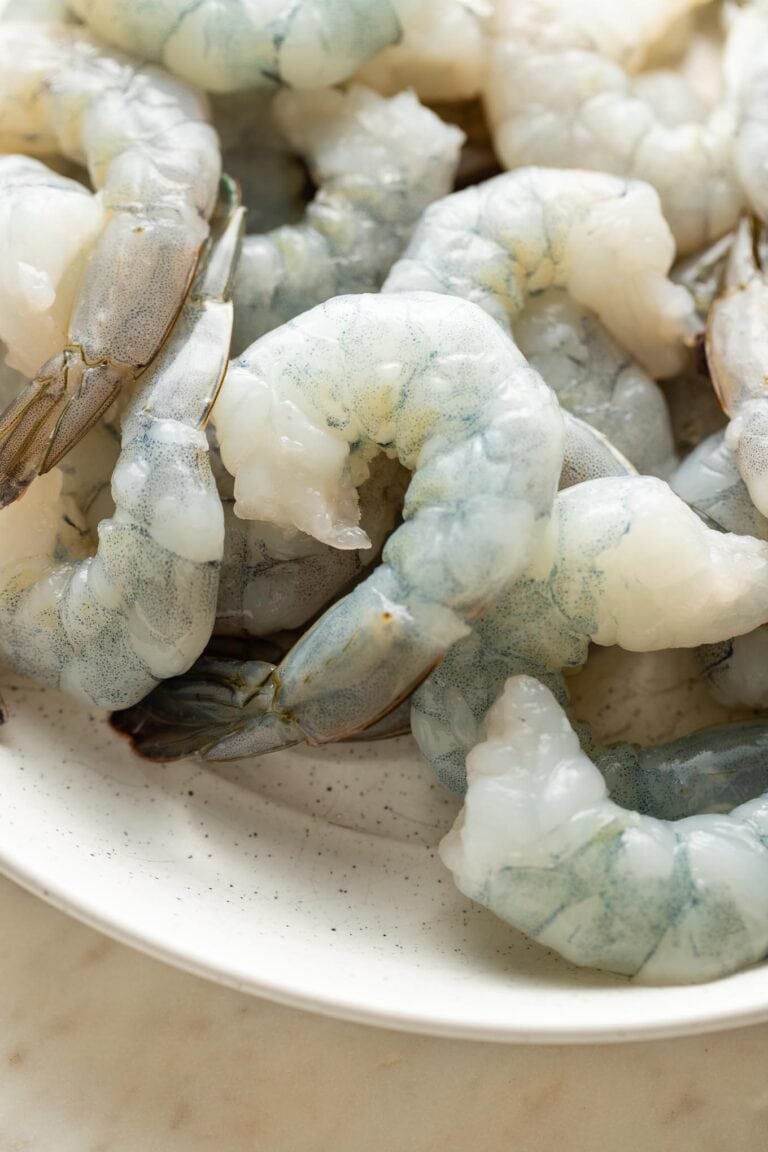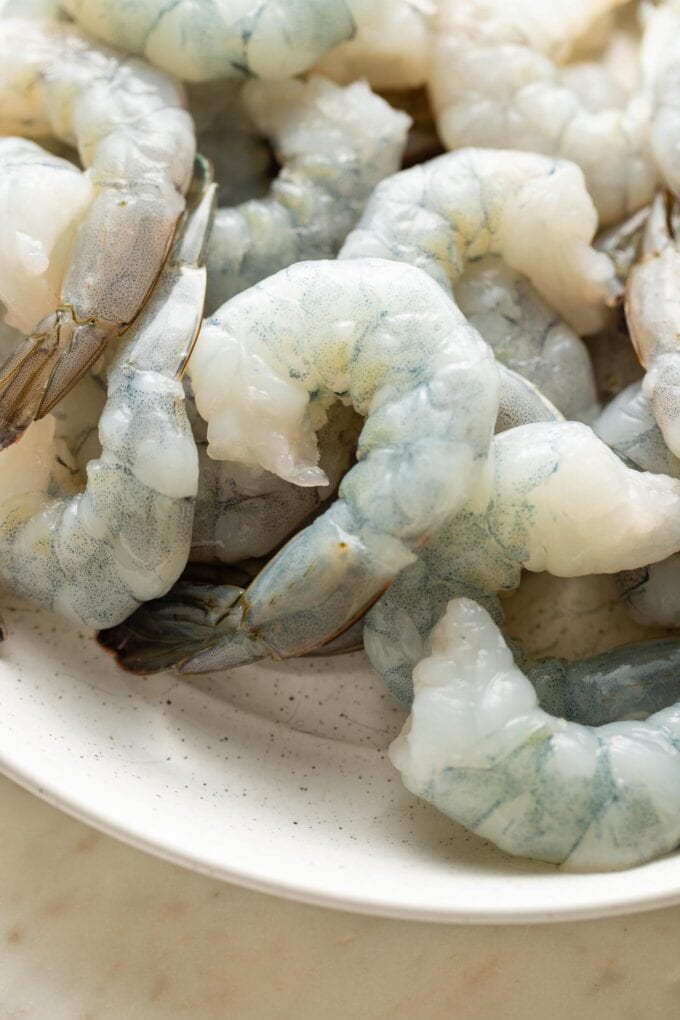 What you'll need
The ingredients for these shrimp are incredibly simple, which is another reason they make a great last-minute dinner. If you cook at home regularly, you likely have most if not all these things on hand already.
Do you need white wine?
Many recipes for garlic butter shrimp call for white wine and/or stock, but you really don't need it.
A small splash of white wine can be a nice addition if you happen to have a bottle open, but it's by no means necessary, and you'll have plenty of delicious, buttery, garlicky sauce without adding any stock. In fact, I've tried this with both chicken and seafood stock, and I believe it simply dilutes the flavor without adding much.
How to make garlic butter shrimp
Sauté garlic in a smidge of olive oil.
Add shrimp and cook on one side.
Flip shrimp and add remaining ingredients to the pan.
Cook just until shrimp are opaque.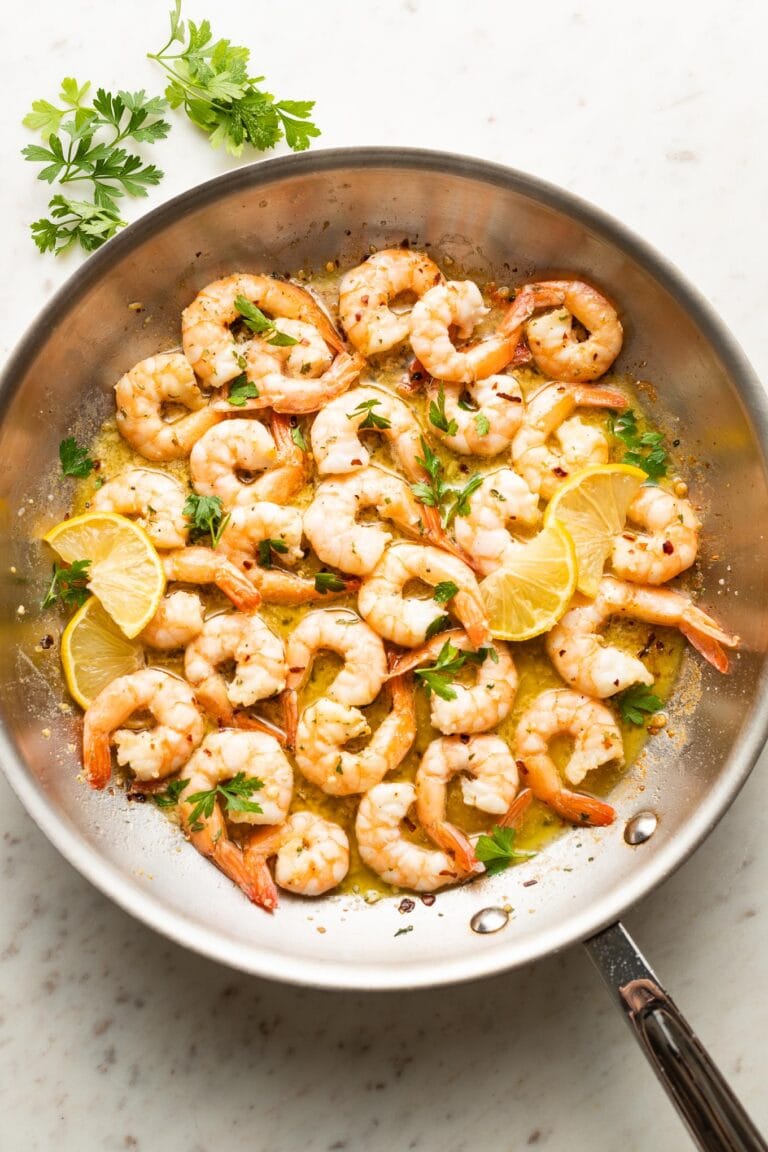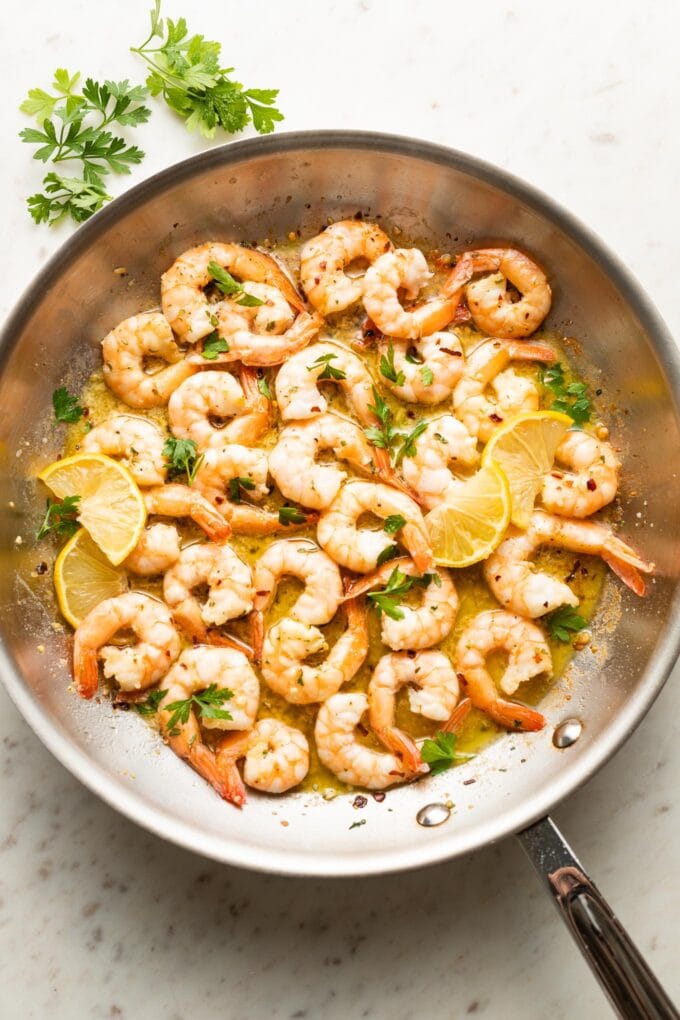 Tips and tricks
What to serve with garlic butter shrimp
My personal favorite is to serve garlic butter shrimp with rice! But there are tons of great options, depending on your own preferences and dietary needs. Here are a few:
Whatever you choose, the lemony garlic butter sauce will be the perfect touch for a light drizzle on top. And some crusty bread to sop up a little more sauce never hurts!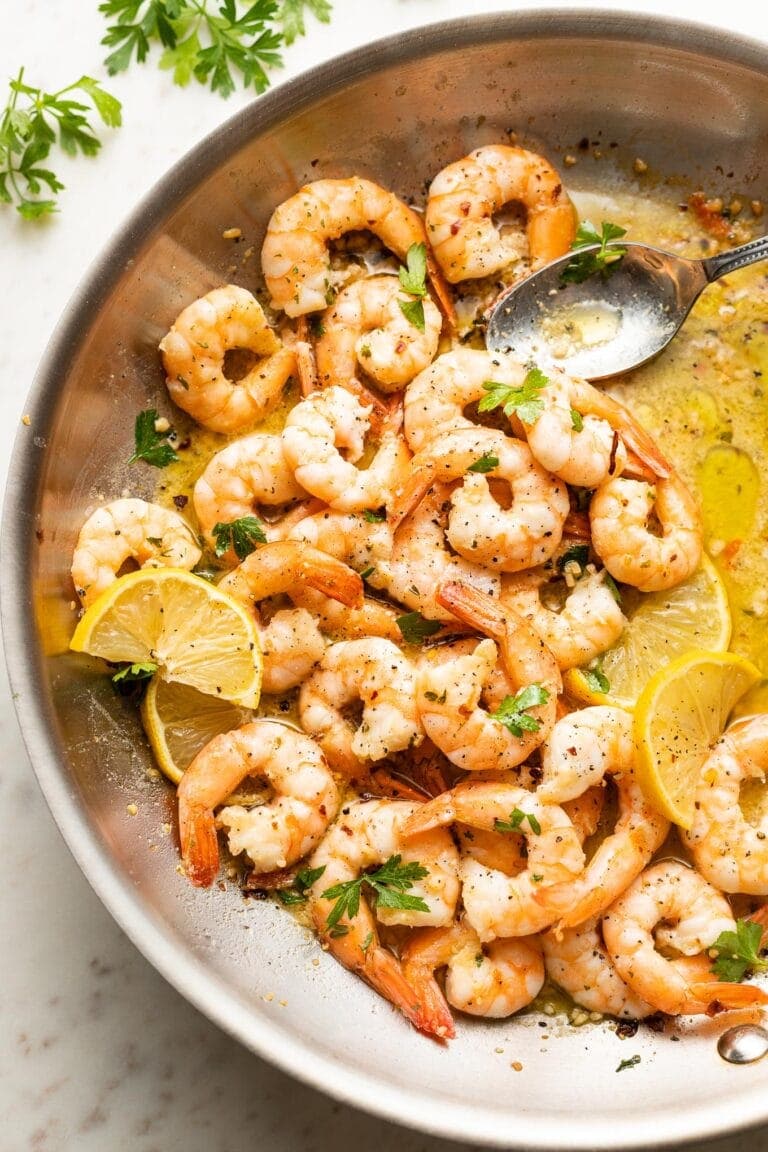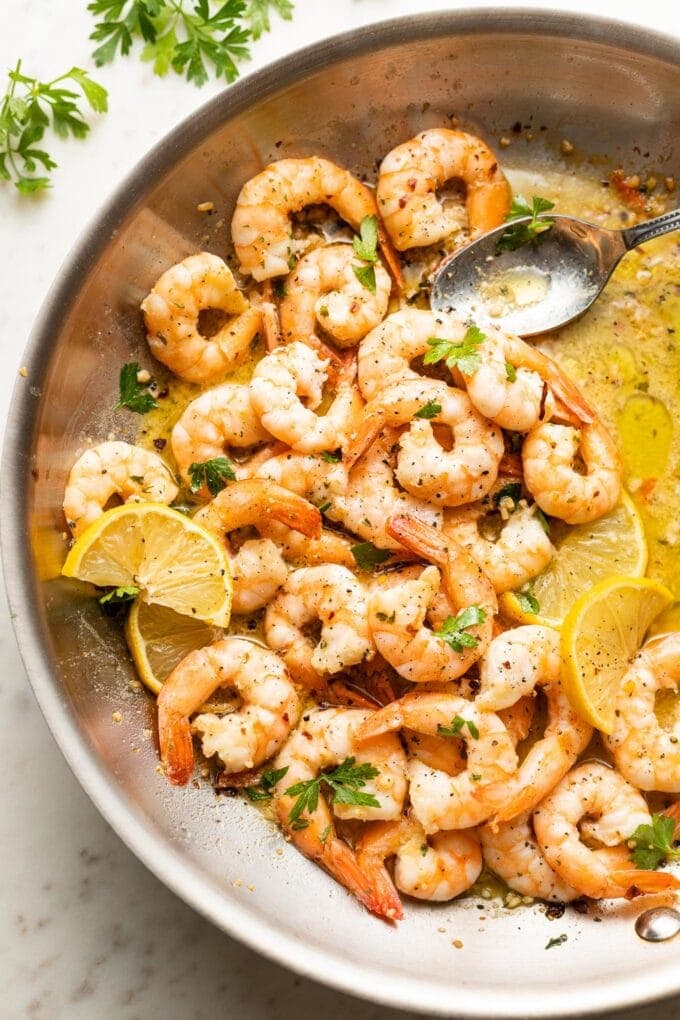 More quick and easy shrimp recipes
If you try these Garlic Butter Shrimp, don't forget to rate the recipe and leave a comment below. I love hearing how recipes turn out in your kitchen, and it helps other readers, too.
You can also FOLLOW me on PINTEREST, INSTAGRAM, FACEBOOK, and TWITTER for more great recipes and ideas!
15-Minute Garlic Butter Shrimp
Everyone LOVES these delicious garlic butter shrimp with fresh lemon juice and a hint of red pepper. So quick and easy!
Ingredients
1 tablespoon olive oil
6-8 garlic cloves minced
1/2 teaspoon red pepper flakes
1 pound shrimp peeled and deveined
1/2 teaspoon kosher salt
8-10 cranks freshly-ground black pepper
5 tablespoons unsalted butter cut into small cubes
3 tablespoons fresh lemon juice from 1 large lemon
2 tablespoons chopped flat-leaf parsley
Instructions
Warm oil in a large skillet over medium-high heat. Add garlic and red pepper flakes, and cook for 30-60 seconds, just until fragrant.

Add shrimp to the pan, season with salt and black pepper, and cook for 60-90 seconds, just until they turn pink on the bottom. Using kitchen tongs or a large spoon, flip shrimp to cook on the other side.

Add butter cubes, lemon juice, and 1 tablespoon parsley. Cook 2-3 minutes more, until the butter is melted and the shrimp is opaque and cooked through. Remove pan from the heat.

Serve shrimp and spoonfuls of the garlic butter sauce right away with rice, pasta, or veggies, as desired.
Notes
To save time, purchase shrimp that are pre-peeled and deveined. I like to cook them with the tails on — some say this adds flavor, but I just think it yields a prettier finished result. 
It's easy to defrost frozen shrimp quickly. Place frozen shrimp in a colander and run them under cold water for 5-7 minutes. They'll soften right up! Gently shake off the extra water, and they're ready to cook. 
Nutritional estimate is based on 4 servings and does not include added pasta, veggies, bread, etc. 
Nutrition Estimate
Calories: 277 kcal, Carbohydrates: 1 g, Protein: 23 g, Fat: 19 g, Saturated Fat: 9 g, Cholesterol: 323 mg, Sodium: 1178 mg, Potassium: 108 mg, Vitamin A: 510 IU, Vitamin C: 6 mg, Calcium: 177 mg, Iron: 2.5 mg
Did you make this recipe?
Leave a review below, then snap a quick picture and tag @nourishandfete on Instagram so I can see it!
This post was originally published on January 15, 2019, and has been updated with new photos and more helpful recipe tips.