Peanut Butter Blossoms
Make delicious and classic Peanut Butter Blossoms with this easy-to-follow family recipe! Tender, buttery, peanut butter chocolate cookie perfection!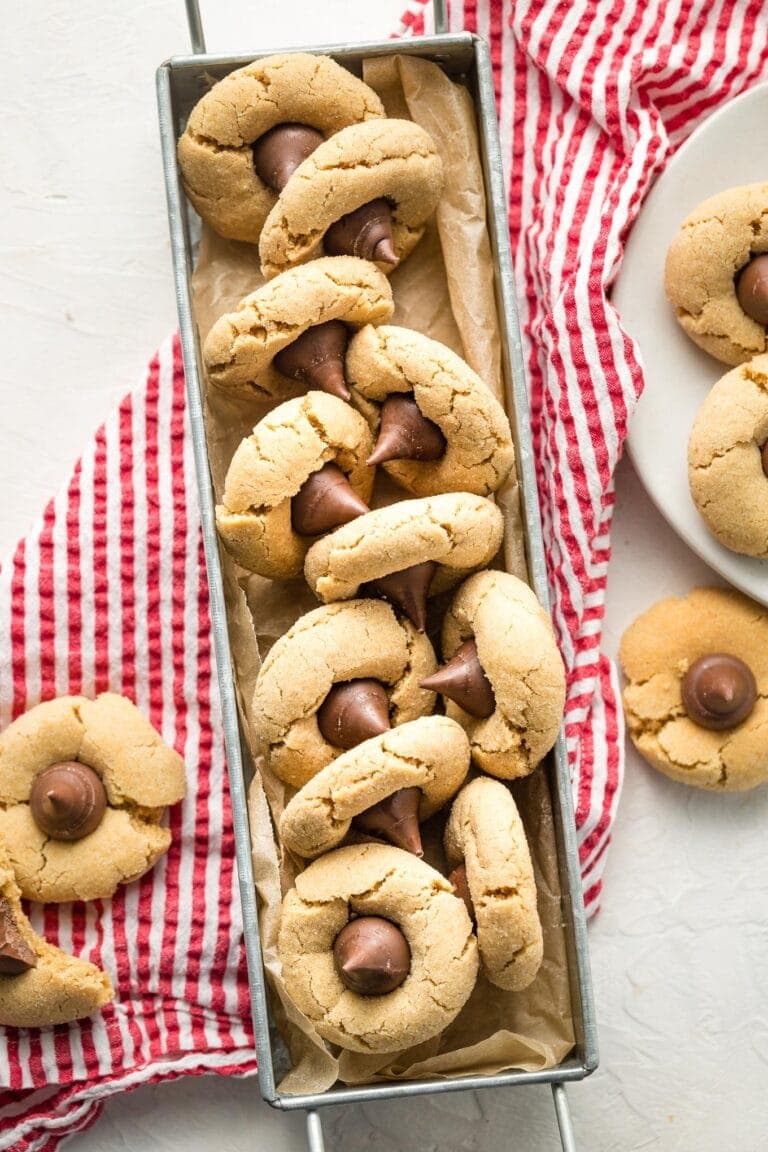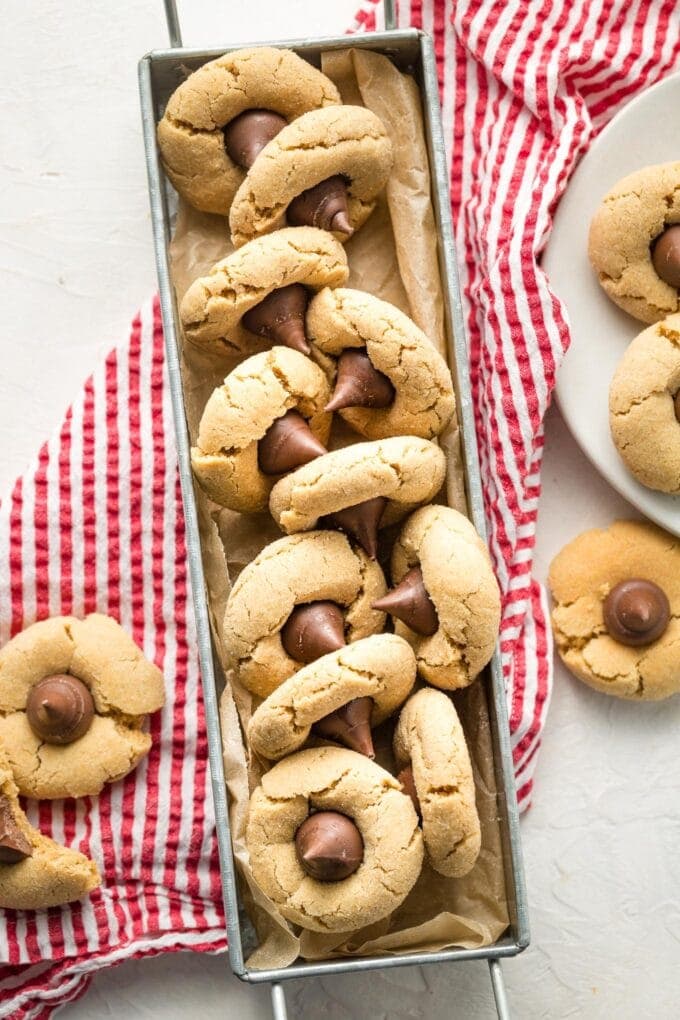 It's hard to beat a peanut butter blossom for a beloved classic Christmas cookie! Whenever I ask people which holiday treats they remember fondly or look forward to making year after year, these are one of the most consistent favorites.
It's not hard to see why: a tender, buttery peanut butter cookie, dusted with an extra coat of white sugar, and wrapped around a chocolate Hershey's kiss. There's just so much to enjoy!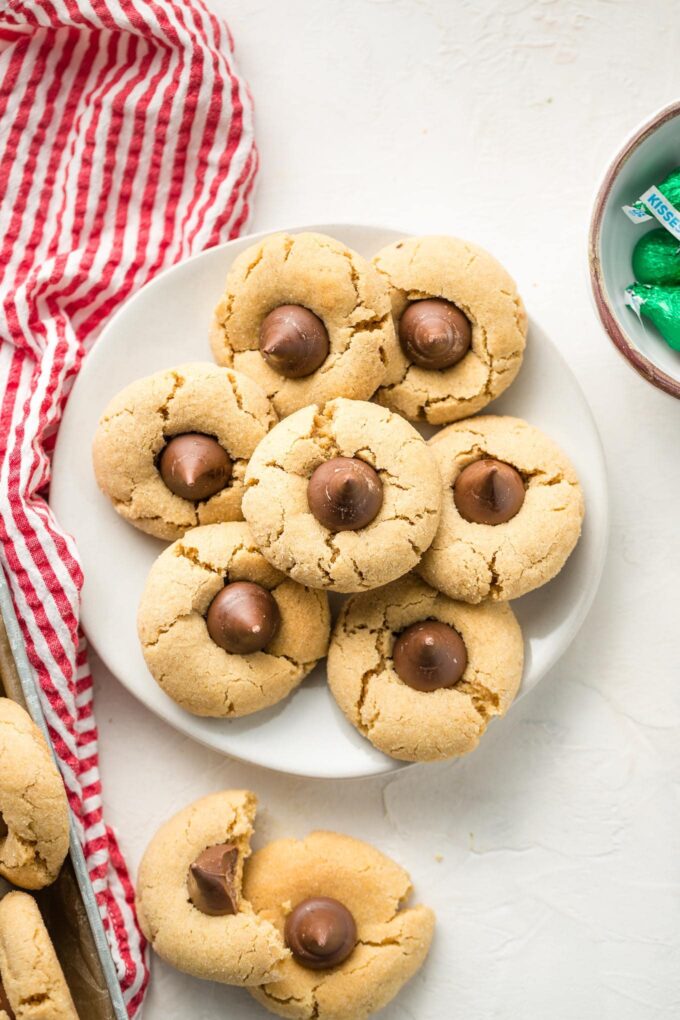 How To Make Peanut Butter Blossoms
Fortunately, these cookies are also very easy to make, even in large quantities. That's another reason they are perfect for the holidays!
Mix up the cookie dough. A stand mixer is helpful but definitely not necessary.
Scoop out portions of dough, roll them into smooth balls, and roll each in sugar.
Bake just until the tops are lightly golden and slightly cracked, as you can see in the photo below.
Press a Hershey's kiss into the centers.
Tips and Tricks
Use real butter. You can substitute shortening for all or part of the butter, but there's just no way to beat the flavor of an all-butter peanut butter cookie.
Refrigerate the dough just a bit. The only down side to using all butter is that it can cause the cookies to spread out a bit. Chilling the dough for just 20-30 minutes before rolling and baking the cookies ensures they stay the perfect texture.
Use a dough scoop. A cookie dough scoop is well worth adding to your kitchen. It makes portioning out even cookies so quick and easy, and works great for cupcakes, muffins, and meatballs, as well. I had several that broke before settling on this scoop, which is going strong after four years and works great.
Keep the chocolates slightly cool. You want the unwrapped chocolate kisses to be cool enough that they don't turn into puddles when pressed into the cookies, but not so cold that they don't melt at all and therefore aren't well attached at the base. I recommend unwrapping and storing the kisses in a cool spot on your counter while the cookies bake, or popping them into the fridge for just 5 minutes before pressing.
Follow these tips and you'll get perfect peanut butter blossoms for your family and to share, each and every time!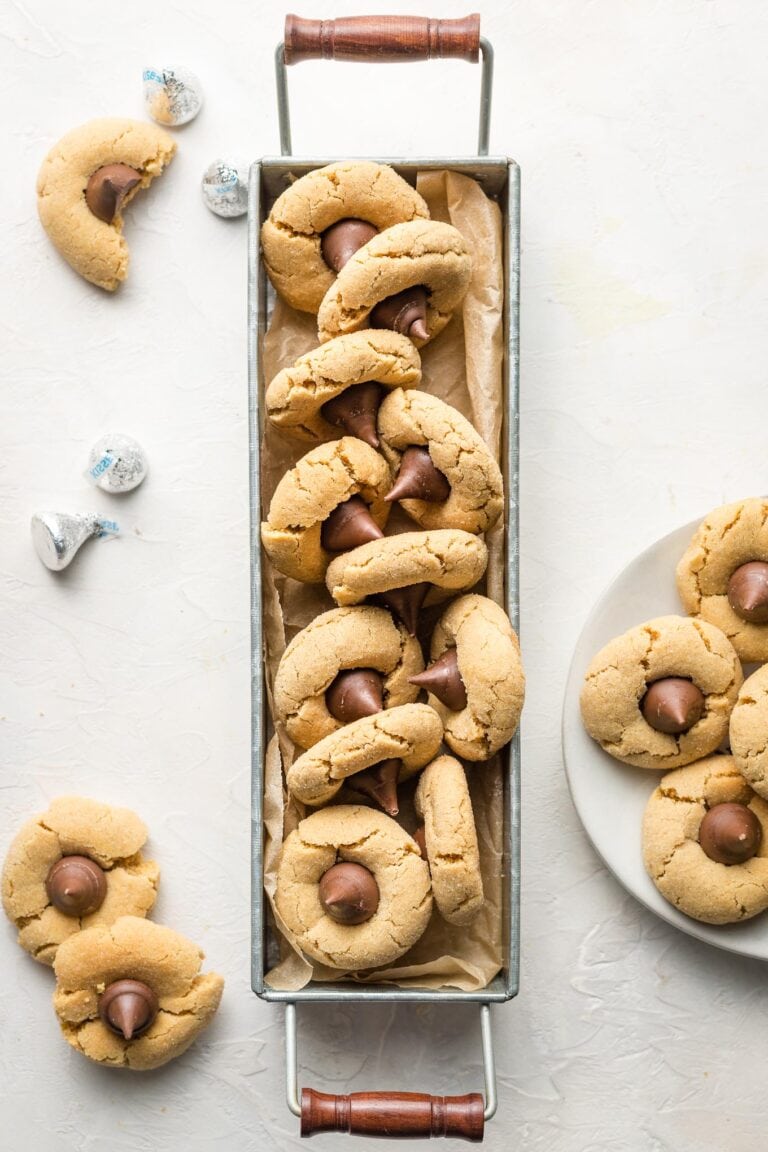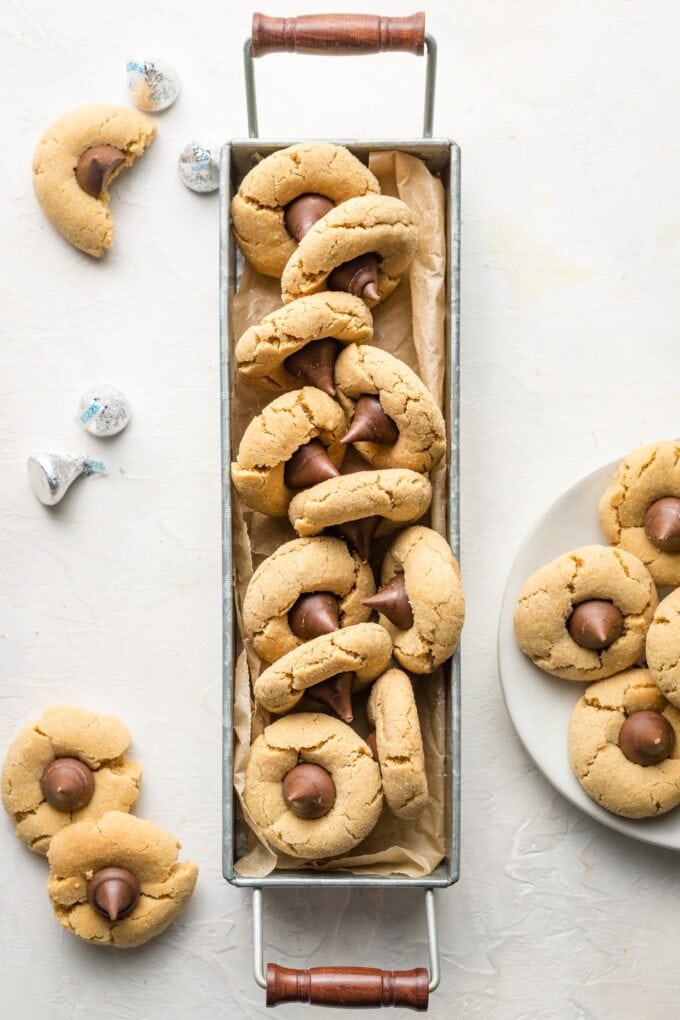 More Traditional Christmas Cookies
You can also FOLLOW me on PINTEREST, INSTAGRAM, FACEBOOK, and TWITTER for more great recipes and ideas!
Peanut Butter Blossoms
Ingredients
1/2 cup light brown sugar tightly packed
1/2 cup white granulated sugar
1/2 cup (1 stick) unsalted butter at room temperature
1/2 cup creamy peanut butter see note
1 large egg
1 teaspoon vanilla extract
1 and 3/4 cups all-purpose flour
1 teaspoon baking soda
1/2 teaspoon table salt
1/3 cup white granulated sugar for rolling
about 24 chocolate kisses
Instructions
Using an electric mixer, combine brown sugar, 1/2 cup granulated sugar, butter, and peanut butter. Beat on medium-high for 1-2 minutes, until the mixture is light and fluffy. Add egg and vanilla and beat again until mixture is smooth.

Sprinkle flour, baking soda, and salt on top of the mixture. Mix on low speed just until combined, scraping the sides and bottom of the bowl once. Stop mixing as soon as the streaks of flour disappear.

Chill dough in the refrigerate for 20-30 minutes.

When ready to bake, preheat oven to 375 degrees F. Line baking sheets with parchment or silicone baking mats, unwrap chocolate kisses, and place remaining 1/3 cup granulated sugar in a small bowl.

Using spoons or a cookie scoop, portion dough into balls of about 1.5 tablespoons each. Roll each gently between your hands to make smooth balls, then roll each in the granulated sugar to coat on all sides. Place on the baking sheets and bake for 8-10 minutes, just until the tops are lightly golden and the tops are crackled.

Remove cookies from the oven, then press a chocolate kiss gently into the center of each cookie. Cool for about 10 minutes on the baking sheets, then transfer to wire racks to cool completely.
Notes
Peanut Butter: Like most cookie recipes, this works best with standard creamy peanut butter – Jif or Skippy, for instance. Avoid using a natural peanut butter if you can – it results in a more crumbly, dry cookie.
Storage: Cookies keep well in an airtight container at room temperature for 3-4 days.
Recipe: Adapted from Hershey's.
Nutrition Estimate
Calories: 146 kcal, Carbohydrates: 19 g, Protein: 3 g, Fat: 7 g, Saturated Fat: 3 g, Cholesterol: 17 mg, Sodium: 123 mg, Potassium: 53 mg, Fiber: 1 g, Sugar: 12 g, Vitamin A: 128 IU, Calcium: 10 mg, Iron: 1 mg
Did you make this recipe?
Leave a review below, then snap a quick picture and tag @nourishandfete on Instagram so I can see it!