Chewy Ginger Molasses Cookies
Soft, tender, old-fashioned ginger molasses cookies with shortening have crackly, sparkling tops and perfectly-spiced flavor. They will make your house smell amazing and take just 30 minutes, start to finish. These are a holiday favorite, but my family requests them year-round!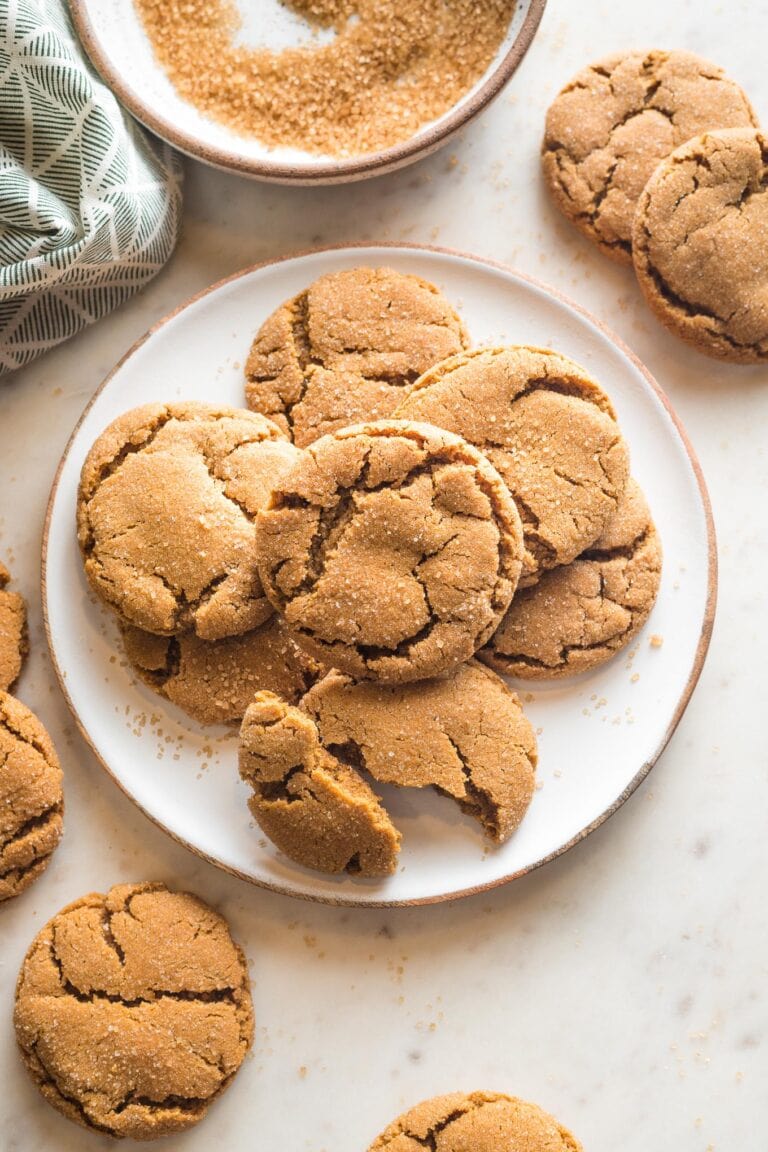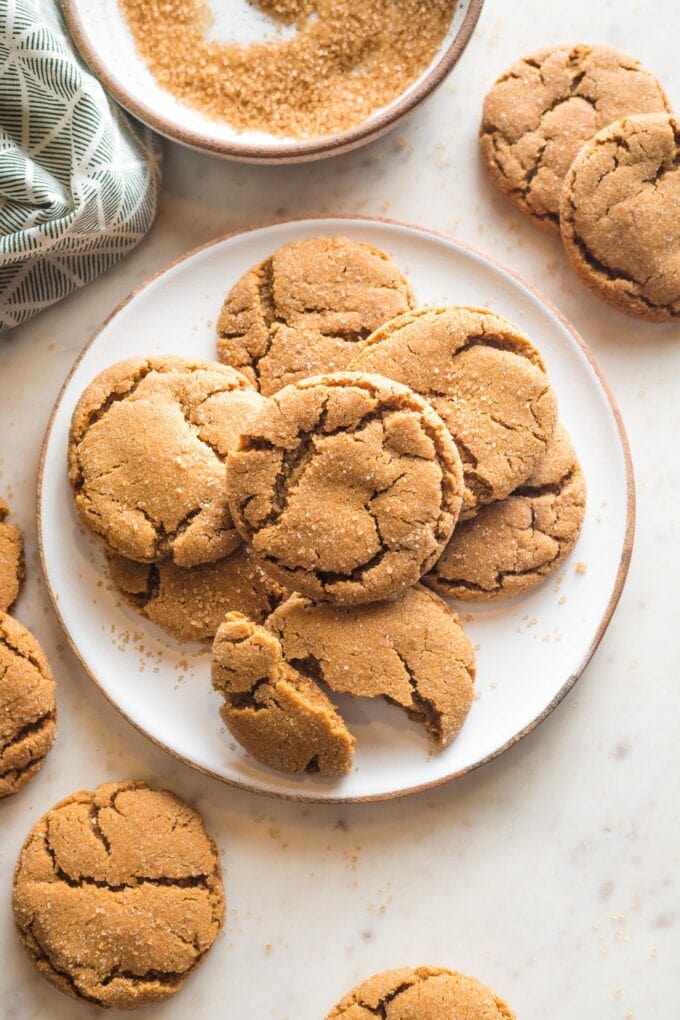 This exact recipe for chewy ginger molasses cookies has been a staple in our home for more than a decade, ever since I had the good fortune to sample the product and snag the recipe from a good friend at a long-ago holiday cookie exchange.
We bake multiple batches of these every December without fail — they are truly the perfect Christmas cookie — but there's no reason not to enjoy them year-round. My husband and kids request them in all seasons. And I am only too happy to oblige!
What makes these the best
Perfectly soft texture
Rich molasses flavor
A little sugar sparkle on the outside
SO EASY to make – no need to chill the dough!
Personally my favorite thing about these cookies is the soft texture. The outside develops beautiful deep crackles as the cookies bake and then cool, while the interior has a moist, tender crumb that yields perfectly with every bite.
Then again, the best thing might be the flavor. These are generously spiced, so you enjoy the full taste and aroma of ginger, cinnamon, cloves, and molasses in each and every bite.
Ingredients & Common Substitutions
Here are a few notes and shopping tips about the ingredients you'll need to make these chewy ginger molasses cookies, as well as possible substitutions:
Baking basics: all-purpose flour, baking soda, salt, granulated sugar, and eggs. Why only granulated sugar? Mixing molasses directly into the cookies achieves the same chewy, rich effect you would normally derive from brown sugar, and allows you to rely on white granulated sugar for a more refined flavor and slightly crisp exteriors.
Spices: cinnamon, ginger, and cloves. And plenty of each!
Molasses. A star of the show!
Shortening. Yes, this recipe uses your standard shortening — ie., Crisco — to produce that incredibly tender, soft cookie. You can substitute half butter, if you like.
Which brand of molasses to use?
Stores often stock a variety of molasses brands and types, ranging from a comparatively light molasses to dark or "robust" to the most intense, blackstrap. This can be confusing if you're not sure what to look for! A dark or robust molasses is usually a safe bet when baking. Blackstrap molasses is very intense; I would not recommend it for general baking.
Grandma's brand original/unsulphured molasses is widely available in my area and produces consistent results–rich but not overwhelming. Wholesome! brand molasses is also widely available at Whole Foods, on Amazon, and in natural markets. It has a very good flavor but is usually quite dark in color, which will carry over to your baked goods. Be sure to look for their original molasses, not their blackstrap variety; the packaging is very similar.
Can I use whole wheat flour?
I don't recommend using 100% whole wheat flour, but a 50-50 combination of white whole wheat and all-purpose flour does work.
Why use shortening instead of butter?
Shortening keeps this ginger molasses cookie recipe quick and easy–using butter makes the cookies more difficult to roll out into smooth balls, and can yield much more variation in how much the cookies spread while they bake. (This depends in large part on the exact temperature of the butter at the time it's creamed with the sugar. Because shortening is stored at room temperature, it removes all guesswork.)
The typical argument for using butter is to add flavor, but in this case, the cookies derive incredible flavor simply from the molasses and the generous spices.
All this to say, you can certainly substitute butter for half of the shortening, or even for all of it–experiment and see what you like best!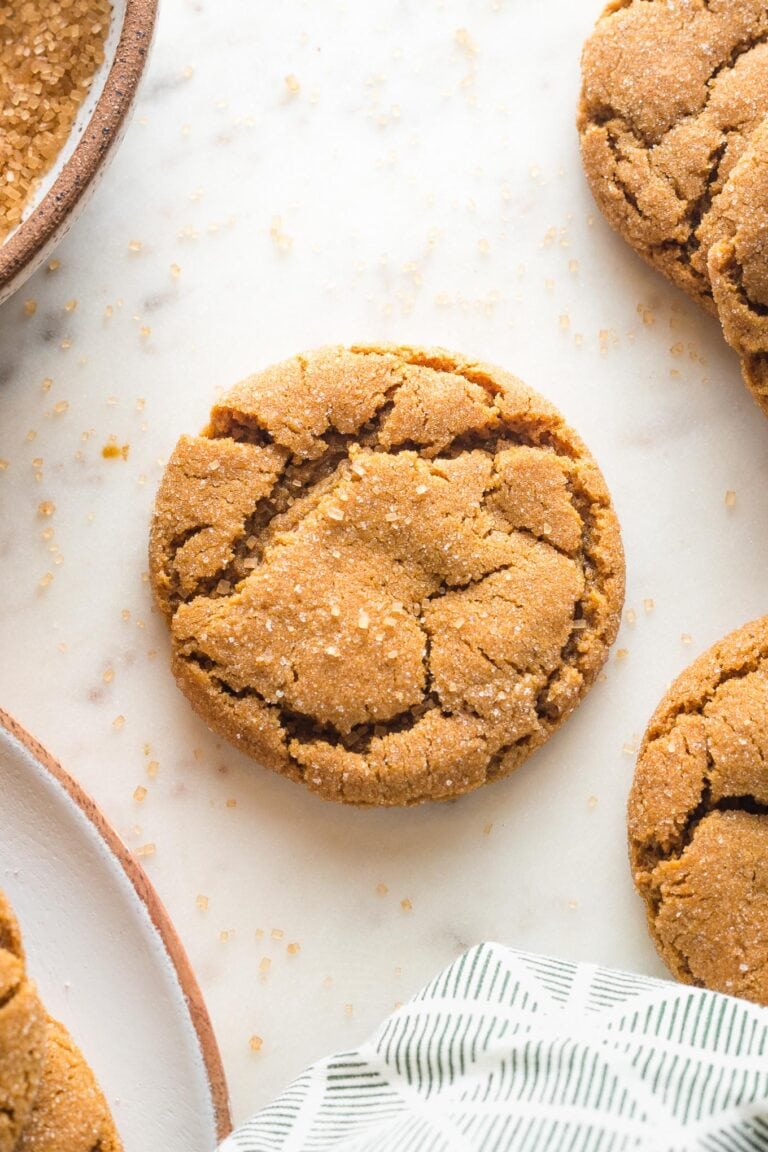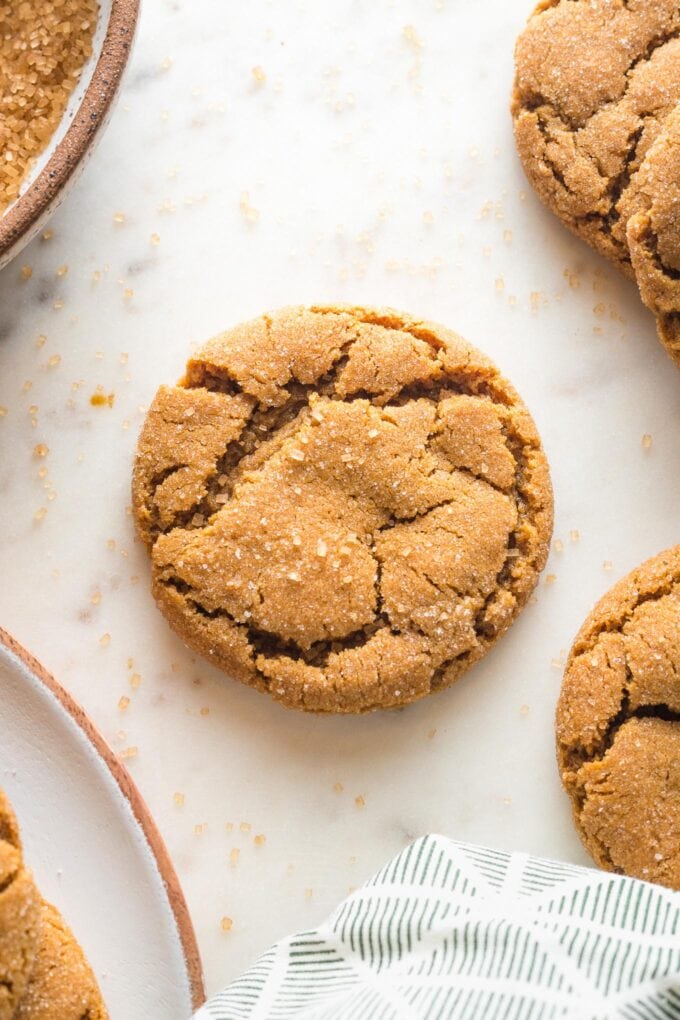 How To Make Chewy Ginger Molasses Cookies
This is a very quick and simple recipe, and best of all: you do not need to chill the dough.
I repeat: NO NEED TO CHILL THE DOUGH.
Can I get an amen??
You'll begin by combining the dry ingredients — flour, salt, baking soda, spices — and giving them a good whisk or stir. This helps to ensure the spices are evenly distributed in the finished dough, which is extra important because they are plentiful.
Cream shortening and sugar together on high speed. Add egg and molasses, followed by the flour mixture, beating well at every step to ensure everything is well-distributed.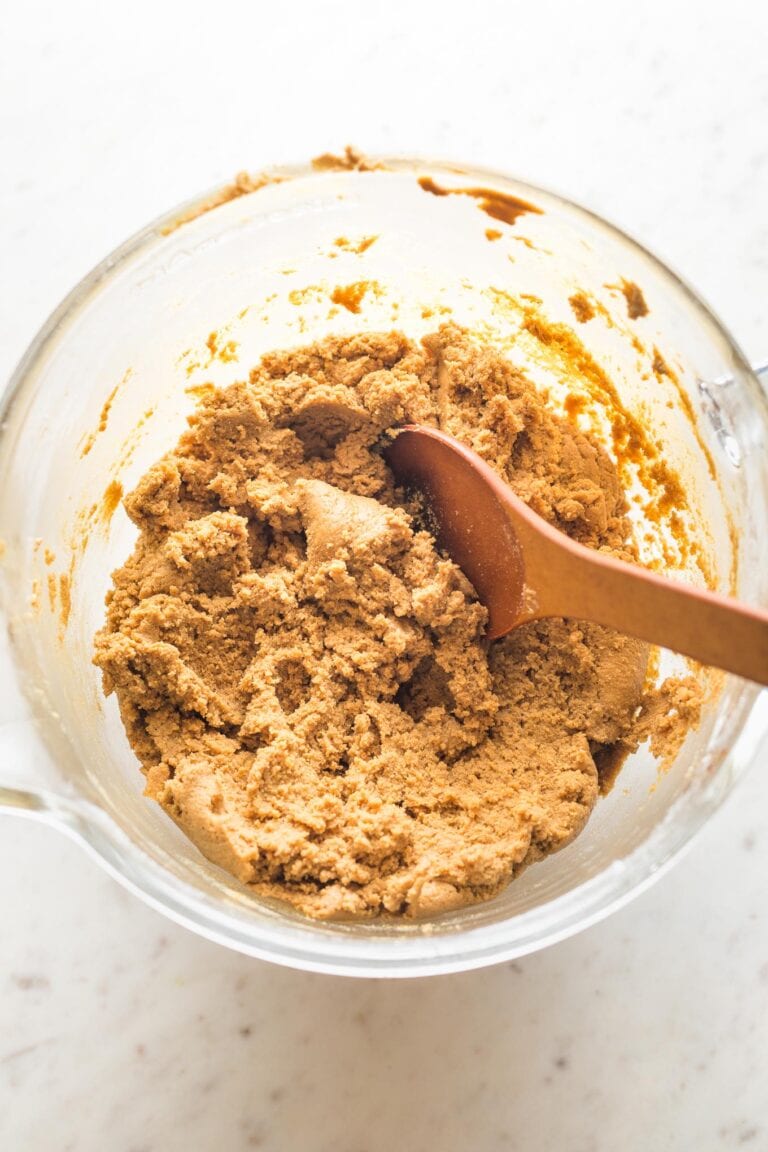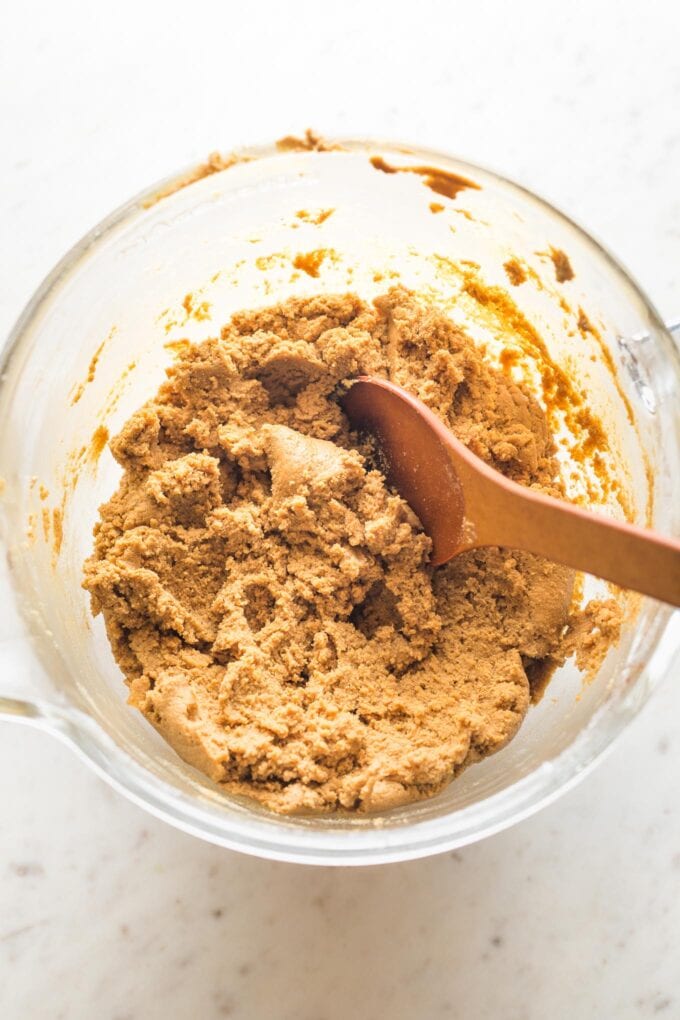 The dough will be soft but sturdy enough to hold its shape well.
Scoop out balls about 1″ in diameter, and roll each lightly between the palms of your hands to form into a smooth ball. Roll each in a bit more sugar to give the cookies a final touch of sweetness and a beautiful sparkle. I usually use additional granulated sugar for this, but turbinado sugar works very well, too.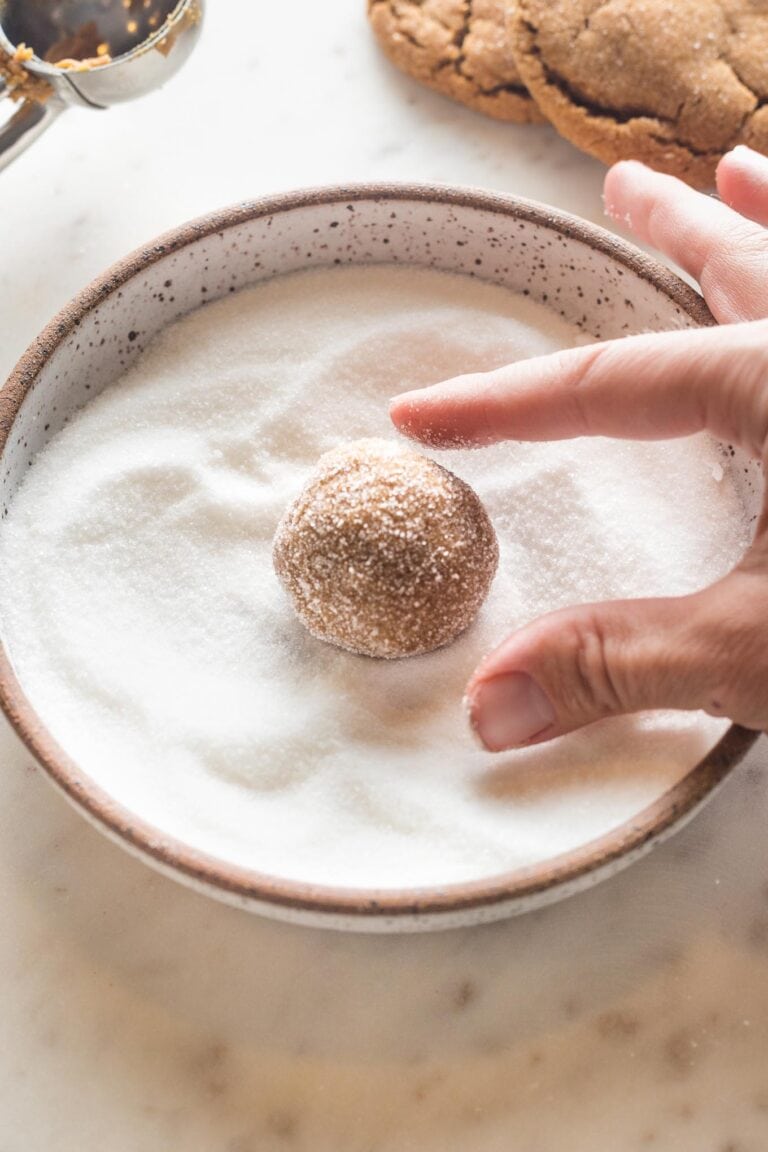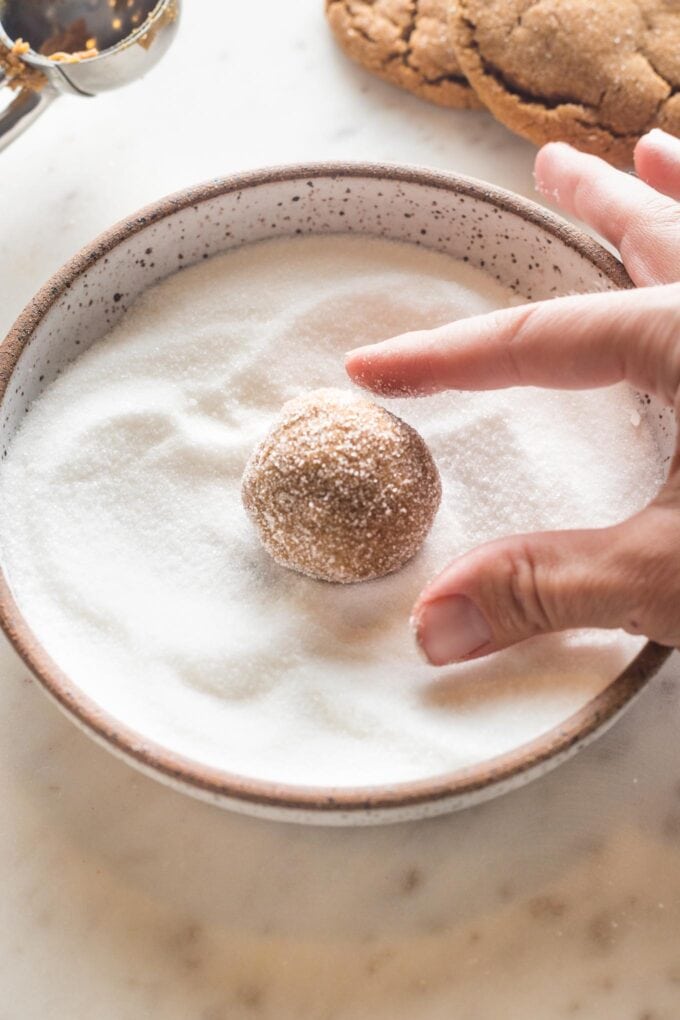 Pro Tip: For the ultimate convenience, use a cookie scoop to portion out dough. This medium-sized scoop is a workhorse. Scoops are terrific for muffin and cupcake batter, and meatballs as well!
Bake cookies and let cool for about 10 minutes on the cookie sheets before transferring to a wire rack. Don't skip the chance to sample one fresh from the oven — it's divine!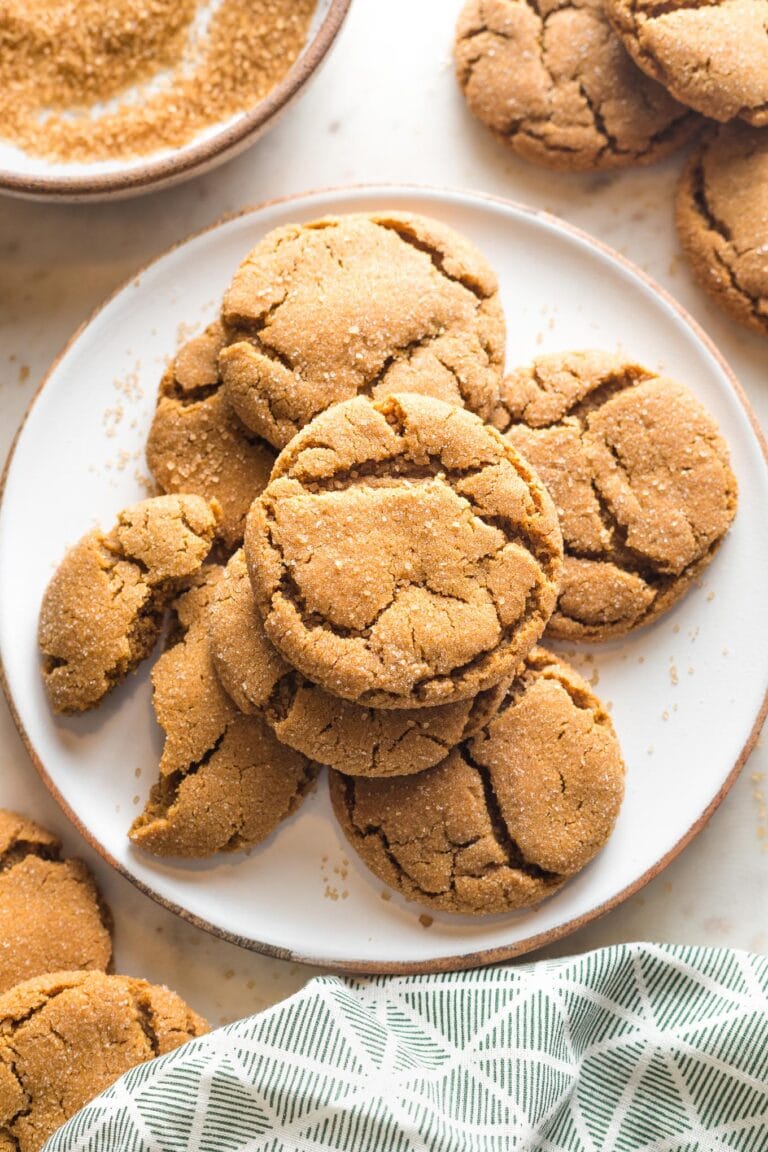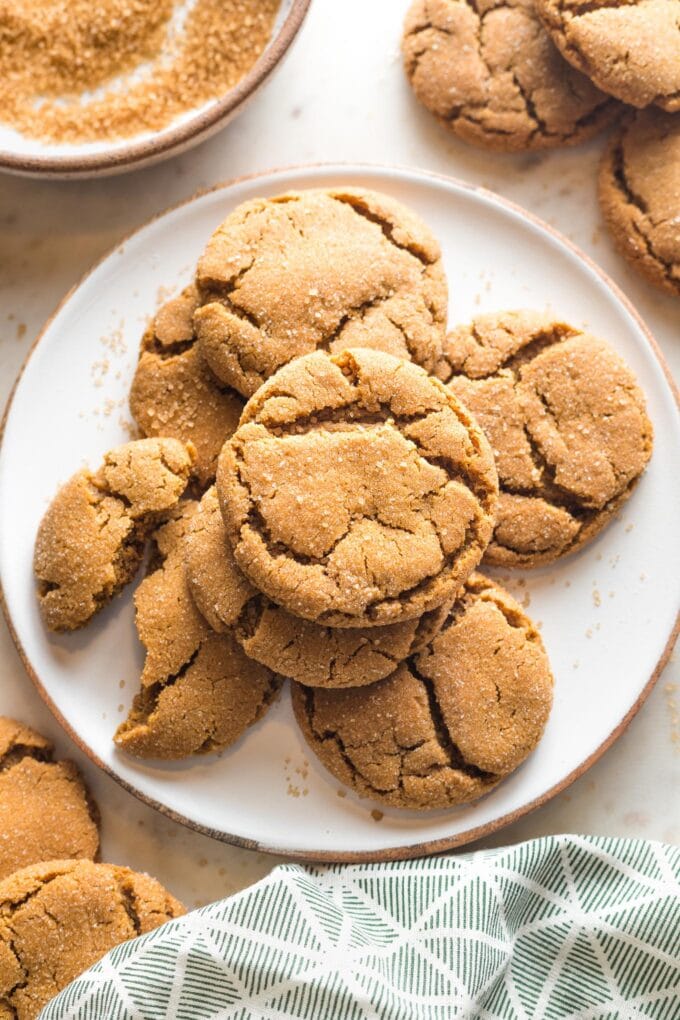 Variations and Add-Ins
Want to mix it up a little? Feel free to:
Add a pinch of nutmeg to the dough, or an extra 1/2 teaspoon of another spice.
Dip the baked cookies partially in melted white chocolate, candy melts, or almond bark. Sprinkle with festive holiday sprinkles if you're into that.
Drizzle the cookies with a light glaze — like maple.
Make Ahead and Freezing Instructions
These cookies are also extremely adaptable!
Baking in batches: If you need to pause and resume baking another day, the dough can be placed in the fridge overnight and simply returned to room temperature before shaping and baking.
To freeze before baking (preferred method): Make the dough as directed, scoop mounds onto a parchment-lined baking sheet or plate, and place in the freezer, uncovered, for about an hour. Do not roll in sugar yet! After an hour, combine the frozen cookie dough balls in an airtight container or zip-top plastic bag. Freeze for up to 3 months. When ready to bake, remove cookies from the freezer, roll in sugar, and place directly onto a parchment-lined baking sheet, and bake as directed, adding just 2-3 minutes to the baking time.
To freeze after baking: Let baked cookies cool fully, then stack in an airtight container, separating individual cookies with wax paper. Defrost at room temperature as needed. These are still good, for sure, but in my opinion slightly less fresh and less convenient than freezing the balls of raw cookie dough and baking as needed.
More Christmas Cookies You'll Love
That's a lot of information about a simple cookie, but hopefully it all helps you have the most success in your kitchen! These cookies smell and taste like a slice of heaven, and I hope they're as big a hit with your family and friends as they are with mine, year after year.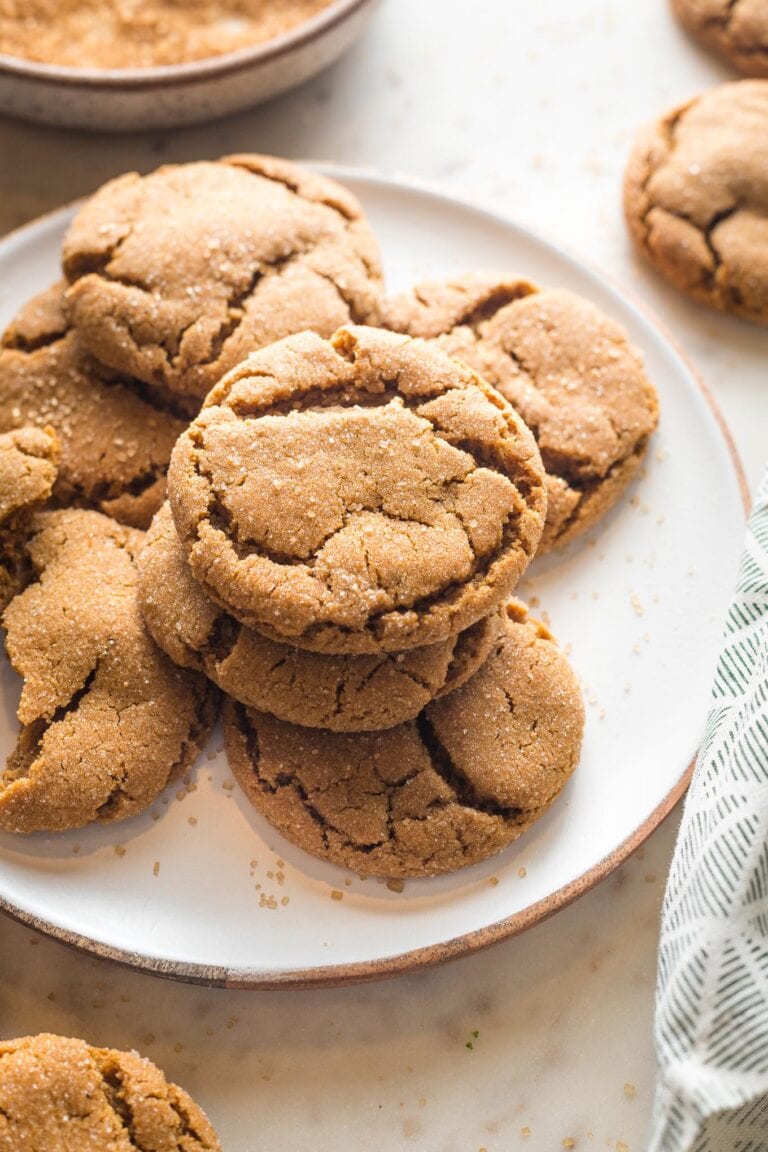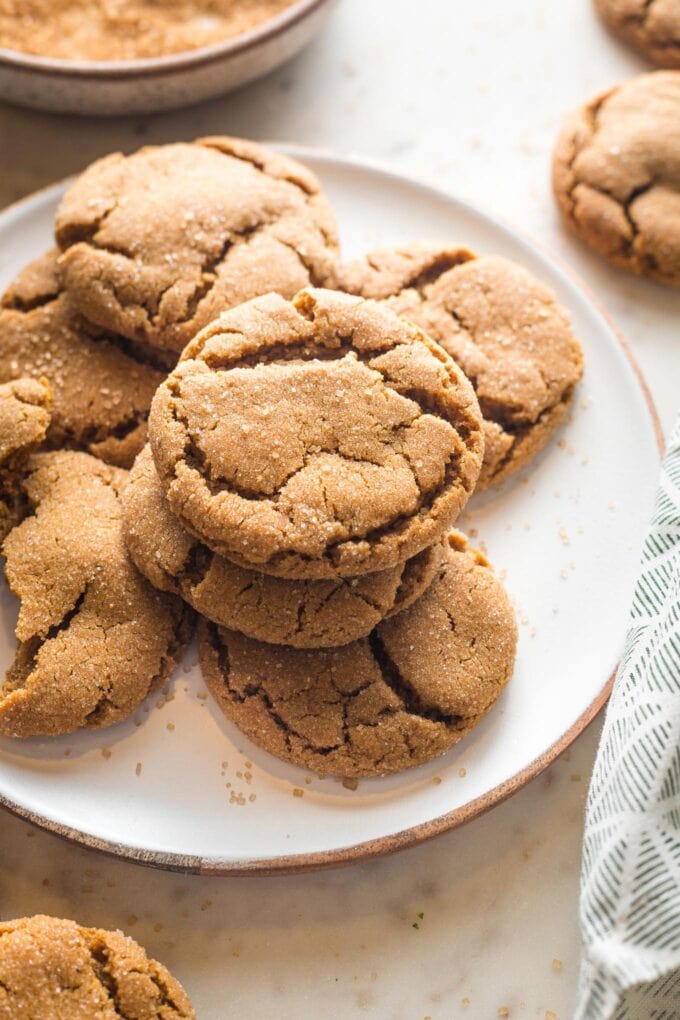 If you make these Chewy Ginger Molasses Cookies, don't forget to rate the recipe and leave a comment below. I love hearing how recipes turn out in your kitchen, and it helps other readers, too.
You can also FOLLOW me on PINTEREST, INSTAGRAM, FACEBOOK, and TWITTER for more great recipes and ideas!
Chewy Ginger Molasses Cookies
A fast, easy recipe for chewy ginger molasses cookies. 30 minutes, start to finish, no dough chilling required!
Ingredients
2 cups all-purpose flour
2 teaspoons baking soda
1 teaspoon ground cinnamon
1 teaspoon ground ginger
1/2 teaspoon ground cloves
1/2 teaspoon salt
3/4 cup shortening
1 cup granulated sugar plus more for rolling
1 large egg
1/4 cup molasses
Instructions
Preheat the oven to 350 degrees F. Line baking sheets with parchment paper or silicone baking mats.

In a medium bowl, whisk together the flour, baking soda, cinnamon, ginger, cloves, and salt. Set aside.

Beat shortening and 1 cup sugar with an electric mixer on medium-high speed until fluffy. Add the egg and molasses, and beat again until well-combined. Add flour mixture, and mix on low speed just until incorporated.

Scoop the dough into balls about 1-inch in diameter, and roll each gently between your palms to smooth it out. Place a small amount of sugar in a small, shallow dish. Roll each ball in the sugar before placing on the baking sheets.

Bake for 10-12 minutes, then allow to cool on the sheets for about 10 minutes before removing to wire racks.
Notes
You can sub room temperature butter for all or part of the shortening, but I like to use at least 1/4 cup of shortening because it helps the cookies hold their shape.
If you want flatter, thinner cookies, just press the dough balls down slightly with a drinking glass before baking. 
Cookies will keep well at room temperature for about 4 days. The dough balls can be frozen, as well. Bake them straight from frozen just as directed, adding just 1-2 minutes to the bake time. 
Nutrition Estimate
Calories: 140 kcal, Carbohydrates: 19 g, Protein: 1 g, Fat: 6 g, Saturated Fat: 1 g, Cholesterol: 6 mg, Sodium: 144 mg, Potassium: 65 mg, Sugar: 10 g, Vitamin A: 10 IU, Calcium: 11 mg, Iron: 0.7 mg
Did you make this recipe?
Leave a review below, then snap a quick picture and tag @nourishandfete on Instagram so I can see it!
This post was originally published December 14, 2018, and has been updated with new photos and more detailed, helpful text about the cookies.