Apple Cinnamon Oatmeal Cookies
Apple cinnamon cookies made with oatmeal and drizzled with a sweet maple glaze are a must-make for me every fall! They have all the cozy flavors of apple crisp packed into a soft, cake-like cookie. Perfect for a simple dessert and dreamy with your coffee or tea.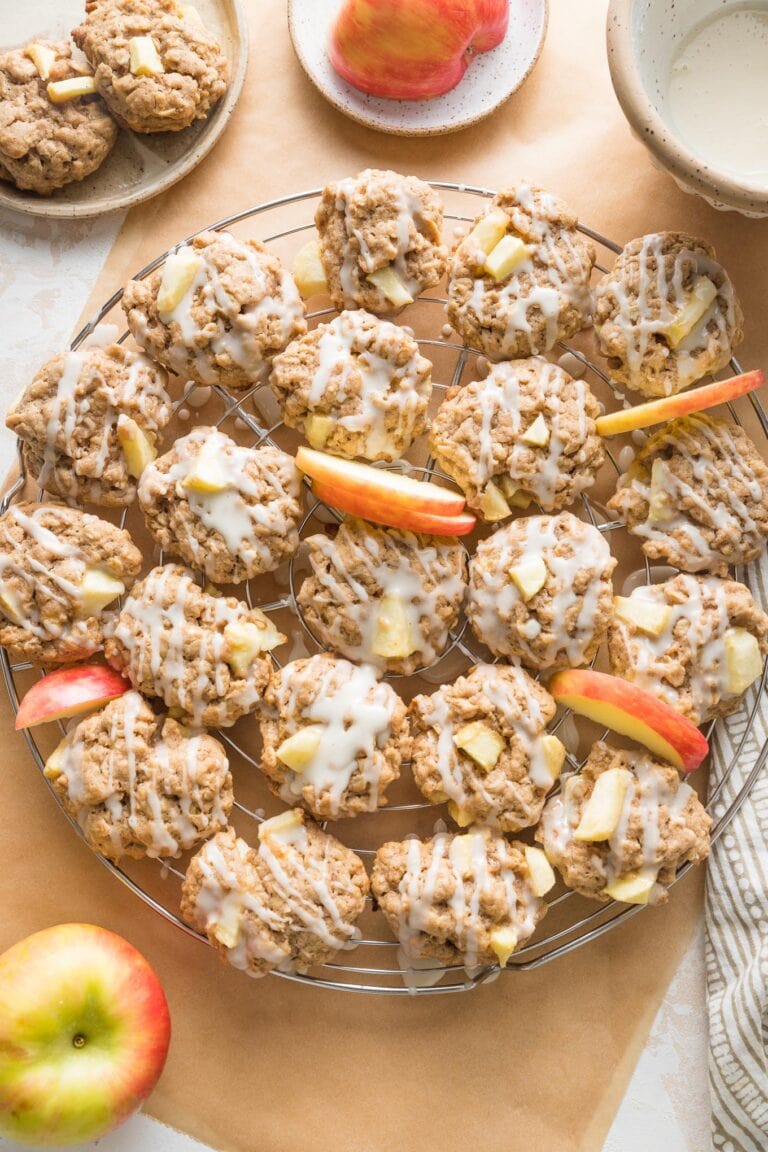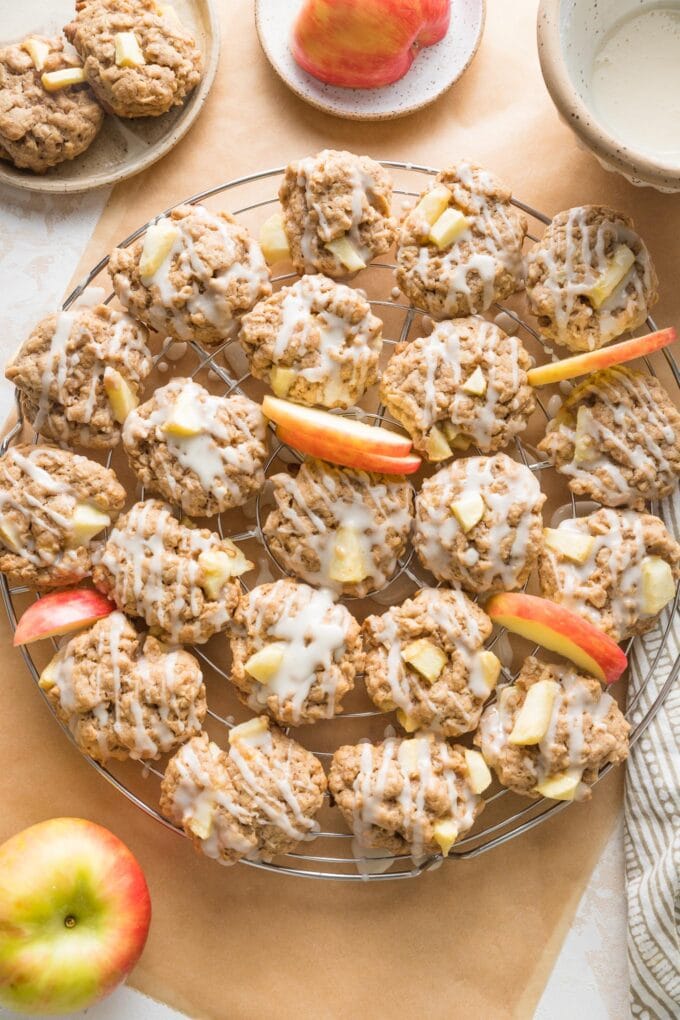 Featured Comment
"These are super yummy and easy! I'm a slow baker, takes me a while to prep things. I probably spent 30 minutes getting these together! And they are very tasty, you must do the frosting!! I've actually never made my own frosting before and it only took about 60 seconds." -Breanna
Best Apple Cinnamon Oatmeal Cookies
Apple, cinnamon, and oats belong together. You really can't beat the flavor combination any time of year, but it's especially perfect in early fall.
The first time I made apple cookies, we were living in Brussels, and the weather seemed to transition straight from glorious and sun-filled to frigid, damp cold. In denial, I began clutching wildly at fall-ish recipes. I was hoping against hope to enjoy at least a few days of pretty fall, that season of crisp air, cozy sweaters, and everything apple and pumpkin. A sliver of time when I might pull on a hat or a quilted vest for fun, rather than out of sad, cold necessity.
As is often the case in Belgium, the weather failed to cooperate with my desires, but at least the cookies were a big hit. So much so that they remain an annual tradition, eight years later!
We love that these apple cinnamon cookies are:
Flavorful and perfectly spiced. Apples, cinnamon, and cloves are perfect together.
Soft with cake-like centers and very slightly crisp on the edges.
Quick and easy to make. Everyday ingredients, one bowl, no chilling.
Serve these cookies for a special after-school snack, a cozy dessert, or enjoy one with coffee or tea at any time of day. They're a small, delightful, and versatile treat. Like apple pie or apple crisp in bite-sized form.
Related: Old-Fashioned Apple Crisp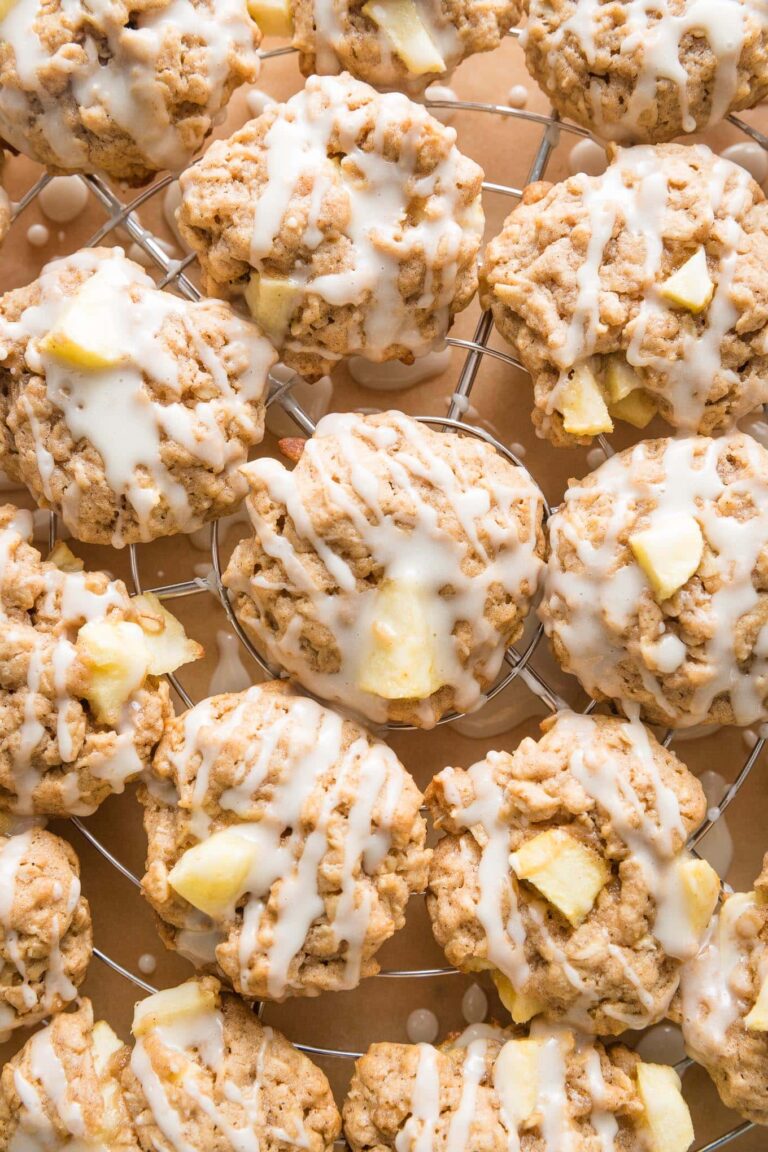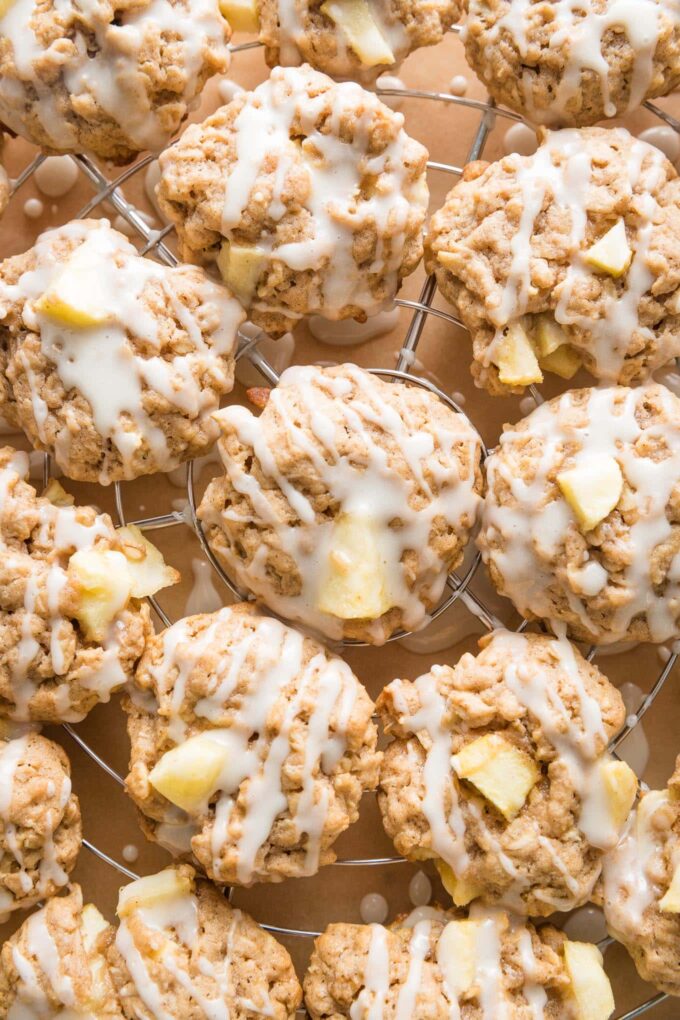 Ingredients & Substitutions
These cookies are made primarily of baking staples. Here are a few notes about what you will need as well as possible substitutions. Find full amounts in the print-friendly recipe card below.
Apples. The apples will be peeled, diced, and mixed into the cookie dough. Granny Smith apples are particularly good for these cookies and other baked goods, because of their crispness and tart flavor. I've made these with Fuji and Golden Delicious, as well.
Flour. I've made these with both all-purpose and a mixture of all-purpose and white whole wheat, and loved both results. I'm sure you could experiment with other combos, as well.
Old-fashioned rolled oats. Be sure to use rolled oats, also known as "old-fashioned" oats, as opposed to the quick cooking, instant, or steel-cut varieties. Those types will not maintain the right consistency or shape in this recipe.
Butter. Salted or unsalted is fine. You will want it to be at room temperature — use this quick trick if needed!
Ground cinnamon, ground cloves, baking soda, and salt.
Brown sugar. Either light or dark.
One egg.
Vanilla extract.
Lemon juice. Just a smidge really brightens the apple flavor, but if you don't have a lemon hand, this is not a deal-breaker.
For the glaze: powdered sugar, milk, and maple syrup.
More Mix-Ins and Variations
You can add other items to these cookies for even more flavor and texture. Aim to add about 1/3 cup of any item, and no more than 1/2 cup total. Much more than that may make the dough more difficult to hold together.
Chopped walnut halves and pieces.
Chopped pecans.
Butterscotch chips.
Cinnamon chips.
Toffee bits.
How To Make Apple Cinnamon Cookies
Everyone loves a good one-bowl cookie with no dough chilling required! Here's what you'll do.
This is a general overview. As always, you will find full instructions with exact ingredients and times in the print-friendly recipe card below.
Preheat oven and grab baking sheets.
Cream together butter and sugar, then mix in egg and vanilla.
Add dry ingredients to and mix just until combined.
Fold in the chopped apples, then scoop dough out into mounds.
Bake for 12-14 minutes at 350 degrees F. The tops should be set, the edges lightly golden.
Drizzle with a simple glaze of powdered sugar, maple syrup, and milk once the cookies are cool. Enjoy!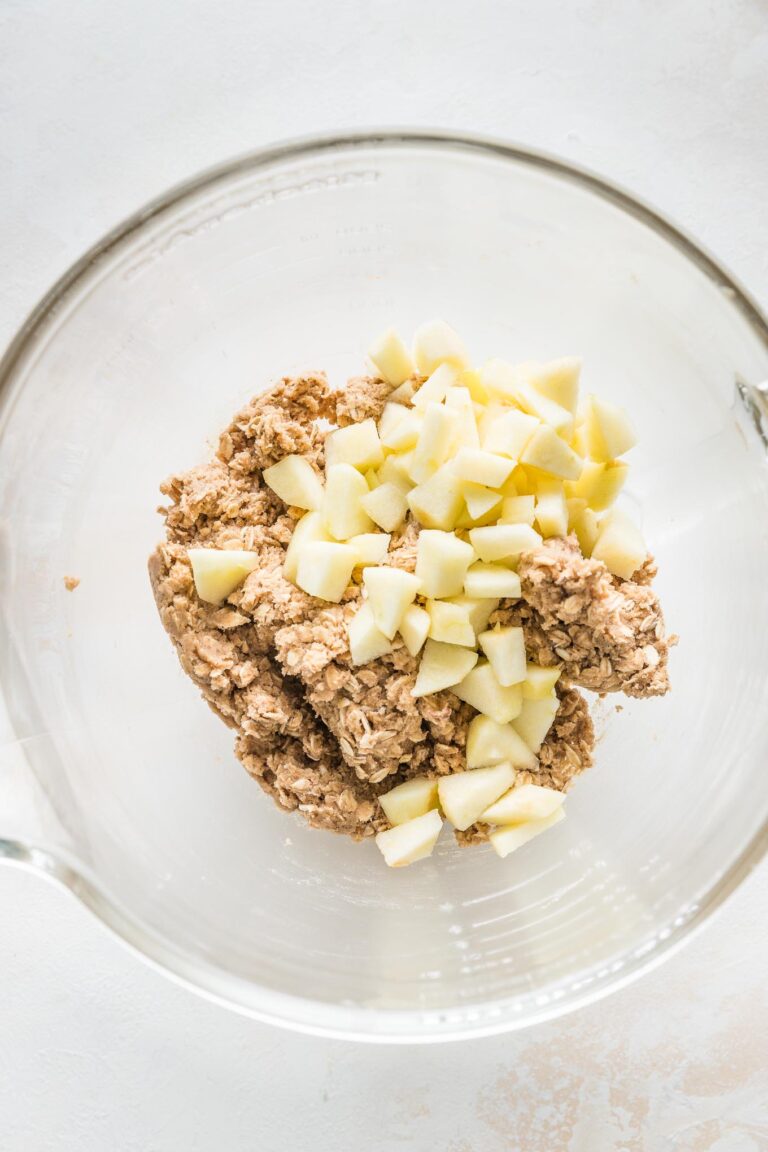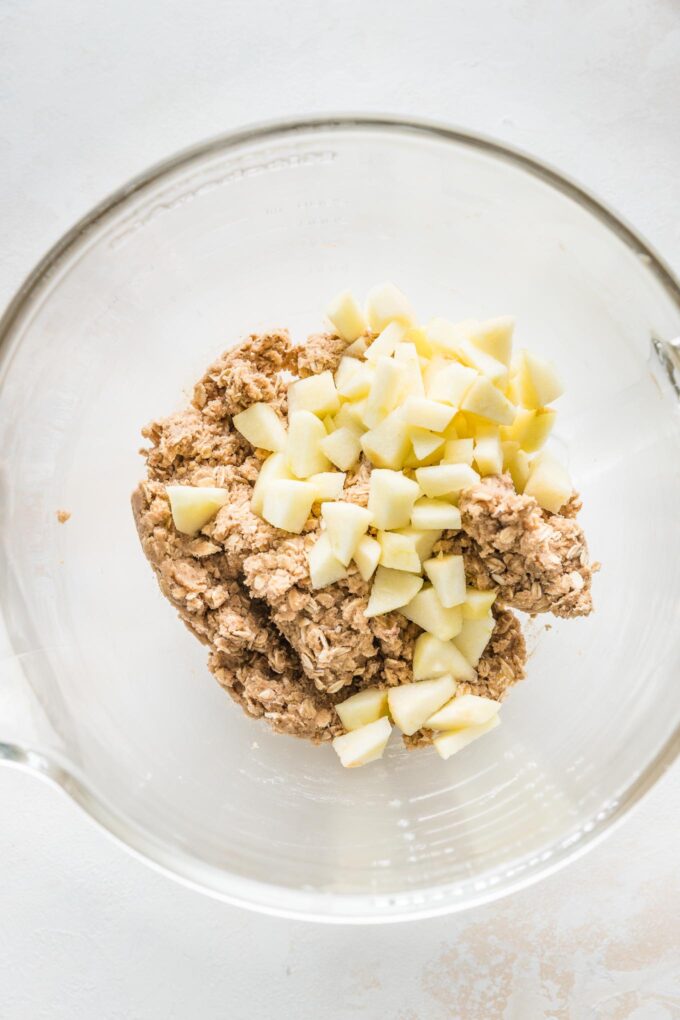 Do I have to use a stand mixer for this recipe?
An electric mixer is helpful but not required for this recipe. You can use either a stand mixer or an electric hand mixer with the beater blades: either of these makes it a snap to fully cream together the butter and sugar for ideal texture. Never fear, however, because you can achieve the same result by beating the butter and sugar together very rapidly by hand in a large bowl with a wooden spoon or rigid rubber spatula. It's your arm workout for the day!
Tips & Tricks For Success
Dice apples small, and don't use too many. The variety of apple you use matters less than that you dice it into small pieces — about 1/4″ square — so they become very tender while baking. Also, it can be tempting to throw in a few extra pieces, but keep it very close to a level cup of apples for best results. Too much apple will make it difficult for the dough to hold together.
Use a cookie scoop. This makes it so quick and easy to portion out the dough. I use this scoop. Bonus: kids enjoy using the scoop as well, so it's an easy way to get them involved.
To flatten or not to. I like to gently press the balls of dough down before baking, but you can definitely skip that step if you like puffier cookies.
Bake (just a little!) longer than usual. The inclusion of fresh apple keeps these cookies very tender and moist, and they may need to bake a minute or two longer than you might be used to for other cookies. They're done when set and lightly golden. They should no longer be dewy or wet on top.
Pro Tip
Check your oven temperature! These cookies bake perfectly for me in 12 minutes in a 350 degree oven, but my oven runs hot, so I have to set it to 325 to maintain the correct higher temperature! If your baked goods are often slightly off, something like this could explain why. An inexpensive oven thermometer will tell you for sure and is a tiny investment for the value it gives.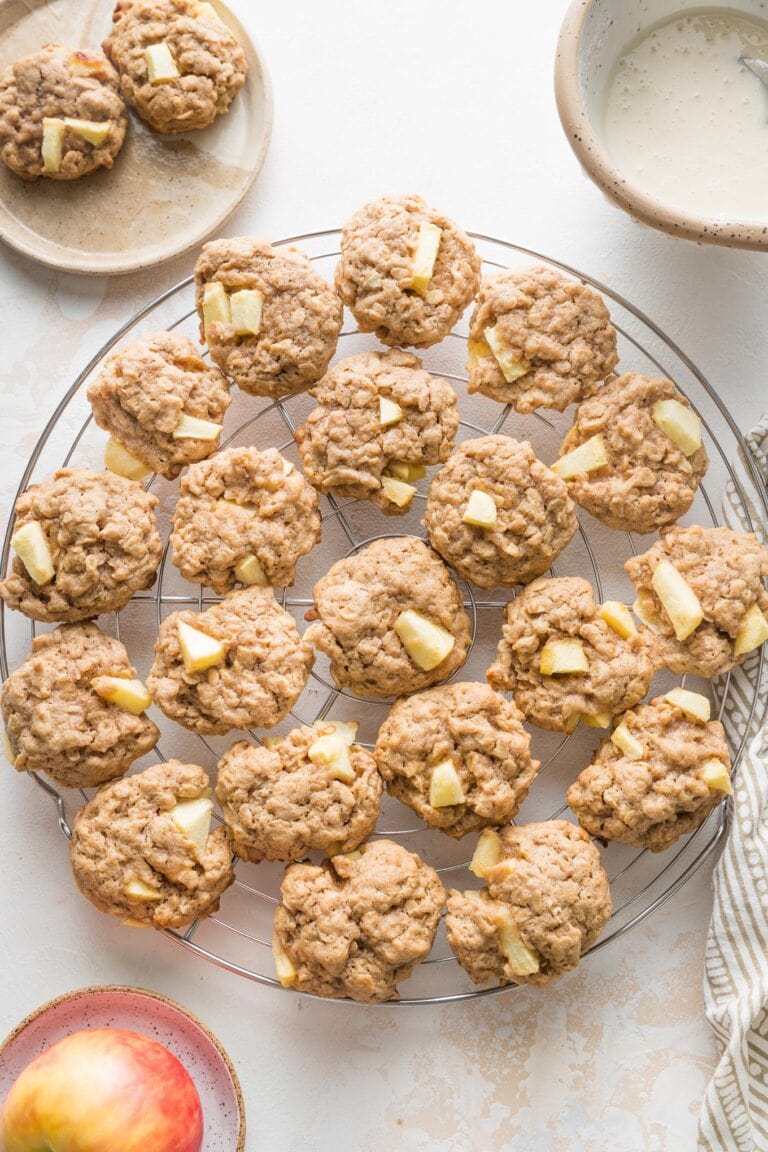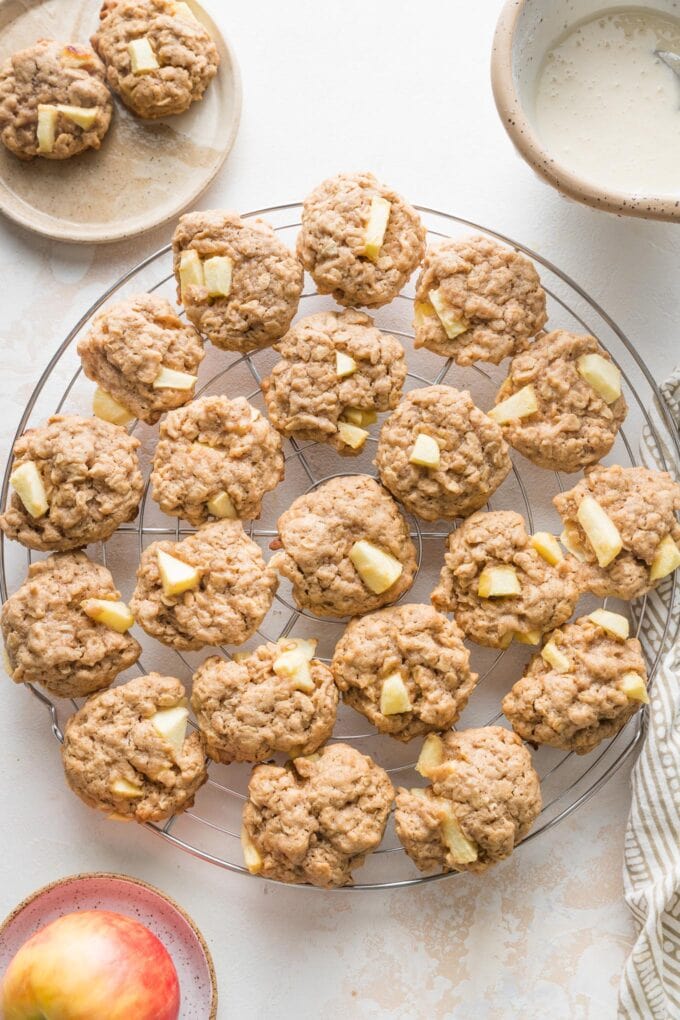 The Perfect Glaze
The maple glaze is a wonderful finishing touch! It's so easy to make with just a liquid measuring cup and a spoon. Since apple cinnamon cookies scream "cozy comfort" anyway, I usually drizzle the glaze right on with a spoon and don't worry too much about appearance. This results in a casual mix of thin and thick stripes.
If you want more precision, transfer the glaze to a small piping bag and cut a tiny hole in the corner, so you can drizzle it on with controlled, even lines.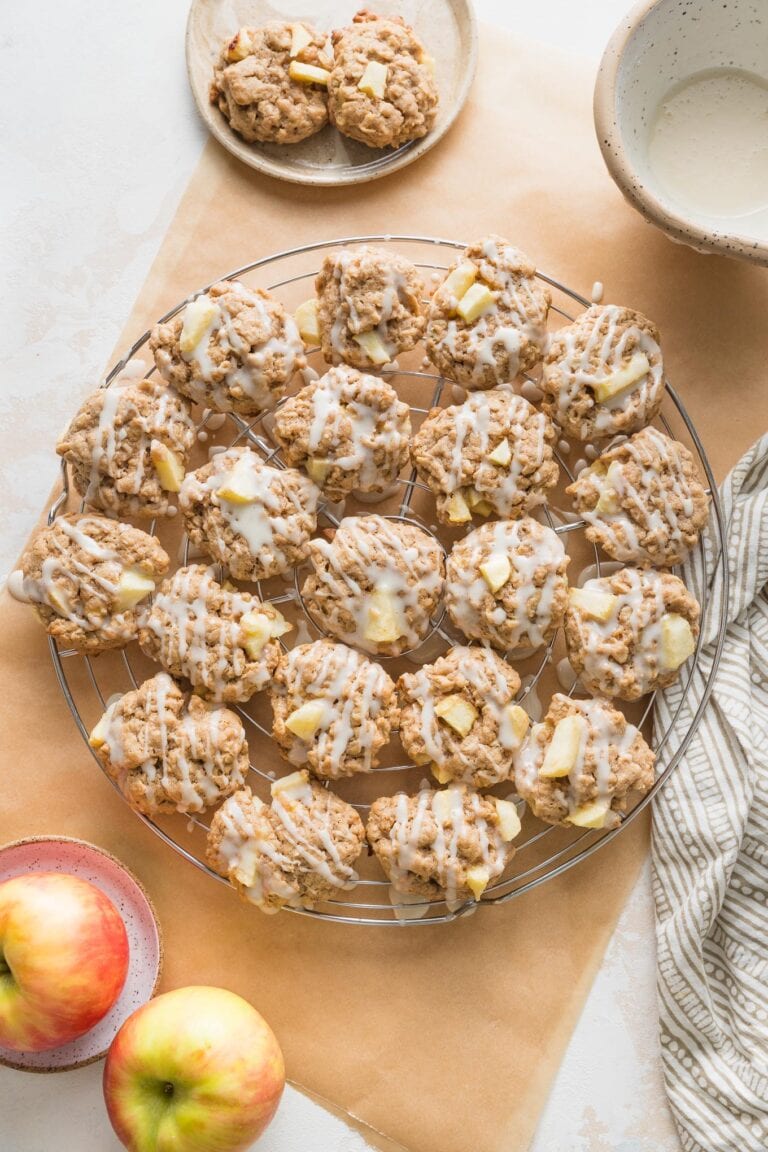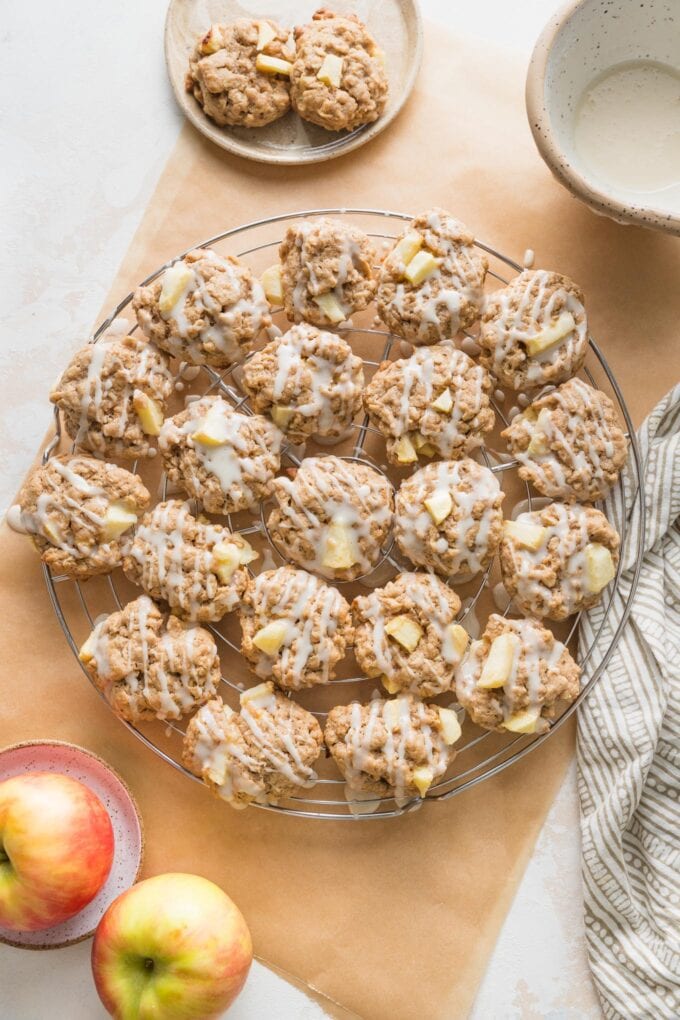 Storage & Make Ahead Tips
These apple cinnamon cookies are absolutely incredible slightly warmed and keep well on the counter.
Store cookies at room temperature in an airtight container. They keep well for 2-3 days. I find them even more flavorful on day 2 and beyond.
To make ahead, prepare the dough and chill in the refrigerator for up to 3 days. Allow it to sit at room temperature for 30-60 minutes, then scoop and bake as directed. If making ahead, I recommend doubling the amount of lemon juice on the apples to prevent browning, or waiting to fold in the apples just prior to scooping and baking.
To freeze the dough, I recommend fully forming the cookies, flash freezing them on a pan or a plate, then storing the dough balls in a freezer-safe zip-top bag or container for up to 3 months. You can then bake as needed directly from the freezer, just adding a few minutes to the baking time. (These are the same procedures outlined in my ultra soft chocolate chip cookies post and work with most cookies.) Cookies from the freezer are always a win!
Related Recipes
Just want a perfect oatmeal cookie, no add-ins or fuss? These crisp oatmeal cookies are straight from Grandma's kitchen to mine to yours, and win hearts every time.
Craving more apple? Crockpot honey apple butter and apple butter cinnamon rolls satisfy the sweet cravings, while pork chops with apples and a kale apple pecorino salad are perfect for a savory twist.
If you try this Apple Cinnamon Cookie recipe, don't forget to rate it and leave a comment below. I love hearing how recipes turn out in your kitchen, and it helps other readers, too.
You can also FOLLOW me on PINTEREST, INSTAGRAM, FACEBOOK, and TWITTER for more great recipes and ideas!
Apple Cinnamon Oatmeal Cookies
Delicious any time of year, and truly the perfect cookie to bake in the fall! Soft and cake-like, drizzled with maple glaze for an irresistible finishing touch.
Ingredients
1/2 cup butter at room temperature
3/4 cup brown sugar light or dark
1 large egg
1 teaspoon vanilla extract
1 and 1/4 cups all-purpose flour
1 and 1/4 cups old-fashioned rolled oats
1 teaspoon ground cinnamon
1/2 teaspoon baking soda
1/4 teaspoon ground cloves
1/4 teaspoon salt
1 cup peeled and finely chopped apple 1/4-inch cubes or smaller, see note
2 teaspoons lemon juice
2/3 cup powdered sugar
2 teaspoons milk
2 teaspoons maple syrup
Instructions
Preheat oven to 350 degrees F. Line baking sheets with parchment or silicone baking mats, if desired, and set aside.

Using an electric mixer if possible, cream together the butter and brown sugar on high speed until the mixture is light and fluffy. Add egg and vanilla, scrape down the sides of the bowl, and mix well to combine.

Sprinkle the flour, oats, cinnamon, baking soda, cloves, and salt over the dough. Mix on low speed until mostly even.

Sprinkle lemon juice over chopped apples and toss gently. Add apples to the cookie dough and stir gently to combine. Scoop dough into rounds of about 2 tablespoons each, place slightly apart on the prepared baking sheets, and press down gently to flatten a bit.

Bake for 12-14 minutes, until the tops are set and the edges are lightly golden. Cool for 5-10 minutes on the baking sheets, then transfer to a wire rack to cool completely.

To make the maple glaze, combine powdered sugar, milk, and maple syrup in a small bowl. Whisk or stir well until smooth. Add more syrup or powdered sugar to adjust the consistency as desired. Use a spoon to drizzle glaze over the cookies, and set aside, without stacking, until the glaze sets.
Notes
Apple Varieties: Granny Smith apples are particularly good for these cookies and other baked goods, because of their tart flavor, but I have made these cookies with Fuji and other apple varieties, as well, depending on what I have on hand, and the results are always delicious.
Apple Amount: You may be tempted to use a heaping cup of chopped apples, but keep it to a level cup for best results. Too much apple will make it difficult for the dough to hold together.
Glaze: If you prefer a more uniform look to the glaze, you can transfer it into a piping bag with a very small tip or hole, then drizzle it onto the cookies that way.
Storage: Cookies keep well tightly covered at room temperature for 2-3 days. I find them even more flavorful on day 2 and beyond.
Make Ahead: This cookie dough can be made in advance and chilled in the refrigerator for up to 3 days. Allow it to sit at room temperature for 30-60 minutes, then scoop and bake as directed. I recommend doubling the amount of lemon juice on the apples to prevent browning, or waiting to fold in the apples just prior to scooping and baking. You can also freeze the unbaked balls of cookie dough for 2-3 months, and bake straight from frozen, adding just 2-3 minutes to the baking time.
Nutrition Estimate
Serving: 1 cookie, Calories: 121 kcal, Carbohydrates: 19 g, Protein: 2 g, Fat: 4 g, Saturated Fat: 3 g, Cholesterol: 17 mg, Sodium: 86 mg, Potassium: 39 mg, Fiber: 1 g, Sugar: 11 g, Vitamin A: 131 IU, Vitamin C: 1 mg, Calcium: 13 mg, Iron: 1 mg
Did you make this recipe?
Leave a review below, then snap a quick picture and tag @nourishandfete on Instagram so I can see it!
This recipe was originally published in September 2020 and has been updated with new photos and more helpful tips, tricks, and storage and make-ahead instructions.