Crockpot Honey Apple Butter
A simple recipe for crockpot honey apple butter spiced with cinnamon, nutmeg, and cloves. Delicious in baked goods, sauces, and spread on muffins or toast, and guaranteed to make your home smell INCREDIBLE.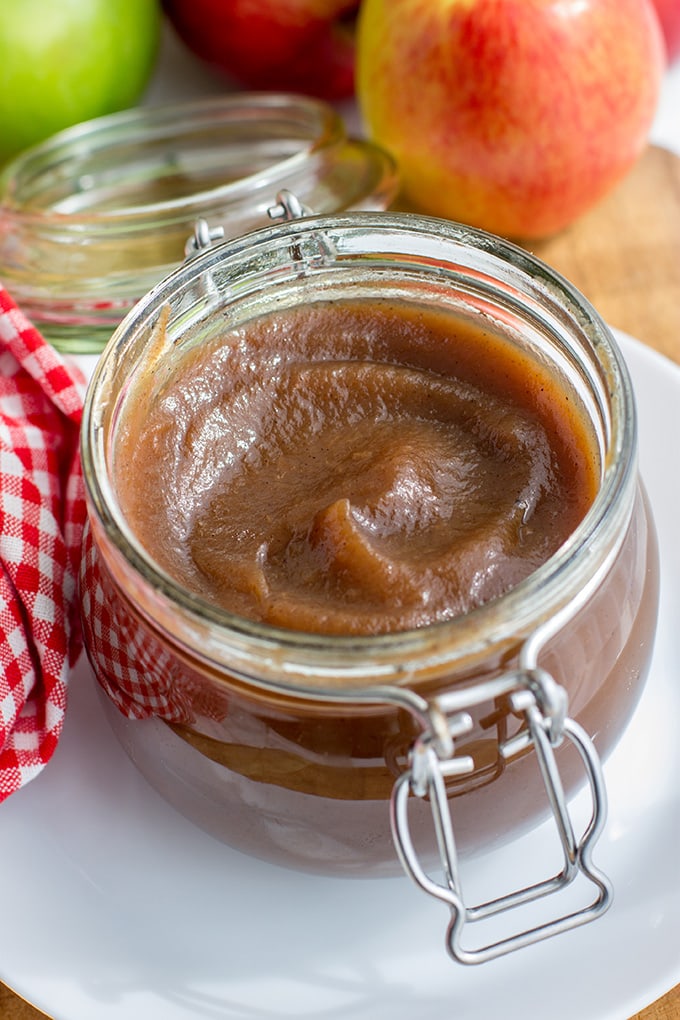 I've been working lately on a number of updates to the back-end of Nourish and Fete, all designed to make the site more secure and more user-friendly, which hopefully means putting more delicious and reliable recipes at your fingertips. In the related process of organizing my archives, however, I recently came to a sudden and sad realization:
The site doesn't have that many recipes for fall baking!!!!
OK, yes, there are a few. Apple cinnamon cookies and pumpkin muffins, and this browned butter pecan slab pie, which should definitely be on your fall baking agenda.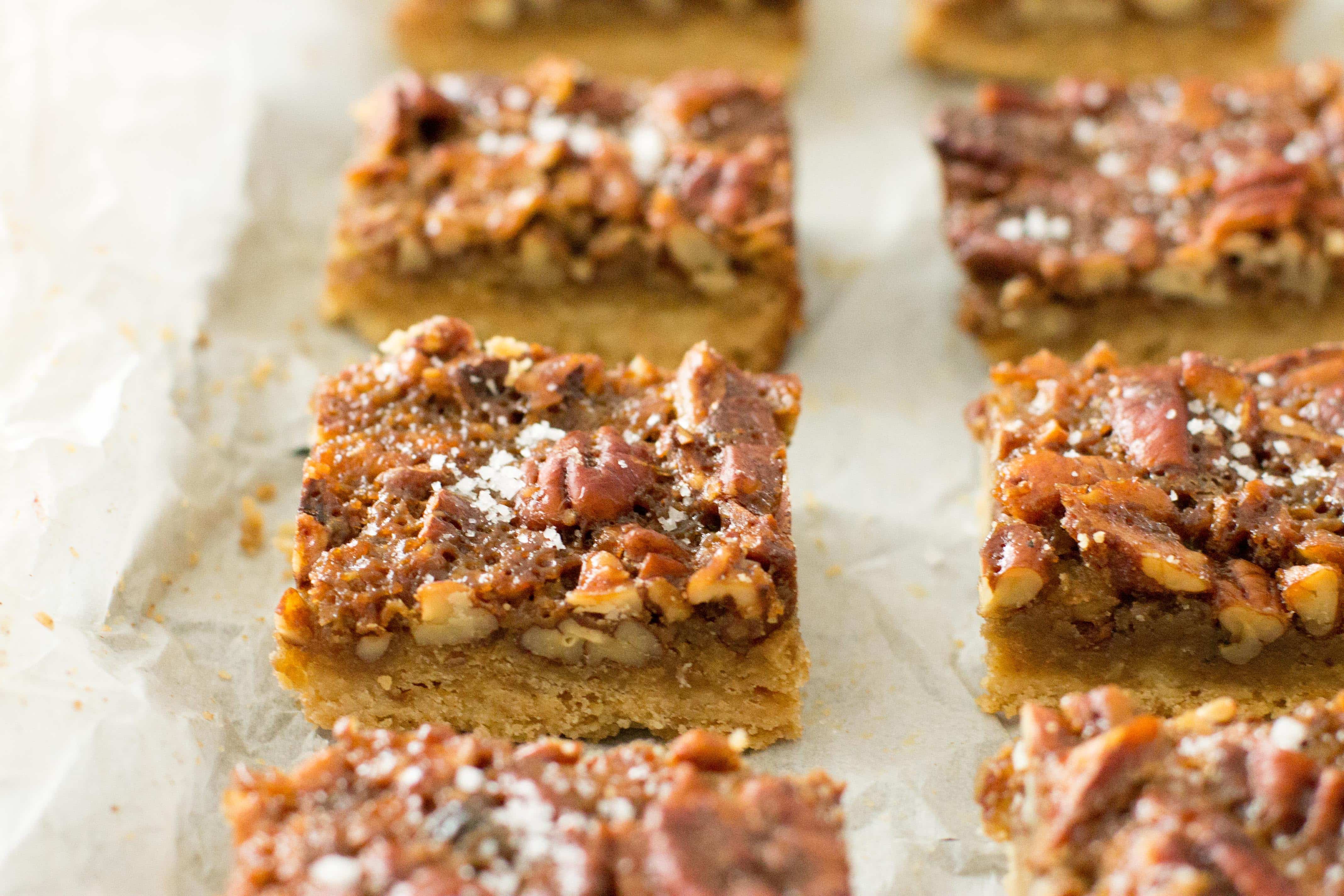 But I want more!!
I love to bake. Fall is my favorite season and arguably the time of the year, along with the holidays, when everyone seems to bake, and bakers by nature go into hyperdrive. All the pumpkin. The apple. The caramel. The spices. The cozy. The freshly-baked muffins with piping hot lattes. I want it all. So, why have I not posted very much on this yet?
I must immediately right this wrong.
[clickToTweet tweet="Time for fall baking! Start with a batch of crockpot honey apple butter and fall in love." quote="Time for fall baking! Start with a batch of crockpot honey apple butter and fall in love."]
Now, granted, today's post on apple butter is not "fall baking," per se, but let's consider it a precursor, shall we? A component part. A really delicious component part that will make your home smell amazing, dress up any toast or muffin you care to grace with a spoonful, and incidentally is amazing mixed into all sorts of … you guessed it … baked goods!
It also keeps well in the fridge and makes a really lovely gift from the kitchen. If you want to part with any, I mean. Let's not be hasty.
Start with apples. A lot of them. Feel free to mix and match varieties. If you have a choice, aim for a combination of sweet, like Gala or Fuji, and tart, like Granny Smith.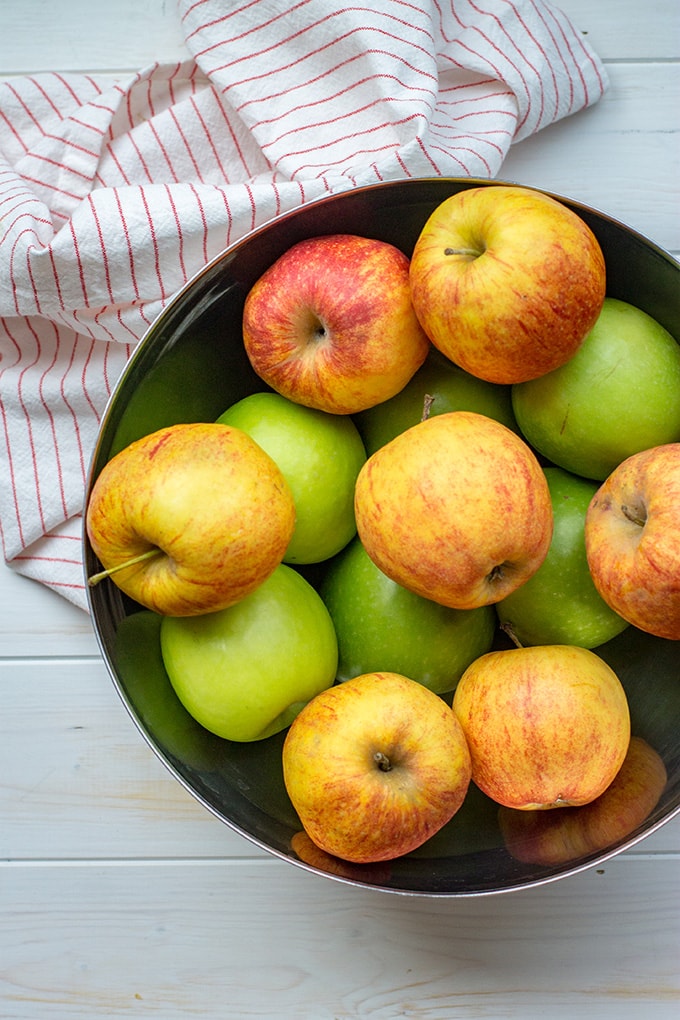 If you're interested in learning more about types of apples and what they're good for, I've found this site really informative.
Now comes the only hard part: peeling!
Many crockpot apple butter recipes say you don't need to peel the apples. (I'm pretty sure that at this point I have read 99% of the crockpot apple butter recipes on the internet.) This is true: it's not strictly necessary, and granted peeling does remove some of the apples' nutritional benefit. I simply prefer the smoother, lighter texture of the finished product when made with peeled apples. To each his own!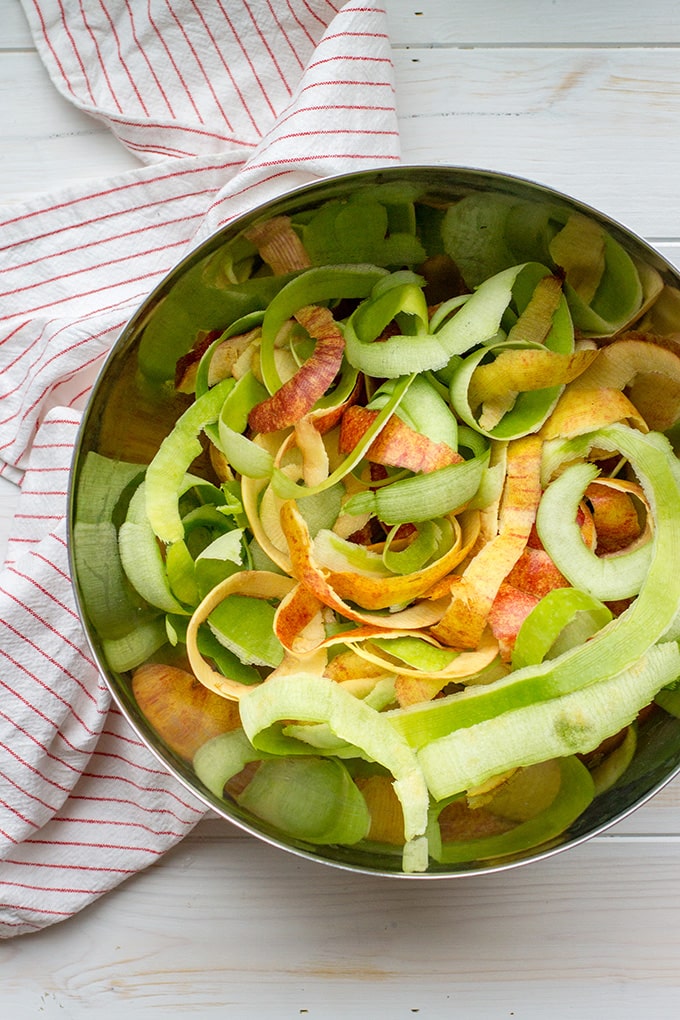 Now core and slice the apples, and put them all in the crockpot. Add spices and a bit of something sweet. I love using half honey and half brown sugar, inspired by my current girl crush. You can definitely use all honey, all sugar, or cut back on the amount of sweetener entirely to suit your tastes.
We're talking about spiced, sweetened apples here. It's flexible. You're not gonna go wrong.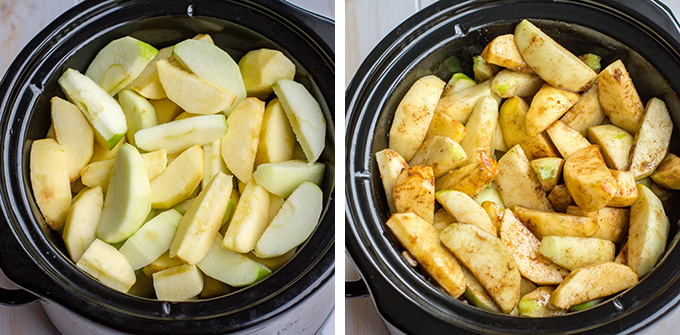 Now comes the easiest and best part. Turn on the crockpot and let it do its thing! Slowly your house will start to smell fantastic.
This takes all day, or you could prep it in the evening and let it work the magic overnight. If you do it during the day and are home, I strongly encourage you to step outside at some point, only so you can walk back into the house and get the full benefit of the amazing smell hitting you all at once.
The apples will cook down into a soft mixture that can be easily pureed, then cooked a bit longer to thicken to your desired consistency. I was happy when it looked like this – basically like a thick applesauce that holds a bit of its shape when swirled out onto a plate: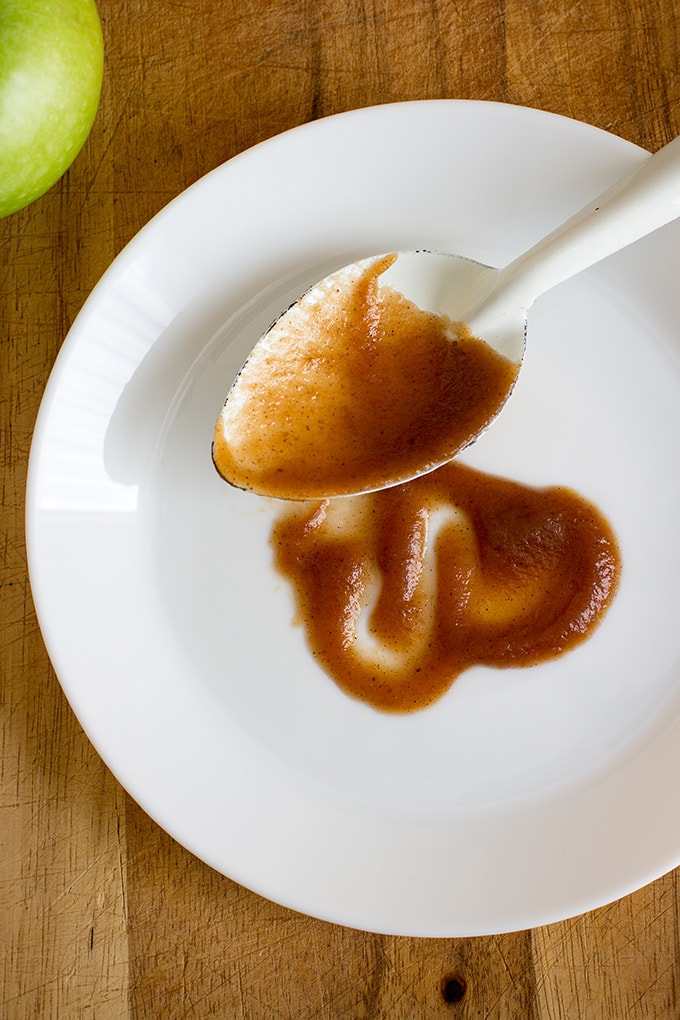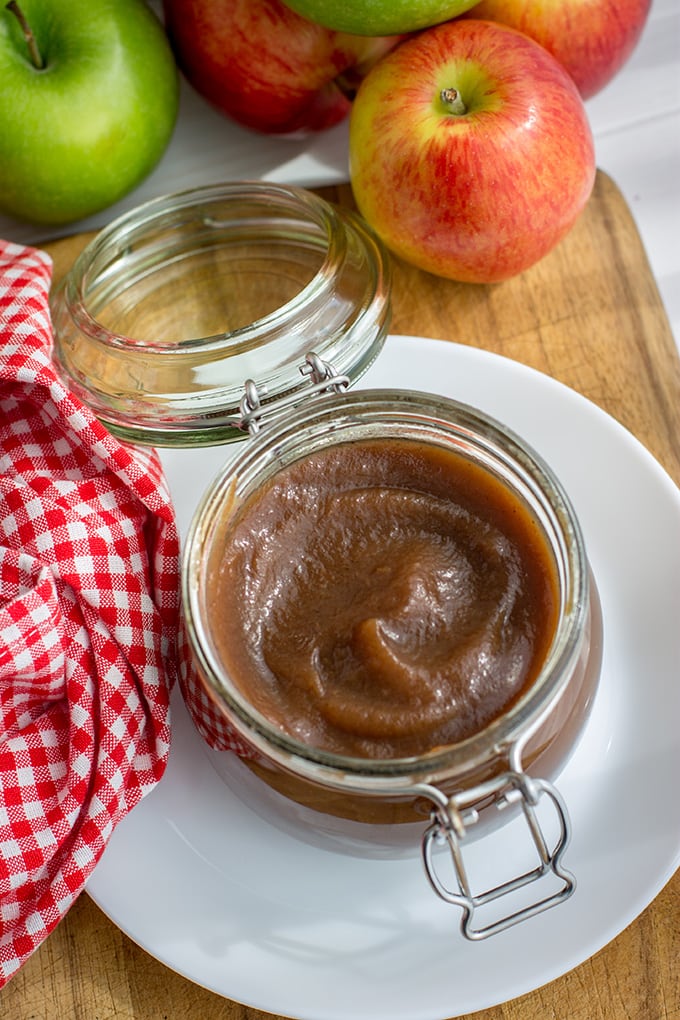 And it's time to enjoy! Use it like a jam, add it to a sauce – it would be especially good with pork chops or tenderloin – or swirl some into yogurt or oatmeal. Maybe with pecans and/or cinnamon? Yum!
Now package up your apple butter, give some away, or don't, and check back next week for a few more ideas to put this deliciousness to good use. After all, it's fall baking season, and I for one am just getting started! See you in the kitchen – or at the table! 🙂
Crockpot Honey Apple Butter
A simple recipe for crockpot apple butter sweetened with honey and spiced with cinnamon, nutmeg, and cloves. Delicious in baked goods, sauces, and spread on muffins or toast, and guaranteed to make your home smell INCREDIBLE.
Ingredients
5 pounds (2 1/4 kgs) apples ideally a mix of sweet and tart varieties
1/3 cup (80 ml) honey
1/3 cup (71 grams) brown sugar (I prefer dark brown sugar here)
1 teaspoon cinnamon
1/2 teaspoon cloves
1/2 teaspoon nutmeg
Instructions
Peel, core, and chop the apples into large chunks.

Combine apples, honey, sugar, and spices in a large crockpot. Stir to combine.

Cover and cook on LOW for 7-8 hours, then remove the lid and stir. The apples should be extremely soft and nearly dissolve as you stir.

Puree the mixture if desired, using either an

immersion blender

(this makes it SO easy, you don't even have to transfer them from the crockpot!) or food processor or blender.

Return the apple butter to the crockpot and continue to cook on HIGH with the lid off for 45-60 minutes, until it thickens slightly and reaches your desired consistency.

Store tightly covered in the fridge for 2-3 weeks.
Notes
Neither blending nor the second round of cooking are strictly necessary, it just depends on your preferred texture and consistency. Blending will obviously result in a smoother texture, and the longer you cook the apple butter uncovered, the thicker it will become.
This is definitely not my original concept, there are apple butter recipes all over the internet. This is just my preferred method! And I borrowed the idea of using half honey, half sugar from Christina Lane who blogs over at Dessert for Two. She makes some pretty amazing things and gives my blog lots to aspire to. Go check her out!
Nutrition Estimate
Serving: 4 tablespoons, Calories: 56 kcal, Carbohydrates: 15 g, Sodium: 1 mg, Potassium: 80 mg, Fiber: 1 g, Sugar: 12 g, Vitamin A: 40 IU, Vitamin C: 3.3 mg, Calcium: 7 mg, Iron: 0.1 mg
Did you make this recipe?
Leave a review below, then snap a quick picture and tag @nourishandfete on Instagram so I can see it!