Ground Turkey Pasta Bake
Deliver a cozy and satisfying family dinner with this easy baked Ground Turkey Pasta recipe. You'll love the tender penne tossed in a flavorful sauce of zippy tomatoes, lean turkey, and an Italian herb blend. Ready in about 45 minutes, most of it hands off.
Top it with creamy mozzarella, and no one will pause long enough to spot the fresh veggies mixed in. 😉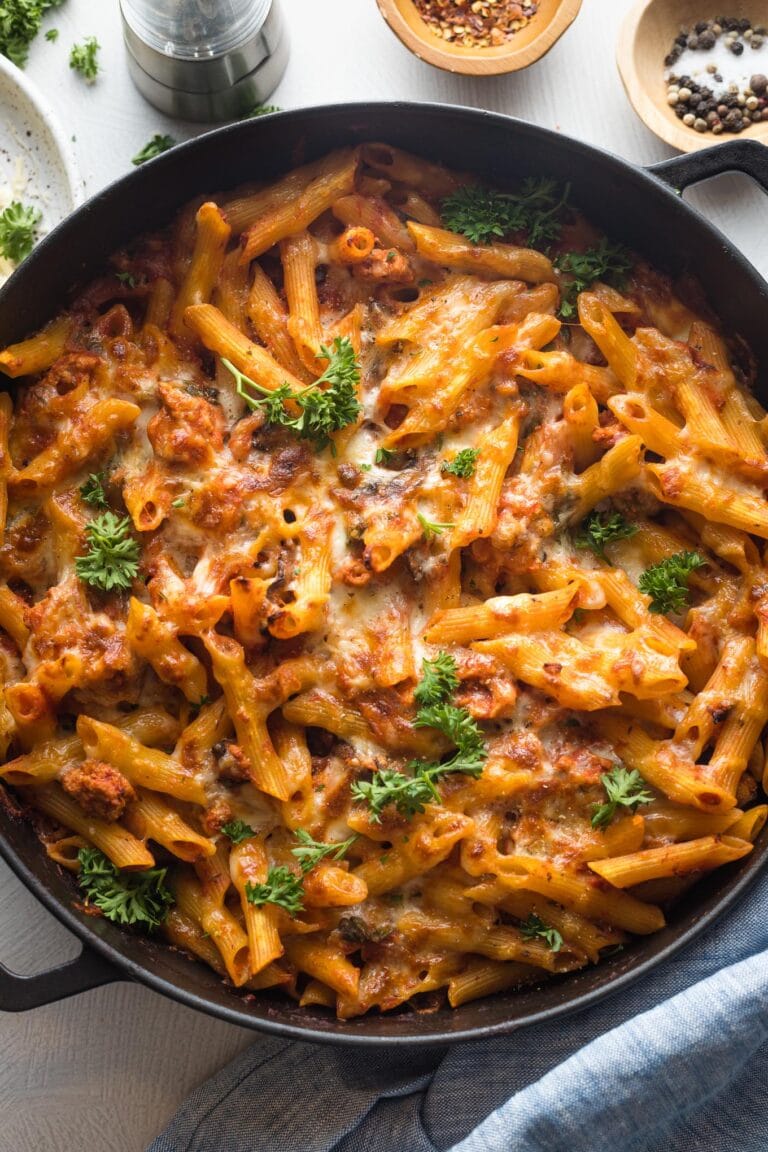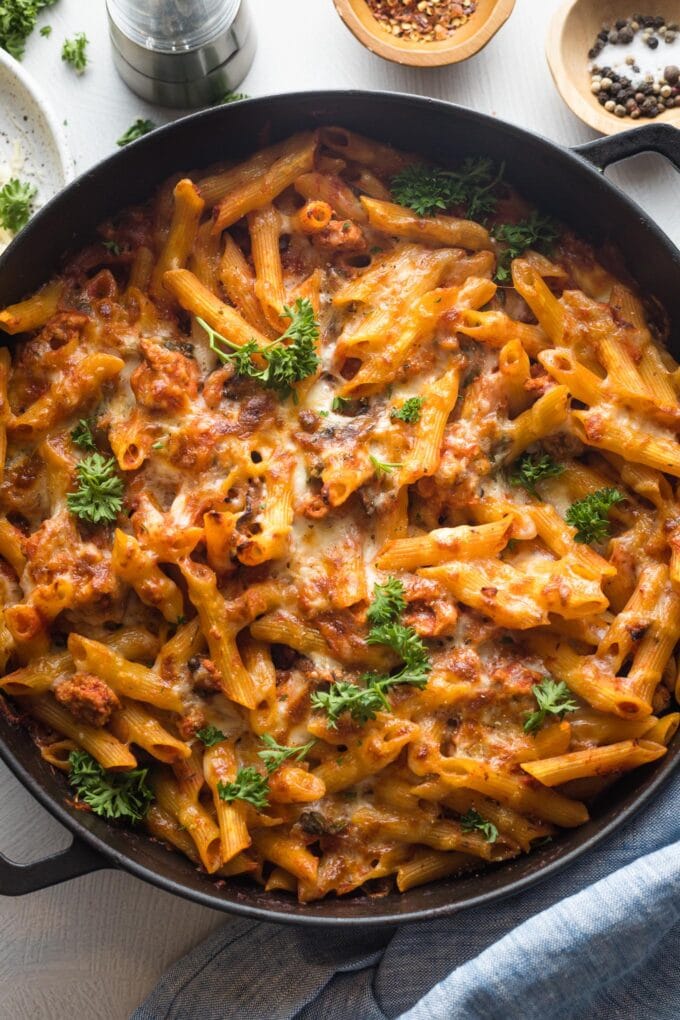 Baked pasta is always a winner, but when you can mix in some lean protein and fresh veggies? And when the sauce and baking action comes together in one pot? Even better!
This simple ground turkey pasta bake is a great weeknight family-friendly recipe, but rest assured it's delicious enough to share with company or take to a friend, as well. You have creamy mild melted mozzarella, a delicious sauce packed with herbs and a little tang, and tender bites of pasta to hold it all together.
Ground turkey pasta is also very versatile and lends itself well to being prepared ahead of time. It can be kept in the refrigerator or the freezer until ready to bake, and still come out perfectly every time.
Ingredients & Common Substitutions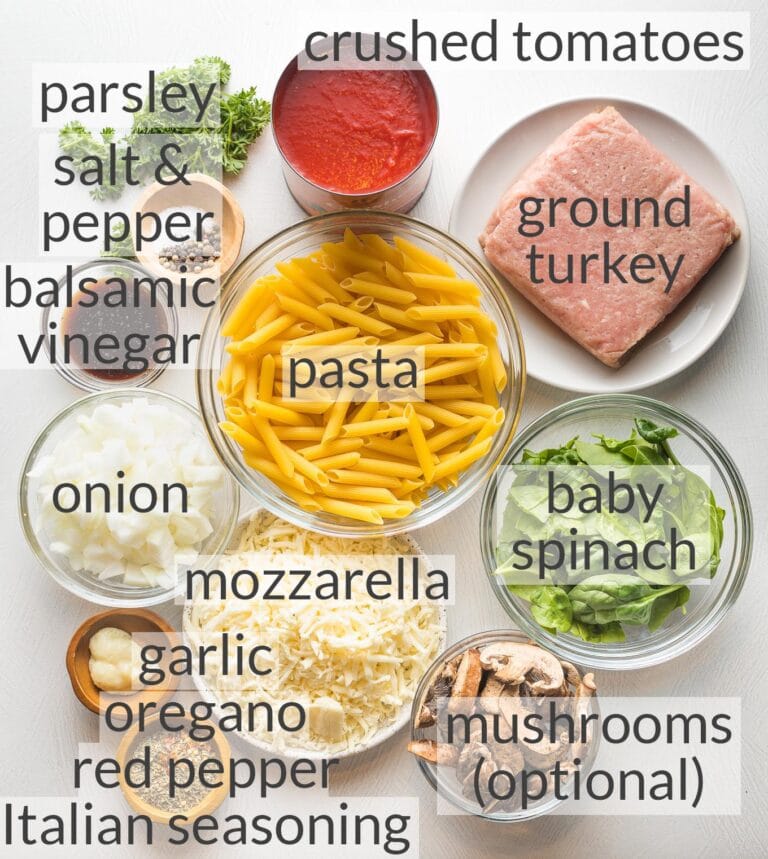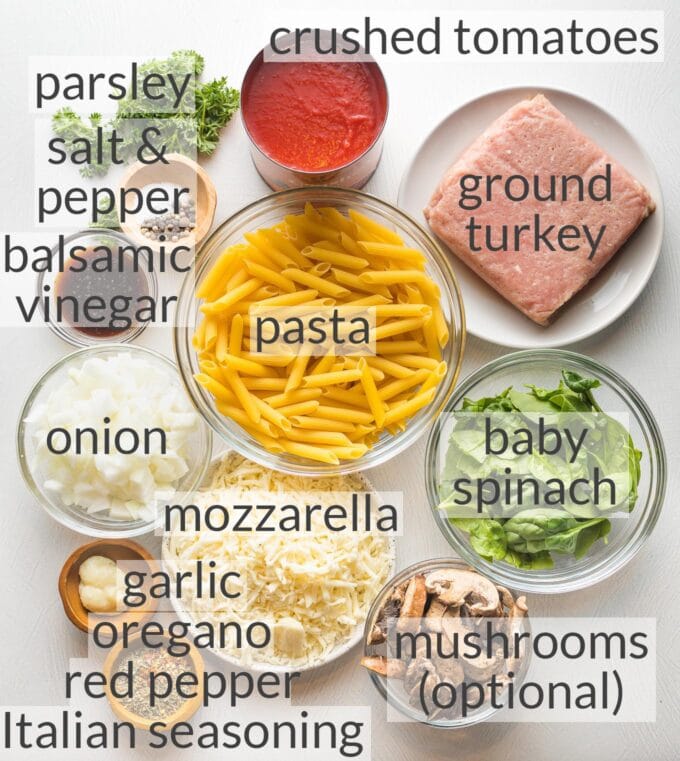 Here are a few notes and shopping tips about the ingredients you'll need to make a baked ground turkey pasta, as well as possible substitutions:
Ground turkey. Lean ground turkey is fine for this recipe, because you'll be seasoning it well and cooking it together with the sauce, so it's unlikely to dry out or be bland. Ground turkey breast is a good choice, as it is the most lean and entirely white meat. A mix of white and dark meat – such as ground turkey thighs or drumsticks – will work very well, also.
Dried pasta. Good choices include penne, rigatoni, rotini, shells, or anything else with some ridges, nooks, or crannies.
Mozzarella cheese. Buy a block of low-moisture mozzarella cheese and grate it yourself for the best results! A smidge of Parmesan is a great addition, if you like.
Onion. Yellow, white, or red, all are good here.
Crushed tomatoes. One large (28 ounce) can. You can sub tomato sauce or tomato puree if needed.
Baby spinach and sliced mushrooms. These are optional. I love incorporating a few veggies wherever I can! You can swap in or add kale, carrots, bell peppers, zucchini — really any other veggie you like.
Seasonings and aromatics: garlic, oregano, red pepper flakes, Italian seasoning, kosher salt, and black pepper.
Balsamic vinegar. This last ingredient may surprise you, but don't skip it — a touch of balsamic vinegar adds a bit of extra acidic tang to the sauce. You won't be able to put your finger on it when you taste it, but it's just that little something.
Why is it better to shred cheese yourself?
Packaged shredded cheese sure is convenient, but have you ever wondered how it can shake out so easily without clumping or bunching together? Pre-shredded cheese contains a light coating and additives to ensure the shards do not stick together, which certainly has its place, but unfortunately these additives also inhibit smooth melting. For a baked pasta or any other recipe where you want maximum stringy melted cheese action, shredding your own is the best when you can.
How do you add flavor to ground turkey?
Pros of ground turkey: it's versatile, lean, and often economical. What's the catch, you ask? Without the right touch, it can veer towards dry or bland. Here are the keys to avoiding less-than-stellar results:
Season while the turkey cooks. When I initially made this dish, I made the error of adding garlic and seasonings after the turkey was mostly browned. It was good, but not great. Adding the power players while the turkey and onion start cooking makes all the difference.
Cook just enough. Overcooked turkey, like any overcooked meat, becomes dry. Only cook until the turkey is mostly browned during the first step. Have faith that it will finish cooking through as it simmers in the sauce and then bakes in the oven.
Sourcing Tip: We get all of our meat in a bi-monthly box from ButcherBox, and absolutely love it. The quality, convenience, and value are amazing, and I love having confidence that everything we buy and eat is humanely raised. Full disclosure: I am a proud ButcherBox affiliate, because we still love the service after paying for it two years and running!
How To Make Ground Turkey Pasta
Cook pasta in very well-salted water. Drain when the pasta is about two minutes shy of al dente according to the package directions.
Season and brown turkey. As noted above, cook just until the turkey is mostly browned and the onion soft. Don't overdo it at this step!
Finish the sauce. Add tomatoes, veggies, and balsamic vinegar. Let simmer to cook down and build flavor.
Stir in pasta and half of the cheese. Sprinkle the other half on top before transferring to the oven.
Bake for about 20 minutes at 375 degrees F. Broil for the final 1-2 minutes for a nicely browned top, but watch carefully to ensure it does not burn.
Can I make this in a 9″x13″ pan?
Yes! If you don't have a large oven-safe skillet, or just prefer it, simply transfer the combined sauce and pasta, still reserving half of the cheese, into a 9″x13″ baking dish. Spray the dish lightly with cooking spray first to be sure it doesn't stick after baking. Top with remaining mozzarella and bake/broil as directed.
How can I make a healthy ground turkey pasta?
Substitute whole wheat or your favorite gluten-free pasta for traditional penne, use the leanest ground turkey you can find, and add extra veggies. Broccoli, bell peppers, carrots, zucchini, and other squash are good choices.
How can I make a creamy ground turkey pasta?
Add 1/2 cup of heavy cream or half and half to the sauce during the final step, at the same time as you add the spinach. Stir well to combine and proceed as directed.
Optional Variations & Add-Ins
Substitute the ground turkey with ground beef, ground chicken, or ground sausage.
You can also substitute pre-cooked shredded chicken, shredded turkey, meatballs. If using a pre-cooked protein, simply add it along with the tomatoes so it is warmed through but does not become dry.
Substitute kale, arugula, or Swiss chard for the baby spinach.
Use whole wheat pasta or your favorite gluten-free variety. Everything else will work exactly the same.
In a hurry? Skip the baking and just stir in the cheese and serve straight from the stovetop. Still extremely delicious and a classic simple pasta dish with ground turkey!
Leave out the red pepper flakes if you are super sensitive to heat, though they really just add flavor, not kick.
On the contrary, for extra flavor, serve this pasta with a small bowl or shaker of red pepper flakes for those who want some additional kick!
Add more veggies–broccoli florets, chopped bell peppers, matchstick carrots, zucchini, or yellow squash all work well.
Add Parmesan cheese along with the mozzarella, because Parmesan is always a good idea!
Serving Suggestions
Allow this baked turkey pasta to rest for about 5 minutes after it comes out of the oven and prior to serving. This lets the flavors continue to meld and, even more importantly, allows it to cool down very slightly and hold its texture more when spooned out onto plates.
Serve this ground turkey pasta with a simple salad – try arugula or a classic Italian – or an easy steamed veggie. We love peas, broccoli, or green beans. And if you really want your family and guests to fall at your feet, round it out with a basket full of garlic knots, garlic bread, or homemade breadsticks.
Want to dress up your bowls? A little garnish of fresh Italian parsley – flat-leaf or curly – or fresh basil makes it all look as good as it tastes.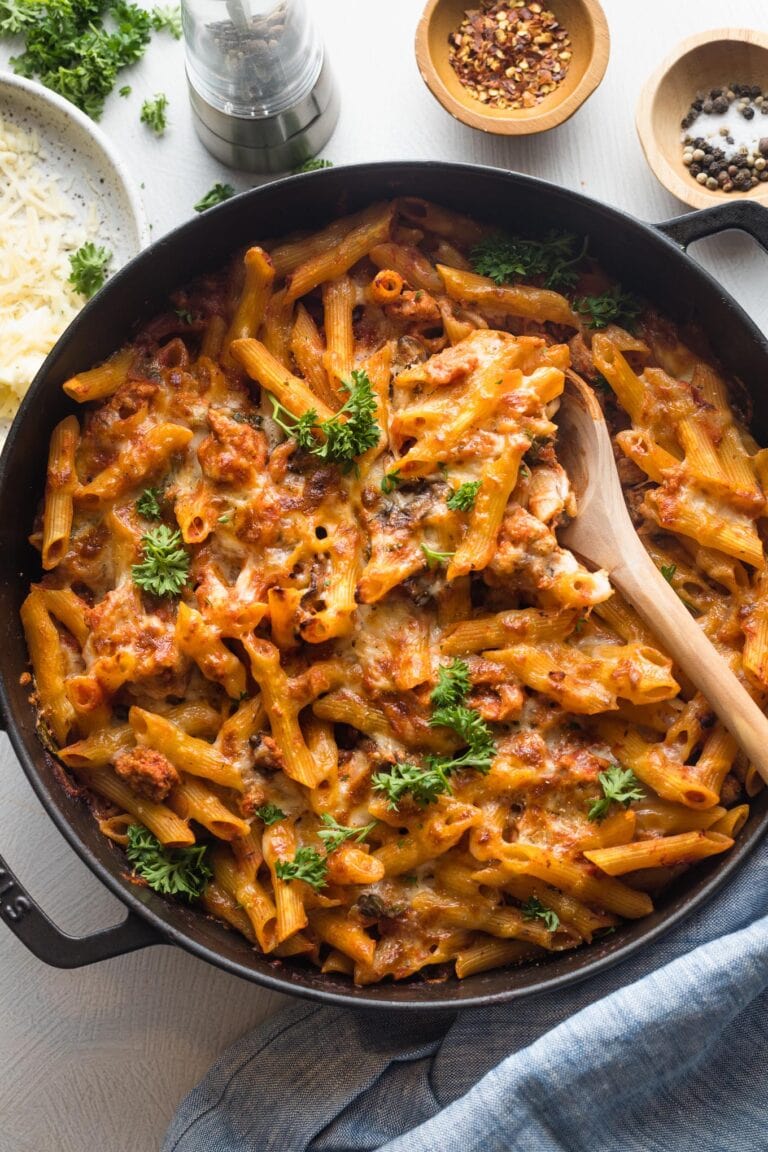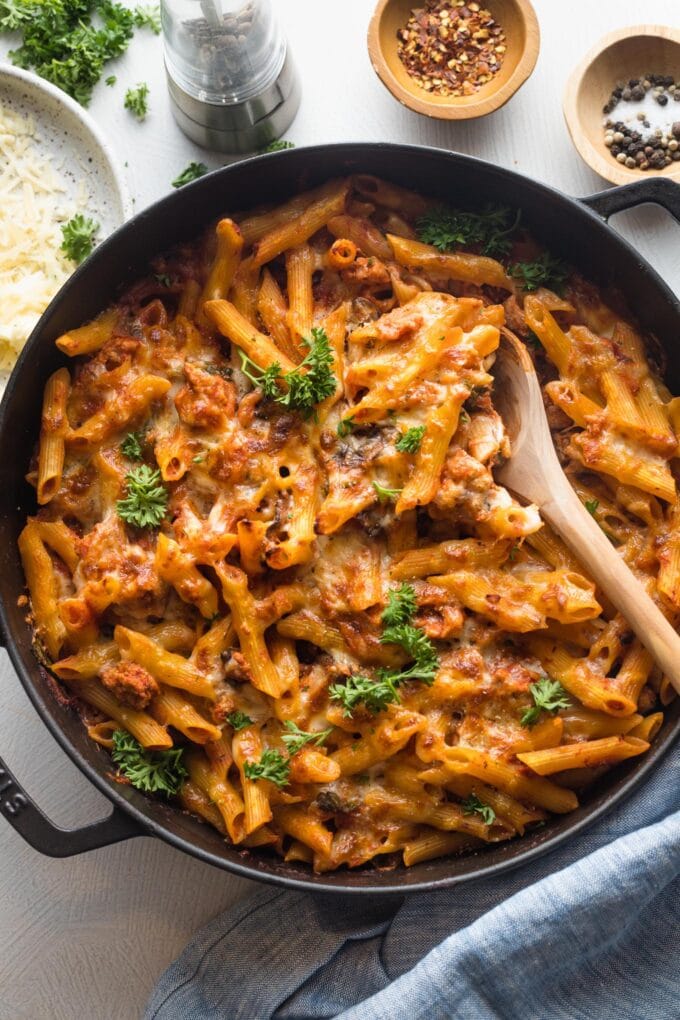 Storage, Freezing, and Reheating
Make Ahead: This casserole can be fully prepped up to 24 hours in advance and stored in the refrigerator, tightly covered with foil or plastic wrap. Remove from fridge and bake as directed, adding about 5 minutes to the cooking time.
Freezing Unbaked: Double wrap your casserole dish with plastic wrap and aluminum foil, then store in the freezer for up to 3 months. Thaw in the fridge overnight, or bake straight from frozen. If thawed, add about 5 minutes to the cooking time; if frozen, plan to add 20-25 minutes.
Freezing Leftovers: Individual servings can be transferred to plastic or glass freezer-safe containers and frozen for 2-3 months. Thaw in the fridge and reheat in the microwave. If you want to freeze the entire dish, I recommend doing so prior to baking, as explained in the bullet above.
Reheating: As with most chicken and turkey dishes, I recommend reheating in the microwave on 50% power to ensure it is warmed through before the meat becomes dry. You can also reheat in the oven, covered with foil, at 375 degrees, or on the stovetop. Add a splash of water or broth if reheating on the stovetop so the pasta does not stick or become dry.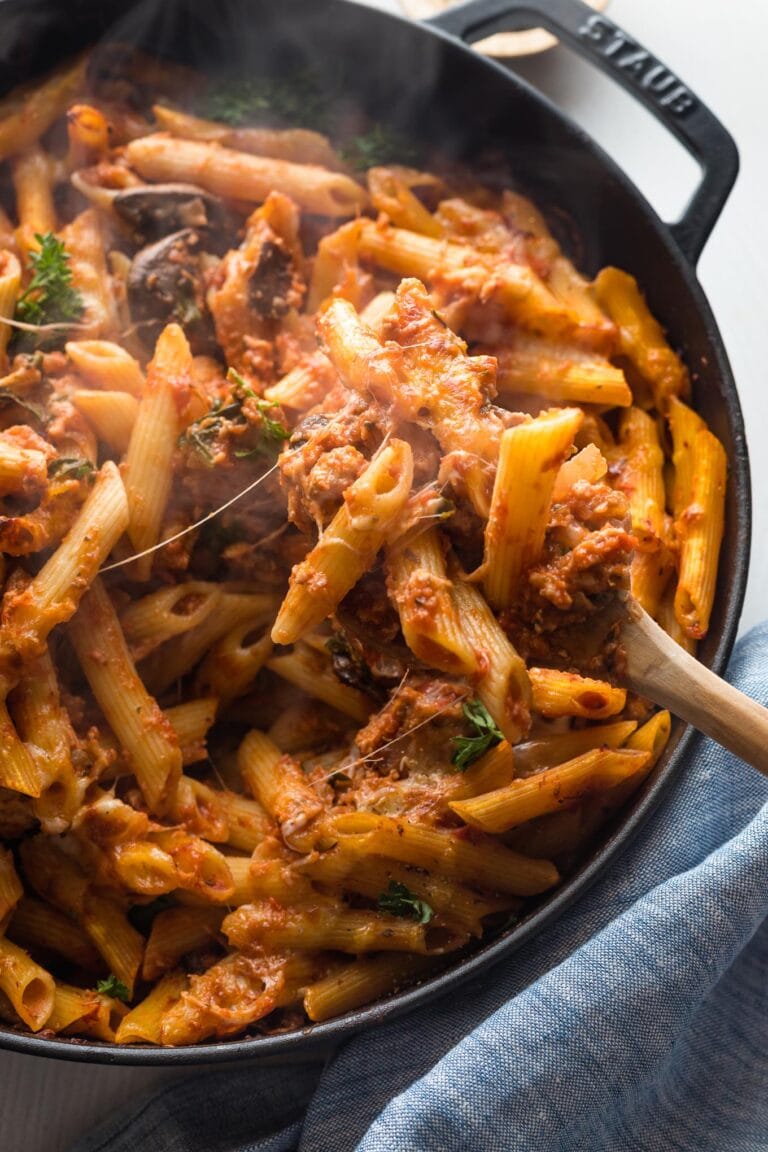 More Cozy Pastas You'll Love
Looking for more hearty baked pastas? Baked ravioli or a classic sausage noodle casserole are always a good idea!
I hope you and your family love this one! It's a favorite of ours and perfect for any busy family or hosting a big group of friends.
If you make this Ground Turkey Pasta Bake, don't forget to rate the recipe and leave a comment below. I love hearing how recipes turn out in your kitchen, and it helps other readers, too.
You can also FOLLOW me on PINTEREST, INSTAGRAM, FACEBOOK, and TWITTER for more great recipes and ideas!
Ground Turkey Pasta Bake
Deliver a cozy and satisfying family dinner with this easy baked ground turkey pasta recipe. You'll love the tender penne tossed in a flavorful sauce of zippy tomatoes, lean turkey, and an Italian herb blend.
Ingredients
1 pound dried pasta
1 Tablespoon olive oil
1 medium yellow onion chopped
1 pound ground turkey
1 Tablespoon Italian seasoning
1 teaspoon dried oregano
pinch red pepper flakes
4 garlic cloves minced
1 cup sliced mushrooms any kind
28 ounce can crushed tomatoes
2 Tablespoons balsamic vinegar
2-3 cups baby spinach roughly chopped
1 and 1/2 cups shredded mozzarella cheese
fresh parsley or basil optional garnish
kosher salt
black pepper
Instructions
Preheat oven to 375 degrees F.

Boil a large pot of water; add a generous pinch of kosher salt and the pasta. Cook for 2 minutes less than directed for al dente pasta. Drain and set aside.

While the pasta cooks, warm olive oil in a large, oven-safe skillet over medium heat. Add onions and turkey. Sprinkle with Italian seasoning, oregano, red pepper flakes, another big pinch of kosher salt, and 12-15 cranks of fresh-ground black pepper. Cook for about 4 minutes, using a spatula to break the meat up into small crumbles, until the onions are soft and the turkey is mostly browned.

Stir in the garlic. Cook another 30-60 seconds, just until fragrant.

Stir in the mushrooms, crushed tomatoes, and balsamic vinegar. Swish a small amount of water in the can of tomatoes to get the last bits of tomato and pour that into the skillet as well. Bring mixture to a simmer. Let it bubble over medium-low heat for 5-7 minutes, then remove from the heat and stir in the spinach.

Add cooked pasta and stir well.

Stir in about half of the cheese, then spread mixture into an even layer and top with remaining cheese. Bake for 15-20 minutes, until cheese is fully melted and the sauce is bubbling around the edges. For a browned top, turn oven to broil for the final 1-2 minutes; watch closely that it doesn't burn.

Remove from the oven and let sit for 5 minutes. Garnish with fresh parsley or basil. Serve and enjoy!
Nutrition Estimate
Calories: 402 kcal, Carbohydrates: 54 g, Protein: 28 g, Fat: 9 g, Saturated Fat: 4 g, Polyunsaturated Fat: 1 g, Monounsaturated Fat: 3 g, Trans Fat: 1 g, Cholesterol: 48 mg, Sodium: 303 mg, Potassium: 722 mg, Fiber: 5 g, Sugar: 8 g, Vitamin A: 1088 IU, Vitamin C: 13 mg, Calcium: 182 mg, Iron: 3 mg
Did you make this recipe?
Leave a review below, then snap a quick picture and tag @nourishandfete on Instagram so I can see it!